---
Grilled pita salad and tangy kebabs make the perfect summer meal from the grill. It's my take on the Middle Eastern bread salad, called Fattoush, with pops of cumin, sweet dates, and lemony sumac.
---
Give me bread and you'll make me happy. That's the quote I like to live by (I made it up by the way)! So, when you say salad, I say "add bread!"
I've long loved the Italian bread salad called panzanella. This Middle Eastern version uses pita, cumin, and sumac and is the most delicious fattoush salad recipe.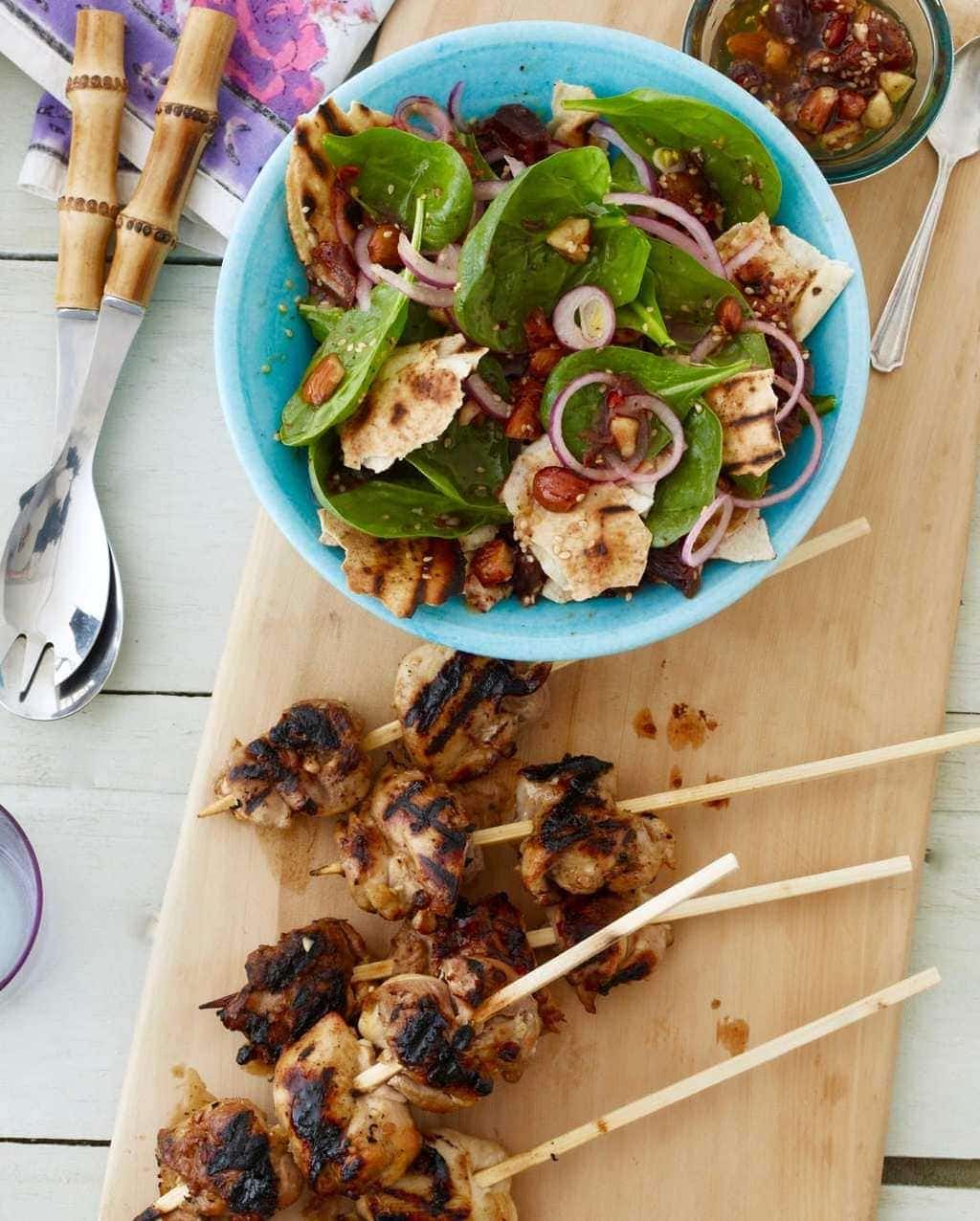 Jump to:
What is panzanella and fattoush salad?
There are several types of bread salad. Panzanella and fattoush are just two of them.
Panzanella is simply bites of crusty bread tossed with tomatoes, other veggies, and dressing. The bread soaks up the tomato juices and vinaigrette and makes the salad more filling, and of course delicious.
The Middle Eastern version of bread salad is called fattoush or fatoush. Instead of using a crusty Italian loaf, pitas take that place and create another type of filling salad. I added tangy chicken kabobs to this recipe so you'll have an entire summer meal. I have to twist my own arm to eat a bowl of greens, so fun salad recipes are the way to my heart...I mean health.
Panzanella, that yummy salad I mentioned earlier, originated from the Italian tradition of using stale bread so it wouldn't go to waste. Fattoush is the same idea. It's derived from the arabic word for crumble. They would literally just crumble leftover pita on to their salad and let it soak up the vinaigrette goodness.
Try my panzanella recipe with tomato and artichoke.
I think it's so great that two different parts of the world both created meals so that they could eat all the bread! Definitely my kind of recipes.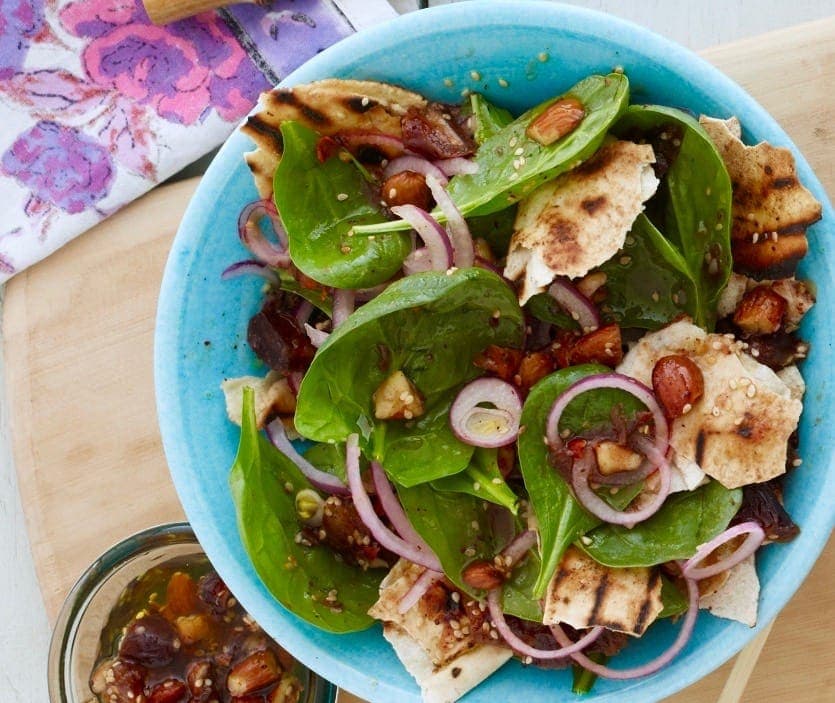 Fattoush salad recipe with sumac dressing
I packed this grilled pita salad with almonds, sweet dates and savory onions, along with a flavorful dressing. Cumin, sesame and of course sumac are key spices to this recipe as well.
Sumac is a tangy and citrusy type of spice that comes from the Middle East. If you're dying to make this recipe but can't find any sumac, try using some lemon zest, salt, and pepper.
What kind of pita bread should I use?
Regular pocket pita bread that you find in the bread aisle at the store is perfect. You can certainly use homemade, fluffy pita you might get at an authentic bakery and even pita flatbread without a pocket!
While I don't suggest using stale or old pita bread, you still want to get a good crisp texture in your salad. Grilling your pita bread is an important step. While it will soften in the salad, the grilling gives it a nice crunch along with adding a smokiness to the bread and to every bite of the salad.
What's the difference between kebab and kabob?
Oh my goodness this is such a thing for me! I grew up calling skewers of meat or vegetables "kabobs." That makes sense since I grew up in the United States!
The difference between kabob and kebab is really just that "kabob" is the U.S. spelling and "kebab" is the British spelling. That being said, "kebab" is the most used spelling and pronunciation around the world. Americans really hold on to, and use "kabob" exclusively!
I chose to use the spelling "kebab" in my cookbook since it was more universal. Whether you say they are Mediterranean kebabs or Mediterranean kabobs (you decide), I'll write about them as kebabs and kabobs!
Make Mediterranean kebabs with marinated chicken
This fattoush salad recipe is made even better with my grilled chicken skewers recipe. Two for one!
Chicken takes on flavor really well. The chicken marinade I made is deliciously acidic with the lemon juice but the sweet and spice from the cumin, red pepper, and honey balance out to a tasty flavor combination.
This recipe calls for chicken thighs. Does it really matter if you use chicken thighs vs chicken breasts? Yes! Sometimes as you grill chicken breasts they dry out. Thighs are a dark meat, therefore rich and tender. This makes them fantastic for grilling and helps them keep their flavor and moisture.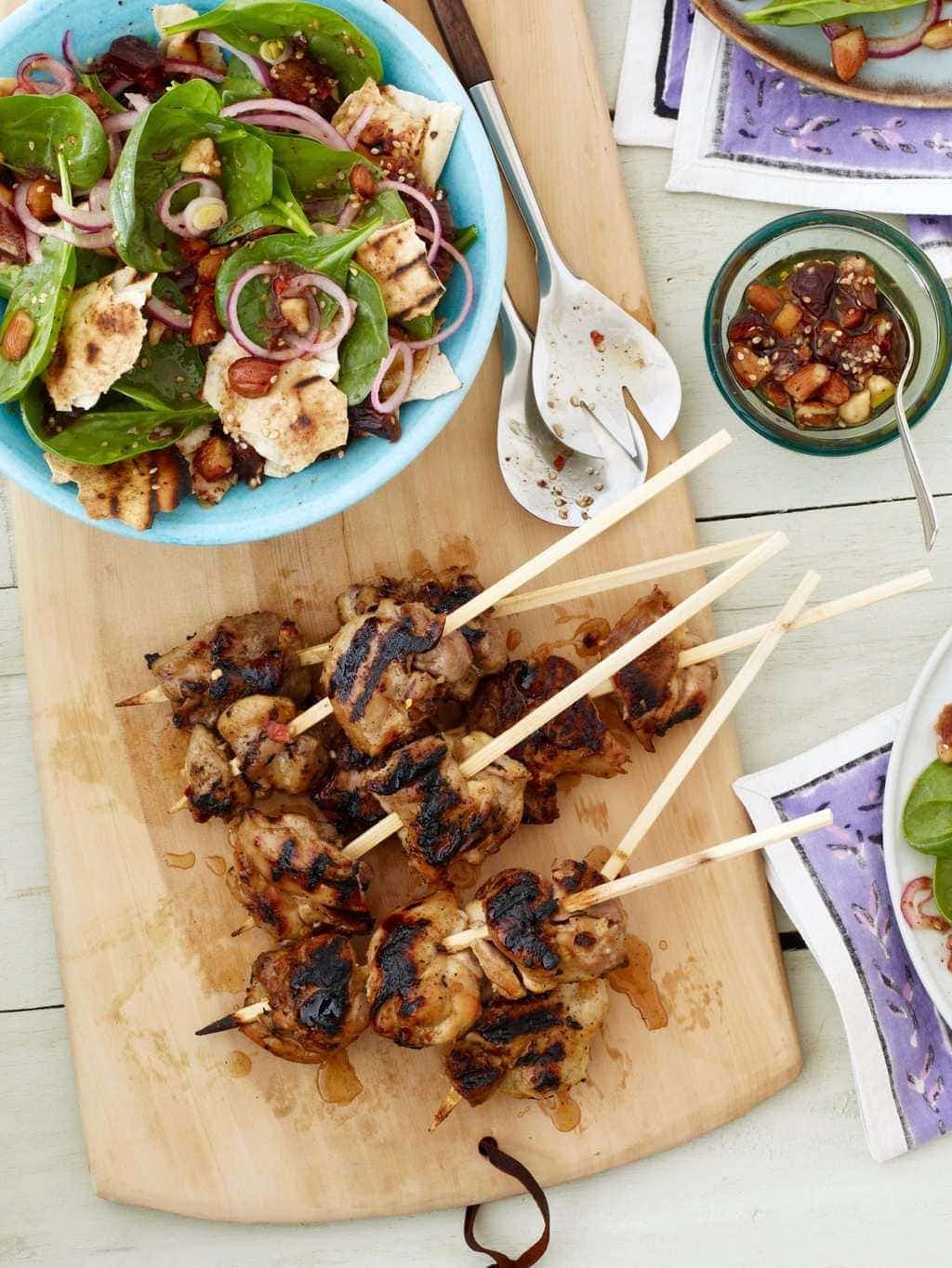 How long to grill chicken skewers?
Chicken should be cooked to an internal temperature of 165ºF. I used chicken thighs in this recipe, and cooked them on medium-high heat for about 8 minutes.
Medium-high heat on the grill is 400ºF to 450ºF. It doesn't take long to cook small pieces of chicken when it's over that high of heat! So watch your kebabs! And if you'd like to take the temperature, you can use a really good meat thermometer.
Make this flavorful fattoush salad dinner
I packed this grilled pita fattoush salad with almonds, sweet dates, and savory almonds to go with lemon chicken kabobs.
Turning the chicken into kabobs not only makes it crowd friendly, but also helps the chicken grill so nicely! Check out my other delicious chicken, pork and lamb kabob recipes for more inspiration as well as tricks for using bamboo skewers on the grill!
This grilled pita salad with almonds is the perfect grilling meal and puts a twist on those chicken recipes for the summer!
More grilled dinner recipes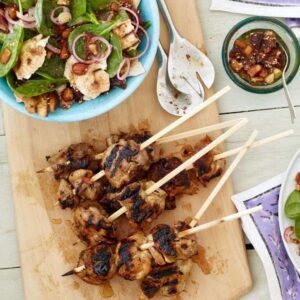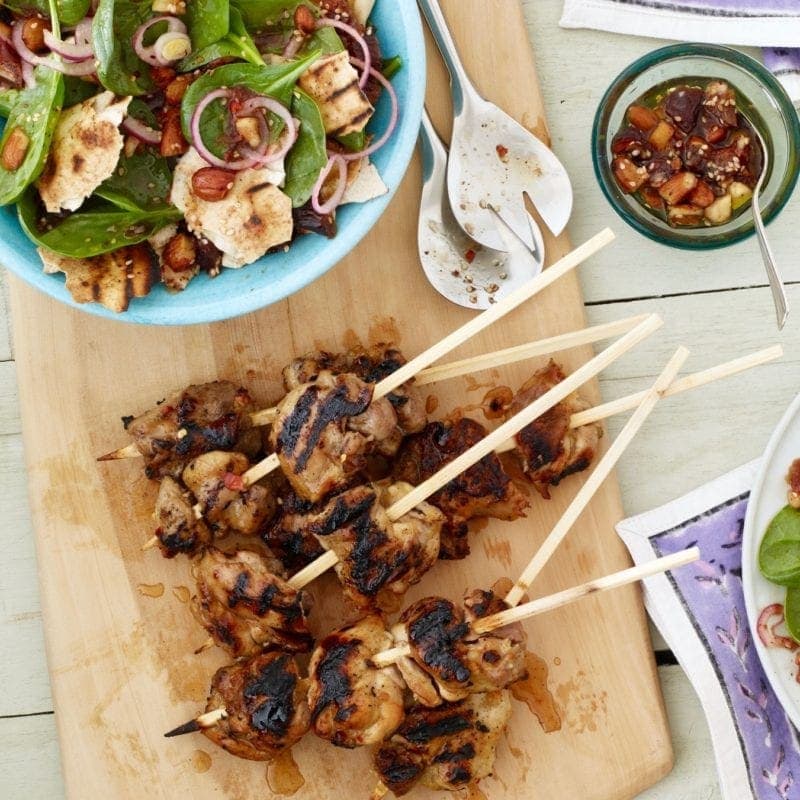 Fattoush Salad with Lemon Chicken, Dates, and Almonds
This grilled pita bread salad is one of my favorites! I spiced up the dressing with ground sumac, which has a lovely tart flavor and a citrus aroma. Make the Mediterranean chicken kebabs to go along with for a complete dinner.
Ingredients
Chicken Skewers
¼

cup

fresh lemon juice

2

tablespoon

honey

2

cloves

garlic, minced

1

teaspoon

ground cumin

¼

teaspoon

red pepper flakes

¼

cup

olive oil

1½

lbs

boneless, skinless chicken thighs
Fattoush Salad
2

rounds

pita bread

¼

cup

olive oil, plus more for pita

¼

cup

red wine vinegar

1

tablespoon

honey

½

cup

chopped dates

½

cup

chopped toasted almonds

1

teaspoon

sumac

(or ½ teaspoon lemon zest)

¼

teaspoon

red pepper flakes

¼

teaspoon

ground cumin

2

teaspoon

toasted sesame seeds

¼

teaspoon

kosher salt

6

cups

(5 oz) baby spinach

⅓

cup

sliced red onion
Instructions
Make chicken skewers: In a medium bowl mix lemon juice, honey, garlic, cumin, red pepper flakes and the ¼ cup olive oil. Cut chicken into large pieces (1 to 1½-inch) and add to the lemon mixture. Chill 1 hr.

After chicken is marinated, heat grill to medium-high heat. Brush pitas with extra oil and grill, toasting well on both sides. Tear into pieces; set aside.

Thread chicken onto skewers and grill over medium-high heat until just cooked through, about 8 minutes total. Chicken should be cooked to 165ºF internal temperature (you can use this meat thermometer).

Make dressing: Whisk together the ¼ cup olive oil, vinegar, honey, dates, almonds, sumac, red pepper flakes, cumin, sesame seeds and salt; set aside until ready to serve salad.

Combine spinach, red onion and grilled pita and toss with some of the date and almond dressing. Serve with chicken skewers and serve remaining dressing on the side.
Notes
The Middle Eastern version of bread salad is called Fattoush. Instead of using a crusty Italian loaf, pitas take that place and create another type of filling salad. I added tangy chicken kabobs to this recipe so you'll have an entire summer meal.
Use this meat thermometer to get the best internal temperature reading on the chicken!
Nutrition
Calories:
678
kcal
Carbohydrates:
36
g
Protein:
39
g
Fat:
44
g
Saturated Fat:
6
g
Cholesterol:
162
mg
Sodium:
344
mg
Potassium:
959
mg
Fiber:
5
g
Sugar:
26
g
Vitamin A:
4335
IU
Vitamin C:
20
mg
Calcium:
134
mg
Iron:
4
mg
Main Dish Recipes
Check out these other sites for Middle Eastern recipe inspiration:
Food 52
New York Times
Food Network
Awesome Side Dish Recipes!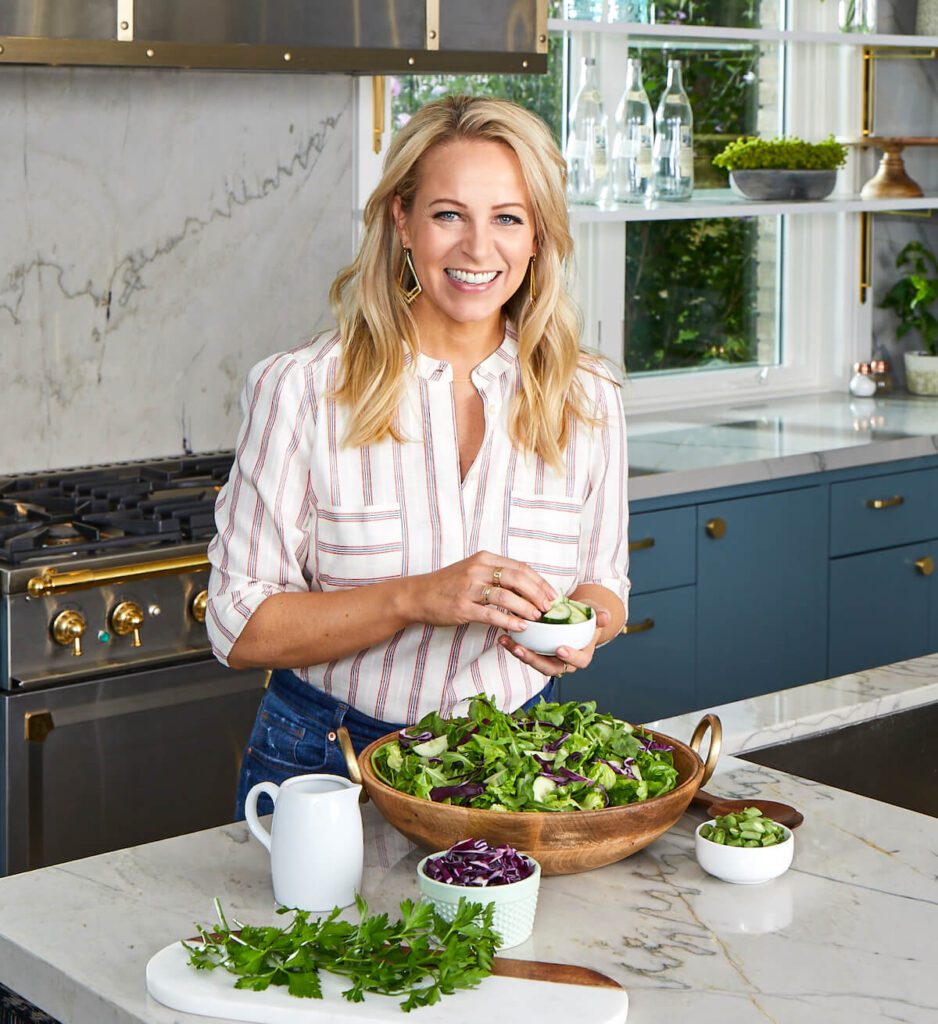 About Tara Teaspoon
I've been in the food publishing business for over 20 years, creating recipes & food-styling for magazines, books, television & advertising. Order my new cookbook & stick around for amazing things to eat.
Recipe by Tara Teaspoon. Photography William Brinson. Food Styling Adrienne Anderson. Prop Styling Sara Cave. Original pub LHJ 7/13.