---
Sweet Chili Pistachio Grilled Chicken is the best combination of perfectly cooked chicken and flavorful, crunchy pistachios. Get ready for that salty and slightly sweet bomb of goodness!
---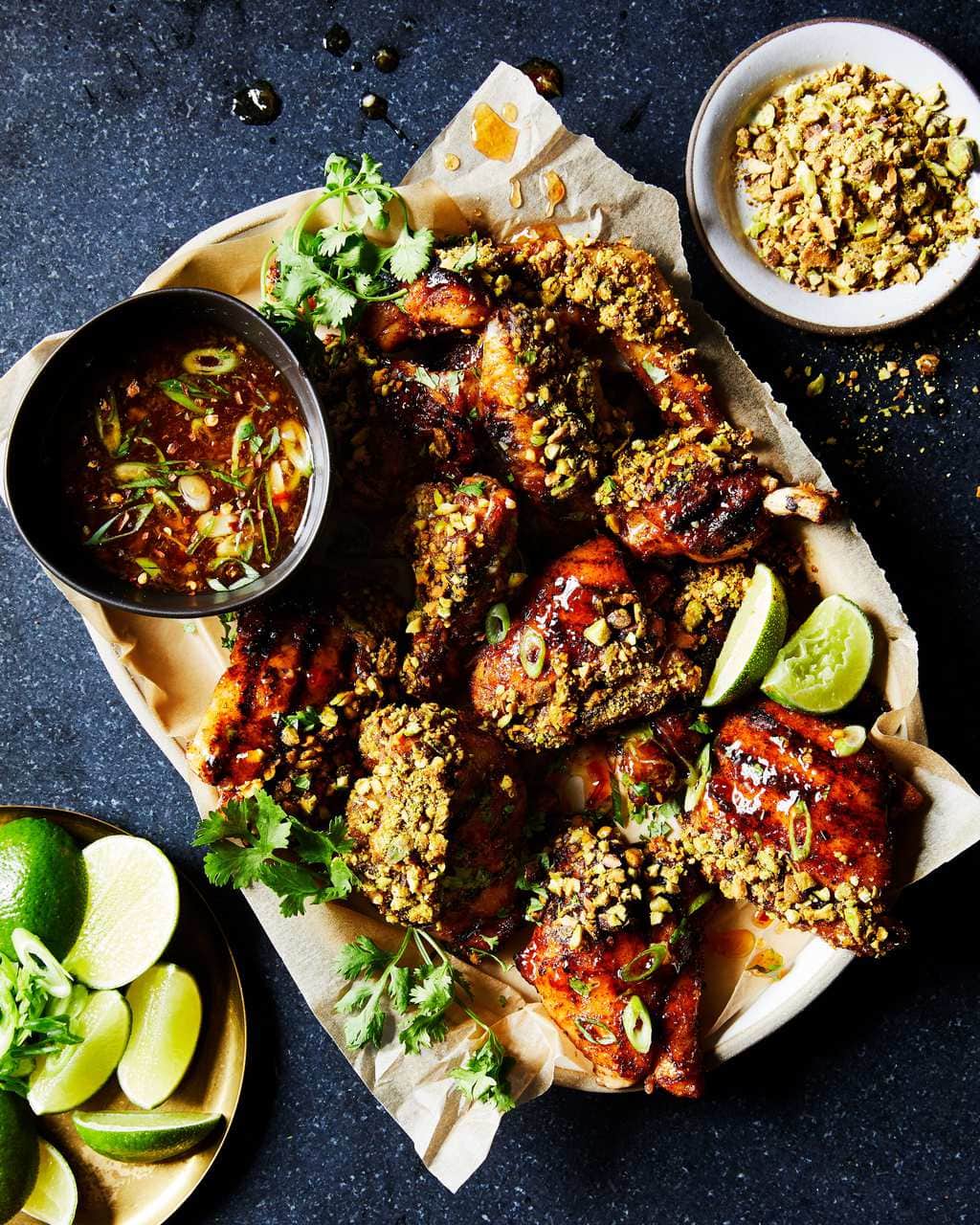 What makes delicious grilled chicken?
With this sweet chili chicken recipe I wanted to combine the smokiness of grilled chicken, a sweet and savory sauce with tons of flavor, and the crunchiness of nuts.
It couldn't be just any nut. Pistachios have a unique, versatile flavor that paired perfectly with my Asian-inspired chicken.
Spice Rub for Grilled Chicken:
I started this recipe with a quick and flavorful rub using ingredients I already had in my pantry. I made sure to keep it simple because I didn't want added sugars or delicate spices to burn over the flames of the grill.
The rub added a layer of flavor to what would be one of my favorite chicken recipes to date! I made sure to get the rub all over each piece of chicken.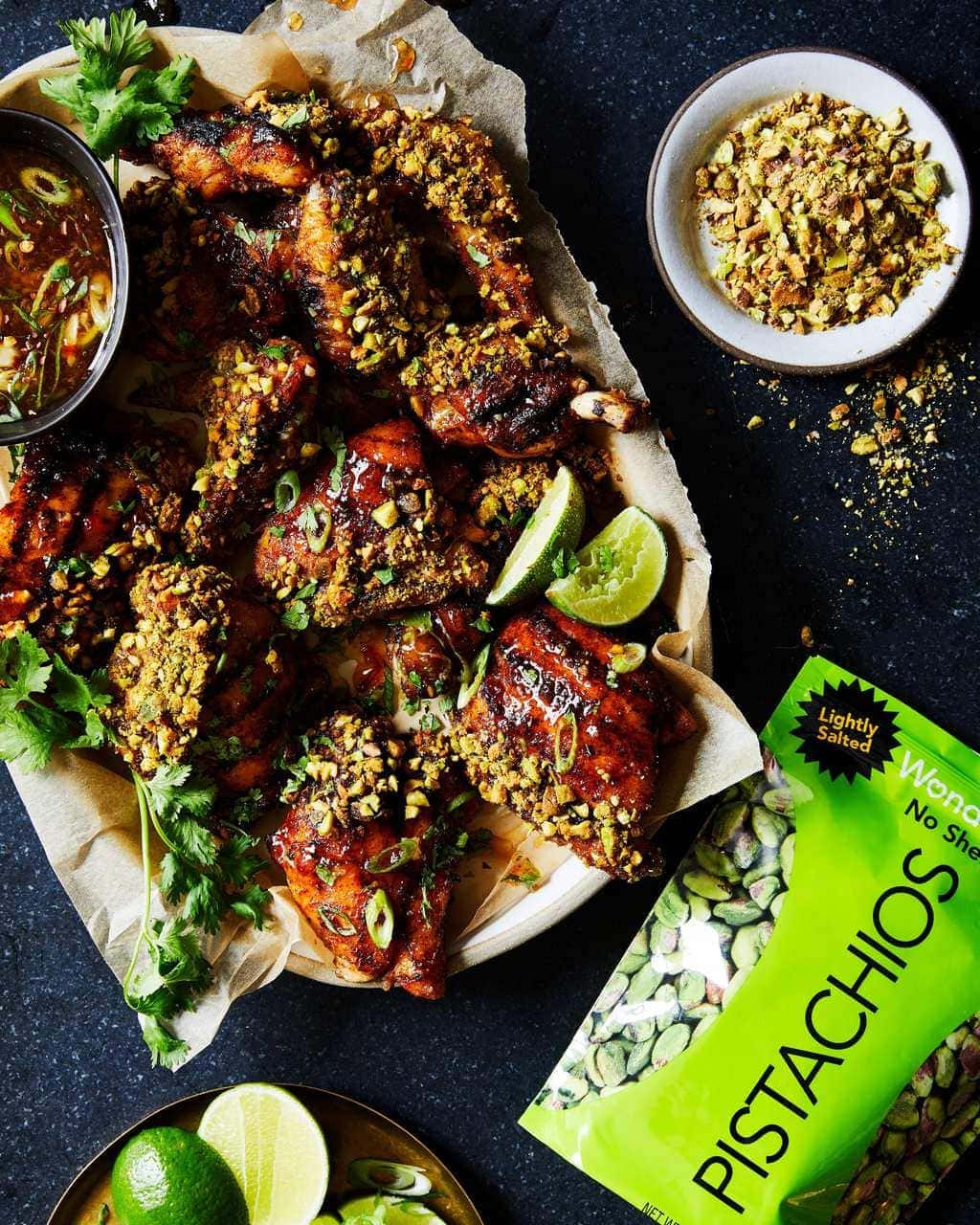 How to cook with pistachios:
Ah the great pistachio. The task of shelling each one to get to the green, sweet deliciousness! It may just put you over the edge if you have to shell a cup of these lovelies. In steps Wonderful Pistachios No Shells.
They have the same rich taste and crunchy texture of pistachios, minus the shells of course.
Wonderful Pistachios No Shells are available (in their eye-catching bright green packaging) in Roasted & Salted as well as Lightly Salted. So I can choose exactly what I want to use in my recipes.
Kick up the flavor of your sweet chili pistachio grilled chicken by using a spice rub! I used garam masala mixed with other tasty spices.
For the sweet chili pistachio grilled chicken I opted for the roasted and salted variety because my sauce is slightly sweet. The flavor combo is fantastic.
The color also pops off the reddish chicken. I like using pistachios in cooking when I'm going to see them, and enjoy that fun green color. No other nut is green! How fun to use this green nut in baking, desserts and savory recipes!
I love to pair pistachios with spices too. The flavorful nut stands up to even the strongest spice flavors. I used cumin, paprika, garlic powder and a spice blend called garam masala.
Make a delicious grilled chicken recipe:
A grilled chicken recipe is quintessential for summer meals. I love simple grilled chicken breast meals, but wanted to switch things up with wings and thighs.
Sometimes wings and thighs are much more fun to eat when entertaining a crowd or having a cookout. Plus, I wanted these smaller pieces so I could enjoy more of the tasty sauce and crunchy pistachios!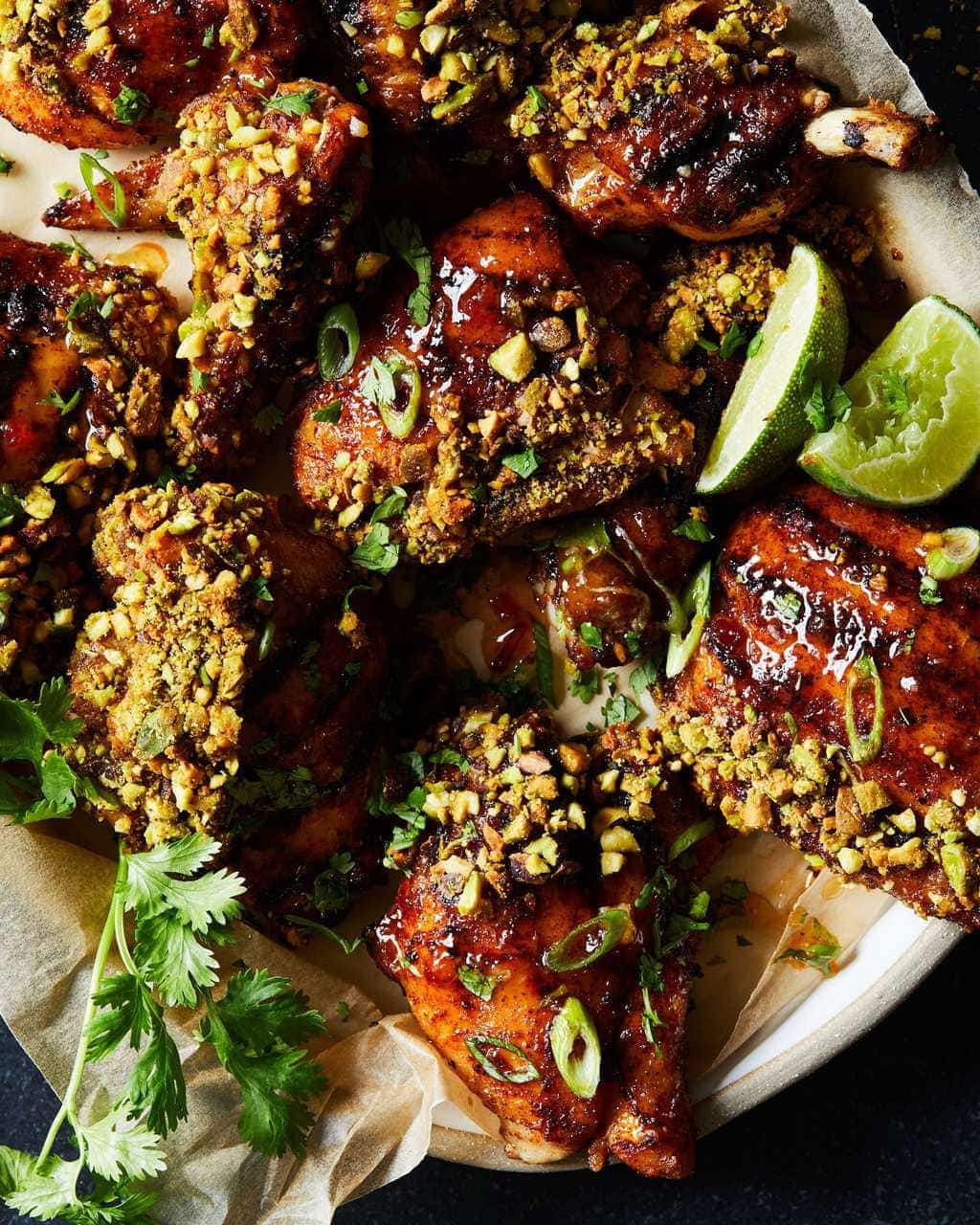 What is garam masala?
Garam masala is a spice blend and most often used in Indian cooking.
Although my sweet chili pistachio grilled chicken isn't strictly Indian in flavor, this spice blend is great when used alone or with other seasonings. I thought it added to the depth of flavor and didn't over power the chicken because I added the sweet chili sauce at the end.
Cook this sweet chili chicken recipe on your outdoor grill or on a grill pan on the stove. You can eat it anytime of the year!
Garam masala is a word you may have heard referring to other recipes, like Tikka Masala or Tandoori Masala. Masala just means mixture of spices, and each "masala" can be different.
So when you buy different brands of spices the garam masala may be different in flavor!
How to use garam masala in recipes:
Typical garam masala can have any combination of spices like pepper, cloves, cumin, coriander, cinnamon, cardamom, mace and bay leaf. Some may smell and taste a little more like the holidays! That's because they are heavy on the cinnamon or have fennel, clove or anise included.
Use garam masala more than you think! Include it in your homemade rubs along with other spices. Use it alone in meatballs, hamburgers, on fish and chicken etc.
You can change up the flavor based on what else your mixing it with, just like this grilled chicken and sauce recipe.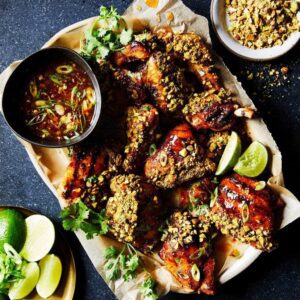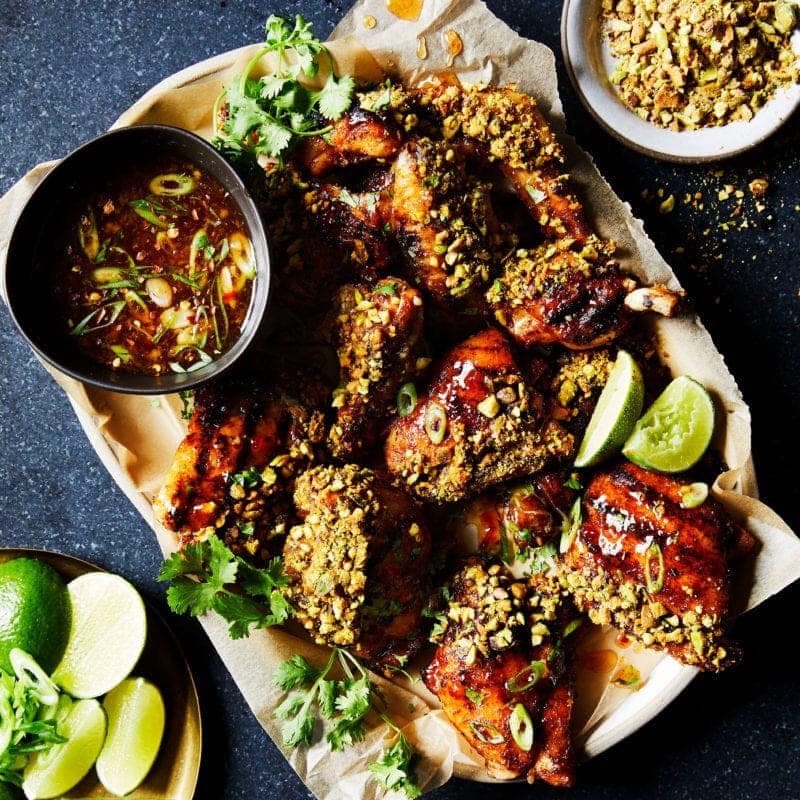 Sweet Chili Pistachio Grilled Chicken
Sweet Chili Pistachio Grilled Chicken is the best combination of perfectly cooked chicken and flavorful, crunchy pistachios. Get ready for that salty and slightly sweet bomb of goodness!
Ingredients
1

teaspoon

ground cumin

4

teaspoons

paprika

4

teaspoons

kosher salt

2

teaspoons

garlic powder

2

teaspoons

garam masala

3

lbs

chicken wings

full wings cut into parts

3

lbs

boneless, skinless chicken thighs

trimmed of excess fat

2

cloves

garlic

1

tablespoon

grated fresh ginger

⅔

cup

sweet chili sauce

3

tablespoons

soy sauce

¼

cup

pineapple juice

2

scallions

thinly sliced

¼

cup

canola oil

1

cup

Wonderful Pistachios No Shells

crushed
Instructions
Combine the ground cumin, paprika, salt, garlic powder and garam masala in a bowl. Rub spice mixture all over chicken wings and thighs. Set aside and let sit at room temperature for about 10 minutes.

While chicken rests, make sauce. In a saucepan combine the garlic, ginger, sweet chili sauce, soy sauce and pineapple juice. Heat, stirring, until just simmering. Remove from heat, stir in half the sliced scallions and set aside.

Heat grill or grill pan to medium-high. Brush one side of each piece of chicken lightly with canola oil before placing on the grill. While that side of the chicken cooks, lightly brush the top side of each piece of chicken with remaining oil. Cook chicken, turning halfway through, until each piece is cooked through (thighs should register 170ºF on a meat thermometer). Move chicken to a cooler part of the grill to finish cooking through if the outside is getting too black. Remove cooked chicken to a platter.

Brush each piece of hot chicken with the sweet chili sauce then dip one edge in the crushed pistachios. Handle with tongs because the chicken is hot. Serve topped with cilantro if desired, sliced limes for squeezing and extra sauce and scallions.
Notes
• Make this chicken for a summer party, or just a delicious weeknight dinner.
Nutrition
Calories:
823
kcal
Carbohydrates:
24
g
Protein:
72
g
Fat:
48
g
Saturated Fat:
9
g
Cholesterol:
309
mg
Sodium:
2631
mg
Potassium:
1048
mg
Fiber:
3
g
Sugar:
16
g
Vitamin A:
1015
IU
Vitamin C:
4
mg
Calcium:
69
mg
Iron:
4.6
mg
Try these other fun recipes using pistachios and chicken!
Grilled Pita Salad with Lemon Chicken Kabobs
Grated Carrot Salad with Citrus and Pistachios
And more delicious dinners:
Try these finger-licking-good BBQ recipes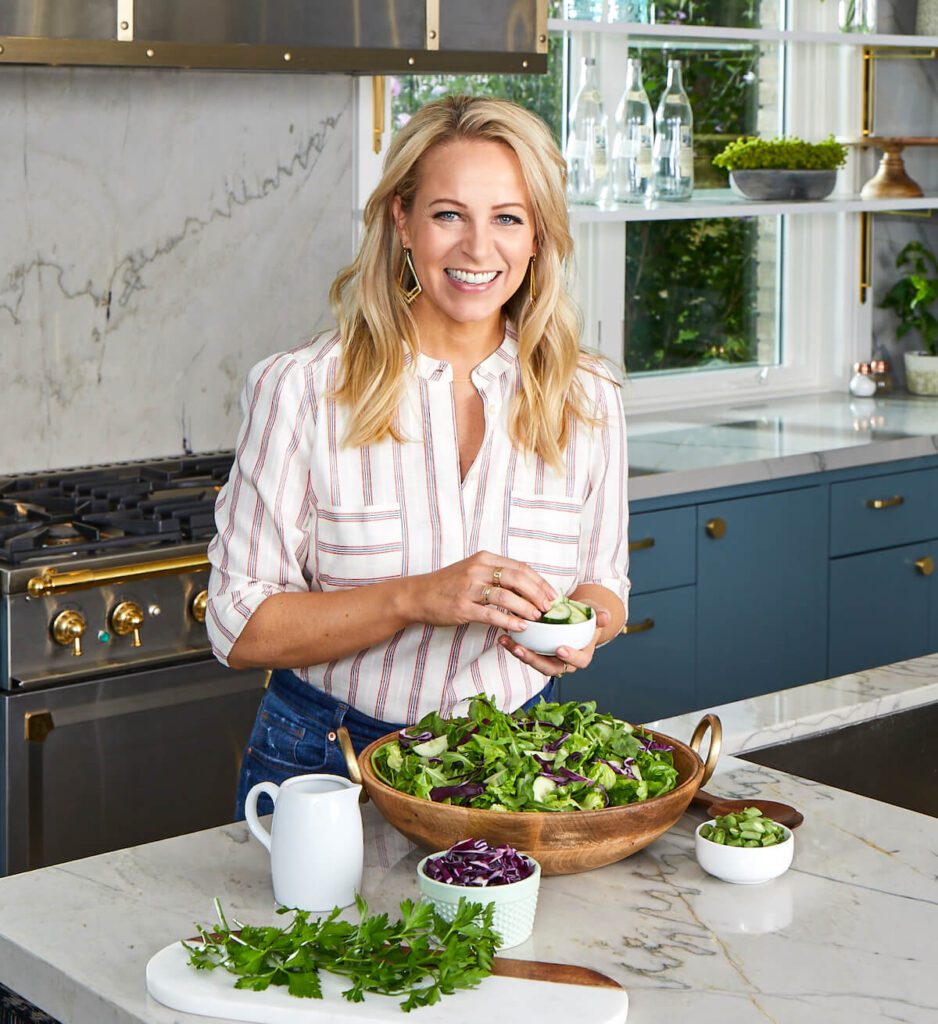 About Tara Teaspoon
I've been in the food publishing business for over 20 years, creating recipes & food-styling for magazines, books, television & advertising. Order my new cookbook & stick around for amazing things to eat.
Recipe & food styling by Tara Teaspoon. Also written by Susan Vajaranant. Sponsored by Wonderful Pistachios No Shells. Photography by Ty Mecham.