---
BBQ baked beans from scratch in under 2 hours! They are are purely addicting–and you can't believe how easy it is to get rich BBQ-joint flavor in your own kitchen.
The perfect side dish to summer cookouts, picnics, or game day parties, you'll want to keep this recipe handy.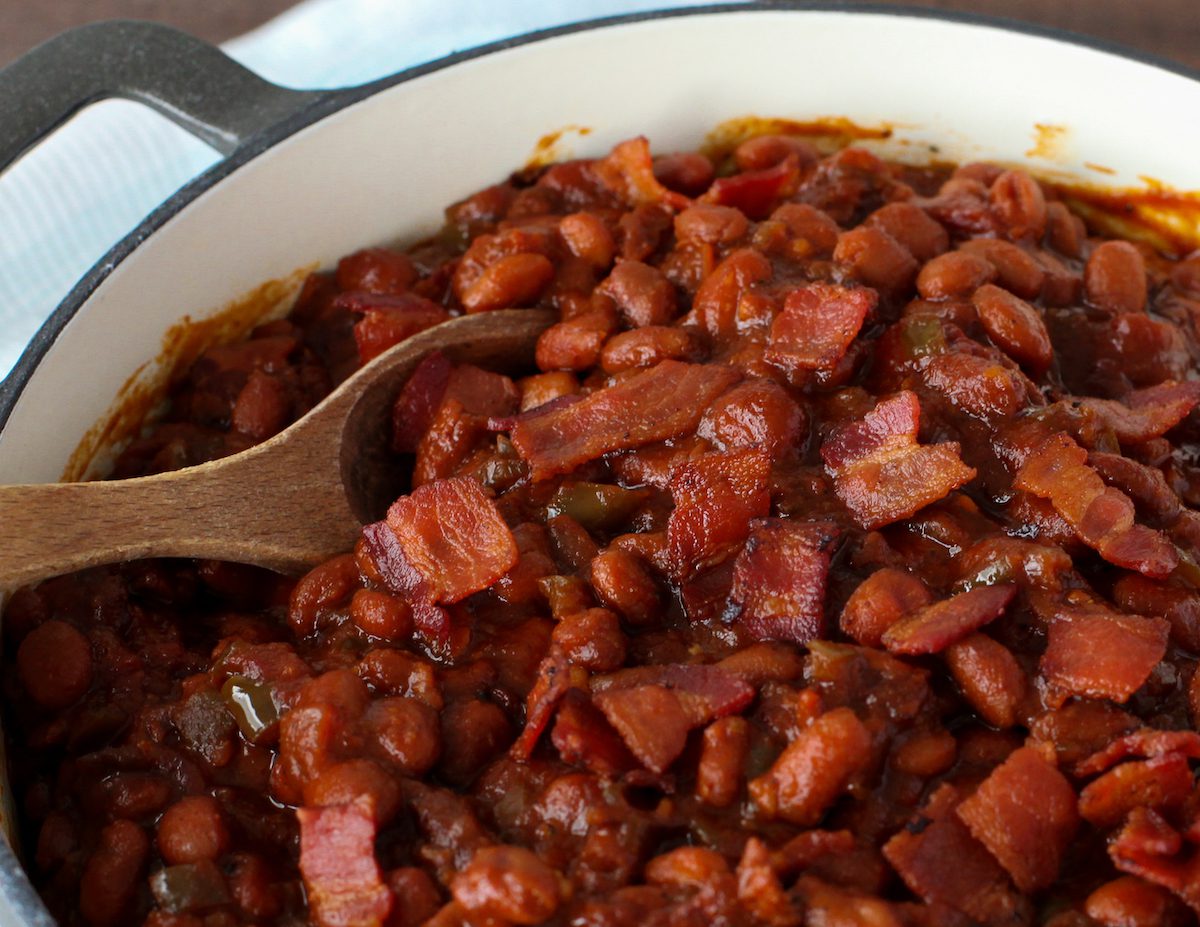 My BBQ recipe game is strong! So making sure my side dishes are just as great is important.
You love the BBQ pit side staples like potato salad, sweet cornbread, pasta salad, coleslaw, stewed apples. And you'll want this molasses baked beans recipe with bacon.
Jump to: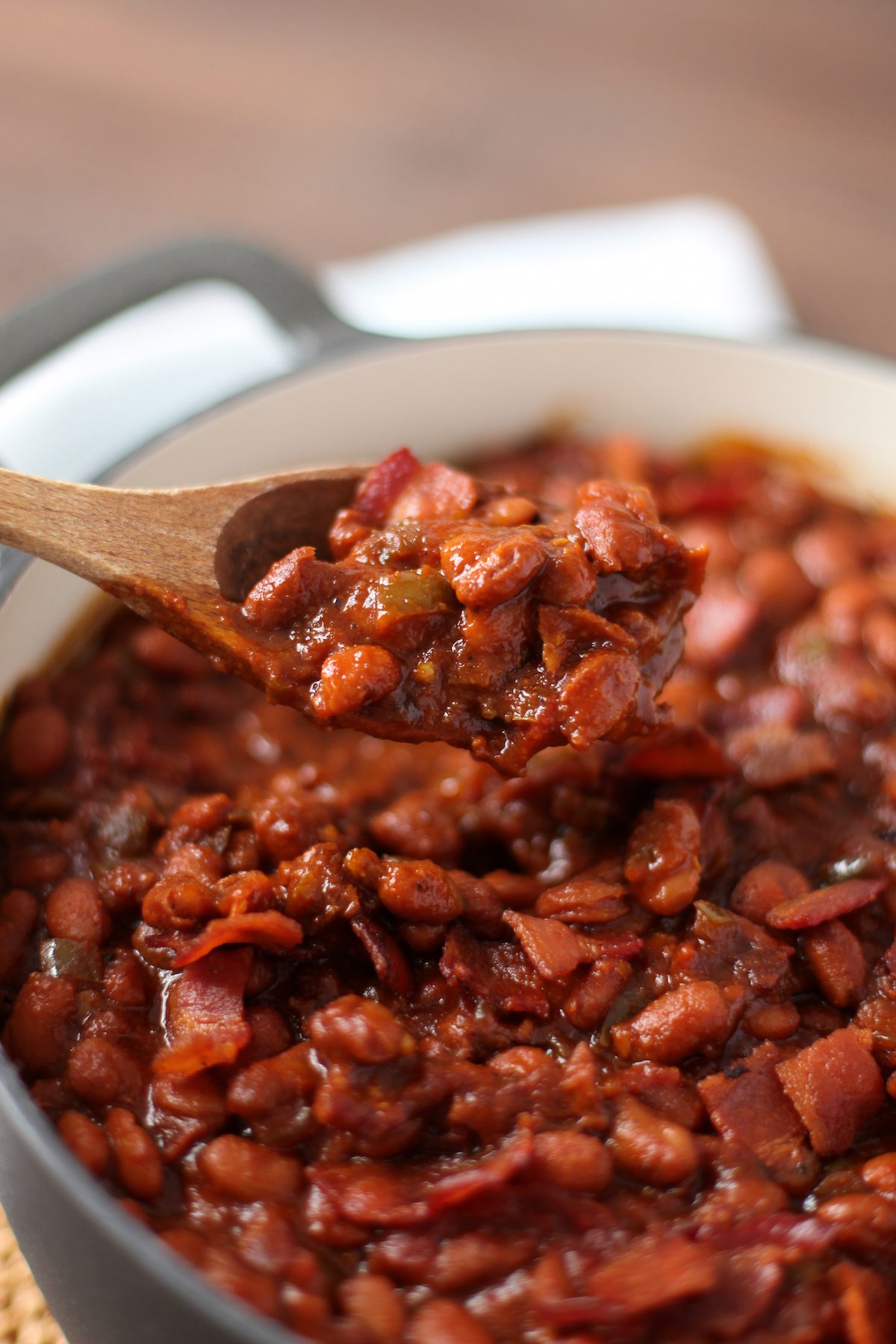 Flavors In A BBQ Baked Beans Recipe
If you wonder what to add to baked beans for flavor, I'll tell you: it's probably right in your pantry!
To get an authentic BBQ pit side dish flavor, you want to add a mixture of spices, sauces, sweetness, and heat.
Smoky pork is important for richness and a good base. I use bacon to add some smoky flavor, and jalapeno for a little heat. Molasses adds sweetness, as does ketchup and store-bought barbecue sauce. Also a touch of brown sugar will add that sweet goodness you're used to in that pot of homemade smoked baked beans.
*The amount of brown sugar you use will depend on the sweetness of your barbecue sauce. If your sauce is sweet, use only 1 tablespoon brown sugar. If it's on the savory or spicy side, use 2 tablespoons.
Spices like paprika, cayenne, garlic and onion powder, and red pepper flakes add depth of flavor and heat. They aren't overpowering because the cooking time mellows the intensity. The flavor becomes perfect mixed with all the other ingredients.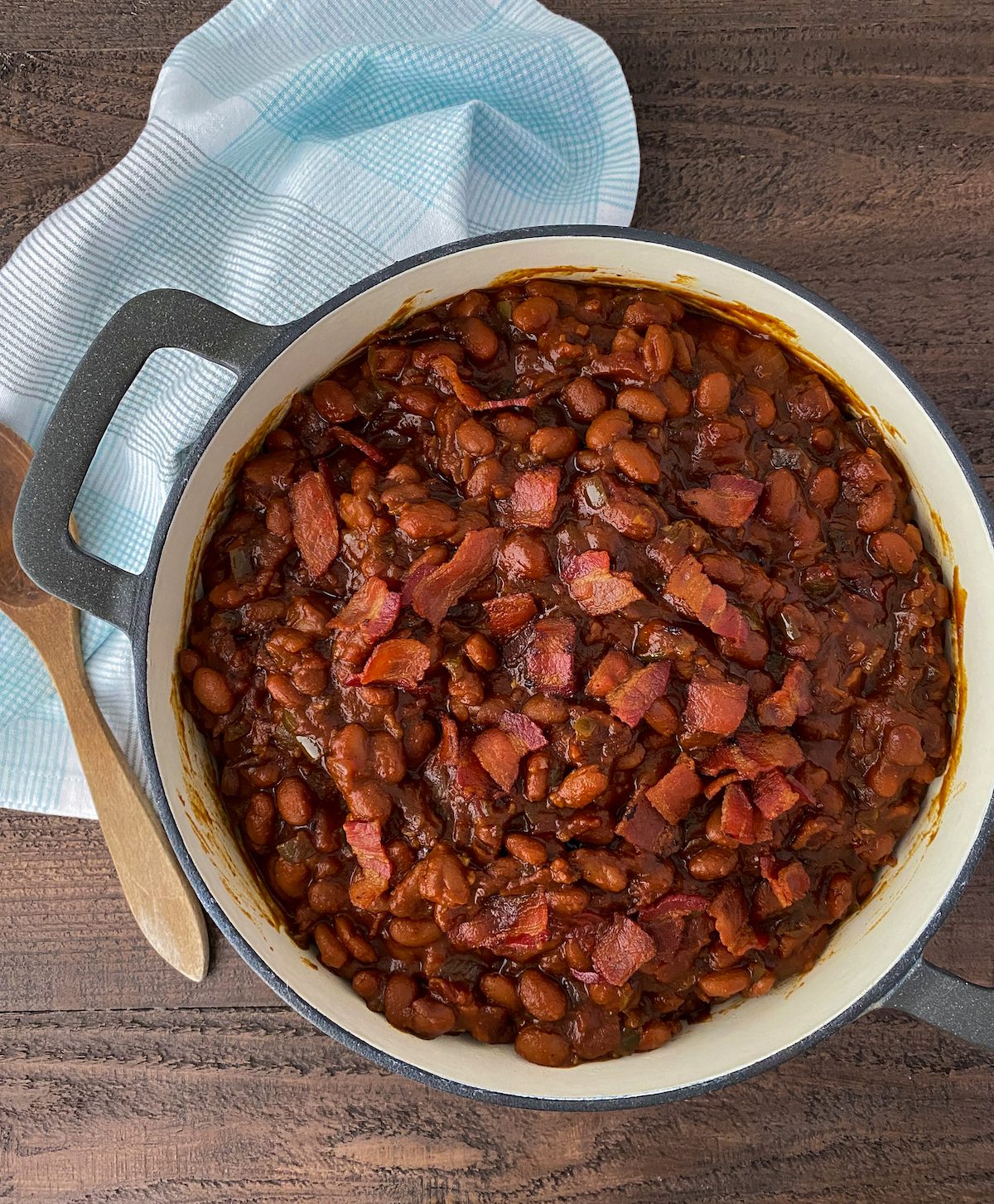 What Are The Best Baked Beans?
There are different kinds of baked bean recipes. You might like my traditional Boston Baked Beans, that I cook in half the time of the classic recipe. Boston baked beans are sweet and also use molasses, but have the essence of onion and clove, and are more traditional for a picnic, or roast ham meal, rather than a smoky BBQ cookout.
The best baked beans for BBQ are most like these tangy and spicy molasses baked beans from scratch with bacon, and jalapeno.
I add green bell pepper, garlic, and loads of spices to create a complex flavor. A taste you might find at your favorite roadside BBQ pit. This will be in your own backyard!
Try these finger-licking-good BBQ recipes
What's In A Homemade Baked Beans Recipe
Use store-bought sauces, vegetables, and canned staples to make this BBQ baked beans recipe from scratch. The ingredients aren't hard to find, and the recipe is easy to make.
Here is what you need to have on hand:
Crushed Tomatoes from a can
Ketchup
Molasses (not blackstrap)
Jalapeno
Green Bell Pepper
Yellow Onion
Pinto Beans
BBQ Sauce
Garlic
Worcestershire Sauce
Yellow Mustard
Brown Sugar
Bacon
Paprika
Cayenne
Red Pepper Flakes
Salt
Apple Cider Vinegar
Garlic Powder
Onion Powder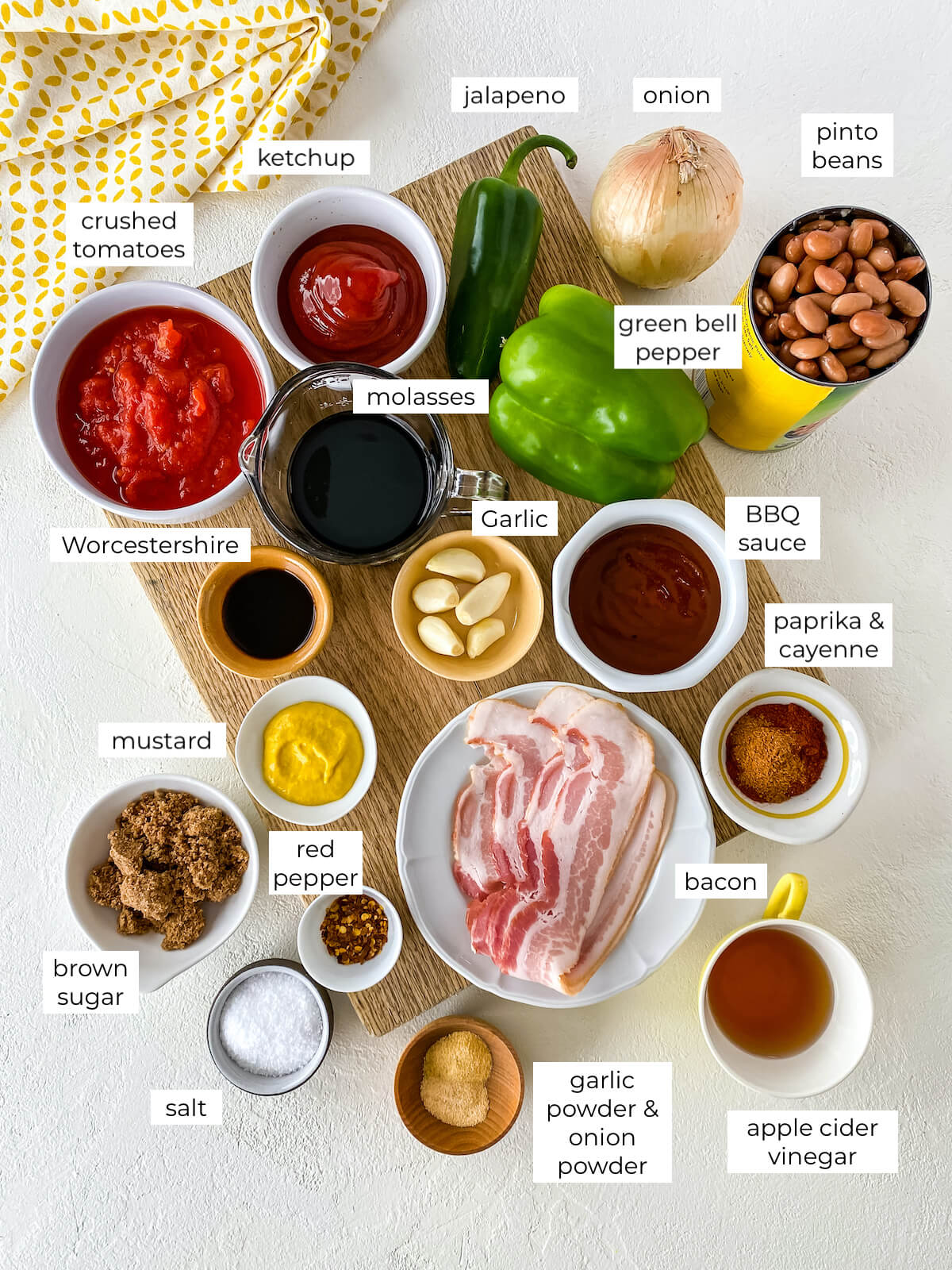 Fast and Easy BBQ Baked Beans From Scratch
It takes less than 2 hours to makes these beans. Only a few minutes on the stove top to brown the bacon and soften the onion, then less than an hour in the oven.
Bake the beans for 45 minutes if you prefer them saucier and for 1 hour for thicker, heartier beans.
After cooking the bacon and rendering the fat, remove it to a plate. Add the onion, bell pepper, jalapeno, and garlic. Cook these aromatic vegetables until soft, then add all the other ingredients to the pot.
You can put the beans in the oven to cook after you cook the vegetables.
You may find some recipes that call for tending beans on the stove for 4 hours or more, or making them from dried beans. I use canned pinto beans so the recipe is seamless and super fast.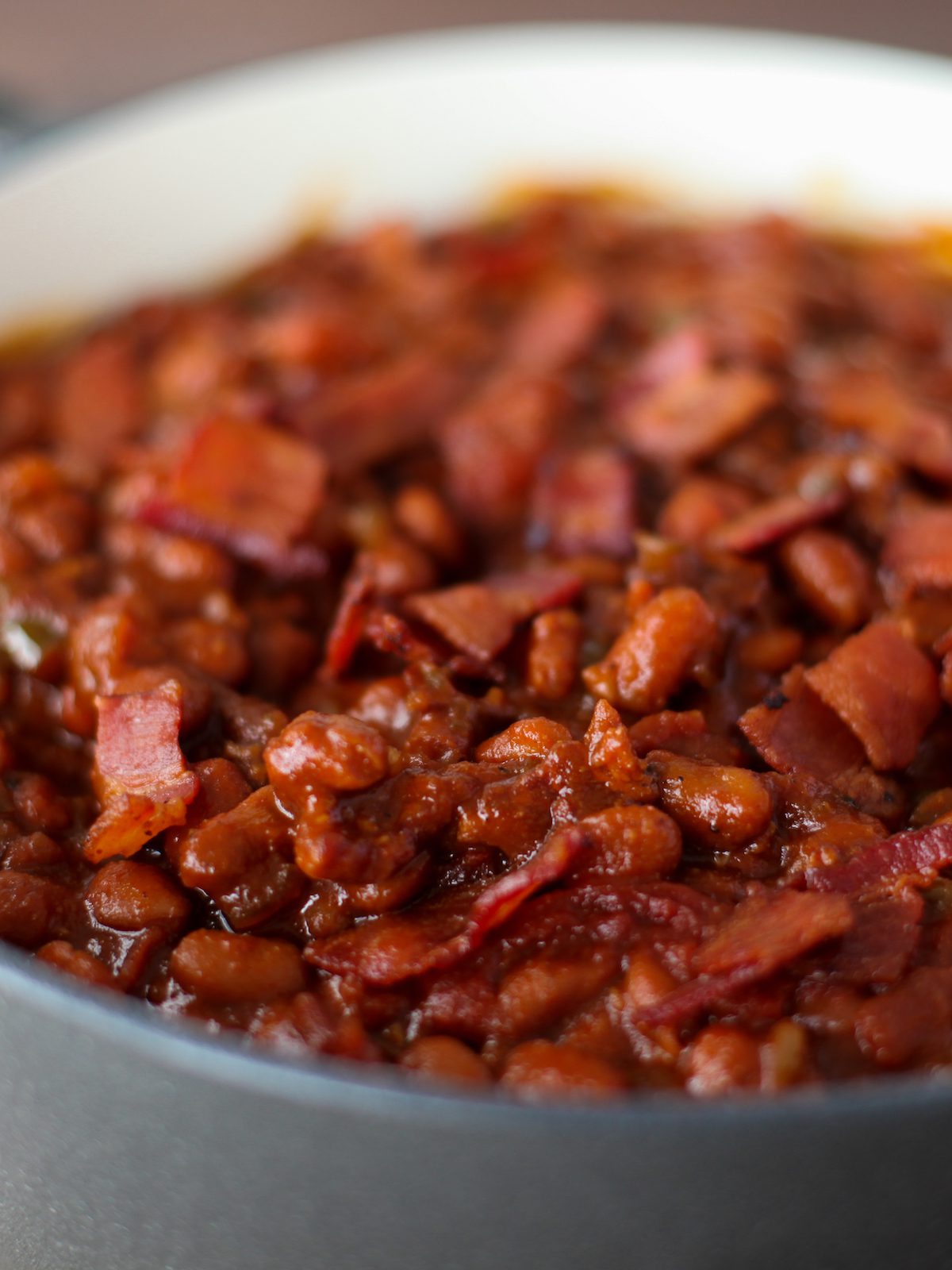 Barbecue Baked Beans FAQs
What beans to use for baked beans?
White beans such as Navy or Cannellini beans are typically used in Boston-style baked beans. But for BBQ baked beans you'll often see Pinto beans used, as that makes a more traditional cowboy bean, or barbecue-style bean recipe come to life. Some recipes will mix the beans, such as white beans, pinto beans, and red beans.
How can I make BBQ baked beans in the slow cooker?
Cook the bacon, onions, peppers, and garlic in a pot or skillet as directed in the recipe. Then transfer the mixture and all the ingredients to a slow cooker instead of a pot. Cover and cook on high in the slow cooker for 1 hour 30 minutes, until heated through and the sauce has thickened.
Is this recipe Gluten Free?
Yes, this recipe is gluten-free. You will want to check your purchased BBQ sauce to make SURE it is gluten free. We always keep a GF sauce in the house since that is what we cook with, but all the other ingredients are safely GF.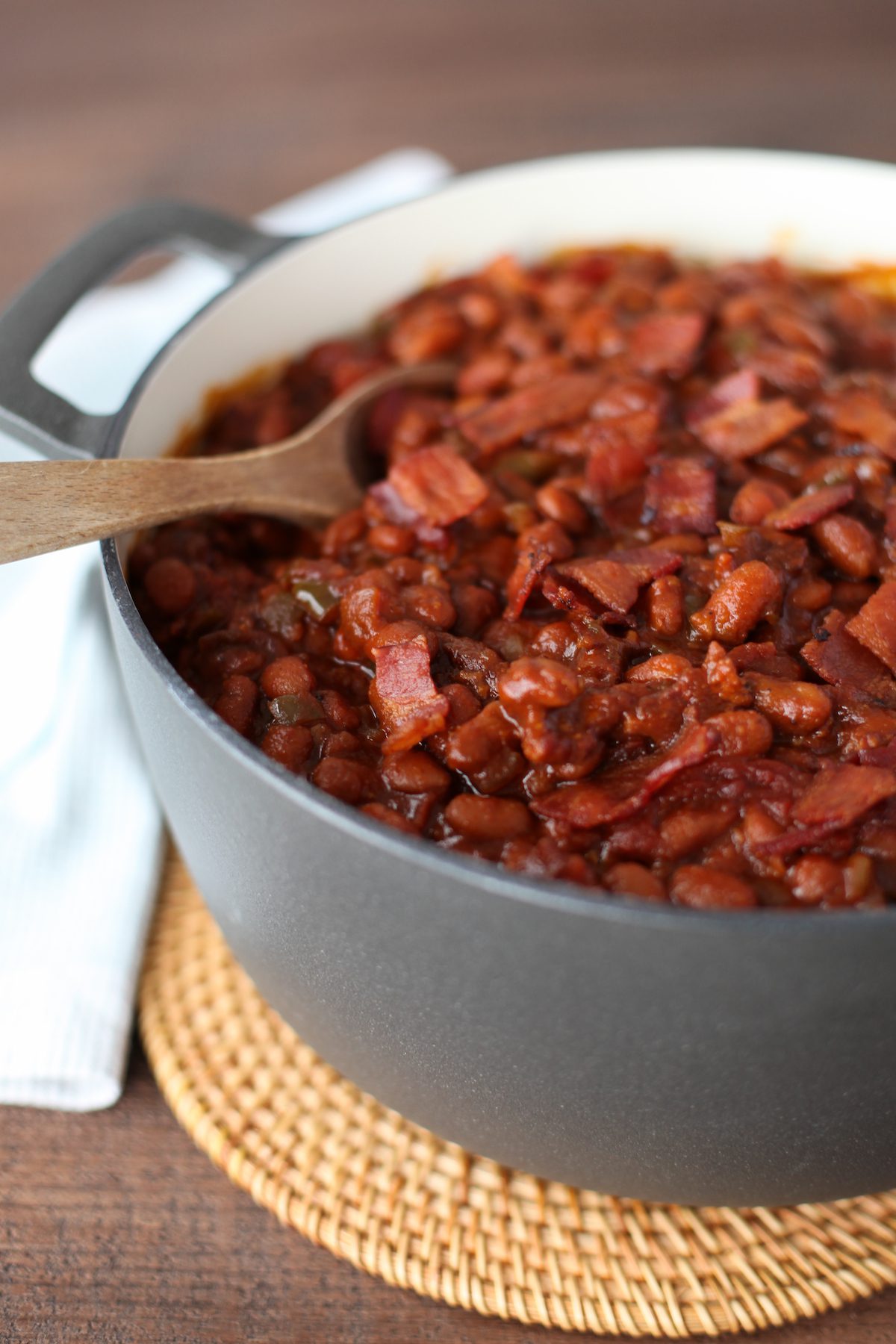 What to serve with BBQ Baked Beans
Here are a few great Tara Teaspoon recipes to serve alongside this BBQ baked beans recipe:
Let me know how it went!
Scroll to the bottom of the page to rate ⭐⭐⭐⭐⭐ and comment on this recipe. Leaving comments helps other too!
More Summer Sides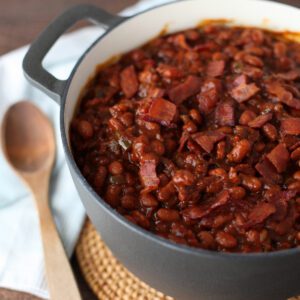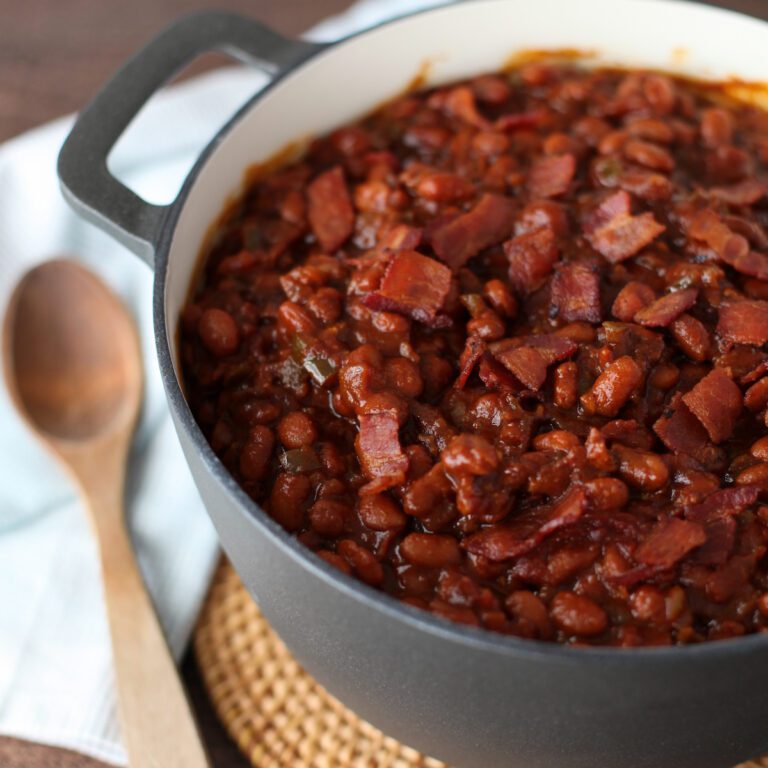 Homemade BBQ Baked Beans
Easy BBQ baked beans with molasses are loaded with a combination of seasonings, bacon, and creamy beans for the best barbecue side dish. Makes about 7 cups.
Ingredients
8

ounces

(about 7 slices) bacon

cut into ½-inch pieces

1

medium

yellow onion

finely chopped

1

green bell pepper

finely diced

1

small

jalapeno

finely chopped

5

cloves

garlic

minced

3

15-ounce

cans pinto beans

drained

2

tablespoons

dark brown sugar

*(or reduce to 1 tablespoon)

1

tablespoon

Worcestershire sauce

1

tablespoon

prepared yellow mustard

¼

cup

apple cider vinegar

½

cup

molasses

not blackstrap

½

cup

ketchup

½

cup

canned crushed tomatoes

½

cup

barbecue sauce

1

tablespoon

paprika

½

teaspoon

garlic powder

½

teaspoon

onion powder

¼

teaspoon

cayenne pepper

1

teaspoon

kosher salt

¼

teaspoon

red pepper flakes

1

cup

water
Instructions
Heat oven to 325ºF with rack in the center of the oven.

Heat a 6-quart Dutch oven with a tight-fitting lid over medium-low heat. Add bacon and cook, stirring occasionally, until fat is rendered and bacon is just crispy, about 10 minutes. Use a slotted spoon to transfer bacon to a bowl. Set aside.

Add onion, bell pepper, jalapeno, and garlic to pot with rendered bacon fat. Cook until onions are soft, stirring occasionally, 4 to 5 minutes.

Return cooked bacon to pot. Add beans and remaining ingredients. Stir to combine.

Cover pot and transfer to oven. Bake, covered, until flavors have combined and sauce has thickened, 45 minutes to 1 hour. Stir beans once during cooking time.

Remove from oven and let stand for 5 to 10 minutes before serving. Cooled leftovers can be stored in the refrigerator for up to a week.
Notes
Tips:
*The amount of brown sugar you use will depend on the sweetness of your barbecue sauce. If your sauce is sweet, use only 1 tablespoon brown sugar. If it's on the savory or spicy side, use 2 tablespoons.
Bake the beans for 45 minutes if you prefer them saucier and for 1 hour for thicker, heartier beans.
Nutritional estimate for 9 servings.
Nutrition
Calories:
262
kcal
Carbohydrates:
36
g
Protein:
5
g
Fat:
12
g
Saturated Fat:
4
g
Polyunsaturated Fat:
2
g
Monounsaturated Fat:
5
g
Trans Fat:
0.04
g
Cholesterol:
19
mg
Sodium:
880
mg
Potassium:
606
mg
Fiber:
2
g
Sugar:
30
g
Vitamin A:
713
IU
Vitamin C:
18
mg
Calcium:
77
mg
Iron:
2
mg
More great grilling recipes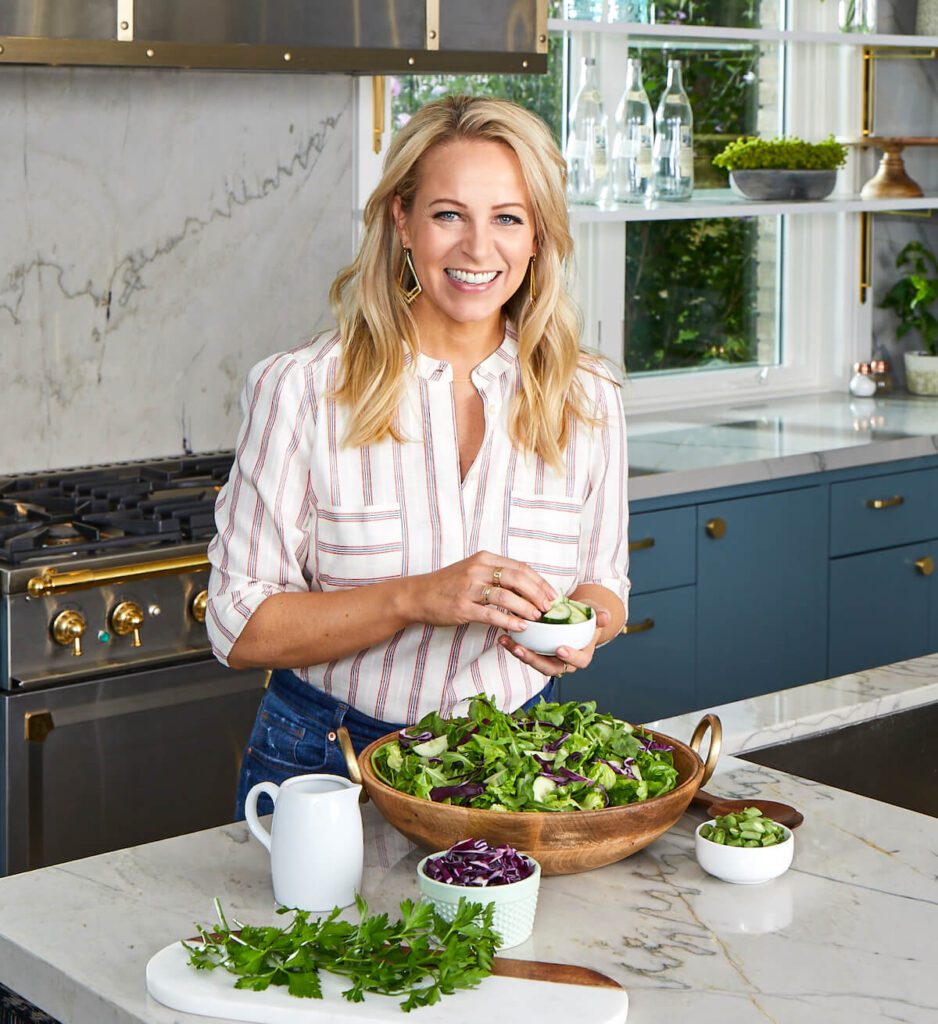 About Tara Teaspoon
I've been in the food publishing business for over 20 years, creating recipes & food-styling for magazines, books, television & advertising. Order my new cookbook & stick around for amazing things to eat.