Grilled corn and crab dip is a creamy, seasoned snack that will be your next crowd-pleaser. Bursting with sweet and smokey corn and crab, it's the perfect way to use one of my favorite summer veggies. 
• • •
Forget chips and salsa! Your next BBQ snack, pool party pleaser or summer gathering treat should be a creamy, smokey dip with crunchy bread or pita chips. You heard me right, this will become your outdoor dinner showstopper the second it hits the table.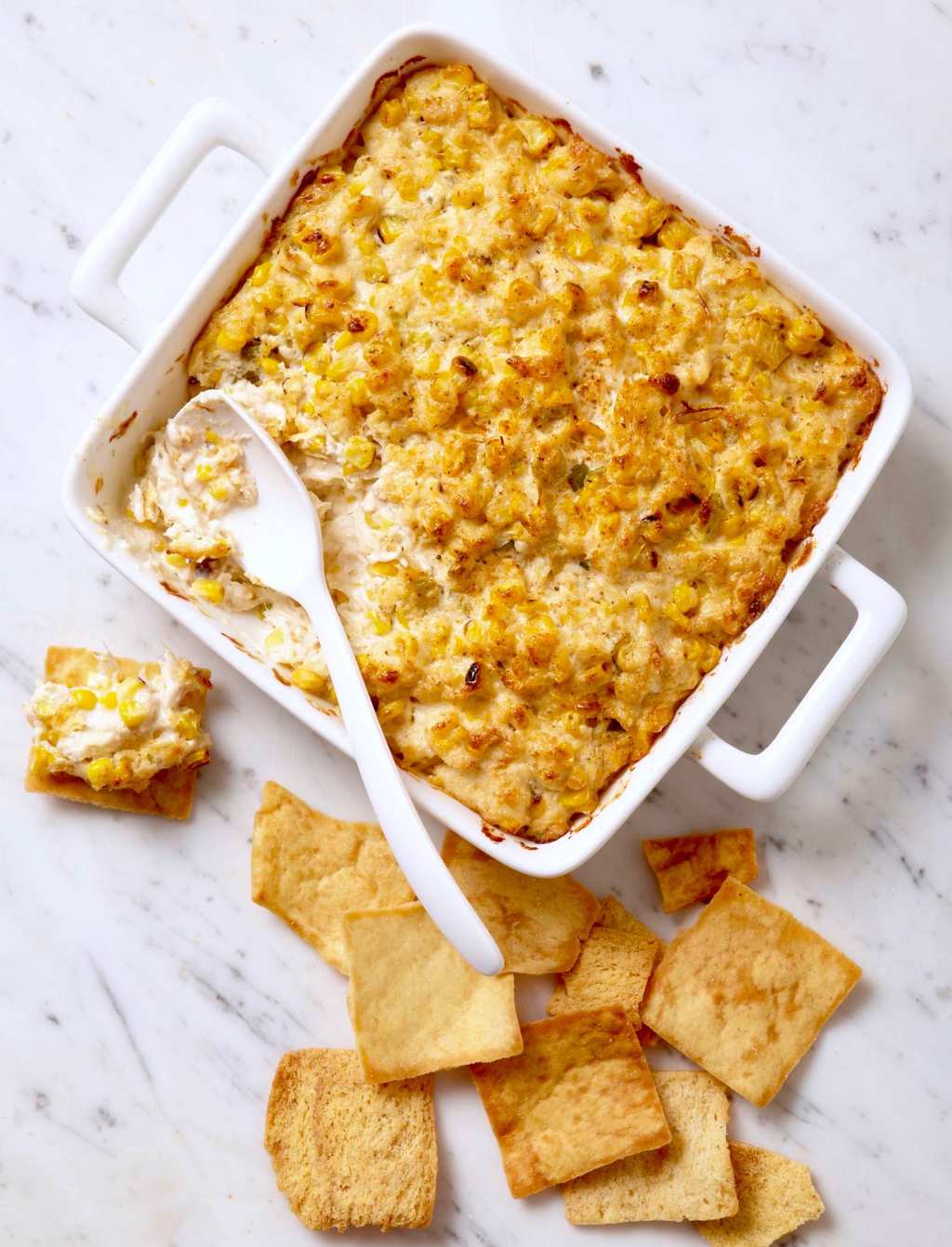 This post may include affiliate links. For more information please see my disclosure agreement.
I get it, I know the drill. You're planning a backyard party or cookout and you automatically put guacamole, chips and salsa, and veggies and ranch on the list for the same old snacks. I'm ready to use one of this season's favorite veggies, shake things up and try another yummy dip recipe for summer.



Corn is one of those veggies that still has a pretty definite season. Sure, I can find some southern hemisphere ears at the store in December. But I'm not sure what to do with it! Summer is the time to take advantage and make recipes that use corn. I love the sweet contrast to the spicy sausage in my Corn and Chorizo Tacos. And I add it to a tangy caper salsa for my fish.
Grilled corn dip with sweet crab gives the same old guacamole a run for it's money! You'll have guests clamoring for more!
How to grill corn:
There are so many ways to cook a cob of corn. I found with this recipe that the flavor is best when the corn has the smokey goodness from the grill. To get the beautiful charring and smokiness on each kernel, lay the cob on the grill grates up and down rather than across. Not only will this grill better, but it makes it easier to turn!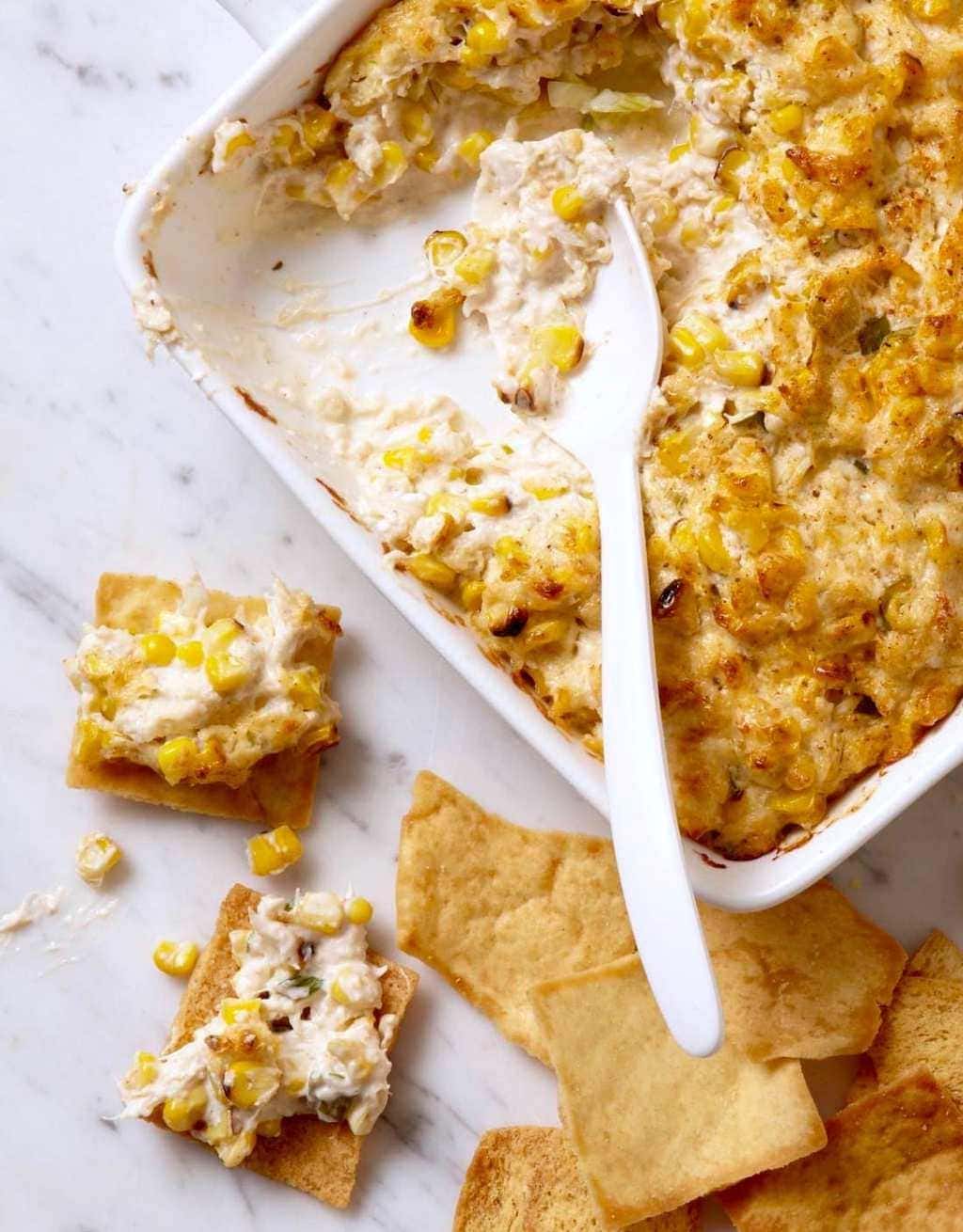 Okay, lets talk crab. Imitation crab meat can be an enticing option if you are trying to save money, however many of these imitation meats are so highly processed that you end up sacrificing both nutrition and flavor. Don't stress about breaking the bank for this tasty recipe. You only need 6 ounces of real crab and many larger grocery stores even have multiple options for real crab meat. Whether you get it frozen, fresh or canned, making the little extra splurge for real crab meat will make all the difference.
Of all the yummy dip recipes for summer, this one will be a new favorite. Use fresh corn on the cob for summer taste!
One of the ingredients that makes this dip sing is Old Bay seasoning. It's a spice blend that comes from Maryland. It was created back in 1939 when crabs were plentiful and many people were creating new ways to season them. Old Bay has recently been used in a wide variety of recipes and even as a topping for popcorn. This coastal-inspired spice goes well with seafood which makes it the perfect fit for this homemade crab dip.



Old Bay is said to be a mix of 18 different spices and herbs but only celery salt, red pepper, black pepper and paprika are actually listed. Whatever those secret ingredients may be, it surely makes this dip delicious!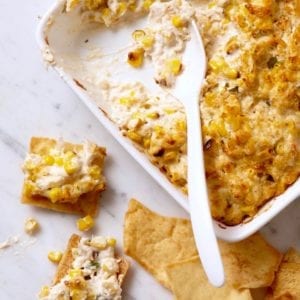 Grilled Corn and Crab Dip
Keyword:
crab dip recipe, dip recipe, grilled corn dip
Ingredients
3

ears

fresh corn, shucked

8

oz

softened cream cheese

1/4

cup

mayonnaise

1/4

cup

chopped scallion

3

tbsp

lemon juice

2

tsp

Old Bay seasoning

1

can (6oz)

drained crab meat
Instructions
Grill three ears shucked fresh corn over high heat, turning occasionally until lightly charred on all sides, 10 to 15 min. Cut kernels from cobs.

In a medium bowl combine softened cream cheese, mayonnaise, chopped scallion, lemon juice, Old Bay seasoning and the grilled corn. Add drained crab meat and gently combine.

Spread mixture in a 1 1/2-qt baking dish and bake at 350°F until heated through, 45 min. Serve with pita chips.
Nutrition Facts
Grilled Corn and Crab Dip
Amount Per Serving
Calories 395
Calories from Fat 360
% Daily Value*
Total Fat 40g 62%
Cholesterol 91mg 30%
Sodium 365mg 15%
Potassium 142mg 4%
Total Carbohydrates 5g 2%
Protein 5g 10%
* Percent Daily Values are based on a 2000 calorie diet.
What to serve after you devour this dip:
3-Ingredient Classic Ribs
Dang Delicious Brisket Sandwiches
Authentic Carne Asada
Pin This Recipe:
Recipe Tara & Hilary Merzbacher. Photography Peter Ardito. Food Stylist Allison Attenborough. Prop Stylist Courtney DeWet. Originally published LHJ Aug '12.