---
Corn Chorizo Tacos are the perfect way to eat summer corn. An easy take on street tacos, these combine spicy sausage with sweet corn and pickled onions.
So good and so easy, this taco recipe with chorizo takes 30 minutes to make!
I love a good street taco. These easy tacos are a nice twist on the typical. I do like a good ground beef taco. Mine have delicious green chilis.
And my Blackened Salmon Tacos are truly divine if you like fish tacos.
Jump to:
What's in these Chorizo Tacos?
Corn adds sweetness to these quick and easy chorizo street tacos. Chorizo, depending on the brand you get, can add great heat and spice.
I kept the tacos simple and topped them with thinly sliced red onion, lime, cilantro, and a dollop of sour cream. You don't need a lot of toppings when the base flavors are so good!
What Is Chorizo?
Chorizo is a spicy Mexican sausage. You can find it in a casing so you are able to slice and fry it like I do. Or remove it from the casing and cook it like ground beef or Italian sausage.
If you're wondering what else to do with chorizo, try making my Eggs in Purgatory next!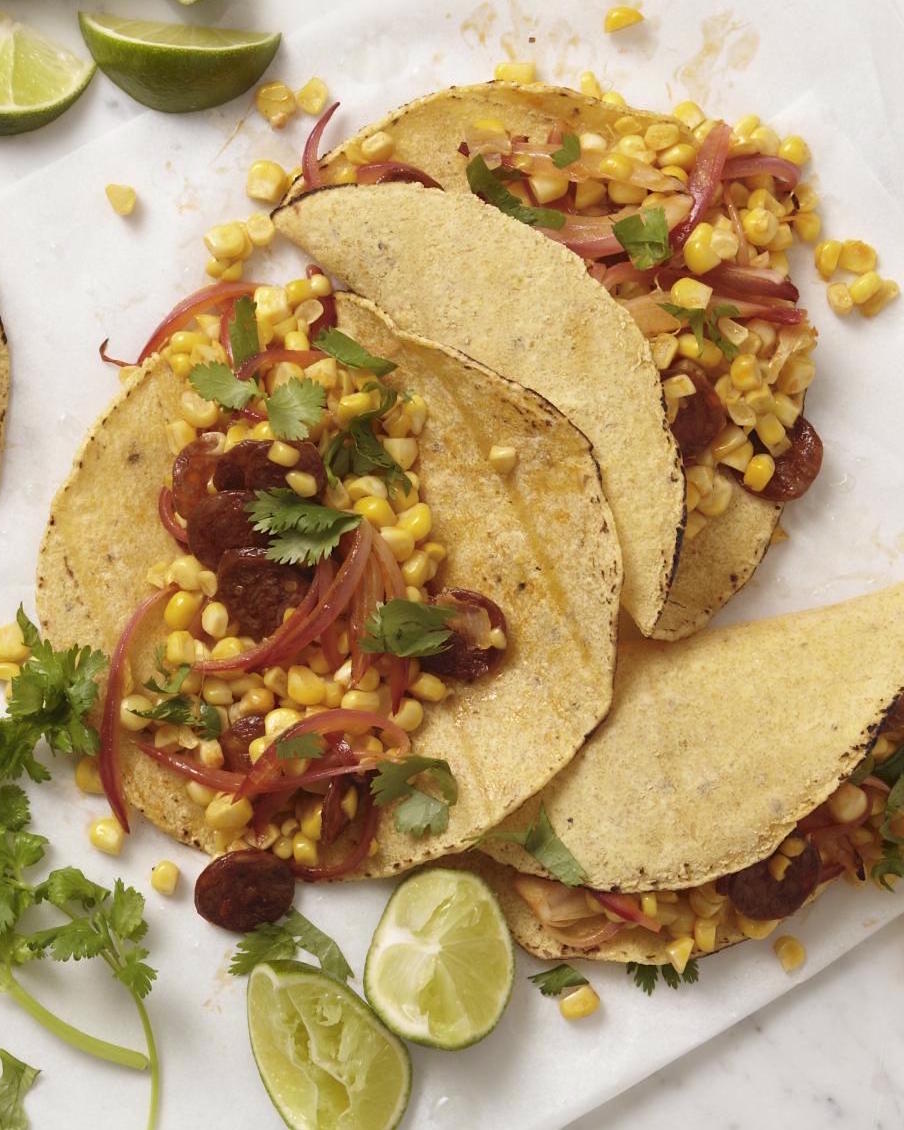 How to Make Chorizo Tacos
This chorizo taco recipe is really a 30-minute meal! That being said, I'm a bit more realistic. Unless you have elves*, washing, prepping, chopping and organizing ingredients in your kitchen, there are very few meals that actually take only 30 minutes from start to finish.
(Ok, so there's also packaged foods that help…think "semi-homemade.")
*If you have elves helping you, please let me know where I can get my own. Thanks.
What I'm trying to get at is, these darn fantastic tacos are made with your own two hands, are really easy, and fast!
Simply cook the chorizo until crispy, remove to a plate while you sauté the onion, then return the chorizo and corn to the skillet to warm up. This is by far my favorite method for cooking chorizo.
Pile it all into corn tortillas and dig in!
How to Slice Onions for Tacos
The kind of tip everyone needs in their day…the kind about onions (sarcasm).
This is cool though: When slicing onions for sautéing (as in this recipe) or even for caramelizing, cut them root to tip.
If you cut them crosswise into half-circle slices, you end up with long, worm-like onion pieces once they cook and soften. No one likes having the other half of a long onion slice hit their chin when they bit into something.
Cutting slices root to tip keeps the onions in a more appetizing shape, when tossing in, say, a taco.
Tips for Making Chorizo Street Tacos
Corn tortillas will give you the authentic street taco experience. However, if you only have flour tortillas on hand you can also use those.
I recommend gently heating the corn tortillas in a separate skillet over low heat before piling on the chorizo filling. This makes the tortillas more pliable and less likely to break while rolling them up.
You can make the tacos spicier by buying a spicy chorizo. Read the label to ensure you buy the right kind.
What to Serve with Chorizo Tacos:
Main Dish Recipes
Recipe by Tara Teaspoon, LHJ 08/12. Photography Peter Ardito. Food Styling Alison Attenborough. Prop Styling Courtney De Wet