---
This cilantro salsa is a fantastic taco bar topping, and a fresh green salsa for any Southwest, or Mexican meal. Bright herbs, green onions, spicy jalapeño, and lime make this recipe versatile and tasty.
---
This green salsa with cilantro and onions is one of the best taco toppings, with all the fresh flavors you want in one spoonful. Spicy jalapeño, green onions, lime, and cilantro make this fresh green salsa great for tacos, my Chipotle Chicken Meatballs, nachos or a Mexican taco salad.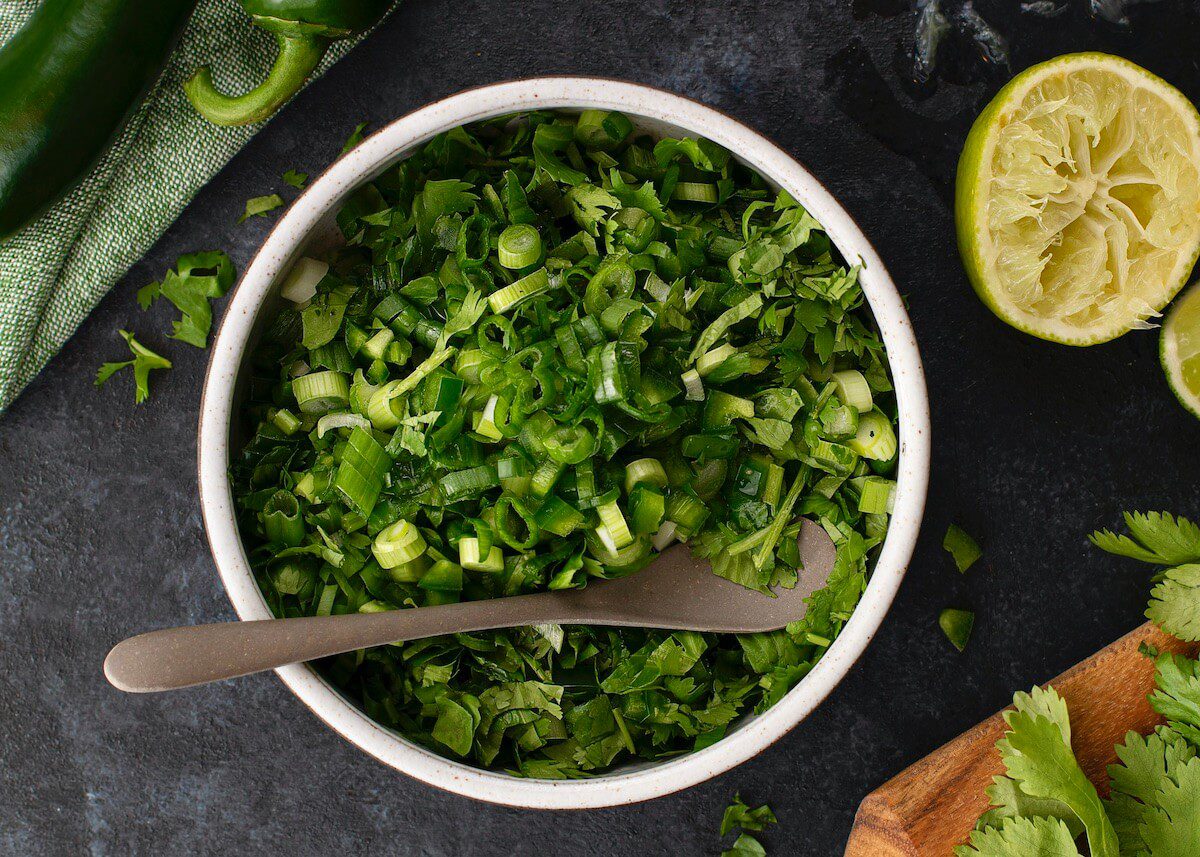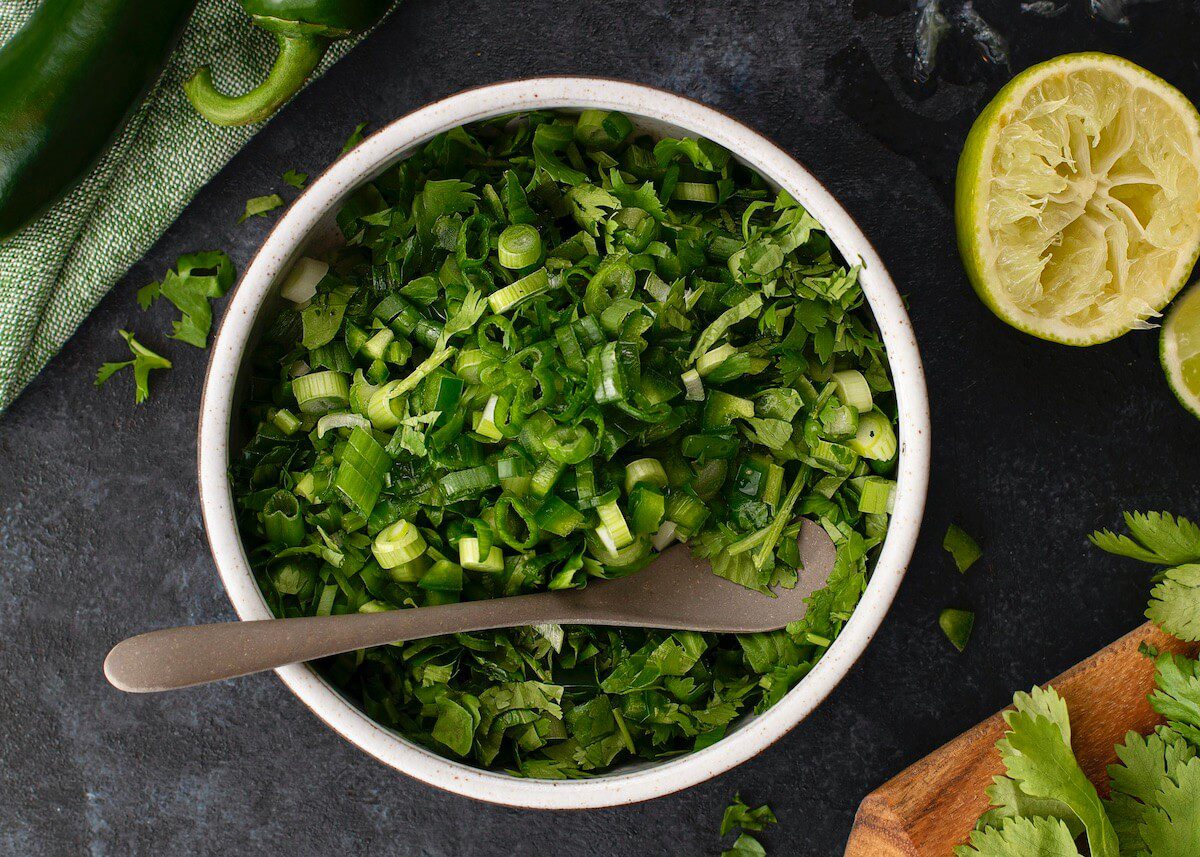 Jump to:
This cilantro salsa recipe is one of the best taco toppings for a taco bar
Salsas and fresh green toppings are always on the list when I'm figuring out what to put on a taco bar.
The filling for tacos is easy. You choose your protein or veggie, season it perfectly and boom! You have a great taco filling.
I have some great taco recipes you can try:
For the toppings I always have fresh cilantro on hand. Many of my tomato or fruit salsa recipes include cilantro, but sometimes I want a real pop of green freshness.
This cilantro and onion-heavy salsa with spicy jalapeño and lime is the most ideal combo. It's not a saucy salsa. Rather, a fresh topping that goes on tacos and so many other things.
What are traditional taco toppings?
On my trips to Mexico, and of course to the taco stands in NYC and Queens, I see a slew of similar taco topping options.
The most traditional taco toppings include chopped white onions, cilantro, and hot sauce. Beyond that you'll find different salsas, avocado, and cheeses.
I'm sharing a taco toppings list that you'll want to keep handy at all times! Use any or all of these on a taco bar, with your weeknight taco dinner, or on top of nachos!
Toppings for tacos:
Cilantro
Cotija or Queso Blanco cheese
Hot sauce like Chalula
Tomato salsa or pico de gallo
Tomatillo or Green Salsa
Diced avocado
Chopped white onion
Pickled red onions
Pickled jalapeños
Roasted corn or corn salsa
Sliced scallions
Jalapeños or diced chilis
Grated cheese (cheddar or Pepper Jack)
Sliced fresh or pickled radishes
Sliced lettuce
Black olives
Diced tomatoes
Cabbage slaw
Fruit salsa
Guacamole
Sour cream or Crema
Lime wedges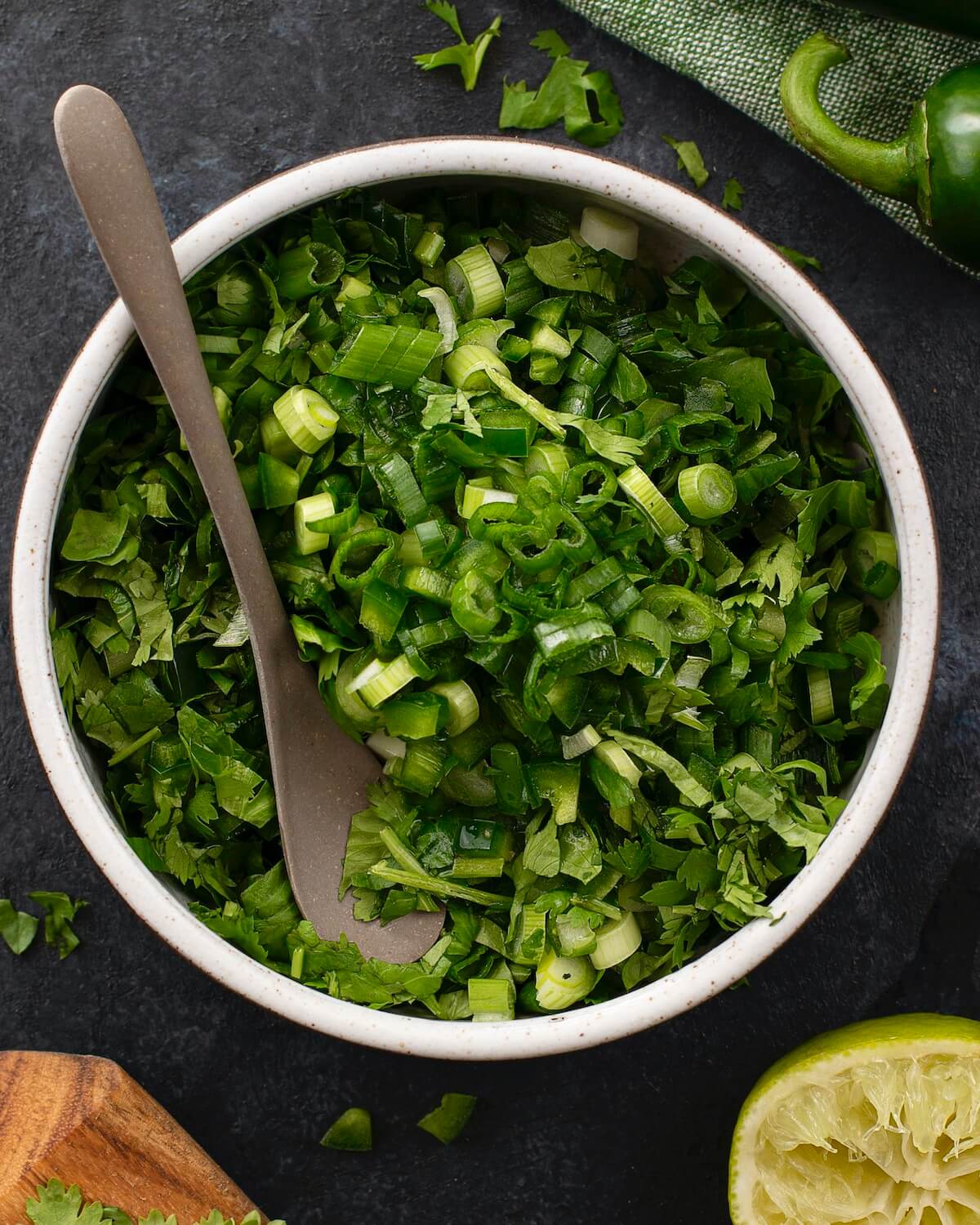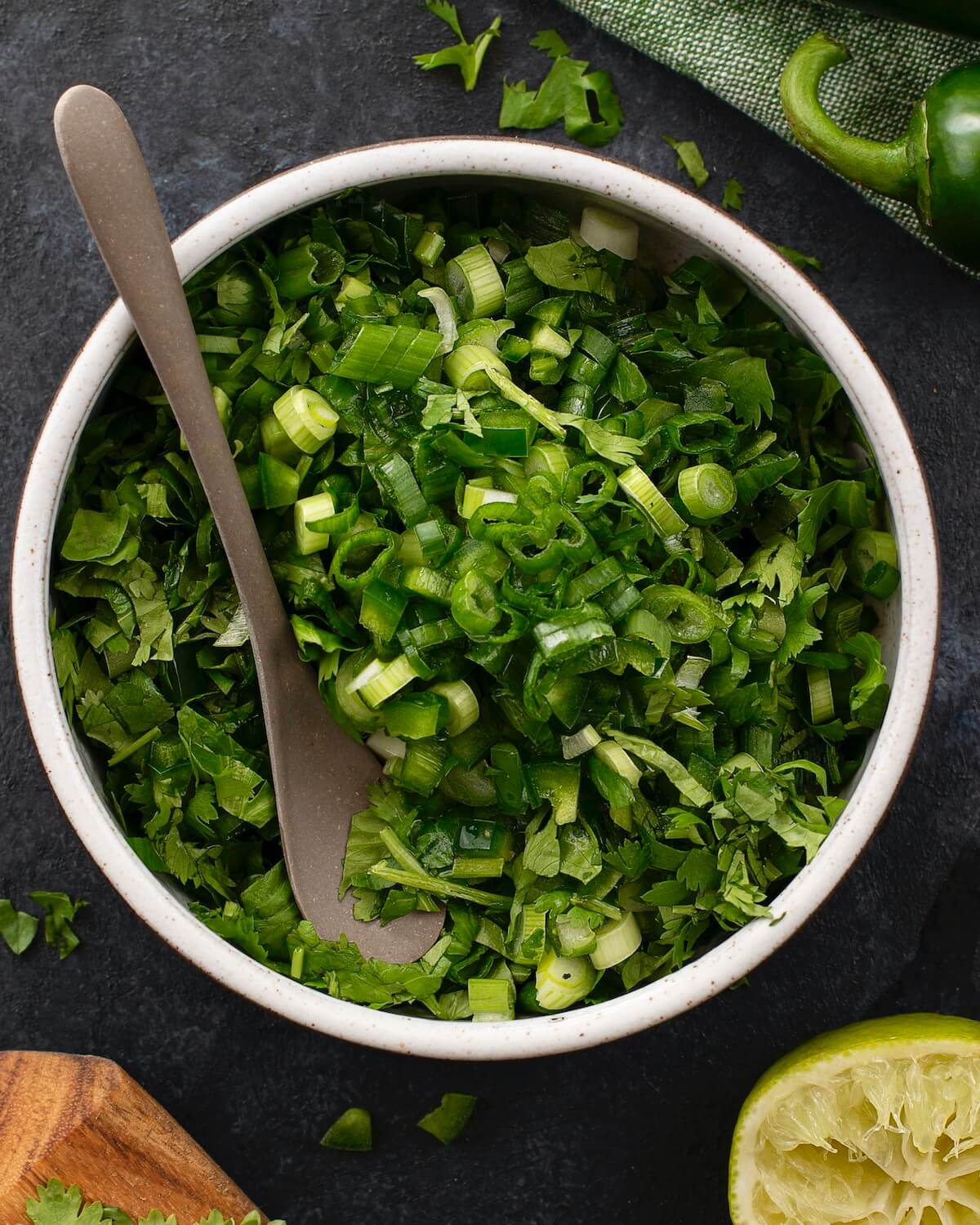 Salsa not just for tacos!
This refreshing onion cilantro salsa is not just for taco topping.
I serve loads of this cilantro onion salsa on my Mexican Meatballs. Here are a few other ways to enjoy this great topping.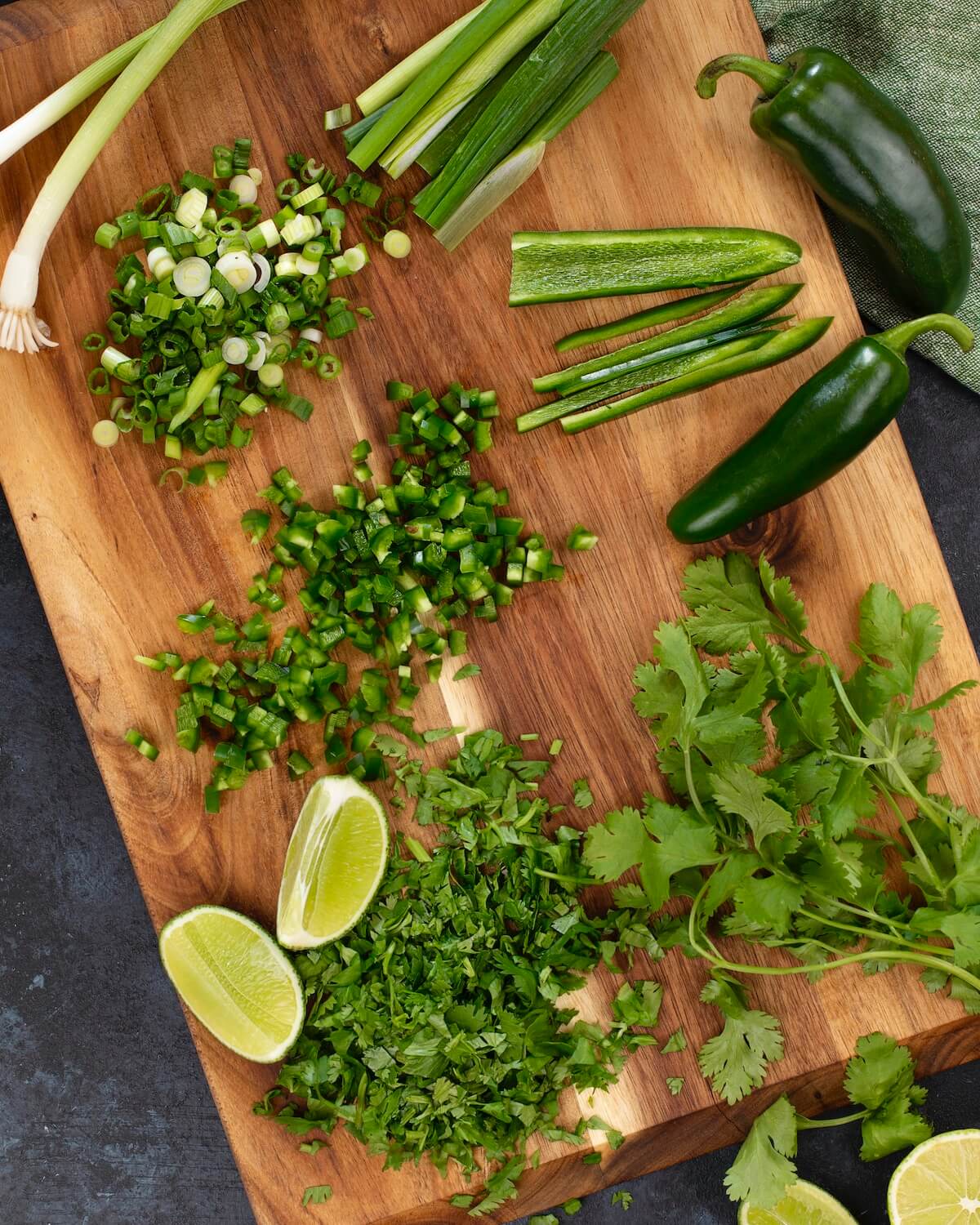 A fresh salsa recipe starring cilantro and green onions
It's easy to make this great salsa for tacos. Cilantro is the star of this salsa and you can begin with that.
Cilantro adds a fresh herb boost and the leaves add bulk to the salsa. This salsa isn't saucy or wet. The lime adds a little juice, but it's almost like pico de gallo as far as being a nice fresh topping without the sauce.
Here are some helpful tips and instructions.
• Wash and dry the cilantro. I use a salad spinner.
Gather the cilantro together by the stems and start chopping from the leaves toward the stems. When you get to just the stems you can discard them. A few tender stems in the chopped mix will be great. There is a lot of flavor in tender cilantro stems.
•Use the light green and dark green parts of the green onion or scallion, it's great to use everything in this cilantro onion salsa.
• Seed the jalapeño and cut it with the skin side down on the cutting board.
Get the seeds and white pith from the inside of the pepper out. The white pith isn't super tasty and the seeds add too much heat.
Set the pieces of pepper on the cutting board with the skin side down. As you slice and dice, your knife will cut right through the pepper without sliding off the skin. No cut fingers here!
Do you Remove the Stems when Using Cilantro?
For this cilantro and onion salsa recipe, you do not need to remove the stems. The stems add a light and more delicate cilantro flavor and additional texture to the salsa or recipe when you add them. Other recipes just use the more robustly flavored leaves for a punch of flavor or to garnish a recipe.
Can I Skip the Cilantro in Salsa?
Cilantro can be overpowering and not everyone's favorite herb. If you want to change the cilantro in your salsa, try using parsley, Mexican oregano, or even fresh basil.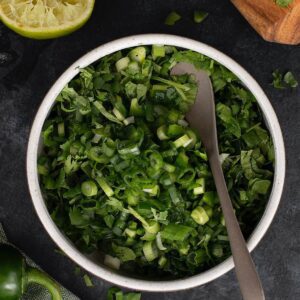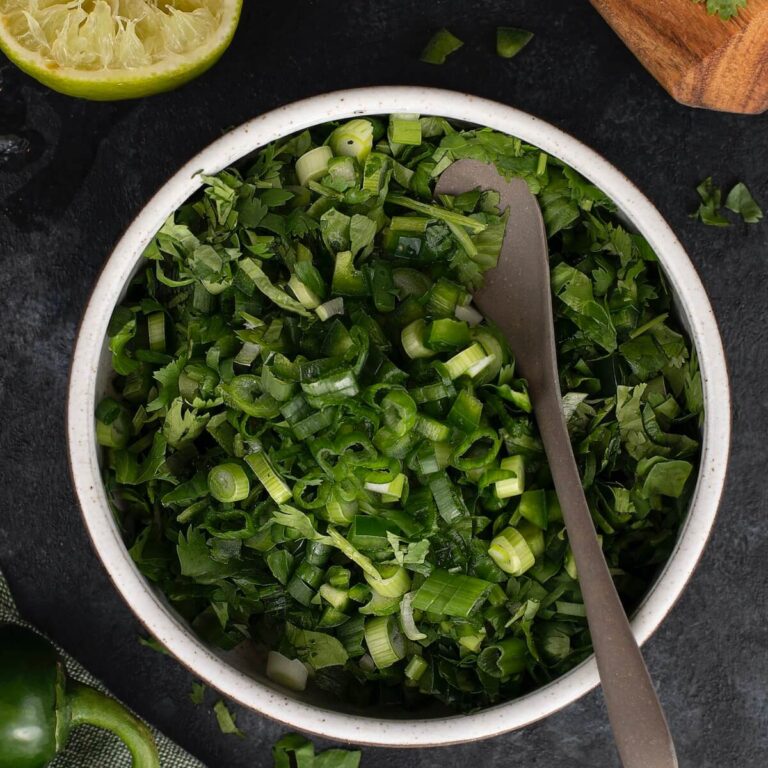 Cilantro Salsa Recipe
The best onion and cilantro salsa with all the fresh flavors you want in one spoonful. Spicy jalapeño, green onions, lime, and cilantro make this fresh green salsa great for tacos, Mexican meatballs, nachos, or a Southwestern salad. Makes 2 cups
Ingredients
1½

cups

chopped cilantro leaves and tender stems

¾

cup

finely sliced scallions, white and green parts

⅓

cup

finely diced, seeded jalapeño

1

teaspoon

kosher salt

2

tablespoons

fresh lime juice
Instructions
In a medium bowl combine all ingredients and stir to combine. Use immediately.
Notes
Nutrition is for the full recipe amount.
Reduce the amount of jalapeño if you want a mild salsa.
This salsa can be prepped ahead. Keep all the ingredients separate until ready to assemble and serve.
Try my other salsa recipes:
Nutrition
Calories:
23
kcal
Carbohydrates:
5
g
Protein:
1
g
Fat:
1
g
Saturated Fat:
1
g
Sodium:
1175
mg
Potassium:
203
mg
Fiber:
2
g
Sugar:
2
g
Vitamin A:
1345
IU
Vitamin C:
33
mg
Calcium:
35
mg
Iron:
1
mg
Tools you'll need for this recipe:
Awesome Side Dish Recipes!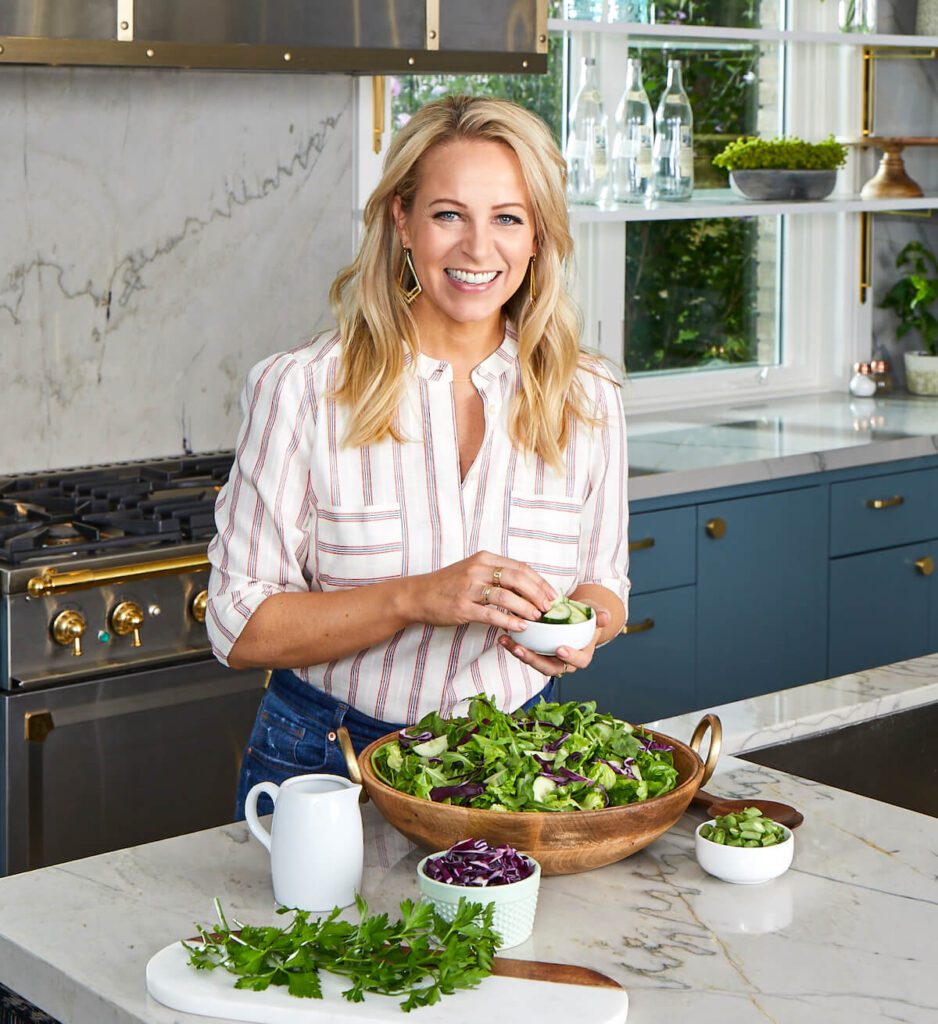 About Tara Teaspoon
I've been in the food publishing business for over 20 years, creating recipes & food-styling for magazines, books, television & advertising. Order my new cookbook & stick around for amazing things to eat.
Recipe and food styling Tara Teaspoon. Photography Darianne Edwards.