---
Chipotle seasoned chicken turned into Mexican meatballs is an easy dinner with fresh flavors. The best part: these are BAKED chicken meatballs, and are hands-off while you make the rest of the meal!
---
Everyone loves a meatball. People like chicken. Quite a few folks like Mexican food. I combined everything and this recipe will blow your mind!
Chicken chipotle meatballs mix delicious Mexican flavors like smokey chipotle and cumin with healthy ground chicken for a very delicious dinner. They are fantastic served with Cilantro Lime Rice and my super green Cilantro Salsa with Lime and Jalapeno.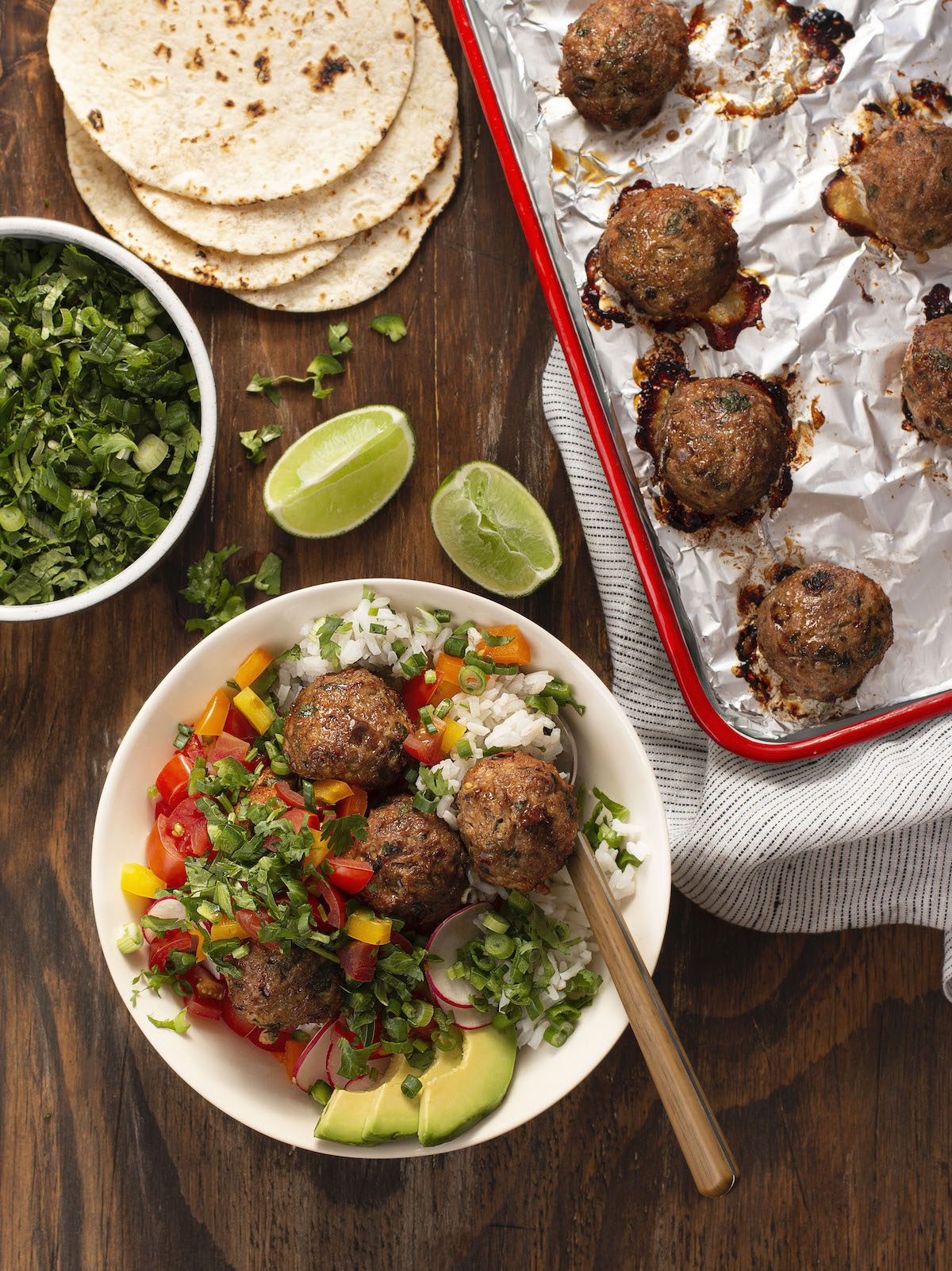 Jump to:
Ground chicken meatballs in the oven are super easy to make. I have seasoned mine with the smoky Mexican chipotle and served them over rice. This is one of my favorite Mexican-inspired dinners.
Plus, you can make these meatballs ahead, make a double batch, and keep some in the freezer.
They are so versatile: Serve them over rice with salsa, like me, or in a tortilla as a taco, even in a torta (a Mexican sandwich on a soft roll). I share even more ideas below.
How to make meatballs in the oven
The best chicken meatballs are baked! Of course, you could cook the chipotle meatballs in a skillet with a little oil; but I like to cook them in the oven. Less mess and I'm free to prepare the rest of dinner while they roast.
Baking meatballs is one of my favorite dinner-prep tricks. Here's how to do it:
Line a baking sheet with foil.
Heat oven to 350ºF.
Roll meatballs and place them on the foil-lined baking sheet.
Small meatballs will roast for about 25 minutes.
I bake these Chicken Meatballs with Cumin and Orange in the oven as well as the meatballs for this delicious Spaghetti Squash and Meatballs dinner.
My Moroccan Porcupine Meatballs dinner is baked in the oven as well.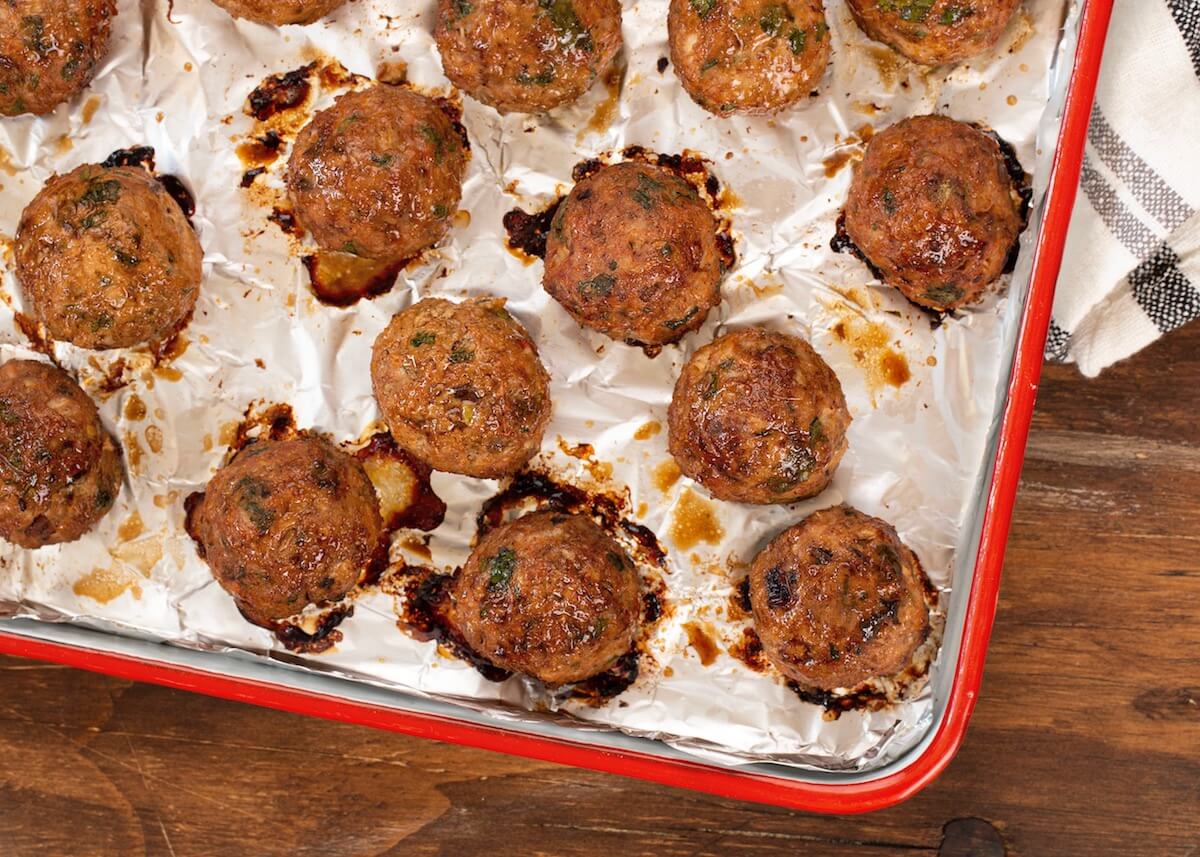 Ground chicken meatballs tips
If you've ever rolled ground chicken meatballs, you know they don't roll as easily as beef or sausage meatballs. The ground chicken is sticky because it is so lean; there's no fat to keep the mixture from sticking to your hands.
My tip: Have a bowl of water close and keep your hands wet when rolling. This will help the chicken not stick and you'll get a nice smooth roll.
This recipe has a preparation bonus! The little meatballs freeze like a dream, to be cooked and devoured at a later date.
My tip: Freeze rolled ground chicken meatballs by placing them in a single layer on a foil-lined baking sheet. Once frozen, pile them in a zip-top freezer bag and keep them in the freezer for up to 2 months.
Portioning meatballs into equal sizes can be tricky.
My tip: I use a cookie scoop! Yes a metal food scoop that is about 2 tablespoons capacity will be perfect.
---
What's chipotle?
You'll find cans of chipotle in adobo in the grocery store. Usually in the Mexican food section.
Chipotle are red, ripe jalapeños that have been smoked and dried. Chipotle in adobo are the smoked chilis rehydrated and canned in a garlic, spiced tomato puree. That's the adobo. It's a delicious tomato-based sauce that takes on the smokey flavor of the chilis.
Together, the chipotle and adobo are a favorite ingredient for a delectable Mexican flavor base.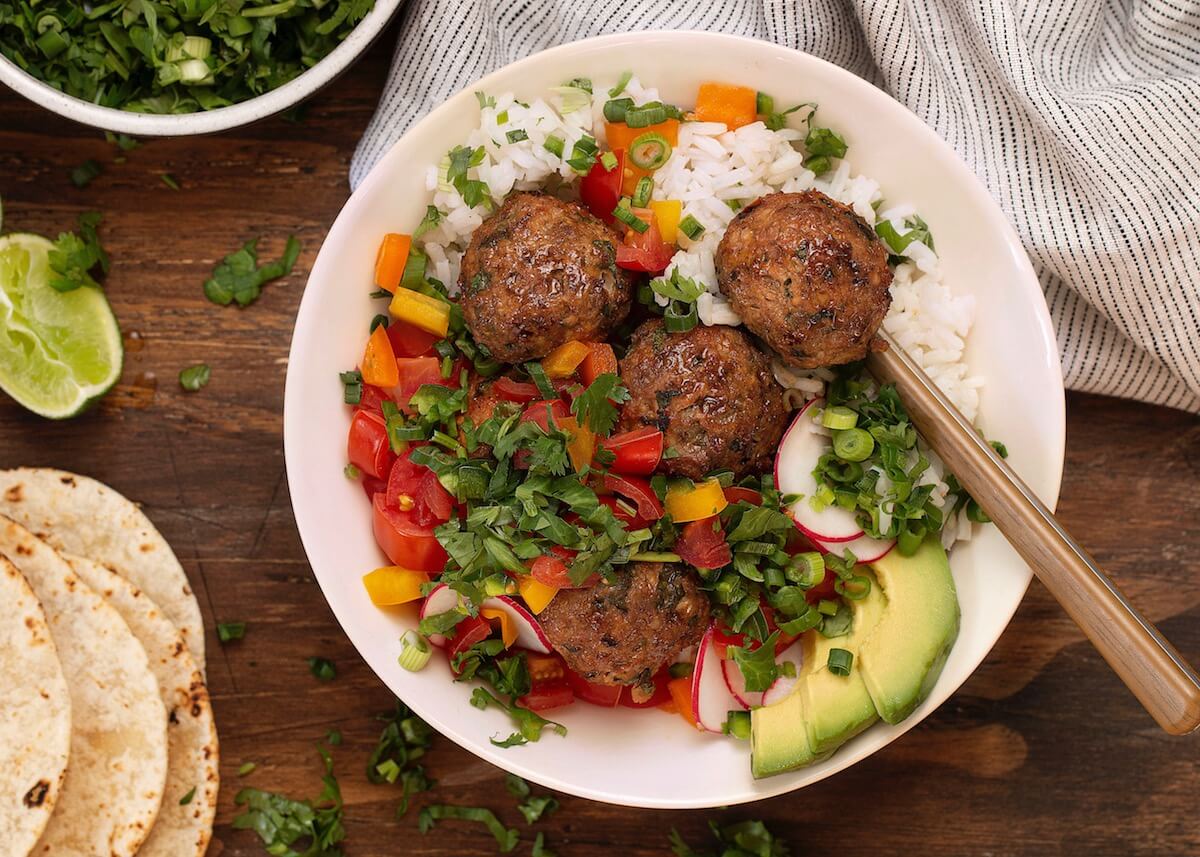 Try some of these delicious ways to eat Mexican meatballs:
I love the Mexican flavors in these chicken chipotle meatballs. It makes for diverse dinner options. My mouth is watering!
• Serve with Spanish rice, enchilada sauce, and Cotija cheese.

• Wrap in a burrito with beans, rice, and salsa.

• Sauté onions and peppers, then serve with tortillas like fajitas.

• Serve with rice, salsa verde, and tortilla chips with Pepper Jack cheese.

• Place on top of a taco salad with chips, guac, and everything nice.

• As an appetizer on a tortilla chip topped with guacamole.
Fresh cilantro salsa goes perfectly with these chicken meatballs:
Make this amazing cilantro salsa with jalapeños, green onions, and lime. This green salsa is so easy, so fresh and delicious.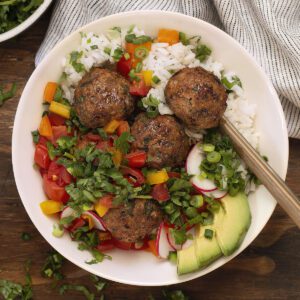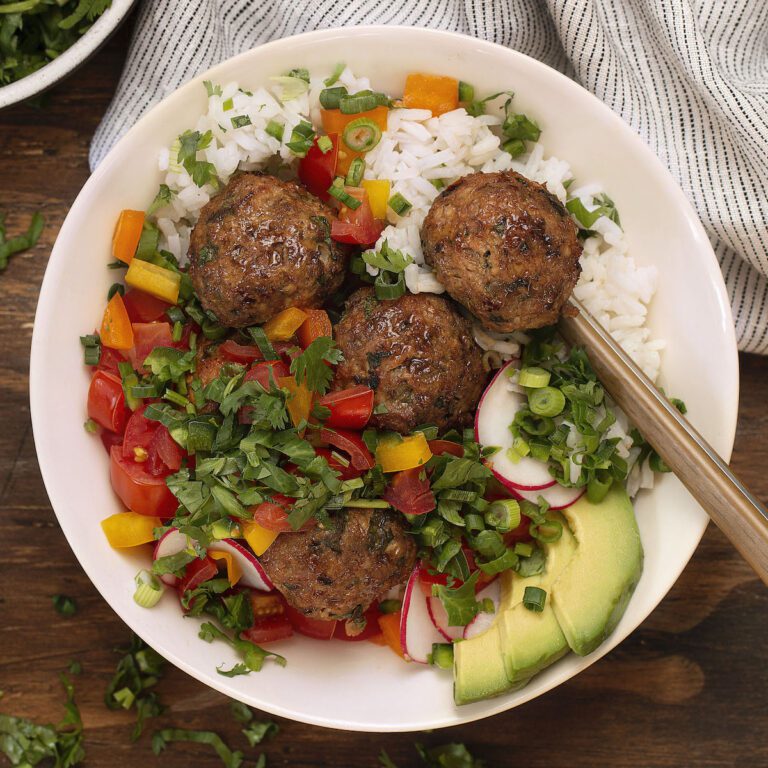 Ground Chicken Mexican Meatballs With Chipotle And Adobo
Serve these with rice and salsa verde, in a tortilla with taco fixings, on nachos, rolled in enchiladas, dipped in spicy cheese sauce or added to tortilla soup.
Ingredients
2

lb

ground chicken

¼

cup

tomato paste

4

cloves

garlic,

minced

1

cup

onion,

finely chopped

2

eggs,

beaten

½

cup

plain bread crumbs

1½

teaspoon

kosher salt

2

chipotle chiles in adobo,

finely chopped

2

teaspoon

adobo sauce

1½

teaspoon

chili powder

3

teaspoon

ground cumin

2

teaspoon

ground coriander

½

cup

cilantro,

finely chopped
Serving Suggestions
Sliced avocado

Tomato salsa
Instructions
Combine all ingredients in a large bowl and mix well. Use a cookie scoop to portion out mixture into about 48 small balls; and roll into shaped meatballs. Freeze or cook.

*Roll with wet hands to keep the mixture from sticking. Rewet hands with water as needed.

To sauté, heat 2 teaspoon canola oil in a large skillet over medium heat, add meatballs taking care not to overcrowd the pan. Turn frequently to brown on all sides and cook through, about 8 to 10 min.

To bake, heat oven to 350ºF. Line a baking sheet with foil and add meatballs, cook small meatballs about 25 minutes.

Serve as desired, or with rice, Cilantro and Jalapeno Salsa Verde, and other salsas.
Notes
Nutrition is per meatball.
Delicious with easy Cilantro and Jalapeno Salsa Verde
•These meatballs freeze nicely and will be ready for cooking when you are!
To cook frozen meatballs, place on a foil-lined pan and cover pan with foil so the meatballs can cook covered for a while. Bake at 350ºF for 25 minutes and then remove the foil covering. Bake until internal temperature is 170ºF on an instant-read thermometer, 10 to 15 minutes more.
Try my other meatball recipes:
Nutrition
Calories:
38
kcal
Carbohydrates:
2
g
Protein:
4
g
Fat:
2
g
Saturated Fat:
1
g
Cholesterol:
23
mg
Sodium:
154
mg
Potassium:
130
mg
Fiber:
1
g
Sugar:
1
g
Vitamin A:
81
IU
Vitamin C:
1
mg
Calcium:
8
mg
Iron:
1
mg
Main Dish Recipes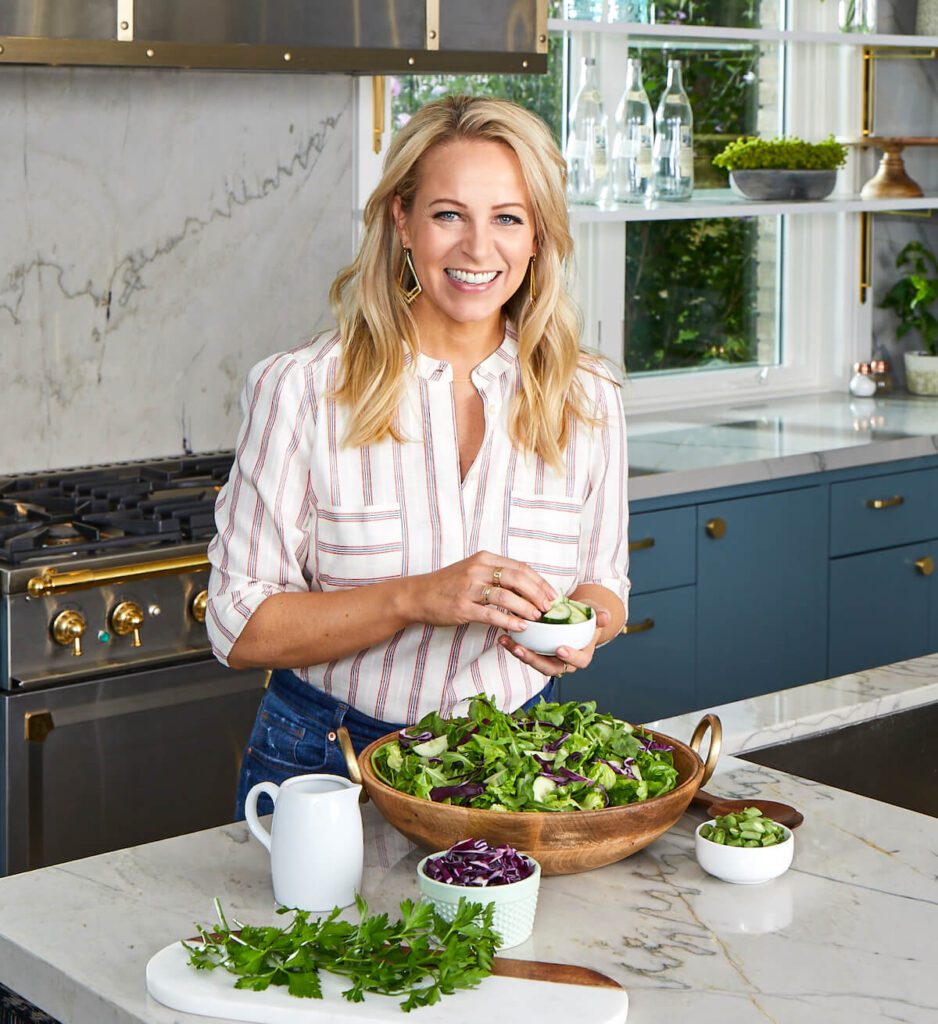 About Tara Teaspoon
I've been in the food publishing business for over 20 years, creating recipes & food-styling for magazines, books, television & advertising. Order my new cookbook & stick around for amazing things to eat.
Recipe Tara Teaspoon. Original LHJ Mar/11. Photography Darianne Edwards