---
A super fun twist on a meatball dinner from the oven! These might have a funny name, but porcupine meatballs are simply delicious beef meatballs made with white rice, slowly cooked in tomato sauce. I spruced up this classic with Moroccan spices and serve it with veggie kababs.
---
I've spruced up these oven baked meatballs with North African spices and flavors that not only bring global taste to your table, but use pantry staple spices you most likely already have!
Beef meatballs with rice cooked right inside, were on dinner-rotation growing up. I loved this comforting meal my mom would make.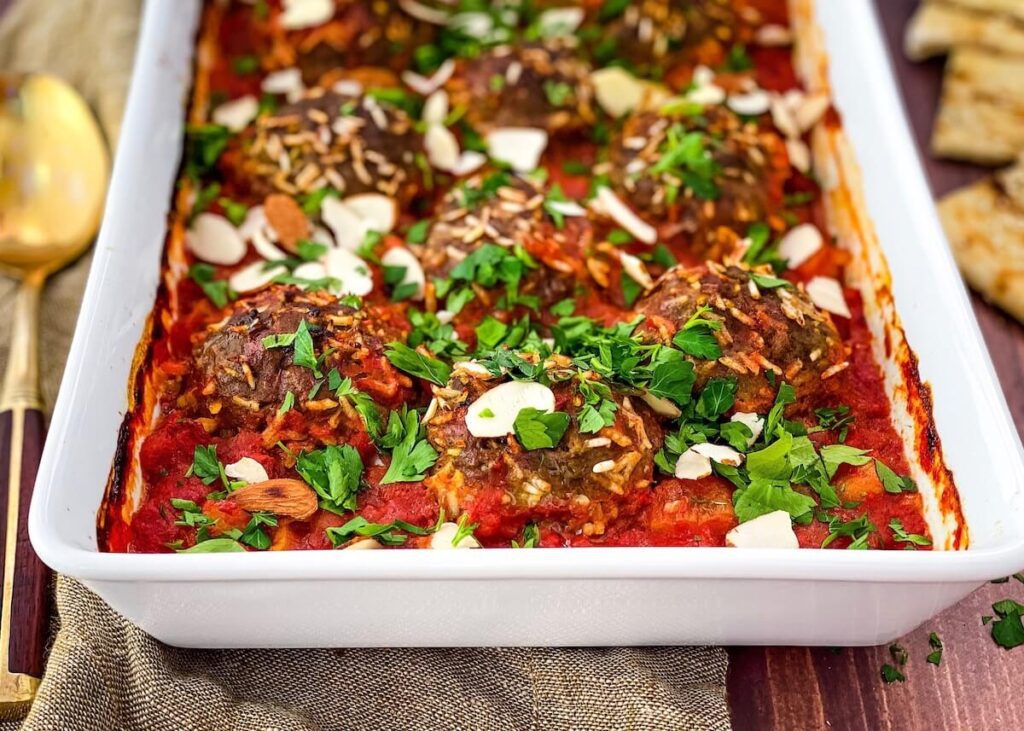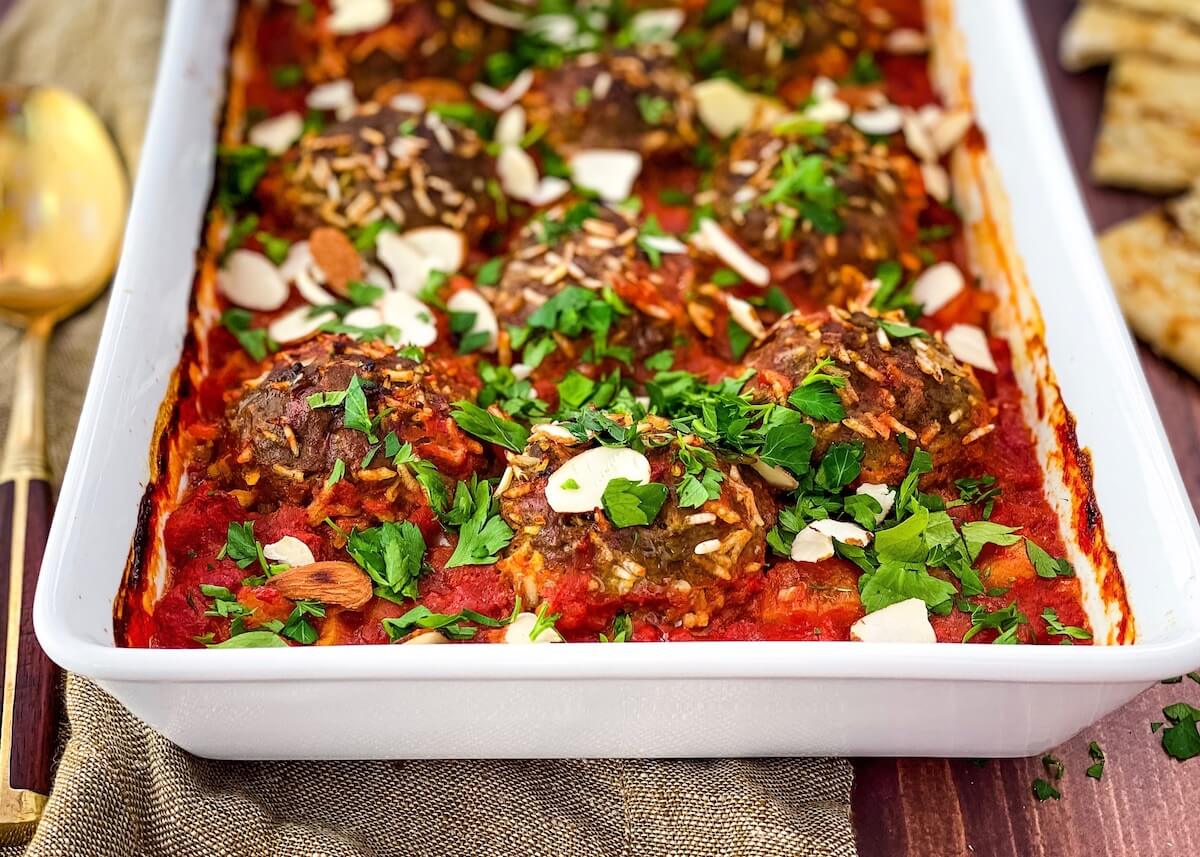 This post is a collaboration with Beef. It's What's For Dinner. on behalf of the Beef Checkoff. I received compensation, but all opinions are my own.
---
Come to find out, one of my favorite childhood meatball dinners, simmered with canned tomato soup, originated during the Depression era.
Mom's recipe for old fashioned porcupine meatballs used Campbell's tomato soup as the simmering sauce and nestled green peppers (a 70's recipe staple!) inside the rice and beef meatballs.
I'll be honest, that recipe for classic porcupine meatballs with tomato soup is still a favorite! Having said that, I sure like to add spices and new flavors to my easy dinners.
For a great weeknight meal, keep reading about this Ground Beef Moroccan Porcupine Meatballs recipe.
Click to any topic in this post:
Jump to: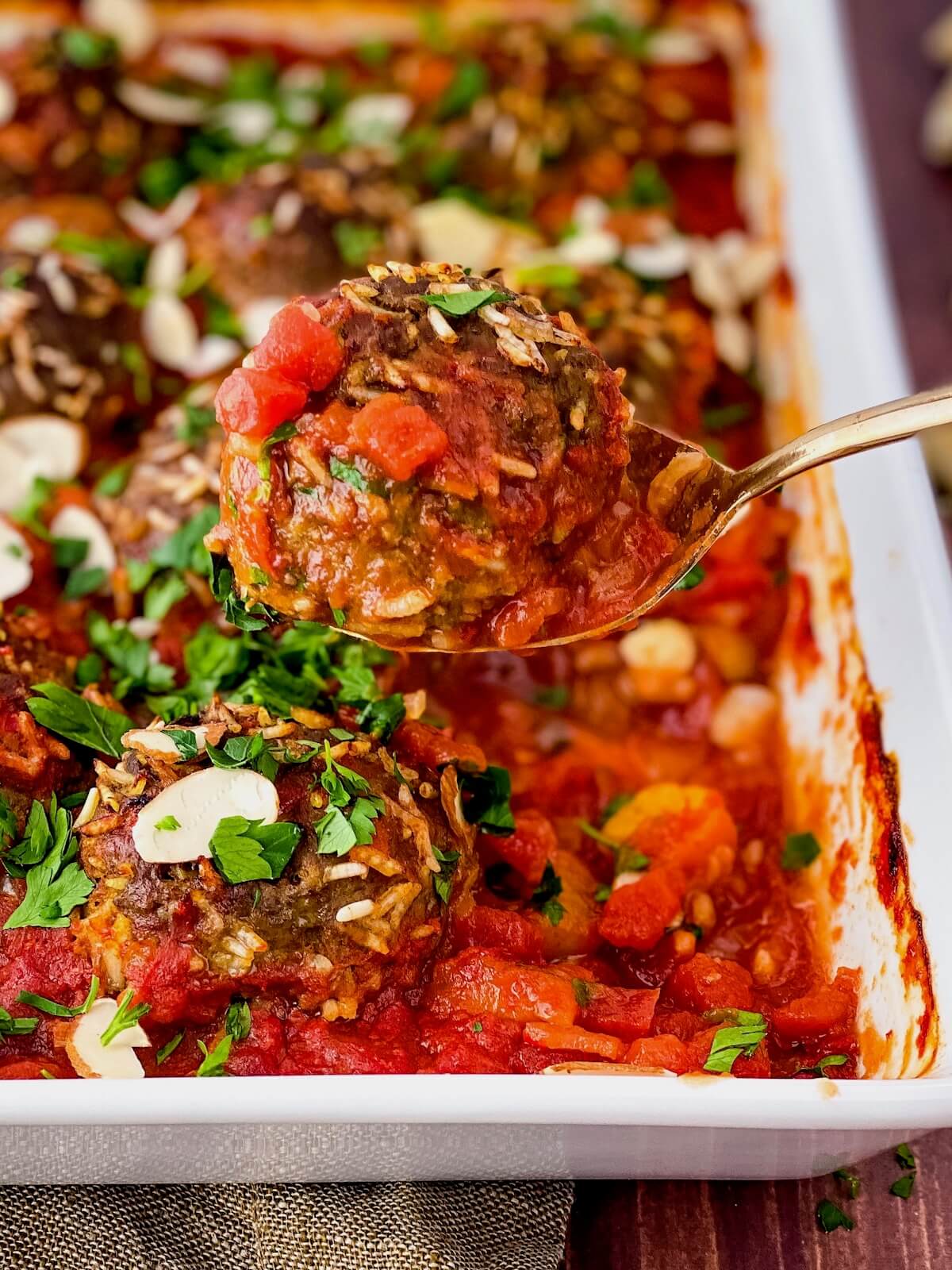 Moroccan porcupine meatballs recipe is a twist on a classic
Porcupine meatballs recipes use Ground Beef as the base. No spiky animals or strange stuff here.
These meatballs get their name because the rice, added to the beef meatball mixture pokes out of the meatballs once cooked, and hints towards looking like a porcupine!
During the Depression era when conservation cooking was needed, an early version of this recipe was created by adding rice (which was cheaper than protein) to Ground Beef to extend the meat.
Versions of this recipe were passed down and changed as Campbell's condensed soup became the sauce base. Spices and onions were added and families like mine made it a favorite weeknight dinner.
Oh how I would love when mom would make these porcupine balls (as we called them!). Now we refer to them as porcupine meatballs so as not to solicit dirty jokes from my pre-teen nephews at the table!
My other beef meatball recipes: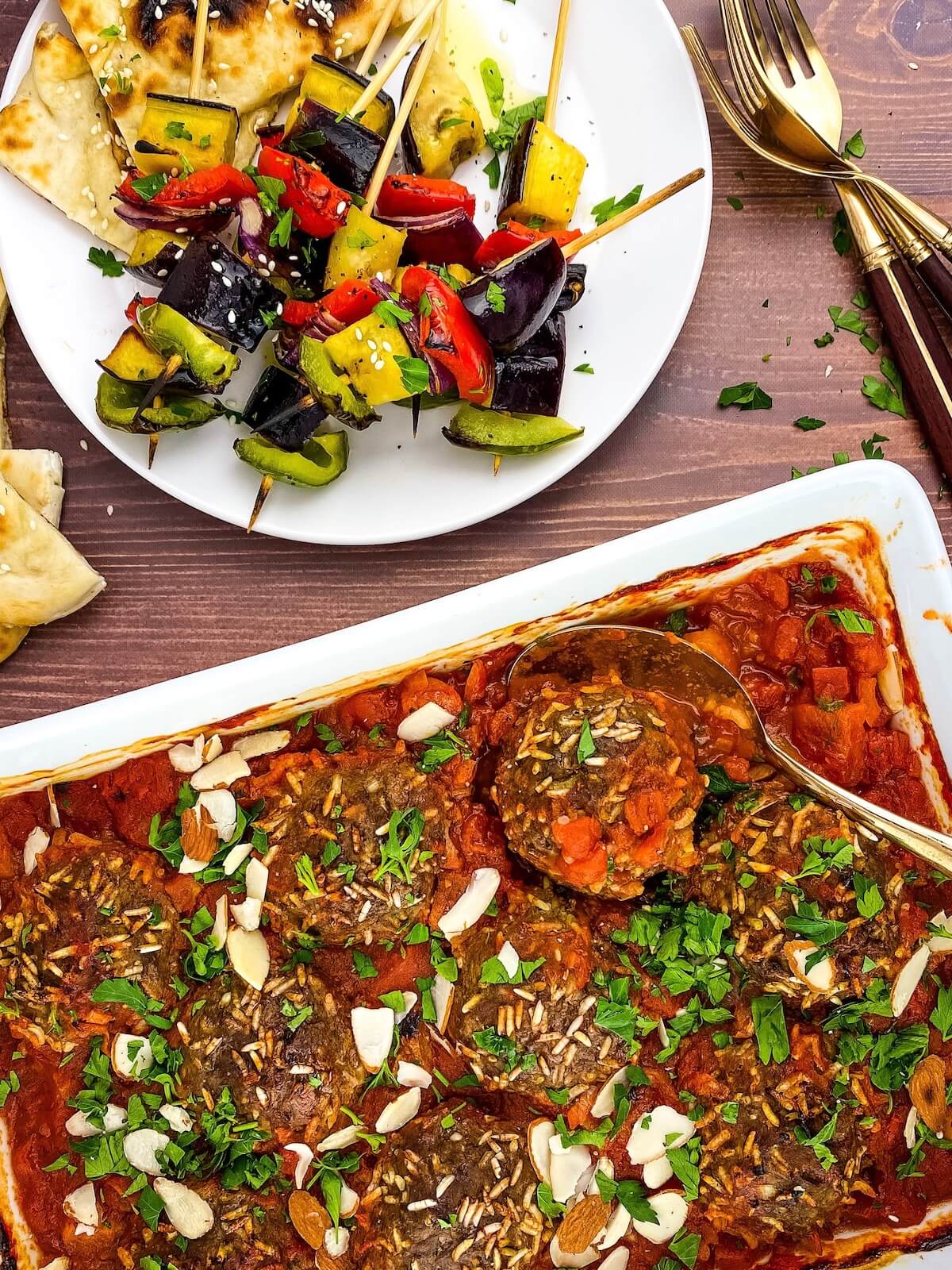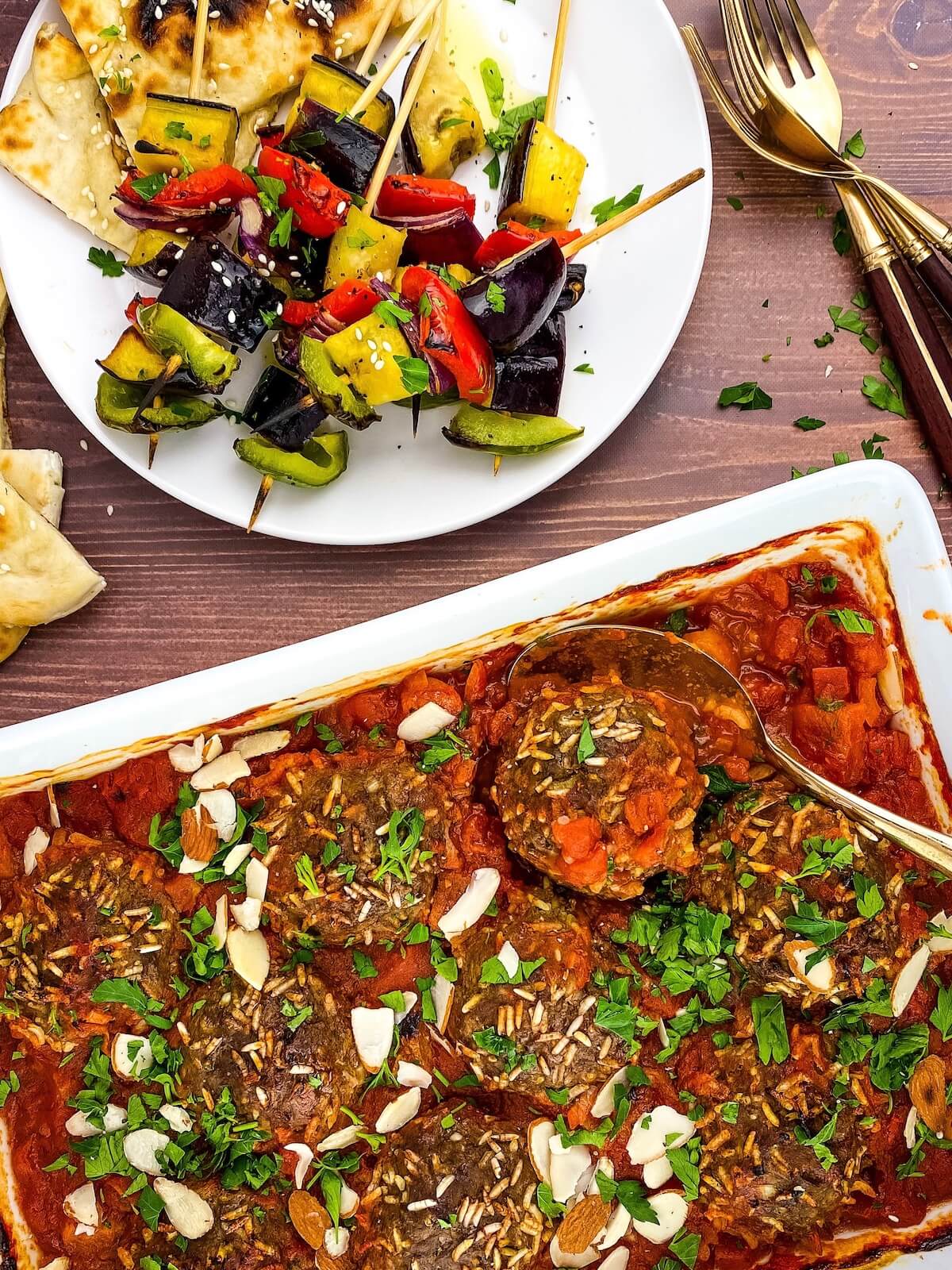 Making meatballs: The best choice for Ground Beef
No matter if I'm making Ground Beef meatballs with rice or without, I like to use a lean Ground Beef. I still want some fat in there to help cook the rice, and keep my meatballs tender, but the right percentage is key.
The Beef It's What For Dinner experts call 93/7% lean ground beef for meatballs, plus a binder (like egg). That means 93 percent lean meat and 7 percent fat, therefore, this cut has less total fat and is considered a lean cut of beef.
They also say 80/20 is great. I agree, this percentage range for Ground Beef works well to keep the meatballs moist and tender. Especially because I'm not adding egg or other moisturizing binders. The perfect balance of 80 percent lean meat and 20 percent fat creates a great texture for porcupine meatballs.
When you start with such a delicious high-quality protein, the culinary possibilities are endless! Make Ground Beef an entree when you simmer these glorious meatballs in the oven.
---
---
Most meatballs have breadcrumbs, or a panade (soggy bread and milk) mixed in for substance and texture. The rice in this recipe plays that part.
Meatballs with rice in them creates the signature porcupine look.
Spiced with Moroccan seasonings
Seasoning Ground Beef is a dream. No other protein does it quite like beef. It tastes amazing and makes delicious meatballs.
Moroccan spices like turmeric, ginger, paprika and cumin blend easily into the mild beef. And a bit of cinnamon gives the meat that signature North African, simmered tagine flavor.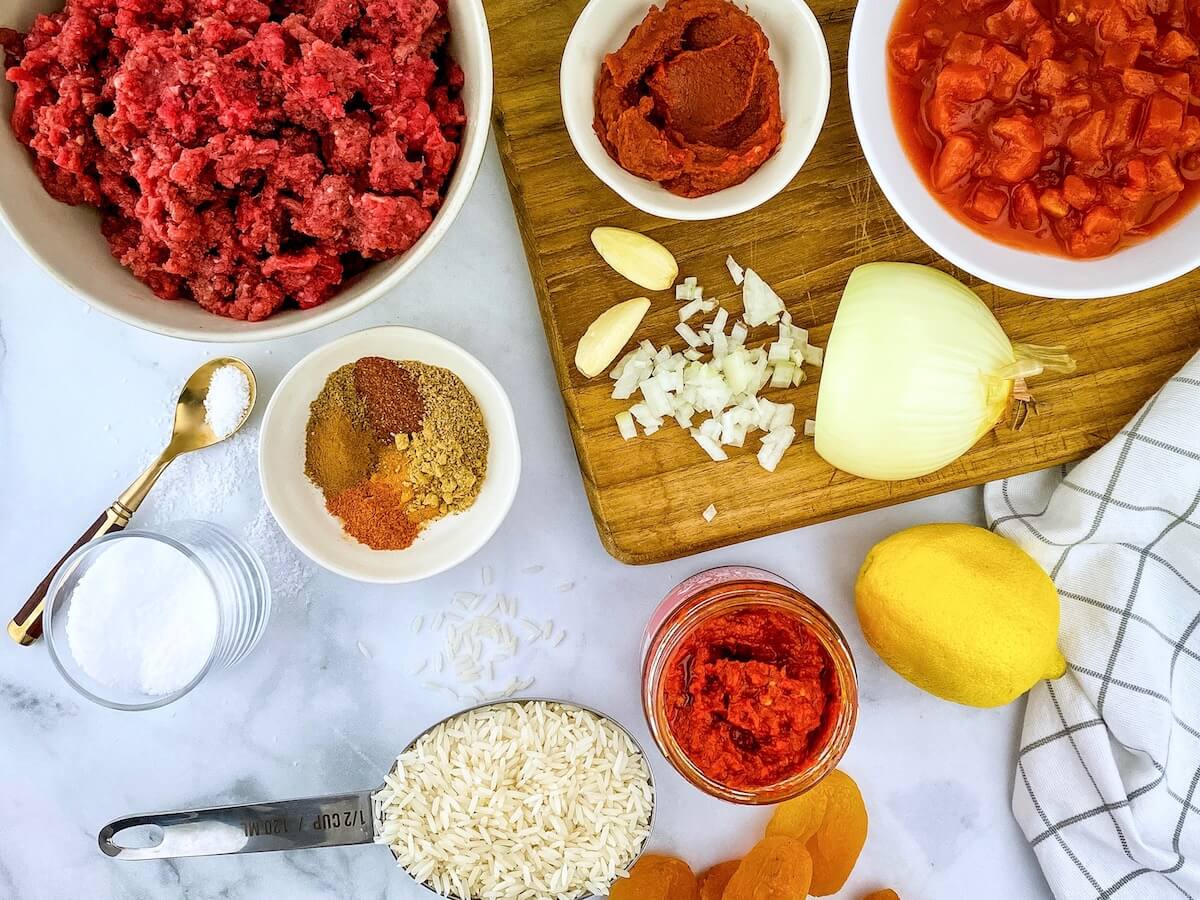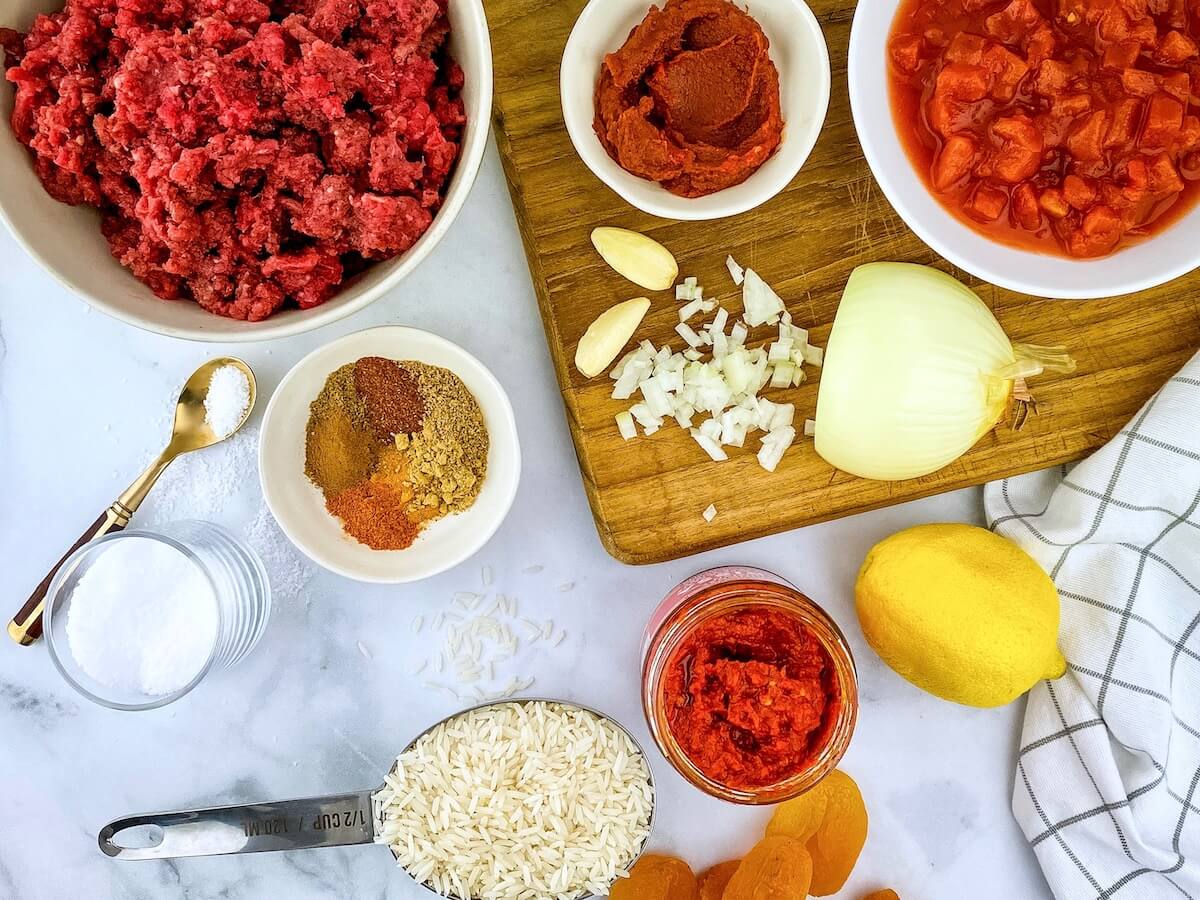 Get the kids to help make these easy meatballs
This is the perfect time to get the kids in the kitchen and teach them through cooking. For the last month or so many folks have been learning the new skill of home-schooling! Oh my, it's so hard. And much more exciting when the kids can learn home-ec skills while they help you with dinner!
My nephew was helping me cook as I developed these meatballs. We talked about the spices I'd use to make the beef taste like a Moroccan recipe. He measured (and learned about fractions!).
---
---
I talked about how easy cooking was when you prepare all the ingredients before you start cooking. Then we assembled the meatball mixture in the bowl.
He donned plastic gloves and happily mixed the beef, onion, rice and spice mixture. The gloves only lasted a few seconds before they came off his small hands, so we talked about using super clean hands to cook and how much you need to wash them after handling raw meat.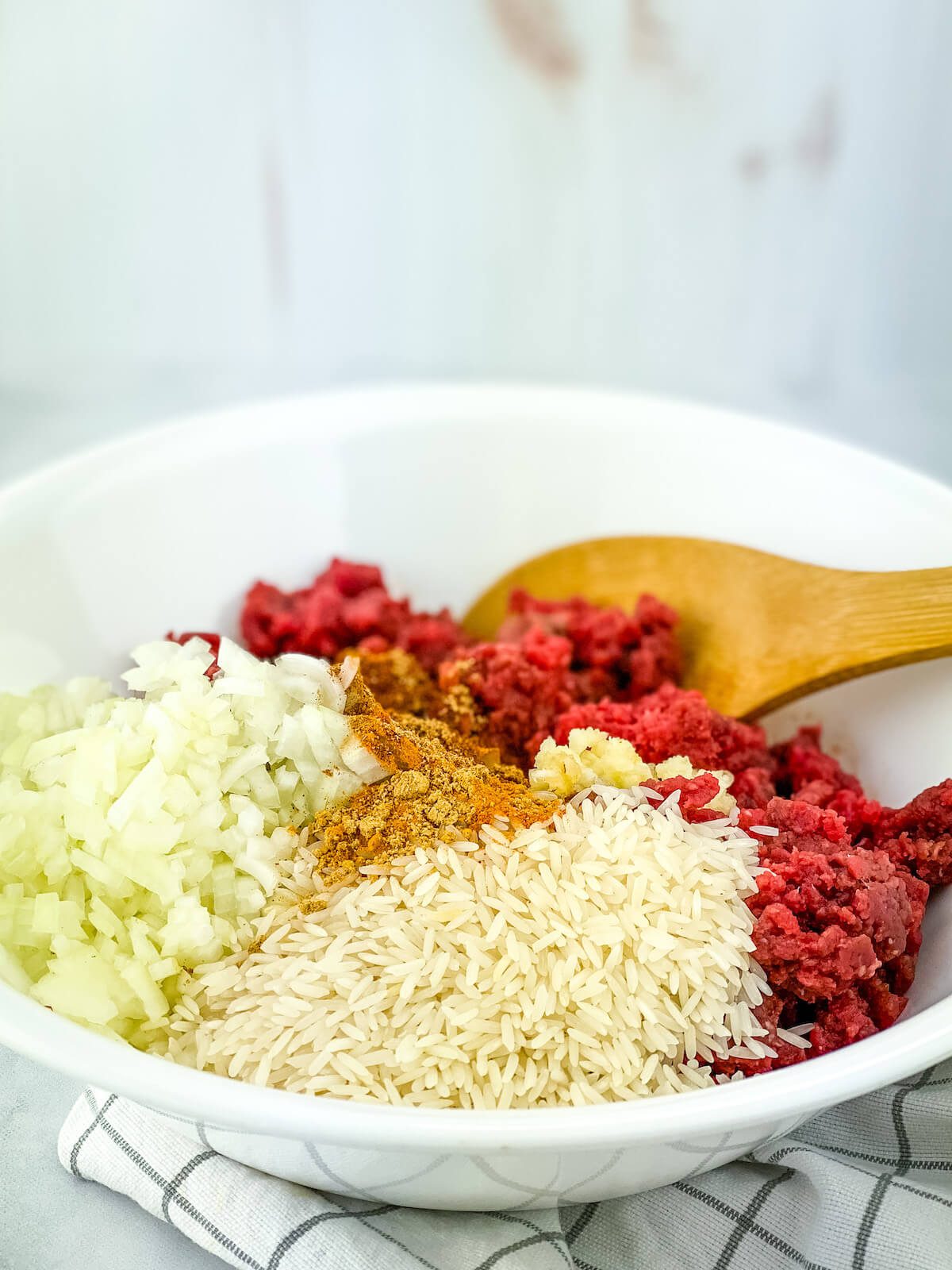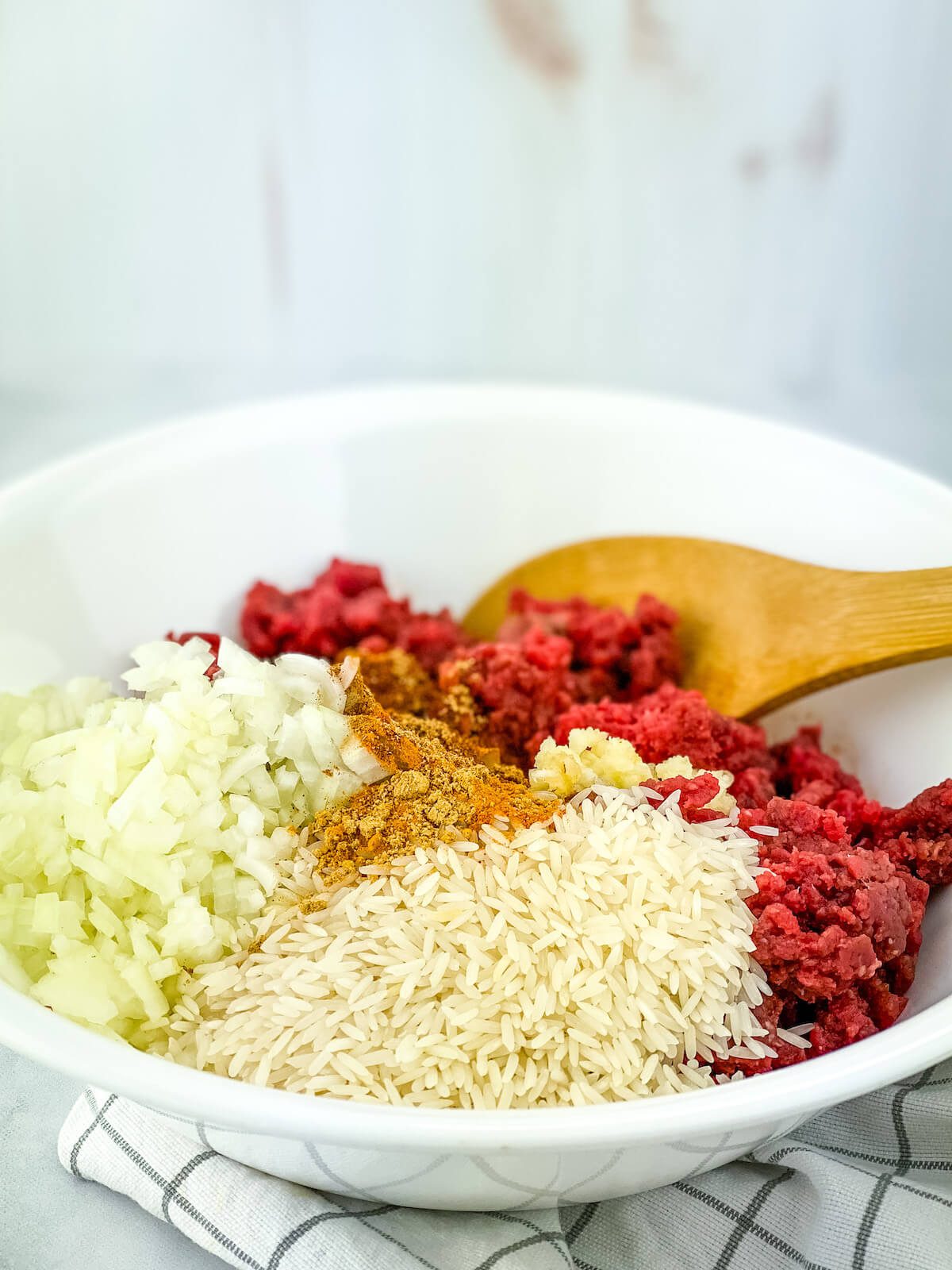 Simple enough that the kids can help
My nephew was thrilled to say he had made dinner that night. He followed these simple steps below:
Heat the oven to 350ºF. Arrange the rack in the middle of the oven so the meatballs cook evenly.
In a large bowl combine chopped onion, garlic, Ground Beef, rice, salt and water.
Sprinkle all the spices over this mixture and mix well so everything is evenly distributed.
Form the mixture into 9 large meatballs. You can make the meatballs smaller if you'd like.
In another bowl mix the sauce together.
Pour sauce over meatballs, cover the pan with foil and bake for 40 minutes.
Remove foil and bake the meatballs uncovered for 15 to 20 minutes more to brown the tops and reduce the sauce a bit.
Make sure to cook the Ground Beef to a minimum internal temperature of 160ºF. Use a digital meat thermometer and don't rely on color as an indicator for doneness!
Top the meatballs with parsley and almonds for crunch and freshness.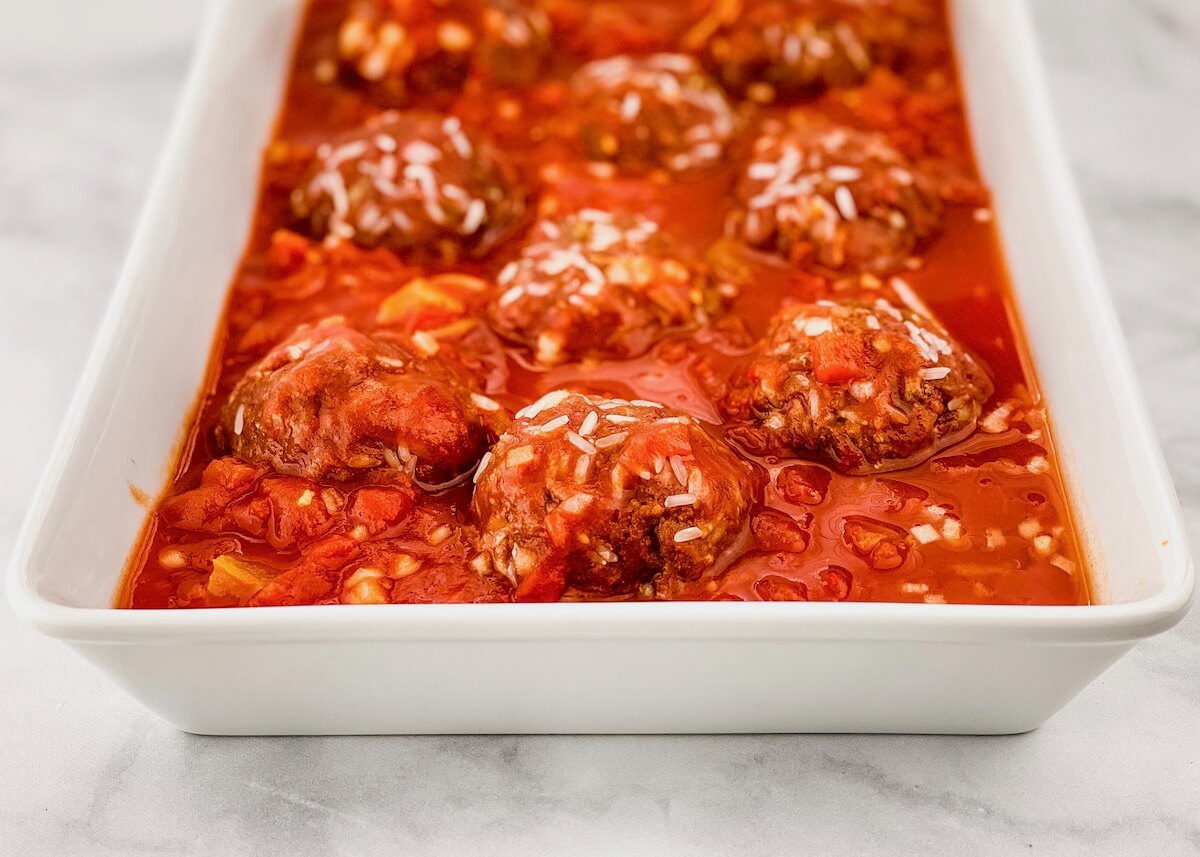 Oven baked meatball dinner
I love that this recipe is hands-off while it cooks. There's no sautéing the meatballs in a skillet or tending them in a simmering pot.
These porcupine meatballs oven-bake while you do other things!
It only takes about 15 minutes to assemble them before they go in the oven.
SLOW COOKER:
You can also cook these in the slow cooker. Let the meatballs and sauce cook on high for 4 to 4 ½ hours until cooked through and done. (Meatballs should be cooked to an internal temperature of 160ºF)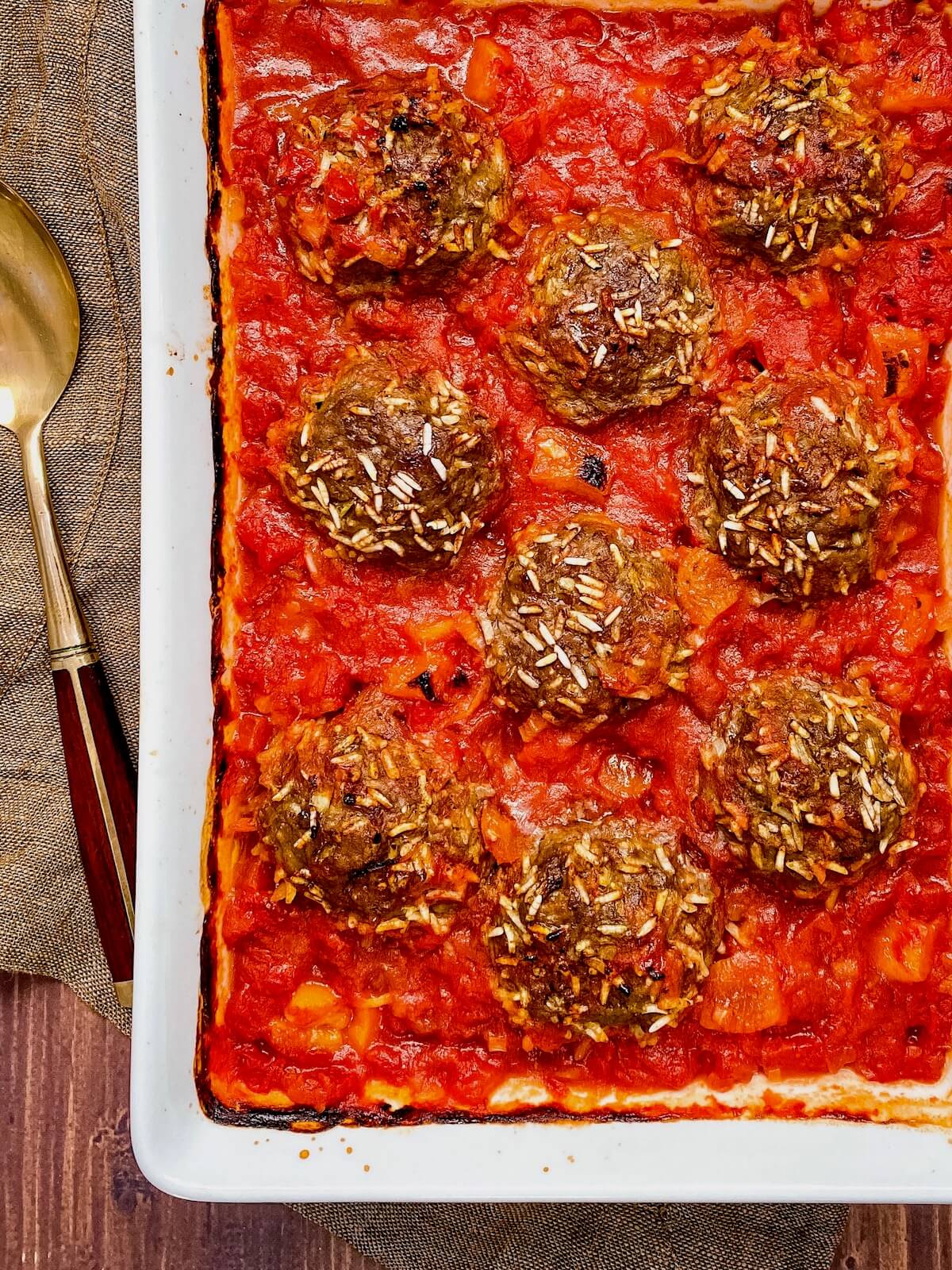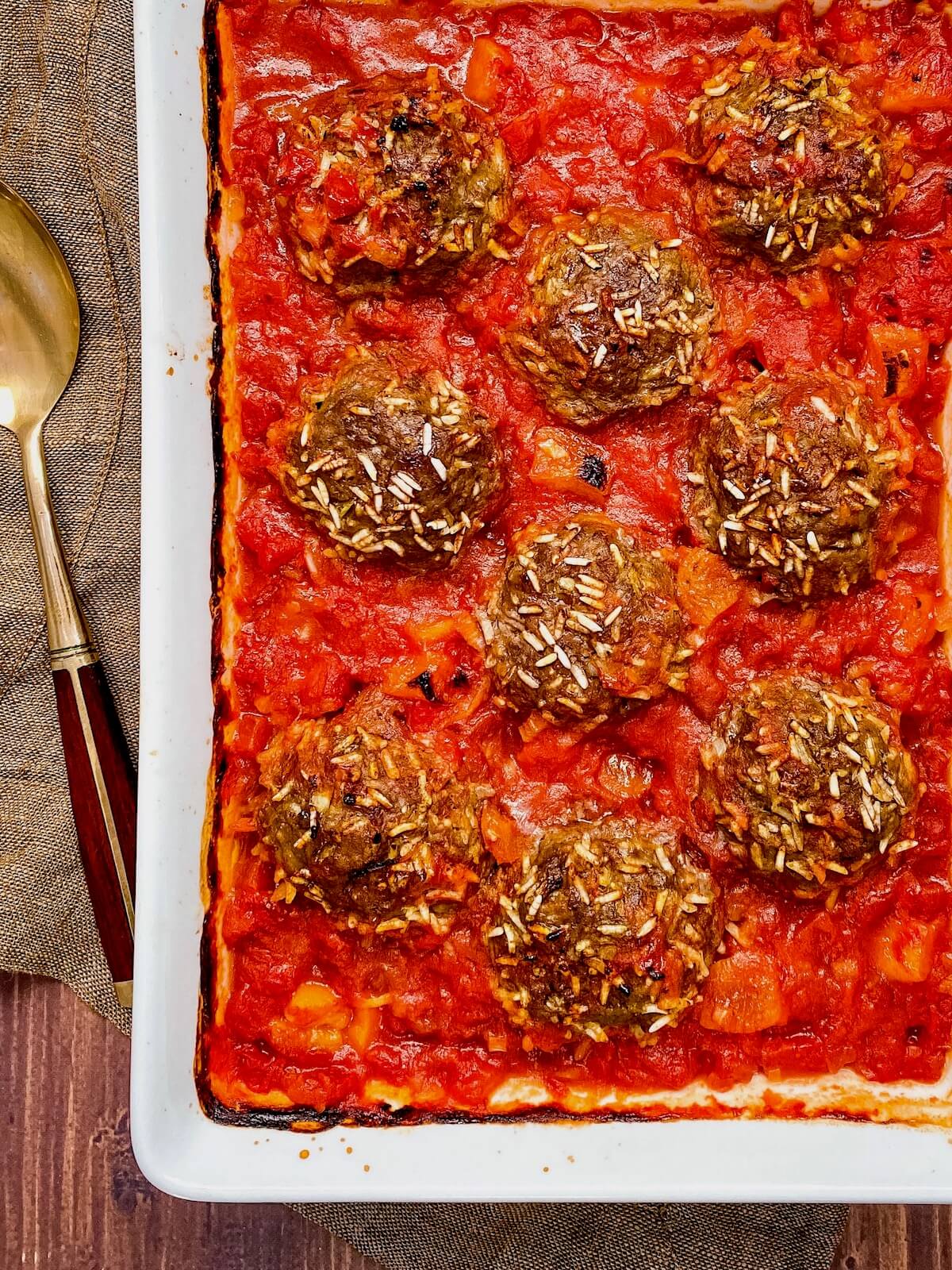 What to serve with Moroccan porcupine meatballs recipe.
Make side dishes while the oven is tied up cooking these heavenly meatballs with rice in them.
Try Brown Sugar Glazed Carrots and Carrot Salad with Apple and Lime as complimentary side dishes to these Moroccan beef meatballs. Even my fluffy mashed potatoes would be divine.
Of course, extra rice is a standby as a tasty base for the meatballs and tomato sauce.
Because I made these porcupine balls Moroccan flavored, I love to have flatbread, pita or naan, from the freezer section, on hand and hot with this meal.
Other than that, I load the table with veggies. I make salad, steamed vegetables or these simple veggie kababs.
What would you serve with porcupine meatballs? Let me know in the comments!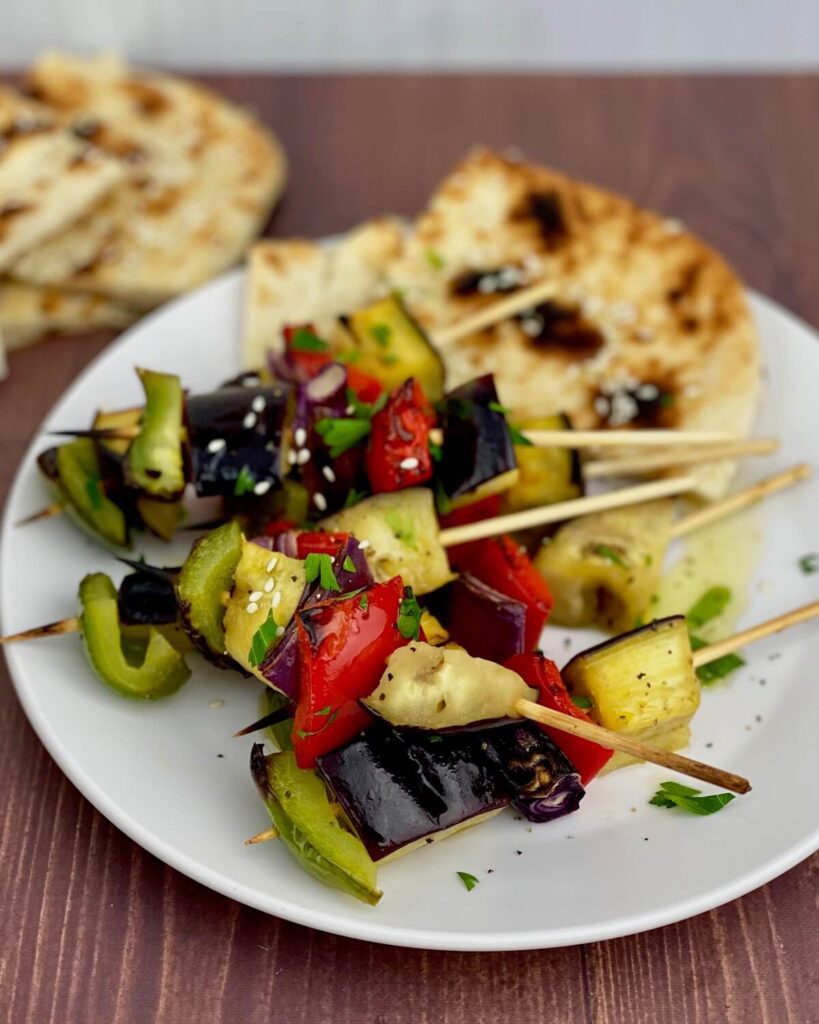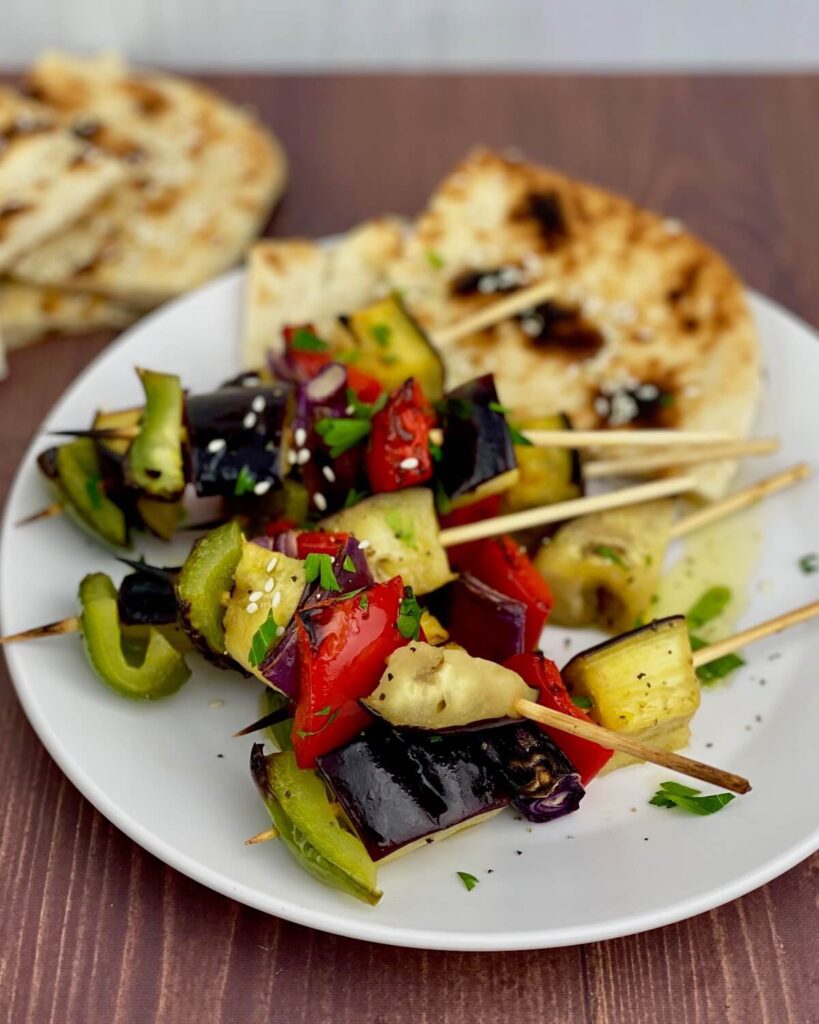 How to make mini vegetable kababs:
Use your favorite combination of vegetables or follow my recipe. Tender veggies like zucchini, summer squash, and mushrooms are great swaps for the ones I used.
Soak 6-inch bamboo skewers in water for 30 minutes.
Cut bell peppers, eggplant and red onion into 1-inch pieces. (I used 1 small eggplant, 1 red and 1 green bell pepper and 1 small red onion.)
Toss vegetables with some olive oil and kosher salt and pepper.
Drizzle with about 1 tablespoon each, honey and lemon juice, and toss.
Thread vegetables onto skewers. I made about 20 small skewers.
Broil or grill, over medium-high heat, turning once, until vegetables are just done (eggplant and peppers are just tender and a bit charred). This will take 5 to 8 minutes depending on your grill. If you are broiling, place 6-inches from heat, under a high heat broiler and cook 5 to 8 minutes, rotating as needed.
Serve with porcupine meatballs from the oven.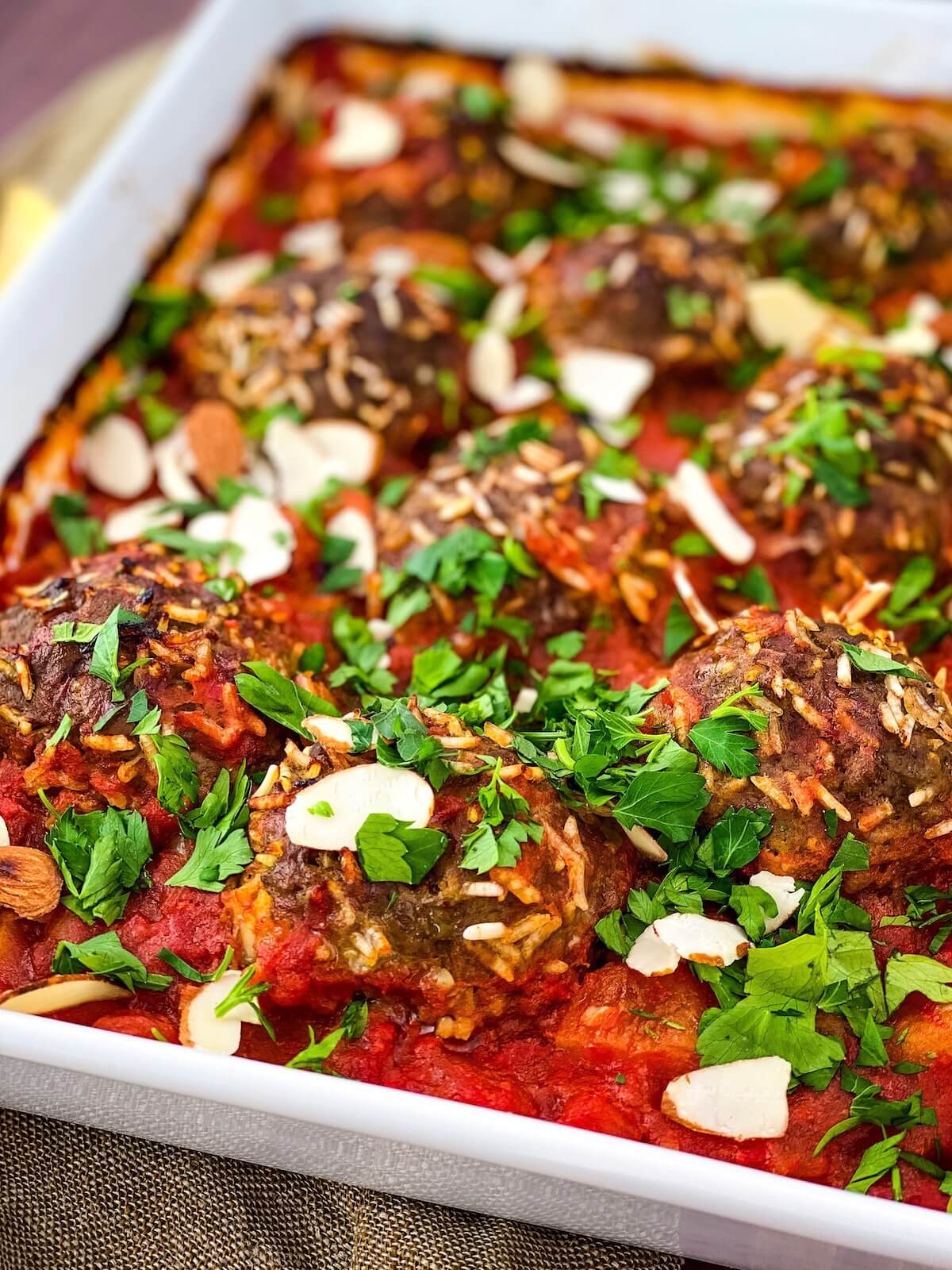 Moroccan Porcupine Meatballs Recipe: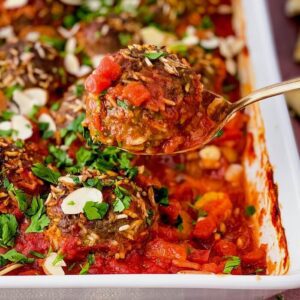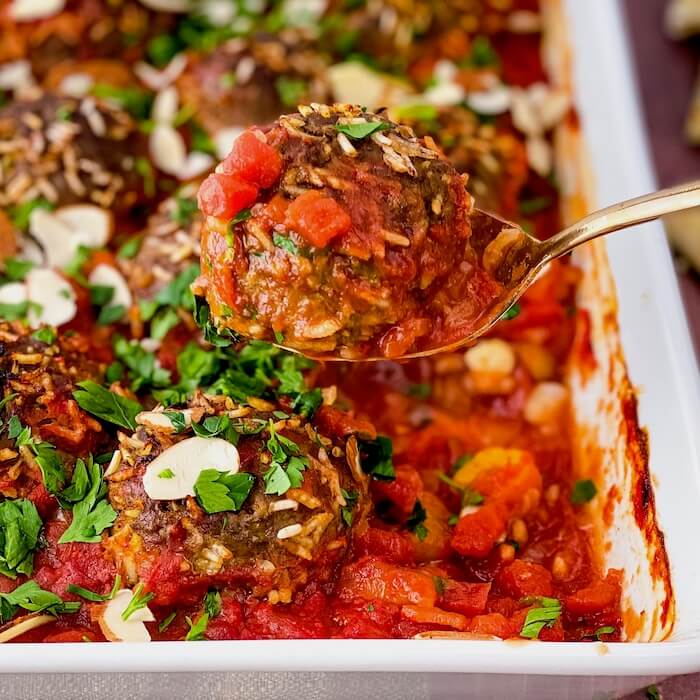 Moroccan Porcupine Meatballs - Easy Ground Beef Dinner
These might have a funny name, but porcupine meatballs are simply delicious beef meatballs made with white rice, slowly cooked in tomato sauce. I spruced up this classic with Moroccan spices and serve it with veggie kababs.
Ingredients
Beef Meatballs
1

lb

lean Ground Beef,

I used 80/20

½

cup

long grain rice

½

cup

water

1

cup

finely diced yellow onion, divided

2

cloves

garlic, minced

1½

teaspoons

kosher salt

1

teaspoon

ground turmeric

½

teaspoon

ground ginger

1

teaspoon

paprika

½

teaspoon

ground cumin

½

teaspoon

ground coriander

¼

teaspoon

ground cinnamon

⅛

teaspoon

cayenne
Moroccan Tomato Sauce
1

can

(28-oz) diced tomatoes

8

dried

apricots, cut into ¼-inch pieces

Zest of 1 lemon

1

tablespoon

honey

1 to 2

teaspoons

harissa sauce

Sliced almonds

Flat-leaf parsley
Instructions
In a bowl combine the rice & warm water. Let sit 20 minutes.
Make the meatballs
Meanwhile, heat oven to 350ºF.

In a large bowl combine the Ground Beef, ½-cup of the onion, the garlic, and salt. Add the turmeric, ground ginger, paprika, cumin, coriander, cinnamon and cayenne.

After rice has soaked 20 minutes add the rice and water mixture to the beef mixture. Mix just until everything is evenly distributed.

Form mixture into 9 equal meatballs. Place the meatballs in a 9-by-13-inch (or 2 quart) baking dish. Set aside while you make the sauce.
Make the sauce
In a separate bowl combine the remaining ½-cup diced onion, tomatoes, apricots, lemon zest and honey. Add as much harissa as desired. It is spicy!

Pour the tomato sauce over the meatballs and cover the dish tightly with foil. Bake for 1 hour, then remove the foil and bake until the tops are just browning, 20 to 25 minutes more. Color is not an indicator of doneness, check the meatballs with a meat thermometer. Ground Beef should be cooked to an internal temperature of 160ºF.

Top with some sliced almonds and chopped parsley, if desired; serve.
Notes
Meatballs and sauce can be stored in an airtight container in the fridge for up to 3 days.
Nutrition information is for 1 meatball and sauce.
Try my other delicious meatballs recipes:
Nutrition
Calories:
135
kcal
Carbohydrates:
15
g
Protein:
12
g
Fat:
3
g
Saturated Fat:
1
g
Cholesterol:
31
mg
Sodium:
496
mg
Potassium:
319
mg
Fiber:
1
g
Sugar:
4
g
Vitamin A:
206
IU
Vitamin C:
6
mg
Calcium:
27
mg
Iron:
2
mg
---
Kitchen tools you may need for this Moroccan rice and beef meatballs recipe: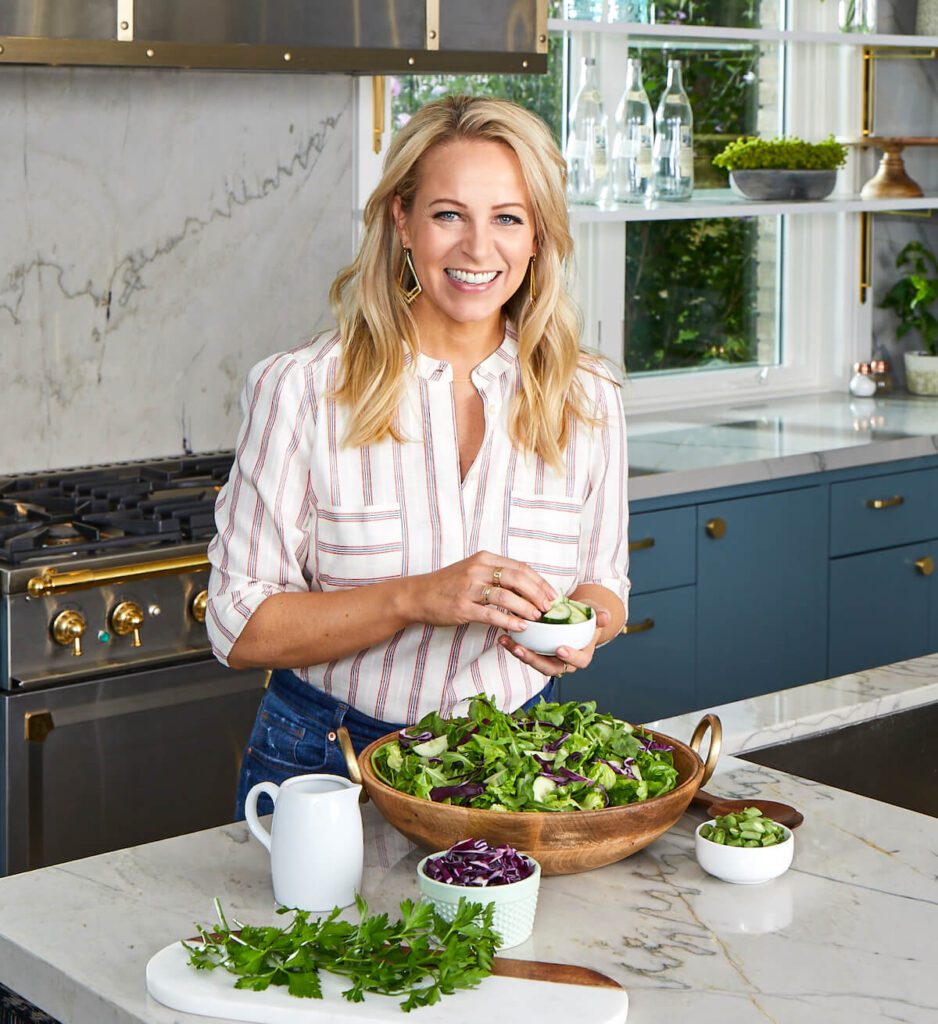 About Tara Teaspoon
I've been in the food publishing business for over 20 years, creating recipes & food-styling for magazines, books, television & advertising. Order my new cookbook & stick around for amazing things to eat.