A little sprinkle of flavor turns everyday food into something special. Here are some simple ideas for using the seasonings in your cupboard to make everything taste amazing.
• • •
I get asked how to use herbs and spices all the time. I find that everyone has a cupboard full of jars that they bought to use in one recipe, but then don't know quite what to use them for after that.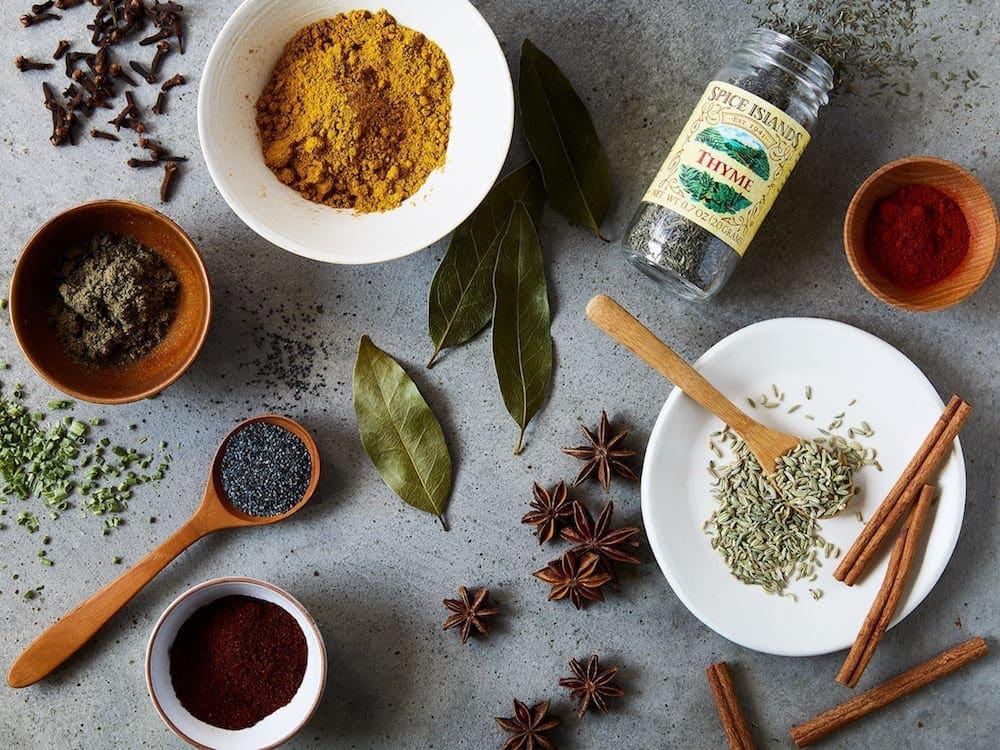 Content sponsored by Spice Islands®
Just what else should you use that Chinese five spice for again? To what do you add that garam masala, tarragon or dried lemon peel? Well I'm here to tell you, there are great ways to sprinkle, add and blend your herbs and spices into everyday meals. Read on!
How do I buy and store herbs and spices?
Here are a few quick tips before I get into the good stuff of actually cooking with your herbs and spices!
• Buy quality spices. The origin, processing and packaging make a big difference. Spice Islands® are premium herbs and spices, of the highest quality. The dried herbs and spices are harvested with extra care and the processing, drying and grinding is done with the purpose of maintaining the flavorful volatile oils and flavor.
• Store your herbs and spices properly. Just like any food, heat, light and moisture can deteriorate the flavor and quality of herbs and spices. It might seem like a great location, but don't store them in a cupboard near the oven or stove! Too hot! And make sure those jars have tight fitting lids so they stay nice and dry. The simple key is to store them in a cool, dark place. I'm a spice hoarder, love them! So this tip is my saving grace on keeping my collection fresh.
• Rotate your supply. Dried herbs and spices lose their 'power' and flavor when the natural, potent oils start to break down after time, and when exposed to less than idea storing conditions. Most herbs and spices have a shelf life that ranges from 1 to 3 years. If your cinnamon smells like sawdust instead of cinnamon, that's probably a sign to rotate it out for a new bottle! I've been known to write the date of purchase on my spice jars. The collection starts to look like my grandmother's food storage with dates all over the place–but hey, at least I have a better idea of when to keep and when to toss!
How do I use herbs and spices in cooking?
A small amount of a new and different spice will add depth to your dishes. Experiment, start with small amounts, and have fun in the kitchen. Here are 12 ways to use herbs and spices for some really great meals.
1. I love the flavor of everything bagels slathered with cream cheese. Boost your salads, dips and chicken with the same great flavor! Mix toasted sesame seed, poppy seed, minced onion, minced garlic and sea salt, to make an everything bagel spice blend. Combine to taste and toss on...well...everything! I even rolled cut-up biscuit dough in butter then this mix and baked for delicious snack bites.
2. Make gingerbread caramel sauce. Those staple ground spices you use in the fall can turn caramel into an all year-round holiday! Add ground Saigon cinnamon, ground ginger, ground nutmeg to store-bought or homemade caramel sauce for a gingerbread caramel. Drizzle on ice cream, use as a dip for apples and other fruit, sweeten your morning oatmeal or coffee and even to spruce up a cocktail!
3. Coconut milk is a staple flavoring in many countries, and by just adding spices, you can create authentic tasting meals. For an amazing Thai flavor mix Spice Islands®Sriracha Spicy Seasoning or red curry powder, a little fish sauce, fresh lime juice and coconut milk. Brush this mixture on chicken breasts or fish just before grilling or roasting. I add fennel seeds, turmeric and cayenne to coconut milk in my Coconut Curry Fish for a Sri Lankan-inspired dish.
Make the most out of the herbs and spices in your cupboard by using some of my simple ideas to make every meal more flavorful and delicious.
4. Mornings can be flavorful too. Add spices and extracts to your pancake and waffle mix. Stir spices like ground Saigon cinnamon, ground cardamom, ground ginger and even Chinese five spice into the dry mix before adding the water or liquid ingredients. You can also add Spice Islands® Pure Vanilla Extract, or a drop of Pure Almond Extract for an extra special flavor. Make homemade pancakes and do the same thing!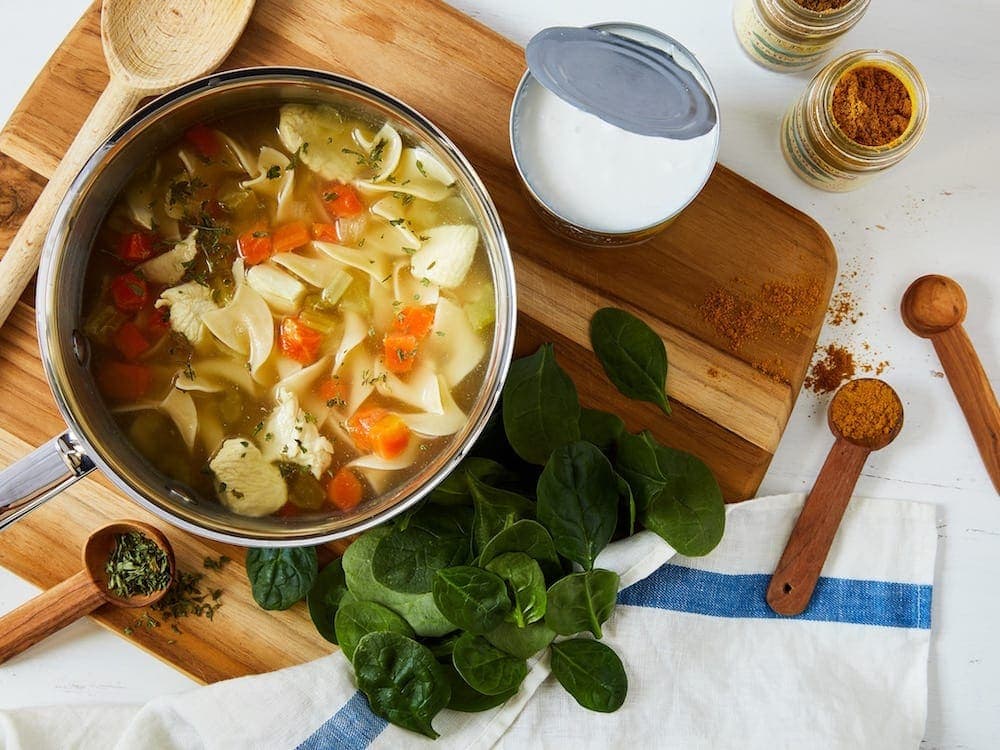 5. It's good for the soul, and even better when you spice it up: Homemade, or out-of -the-can chicken soup takes dinner to the next level with the addition of herbs and seasonings. Make a Southwest chicken soup by adding ground cumin, ground coriander, oregano and chili powder to taste. Serve with tortilla chips. Or, add a sprinkle of curry powder, coconut milk and some fresh spinach for an Indian-inspired soup. You could even make a version hearty and comforting by adding a teaspoon of ground sage and grated cheddar cheese.
6. Deviled eggs are a cult favorite, making a play on the food scene in a big way. Zest up your favorite recipe by adding celery salt or Spice Islands® Lemon Peel to the egg yolk filling. For a Southwest, smoky flavor add ground cumin and ground ancho chile to the mix, serve with lime wedges for squeezing. You can add an Indian twist to deviled eggs with some garam masala seasoning or curry powder; garnish with toasted coconut.
7. Make your own house seasoning mix. Restaurants do it all the time – house blends of herbs and spices that get used on roasted potatoes, veggies, meats, on salads and fish. Create your own by combining onion powder, cayenne pepper, dried rosemary, dried thyme, dried sweet basil and grated Romano or Parmesan. Store it in a jar in the fridge and pull it out everyday in place of the same old salt and pepper.
Make a house seasoning mix, just like the restaurants! What will you call it?
8. Spice up your cookies with a few simple tricks. Before baking, roll store-bought or homemade sugar cookie dough in a mixture of Spice Islands® Ground Saigon Cinnamon, ground cardamom and ground ginger. It's a sophisticated but delicious blend that makes the perfect cookie to eat with your tea. Or come up with your own blend! Stay on trend with your chocolate chip cookies – when they are right out of the oven top them with a sprinkle of sea salt for that delicious marriage of sweet and savory.
9. You typically see tarragon used for chicken recipes or savory side dishes. But Spice Islands® Tarragon is delicious in desserts too. Let the tarragon steep in the milk for a bit before finishing up your favorite boxed (or homemade) pudding or mix into vanilla ice cream for added flavor. Stir a teaspoon into a boxed or homemade yellow cake–it's so tasty with the sugary, butter flavors.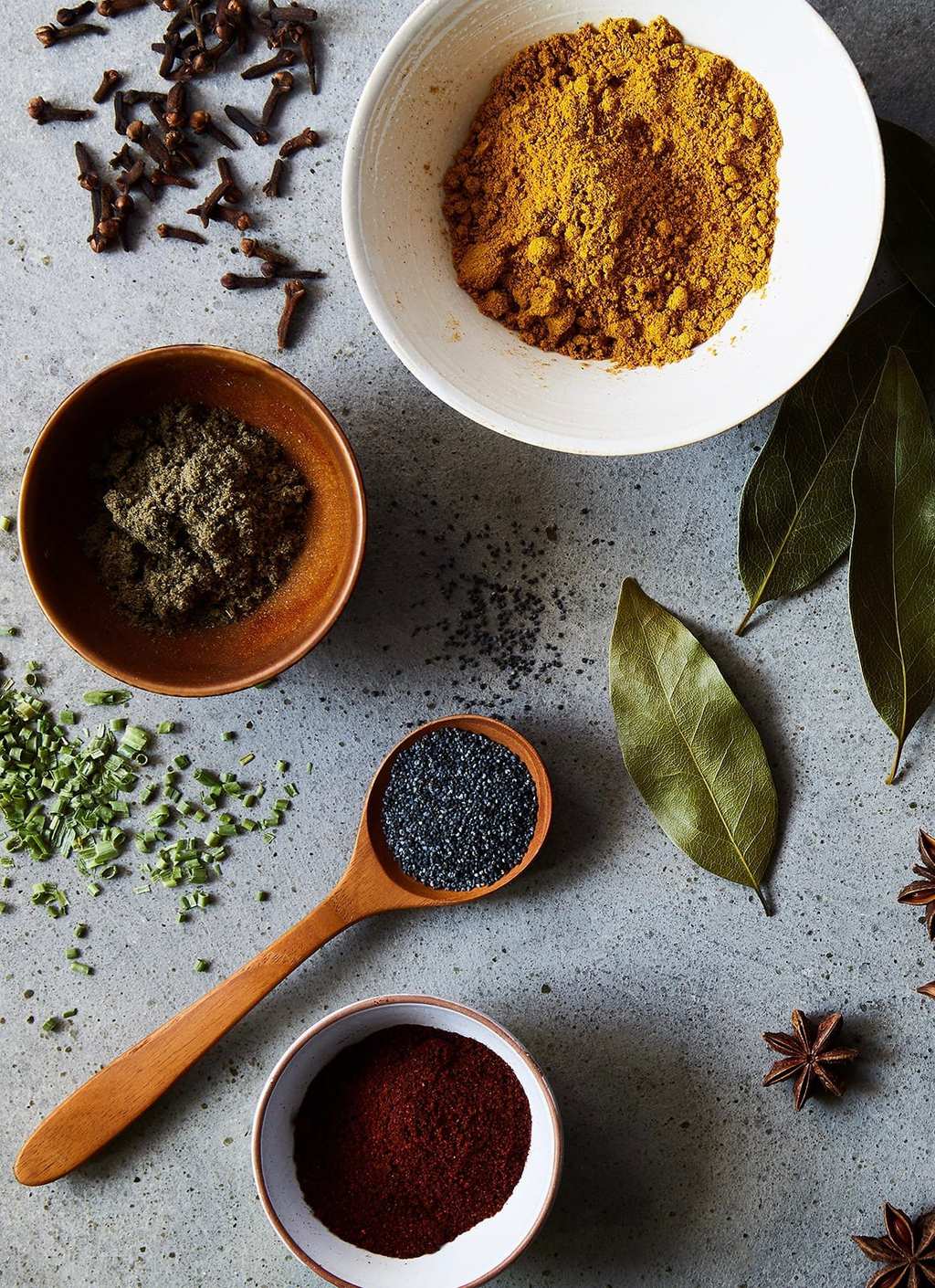 10. Burgers are a blank canvas for spices–that includes ground chicken, turkey and veggie burgers! Mix oregano, dried sweet basil and minced garlic into the ground beef before making into patties. Top with tomatoes and melted mozzarella and you have an Italian version. For a burger with Greek flavors mix in oregano, Spice Islands® Lemon Peel and minced onion. Finish your burger off with crumbled feta and chopped kalamata olives, Opa! Or, go with the exotic spices of India and mix ground cumin, Spice Islands® Spicy Curry Powder and ground coriander into your meat mixture. Top them with mango chutney instead of plain ketchup.
Get creative with your dried herbs and spices. Simple combinations and little additions can really make your meals special!
11. Rim your cocktail glasses with festive spice mixtures. Combine pumpkin pie spice with crystal sugar for a blend that will perfectly compliment your next Appletini. Add an extra kick to your margarita by rimming your glass with a mix of Mediterranean sea salt and chipotle chili powder. Surprise your guests at your next brunch by rimming the Bloody Mary glasses with Mediterranean sea salt and Spice Islands® Louisiana Style Cajun Seasoning.
12. Everyone loves chicken salad! Great for picnics and sandwiches, it's easy to use a rotisserie chicken and your favorite creamy dressing to make this simple dish. Spice it up Indian-style by stirring in mango chutney, curry powder or Spice Islands® Garam Masala Seasoning and sea salt and ground pepper to taste. Kick it up with a Mexican flare by adding ground cumin, ancho chili powder, garlic powder, dried oregano and ground coriander. This chicken salad is perfect wrapped in a tortilla with some sliced tomatoes!