Mini chicken meatballs with a sweet and savory marmalade barbecue sauce are perfect for a party app or weeknight dinner.
• • •
Meatballs might be one of the best kinds of food. They can be fancy appetizers all gussied up for a party, or comforting morsels of goodness atop a pile of spaghetti. They can be chicken, pork, beef, turkey, lamb, vegetarian…you get the idea. I love playing around with flavors and sauces too.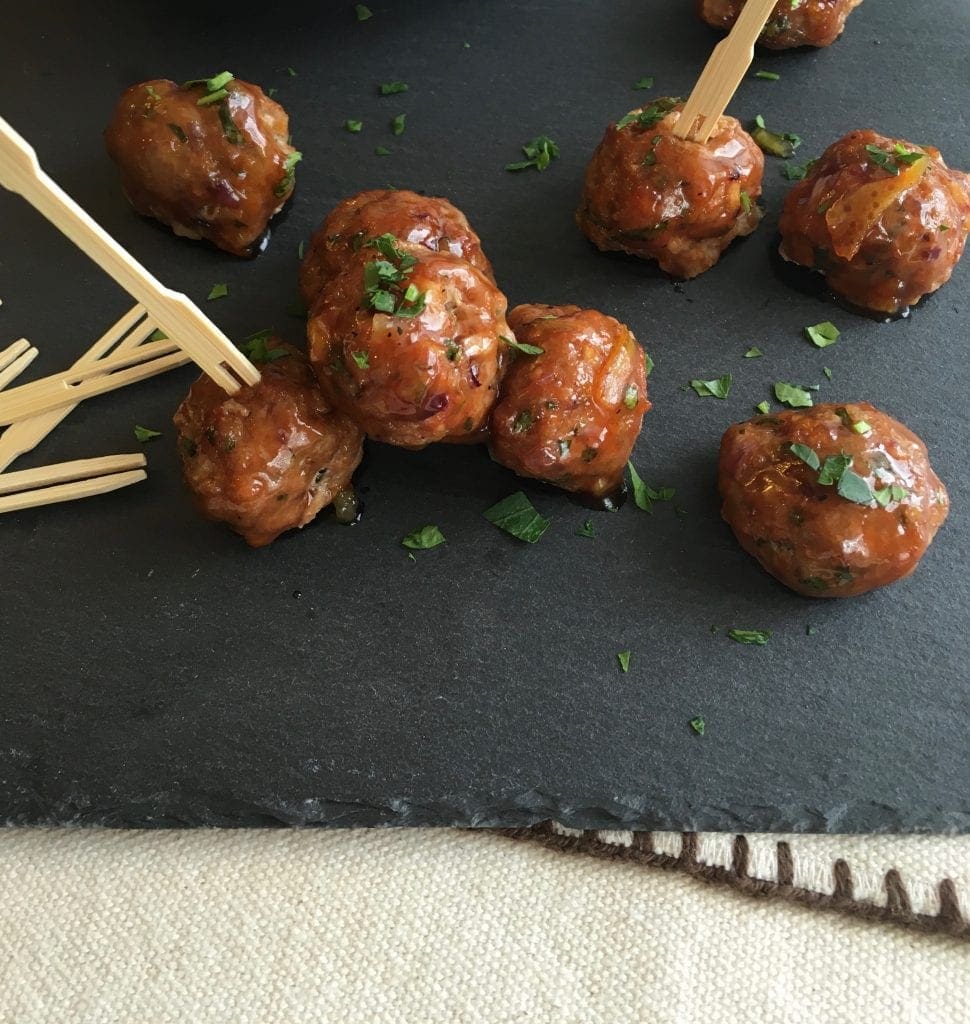 I wanted meatballs fit for my Golden Globes party this weekend. Something that  was packed with flavor and beautiful for the glamorous crowd. I chose chicken because it's mild in flavor and on the lighter side. Cumin and orange are delightful together but not polarizing. I made a glossy, sweet and savory glaze to brush on at the end which takes these up a notch. Right to the place I wanted them. Red carpet ready! For a fancy party, serve them with picks on a platter or slate.
These chicken meatballs are super easy to make! Just bake them in the oven.
Since the tasty chicken meatballs are fancy pants, you can serve them at any red carpet event, game day party or holiday gathering. They fit anywhere! Even the dinner table.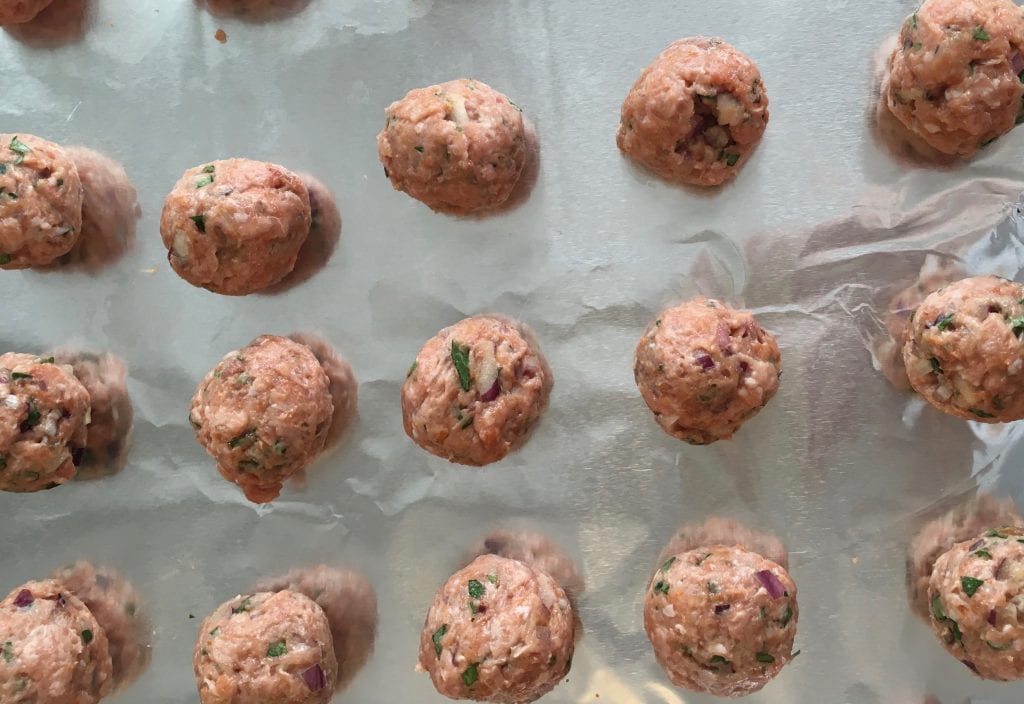 The meatballs are easy to mix, scoop and roll. I bake them for simplicity and to save time. Line your baking sheet with foil (for easy clean up), then use a spring loaded scoop, like a cookie scoop to portion the chicken mixture and make them all the same size.
Make these chicken meatballs for dinner! Serve them with rice or egg noodles and salad. Drizzle with extra cumin and orange sauce.
I keep a little bowl of water next to my bowl to wet my hands when rolling. If your palms are wet with water the meatballs don't stick as you roll them into shape. Cooking spray is usually my go to for non-sticky hands, but with ground chicken it just doesn't seem to work as well.
A little pile of these are also great for family dinner. Kids will love the size and sweet flavors. Serve them with a salad or buttered rice or egg noodles for the little ones. I love a piece of crusty bread with them as well.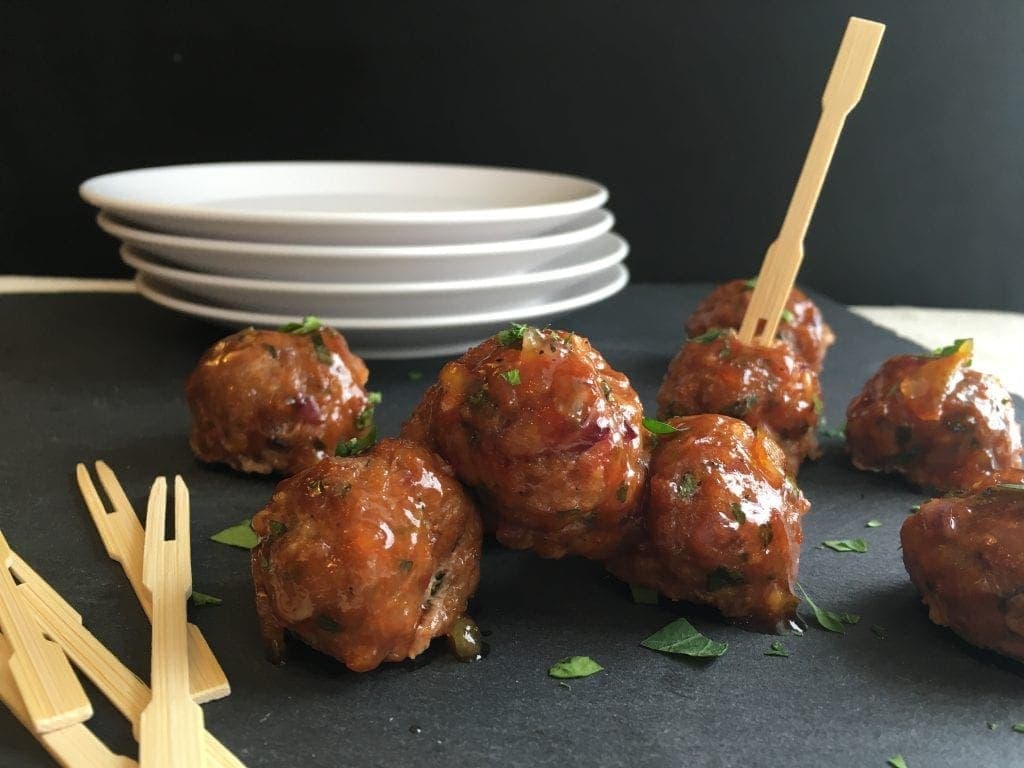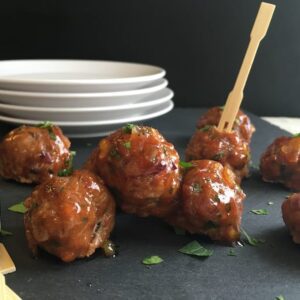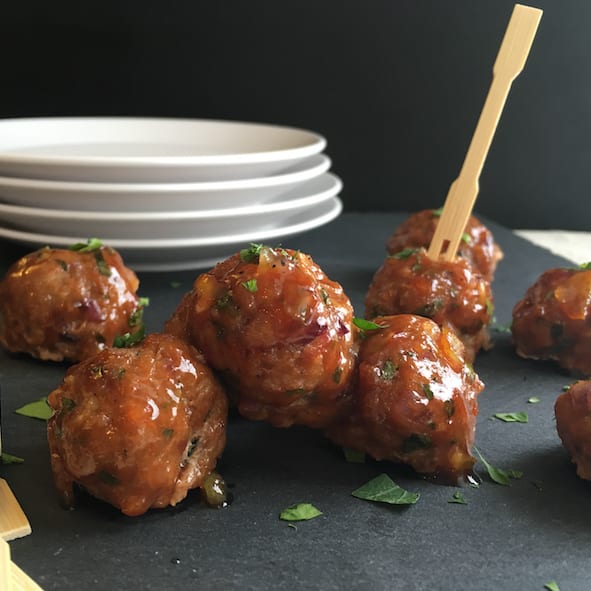 Chicken Meatballs with Cumin and Orange
These tender meatballs are a little sweet and a little spiced. Perfect for dinner with a side salad, or serve them as appetizers at a party.
Ingredients
2

lbs

lean ground chicken

1½

tsp

ground cumin

2

tbsp

olive oil

½

red onion

finely chopped

1

clove

garlic

minced

2

tbsp

tomato paste

3

tbsp

chopped flat-leaf parsley

2½

tsp

kosher salt

Zest of 1 orange

½

cup

barbecue sauce

½

cup

orange marmalade
Instructions
Heat oven to 400ºF and line a baking sheet with foil. Mix together all the ingredients except the barbecue sauce and marmalade. Form mixture into 1 ¼ - inch balls and place on baking sheet.

Cook meatballs until done, about 20 minutes. Mix together the barbecue sauce and marmalade and brush on meatballs while still hot. Serve garnished with extra chopped parsley.
Try some other party foods from Tara Teaspoon.
Nutty Lemon and Chicken Party Kabobs
Mandarin & Prosciutto Bruschetta
Moroccan Shrimp with Pomegranate Sauce
Recipe, Photo and Food Styling Tara Bench