Spiced shrimp and gloriously rich red pomegranate sauce make even the most regular of parties glam! I'm getting ready for a Golden Globes viewing party this weekend and decided I wanted even the food to be celeb-worthy. I've decided on a mix of apps, snacks and treats. Stay tuned the next few days for the full menu.
Shrimp as appetizers is kind of the perfect food. It's usually one to two bites, you can flavor it a million different ways, and it can be served hot or not. With Moroccan spices it pairs well with a lemony, caramely pomegranate sauce.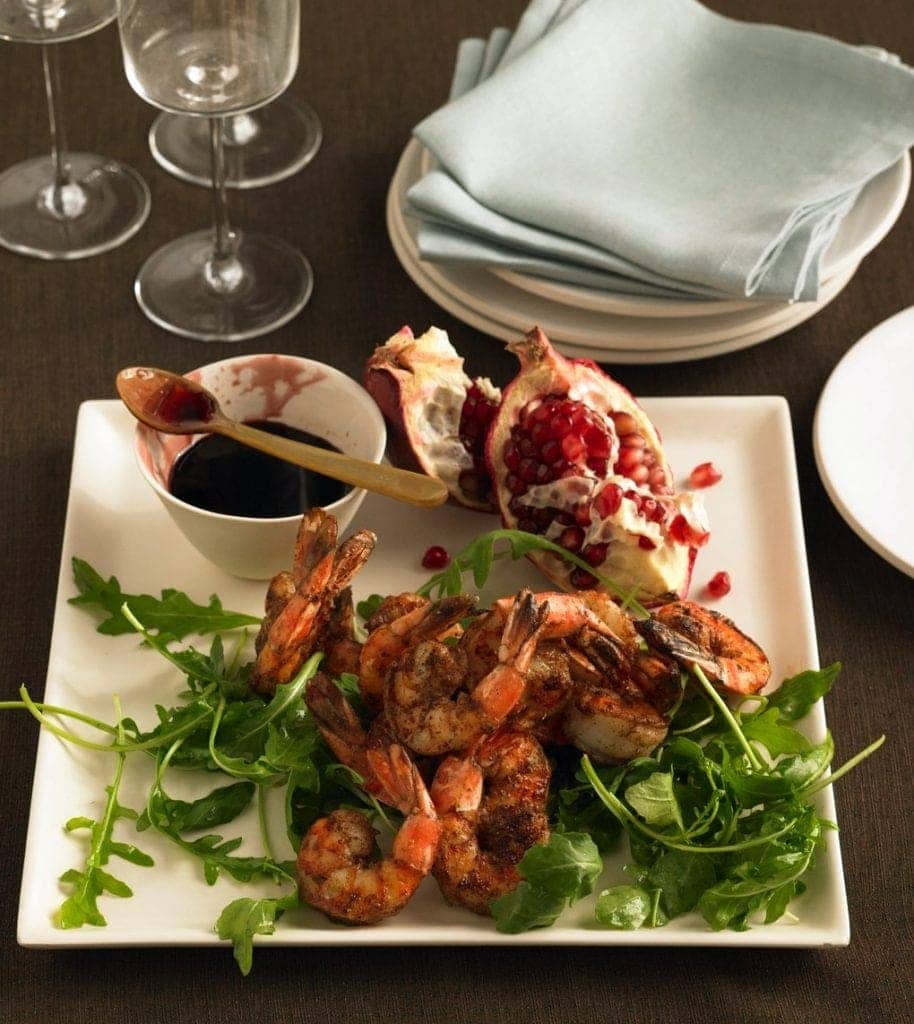 Pomegranate molasses is a hidden treasure. In it's simplest form it is just reduced pomegranate juice. You can purchase it at Middle Eastern markets, but it's often hard to find, so I like to make my own.
I use it for steak and poultry sauces, vinaigrette, drizzling on roasted vegetables and swizzling into mixed drinks. It adds a bright, tangy and rich sweet flavor. When I make my own I don't bother juicing my own pomegranates, that's just messy! I use pomegranate juice from the grocery! I also add a little sugar and lemon to balance the flavors and help my molasses last longer in the fridge.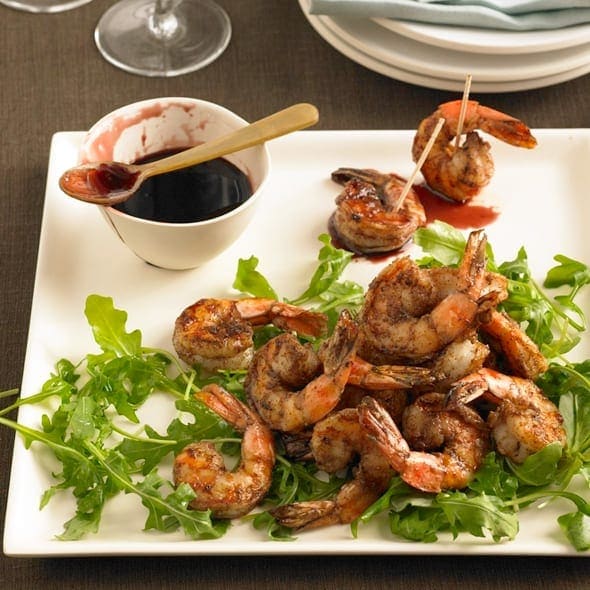 It ends up being the most extraordinary dipping sauce for my Moroccan shrimp. This is such a classy dish and great for apps while entertaining, but with salad and some crusty bread, makes a great weeknight meal as well. I piled my little apps of shrimp on top of arugula for my party platter, but that's just a pretty option.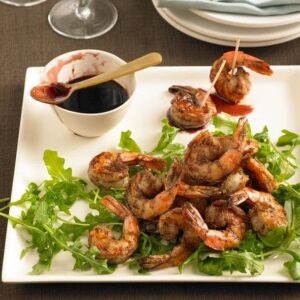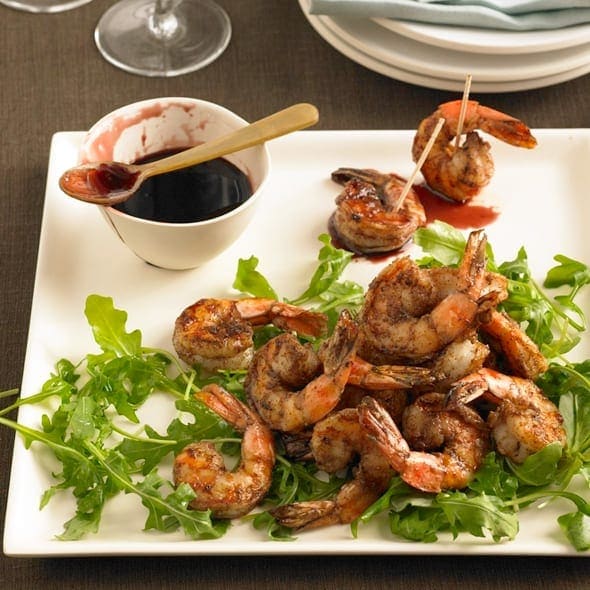 Moroccan Shrimp With Pomegranate Sauce
This delicately spiced seafood dish works well as a main course or a glam starter.
Ingredients
1

qt

pomegranate juice

½

cup

sugar

¼

cup

fresh lemon juice

1

lb

large shrimp

peeled and deveined, with tails

¾

tsp

ground cumin

¾

tsp

ground coriander

¼

tsp

ground cinnamon

¾

tsp

kosher salt

1½

tbsp

olive oil

4

cups

4 oz baby arugula
Instructions
In a pot over high heat, stir together pomegranate juice, sugar and lemon juice until sugar dissolves. Boil until liquid thickens and is reduced to 1 cup, about 45 min.

Meanwhile, toss shrimp with cumin, coriander, cinnamon, salt and olive oil and stir to coat.

In a bowl, toss arugula with extra lemon juice and olive oil if desired. Place on a platter.

Heat a grill pan over medium heat. Add shrimp and cook 2 min per side until pink and opaque; place on top of arugula. Pour sauce in a small dish for dipping.
Nutrition Facts
Moroccan Shrimp With Pomegranate Sauce
Amount Per Serving
Calories 45
Calories from Fat 9
% Daily Value*
Total Fat 1g 2%
* Percent Daily Values are based on a 2000 calorie diet.
Recipe Tara Bench & Vanessa Seder
Originally published in Ladies' Home Journal Apr 2009
Photography Miki Dusterhof
Food Styling Jee Levin
Prop Styling Pamela Duncan Silver