The best baba ganoush recipe here! Also called baba ghanouj, this roasted eggplant dip gets its flavor from the smokey char of cooked eggplant, sesame tahini, and garlic. I've swapped some of the tahini for creamy yogurt, then loaded the top with roasted vegetables for a dip, so awesome it could be a meal!
---
Discover how to make baba ganoush topped with a rainbow of hearty roasted vegetables. This Mediterranean dip is low-carb and heart-healthy! With the veggies on top, you'll want to eat it with a fork.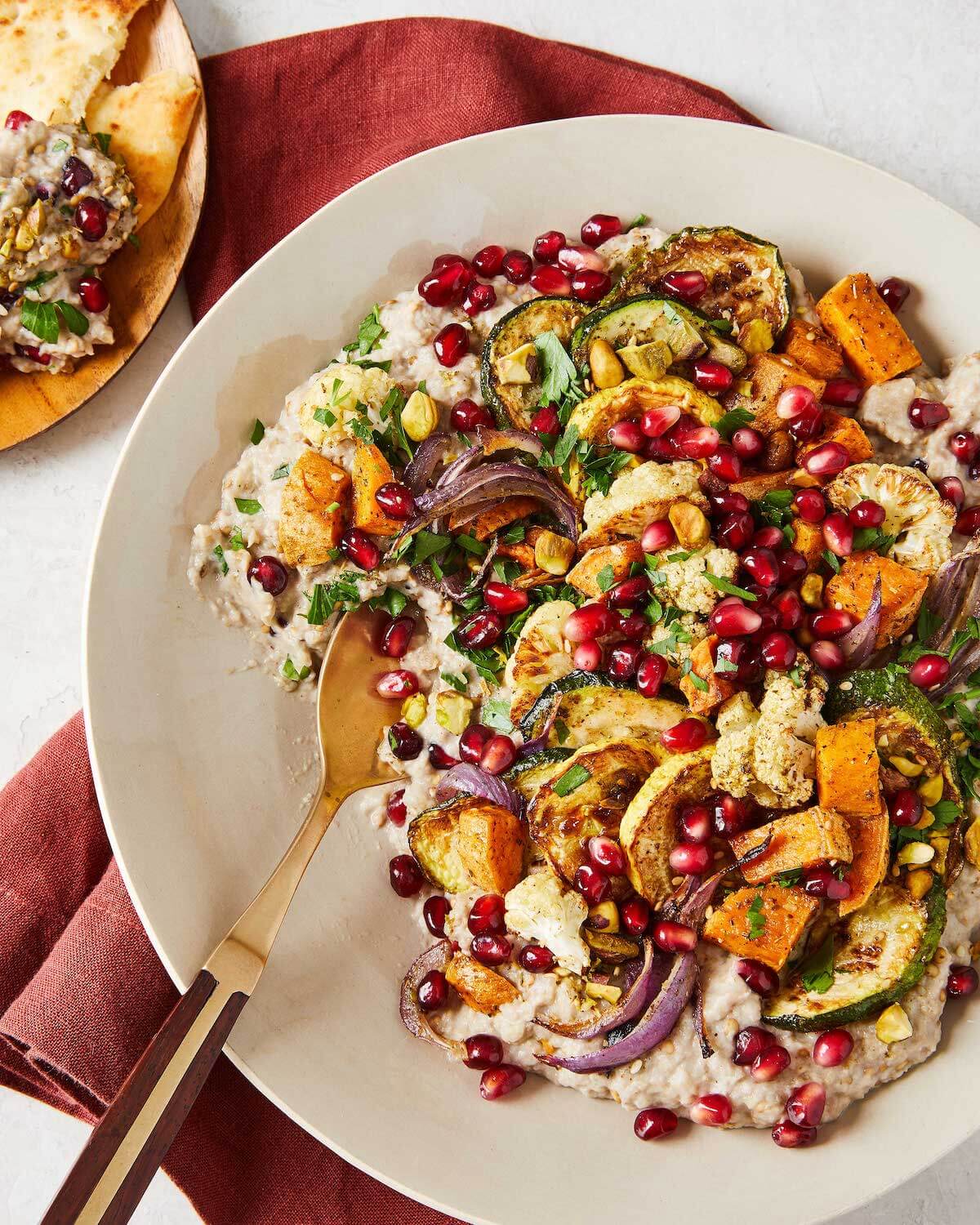 I just love discovering new eggplant recipes because it's such a nutrient-dense vegetable. It's often roasted, and I even enjoy it in an eggplant and tomato soup.
If you enjoy healthy dip recipes, try my red pepper and almond romesco dip next - it's a Spanish recipe with a zesty bite!
Jump to:
What Is Baba Ganoush?
Baba ganoush is a dip that is popular in the Levant region (also called the "middle east" boarding the Mediterranean Sea). It's a thick roasted eggplant dip that is made with pureed eggplant, sesame seeds, olive oil, lemon, and garlic. You'll also see it spelled "baba ghanouj."
In Arabic, baba ganoush is loosely translated as "spoiled dad" - "baba" means father, and "ghanoush" means spoiled. Basically, you feel like you are spoiled when you indulge in it! In Israel, this dip is called "eggplant salad." I made it even more of a salad with the addition of the veggies on top.
It's the perfect addition to a Mediterranean meze board or platter. Great for buffets, as a starter, or part of a meal with warm pita bread and other dips and salads.
Baba Ganoush Origin Story
This eggplant dip recipe comes from the Levant region - the countries on the eastern side of the Mediterranean sea. This includes Isreal, Lebanon, Jordan, Palestine, and Syria. It's usually a family recipe that changes from family to family. Some add a bit of sugar and sweeten it. Others will add more lemon juice or less tahini.
As you make this dip, adjust the seasonings until it tastes perfect to your palette.
That's why I swapped some of the tahini for yogurt and added the roasted veggies on top. I made it my own and created a variation I know you'll love.
The colors and textures the roasted veggies add to the dip, and how they all compliment each other with the earthiness of the eggplant and tahini, is absolutely perfect.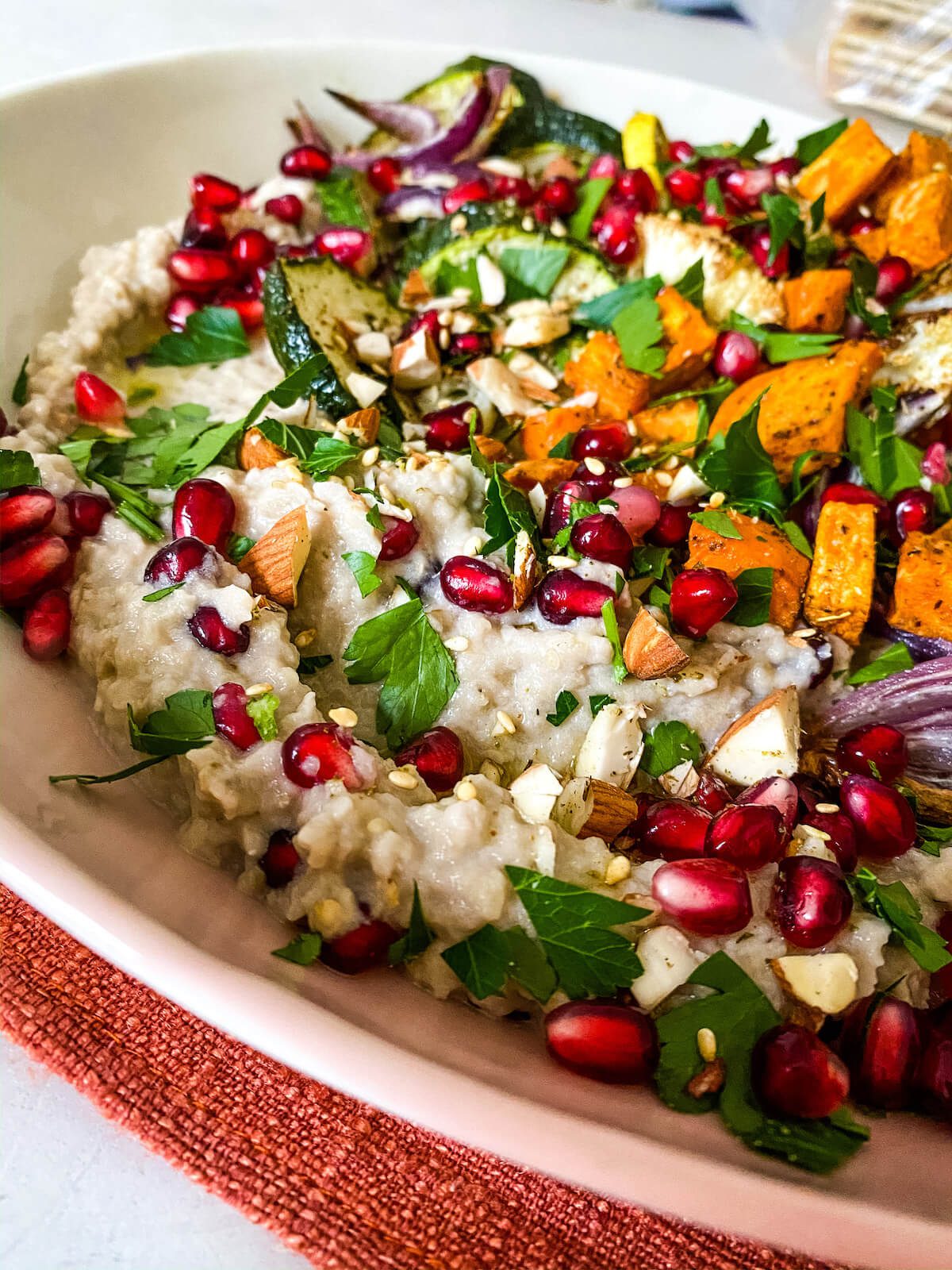 Baba Ganoush vs. Hummus
Texture-wise, hummus and baba ganoush dips feel almost the same on the tongue - they even look alike! Take one bite of each and you'll notice the difference right away.
The main ingredient in baba ganoush is eggplant. The main ingredient in hummus is chickpeas. This means that baba ganoush has an earthy, vegetable taste and hummus tastes nuttier and has the texture of pureed beans!
They are both great dips for a Mediterranean dinner, served as party dips, or healthy snacks.
Baba Ganoush Recipe Ingredients
I used the same ingredients as the traditional baba ganoush recipe - eggplant, garlic, and tahini. Then, I made it my own with a few changes.
Roasted eggplant purees perfectly in this dip. It is the ingredient that adds a smoky flavor to the dip because you roast it in the oven or on the grill until the skin is charred. The blackened skin gets peeled off, but imparts the flavor into the entire eggplant.
I used pomegranate juice instead of lemon juice. You can totally keep it to the traditional lemon juice though. This made my dip taste a bit sweeter and enhanced the flavor of the pomegranate arils that I added on top.
Can you make baba ganoush without tahini?
To make it creamier, I added some non-fat Greek yogurt. This also allowed me to reduce the amount of tahini (sesame seed paste). Swapping that cut down on the calories in baba ganoush, but also made it luxuriously creamy.
You can absolutely leave out the tahini altogether, however, you'll lose that bitter, balancing flavor. I suggest adding some cashew butter, sunflower seed butter, or other nut or seed butter in its place.
Loaded Baba Ganoush Salad
I think my friend Gaby first created a recipe for loaded hummus that I thought was so genius! Topping a dip with more hearty, crunchy and flavorful ingredients suddenly takes a dip to another level!
I knew I had to try this with baba ganoush. All of the veggies are roasted with Za'atar seasoning. For color and taste, I used these vegetables - but you can omit any of them and use your favorites:
Red Onion - red onions are slightly sweeter than other varieties
Sweet Potato - yams or butternut squash can be used
Cauliflower - cut into tiny florets for easy serving
Zucchini
Summer Squash
I also chopped some roasted pistachios and and pomegranate arils and sprinkled them on top. This gives the dip a satisfying and juicy crunch.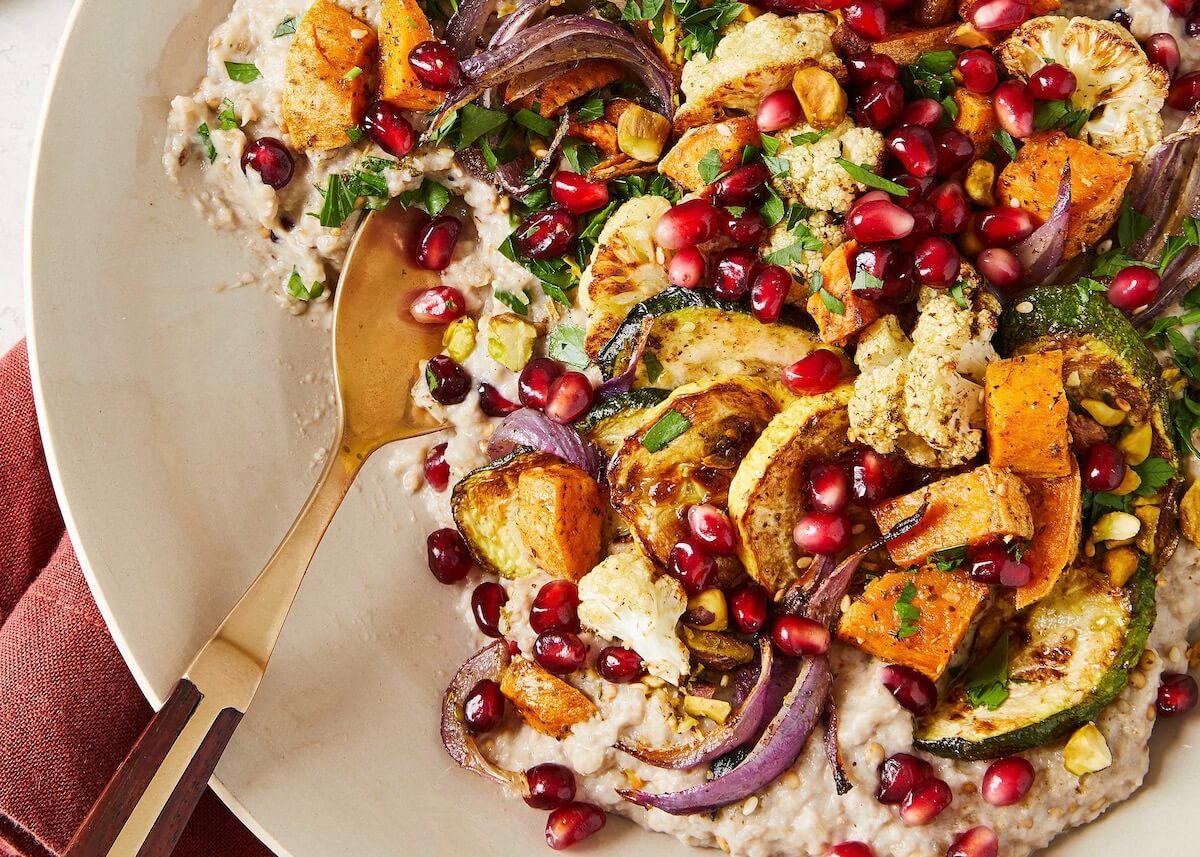 Roasting Eggplant For Baba Ganoush
It only takes 25 minutes to roast eggplant for the dip. You don't need any special kitchen tools or even a grill, either. There are three methods for charring an eggplant:
1. In the oven - use the broiler
I used a baking sheet and lined it with foil. Broil it on high and place the rack about 6 to 8 inches from the heat.
As you roast the eggplant, make sure you turn it every 5 to 10 minutes until it is charred and soft.
2. On a gas range - it will get very charred
If you have a gas range, you can roast it directly over the flame. Just place the eggplant on the burner. Use tongs and turn it every 30 seconds to 1 minute. When it is completely charred and soft, remove it from the heat.
You could also char it well on the gas flame then finish roasting it in the oven to soften the inside. Place it on a foil-lined pan and cook at 400 for a few minutes until soft all the way through.
3. On a grill
Easy on the grill! Over medium-high heat, char and cook the eggplant, turning ever few minutes, until soft throughout.
How To Make Baba Ganoush
If you have ever roasted vegetables or made a creamy dip, then you will be able to make baba ganoush.
You will need a food processor to puree the dip and combine it completely. An immersion blender can also work, but it will take so much longer. A blender will puree the dip to oblivion, but you could try pulsing and stirring by hand on repeat in a blender.
After you roast the eggplant, peel it and remove the skin. Let it cool.
While you set it aside, add the rest of the baba ganoush ingredients into the food processor and pulse a few times (for just about 30 seconds).
Then, add the eggplant and pulse until it is almost smooth. You want the dip to have some texture in it, so don't try to over-process it.
Add the roasted vegetables on top and serve!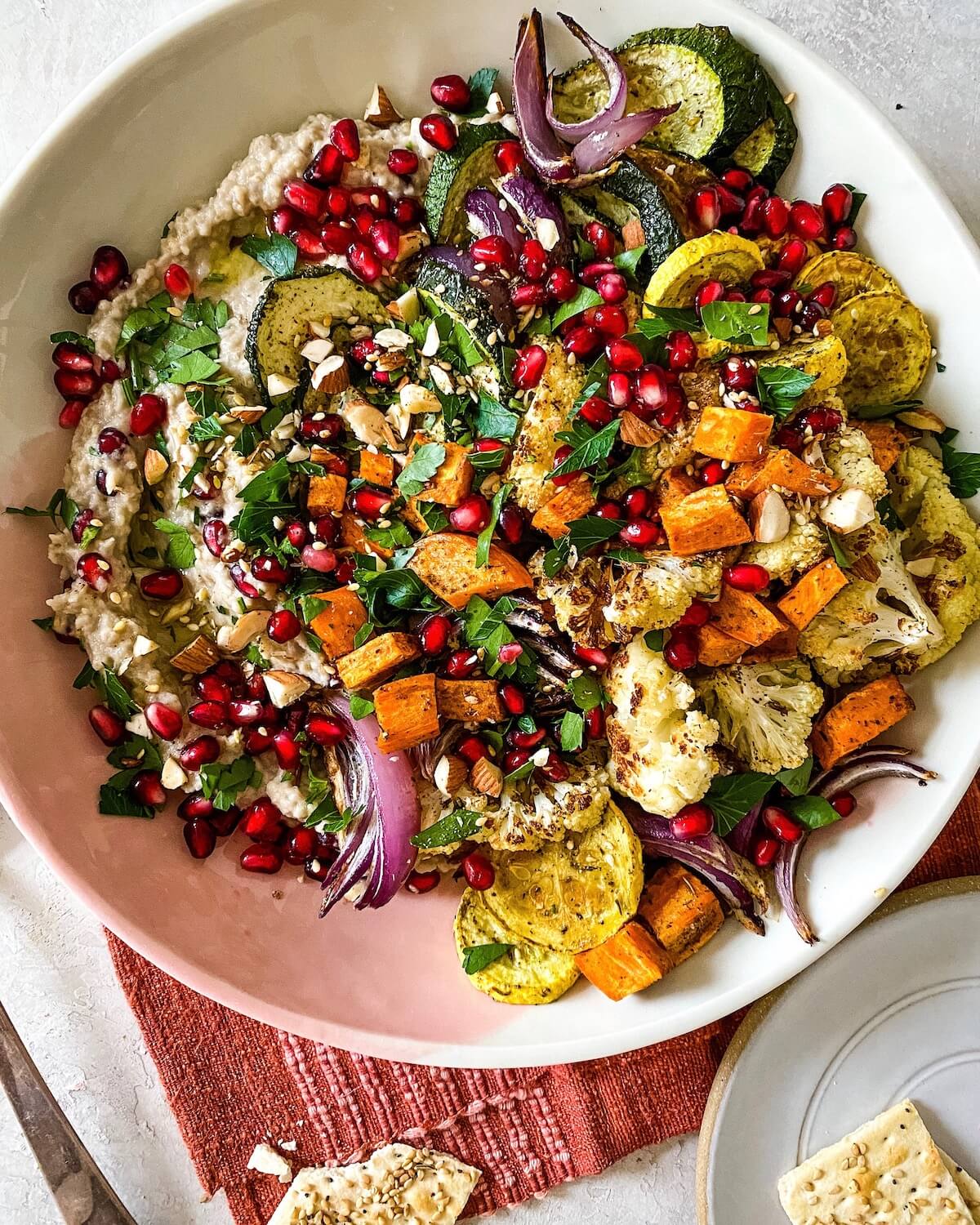 What To Eat With Baba Ganoush
This is a very hearty roasted eggplant dip that I love to scoop with pita.
With the roasted vegetables on top, this is almost a complete meal. This will taste perfect with grilled pork tenderloin topped with goat cheese and honey. You just need a light, grilled meat for the main course.
More party food dip recipes
If you like this loaded vegetable baba ganoush recipe, then you will love these stunning dip recipes too.
Let me know how it went!
Scroll to the bottom of the page to rate ⭐⭐⭐⭐⭐ and comment on this recipe. Leaving comments helps other too!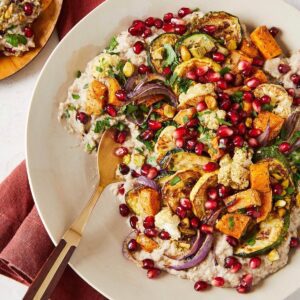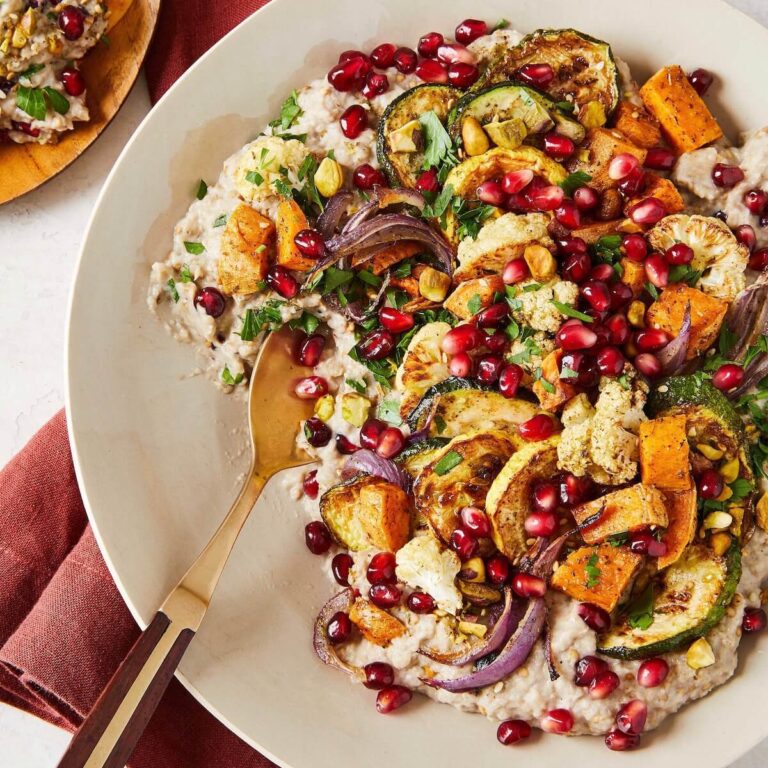 Baba Ganoush Recipe Loaded with Vegetables
I've swapped some of the tahini for creamy yogurt, then loaded the top with roasted vegetables for a baba ganoush dip, so awesome it could be a meal!
Ingredients
Healthy Baba Ganoush
2

pounds

eggplant

(2 small eggplants)

2

tablespoons

olive oil

3

tablespoons

pomegranate juice

(or lemon juice)

2

tablespoons

tahini

3

tablespoons

non-fat plain Greek yogurt

1

clove

garlic

minced

1

teaspoon

kosher salt

½

cup

fresh pomegranate arils

OPTIONAL
Zaatar Roasted Veggies
½

red onion

cut in wedges

1

medium

sweet potato

peeled and diced ½-inch

½

small

head cauliflower

cut into florets

1

small

zucchini

sliced

1

small

yellow summer squash

sliced

4

tablespoons

olive oil

DIVIDED

3

teaspoons

za'atar seasoning

DIVIDED

1½

teaspoons

kosher salt

⅓

cup

roasted pistachios

coarsely chopped

½

cup

fresh pomegranate arils
Instructions
Heat broiler to high with rack 6 to 8 inches from heat. Place eggplants on a foil-lined baking sheet and broil, turning every 5 to 10 minutes until charred and soft, 15 to 25 minutes total, depending on your broiler. Let cool. Trim off stem, peel and discard skin. Set aside.

Heat oven to 400ºF for the veggies.

Toss the onion, sweet potato and cauliflower together in a large bowl with 3 tablespoons olive oil, 2 teaspoons zaatar and ¾ teaspoon salt. Combine the zucchini and yellow squash in another bowl and toss with 1 tablespoon olive oil, remaining teaspoon of zaatar and ¾ teaspoon salt. Arrange veggies on two separate baking sheets.

Roast veggies, rotating racks after 15 minutes until caramelized and tender, 25 to30 minutes for the zucchini and yellow squash, 35 minutes for the sweet potatoes and cauliflower. Remove from oven and set aside.

Make the baba ganoush: In a food processor, combine the olive oil, pomegranate juice, tahini, yogurt, garlic, and salt. Process until well combined, about 30 seconds. Add the peeled eggplant and process or pulse until almost smooth, leaving a little texture. Stir in the fresh pomegranate arils IF USING.

Serve the baba ganoush on a platter or in a large bowl. Top with the roasted veggies, pistachios, extra zaatar, parsley, and ½ cup pomegranate arils.
Notes
You can make the baba ganoush up to a day in advance. Store airtight in the fridge until ready to serve.
Nutrition
Calories:
233
kcal
Carbohydrates:
22
g
Protein:
5
g
Fat:
15
g
Saturated Fat:
2
g
Cholesterol:
1
mg
Sodium:
756
mg
Potassium:
634
mg
Fiber:
7
g
Sugar:
11
g
Vitamin A:
4131
IU
Vitamin C:
20
mg
Calcium:
56
mg
Iron:
2
mg
More Vegetarian Recipes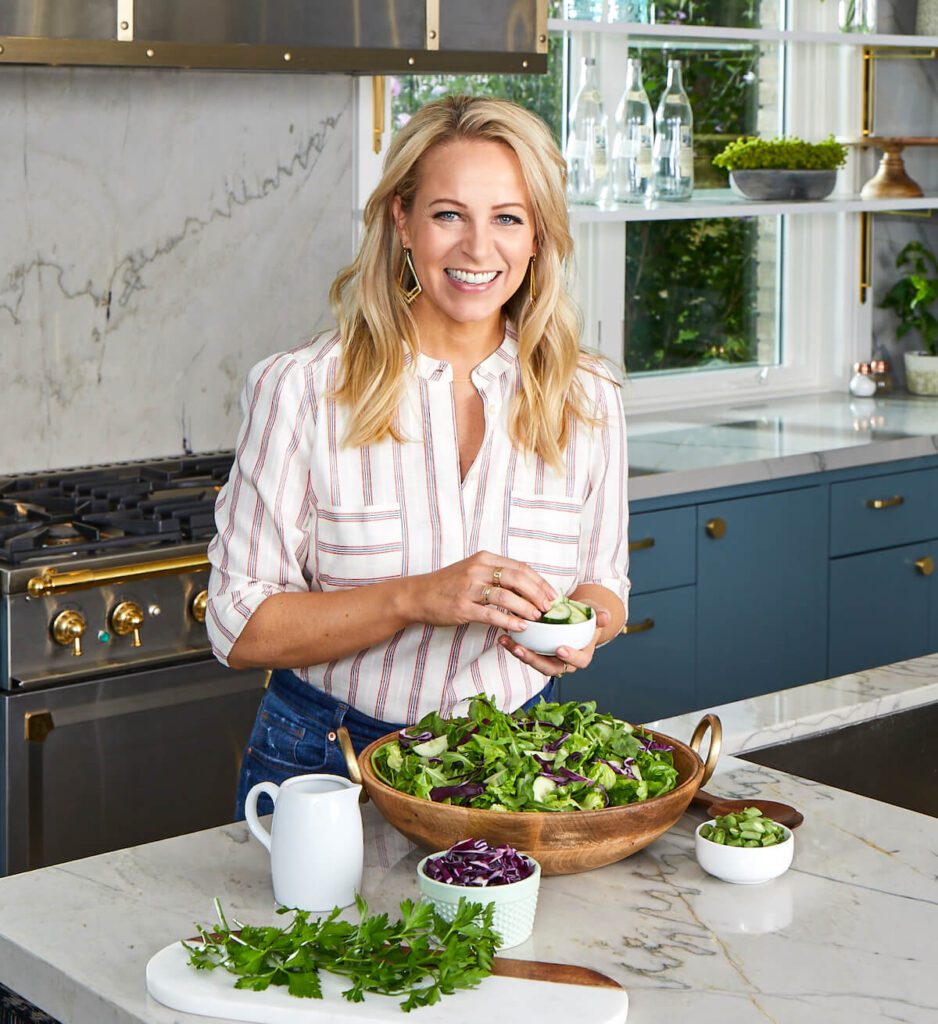 About Tara Teaspoon
I've been in the food publishing business for over 20 years, creating recipes & food-styling for magazines, books, television & advertising. Order my new cookbook & stick around for amazing things to eat.
Also written by Annie Kearns. Photography by Ty Mecham. Updated 2023.