---
Success! I created this Roasted Tomato and Eggplant Bisque at my mom's request, and it is every bit as good as the dish she dreamed of in her head.
---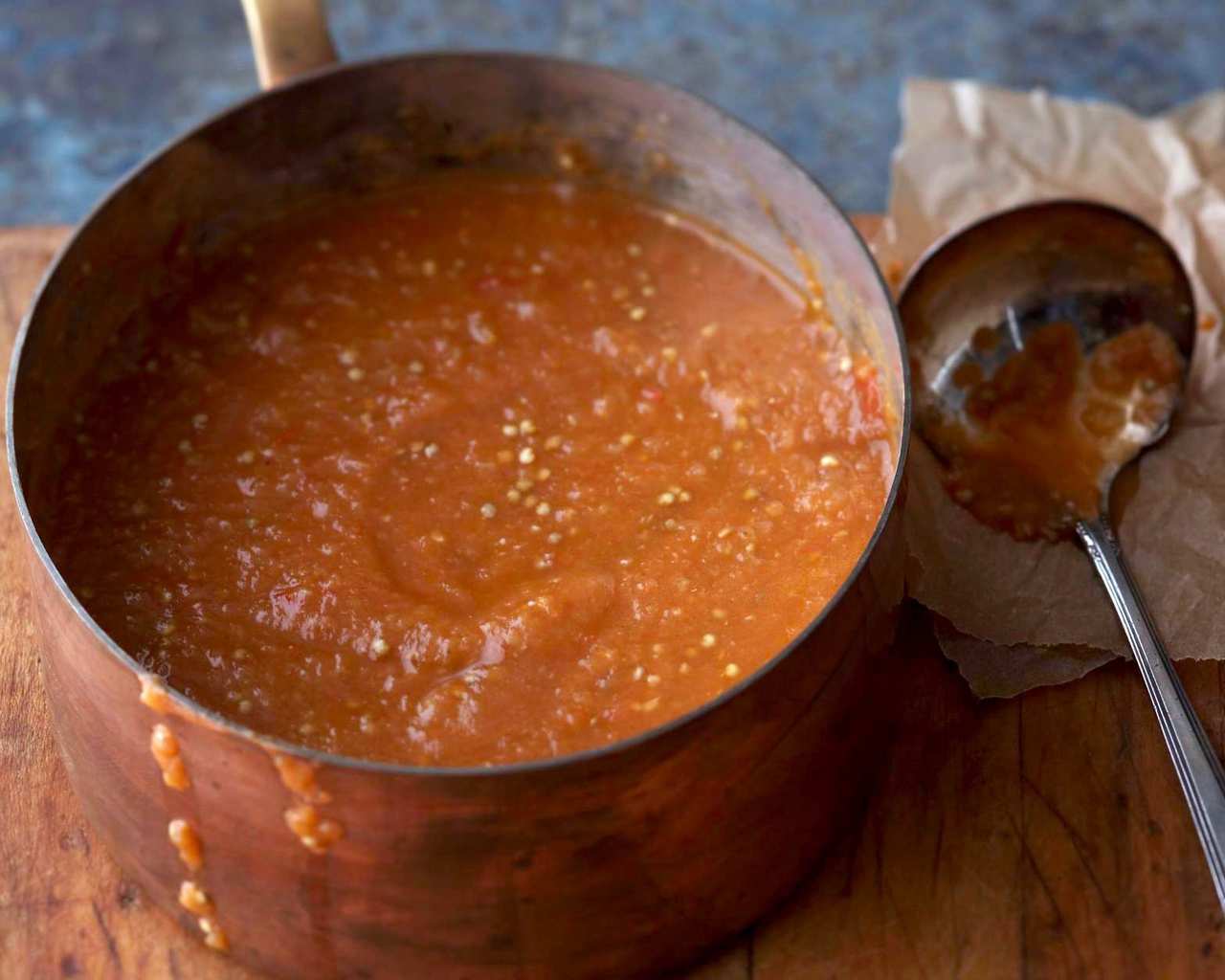 Every year or so as the Food Director of Ladies' Home Journal magazine, I would create recipes for a soup story. Sometimes I would get crazy and throw a stew or two in the mix; but either way, we would get our soup on for the winter months. Well, that's not exactly true, because technically I developed and cooked them in the summer, since we worked so many months ahead of real-time. That's how I knew a recipe was a winner though. If it was good enough to eat in the sweltering heat and humidity of a New York summer, then it was sure to be a hit when the magazine went to print in the winter.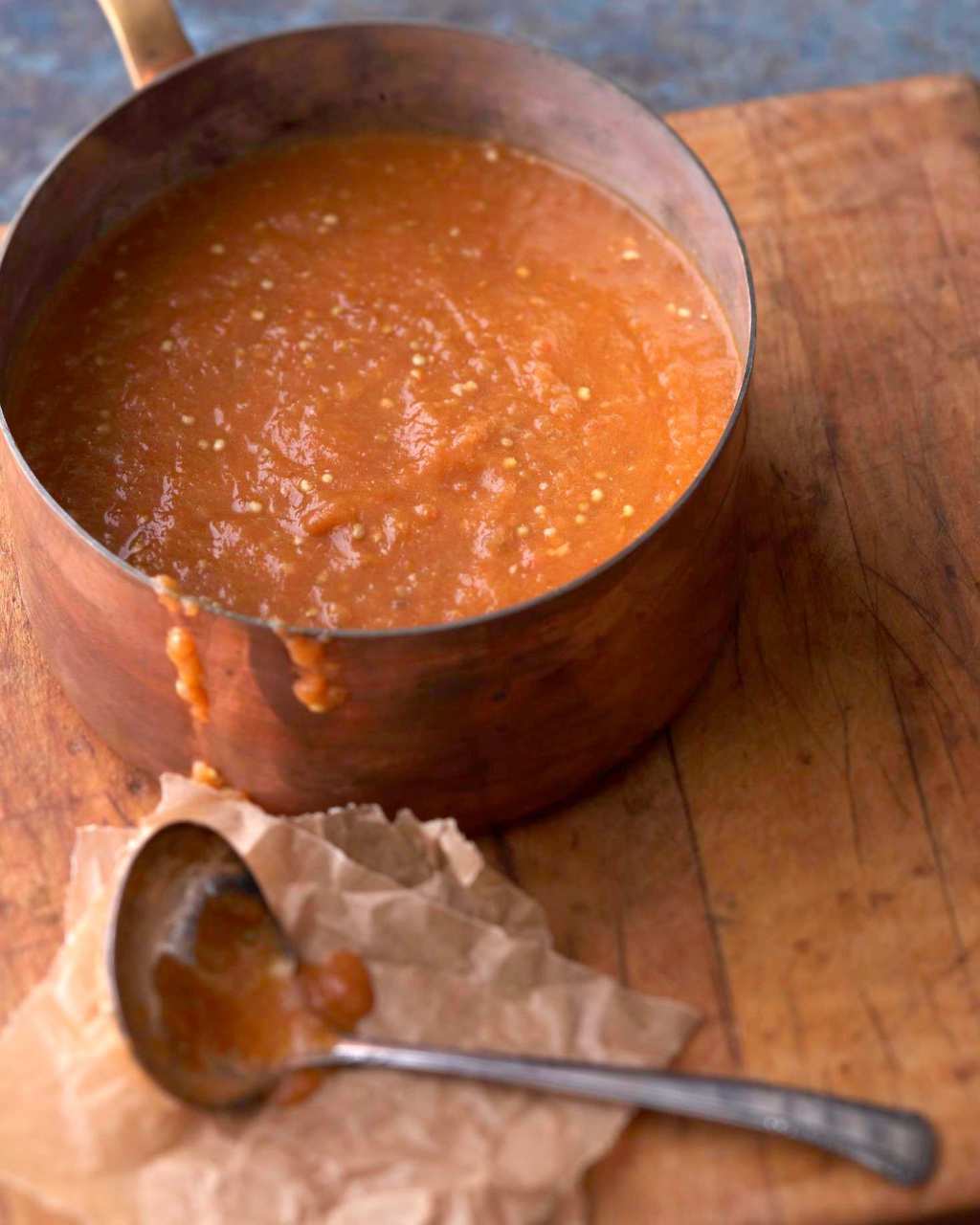 This soup resulted from a request my mother made. She had eaten a roasted tomato and eggplant soup at a restaurant, and wanted me to re-create it so she could make it at home. Having never tasted it myself, I got a kick out of coming up with a recipe based solely on my mom's description! Really, all I knew was that the soup had eggplant and tomatoes in it, and tasted delicious. Even so, I still managed to nail it. (Hands above head emoji!)
I've always liked roasted eggplant. If you were to saute it in a pot with onions, it would turn into a watery situation with very little flavor. On the other hand, roasting this veggie gives it a nice mild smokey taste, makes it easy to peel, and turns the insides all creamy and delicious. I figured as long as I was roasting the eggplant I might as well do the tomatoes and garlic too. I really like all of these veggies cooked in the oven. Garlic gets soft and buttery, eggplant is smokey and creamy, and the tomatoes intensify in juicy flavor.
I use an immersion blender to puree it right in the pot, but you can process it in batches in a blender or food processor too. Note: if you're using a Vitamix or Blendtec just pulse the mixture to keep the lovely texture of the eggplant and whole tomatoes. These machines are amazing and will puree the soup into a texture-less liquid in no time!
Oh I just love this soup! I call it a bisque because of the thicker, rich texture. However it's not quite a stew. So bisque it is!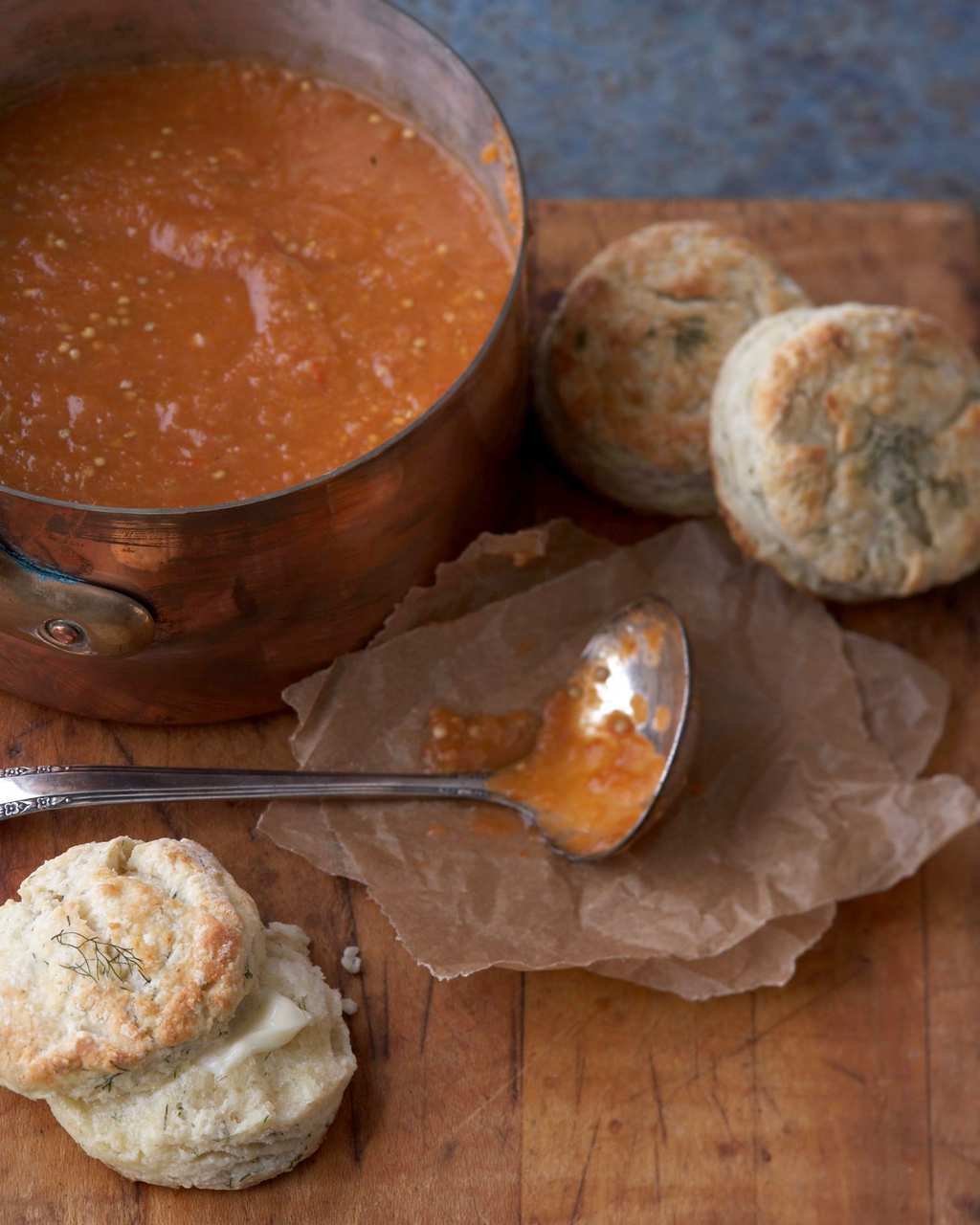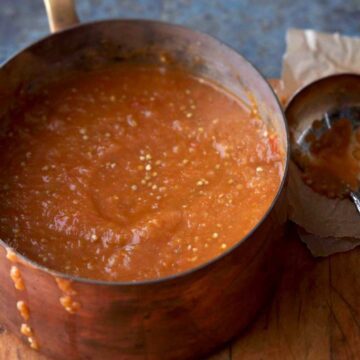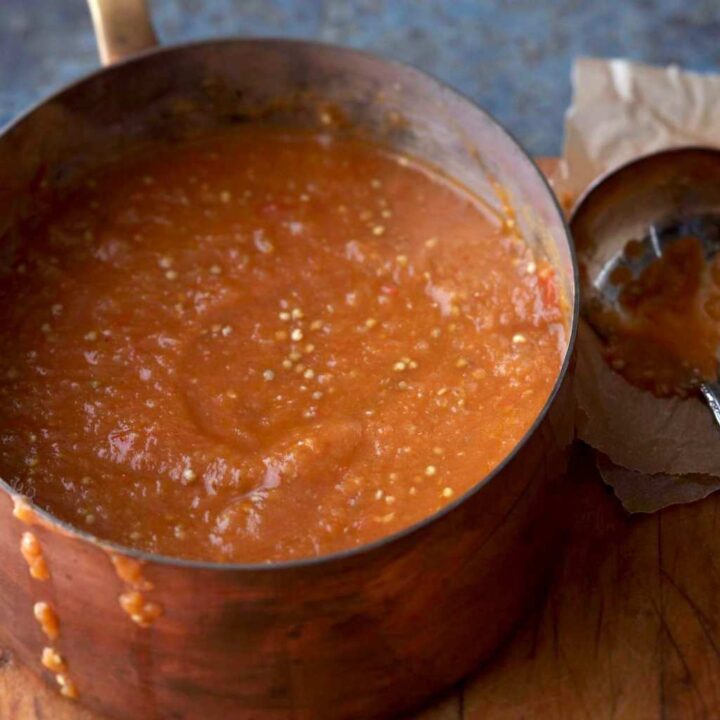 Roasted Tomato and Eggplant Bisque
Roasting vegetables is the key to the sweet and smokey flavors of this Roasted tomato and Eggplant Bisque. Make it vegetarian by swapping veggie broth with the chicken broth.
Ingredients
3

lbs

eggplant

halved lengthwise

5

medium tomatoes

halved and cored

2

tablespoon

olive oil

plus more for vegetables

1

head garlic

about ¼-inch cut off top to expose cloves

1

medium onion

chopped

3

tablespoon

tomato paste

2

cans

(14 oz each) low-sodium chicken broth

1

teaspoon

kosher salt

½

teaspoon

freshly ground pepper
Instructions
Heat oven to 425°F. In a rimmed baking sheet, liberally brush eggplant and tomatoes with oil; arrange eggplant cut side down and tomatoes cut side up. Brush cut side of garlic head with oil and wrap in foil. Roast vegetables and garlic until vegetables are tender and browning in spots, about 45 minutes. Let stand until eggplant is cool enough to handle, about 20 minutes; peel.

Meanwhile in a large pot, heat oil over medium-low heat. Add onion and cook until softened, 10 to 12 minutes. Stir in tomato paste and cook 2 minutes. Add eggplant and tomatoes. Squeeze roasted garlic from skins into vegetables; stir to combine. Stir in broth, salt and pepper; bring to a simmer and cook 5 minutes. Purèe using an immersion blender or a food processor.
Notes
This lovely soup is so rich and tasty it could also be called "hearty".
Nutrition
Calories:
92
kcal
Carbohydrates:
13
g
Protein:
3
g
Fat:
3
g
Sodium:
301
mg
Potassium:
592
mg
Fiber:
5
g
Sugar:
7
g
Vitamin A:
615
IU
Vitamin C:
13.4
mg
Calcium:
26
mg
Iron:
0.8
mg
While the veggies roast, feel free to make these Dill Ricotta Biscuits, they go gorgeously with the soup. You can throw them in the oven the minute those vegetables come out. Dinner is done, and the family will love it. Or, you can try these open-faced sandwiches, or toasts with your soup: Spinach Melts go well with this bisque, and Toasts with Sweet Potato Spread add a fresh bite to a warm dinner.
Make a delicious soup recipe today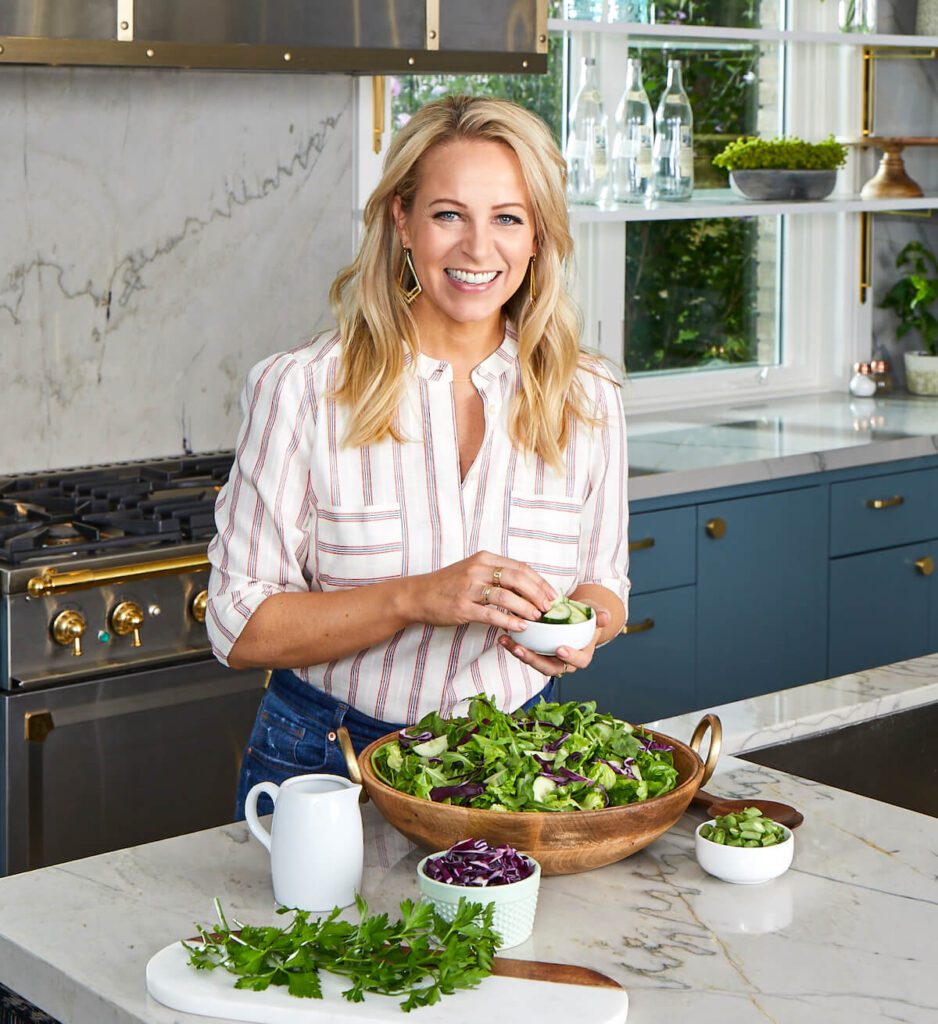 About Tara Teaspoon
I've been in the food publishing business for over 20 years, creating recipes & food-styling for magazines, books, television & advertising. Order my new cookbook & stick around for amazing things to eat.
Recipe Tara Bench. Photographer Blaine Moats. Prop Stylist Carol Linnan. Originally published in LHJ 2/08