---
Lemony quinoa chickpea salad is fresh and bright with herbs, lemon juice, and zest. It's a perfect make-ahead recipe that marinates in a delicious lemon and olive oil dressing that gets better as it sits.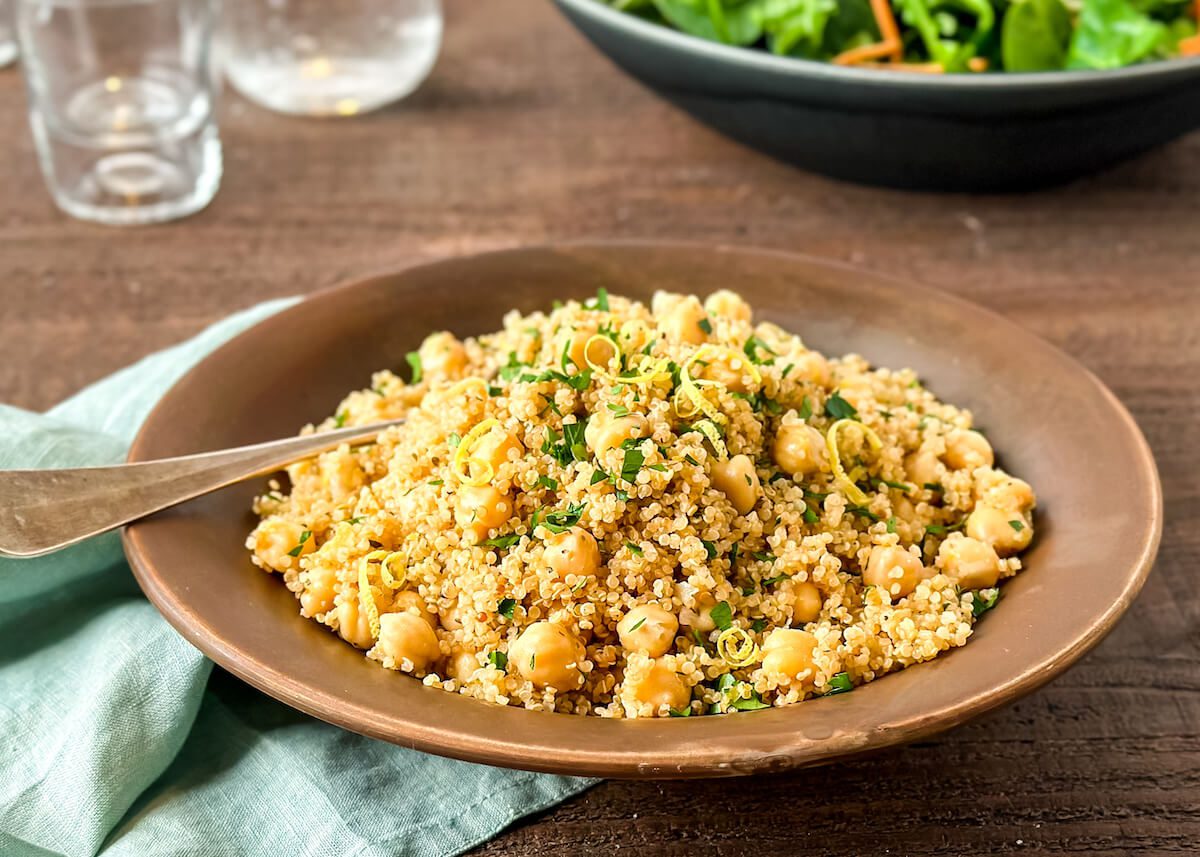 This quinoa chickpea salad is a delightful Mediterranean side dish or green salad topper. With plenty of olive oil, lemon, and parsley, it's fresh and bright, but uses minimal ingredients.
Jump to: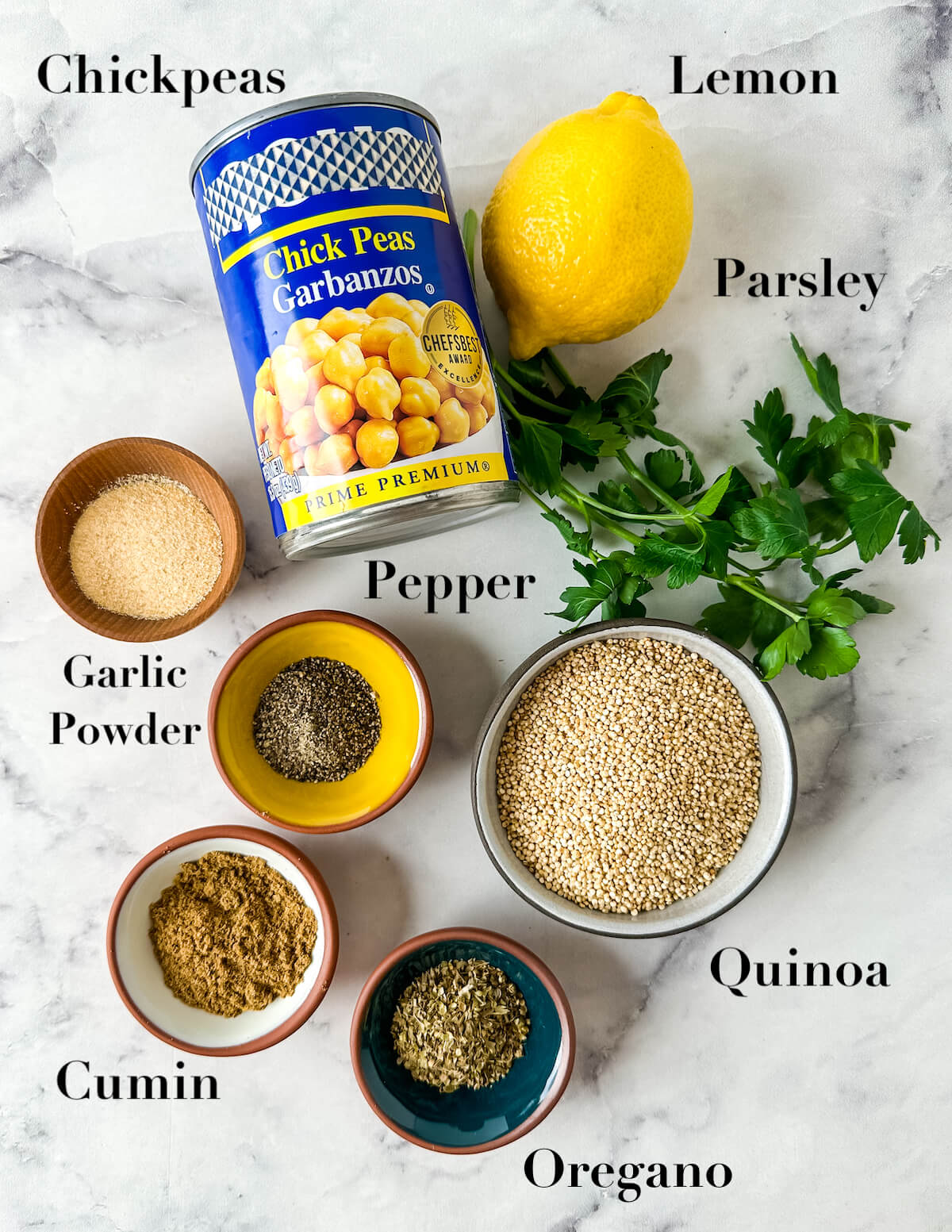 Ingredients for Quinoa Salad
This recipe is simple and lets the few ingredients really shine. Garlic powder, cumin, and oregano season the dish and pair perfectly with the fresh burst of lemon and parsley.
I always have a few cans of chickpeas in my pantry. They're inexpensive and a great source of protein and fiber. If you don't have chickpeas, you could use another white bean like Cannelini or Great Northern Beans.
YOU most likely have all these ingredients and spices! Quinoa, chickpeas, spices, lemons, and parsley! Make this salad!
Awesome Side Dish Recipes!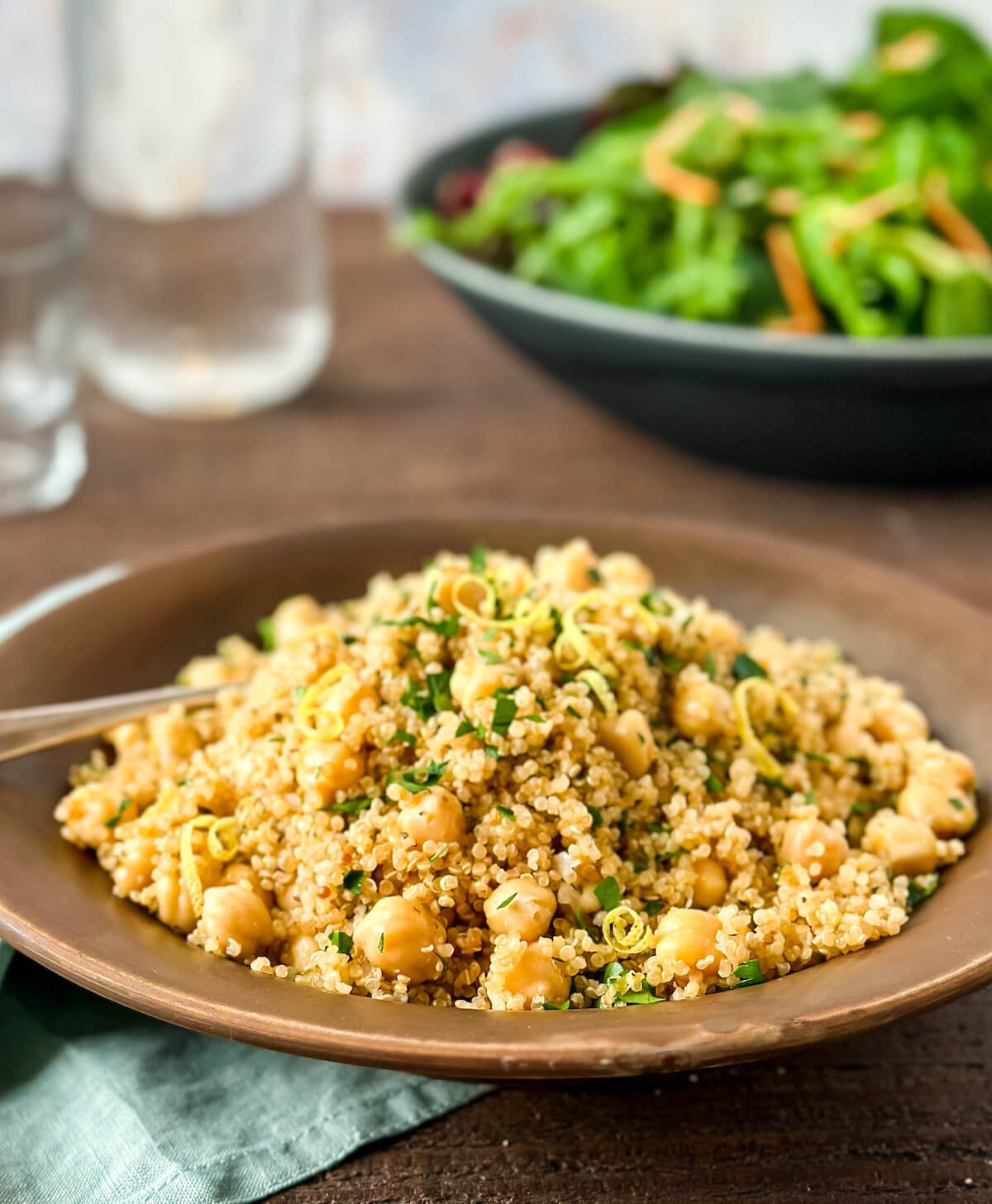 What to Serve with Chickpea Quinoa
Quinoa and chickpeas is a perfect side dish. My favorite way to eat it is over a bed of greens as a main dish salad actually.
Serve the dish as-is for a unique side dish that pairs nicely with a wide range of cuisines. Try this salad alongside my juicy Flank Steak, or stay with the Mediterranean theme and try it with my Moroccan Lamb Meatballs.
If you have plant-based eaters in the house, try out my Vegetarian Meatballs with Harissa. Serve this quinoa salad alongside my delicious Pork Tenderloin with Goat Cheese, Honey, and Rosemary.
It is a great picnic salad or side dish. It also packs well for a work lunch.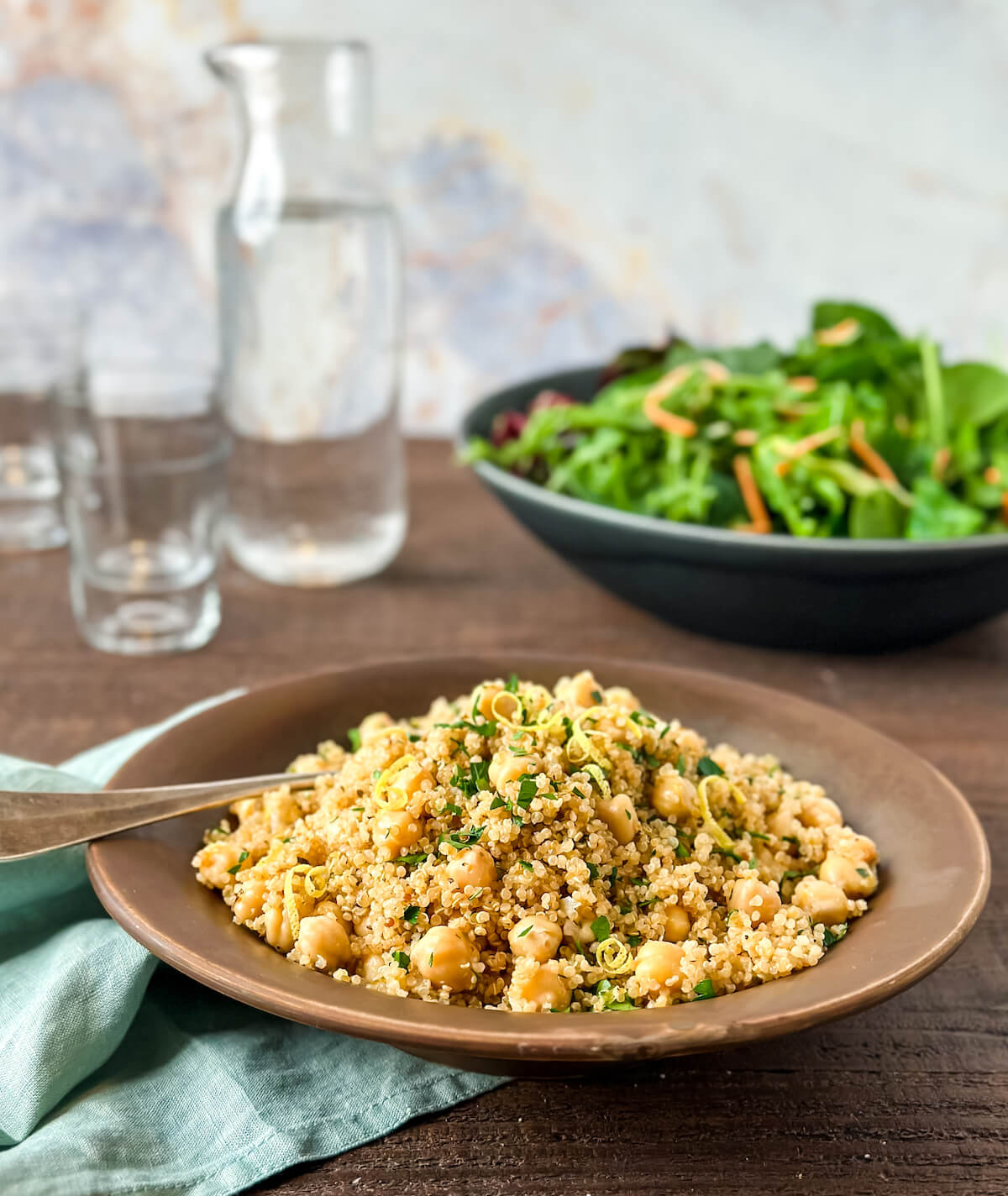 Lemon Olive Oil Dressing
I make a lemon olive oil dressing for this side dish. It is to-die-for good. It's bright and smooth, and so flavorful I could drink it.
This dressing is the perfect accompaniment to chickpeas and quinoa, but would be amazing on roasted vegetables, pasta salad, or any other cold dish.
Start with fresh lemon juice. Best not to use bottled lemon juice as it won't have the nice flavor.
Use a nice extra virgin olive oil for this mediterranean salad dressing because you'll really taste it. There's not heating the dressing so the peppery flavor of a high quality olive oil will come through.
You can double or triple the lemon dressing recipe and keep extra in a jar for up to 3 days on the counter, or two weeks in the fridge.
Is this salad gluten free?
Yes, quinoa is a gluten-free and this salad is completely safe for those eating gluten free.
Is quinoa healthy?
Quinoa with chickpea salad is quite healthy as quinoa, an ancient grain from South America is rich in B vitamins. It also has antioxidants. Chickpeas contain a good amount of dietary fiber and protein along with carbohydrates.
Let me know how it went!
Scroll to the bottom of the page to rate ⭐⭐⭐⭐⭐ and comment on this recipe. Leaving comments helps other too!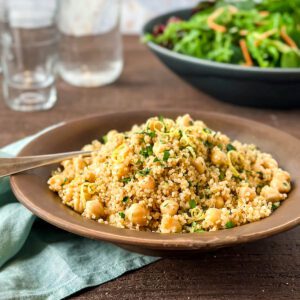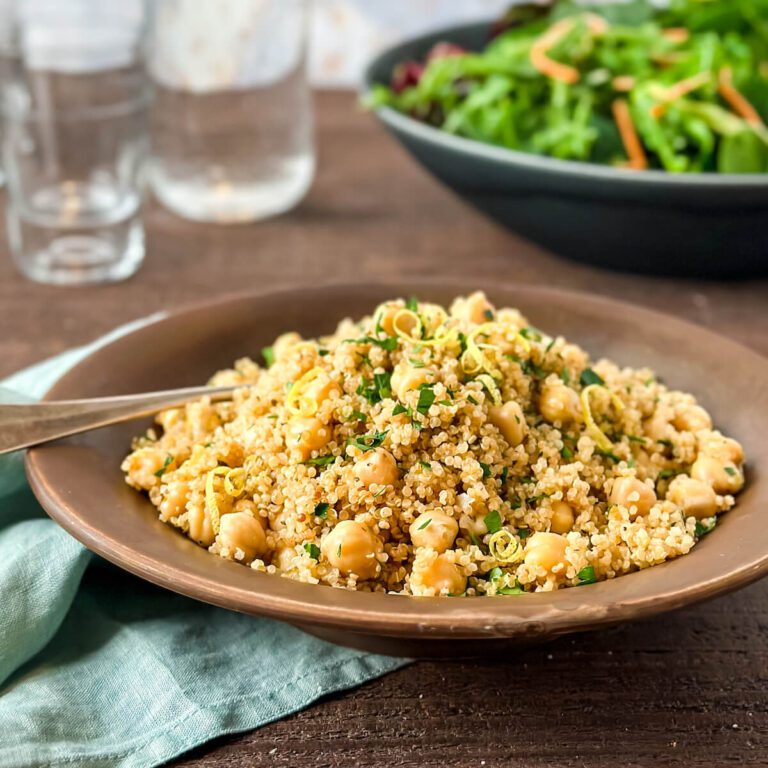 Lemon Quinoa and Chickpeas
This quinoa chickpea salad is a delightful Mediterranean side dish or green salad topper. With plenty of olive oil, lemon, and parsley, it's fresh and bright, but uses minimal ingredients. Makes 4 cups
Ingredients
¾

cup

uncooked quinoa

1

teaspoon

kosher salt

DIVIDED

1

can

(15 ounces) chickpeas

drained and rinsed

2

teaspoons

lemon zest

1

teaspoon

dried oregano

1

teaspoon

garlic powder

¼

teaspoon

black pepper

⅛

teaspoon

ground cumin

1

tablespoon

avocado or extra virgin olive oil

1

tablespoon

lemon juice

2

tablespoons

chopped flat-leaf parsley
Instructions
In a medium saucepan cook quinoa and ½ teaspoon kosher salt with 1¼ cup water by bringing mixture to a boil, then cover and reduce heat to low. Cook for 12 to 14 minutes until water is absorbed and remove lid to let cool. You will have about 2 cups cooked quinoa.

Combine chickpeas and cooked quinoa in a medium mixing bowl.

In a small bowl stir together oregano, garlic powder, black pepper, remaining ½ teaspoon kosher salt, cumin, and lemon zest. Add mixture to quinoa with oil and lemon juice, and stir to combine. Stir in parsley.

Serve warm, room temperature, or cold, with extra parsley for garnish if desired.
Notes
Nutritional estimates based on 4 servings.
See blog post for serving suggestions. •This is a great addition to a green salad.
Nutrition
Calories:
254
kcal
Carbohydrates:
37
g
Protein:
10
g
Fat:
8
g
Saturated Fat:
1
g
Polyunsaturated Fat:
3
g
Monounsaturated Fat:
4
g
Sodium:
900
mg
Potassium:
377
mg
Fiber:
8
g
Sugar:
0.2
g
Vitamin A:
201
IU
Vitamin C:
6
mg
Calcium:
69
mg
Iron:
3
mg
Try more gluten-free recipes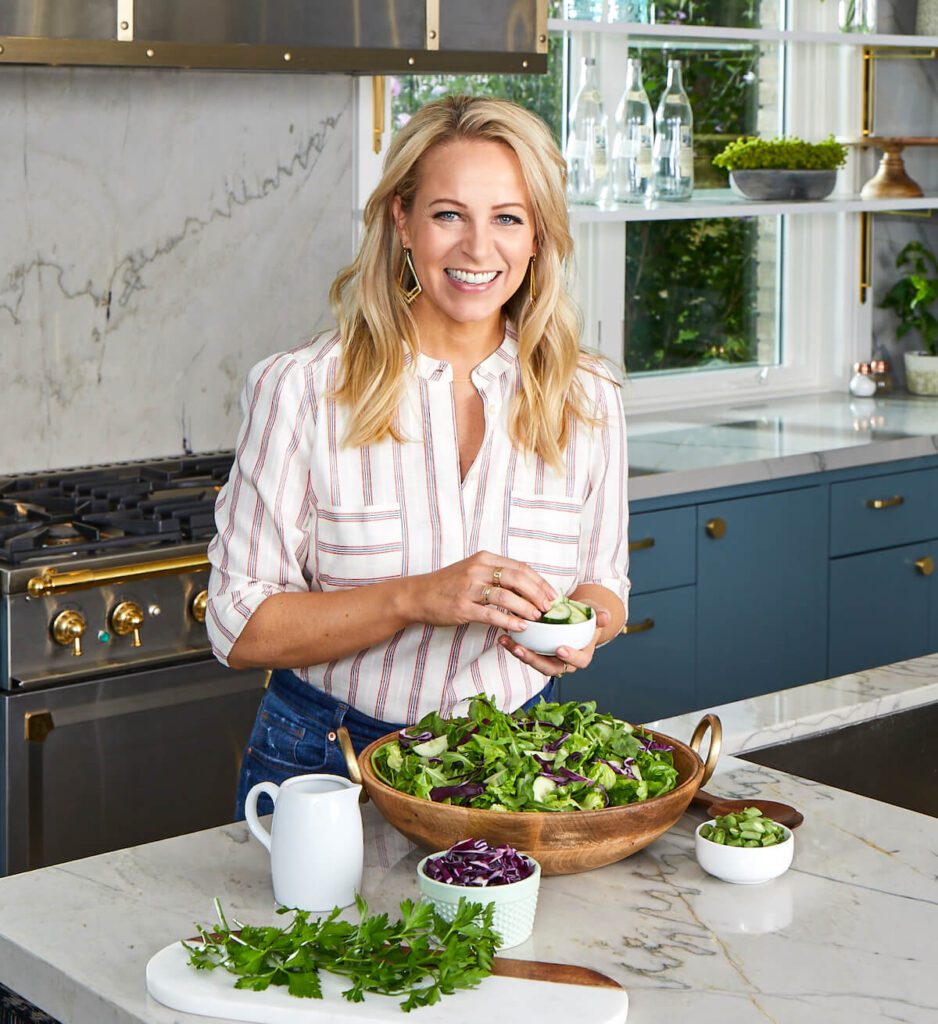 About Tara Teaspoon
I've been in the food publishing business for over 20 years, creating recipes & food-styling for magazines, books, television & advertising. Order my new cookbook & stick around for amazing things to eat.