I'm here to tell you how to make the best meatless meatballs! Eggplant and walnuts are the foundation of this plant-based meatballs recipe. Top the meatballs with a sweet and spicy pomegranate harissa sauce. Delish!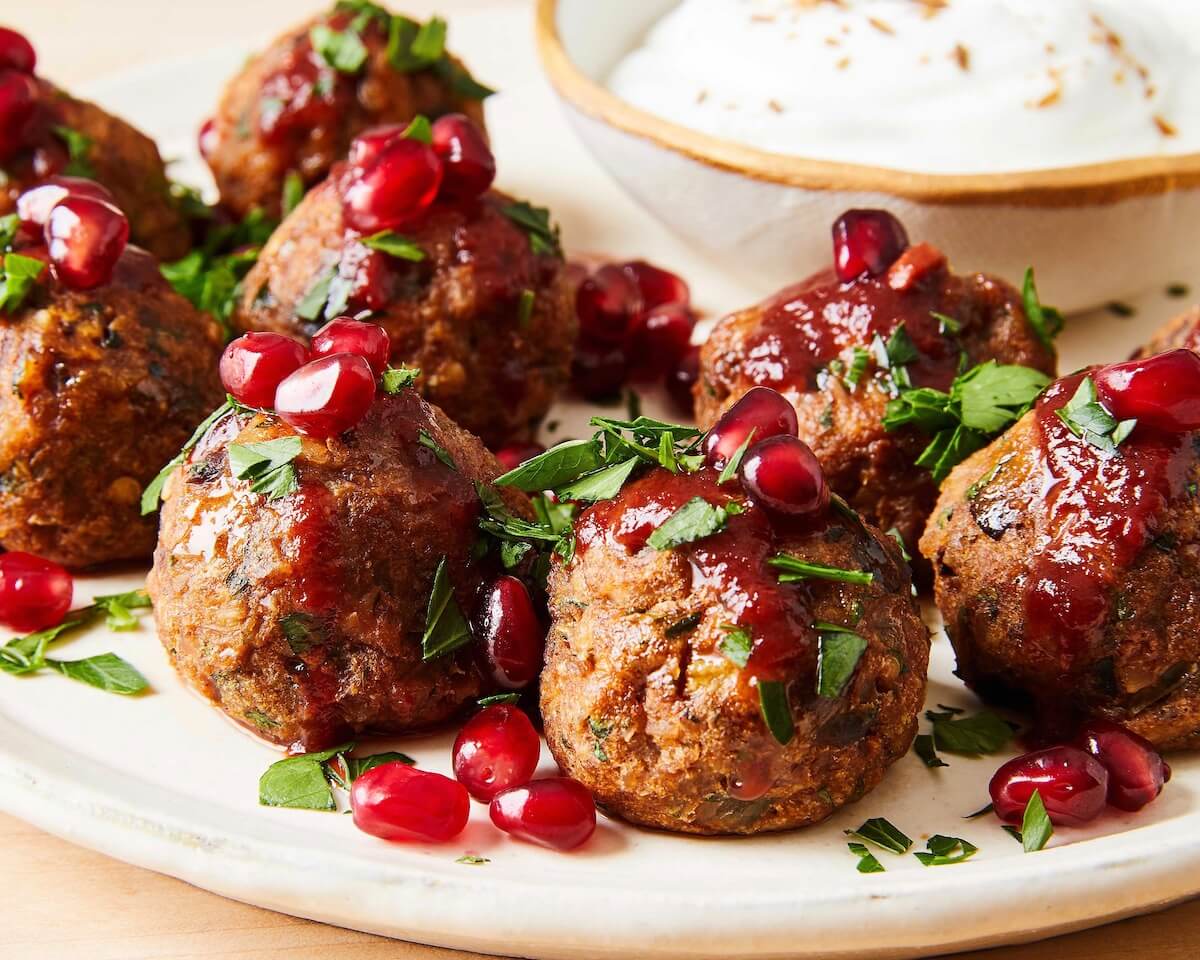 Jump to:
I made these meatballs with a combination of eggplant, walnuts, and onions, and garlic. I added herbs, Parmesan, tomato paste, spices, and fresh, juicy pomegranate arils to pack them with flavor.
These "meatballs" use a combination of non-meat ingredients to give them a satisfying chew and robust flavor.
There is an egg for binding mixed in, and Parmesan cheese, so these meatballs aren't vegan. You can use vegan substitutes for both of those ingredients if you'd like.
Meatless meatballs are delicious served as a special appetizer or nibble, or as a main dish for a meal.
They can also be made ahead of time and frozen for later! The recipe is simple and hands-off, because the meatballs are baked in the oven. Leaving you time to make the incredible pomegranate harissa sauce!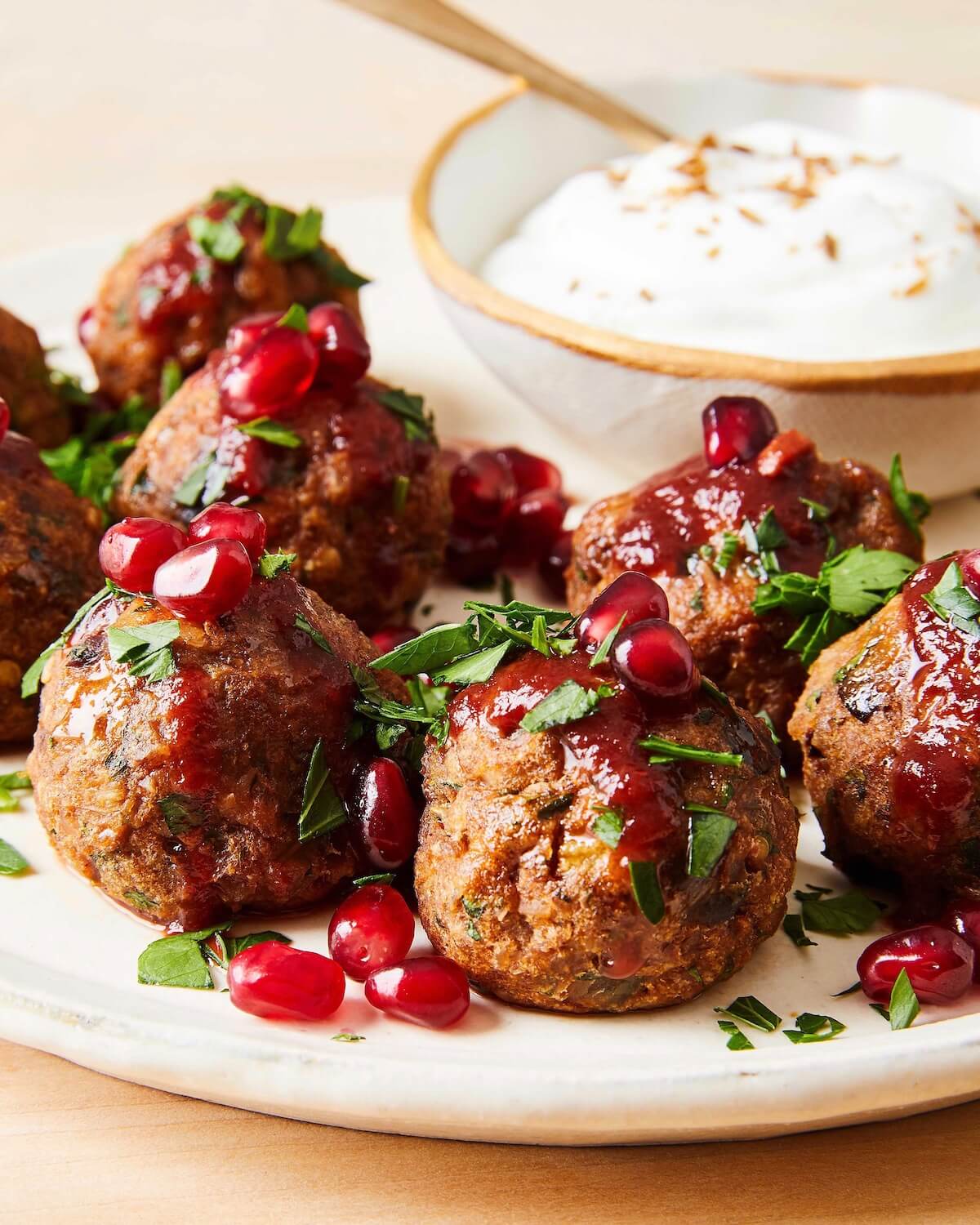 What is in meatless meatballs?
My vegetarian meatball recipe perfectly combines veggies, nuts, and seasonings to create a meatless meatball that tastes as robust as a meat-filled counterpart.
I'm still using egg as the binder, and some Parmesan cheese for a delicious umami punch.
Some meatless meatballs use cauliflower or other vegetables as the base. Others use rice, grains, quinoa or tofu to create a meat-like texture.
I like the mix of vegetables and nuts. I think it creates a pleasing texture and each element adds great flavor.
What is the origin of meatballs
There are many forms of meatballs (including these vegetarian "meatballs"!) You can find meatballs all over the world. They come in several different shapes and flavors and may have originated from Persian meatballs known as kofta.
Americans are most familiar with the Italian version of meatballs, made from ground beef and/or pork and smothered in tomato sauce. Italian meatballs are round and vary in size from small to large! They are typically seasoned with standard Italian herbs and include breadcrumbs and milk to give them their signature texture.
In Africa, Morocco and Greece meatballs and their variations are often made with lamb.
I make meatballs with chicken, turkey, and pork. I even throw rice in my standard meatballs and call them porcupine meatballs!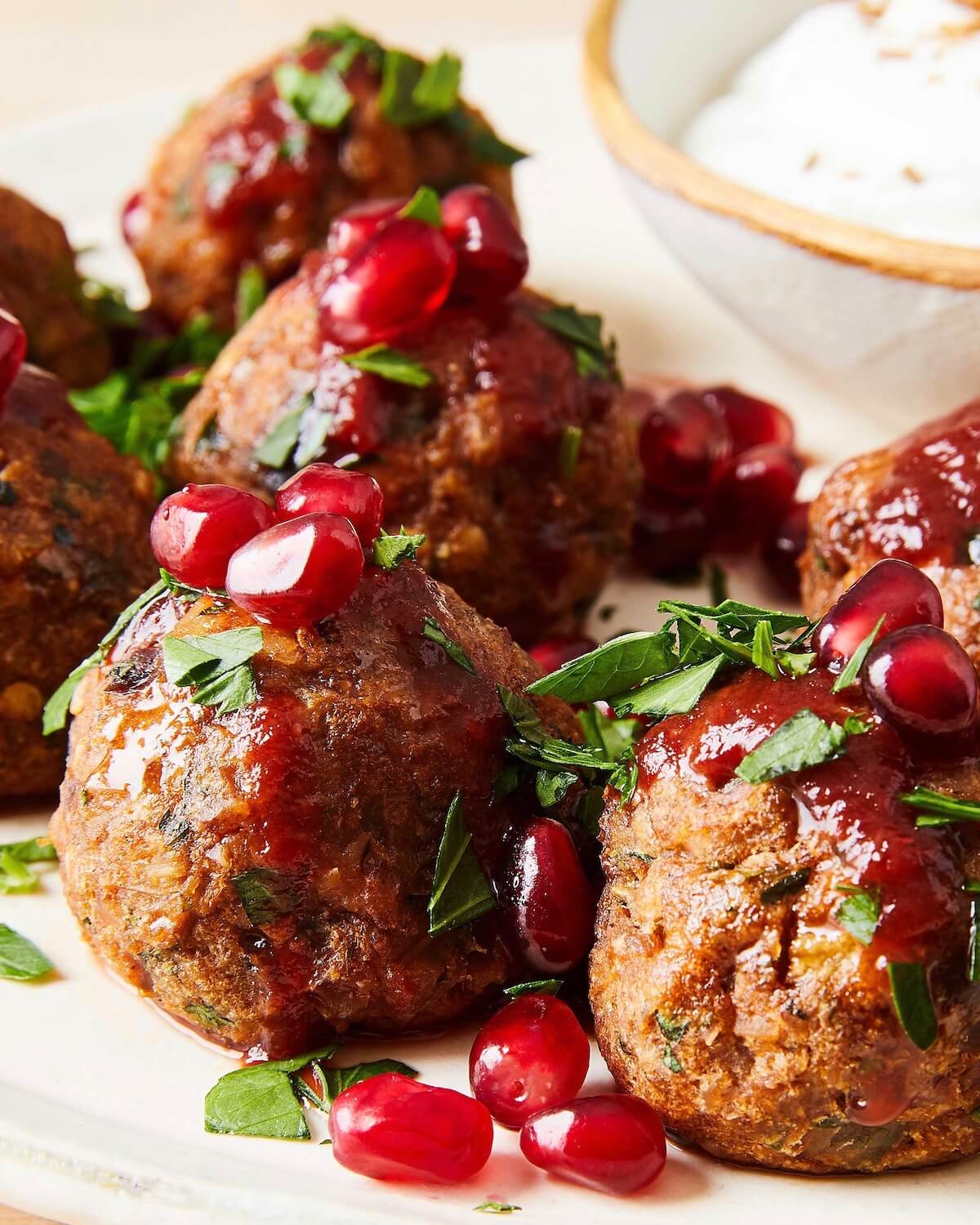 Meatless meatballs FAQs
Are meatless meatballs healthy?

Meatless meatballs come in a variety of flavors and are made with a variety of ingredients. You can control the health factors of homemade meatless meatballs by using vegetables like mushrooms or eggplant, beans, and other whole foods. Many store-bought meatless meatballs rely on soy products and other processed chemicals.
Look for recipes and products using vegetables, nuts, beans, and quinoa for the healthy aspects.
What are vegetarian meatballs made of?
These meatballs are made from vegetables and nuts with breadcrumbs and seasonings. Vegetarian meatballs can be made from tofu, tempeh, vegetables, beans or lentils, grains or other meat substitutes.
I use cooked eggplant and walnuts to add texture and flavor to these vegetarian meatballs.
Can I freeze meatless meatballs?
You can freeze these vegetarian meatballs and cook them later. Freeze the formed, raw meatballs on a baking sheet, then transfer to a freezer zip-top bag.
Freeze for up to 3 months. To cook, thaw the meatless meatballs slightly at room temperature, for about 30 minutes. Place on a lined baking sheet and bake as directed in the recipe, adding 10 to 20 more minutes so the meatballs are cooked through.
Pomegranate and harissa meatballs
I think meatballs are a great vehicle for massive amounts of flavor. These veggie based meatballs are no different. I could use typical Italian flavors for these, but decided to make them a bit spicy with a Mediterranean twist.
Adding fresh pomegranate arils to the meatballs is unique. It adds a sweet and tart burst in each bite. I think it's so delicious with the other savory flavors.
Making a slightly spicy and tangy harissa tomato sauce is what makes these meatless meatballs really special.
Harissa tomato sauce
Harissa is a spicy tomato chutney or sauce, used in Mediterranean and African cooking. It's often used as a condiment on it's own, but I used it as the main flavoring for my simple tomato sauce.
Meatballs and tomato sauce is a classic combo. Use spicy harissa, sweet pomegranate juice and tomato sauce to make this sauce incredible.
I serve the meatballs with a drizzle of the harissa tomato sauce, and plain yogurt for dipping. The yogurt is tangy and cooling and oh, so good with each bite.
How to serve meatless meatballs in a new way!
I love serving these meatballs as an appetizer or party snack, but they're actually delicious in a lot of different ways.
For example:
Serve them on their own, covered in the harissa tomato sauce as a main dish.
Eat them wrapped in pita bread for sandwiches, with the yogurt and sauce as a drizzle.
They are also excellent over couscous or rice.
As a salad topper—when I make a batch of these eggplant meatballs, I always make extra so I have them for healthy lunches! Whisk together the yogurt and harissa tomato sauce for a dressing.
Tools you'll need:
5 great vegetarian recipes to try.
Is your goal to eat less meat? Here are five super-delicious, vegetarian recipes that prove that meatless doesn't mean flavorless: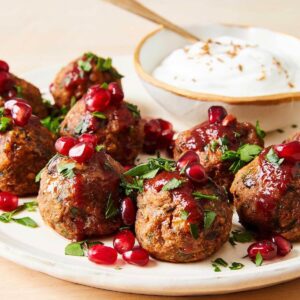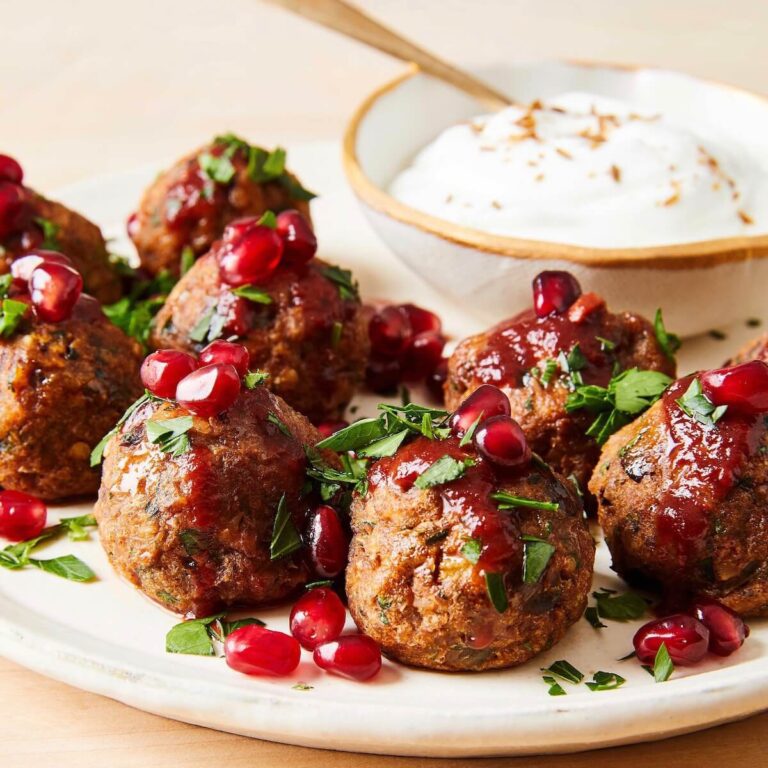 The Best Meatless Meatballs with Harissa and Pomegranate
Make vegetable and nut based meatless meatballs and serve with a spicy and tangy harissa sauce.
Ingredients
Meatballs
⅓

cup

plain bread crumbs

⅓

cup

grated Parmesan Reggiano

¼

cup

finely chopped flat-leaf parsley

1

teaspoon

dried oregano

¼

teaspoon

ground cinnamon

¾

teaspoon

ground cumin

2

tablespoon

olive oil

¾

cup

finely chopped onion

¾

pound

eggplant

diced ¼-inch

1¼

teaspoon

kosher salt

¾

cup

finely chopped toasted walnuts

1

clove

garlic

minced

1

tablespoon

tomato paste

1

large

egg

beaten

½

cup

POM POMS Fresh Pomegranate Arils
Sauce
1

cup

POM Wonderful 100% Pomegranate Juice

1

8-ounce

can tomato sauce

2

tablespoon

harissa

or more to taste

1

teaspoon

honey

¼

teaspoon

cumin

¼

teaspoon

ground ginger

Plain yogurt for serving

POM POMS Fresh Pomegranate Arils for garnish

Extra Flat-leaf parsley for garnish
Instructions
Make the meatballs: Heat oven to 350ºF. In a bowl, combine the bread crumbs, Parmesan, parsley, oregano, cinnamon and cumin. Set aside.

Heat olive oil in a large nonstick skillet over medium-high heat. Add the onion, eggplant, and salt and cook, stirring occasionally, until soft, 6 to 8 minutes. Remove from heat and stir in walnuts, garlic, and tomato paste.

Transfer half the eggplant mixture to a food processor and blend until smooth. Return to the skillet. Stir in the bread crumb mixture and egg.

Generously coat hands with oil or water and form mixture into 24 1¼-inch balls. Place on a baking sheet about ½ inch apart.

Bake until cooked through, 25 to 30 minutes.

Meanwhile, make the harissa sauce: In a medium saucepan boil pomegranate juice over medium-high heat until reduced by half, 12 to 15 minutes. Whisk in the tomato sauce, harissa, cumin, and ginger. Let cool slightly.

Top meatballs with pomegranate arils and parsley and serve with harissa tomato sauce and yogurt.
Notes
The nutritional analysis for this recipe is an estimation for 1/24 of the entire recipe.
Try these meatballs over a green salad, or with warm pita bread to make a meal.
Nutrition
Calories:
66
kcal
Carbohydrates:
6
g
Protein:
2
g
Fat:
4
g
Saturated Fat:
1
g
Cholesterol:
9
mg
Sodium:
182
mg
Potassium:
107
mg
Fiber:
1
g
Sugar:
3
g
Vitamin A:
97
IU
Vitamin C:
2
mg
Calcium:
30
mg
Iron:
1
mg
Main Dish Recipes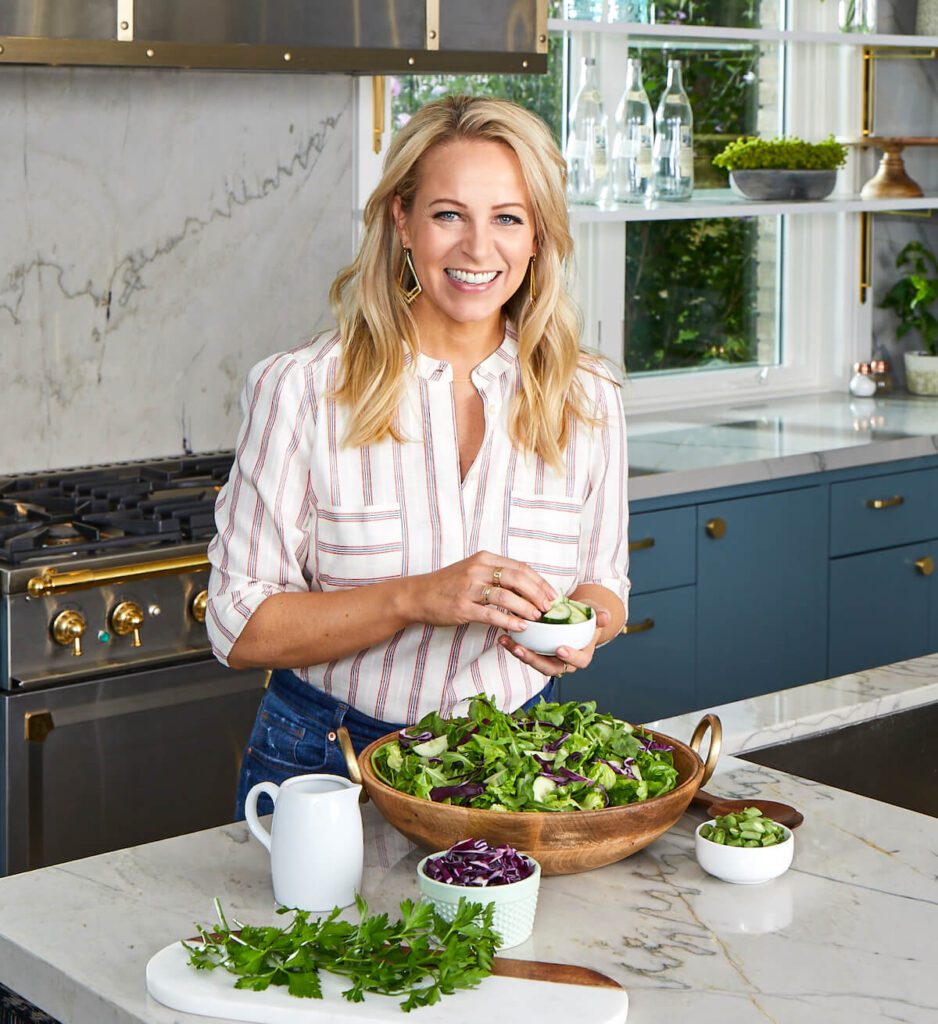 About Tara Teaspoon
I've been in the food publishing business for over 20 years, creating recipes & food-styling for magazines, books, television & advertising. Order my new cookbook & stick around for amazing things to eat.