---
These classic porcupine meatballs have the delicious tomato sauce and green pepper tastes from my childhood. I made this nostalgic dinner amazing by swapping the processed canned soup for juicy, diced tomatoes and pantry-staple seasonings for an updated version.
---
My meatballs with rice cooked right inside will become a go-to favorite, especially because I've got a vegetarian version to feed your crowd with varied diets.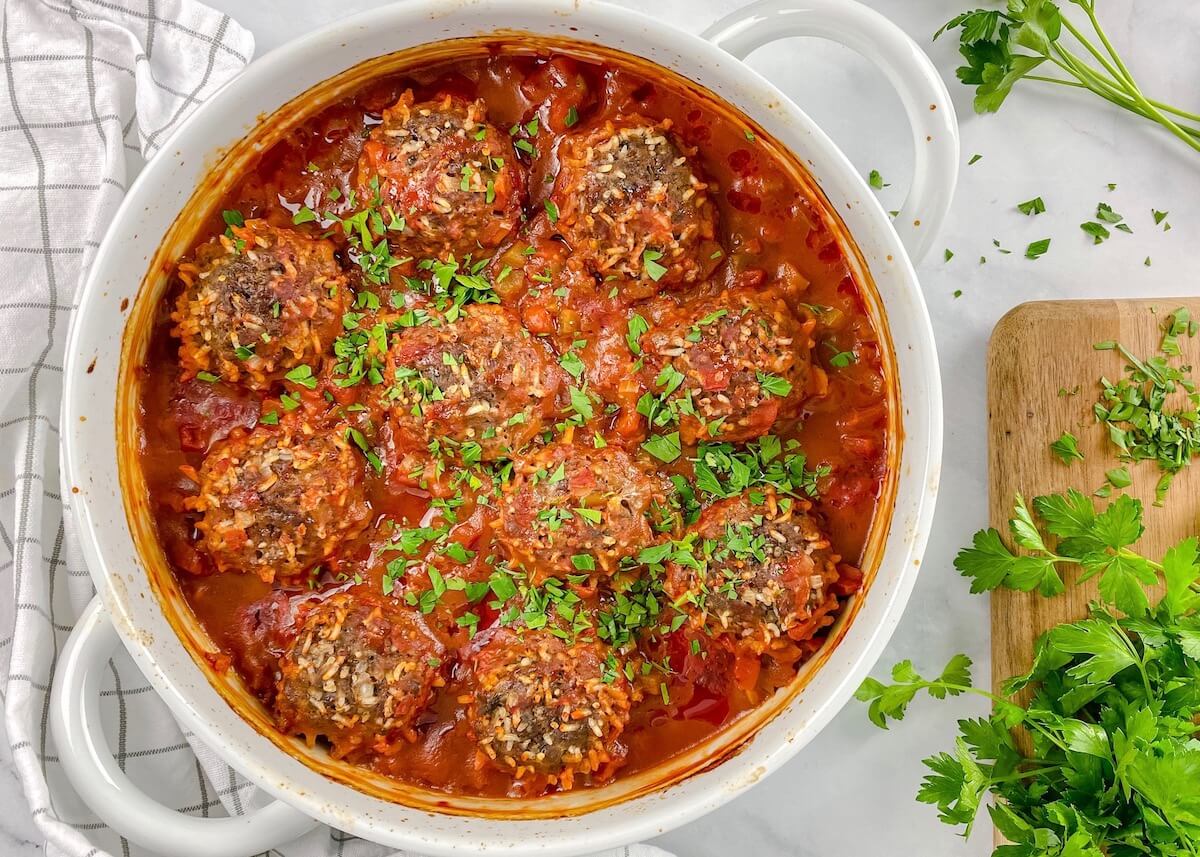 Holy smokes! I love this updated version of meatballs with rice.
Porcupine balls get their name from the way they look! Rice is added to the meatball mixture, and as it cooks, it sticks out of the meatballs, resembling porcupine quills!
I took out the processed canned tomato soup, but my classic porcupine meatballs recipe still has the delicious taste from my childhood, with a flavorful tomato and green pepper sauce.
This easy dinner is so good and so nostalgic.
Plus, find my vegetarian and vegan version below. The entire family can enjoy this dinner, even with varied diets.
Can't get enough meatballs? Try more:
---
Porcupine balls are a timeless, savory meal. An easy oven-dinner of meatballs with rice cooked right inside and a delicious tomato sauce.
These days I refer to them as Porcupine Meatballs so as not to encourage any pre-teen dinner table jokes calling them porcupine balls!
Whatever you call them, they are an easy and delicious baked dinner.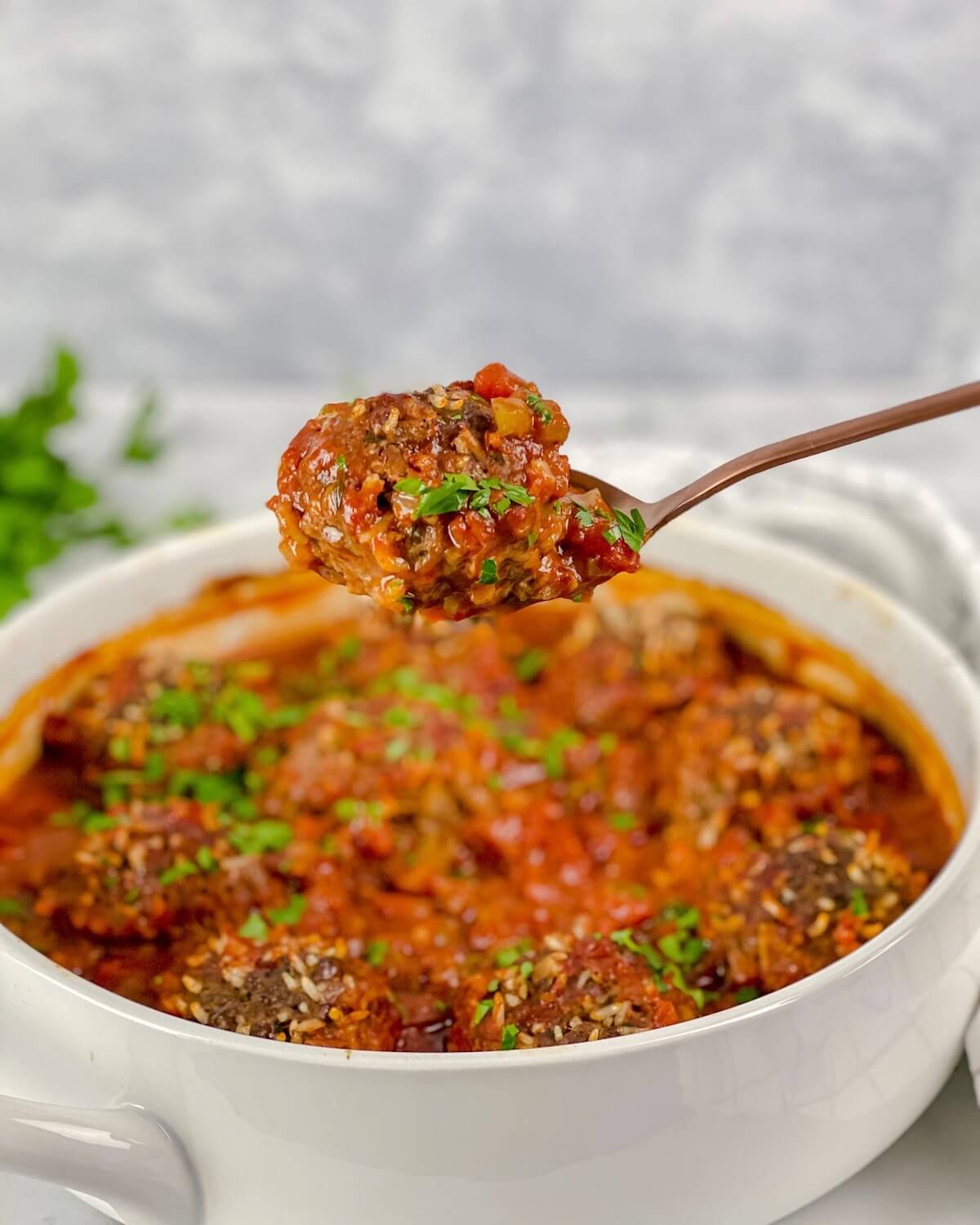 Jump to: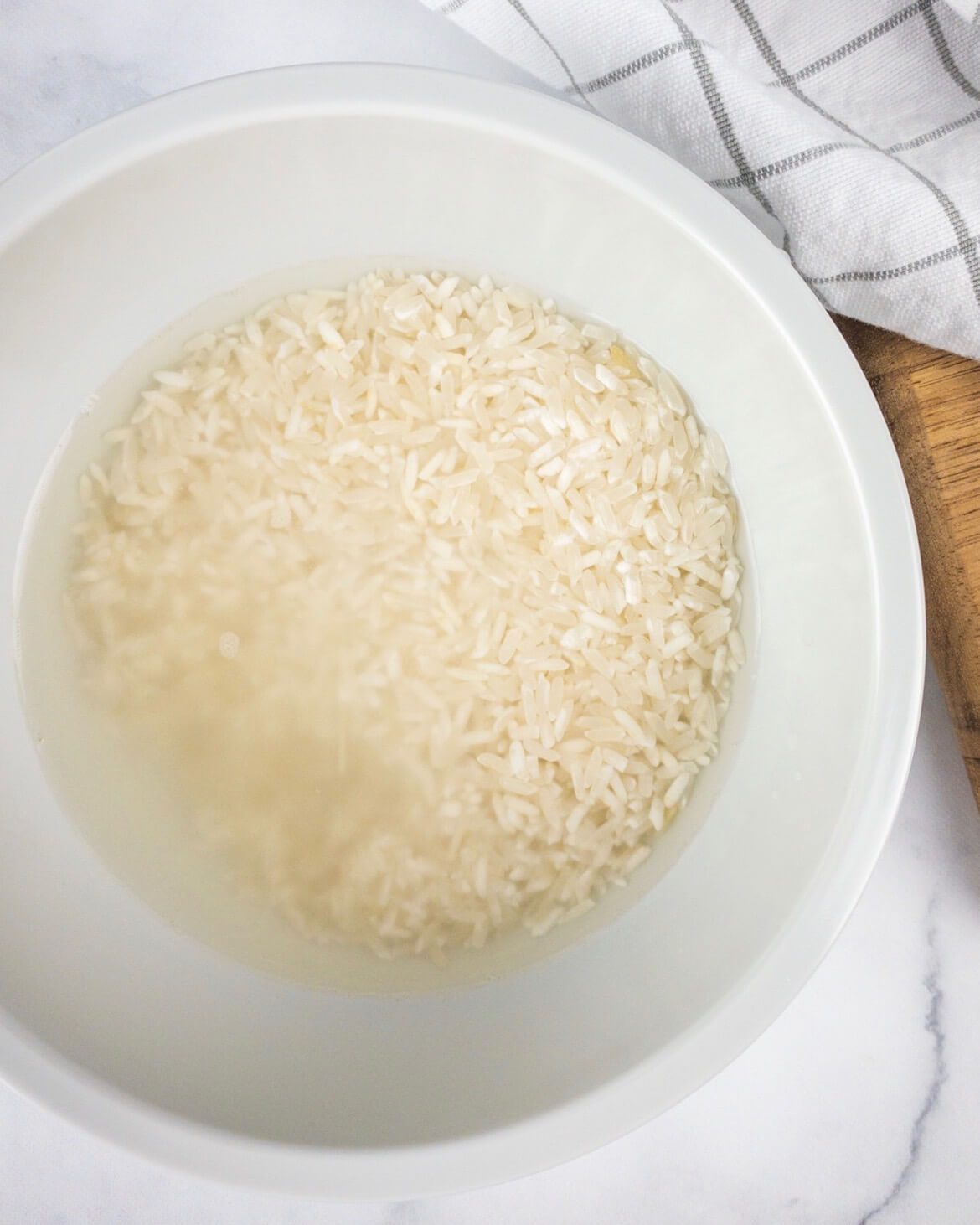 Classic porcupine meatballs recipe with diced tomatoes
One of my favorite dinners as a child was porcupine balls: beef meatballs with rice cooked right inside. These meatballs, simmered with canned tomato soup, originated during the Depression-era.
That's right! Depression-era cooking was based on conservation cooking.
A way of cooking that used cheap ingredients and often extended or sparingly-used expensive cuts of meat.
An early version of this meatballs recipe was created by adding rice (which was cheaper than protein) to ground meat (beef, lamb, or pork) to extend the meat.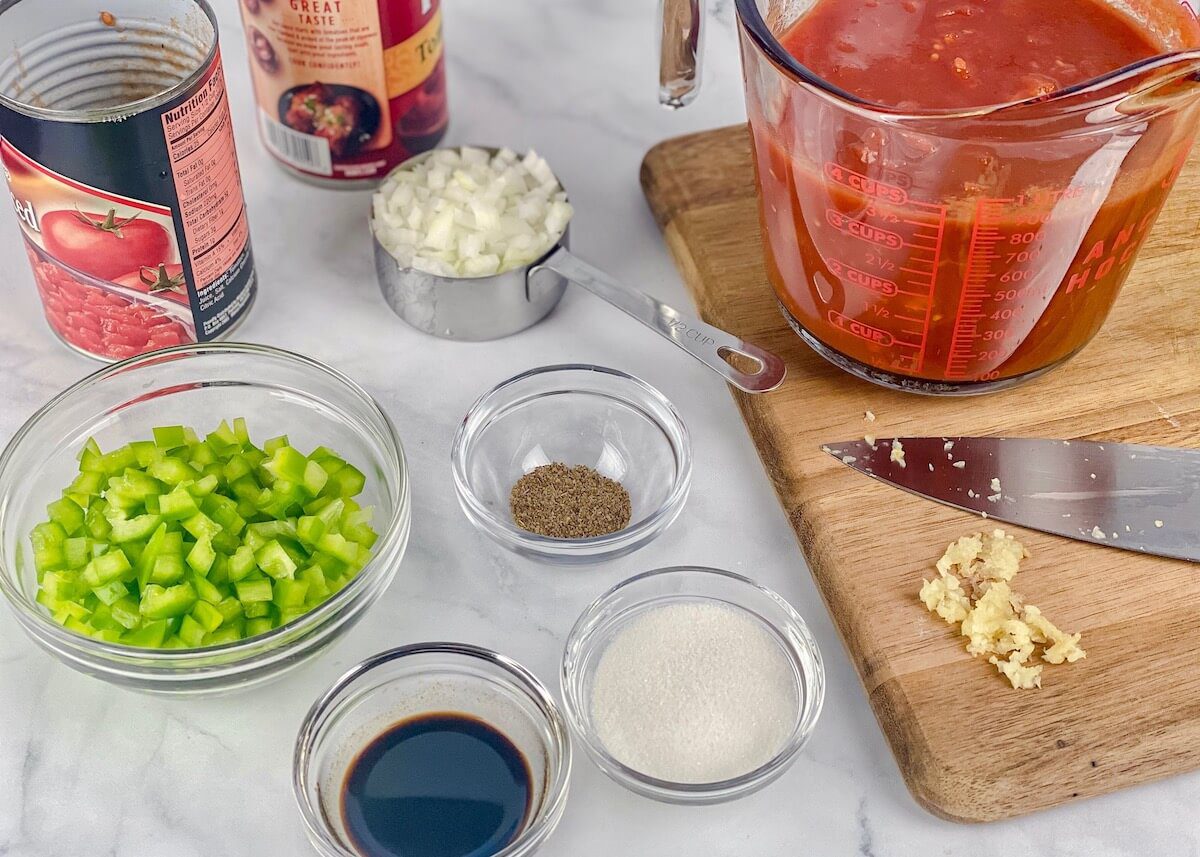 ---
I made my classic porcupine balls into a delicious dinner with global flavors: Moroccan Porcupine Meatballs.
---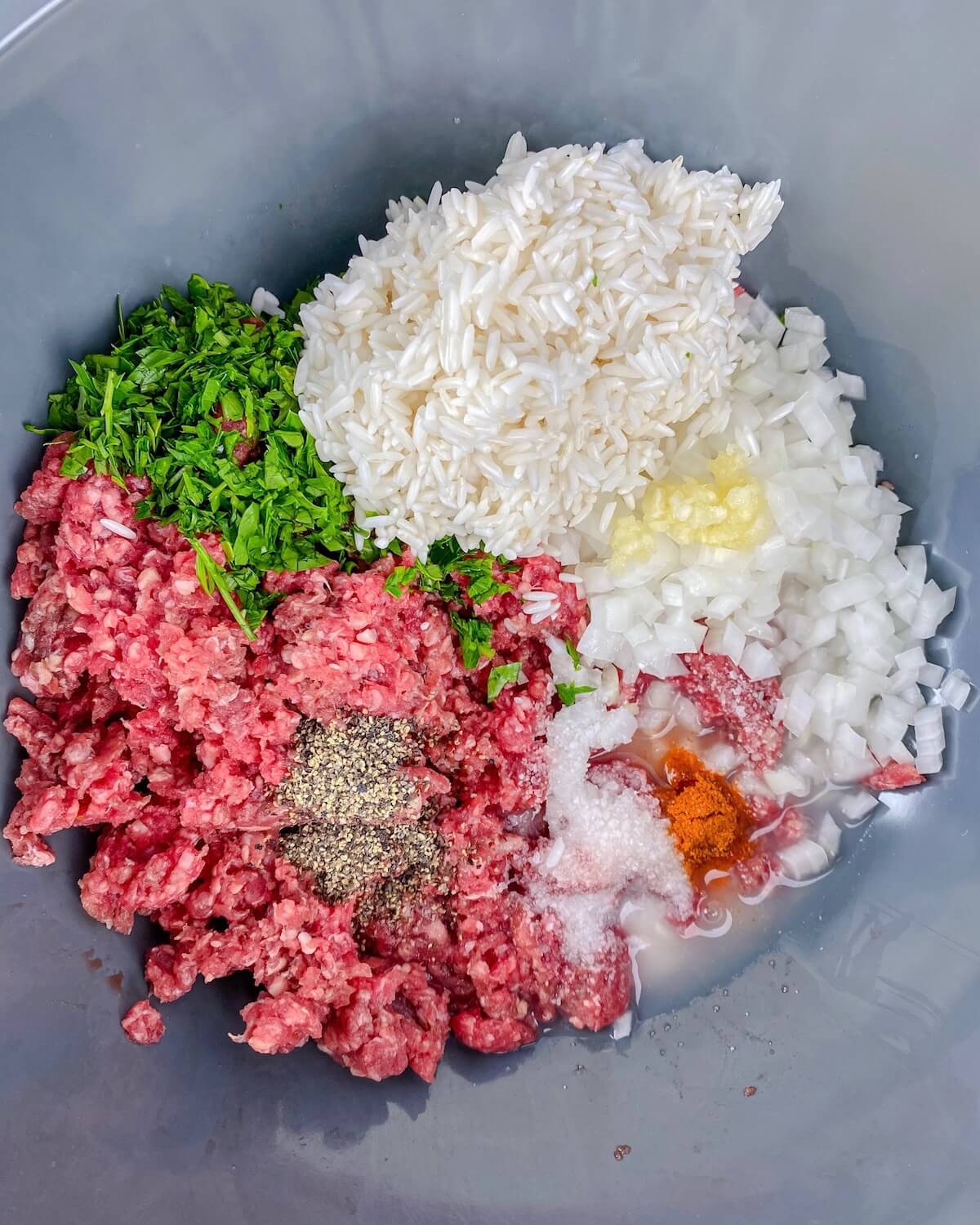 No canned soup, but same great flavor
Mom's recipe for old fashioned porcupine meatballs used Campbell's tomato soup as the simmering sauce and she nestled green peppers (a 70's recipe staple!) in the sauce for the rice and beef meatballs to cook in.
It's true: that recipe for classic porcupine meatballs with tomato soup is still a favorite!
Having said that, my pantry looks different than my mom's did in the 70's.
I rarely have canned soup around and don't really want the additives in my casserole, so I've used diced canned tomatoes and tomato sauce!
I wanted a more juicy, bright tomato flavor for the sauce.
Let's be honest, I pretty much re-created Campbell's condensed tomato soup, but from pantry staples, so you know you'll probably have all the ingredients on a Wednesday night!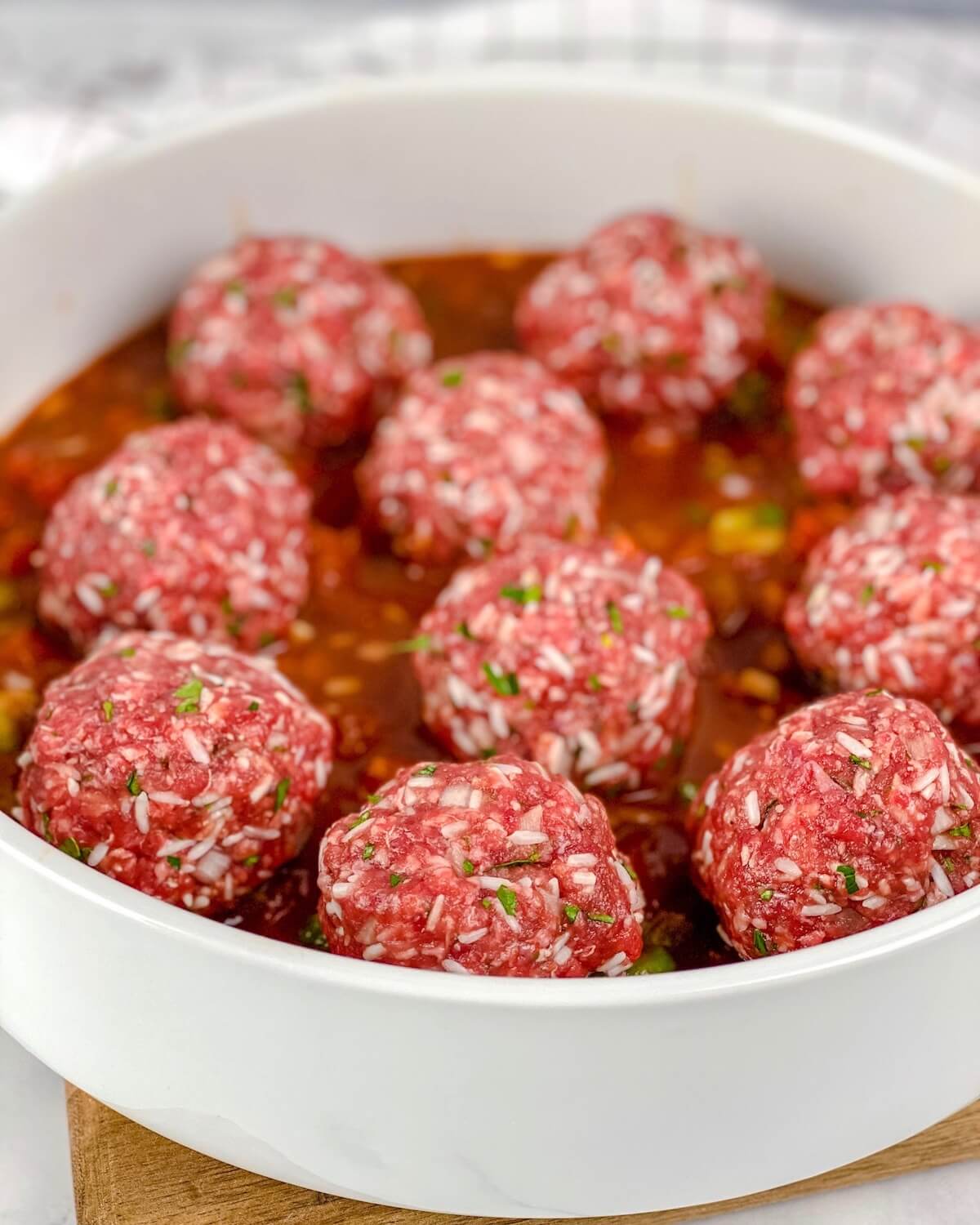 What is the best ground beef to use for meatballs?
With rice or without, you'll want to choose the right ground beef for your meatballs. I choose a lean beef.
I still want some fat for tenderness and flavor. And in porcupine meatballs that bit of fat helps cook the rice, and keep my meatballs juicy. The right percentage is key.
The Beef It's What For Dinner experts call for 93/7% lean ground beef for meatballs, plus a binder (like egg). That means 93 percent lean meat and 7 percent fat, therefore, this cut has less total fat and is considered a lean cut of beef.
They also say 80/20 is great. I agree, this percentage range for ground beef works well to keep the meatballs moist and tender. Especially because I'm not adding an egg or other moisturizing binders to porcupine balls.
The perfect balance of 80 percent lean meat and 20 percent fat creates a great texture for porcupine meatballs.
Flavors in classic meatballs with rice:
I distinctly remember the waft of green peppers as these meatballs cooked when I was a child. That flavor adds such nostalgia to this dinner.
I've left those in as well as added some Worcestershire sauce. Some recipes from the era call for that, and I really like just a bit in the tomatoey sauce the meatballs cook in.
Instead of canned tomato soup, I use diced canned tomatoes. I think they add a clean, fresh taste to the sauce, and the juiciness helps cooked the rice.
How does the rice cook inside?
Raw, uncooked rice is mixed right into the beef mixture in these meatballs. It simply simmers and cooks with the moisture of the sauce and meatball ingredients.
I like my porcupine meatballs a little bigger in size and the rice wasn't getting perfectly cooked inside the larger balls.
I simply added the step of soaking the rice in the water while I assemble the rest of my ingredients.
Only about 20 minutes.
This softens the rice just a little and it cooks completely by the end of the cooking time.
The meatballs and sauce cook covered so they steam and simmer, for about an hour. Then I uncover them to let the tops brown just a bit.
Main Dish Recipes
Can I make porcupine balls in the slow cooker?
You can certainly cook these meatballs and sauce in the slow cooker. Let the meatballs and sauce cook on high for 4 to 4 ½ hours until cooked through and done. (Meatballs should be cooked to an internal temperature of 160ºF)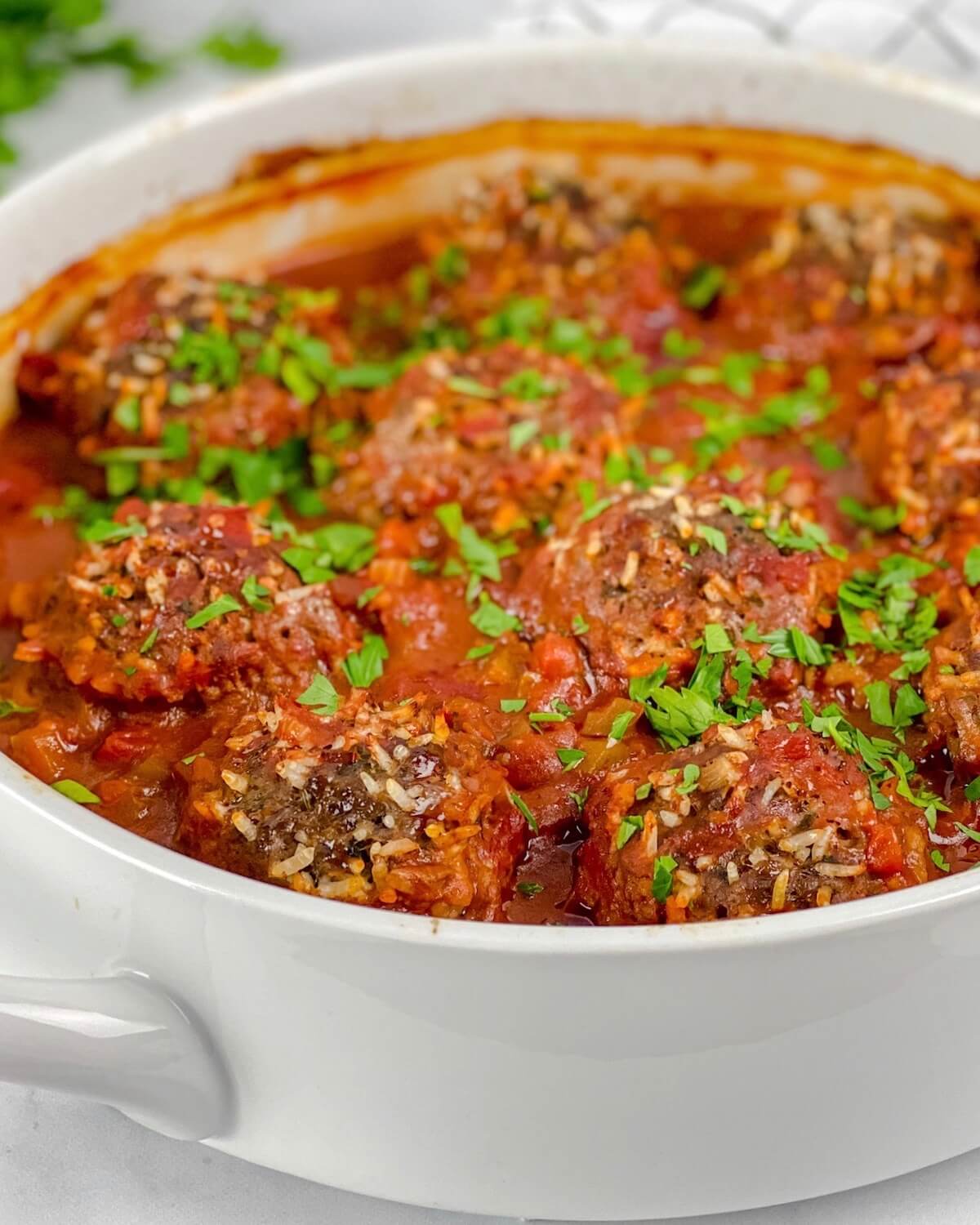 What to serve with porcupine meatballs
Make side dishes while the oven is tied up cooking these heavenly meatballs with rice in them.
Of course, extra rice is a standby as a tasty base for the meatballs and tomato sauce.
Try Shredded Brussels Sprouts and Roast Parsnips as complimentary side dishes to these meatballs. Even my fluffy mashed potatoes would be divine.
I have mashed potato recipes with flavorful mix ins too. Some riced cauliflower or broccoli would be tasty as well.
Vegan & vegetarian version
Right up front I'm going to tell you the vegetarian version of this meatballs recipe isn't "balls" at all! My sister doesn't eat beef but loves the tomatoey sauce and flavors of this recipe.
I created a baked stew for her with all the flavor elements, that she can eat over a bed of cooked rice. She LOVES it!
Each bite tastes so much like the meaty version, sans the beef!
Plus this is easily halved if you don't want a family batch of the same recipe.
Make the tomato sauce as written.
Cut up about 4 cups cauliflower, broccoli into 1-to-2-inch pieces.
In a casserole dish add vegetables and 1 can of drained chickpeas.
Add dry or fresh parsley if desired.
Cover casserole dish tightly with foil and bake at 375ºF for 1 hour.
Serve over cooked white rice.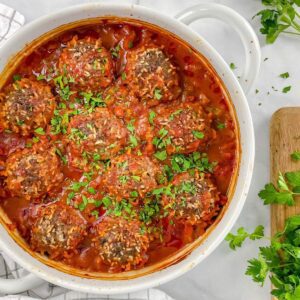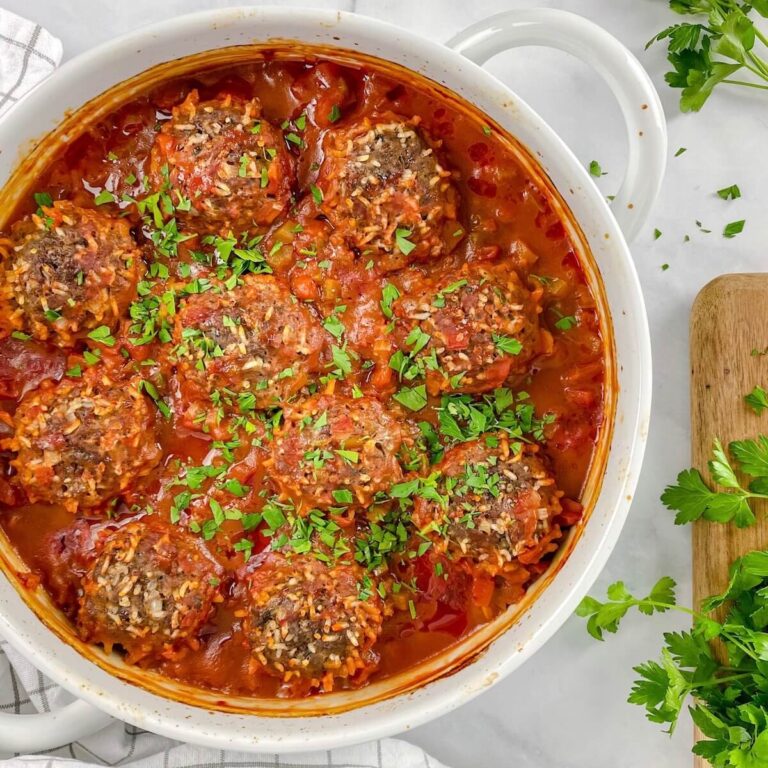 Classic Porcupine Meatballs
These might have a funny name, but porcupine meatballs are simply delicious beef meatballs made with white rice, slowly cooked in tomato sauce.
Ingredients
Meatballs
½

cup

long grain rice

½

cup

hot water

1

lb

lean Ground Beef,

I used 80/20

½

cup

finely diced yellow onion

2

cloves

garlic

minced

1

tablespoon

dry parsley

(or 2 T. fresh parsley)

½

teaspoon

black pepper

¾

teaspoon

kosher salt

⅛

teaspoon

cayenne

(optional)
Tomato Sauce
1

can

(15-oz) diced tomatoes

1

can

(15-oz) tomato sauce

1

tablespoon

all-purpose flour

2

tablespoons

water

½

cup

finely diced yellow onion

1

clove

garlic

minced

¾

cup

diced green pepper

1

tablespoons

worcestershire sauce

2

tablespoons

sugar

½

teaspoon

celery seed

½

teaspoon

kosher salt

SEE NOTE BELOW

Flat leaf parsley for garnish, if desired
Instructions
Make the meatballs
In a medium bowl, combine rice and hot water. Let sit for 20 to 25 minutes.

While rice soaks, in a large bowl combine the ground beef, onion, garlic, parsley, pepper, salt and cayenne. When rice has soaked 20 minutes add the rice and the water. Mix until everything is evenly distributed.

Form mixture into 10 meatballs (they will be about ⅓ cup each). Place the meatballs in a 3-qt or 9-by-13-inch baking dish. Set aside while you make the sauce.
Make the sauce & Cook
In a separate bowl combine diced tomatoes and tomato sauce. Stir together the water and flour and add to tomatoes. Stir in onion, garlic, green pepper, and Worcestershire. Add the sugar, celery seed and salt.

Pour the tomato sauce around the meatballs and cover the dish tightly with foil. Bake for 1 hr, then remove the foil and bake until the tops are just browning, 20 to 25 minutes more.

Garnish with chopped parsley if desired and serve.
Notes
Meatballs and sauce can be stored in an airtight container in the fridge for up to 3 days. Reheat in a foil-covered dish in a hot oven or in the microwave.
GLUTEN-FREE:
Make the sauce gluten-free by using GF-all-purpose flour in place of the wheat flour.
SALT:
Many canned tomato sauces have a great deal of sodium which will make your final dish saltier. If you taste your tomato sauce and find it salty, just reduce the amount of kosher salt called for in the recipe.
VEGETARIAN:
See the post for a vegetarian and vegan option for this recipe.
Nutrition
Serving:
1
g
Calories:
144
kcal
Carbohydrates:
18
g
Protein:
12
g
Fat:
3
g
Saturated Fat:
1
g
Cholesterol:
28
mg
Sodium:
797
mg
Potassium:
524
mg
Fiber:
2
g
Sugar:
7
g
Vitamin A:
366
IU
Vitamin C:
14
mg
Calcium:
43
mg
Iron:
3
mg
Make a delicious soup recipe today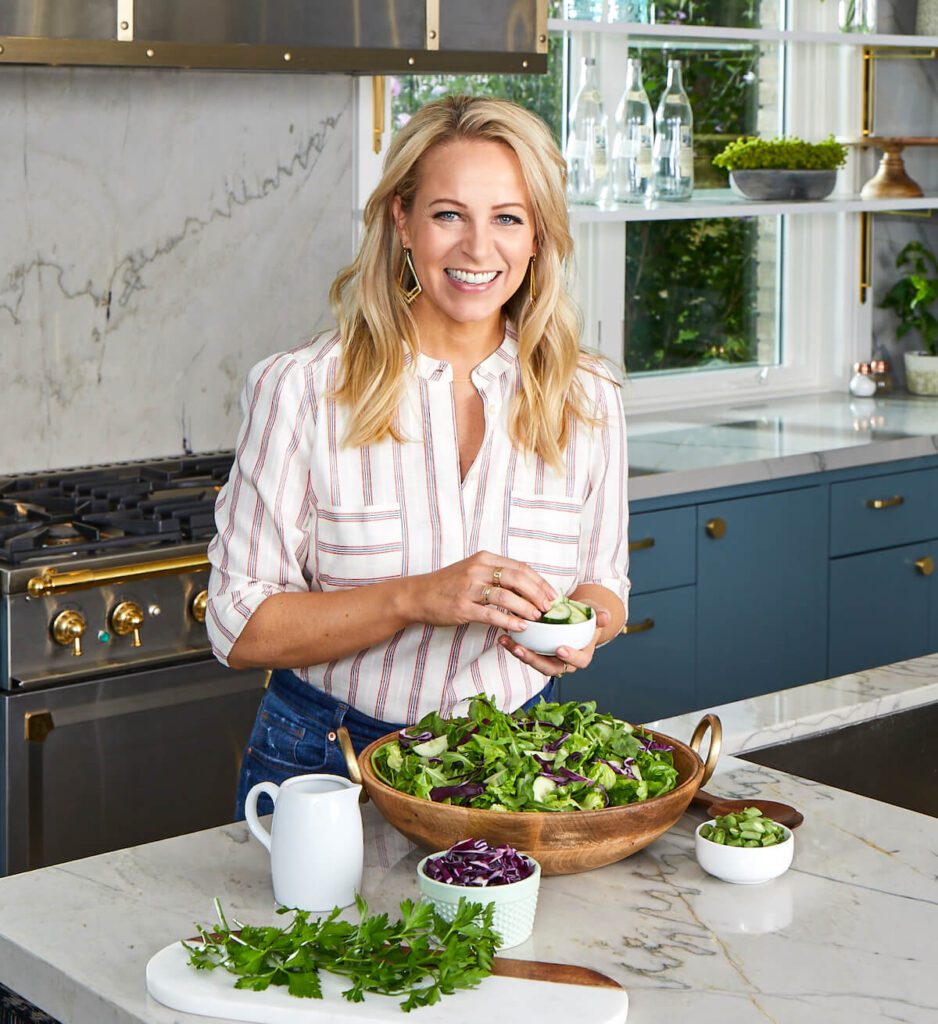 About Tara Teaspoon
I've been in the food publishing business for over 20 years, creating recipes & food-styling for magazines, books, television & advertising. Order my new cookbook & stick around for amazing things to eat.