Classic chili for a crowd with ground beef and beans is a delicious dinner. The large batch lets you throw a dinner party, or make a family meal, in no time (or freeze a meal for later!). Find out what the secret is to the robust, rich flavor.
---
Classic ground beef chili with a vegetarian option
Throwing a chili bash, or just making a delicious dinner, has never been easier. A big warm bowl of soup, with a ton of fun toppings, is one of the most comforting meals. I made mine with ground beef, but I've included a vegetarian option as well!
The secret to a delicious, classic chili is a mix of flavorful ground beef, tomatoes, tons of spices, and beans. No need to stray too far from the real deal. I didn't try to spruce this up with cubes of steak, or spicy salsa or make it Japanese or anything.
Simple ingredients in the right amounts are all you need for a good bowl of chili. Make sure to click over to my awesome chili topper recipes too!
You may be surprised to find out what my secret ingredient is for robust, classic chili for a crowd.
Secret ingredient for chili
My friend Melissa and I developed this recipe for a magazine years ago. We had a great pot of chili going, but for one of the versions she added brewed coffee (to add a little depth of flavor). I thought it would add an off-taste, but to my surprise you don't taste coffee at all, just a pleasant savory, robust layer of flavor. Genius!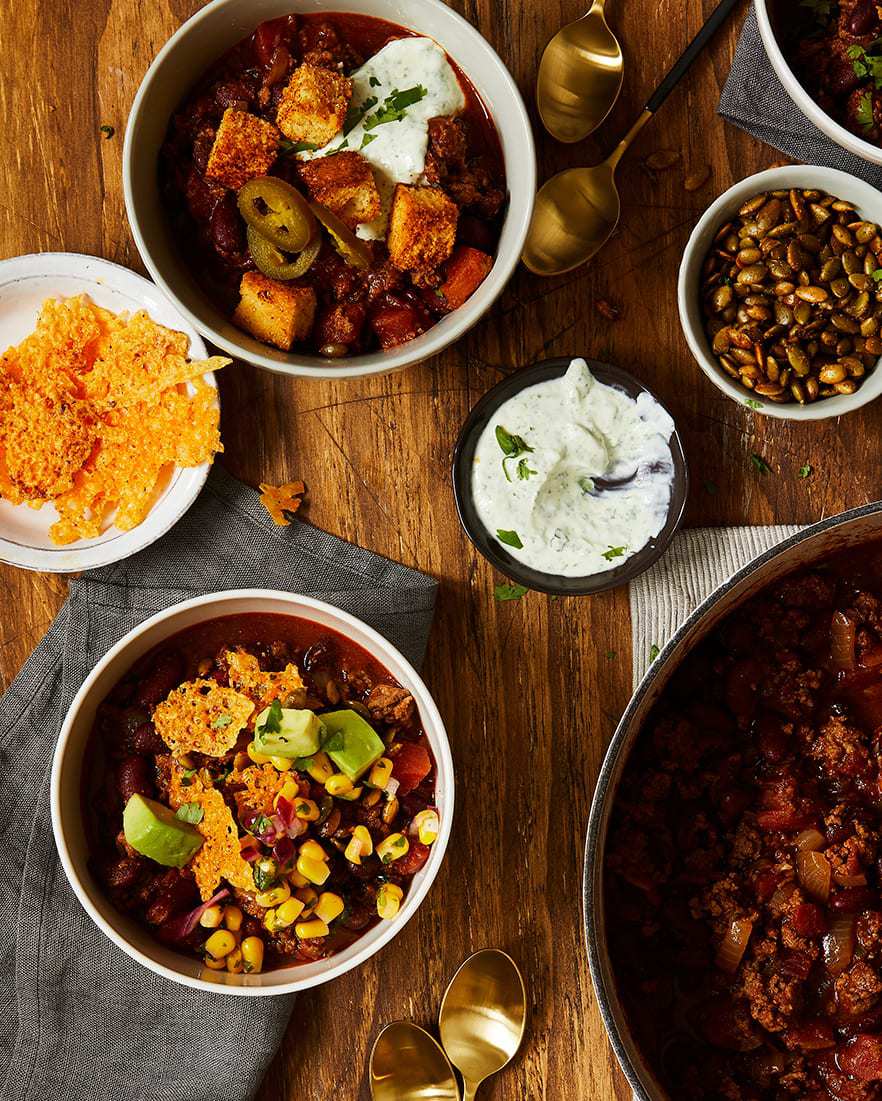 Simply swap some of the tomato juice for coffee–this change will blow your mind. Yes! You need the liquid, and this simple swap adds such a fun layer to the flavor.
Of course, you don't need to use it and this classic chili will be just that, delicious, classic tomatoey chili. It's just a fun option.
Coffee! It adds a depth of flavor to classic chili for a crowd that you can't achieve with any other ingredient.
Use decaf coffee
Now, I don't actually drink coffee, so I rarely have it in the house. However, I have started to keep it on hand for this chili. I call for regular brewed coffee, but I use instant decaf coffee. It still adds the amazing flavor.
This easy chili recipe freezes well
This classic chili for a crowd freezes really well. So, if you're not feeding a crowd, make the entire recipe and freeze portions in ziptop bags (these are reusable!) or plastic containers.
Top it off right! Check out the gourmet topper options for a chili change-up!
Now this is a good chili, but what would classic chili be without the toppings? With a variety of tasty toppings like cornbread croutons, avocados, corn salsa, pickled jalapeños and more, each person at the table can customize their bowl just the way they like it. Link over to my recipes:
The Best Chili Toppers for unique chili change-ups like:
Cornbread Croutons
Crispy Cheese Bits
Cilantro Cream
Corn Relish
Spiced Roasted Pepitas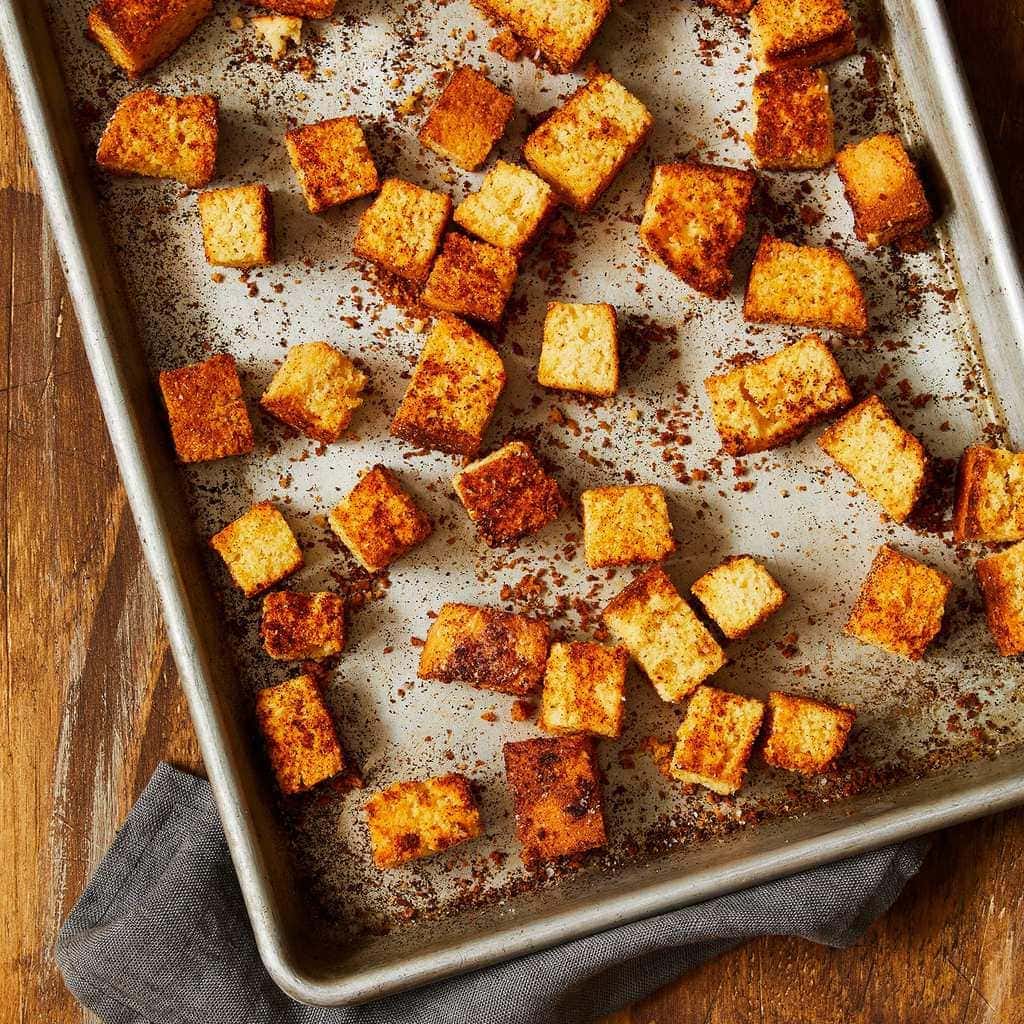 Serve these chili toppers alongside your basic, tried and true toppings like onion, shredded cheese, avocado and sliced radishes and cilantro. Throw a chili bash, and don't forget to include some new, fun and gourmet toppers. Your plain old bowl will never be the same!
Chili variations and extra recipes:
You won't want to stop with classic chili and toppings. Why not mix it up with one of these cool ideas. My South-of-the-Border Cobbler is great if you happen to have leftovers (this recipe makes a lot and leftovers freeze well!).
With leftover chili, make a South-of-the-Border Cobbler. Spread chili in a baking dish, top with biscuit dough and bake at 375ºF until biscuits are cooked and chili is bubbling.
Vegetarian chili version:
Prepare classic chili as the recipe says, omitting the meat, and saute 3 diced carrots with the onion, garlic, and jalapeno. Cover and cook until carrots are soft, stirring occasionally, about 15 minutes. Add 2 15-oz cans of rinsed and drained lentils along with the kidney beans. Add 2 cups thawed frozen corn during the last 5 minutes.
This vegetarian version makes 17 cups.
Also try these quick variations for a different version of classic chili.
Try black beans in place of kidney beans
Use ground turkey for a low-fat option.
Sautè diced bell pepper with the onion
Top with pickled jalapeños, salsa verde, tortilla chips or crisp diced jicama.
More recipes I know you'll like
Love red, tomato chili with ground beef? I do, and I also like white and verde chili!
This Chicken Verde Chili is a lightly spicy, flavorful stew that hits the spot!
Another South of the Border soup that's perfect to make and freeze is a Sweet Potato Chipotle Soup. Velvety texture and great flavor.
Equipment:
I use an 8-quart enameled cast-iron Dutch oven for this chili. You can also use a heavy-duty stockpot.
Classic Chili For A Crowd
For a kick, replace some ground beef with spicy sausage. Using coffee instead of tomato juice gives chili a richer flavor.
Ingredients
2

tablespoon

canola or avocado oil

3

lbs

lean ground beef

3

medium onions

finely chopped

8

cloves

garlic

minced

3

jalapenos

seeded if desired, finely diced

5

tablespoon

tomato paste

3

tablespoon

chili powder

2

tablespoon

ground cumin

1

tablespoon

ground coriander

1

teaspoon

ground cinnamon

1 ½

teaspoon

kosher salt

1

cup

tomato juice or brewed coffee

3

cans

(15 oz cans) diced tomatoes with juices

3

cans

(15 oz cans) kidney beans

drained

1

tablespoon

red wine vinegar
Instructions
Heat 1 tablespoon oil in an 8-qt pot over medium-high heat. Add beef and cook, breaking up with a spoon, until browned, about 7 min. With a slotted spoon transfer browned meat to a bowls and discard any juices left in the pot.

Add remaining 1 tablespoon oil to the pot with the onion, garlic and jalapeno. Cook, stirring, until softened, 2 to 3 min. Stir in tomato paste, all the spices and salt and continue to cook until the vegetables are well coated and mixture darkens a bit and becomes fragrant. Stir in tomato juice or coffee, scraping any bits from the bottom of the pot, and then add toamtoes with their juices, beans, browned meat and 1 ½ cups water.

Bring to a simmer and continue to cook, stirring occasionally, until the chili has thickened, about 30 min. Remove from heat, stir in the vinegar and season to taste with salt.
Notes
VEGETARIAN VARIATION
Prepare classic chili, omitting the meat, and saute 3 diced carrots with the onion, garlic, and jalapeno. Cover and cook until carrots are soft, stirring occasionally, about 15 minutes. Add 2 15-oz cans of rinsed and drained lentils along with the kidney beans. Add 2 cups thawed frozen corn during the last 5 minutes. Makes 17 Cups
TRY THESE CHILI TOPPERS
Nutrition
Calories:
225
kcal
Carbohydrates:
11
g
Protein:
26
g
Fat:
9
g
Saturated Fat:
3
g
Cholesterol:
70
mg
Sodium:
602
mg
Potassium:
783
mg
Fiber:
3
g
Sugar:
5
g
Vitamin A:
874
IU
Vitamin C:
19
mg
Calcium:
74
mg
Iron:
5
mg
Make a delicious soup recipe today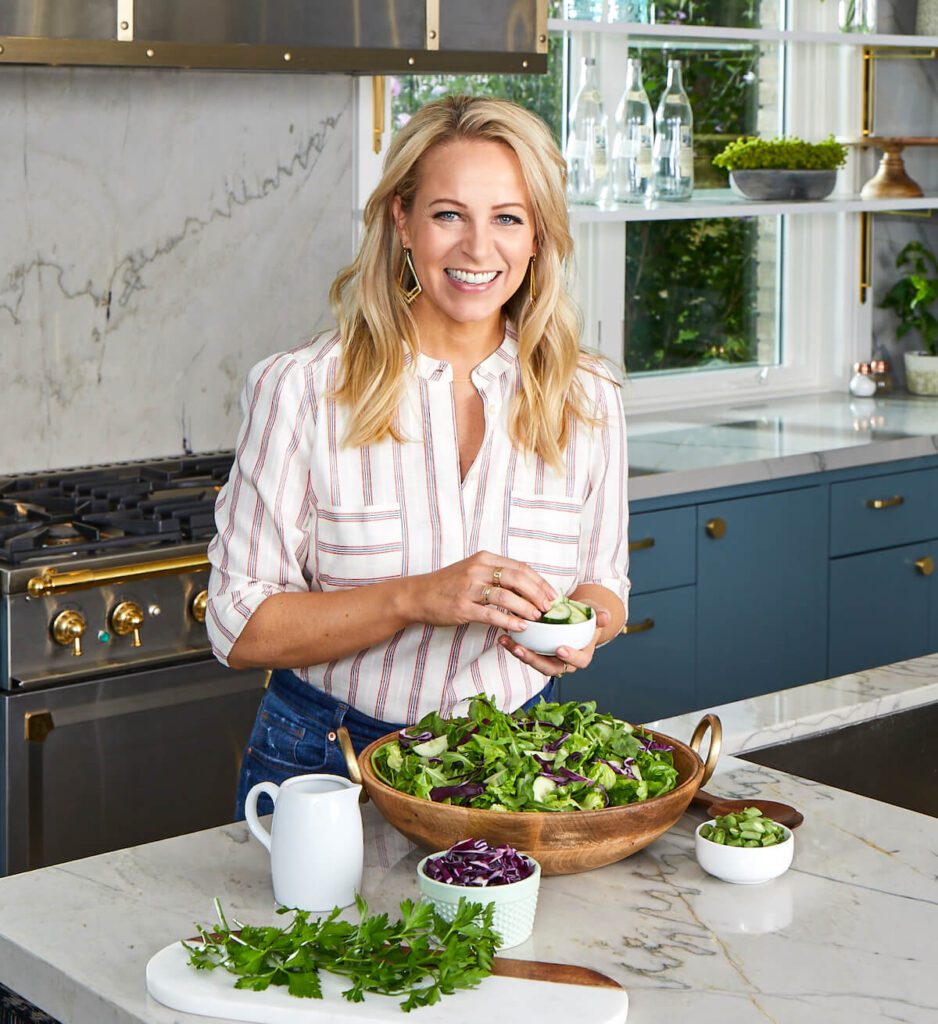 About Tara Teaspoon
I've been in the food publishing business for over 20 years, creating recipes & food-styling for magazines, books, television & advertising. Order my new cookbook & stick around for amazing things to eat.
Recipes by Tara Teaspoon & Melissa Gamen. Photography Ty Mecham. Food Styling Tara Teaspoon. Prop Styling Veronica Olson. Recipe originally published LHJ 03/12.