---
The best chili toppers make each bite of tomatoey goodness even better. You can make your own gourmet toppings for a chili party your crowd will never forget.
---
Start with the chili, top with amazing, flavorful things, and dig in! Everyone can make the meal their own by mixing different toppings on their bowl.
You have the basics down. Chopped onions, shredded cheese, some diced avocado or pickled jalapeños make the table when you serve chili. But chili toppers can actually take the meal to the next level!
Take a crack at these simple recipes that will really mix up your dinner, in a good way! All these toppers go perfectly with my Classic Chili For A Crowd. Your guests will return to the table several times as they customize their own bowls of chili enhanced with these do-ahead, and flavorful chili toppers.
See the recipes below for the exact method for each of these tasty toppers!
How do I make Cornbread Croutons?
I love croutons on soup. I love dipping crusty bread into stew. However, with chili that practice disappears because I'm usually eating it with cornbread. I've made my cornbread into croutons! Check out my spiced Cornbread Croutons that turn prepared cornbread into crispy toppers.
The process is as simple as cutting your cornbread into cubes, tossing them with spices and baking to get crisp edges. Cornbread breaks and crumbles easily, so be gentle. One tip is, if your cornbread recipe, whether it is homemade or from a mix, asks to be baked in an eight- or nine-inch pan, try baking it in a larger 9 x 13-inch pan. It will bake into a thin, even layer and be easier to cut into cubes. Spread the cubes on a sheet tray and sprinkle with the seasonings. I used salt and chili powder but try your own variations!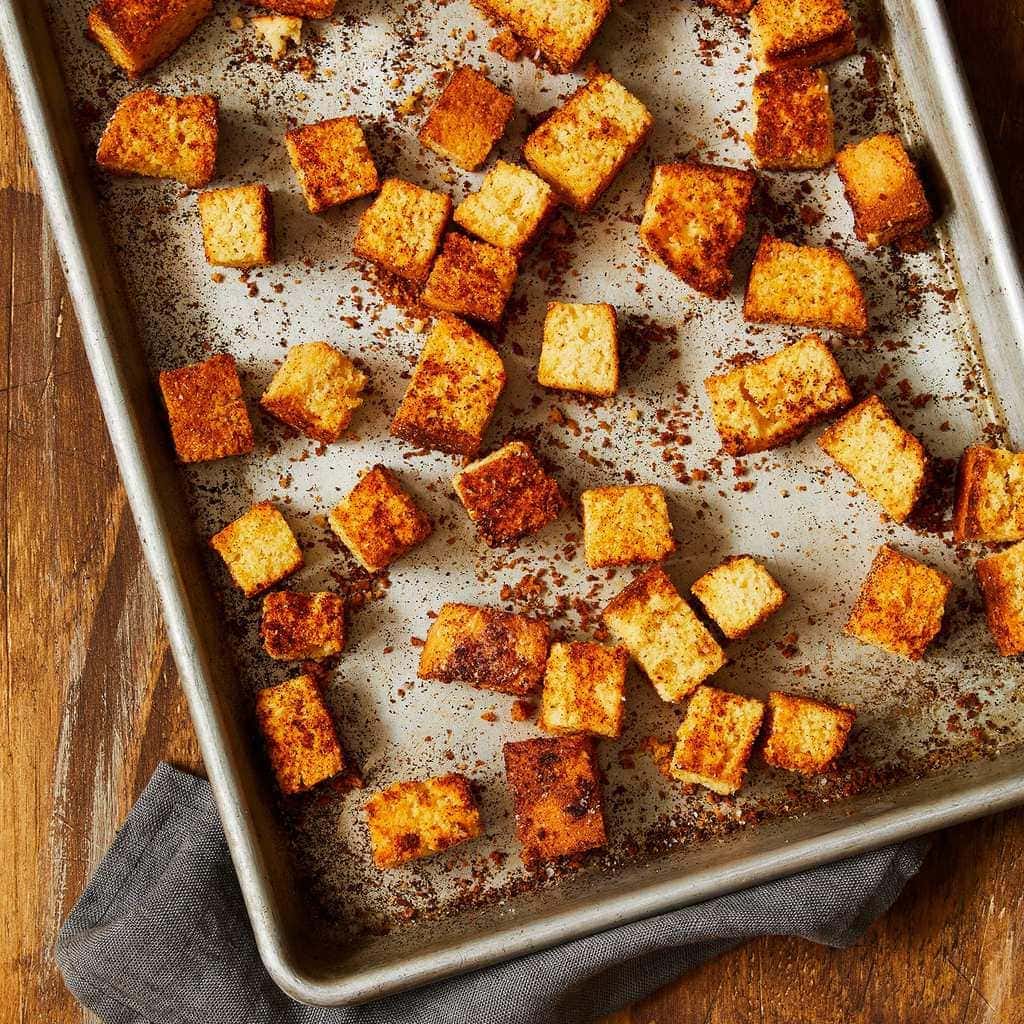 What cheese do I use for Crispy Cheese Bits?
I always sprinkle shredded cheese on my chili, but I love a little crunch as well. These Crispy Cheese Bits are the best of both worlds. Melting the shredded cheese to a golden brown crisp actually intensifies the flavor, for delicious perfection.
Use fresh-grated cheese, not the pre-shredded from a bag. The bagged cheese has natural separators like cornstarch that will cause these bites to not work. Use your favorite cheddar and a good non-stick pan. You will probably need to make extra because if left out on the counter before dinner, they may disappear!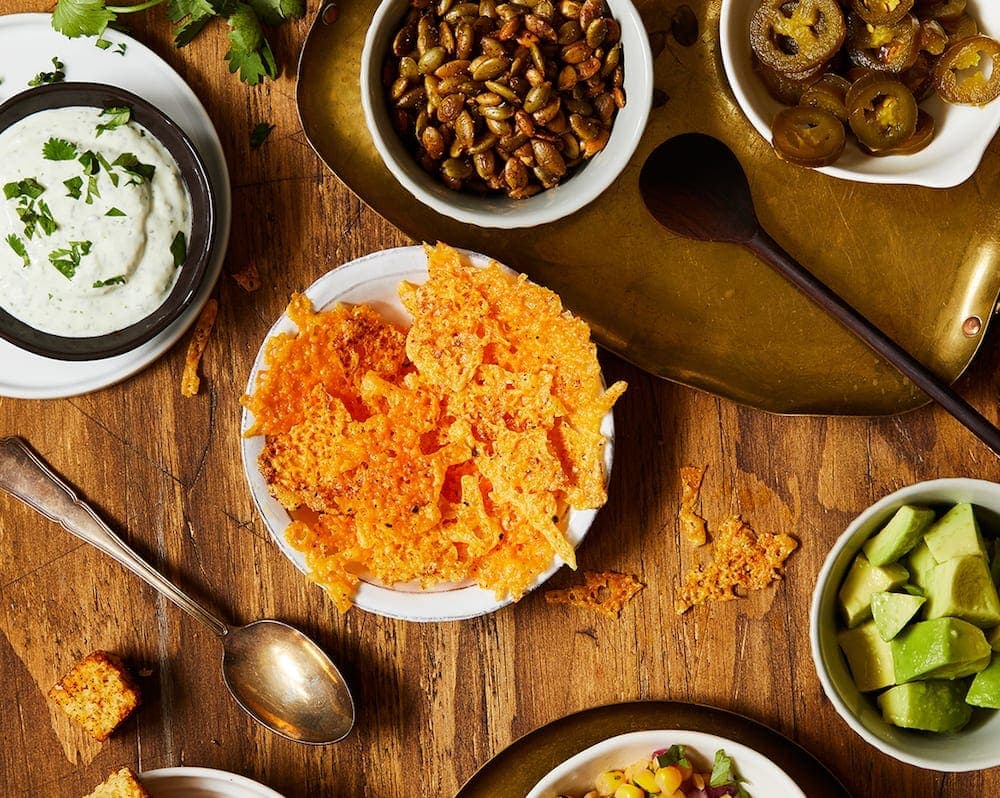 Cilantro Cream
A dollop of sour cream makes chili creamy good. What's better? A spoonful of Cilantro Cream with herbs and scallions to really make your bowl sing. Put this delicious bowl by a basket of corn chips and it will double for a great dip.
The best chili toppers are flavorful and fun. Make these easy recipes to wow your guests.
Spiced Roasted Pepitas
A little crunch is always good on soup or stew. Harkening back to my love of crispy croutons or chewy bread with soup, I do love a little crunch with my bites of chili. I often toss crushed pecans on butternut squash soup and I love that nutty flavor. Pepitas (or shelled pumpkin seeds) add that nuttiness as well, and for chili I season them with a sweet and spicy combo.
Corn Relish
Add a little sweet, tangy crunch to your chili. This topper is a little like a salsa and combines sweet corn, red onion and lime juice for a bite that is a Tex-Mex dream. I love the little bits of sweet corn mixed with my tomatoes and beans in every spoonful. And what pretty colors! We tend to "eat with our eyes" and the combination of pretty and tasty is a bonus.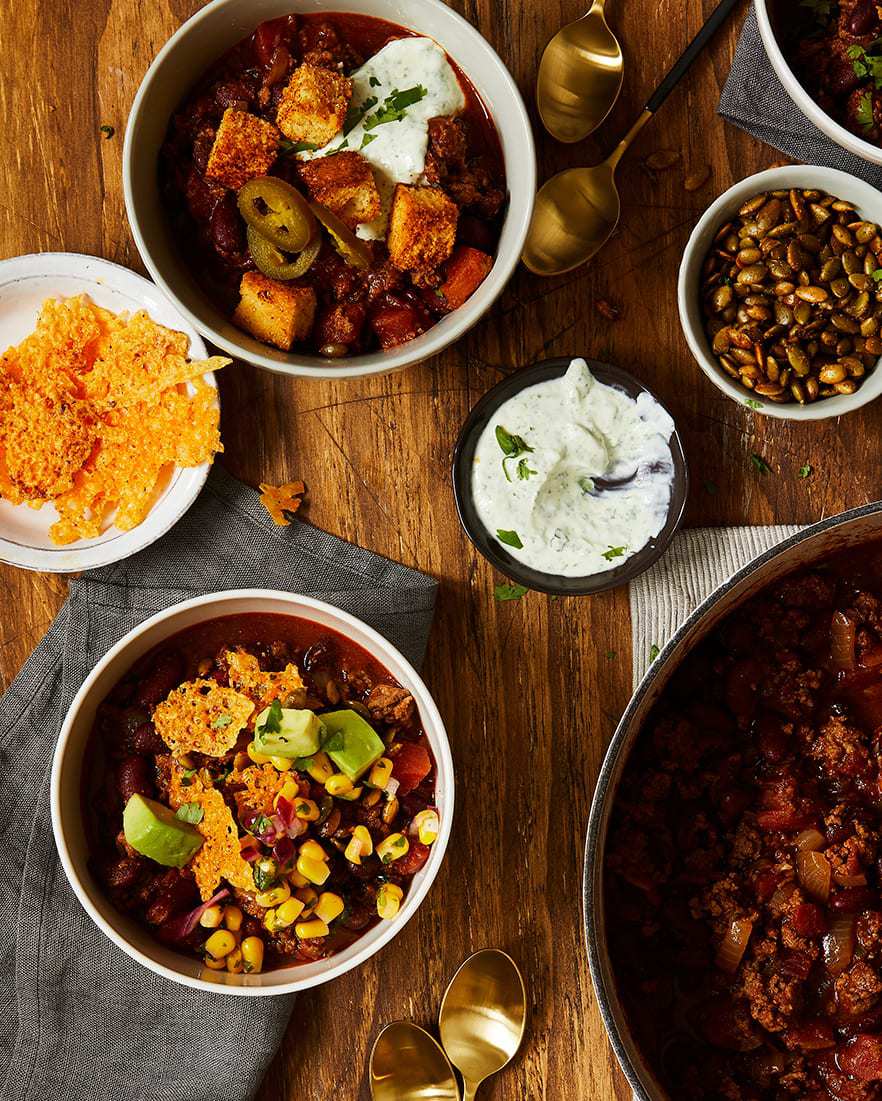 Mix up your chili toppings with store bought ingredients, fresh foods and these homemade recipes. If you want to kick your avocado up a notch, turn it into guacamole. It's still a great chili topper.
I always have sliced radishes, chopped onion, shredded cheese (Monterey Jack or Pepper Jack is always nice) and fresh cilantro for toppings as well. If you don't make cornbread croutons, have some crunchy tortilla chips on hand.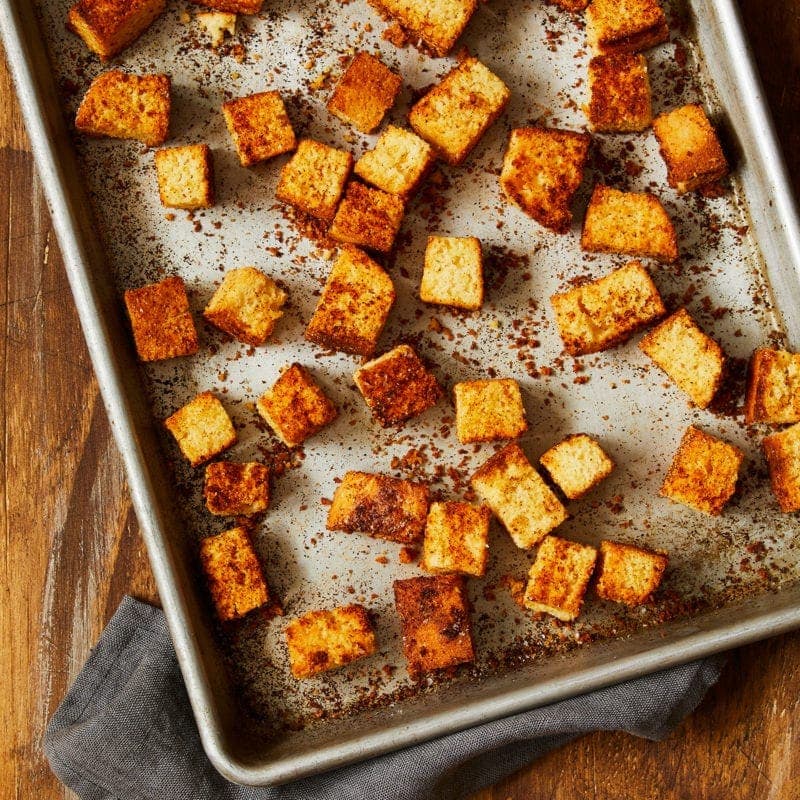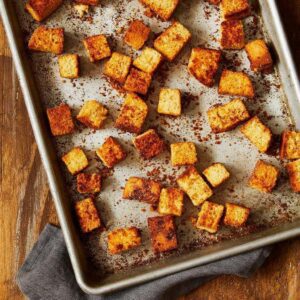 The Best Homemade Chili Toppers
The best chili toppers make each bite of tomatoey goodness even better. You can make your own gourmet toppings for a chili party your crowd will never forget.
Instructions
Cornbread Croutons: Cut 10-oz prepared cornbread into ¾-inch cubes (3½ cups) and place on a foil-lined baking sheet. Sprinkle with 1 teaspoon chili powder and ½ teaspoon kosher salt. Bake at 350°F until browned and crisp, 15 to 18 min.

Crispy Cheese Bits: Spread 2 cups freshly grated Cheddar on a parchment-lined baking sheet and sprinkle with ½ teaspoon ground black pepper and ½ teaspoon garlic powder. Bake at 375°F until melted together and golden brown, 15 to 18 min. Cool and break into pieces.

Cilantro Cream: Puree 1 cup sour cream with ¾ cup cilantro leaves, 1 chopped scallion, 1 tablespoon water and ½ teaspoon kosher salt until smooth.

Corn Relish: Combine ¾ cup thawed frozen corn with ¼ cup finely diced red onion, 1 tablespoon each lime juice and olive oil, ½ teaspoon kosher salt and 2 tablespoon chopped cilantro.

Spiced Roasted Pepitas: Toss 1 cup pepitas (shelled pumpkin seeds) with 2 teaspoon canola oil, ½ teaspoon each sugar and kosher salt and ¼ teaspoon cayenne pepper. Roast at 400°F until toasted, 8 to 10 min.
Notes
You can make your own gourmet toppings for a chili party your crowd will never forget.
Throw a chili bash, and don't forget to use my Classic Chili For A Crowd recipe, here, and include some new, fun and gourmet toppers. Your plain old bowl will never be the same!
Make a delicious soup recipe today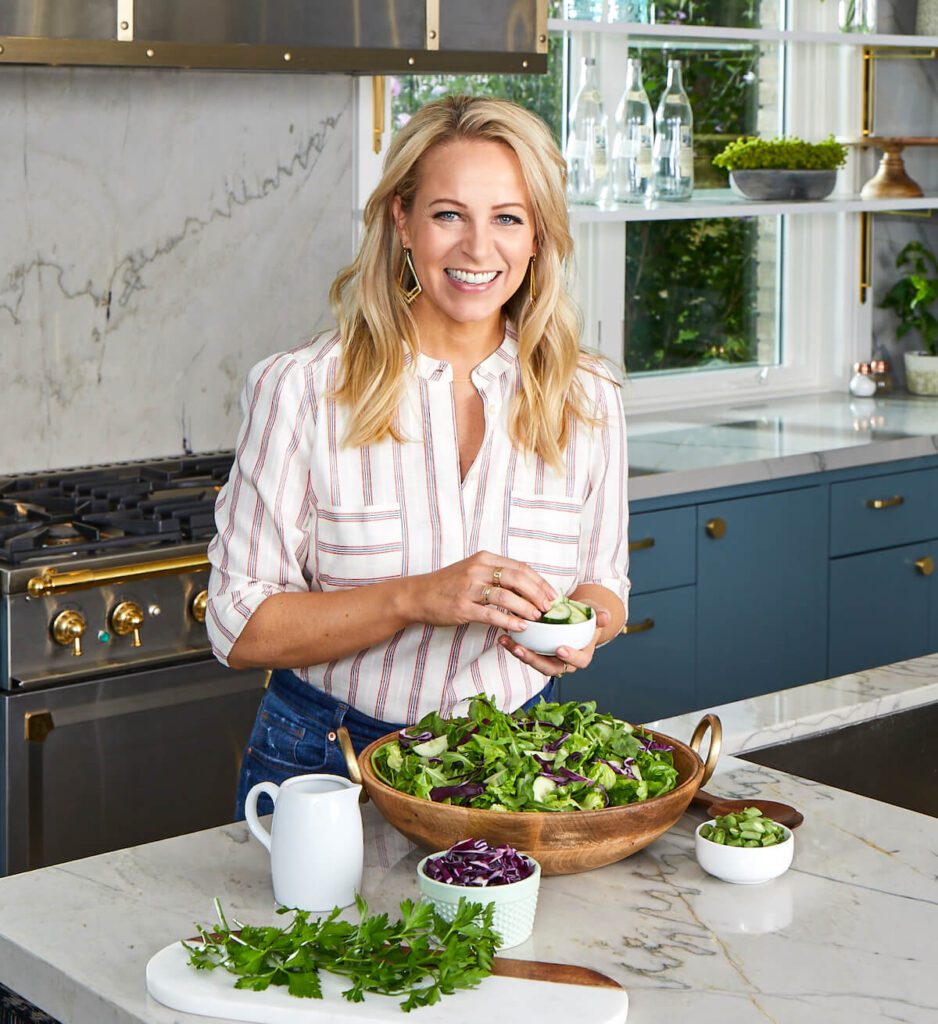 About Tara Teaspoon
I've been in the food publishing business for over 20 years, creating recipes & food-styling for magazines, books, television & advertising. Order my new cookbook & stick around for amazing things to eat.
Recipes by Tara Teaspoon. Photography Ty Mecham