---
For gatherings, game days, movie night and even dinner these nachos for a crowd are the best. Layer fixings and bake them in the oven and feel like a genius.
---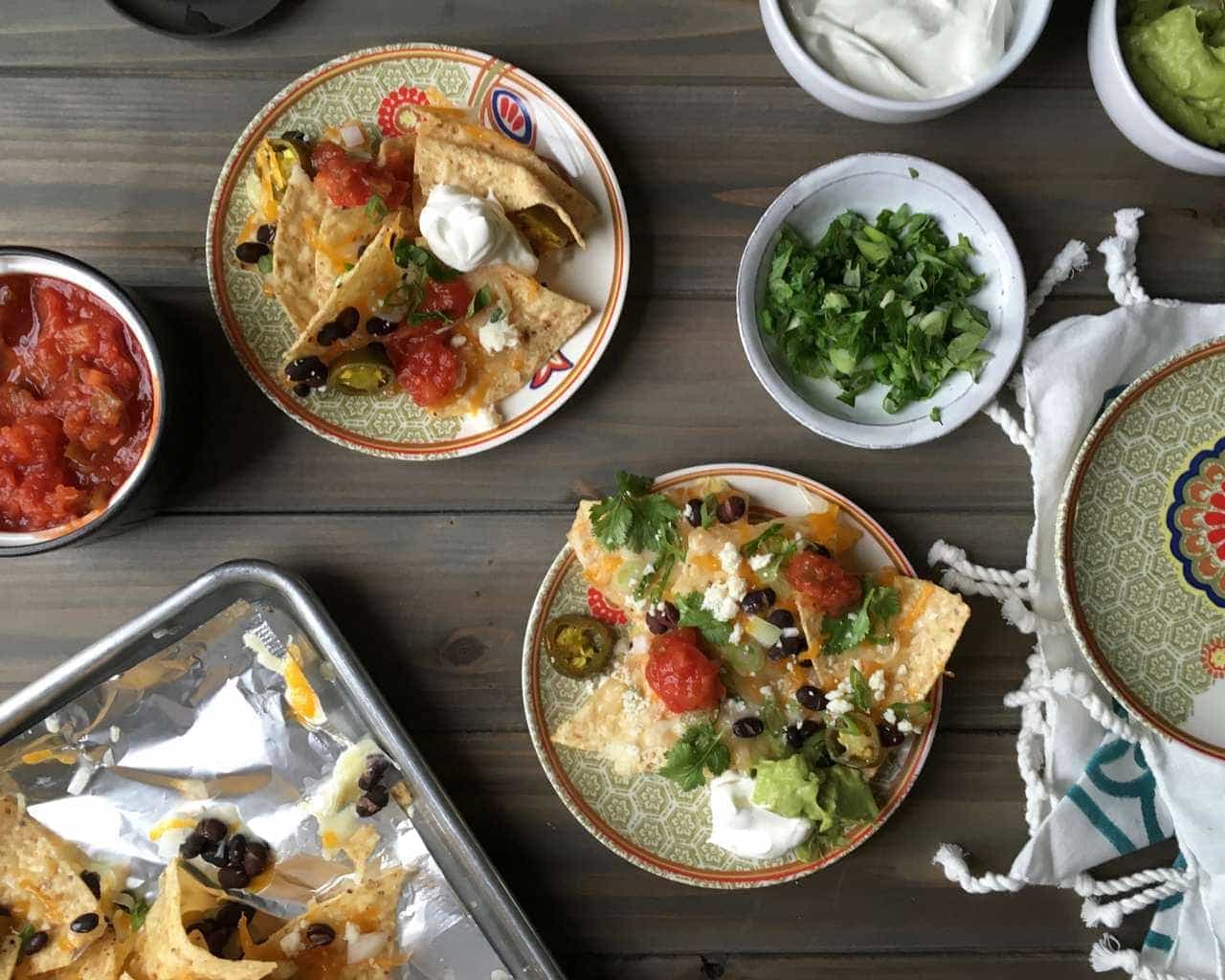 When I entertain at home I take a step away from the brain-work of major creativity (I cook for a living) and stick to things that are easy, crowd-pleasing and fun.
For the big game, I'm making nachos with all the fixings. Along with some drinks and my chocolate chip cookies, I'm going to be totally set. See this recipe on KSL.com where it was originally published.
How to make Nachos for a Crowd:
I make my Nachos For A Crowd in the oven. No melting cheese sauces and cleaning up drippy messes, and no heating small batches of chips and cheese in the microwave. Depending on the party I'm having, I'll add beans or shredded meat, and I have sour cream, salsas and guacamole in bowls for people to add to their plates.
Make nachos for everyone all at once by cooking them on a baking sheet. I line it with foil (for easy cleanup), and layer the goodness of chips, cheese and other tasty additions, then bake for about 10 minutes.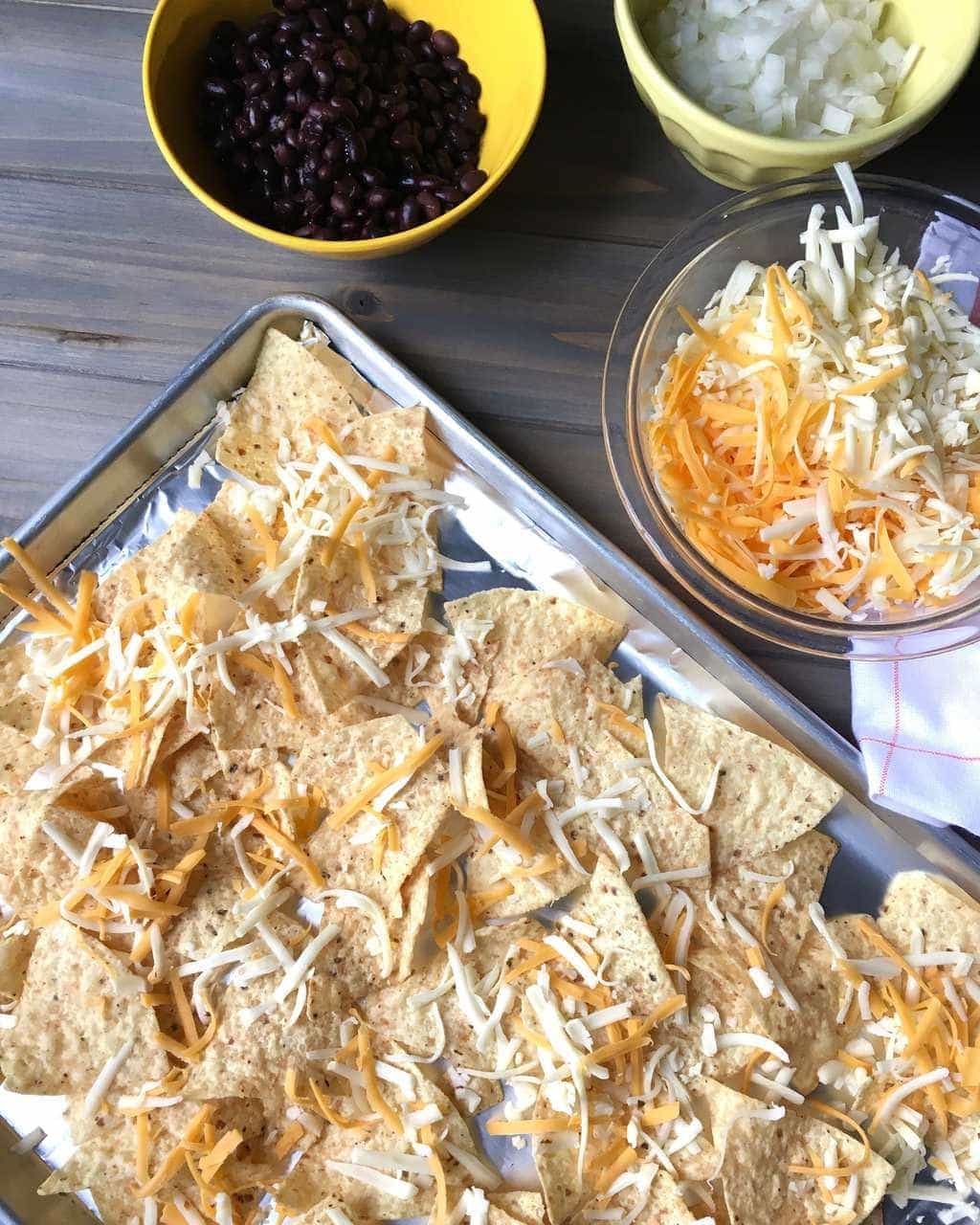 What cheese to use for nachos:
The cheese is key, and I like a variety. Mixing cheeses gives depth of flavor and texture. Some cheese melts silky smooth, some get a bit chewy and others are crumbly and salty delicious like Cotija.
My favorite is a Monterey Jack of course, and then you have his brother Pepper Jack to add spice. A little mild or sharp cheddar adds classic flavor and even pieces of Velveeta gives a silky melt on top of the crunchy chips. I love a good carnitas nacho (braised pork), shredded steak or chicken as well. Adding meat makes the nachos more substantial, closer to a meal, if you eat enough like I usually do.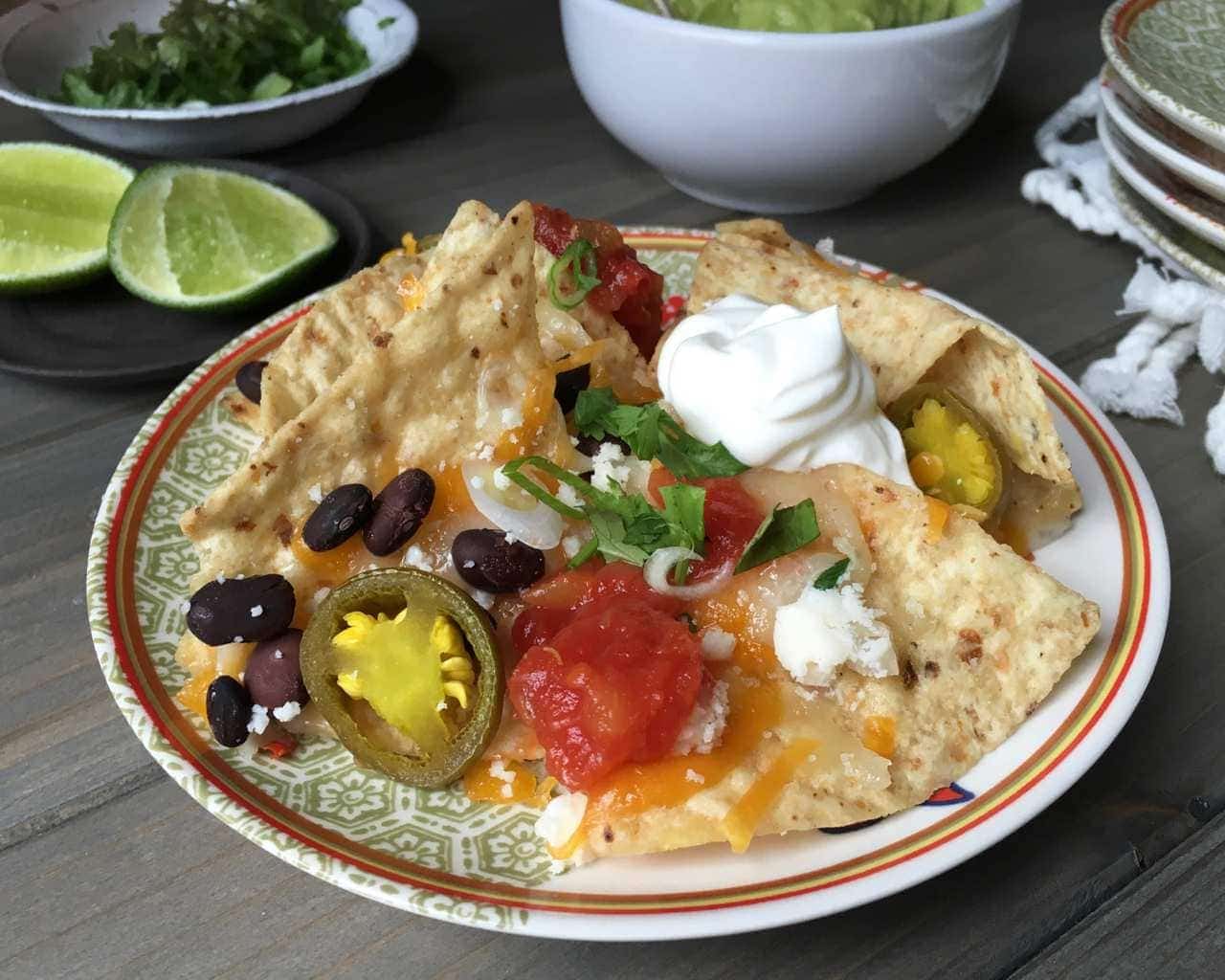 Check my list below for any extras you can add and layer, layer, layer. It's an oven-nacho trick. One layer of chips, cheese, toppings, covered by another layer and sometimes even a third. The even heat from the oven melts all the cheese and heats everything perfectly. Serve with tongs so guests can grab an entire serving at once.
Nachos For A Crowd checklist:
Cheese Please
Monterey Jack is perfect for melting. Pepper Jack adds great spice. Crumble Cotija or other Mexican cheese on top when the nachos come out of the oven.
Layers of Good
Two or three layers of chips, cheeses and toppings are perfect in the even heat of the oven.

Meat the Merrier
Add braised pulled pork for carnitas nachos, or shredded chicken or beef for a more hearty snack.

Top That
Additions like canned beans, white onions, pickled jalapeños, fresh tomatoes and sweet peppers are added in layers with the cheese and cooked along with the chips.
It All Adds Up
Have bowls of these add-ons for guests to try on their servings: sour cream, cilantro, sliced scallions, olives, guacamole, salsa and hot sauce.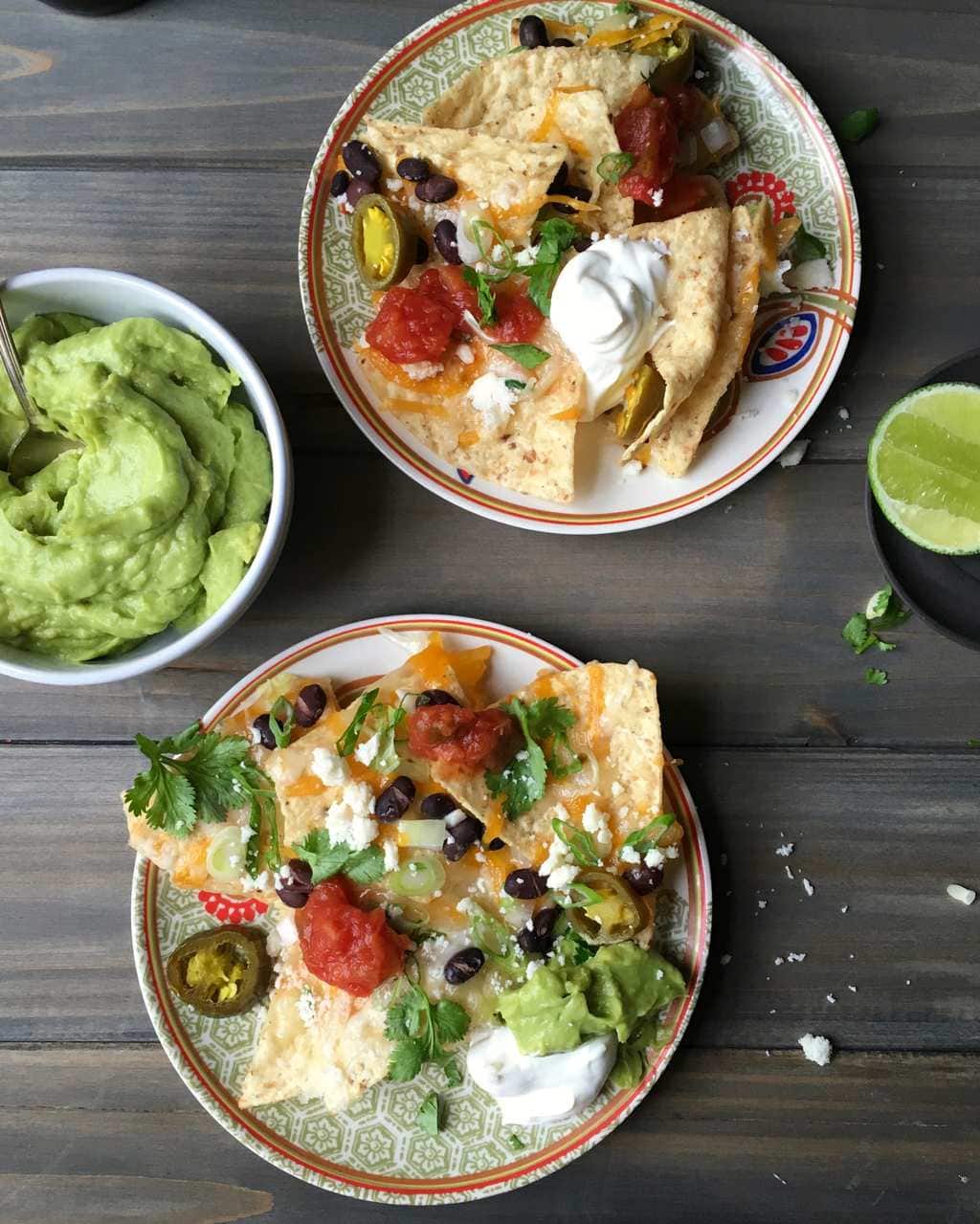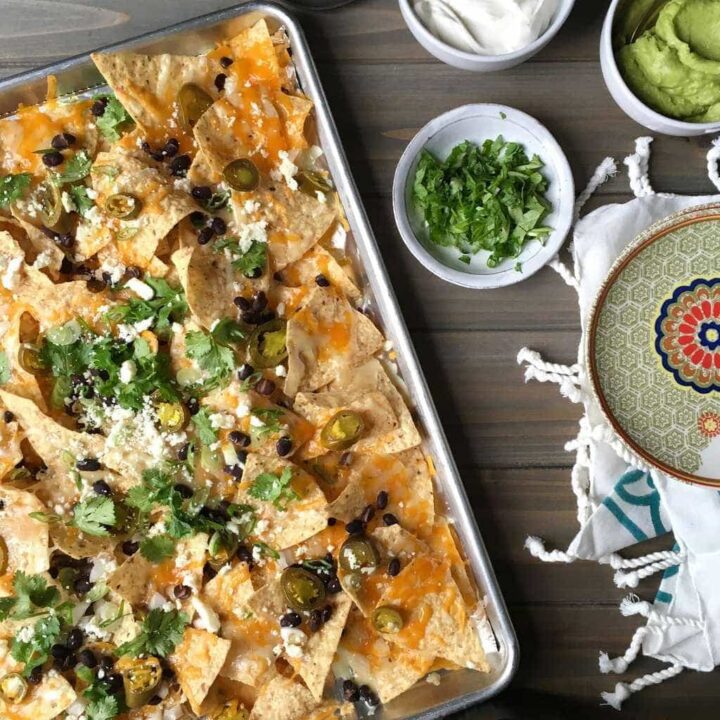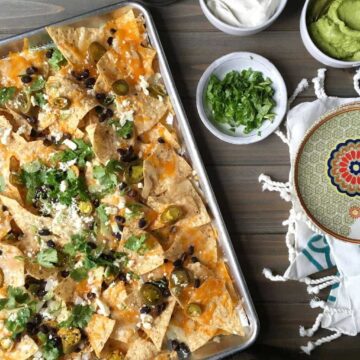 Nachos For A Crowd
For gatherings, game days, movie night and even dinner these nachos for a crowd are the best. Layer fixings and bake them in the oven and feel like a genius.
Ingredients
2

bags

(11 oz each) tortilla chips

5

cups

shredded cheese

1

can black beans

drained

½

cup

white onion

chopped

½

cup

pickled jalapeños

Toppings such as cilantro

scallions and olives

Serve with sour cream

guacamole and salsa
Instructions
Heat oven to 350 F. Line two large rimmed baking sheets with foil. Arrange half of the chips on pans and top with some cheeses, beans, onion, and jalapeño. Repeat layers for two to three layers total. (These can be assembled up to one hour before baking.)

Working with one sheet at a time, bake until cheese is melted, 10 to 15 minutes. Sprinkle with cilantro, scallions and olives if desired and serve with desired toppings. Heat a second pan as the first for fresh, hot nachos.
Notes
This is your chance to add all of the things Mexican that you love - layer upon layer. Enjoy1
Crunchy chips with loads of toppings for hungry party-goers are easy to make when you do it in the oven.
Nutrition
Serving:
1
g
Calories:
144
kcal
Carbohydrates:
2
g
Protein:
10
g
Fat:
10
g
Saturated Fat:
6
g
Cholesterol:
36
mg
Sodium:
294
mg
Potassium:
54
mg
Vitamin A:
355
IU
Vitamin C:
5
mg
Calcium:
237
mg
Iron:
0.2
mg
Appetizers, Nibble and Finger Foods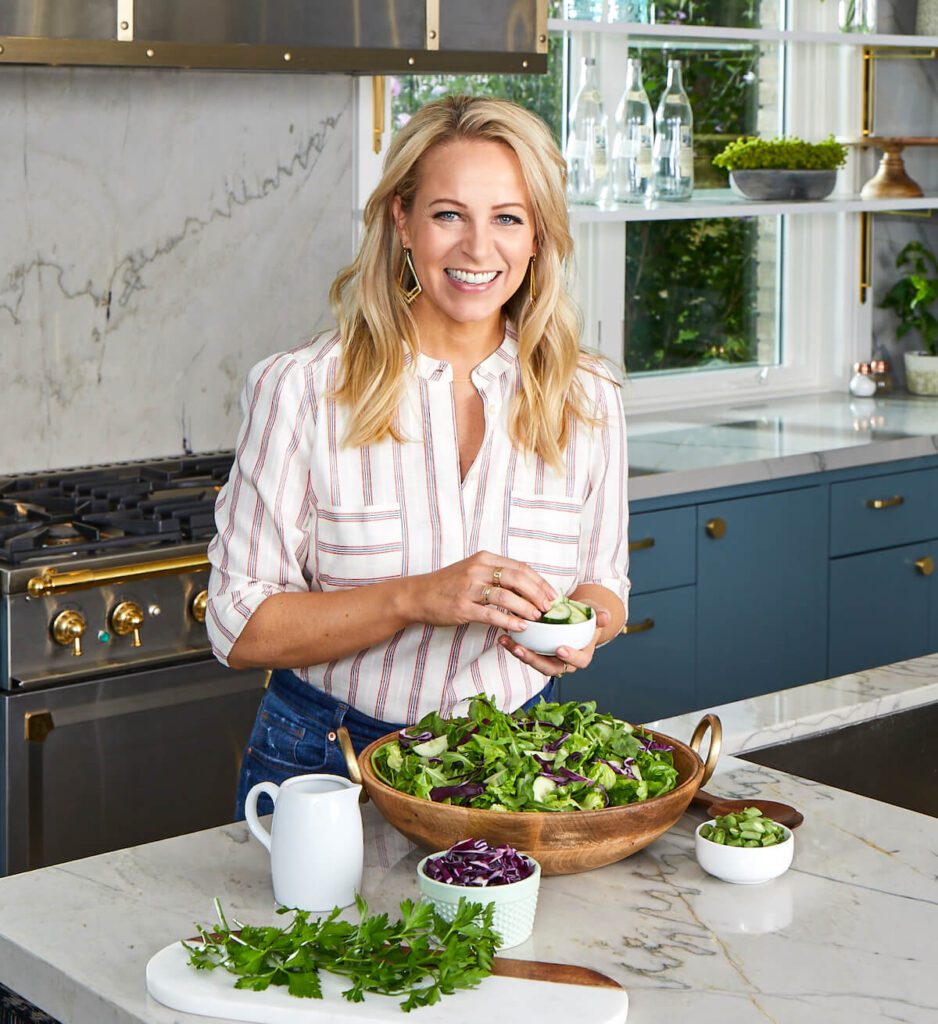 About Tara Teaspoon
I've been in the food publishing business for over 20 years, creating recipes & food-styling for magazines, books, television & advertising. Order my new cookbook & stick around for amazing things to eat.

Recipe and photography by Tara Teaspoon