This make-at-home recipe for mozzarella bites is easy to make. They are the perfect party appetizer, or game day snack. Using store-bought pizza dough and mozzarella string cheese, these easy cheese bites are cooked in the air fryer!
If you love Farm Rich or other branded Mozzarella Bites from the freezer section, but sometimes can't find them, here is your homemade solution.
This recipe is really easy, and you'll have your favorite snack food in minutes.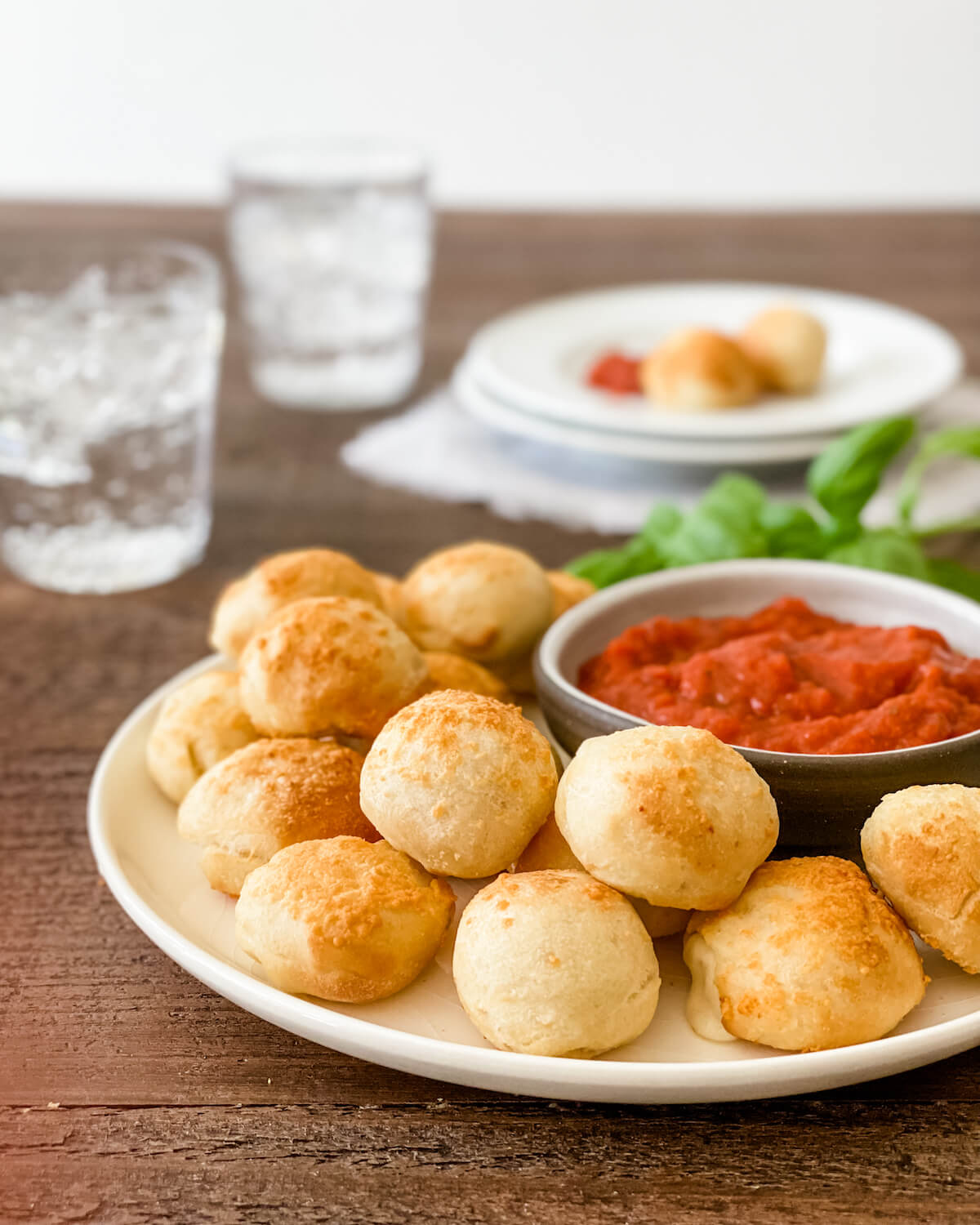 These pizza dough wrapped cheese bites aren't fried. They are my take on the Farm Rich brand Mozzarella Bites from the freezer section.
Because they are wrapped in prepared dough, they take much less time and mess than fried mozzarella bites or sticks.
They are the perfect tailgating appetizer or party snack. With just 5 ingredients and 10 minutes you can have these cheesy fried mozzarella balls ready to serve. Be sure to make extra, they are a crowd hit!
Jump to:
Homemade Farm Rich Mozzarella Bites recipe
I love the branded mozzarella bites from the freezer section for parties and summer snacks (try my Mozzarella Bites with Peach Salsa!). So I set out to make my own, pizza-dough-wrapped, melty cheese bites to keep on hand.
All I needed was store-bought pizza dough, string cheese sticks, some Parmesan and butter. I made my very own style of the Farm Rich Mozzarella Bites in the air fryer. It was super easy!
Serve them with marinara, your favorite salsa, or another great dip like my onion bacon dip, and you have yourself a delicious, cheesy snack.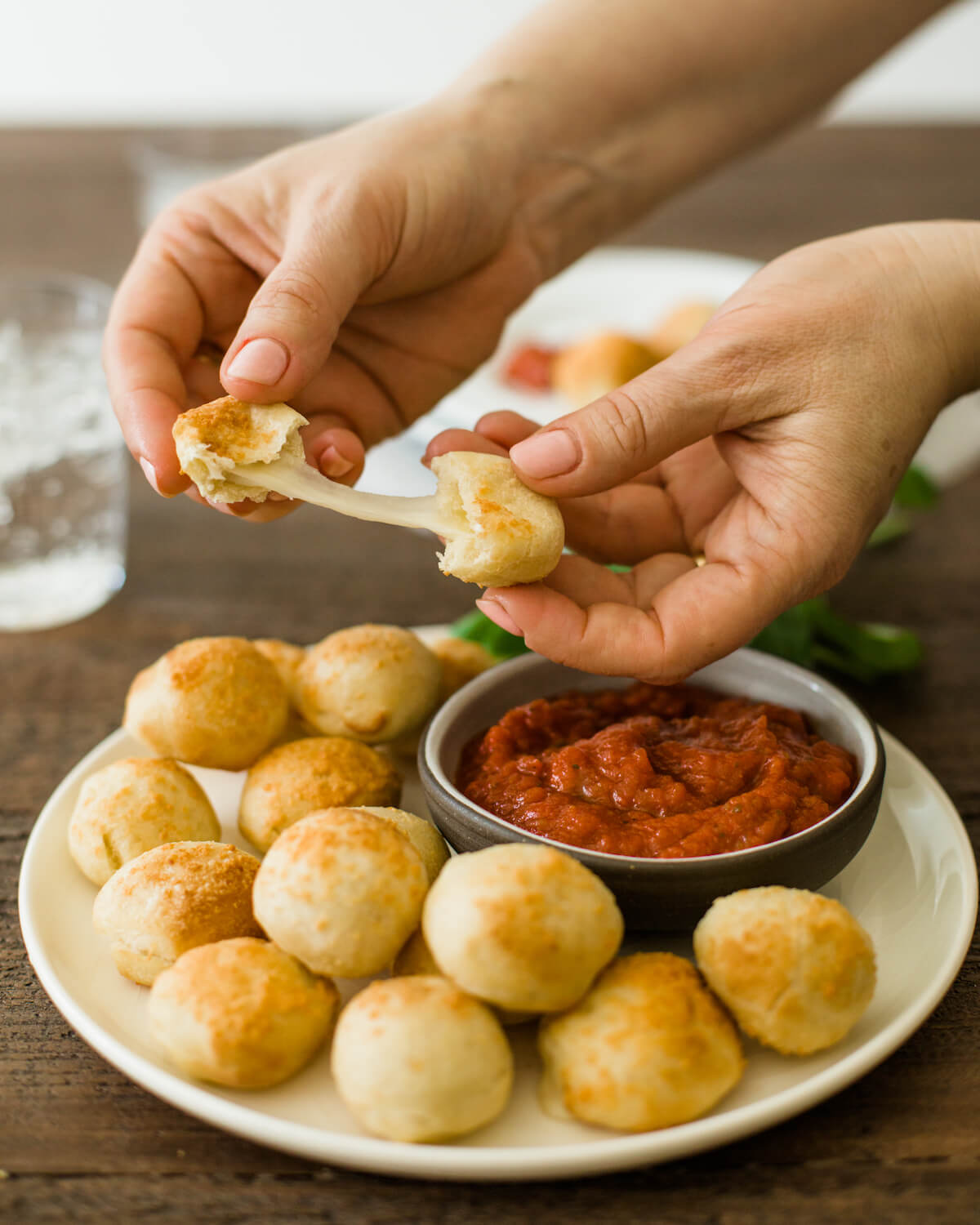 Making these cheese bites
I'll give you step by step instructions below, so you can see how easy it is to make these mozzarella bites in the air fryer.
I use string cheese for the center. It has a low moisture content so less steam is produced inside my breaded cheese bite. This prevents a lot of little explosions where the cheese can melt out the side.
Prepared pizza dough from the refrigerated or freezer section of the grocery store works perfectly. You can also stop by your local pizza parlor and see if they'll sell you a ball of pizza dough if they make it on premises.
I tried to bake mozzarella cheese bites in the oven, but had the most success in a traditional air fryer. The intense convection heat quickly cooked and browned the doughy outside and melted the center. There was much less cheese leakage - if you will - than when baked in the oven.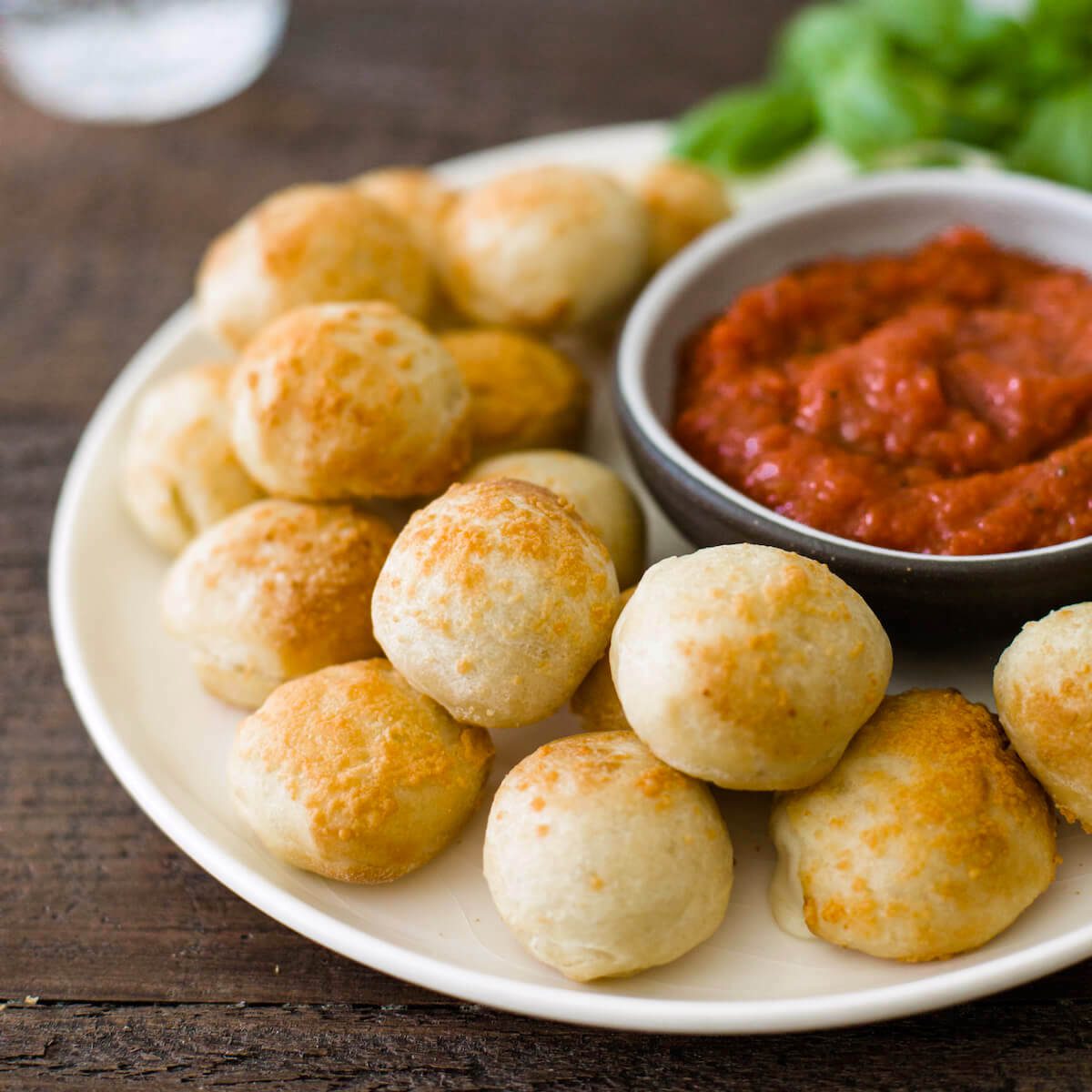 What is string cheese?
What is string cheese? Is it mozzarella?
String cheese is made from low-moisture mozzarella cheese, and is simply heated to a certain temperature, and stretched to realign the milk proteins.
The newly formed cheese sticks allow the cheese to pull apart in strings.
We don't need the stringy quality of string cheese for this mozzarella bites recipe, but it is nice to have the shape already created so we just have to cut it into 1-inch pieces.
String cheese melts perfectly inside the pizza dough, and creates the most delightful cheese-pull you've ever seen!
You can use a block of low-moisture mozzarella cheese here, just cut the cheese into 1-inch cubes. I prefer using string cheese since it saves time and mess.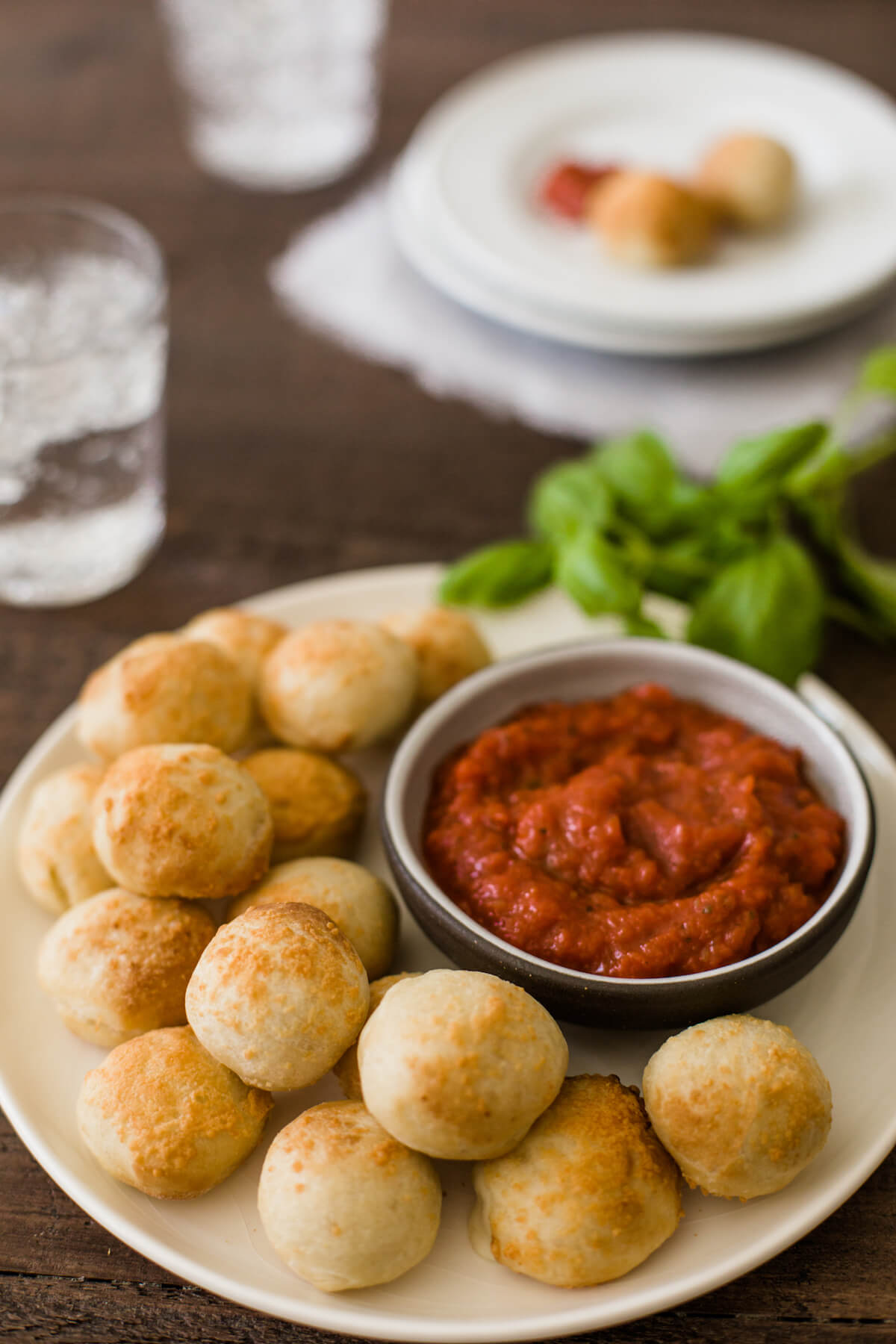 Air fryer mozzarella bites
Using the air fryer to make this homemade cheese bites appetizer was the most successful.
I tested this recipe in the oven, in the broiler, on high heat and on low heat; but when I tested them in a drawer-style air fryer they were no-fail!
No matter what temperature I set on the oven, it would heat the inside of the mozzarella bites at the same time as the dough outside. So before the dough was cooked through and browned, the mozzarella sticks inside were melted and wanted to come out!
The majority of my fried mozzarella balls had cheese oozing from the side when cooked in the oven.
The mozzarella bites cooked in the air fryer got golden brown at the same time the cheese melted inside.
This is due to the fact that the air fryer is a small, intense convection oven. The hot air is circulated around the food, ultimately browning and crisping it quickly.
The dough was perfectly cooked around the molten cheese center, and only one here and there decided to leak cheese!
I use the Cosori brand air fryer at home. Other air fryers will work, and you can adjust your time and temperature depending on the strength of the machine.
Air Fry Frozen Mozzarella Bites
The recipe gives tips for freezing cooked mozzarella cheese snacks for later. You can reheat them in the air fryer too!
Simply cook the mozzarella bites as directed, freeze them in a zip-top bag, then when you are ready to serve pre-heat your air fryer. Fry the frozen bites at 275ºF for 5 to 6 minutes.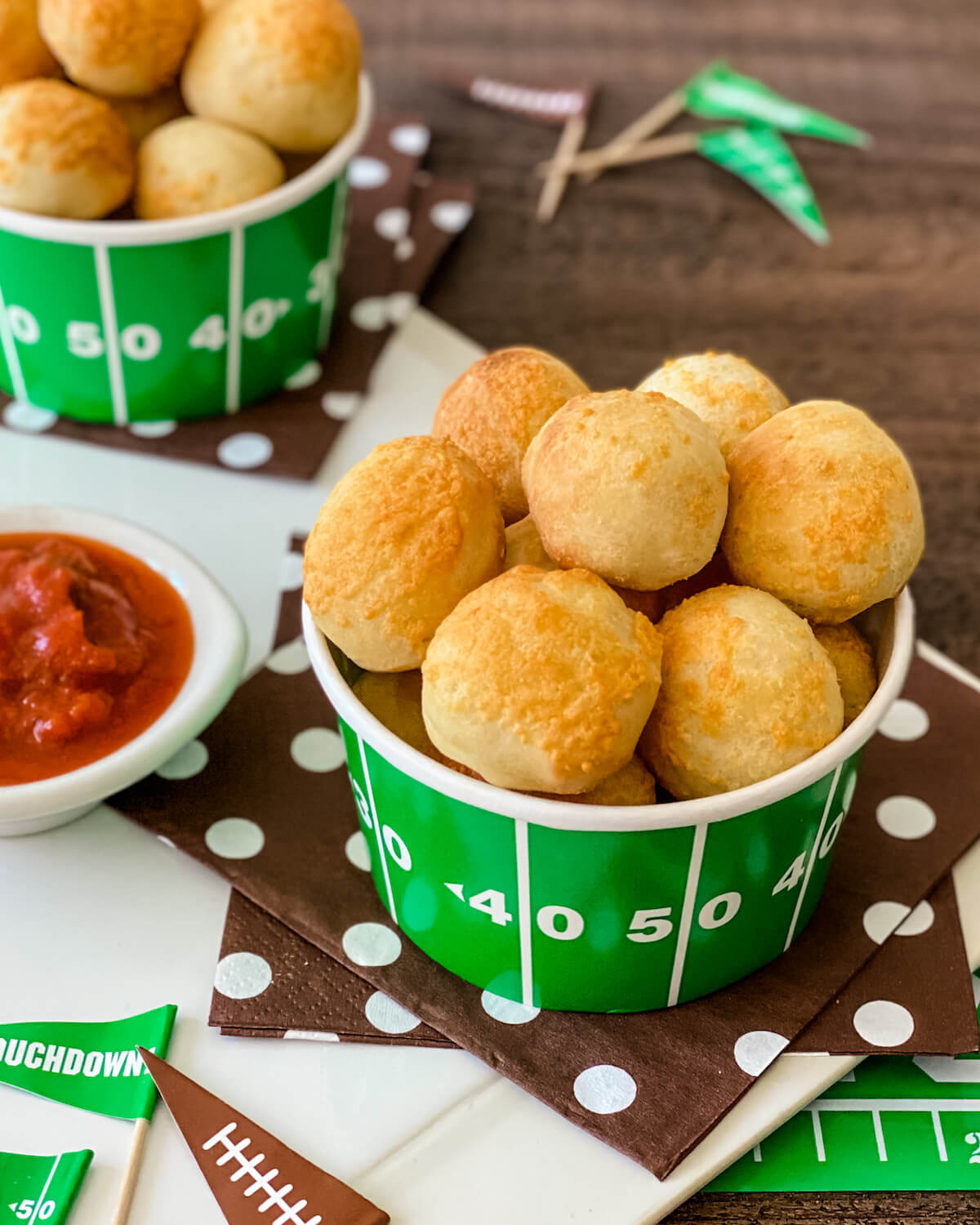 Perfect Game Day Snack
You can keep the air fryer churning out piping hot mozzarella appetizers during the entire game! Or, keep baked bites in a low temperature oven after they are cooked.
Serve them with marinara for a classic snack, or a fruit salsa (I have 15 kinds here!), basil pesto recipe, or your favorite spicy salsa for a twist.
Try more Tailgating Snacks.
How to make this cheese bites recipe
Find the easy recipe below for my take on Farm Rich brand mozzarella bites. Here are the steps:
Cut 6 sticks of string cheese into 12 pieces. You'll have 72 little cheese balls.
Toss the cheese in cornstarch. This coating will help absorb extra moisture inside the dough as the cheese melts.
Freeze the cheese balls while you prepare the dough and heat the air fryer to 425ºF.
Cut prepared pizza dough into pieces about the size of a marble.
Use two pieces of dough to sandwich each ball of mozzarella. Then pinch the sides shut and gently form into a ball or patty.
Brush each patty with melted butter and sprinkle with Parmesan cheese.
Air fry for 5 to 6 minutes, until they are just turning golden and the cheese is melted.
Serve with marinara or another dip.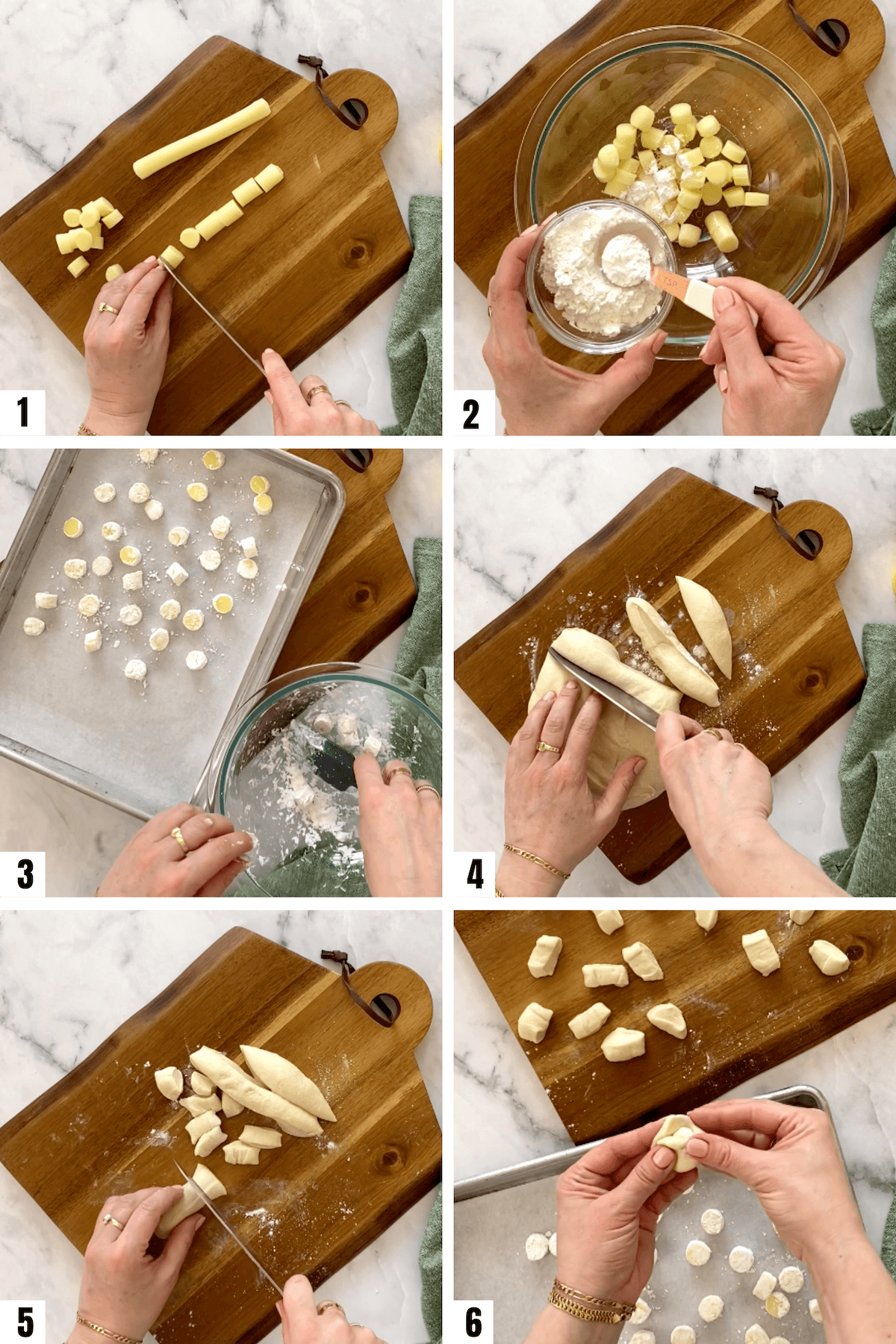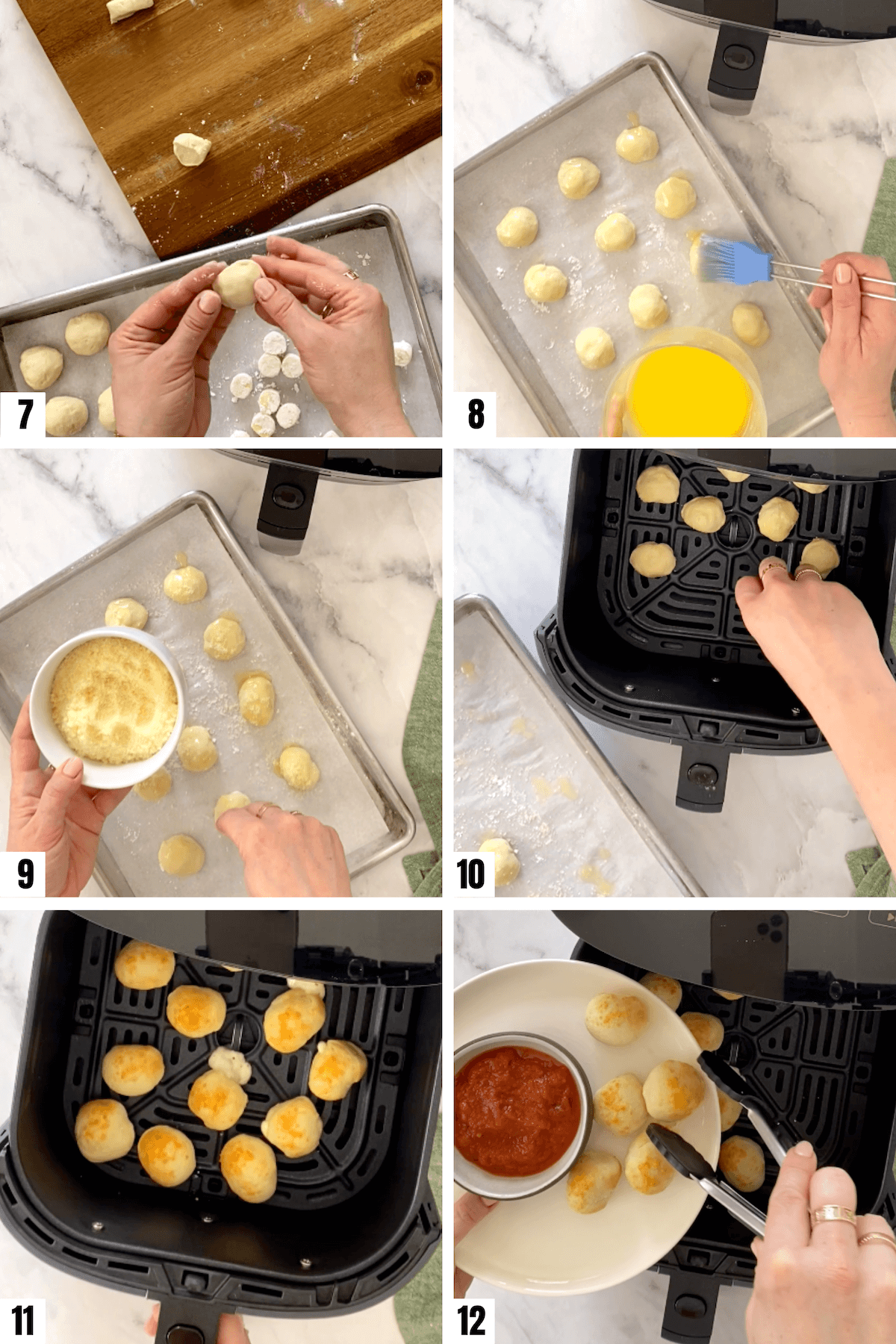 FAQs
How to cook mozzarella bites?
Cook these mozzarella bites in the air fryer for a perfect golden brown outside and gooey cheesy inside.
Can you freeze mozzarella bites?
Yes, after the bites have been cooked, allow them to cool to room temperature then place in a zip top bag or container to freeze. When ready to serve, preheat air fryer to 275ºF and reheat for 5 to 6 minutes until warmed through.
What is low-moisture mozzarella?
Low-moisture mozzarella has 45 to 52% moisture content while regular has as much as 60% water. Low moisture-mozzarella is saltier and denser than regular mozzarella.
More mozzarella recipes to try:
Let me know how it went!
Scroll to the bottom of the page to rate ⭐⭐⭐⭐⭐ and comment on this recipe. Leaving comments helps other too!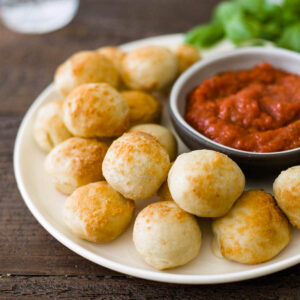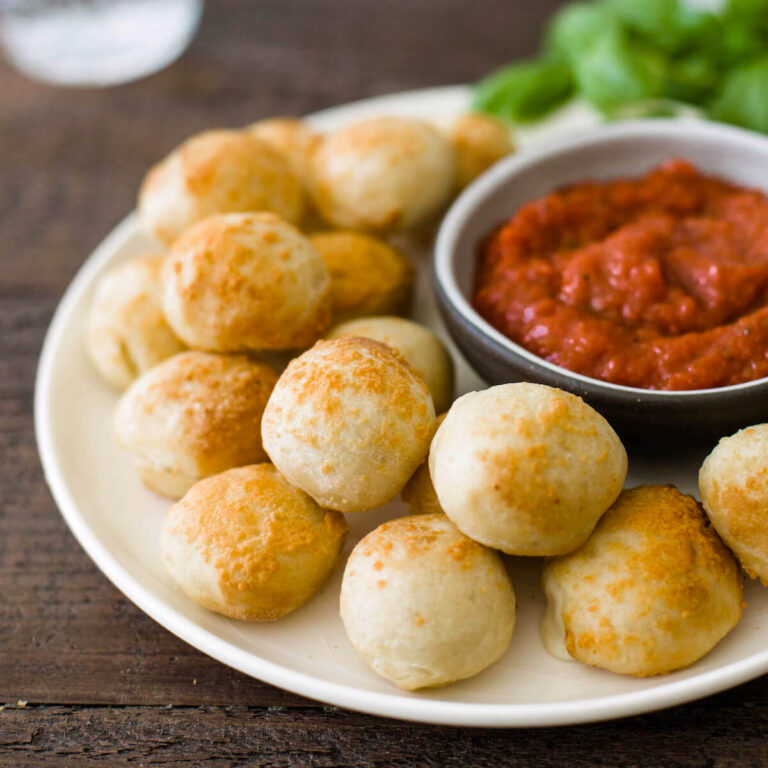 Homemade Mozzarella Bites (Air Fryer)
You can make your own melty mozzarella bites with just 5 ingredients. Use an air fryer for no-fail baking and enjoy this classic snack. Half the recipe for a smaller crowd or freeze extra for later.
Ingredients
6

part-skim mozzarella string cheese sticks

1

teaspoon

cornstarch

1

pound

prepared pizza dough

¼

cup

butter

melted

⅓

cup

finely grated Parmesan

Marinara for serving
Instructions
Cut each string cheese stick into 12 pieces. Toss with the cornstarch to coat the cheese and place on a parchment lined baking sheet. Freeze for 30 minutes or more.

Cut marble sized pieces of pizza dough and cover with plastic wrap or a towel.

Cut marble sized pieces of pizza dough and cover with plastic wrap or a towel.

Working with 6 to 8 pieces at a time, encase each piece of cheese inside two pieces of pizza dough, by gently pressing one on either side of the cheese like a sandwich. Seal the edges by pinching together. Form into a patty or disk.

Brush with melted butter and sprinkle with Parmesan.

Place the bites in the air fryer on the non-stick tray. Bake for 5 to 6 minutes until just turning golden and dough is cooked. Remove and serve immediately with marinara, or keep in a warm oven for 10 to 15 minutes.

Repeat the process with all the mozzarella bites. See Freezing Note below.
Notes
Freezing Note:
Make and bake mozzarella bites. Freeze cooked bites in a zip-top bag for up to a month. When ready to eat, heat air fryer to 275ºF and cook bites for 5 to 6 minutes until heated and cheese is melted.
Nutrition
Calories:
27
kcal
Carbohydrates:
3
g
Protein:
1
g
Fat:
1
g
Saturated Fat:
1
g
Polyunsaturated Fat:
1
g
Monounsaturated Fat:
1
g
Trans Fat:
1
g
Cholesterol:
3
mg
Sodium:
71
mg
Potassium:
1
mg
Fiber:
1
g
Sugar:
1
g
Vitamin A:
23
IU
Calcium:
6
mg
Iron:
1
mg
Appetizers, Nibble and Finger Foods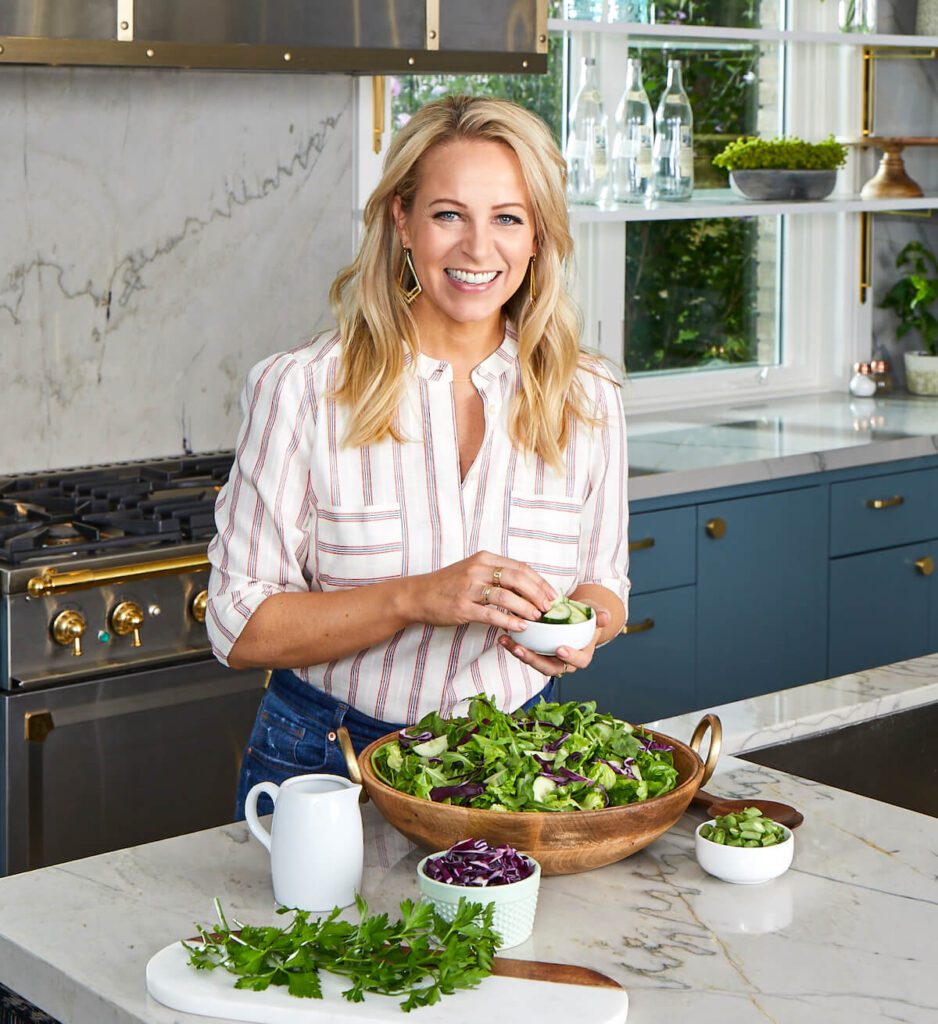 About Tara Teaspoon
I've been in the food publishing business for over 20 years, creating recipes & food-styling for magazines, books, television & advertising. Order my new cookbook & stick around for amazing things to eat.
Recipe and Photos Tara Teaspoon®. Updated August 2023.