Summer is the perfect time to make Easy Caprese Focaccia. Tomatoes are abundant and delicious this time of year, so eat your heart out!
• • •
Fresh mozzarella, juicy, tangy tomatoes and fresh basil are the things summer dreams are made of. This simple take on caprese salad is perfect as a summer appetizer, a side to your grilled steak or chicken, or make a meal out of it alongside a salad.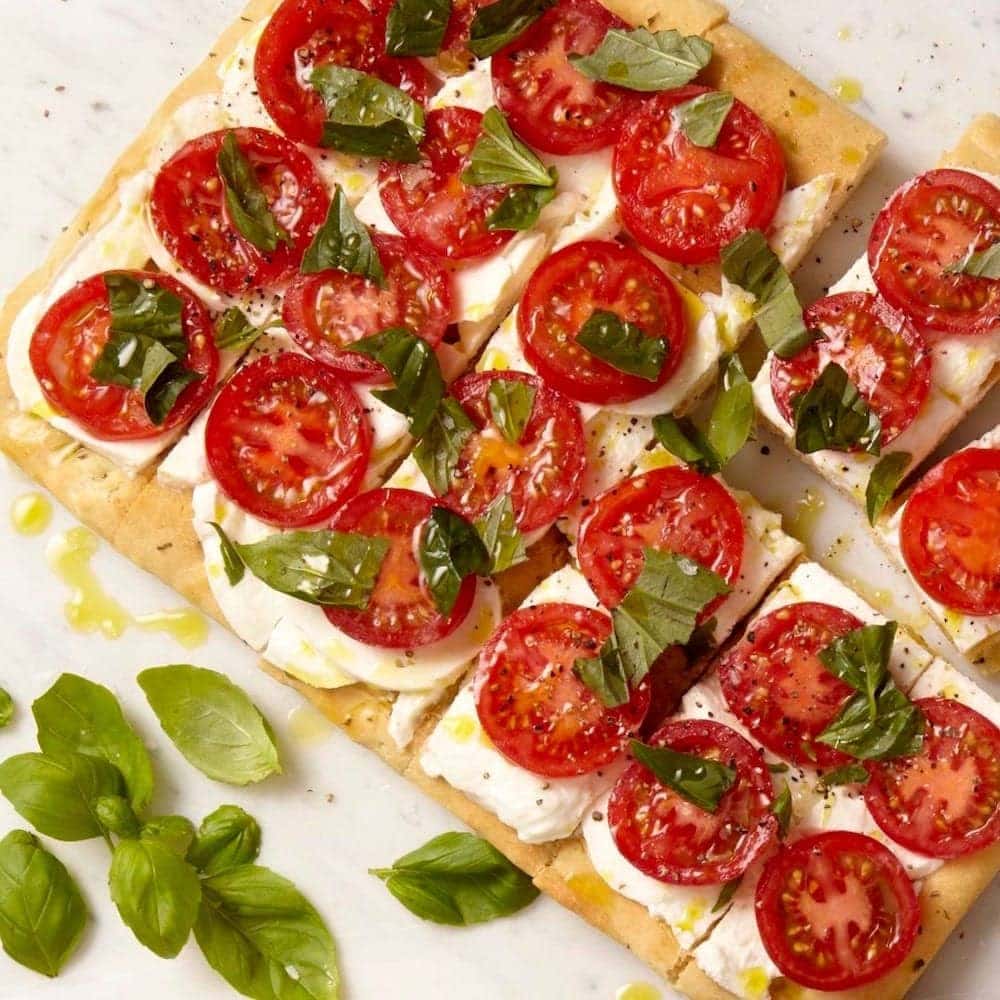 This post may include affiliate links. For more information please see my disclosure agreement.
Caprese is an Italian favorite. A simple combination of mozzarella, juicy tomatoes, and basil. A splash of fruity olive oil and sweet and acidic balsamic vinegar never hurt either. The colors are reminiscent of the Italian flag with red, white and green. Serve it year round, but especially in the summer when the tomatoes are ripe and basil is plentiful.
No matter which way you say it, tomato is an essential part of caprese. Sure I've seen caprese salads with cantaloupe, strawberries, salami and watermelon, but that tomato and basil combo with creamy mozzarella is just perfection.
The best tomatoes are dense and a deep bright red color. You want it to be juicy and flavorful. And how to slice those tasty tomatoes? A sharp knife! Oh please sharpen your knives if you haven't for a while. It makes cooking so much more fun, and safe for your little fingers. In the meantime I do love a serrated tomato knife. They are created to remove the stem as well as easily break the shiny skin and slice right through.

How to choose olive oil:
Olive oil is a staple ingredient for every kitchen, but have you ever stood in grocery store intimidated by the overwhelming number of options? With these simple tips you no longer need to fear the wall of oils. Save all that anxiety for the cereal aisle!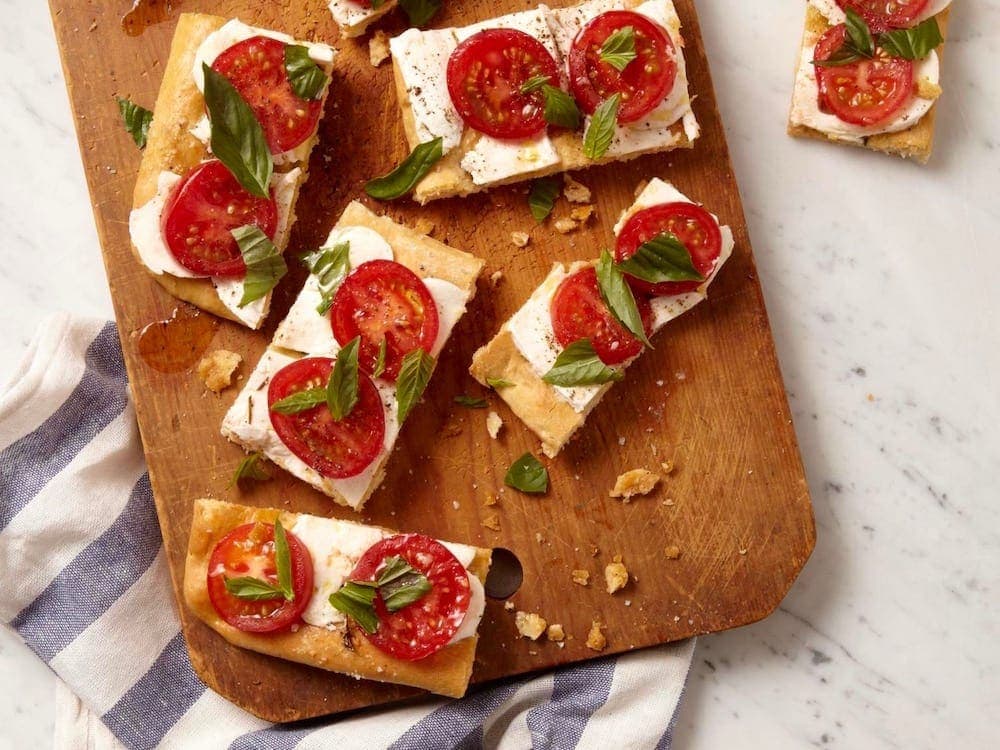 • First, look for the label that says first press olive oil. This will be the most flavorful. Often it appears cloudy if it hasn't been overly processed. This kind tastes delicious as a finishing oil, drizzled on dishes at the end of cooking, or used in vinaigrettes. Make sure you pick oils labeled extra virgin for finishing oils, it's the highest grade of olive oil.
My take on a classic is caprese focaccia! Already assembled bites of this Italian salad sit on top of chewy bread for the perfect appetizer or snack.
• Find the freshest olive oil. How do you find fresh oil? Look at the harvest date! It should be listed on the bottle, but it may be in a tiny font. The longer the time between it being harvested and processed to consumed, the more opportunities it has to degrade.
• Smell it and taste it! Of course, don't be the person open bottles at the grocery store. But make sure you smell and taste it at home before you cook. One of my favorite parties is inviting people over for an olive oil tasting. Everyone is tasked with bringing a nice bottle of olive oil, I provide the baguettes and cheeses and we taste to discern which is nutty, fruity, bitter, etc.
• Olive oil can be greatly affected by light and air, so here are some tips for protecting it from damaging sunlight:
Choose the darkest bottles
Store the bottle in cool, dark places
Wrap your bottle in foil if it is exposed to light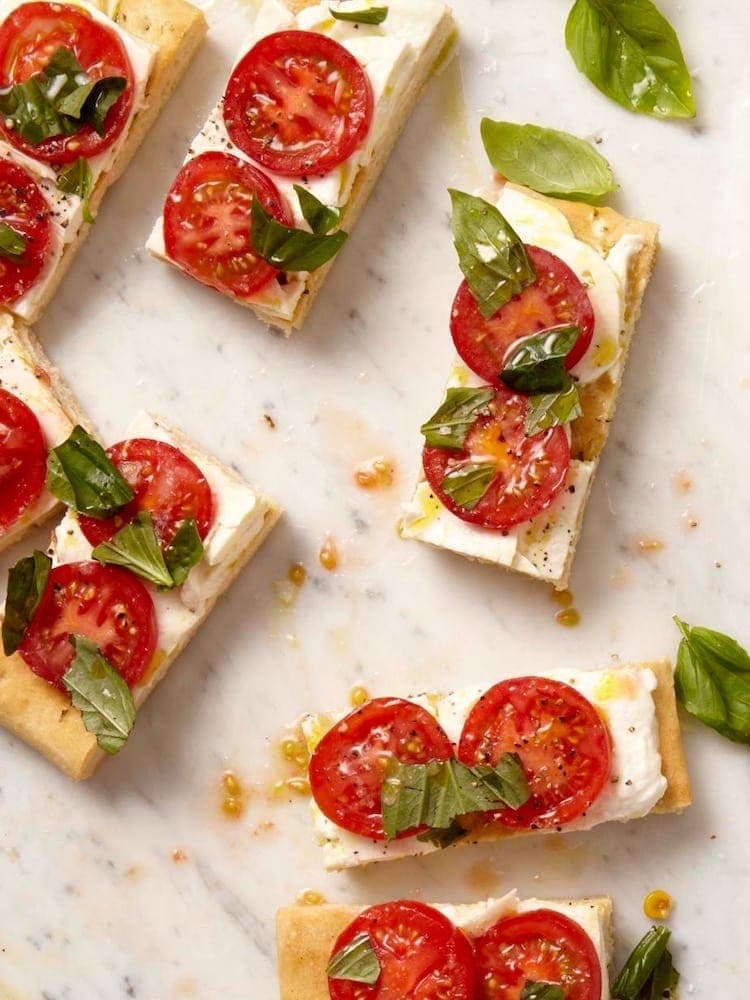 What makes this caprese focaccia easy? It's the shortcut I use with frozen pizza dough. Focaccia is a flatbread often just seasoned with salt and olive oil, and has the texture of pizza crust. Some focaccia is more fluffy and light, but for a flatbread variation I love swapping in simple pizza dough. Sure you could make your own, but this recipe is fast and easy when you use frozen or refrigerated.
This is the perfect summertime pizza recipe. The fresh ingredients make it light and refreshing.
Spread it into a 9-by-13-inch pan to hold it's shape. If you have quarter sheet pans at home, those are as close to 9-by-13 as ever and then you just have short rims to deal with instead of a deep pan. Make sure your pan is oiled well and press the dough into all four corners. It bakes up in a perfect shape for cutting into small appetizer pieces or wedges for a dinner side.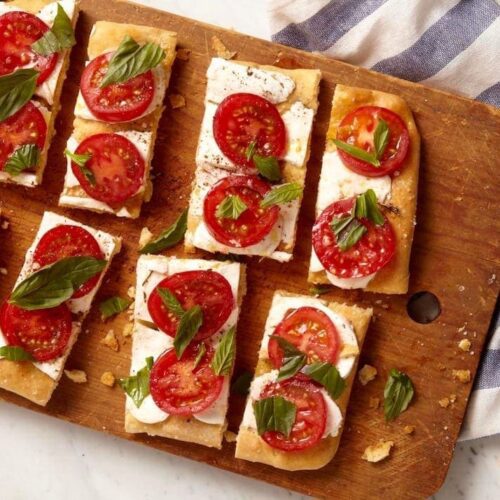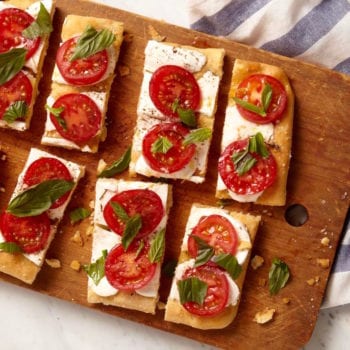 Easy Caprese Focaccia
Abundant summer tomatoes make this easy caprese focaccia extra delicious. 
Course:
Appetizer, Side Dish
Keyword:
caprese, Caprese Focaccia, focaccia
Ingredients
1

lb

thawed frozen pizza dough

thawed

1

tablespoon

olive oil

1/2

teaspoon

kosher salt

1 1/2

teaspoons

chopped rosemary

1

lb

fresh mozzarella

4 to 5

small

tomatoes

ground black pepper

chopped basil
Instructions
1. Heat oven to 375ºF. Press thawed pizza dough into a generously greased 9-by-13-inch baking pan (quarter sheet pan). Make deep indentations all over the top with your fingertips, drizzle with olive oil and sprinkle with kosher salt and rosemary.

Bake until golden, about 30 min; cool and remove from pan.

Cut 1 lb fresh mozzarella into thin slices and lay all over the top of the foccacia. Top with slices of tomato. Sprinkle with extra salt and pepper. Top with torn or chopped basil and drizzle with extra olive oil to serve. Cut into 10 pieces.
Recipe Notes
The best tomatoes are dense and a deep bright red color.
Nutrition Facts
Easy Caprese Focaccia
Amount Per Serving
Calories 260
Calories from Fat 108
% Daily Value*
Fat 12g18%
Cholesterol 35mg12%
Sodium 728mg32%
Potassium 34mg1%
Carbohydrates 22g7%
Protein 13g26%
Vitamin A 305IU6%
Calcium 229mg23%
Iron 1.4mg8%
* Percent Daily Values are based on a 2000 calorie diet.
Pin this flatbread pizza recipe you can make at home!

Want other recipes with mozzarella? Try these:
Easy Mozzarella and Eggplant Panini
5 Mozzarella Stick Snack Hacks
Written by Tara & Brittany Smart. Recipe by Tara and Hilary Merzbacher. Photo Peter Ardito, Food styling Alison Attenborough, Prop styling Courtney De Wet, originally published in LHJ Aug 12.