---
A fruit salsa recipe for every season! Fruit takes center stage on a dip that is usually reserved for the lone tomato! These salsas are the unsung hero of summer sides.
---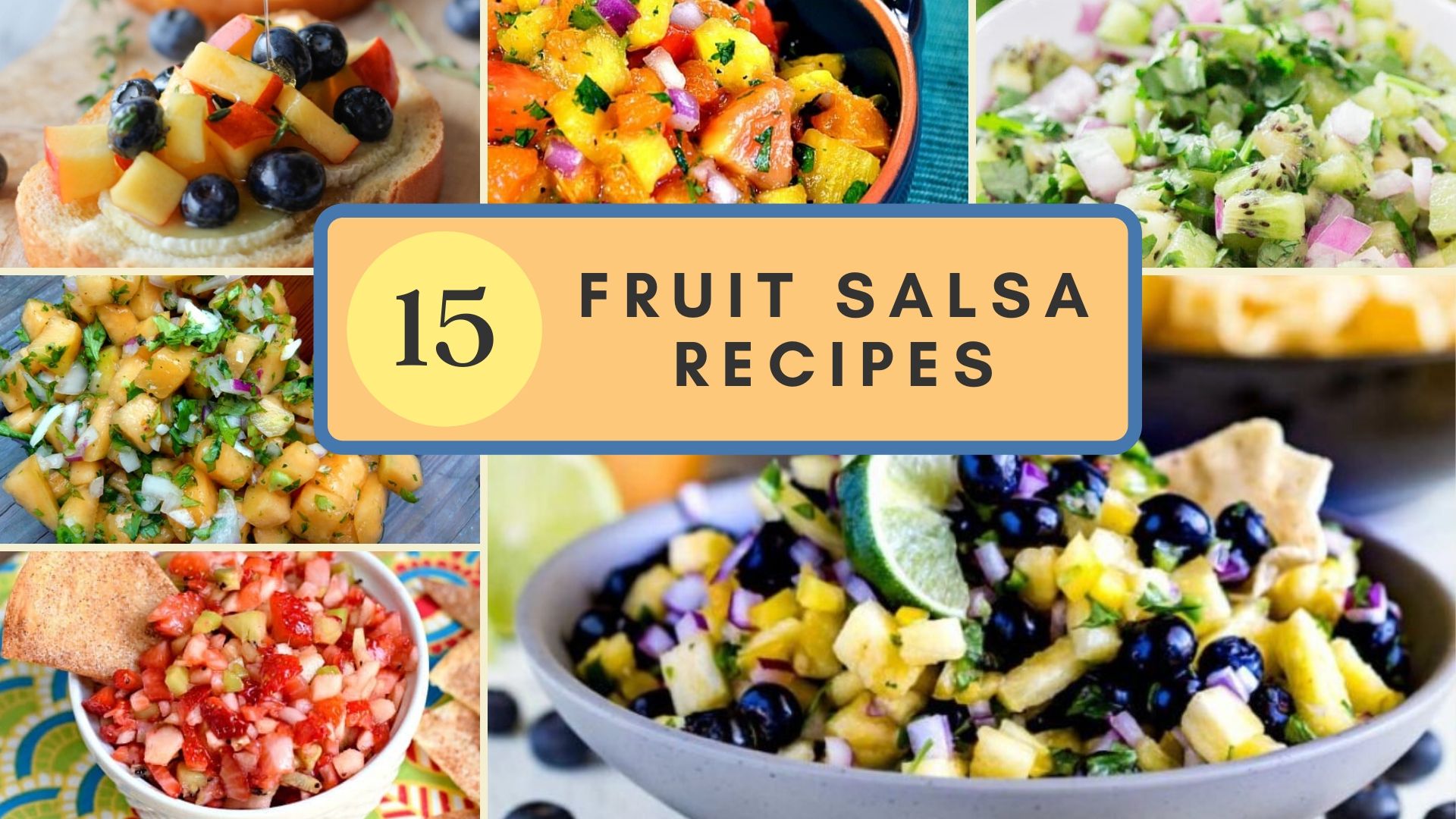 I love salsa, but it seems tomatoes are always hogging all the salsa glory. Quite frankly, I'm tired of it. It's high time we gave other salsas their moment in the spotlight.
That's why I'm dedicating this post to the unsung heroes of the salsa world. Yes, I'm looking at you, fruit salsa.
I've searched the far corners of the Internet to bring you 15 amazing fruit salsa recipes that are sure to blow your mind, or at the very least, explode your tastebuds.
For more of my favorite summer dips and salsas try these:
Fruit salsa recipes for all seasons
The great thing about fruit salsa is its versatility. You can eat it alone, use it to compliment your favorite main dish, serve it with tortilla chips, or my personal favorite, eat it on cinnamon crisps.
Without further ado, I give you the stars of today's salsa show:
---
If you're looking for a classic fruit salsa recipe, then look no further than this tasty concoction. With just five ingredients, this will go from your cutting board to your mouth in no time flat.
2. Blueberry Pineapple Fruit Salsa
The fresh jalepeño and optional Sriracha sauce bring the heat to the party in this bright blueberry and pineapple salsa.
Apricots, pineapple, and papaya, OH MY! You'll practically hear ukuleles serenading you every time you take a bite of this island favorite.
This is both an appetizer and a centerpiece. You can serve this watermelon salsa right out of the watermelon it came from. That's one less dish you have to wash after you and your guests have indulged in this treat.
If you're looking for something tart, zesty, and tangy, then you can end your search with this green apple salsa.
6. Blueberry and Peach-Thyme Salsa
I love the idea of toasting a baguette and adding some goat cheese and this salsa. Come on, it's just begging to be eaten at a picnic or garden party.
Jerry James Stone has truly outdone himself with this kiwi salsa. Not only does he give the recipe, but you'll also find a video on how to peel a kiwi. Delicious and helpful.
8. Strawberry, Avocado and Feta Salsa
Strawberries—check. Avocado—check. Feta—check. It's official, this salsa has successfully combined three of the tastiest summer ingredients.
This fruity mango salsa recipe is great with chips, but fantastic on top of fish or chicken. Try it both ways!
You'll get a kick, quite literally, from this watermelon salsa. It's great as a dip or fresh salad.
You could use mango instead of cantaloupe in this salsa. It tastes so good, you won't believe it only takes ten minutes to prepare.
The blackberry salsa wasn't meant to be the star, but luscious berries like that can't help but steal the show. Sorry, sweet potato quinoa cakes, you just got upstaged.
13. Rainbow Fruit Salsa Cheesecake Dip
The only thing better than digging into a big bowl of fruit salsa is digging in and finding a layer of sweet no-bake cheesecake underneath! Make sure there are other people around when you make this recipe or else you might just eat the whole thing yourself.
There's no kick to the summer berry fruit salsa but you won't hear me complaining. Even your mouth needs some time to cool off, and this fruity treat is the perfect way to beat the heat.
15. Fresh Mango Salsa with Avocado for Tacos
A stone fruit salsa with mango and avocado is both juicy and creamy and rich. Delightful on chips and great on tacos.
People also ask:
Newest recipes from Tara Teaspoon!