---
Fish with Mango Salsa is an easy dinner that takes a simple, healthy protein and combines it with a zesty mango salsa. A completely satisfying and family-pleasing seafood dinner.
---
Serve seafood with fresh mango salsa and the whole fam will be happy about dinner. This easy salsa with mango, red onion, tomatoes, scallions, lime and cilantro is perfection.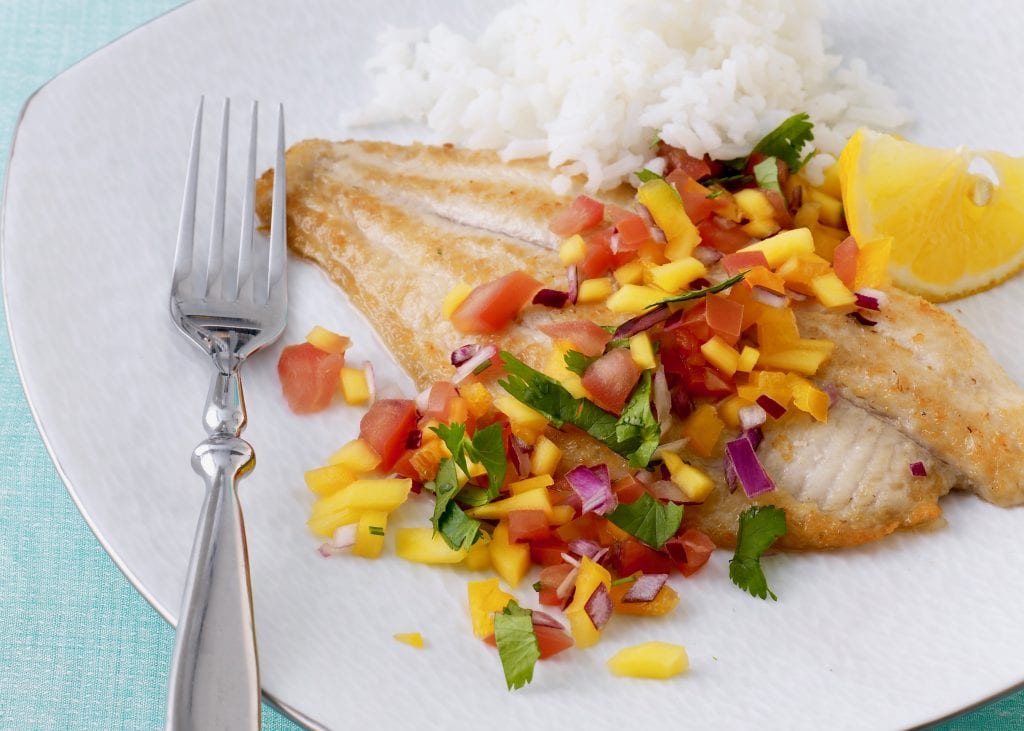 Jump to:
Fish is one of my favorite proteins, for anytime of year. It's not heavy for summer, and in the winter, it's a light meal that makes me feel healthy.
For more seafood meals, make sure to try One Pan Coconut Fish Curry and my Grilled Fish with Caper Herb Salsa and Corn.
Mango salsa is not just for fish
Fruit salsa is so fresh and fun to eat on seafood, flank steak or chips. I have a killer recipe for Fish Tacos with Mango Salsa! This colorful confetti salsa is pretty great served on other things too.
Of course this mango and tomato salsa is delicious on salty tortilla chips, crispy baked chips, cracker and on a Mexican snack board.
I mix fruit into guacamole all the time and this salsa is great stirred into mashed avocados.
You can even serve this right on a green salad, or with pork tacos.
How many varieties of mangos exist?
Believe it or not, there are so many varieties of mangos you can't quite get a straight answer. Sites from Google say there are over 1000 varieties that grow in the world. Wikipedia says over 500. The National Mango Board sites 7 varieties that we are most likely to find throughout the year here in the states.
They are all sweet and buttery, but if you try different varieties next to each other you can tell they have a slightly different flavor, almost aromatic, like different flowers.
Any mango variety tastes great in this mango salsa. The sweetness pairs so well with juicy tomatoes, bell peppers, onions and herbs. A splash of lime juice brightens everything.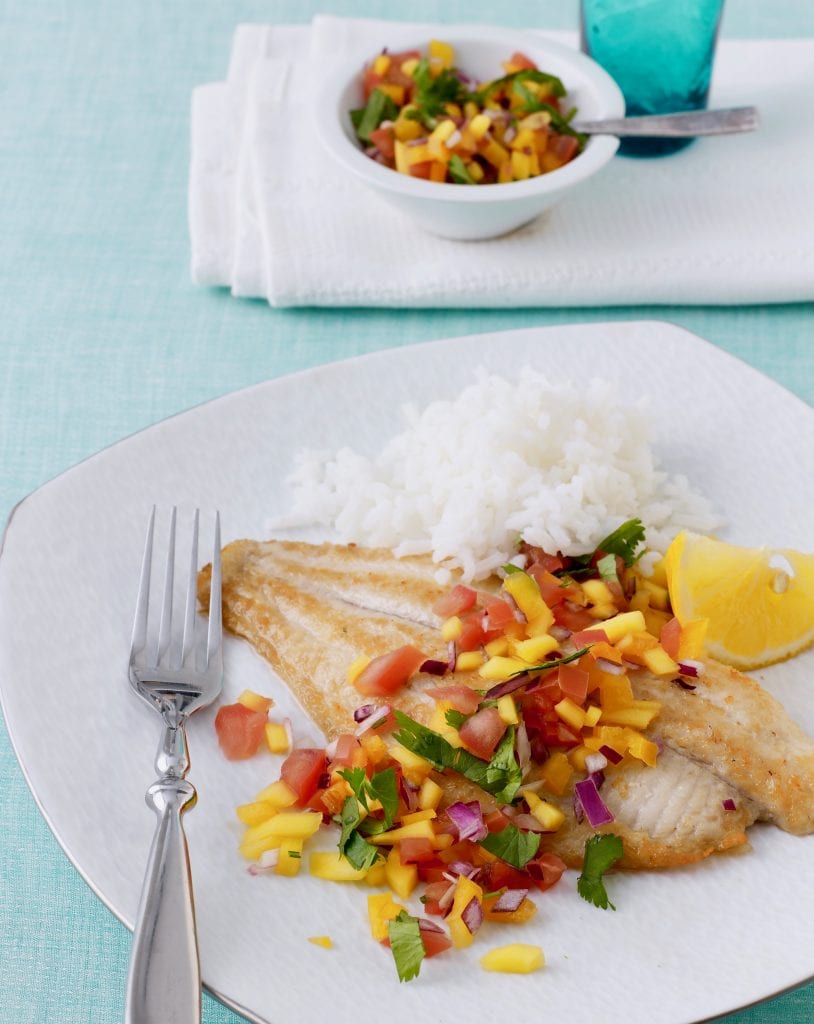 Ingredients for fresh mango salsa
This is a mango and tomato salsa, so without the fruit it would almost be a regular red salsa. I added bell peppers and love mixing up the colors using yellow or orange peppers or even heirloom orange or yellow tomatoes.
This simple salsa only has 8 ingredients:
2 diced tomatoes
1 diced mango
Half a diced yellow or red bell pepper
2 chopped scallions
1 handful chopped cilantro
Half a chopped red onion
1 handful chopped parsley
1 tbsp. lime juice
Mango salsa for fish
The zesty burst of the lime and the sweetness of the mango add a great flavor dimension to fish. I personally love to add this easy mango salsa to my filleted flounder, but you can add it to any white fish such as tilapia or halibut.
To save time and work, I typically buy my fish already filleted. You can find fillets at the store, both fresh and frozen. It doesn't matter!
The best way to thaw fish is by placing it in the refrigerator overnight to gradually de-ice. By thawing it overnight, the fish flavor and texture is preserved. However, if you're in a rush, place the fish in cold water for an hour before cooking.
How to broil fish:
Broiling fish one of the easiest ways to prepare it. This cooking method can be done with almost any kind of fish, just adjust the cooking time for the thickness of the fillets.
First, season your fish with a little salt and pepper. You can add a slice of lemon or place it over herbs if you like as well.
Place on a broiler pan or sheet pan and set under a hot broiler, about 6 inches from the heat source.
Broil for 5 to 8 minutes, depending on the thickness of your fish fillet. The fish is done when it is opaque all the way through and flakey.
After you have grilled or broiled your fish, spread your homemade mango salsa on top and viola, you have a flavorful, healthy dish!
---
Try my 15 Mind Blowing Fruit Salsa Recipes for other unique and fresh salsas!
---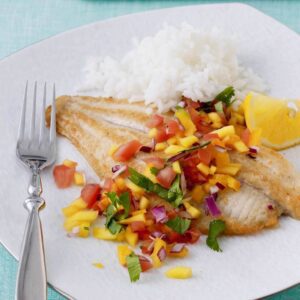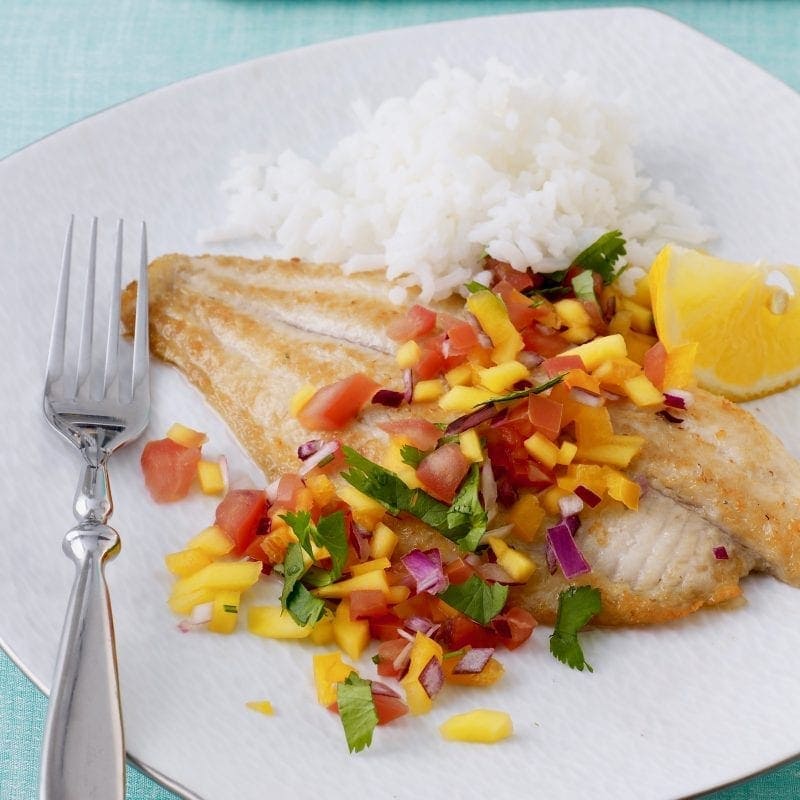 Fish with Mango Salsa
Fish, like tilapia, flounder or halibut with mango salsa makes a delicious meal. This recipe takes a simple, tasty protein and combines it with an easy, zesty salsa, leaving you completely satisfied.
Ingredients
2

small tomatoes,

diced

1

mango,

diced

½

red or yellow bell pepper,

diced

½

small red onion,

chopped

2

scallions,

chopped

1

tablespoon

lime juice

¼

cup

cilantro,

chopped

¼

cup

parsley,

chopped

kosher salt and pepper

4

small

fish fillets,

tilapia, flounder or halibut
Instructions
Mix together the tomatoes, mango, bell pepper, onion, scallions and lime juice. Stir in the cilantro and parsley and season to taste with salt. Set aside.

Heat broiler to high. Set rack about 6 inches from the heat source. Season fish with a little salt and pepper.

Place fish on a foil-lined broiler pan and broil for 5 to 8 minutes, depending on the thickness of your fish fillet. It is done when it is opaque all the way through and flakey.

Alternatively you can grill or saute your fish.

Serve salsa over broiled fish.
Notes
Salsa can be stored in the fridge for up to a week.
Nutrition
Serving:
1
g
Calories:
58
kcal
Carbohydrates:
13
g
Protein:
2
g
Fat:
1
g
Saturated Fat:
1
g
Cholesterol:
1
mg
Sodium:
9
mg
Potassium:
321
mg
Fiber:
2
g
Sugar:
10
g
Vitamin A:
1981
IU
Vitamin C:
55
mg
Calcium:
25
mg
Iron:
1
mg
Pin this recipe: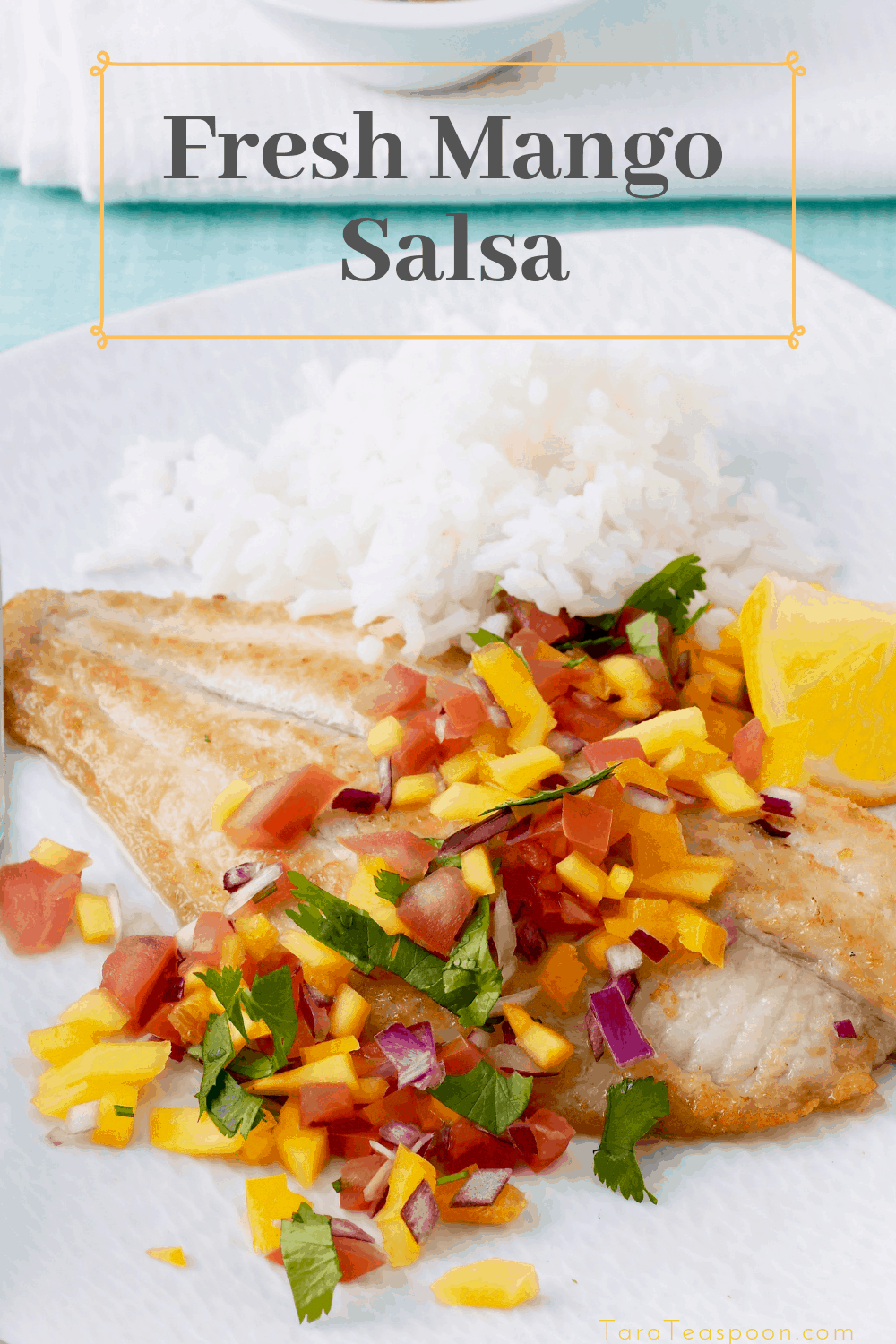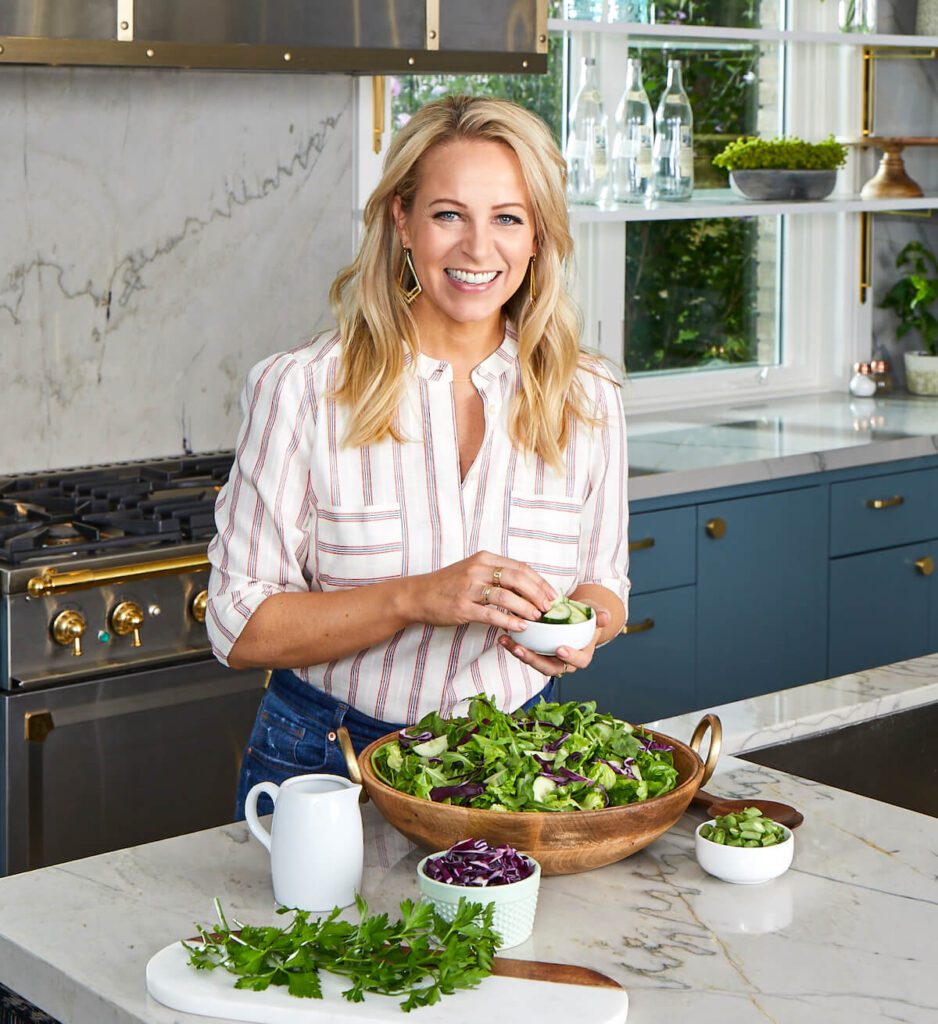 About Tara Teaspoon
I've been in the food publishing business for over 20 years, creating recipes & food-styling for magazines, books, television & advertising. Order my new cookbook & stick around for amazing things to eat.
Recipe Tara Teaspoon. Food Styling Jee Levin. Prop Styling Lynda White. Photography Hallie Burton. Originally published in LHJ 5/10.