---
This beautiful way of making a 7 Layer Dip recipe takes the quintessential party food and creates the most impressive restaurant worthy appetizer you'll ever serve. With one new, simple plating tip, this Mexican layer dip is completely transformed.
Try my Oven Baked Nachos Recipe, Grilled Zucchini Baba Ganoush, Mozzarella Bites, and my Red Pepper and Almond Romesco Dip for more crowd-pleasing snacks!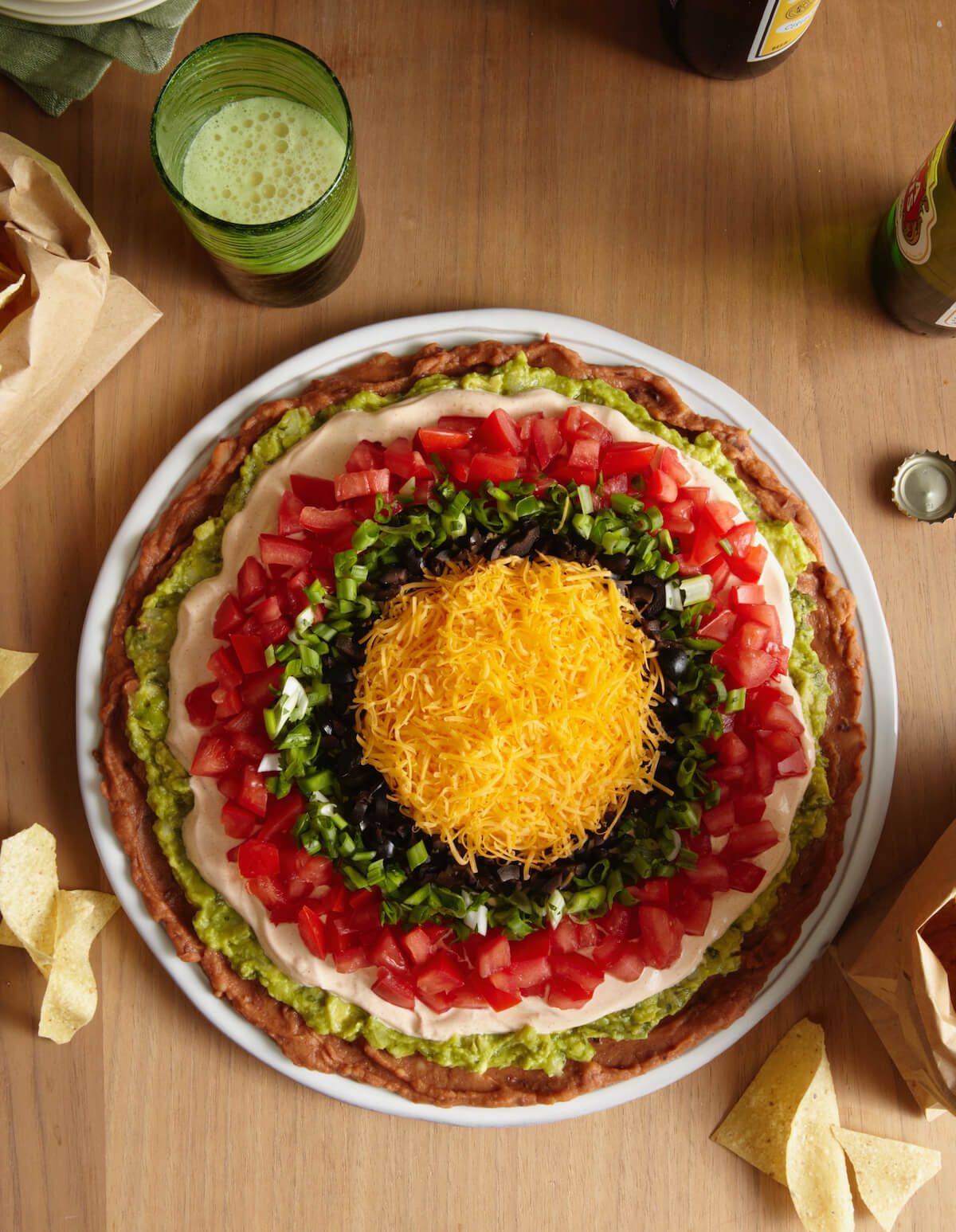 Just try to think of a gathering with seven layer dip that went wrong. You probably can't! They all rocked! Parties are just better with a 7 layer dip and chips.
Jump to:
Step by step visuals for how to make this seven layer taco dip are below, lest you are confused by it's gorgeous bulls-eye look.
If you get too much praise, admiration and attention from fellow party goers when you set this beauty on the table--feel free to blame me. I'll take it!
There are numerous versions of this classic bean dip recipe. Most are layered lovingly in a 9-by-13-inch glass Pyrex dish and get spooned out – tasting great, but looking not-so great.
Thanks to my family for this improved version of a classic party appetizer, I'll show you how to make this seven layer dip simply spectacular.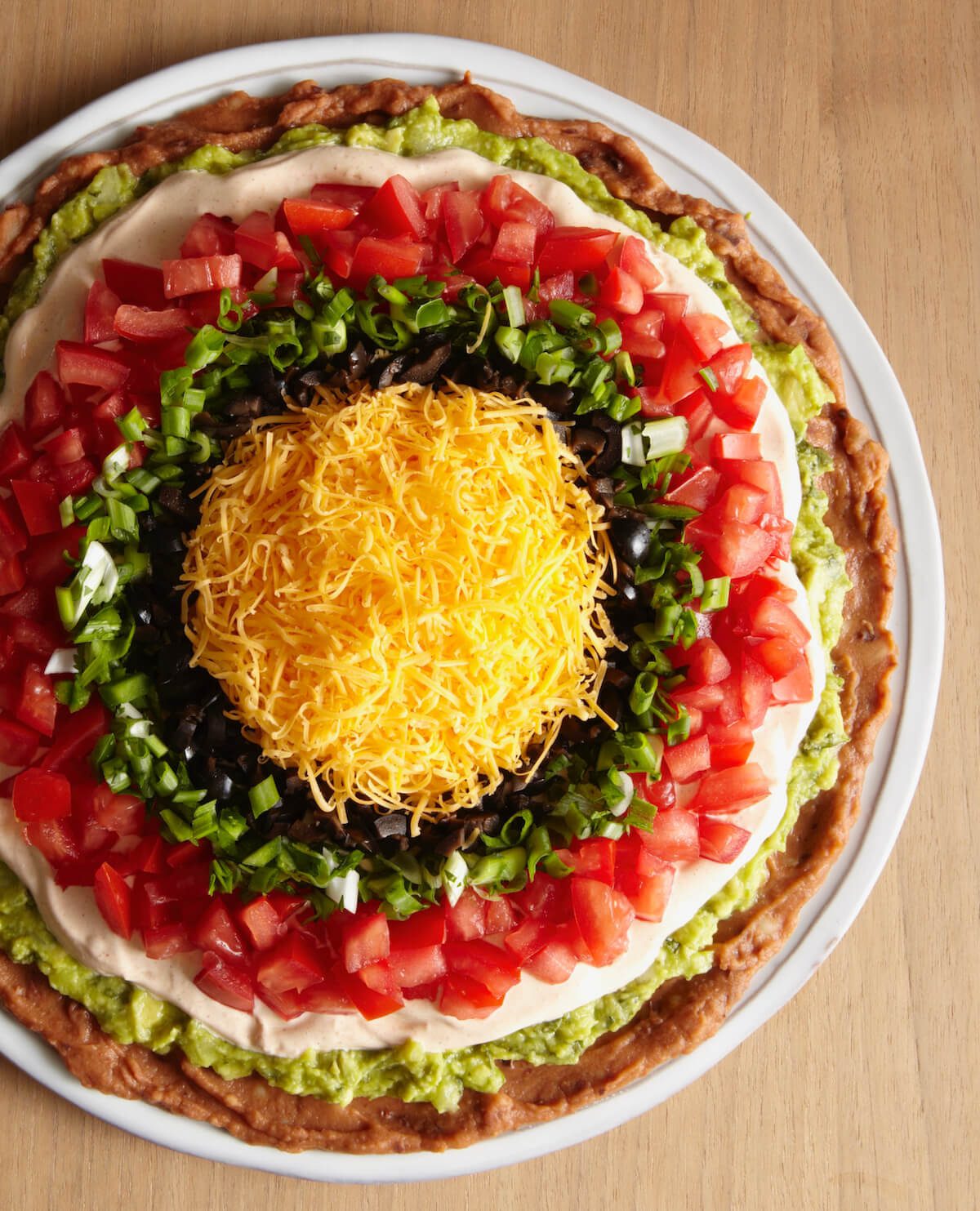 Seven Layer Taco Dip That Looks Amazing
Family inspired: (thanks Aunt Ruth), my technique for serving this heavenly snack makes it as gorgeous as it is delicious.
The first three layers get stacked one on top of the other and the remaining four (check my math) are arranged bullseye-style in the center.
Keep scrolling to see step by step directions for making this old fashioned 7 layer dip look like a centerpiece.
How To Make Mexican Layer Dip
All the delicious flavors are still there from that classic appetizer you are familiar with.
Spicy bean dip is mixed with refried beans to make the base super flavorful. Spread this mixture to the edge of your platter.
2. You can make your own guacamole or get a container of already prepared.
After spreading the refried beans on the platter, gently smooth the guacamole on top, leaving about a half inch of the beans showing.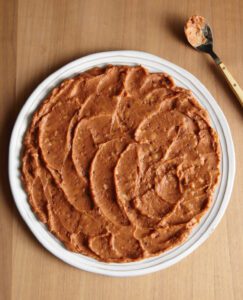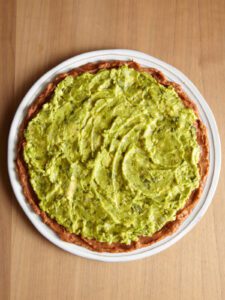 3. The smooth sour cream layer gets a zesty mix of taco seasoning, which makes every bite perfection.
The flavor intensifies as the sour cream and taco seasoning mixture sits. So if you are adjusting for taste, keep this in mind.
4. Here's the deal with adding fresh tomatoes to seven layer dip. I like to remove the seeds and the juices from the inside of the tomato so it doesn't drip all over my dip.
After removing the seeds, cut your tomatoes into small dice. Nice little pieces are easier to arrange in a wreath pattern on top of the sour cream.
Notice with each layer, you should leave about ½ inch of the layer below showing. This lets everyone know what they are getting when they dig in!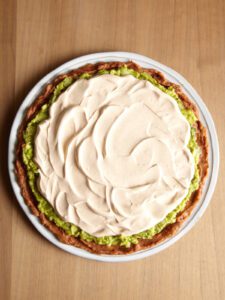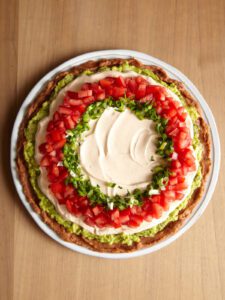 5. Scallions and jalapeños come next. I love the mix. If you don't want the spice, just leave out the chilis and add more scallions.
Arrange this green mixture close to the inside of the tomato ring.
6. Finely chopped black olives and grated cheese come next. The circles are getting smaller, so this is tedious work!
I like to grate my cheese on those seldom-used, small holes of a box grater. It's the perfect texture for the look I want on this Mexican layer dip.
It's really quite easy, but you get the idea of the rings.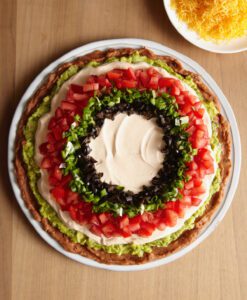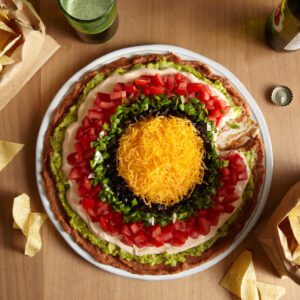 Tips for 7 Layer Bean Dip
Making the layered dip on a round platter (12 to-14 inches diameter), and creating a bulls-eye pattern with the layers is gorgeous and impressive.
Even a large cake stand would work as a platter. Just a tip, the larger the platter, the easier it is to create beautiful layers. A dinner plate just won't do. You'll be squeezing everything in.
All the beautiful ingredients aren't hidden in a deep dish when you make the beautiful 7 layer dip.
Invite guests to scoop from the outside in to get all seven genius layers on your plate.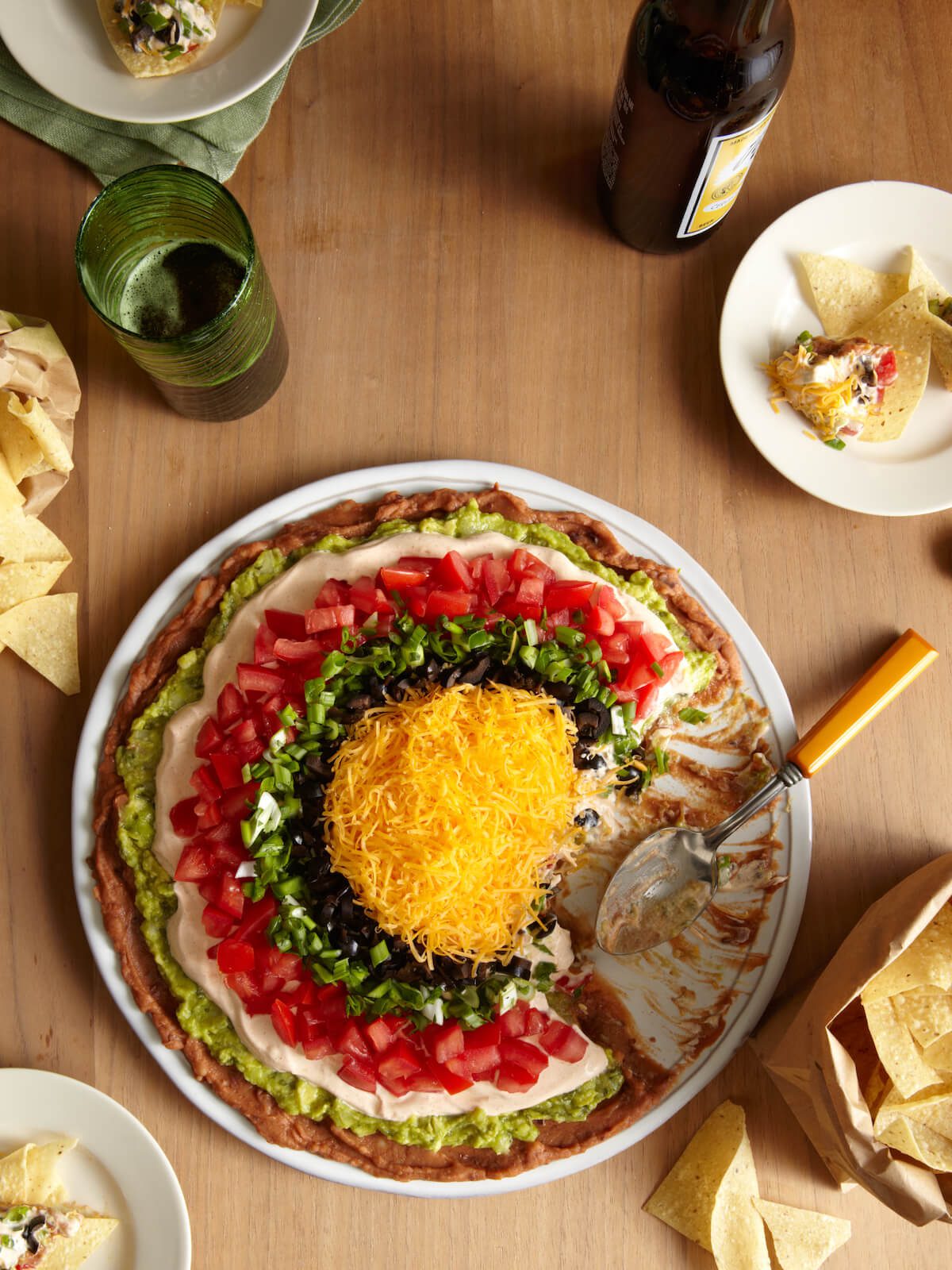 Ingredients In 7 Layer Dip
Scroll down to the recipe below for ingredient quantities and the full instructions.
Bean Dip - Prepared store-bought bean dip is mixed with the refried beans to add flavor. You can use mild or spicy bean dip.
Refried Beans - A can of refried beans acts as the base of this classic dip.
Guacamole - Use homemade guacamole or prepared store-bought. Either way you'll want a simple guac here, so the flavors of the other layers can stand out.
Sour Cream - Use regular or low-fat, but mix it with the taco seasoning and mayonnaise to get the ultimate creamy layer for this 7 layer dip.
Mayonnaise - Just a little mixes with the sour cream to give a silky texture to that layer.
Taco Seasoning - The delightful mixture from a packet of taco seasoning is the flavor for the sour cream layer.
Tomatoes - You will remove the juice and seeds from the tomatoes and dice them into small pieces, so the dip isn't too juicy, but you still get the great flavor.
Scallions - Thin green onions, both the white and green parts are part of the bright green layer on top.
Cilantro - The quintessential Mexican herb is mixed with scallions and jalapeño to create a flavorful punch.
Jalapeño - Finely chopped, this is hardly noticeable, but adds a sophisticated flavor to this party dip.
Black Olives - You'll love the pop of color they add to the dip, but also the zing of flavor. The key here is to finely chop them so they create the tiny circle in the middle.
Cheddar Cheese - The classic yellow color creates the center of this gorgeous dip.
Chips - Make sure to have plenty of corn or tortilla chips ready for guests.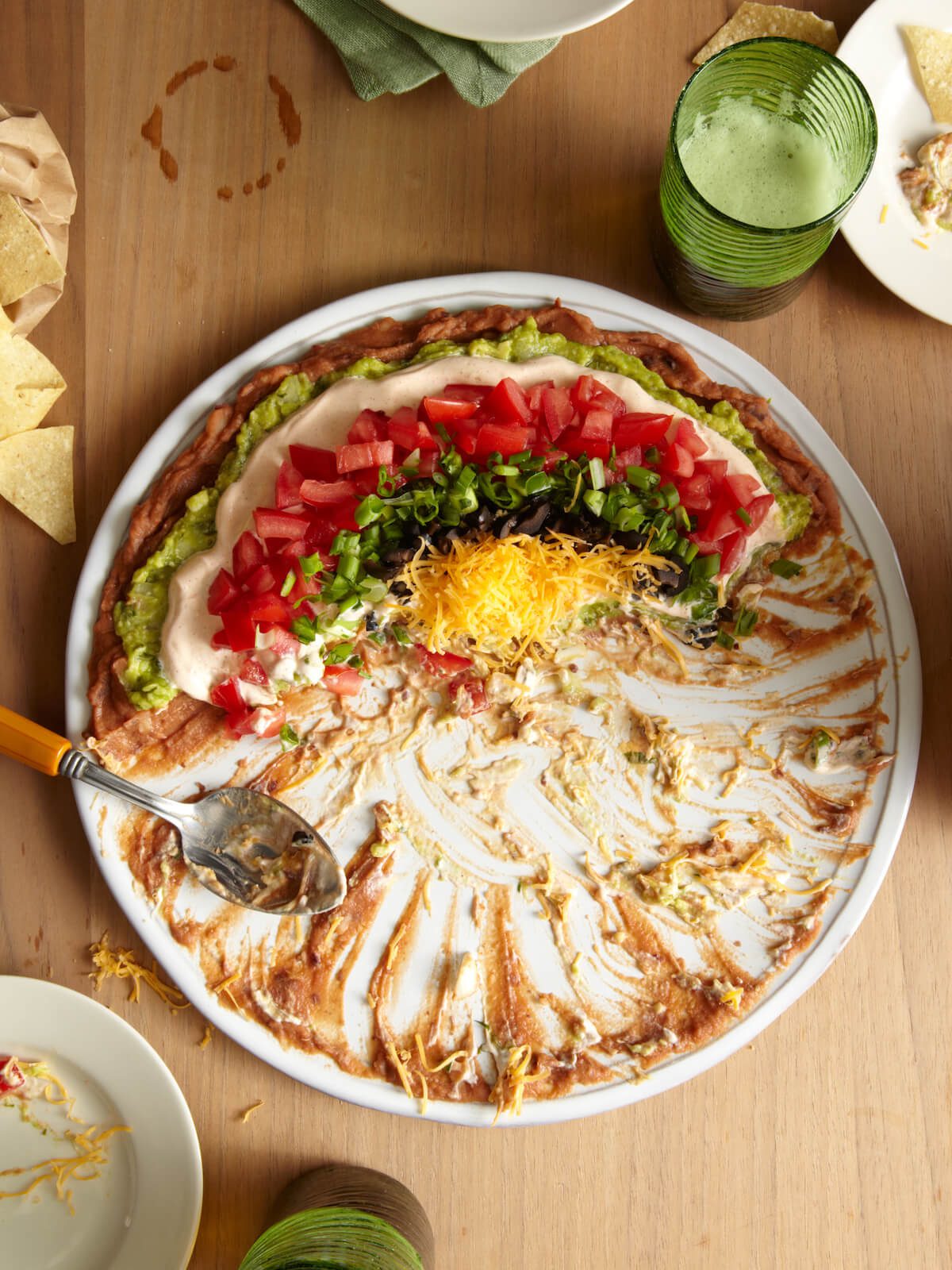 FAQs
Can I customize the layers in 7 layer Mexican dip?
The dip is usually the same 7 ingredients, but you can choose other favorite taco ingredients to use. Just be sure that the layers are sturdy enough to hold everything.
Can I prepare seven layer bean dip in advance?
Yes, it can be prepared several hours in advance. Any time before that the flavors may melt together too much. Simply cover dip with plastic wrap and store in the fridge for up to 5 hours before serving.
Can the seven layer taco dip be vegetarian or vegan?
Yes! Be sure to substitute the different ingredients for vegan versions, like sour cream or cheese. With the refried beans, just check the ingredients label on the can to ensure the ingredients are vegan.
Let me know how it went!
Scroll to the bottom of the page to rate ⭐⭐⭐⭐⭐ and comment on this recipe. Leaving comments helps other too!
Need more party platters? Try some of my great nibbles and bites that feed a crowd.
Sunshine Chicken Skewers, Tailgating Kabobs For Game Day, Posh Piggies , or Instant Pot Chipotle Taco Bites for that party crowd!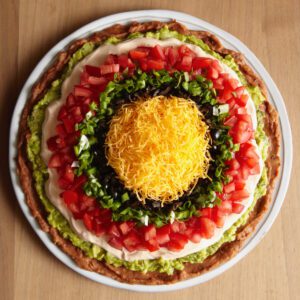 The New 7 Layer Dip Recipe
A new and beautiful way to arrange seven layer bean dip takes the quintessential party food and makes it the most impressive appetizer you'll ever serve.
Ingredients
1

cup

mild or spicy bean dip

1

can

(16-ounce) refried beans

1½

cups

(12-ounce package prepared) guacamole

¾

cup

sour cream

⅓

cup

mayonnaise

2½

teaspoons

taco seasoning mix

1½

cups

seeded and diced tomatoes

3

scallions,

white and green parts chopped

¼

cup

chopped cilantro

1

jalapeño

seeded and finely chopped

1

can

(small can) sliced black olives,

chopped

1

cup

finely shredded Cheddar

Corn Chips for dipping
Instructions
Mix together the bean dip and refried beans until smooth and spread in a thin layer on a large round platter, 12 to 14 inches in diameter.

Carefully spread the guacamole over the top, leaving a small rim of beans around the edge.

Mix together the sour cream, mayonnaise, and taco seasoning and gently spread on top of the guacamole, leaving a border around the edge.

Arrange a ring of chopped tomatoes about ¼ inch in from the edge of the sour cream layer. Mix together the scallions, cilantro and jalapeño and arrange in a ring inside the tomatoes.

Finish with a ring of chopped olives, then put the shredded cheese in the center. Serve with corn chips.
Notes
Make this up to 5 hours ahead. Cover and refrigerate.
Nutrition
Calories:
286
kcal
Carbohydrates:
12
g
Protein:
7
g
Fat:
24
g
Saturated Fat:
6
g
Polyunsaturated Fat:
5
g
Monounsaturated Fat:
11
g
Trans Fat:
0.01
g
Cholesterol:
25
mg
Sodium:
1023
mg
Potassium:
298
mg
Fiber:
6
g
Sugar:
3
g
Vitamin A:
741
IU
Vitamin C:
9
mg
Calcium:
144
mg
Iron:
1
mg
Appetizers, Nibble and Finger Foods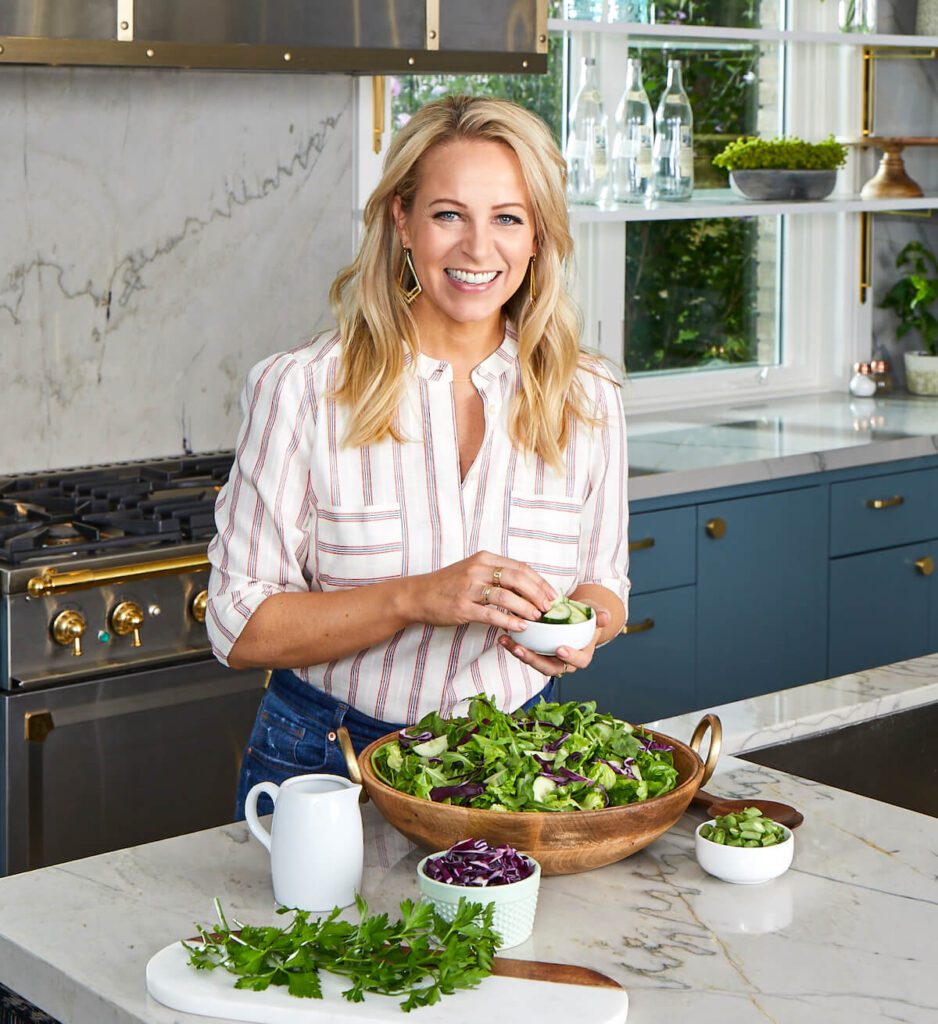 About Tara Teaspoon
I've been in the food publishing business for over 20 years, creating recipes & food-styling for magazines, books, television & advertising. Order my new cookbook & stick around for amazing things to eat.
Recipe by Tara Teaspoon. Adaptation published in LHJ, July/Aug 2014. Photo credits Jennifer Causey. Food Stylist Chelsea Zimmer. Prop Stylist Penelope Bouklas Updated August 2023.