---
BBQ Meatball Subs made in the oven means you have dinner fast. No waiting for the slow cooker! You can make homemade meatballs in minutes, simmer them in sauce and assemble delicious sandwiches on a busy weeknight.
---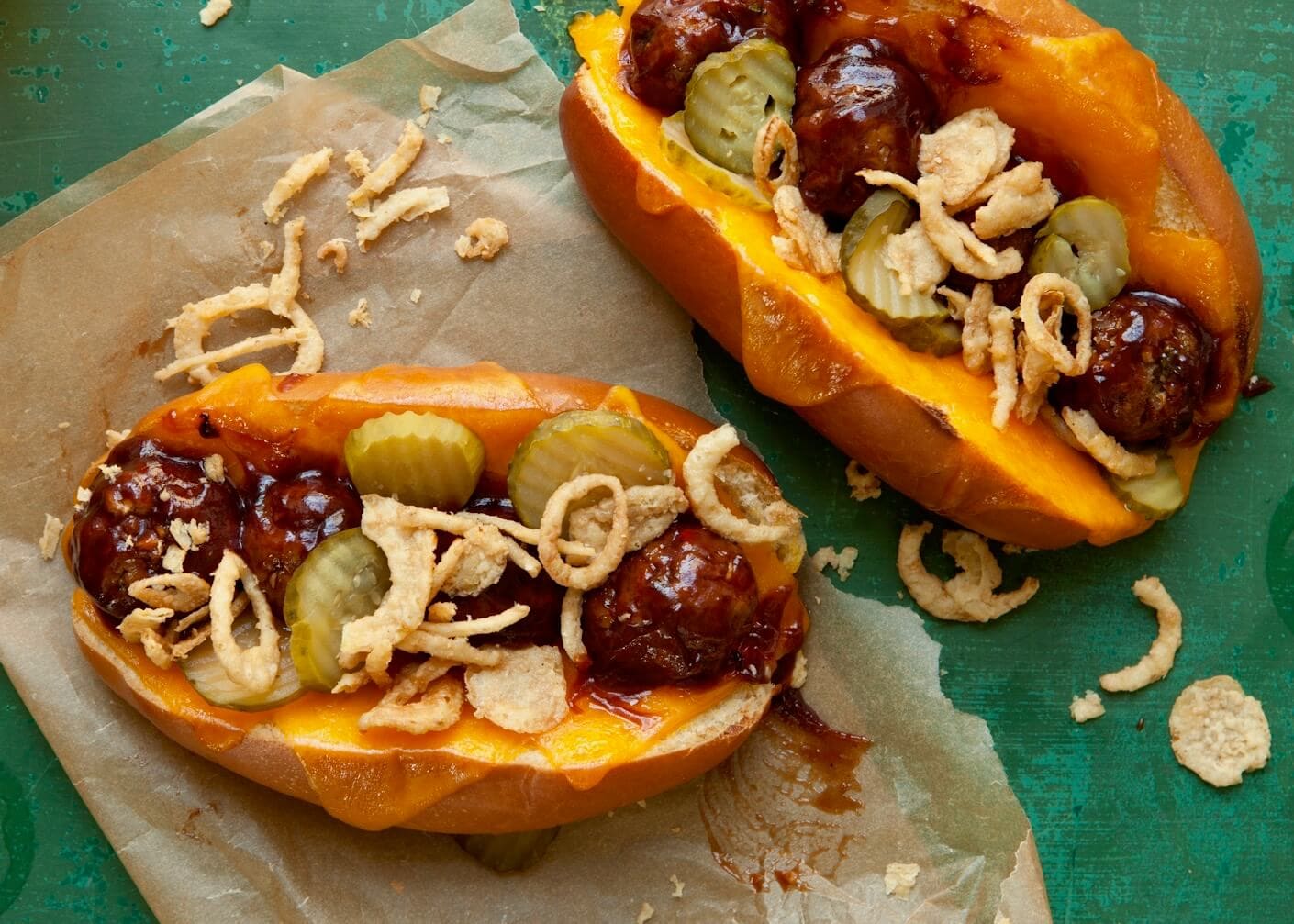 Easy meal alert!!
Make delicious barbecue meatball subs from start to finish in under an hour!
There's no need to wait for the slow cooker for this roadside favorite. Sure that's easy, but you're waiting for hours while your meatballs and sauce simmer.
You can make, roll, and bake meatballs in just a few minutes. Douse them in your favorite BBQ Sauce and top them with crispy onions.
This meatball sandwich is what dinner dreams are made of!
Baked BBQ Meatballs
Obviously meatballs are the main ingredient in this easy meal. I love cooking them in the oven so I'm free to get other things ready while they become delicious!
I make meatballs a lot! Have you tried my Pesto and Red Pepper Meatballs? So good! My Chicken and Cumin Meatballs are dang tasty too.
And a meatball sub in any form is on my list. Try my Open Face Meatball Sub.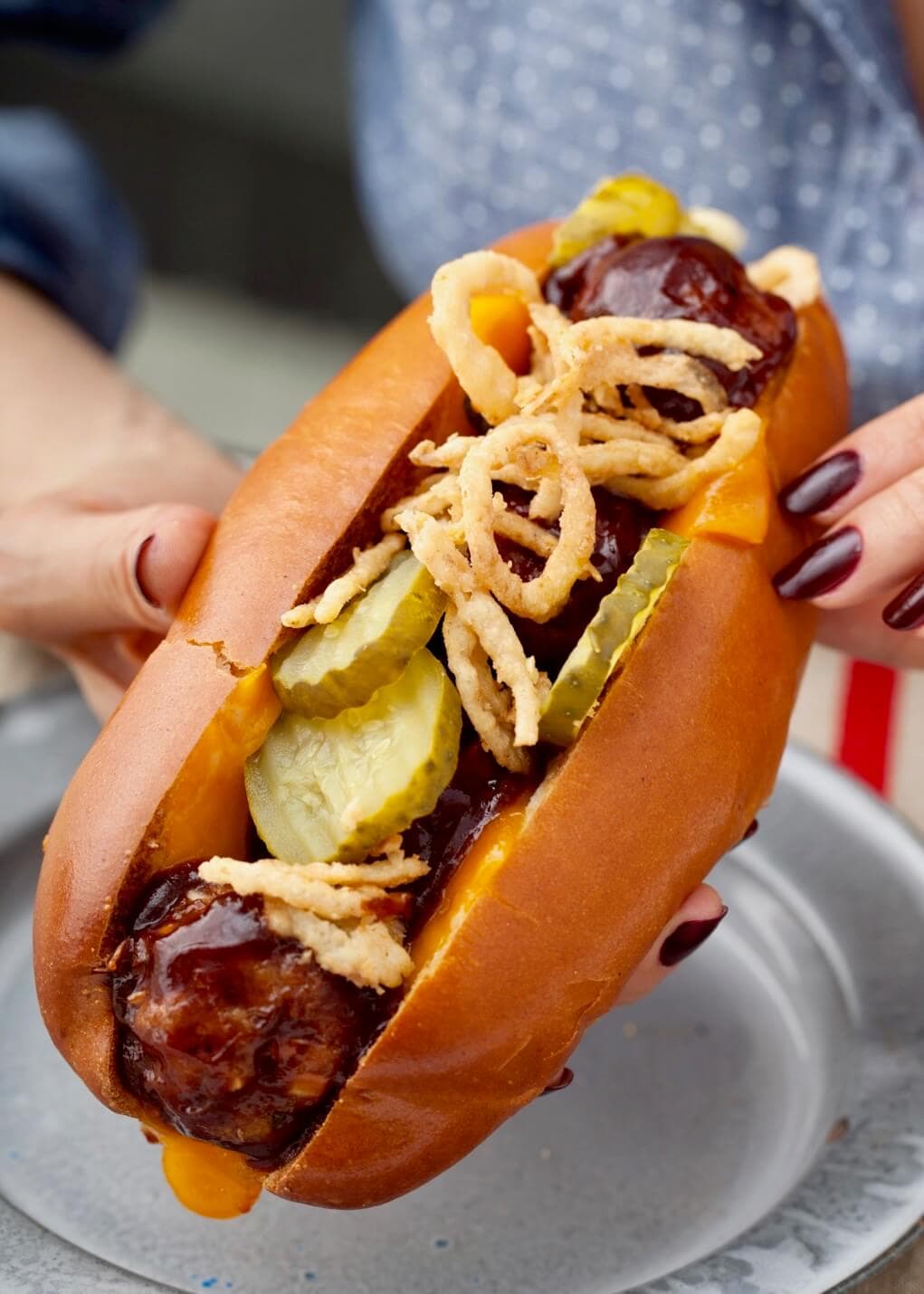 I don't think you have to shy away from making real BBQ on a weeknight. These barbecue meatball subs have all the real flavor you need from the mix of meats and ingredients and the sauce.
I love BBQ anything. Some of my most popular recipes are regional BBQ staples like Kansas City Style Ribs and Memphis BBQ Sauce (which is great on this meatball subs recipe by the way!)
I even have a delicious Barbecue Popcorn recipe you can make at home!
Make these into BBQ Meatball Sliders!
Simply melt cheddar on slider buns and top with a BBQ sauce meatball, pickles and crispy onions. Make a platter for a party.
Busy moms, add this to your weekly dinner menu and it will become a tried and true favorite!
Ingredients in a BBQ Meatball Sub:
Meatloaf mix
Finely chopped onion
Minced garlic
1 Beaten egg
Yellow Mustard
Breadcrumbs
Kosher Salt
BBQ Sauce
Cheddar
Sliced Pickles
French Fried Onions
Hero Rolls
You probably have so much of this in the kitchen already. Grab some meatloaf mix and hoagie rolls and you're good to go!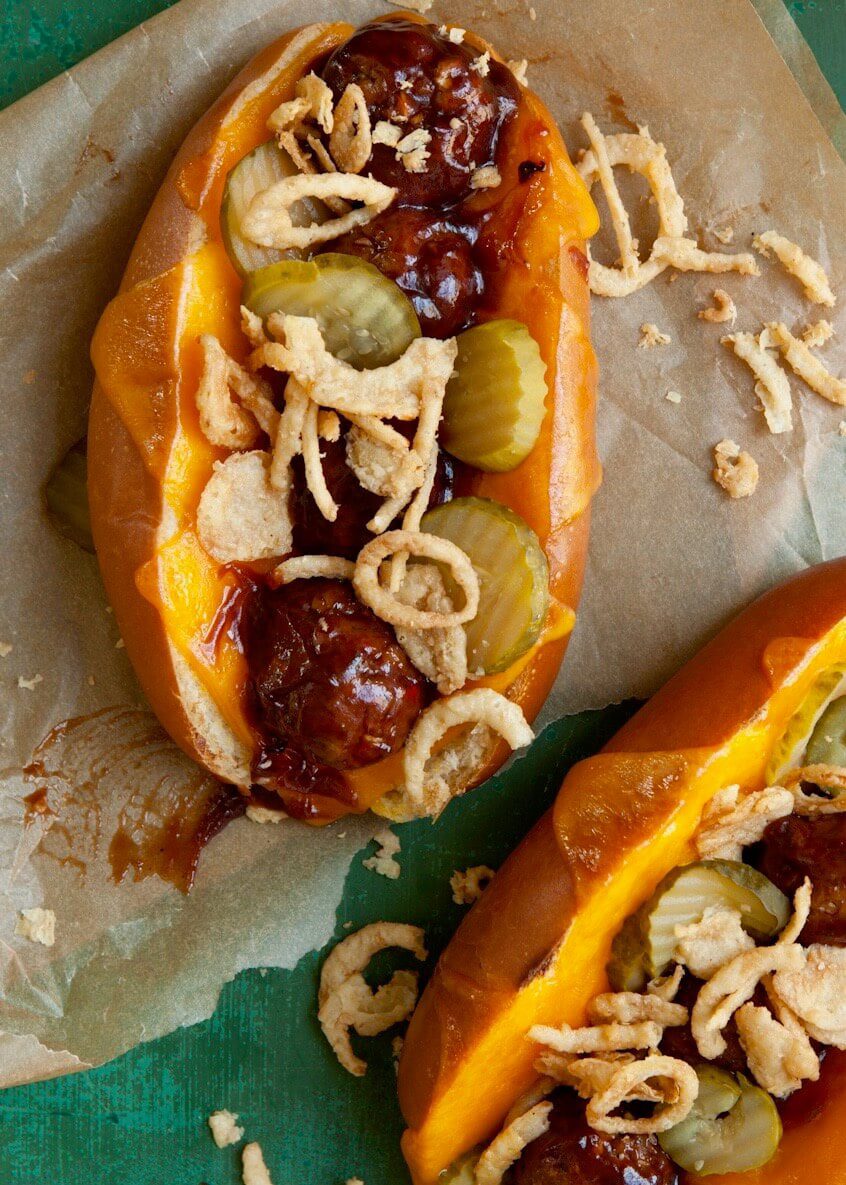 What is Meatloaf Mix made of?
Ground meatloaf mix is a combination of beef, pork, and sometimes veal or lamb. The mix creates varied texture and flavor, perfect for meatloaf and meatballs.
You can certainly make your own if your market doesn't package it for you. I typically mix 60% to 70% ground beef with 30% to 40% ground pork, or Italian sausage out of the casing.
If you mix in Italian sausage, simply remove the casings and use the meat inside. Easy!
The combination gives my meatballs an extra boost of seasoning and fatty richness!
I bake my meatballs!
No need to sauté meatballs in a skillet. That takes time, splatters the stove and makes the house smell.
Line a baking sheet with aluminum foil and place rolled meatballs on it. Bake for about 20 minutes and you are ready to go.
HINT to prevent meatballs from sticking to your hands:
I like to use disposable plastic gloves to roll meatballs. You can also spray your hands with cooking spray after each one to keep the meat from sticking, or have a bowl of water handy and dip your hands in water after each roll to prevent sticking.
The assembly is simple!
Cover your meatballs with delicious barbecue sauce. While they bathe in that, melt cheese on your hero rolls.
Top with sauce and meatballs and then garnish with French Fried onions and pickles!
There are so many other toppings that are good on a meatball sub. Try some of these too:
Diced tomatoes
Fresh onions
Bell peppers
Grated Parmesan
Coleslaw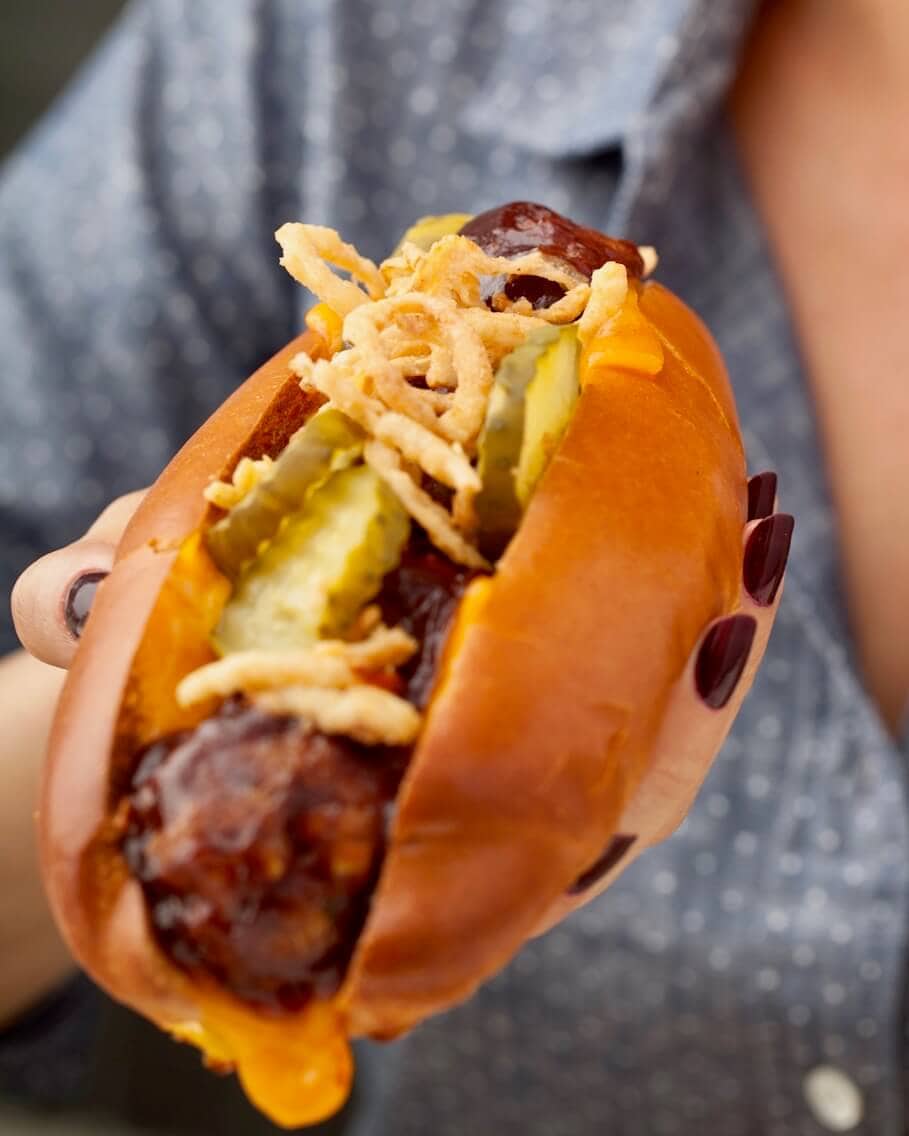 This barbecue meatball sub sandwich recipe really answers the question of what to serve with BBQ meatballs for dinner. A hero roll, cheese and crispy onions!
But if you're looking for a side to go with the meatball sub other than potato chips, here's a list.
What to serve with BBQ Meatball Subs:
Shredded Brussels Sprouts Salad
Carrot Salad with Apple and Lime
Sweet Potato Fries
Tater Tots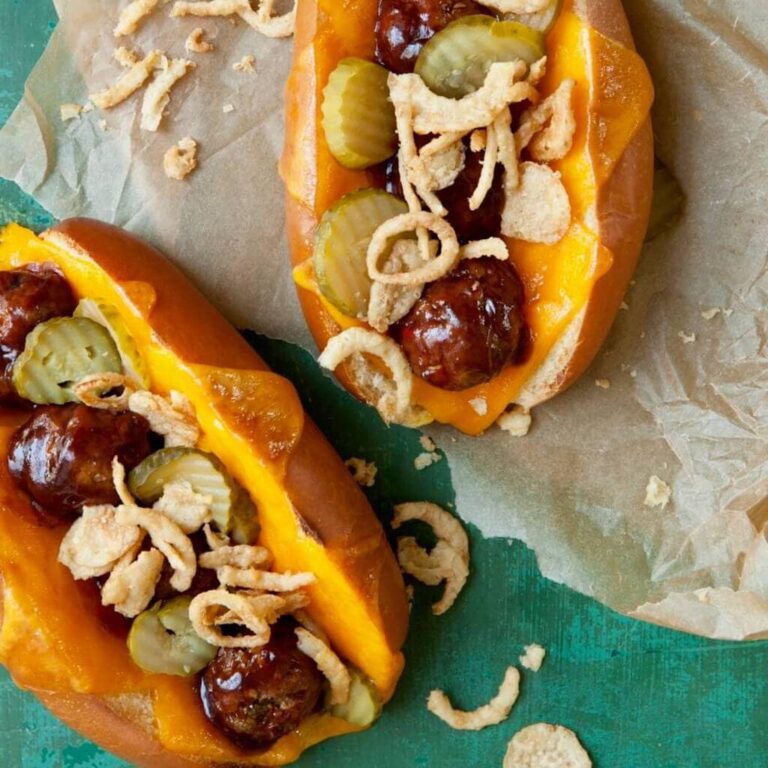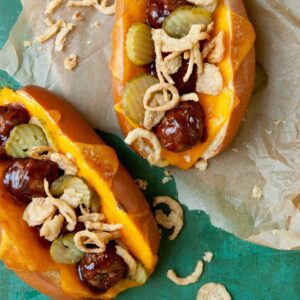 BBQ Meatball Subs
A quick meatball is a great base for this BBQ sandwich. A tasty dinner when you need to shake things up.
Ingredients
Meatballs
1

lb

fresh ground meatloaf mix

1

cup

onion

finely chopped

2

cloves

garlic

minced

1

egg

beaten

2

teaspoon

yellow mustard

6

tablespoon

breadcrumbs

1

teaspoon

kosher salt
Meatball Subs
½

cup

barbecue sauce

5

hero rolls

partially split lengthwise

8

oz

sliced cheddar

½

cup

French-fried onions

homemade or French's

Dill pickle slices
Instructions
Heat oven to 375°F. In a large bowl combine ground meat, onion, garlic, egg, mustard, breadcrumbs and salt. Form into 20 1½-inch balls and place on a large, foil-lined rimmed baking sheet. Bake until cooked through, 20 to 25 min. Transfer meatballs to a saucepan with barbecue sauce and keep warm.

Fill rolls with cheddar and heat in oven until melted, about 5 min. Top with meatballs and sauce, French-fried onions and pickles.
Notes
• Use water or cooking spray on your hands to prevent sticking when making meatballs.
Or use disposable plastic gloves to roll the meatballs.
Nutrition
Calories:
701
kcal
Carbohydrates:
59
g
Protein:
40
g
Fat:
35
g
Saturated Fat:
16
g
Cholesterol:
144
mg
Sodium:
1568
mg
Potassium:
193
mg
Fiber:
2
g
Sugar:
16
g
Vitamin A:
566
IU
Vitamin C:
3
mg
Calcium:
379
mg
Iron:
14
mg
Delicious sandwich recipes for every day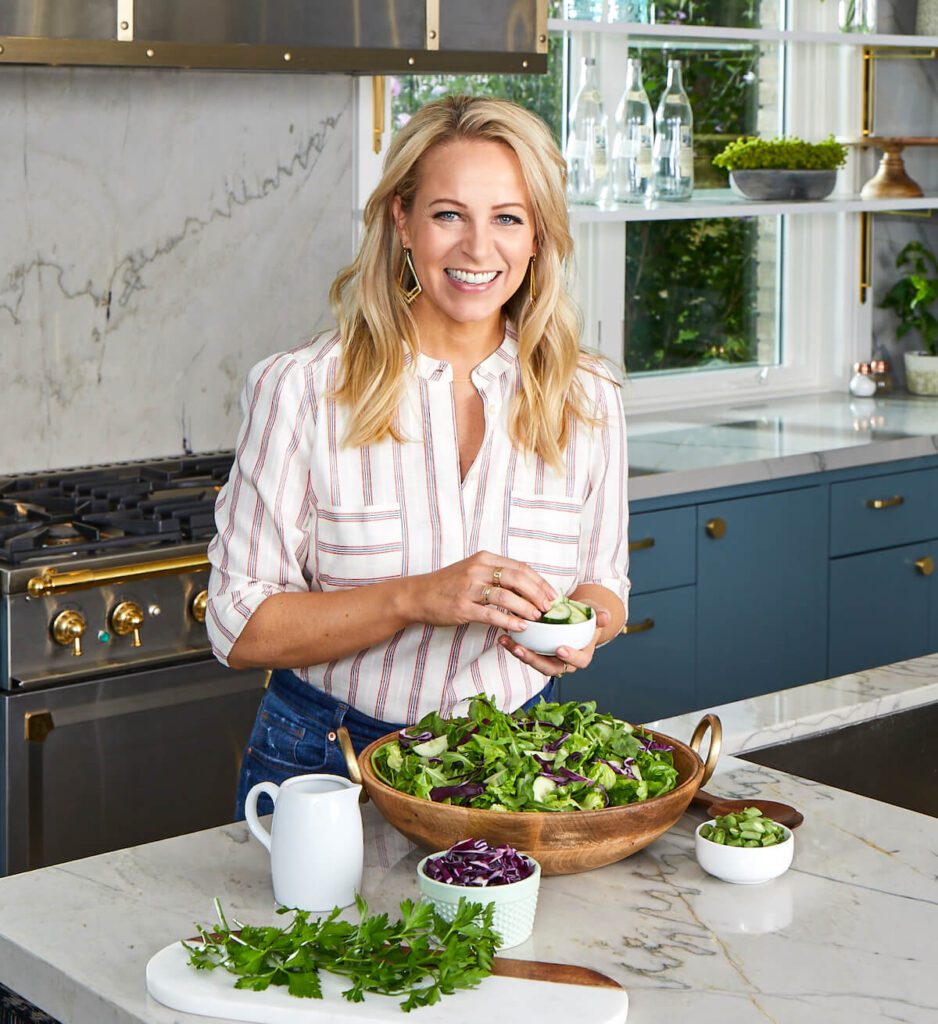 About Tara Teaspoon
I've been in the food publishing business for over 20 years, creating recipes & food-styling for magazines, books, television & advertising. Order my new cookbook & stick around for amazing things to eat.
Recipe Tara Teaspoon, Photographs Pedin+Munk, LHJ 09/12