---
This sweet and spicy chicken and bacon sandwich is in my top ten of favorite sandwiches! Grilled chicken is layered with salty bacon and a sweet, spicy pepper jelly for the ultimate bite.
---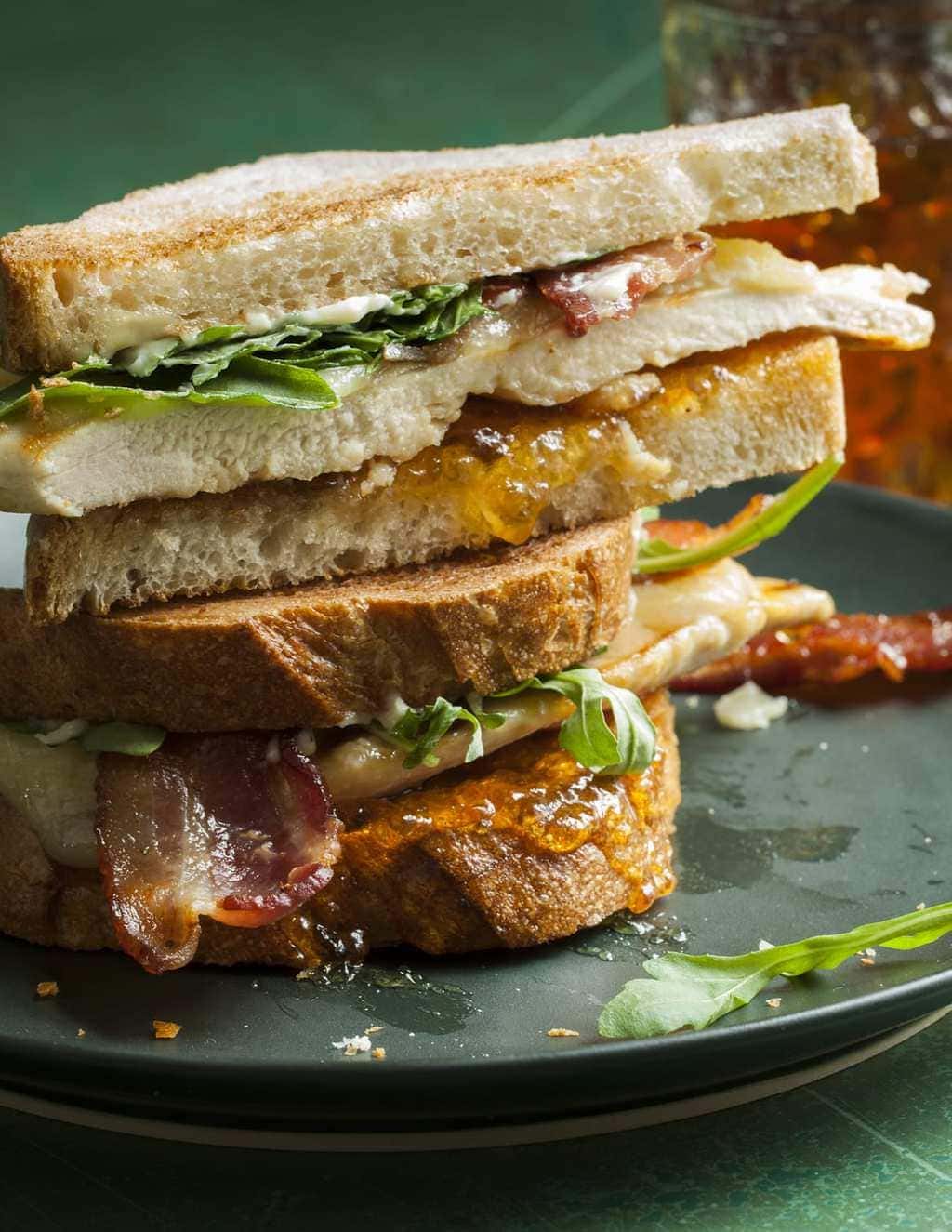 This is my mom's favorite sandwich.
Did you need to know that? Probably not, but if you knew her, you'd know it was a testament to how delicious it is. Mom has great taste!
This lands in my personal top ten favorite sandwiches for many reasons. I'll be honest, it's TOP THREE. How could a bacon chicken sandwich not land in the top of the list?
Jump to:
🍴 One of the best bacon sandwich ideas
If you put bacon on any sandwich and it knocks it up a few ranks. Add some cheese, a sweet sauce and creamy mayo, and you've got yourself a winner.
The combo of chicken and bacon is pretty perfect. Try my recipe for Bacon Wrapped Chicken Drumsticks! It will be a family favorite.
Mixing juicy grilled chicken and crispy bacon on a sandwich is delightful. Then a slightly spicy and sweet pepper jelly is the secret to an ultimate chicken and bacon sandwich recipe.
Bacon Chicken Sandwiches like Chik-fil-A and Wendys
Some of your favorite fast food restaurants have chicken bacon sandwiches, so you know they must be a good idea.
Each venue touts a different flavor or a special sauce. If you get creative you could create your own combination. I've made my own with hot pepper jelly and arugula and I'm never going back!
🍴 How to cook the best bacon sandwich
Grill chicken cutlets
Cook bacon (see tip below)
Toast country white bread
Assemble sandwich with cheese, arugula and sweet pepper jelly
I make this chicken and bacon sandwich year round. It's easy to BBQ chicken on the grill in the summer, and in the colder months, my panini press or indoor grill works wonders.
Pounding the chicken breasts to flatten them helps them cook faster. You can pound them between two sheets of plastic wrap to about ¼-inch thick.
No need to grill this sandwich like a grill cheese, because you melt the cheese on the hot chicken, and simply toast the bread. It saves a step. You really just need to assemble all of your cooked ingredients with the toppings.
It ends up tasting like an awesome restaurant turkey club sandwich with that toasty bread, not a greasy grilled cheese situation.
Cooking Bacon for a Chicken Sandwich
I like to cook bacon in the oven. I often bake an entire package and keep extra in the fridge, ready to use. You just need to heat it a little in the microwave or in a covered pan.
Cooking bacon in the oven is easy and splatter-free. Full instructions for cooking bacon in the oven are here. Use a rimmed baking sheet and set the oven to 400ºF.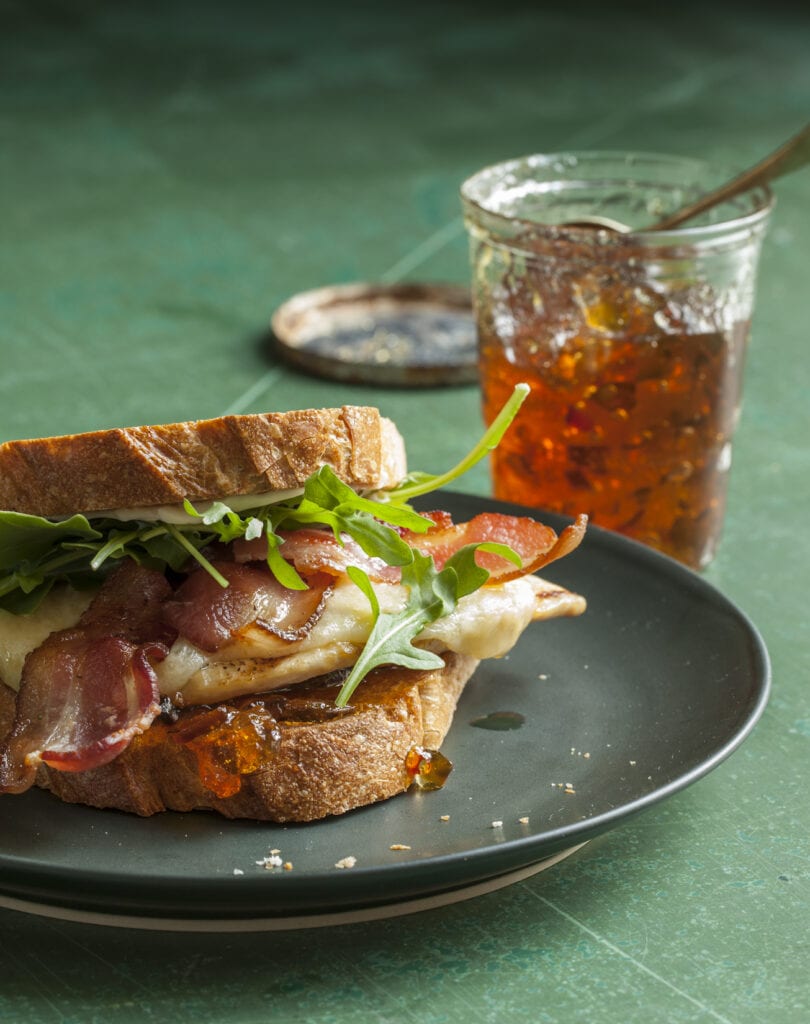 🍴 How to make the sandwich
Pound chicken breasts to about ¼-inch thickness.
Pounding the chicken thin before grilling makes it the perfect thickness for stacking...with bacon. No slicing and mess required.
Melt cheese on the hot, grilled chicken.
Havarti cheese gets just a bit melty as it rests on the hot chicken. So divine in this chicken sandwich.
Have cooked bacon ready. (I like to cook it in the oven on a baking sheet, at 400ºF for about 20 minutes)
Make sure you assemble these quickly, as cooked bacon laying around doesn't last long. (wink) I'll eat the entire plate if it's left out too long.
Toast sliced bread and slather it with the mayo and sweet pepper jelly.
Toast some sourdough or country white bread, on the grill or in the toaster. Slather it with a bit of mayo and layer on chicken, bacon and pepper jelly.
Add arugula, or other greens.
The arugula is super important! It adds a peppery bite and fresh green flavor. I love it on this sandwich, and you could use other greens and lettuce if you'd like.
Just these few ingredients spruce up a chicken breast sandwich, making it a meal worthy of your toughest critics. Listen, it's mom approved! That should be enough!
What cheese is good on a chicken sandwich?
Chicken with melty cheese is delicious. I use havarti on my chicken bacon sandwich. Softer, melting cheeses work best, like brie, white cheddar, Monterey Jack cheese, and Provolone.
Check out more bacon recipes
Let me know how it went!
Scroll to the bottom of the page to rate ⭐⭐⭐⭐⭐ and comment on this recipe. Leaving comments helps other too!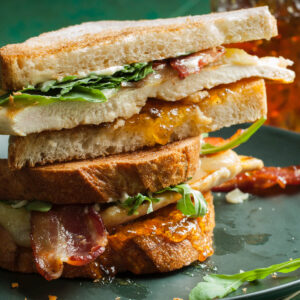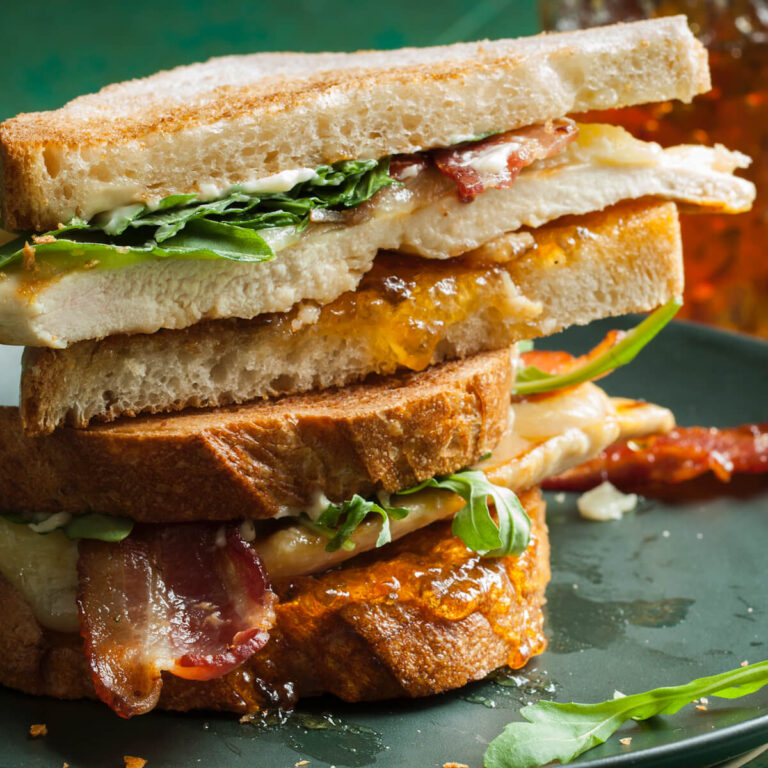 Sweet and Spicy Bacon Chicken Sandwich
These easy sandwiches mix a little salty bacon with sweet and spicy pepper jelly for the perfect combination.
Ingredients
4

boneless chicken breast halves

cut in half horizontally

Garlic salt and ground black pepper

4

slices

Havarti cheese

8

slices

country white bread

toasted

4

tablespoons

mayonnaise

4

tablespoons

pepper jelly

8

slices

cooked bacon

2

cups

baby arugula
Instructions
Heat grill, or grill pan to medium high. Pound chicken to create thin cutlets about ¼ inch thick. Season with garlic salt and pepper and grill until cooked through, 4 to 6 min. Place one cheese slice on top of each cutlet to melt.

To make each sandwich, spread one piece of toast with mayonnaise and one piece with a generous layer of pepper jelly. Fill with chicken, bacon and arugula to assemble the sandwich. Serve.
Nutrition
Calories:
708
kcal
Carbohydrates:
41
g
Protein:
43
g
Fat:
41
g
Saturated Fat:
13
g
Polyunsaturated Fat:
11
g
Monounsaturated Fat:
13
g
Trans Fat:
1
g
Cholesterol:
132
mg
Sodium:
997
mg
Potassium:
643
mg
Fiber:
2
g
Sugar:
15
g
Vitamin A:
656
IU
Vitamin C:
5
mg
Calcium:
265
mg
Iron:
3
mg
Main Dish Recipes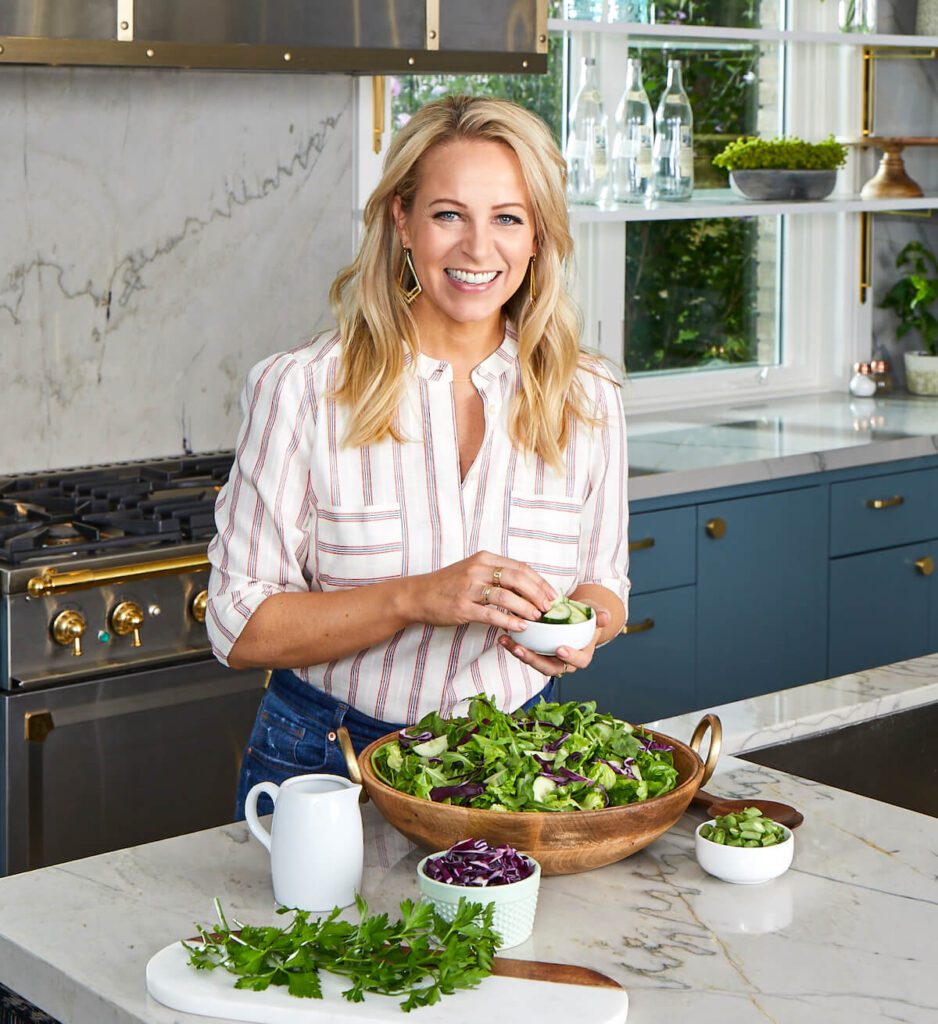 About Tara Teaspoon
I've been in the food publishing business for over 20 years, creating recipes & food-styling for magazines, books, television & advertising. Order my new cookbook & stick around for amazing things to eat.
Recipe by Tara Teaspoon, LHJ, Sept/12. Photo credit Peden + Munk. Food Stylist Paul Grimes