Ditch the skillet and make crispy bacon in the oven instead! This post walks you step-by-step through the process of making perfect oven bacon every time.
---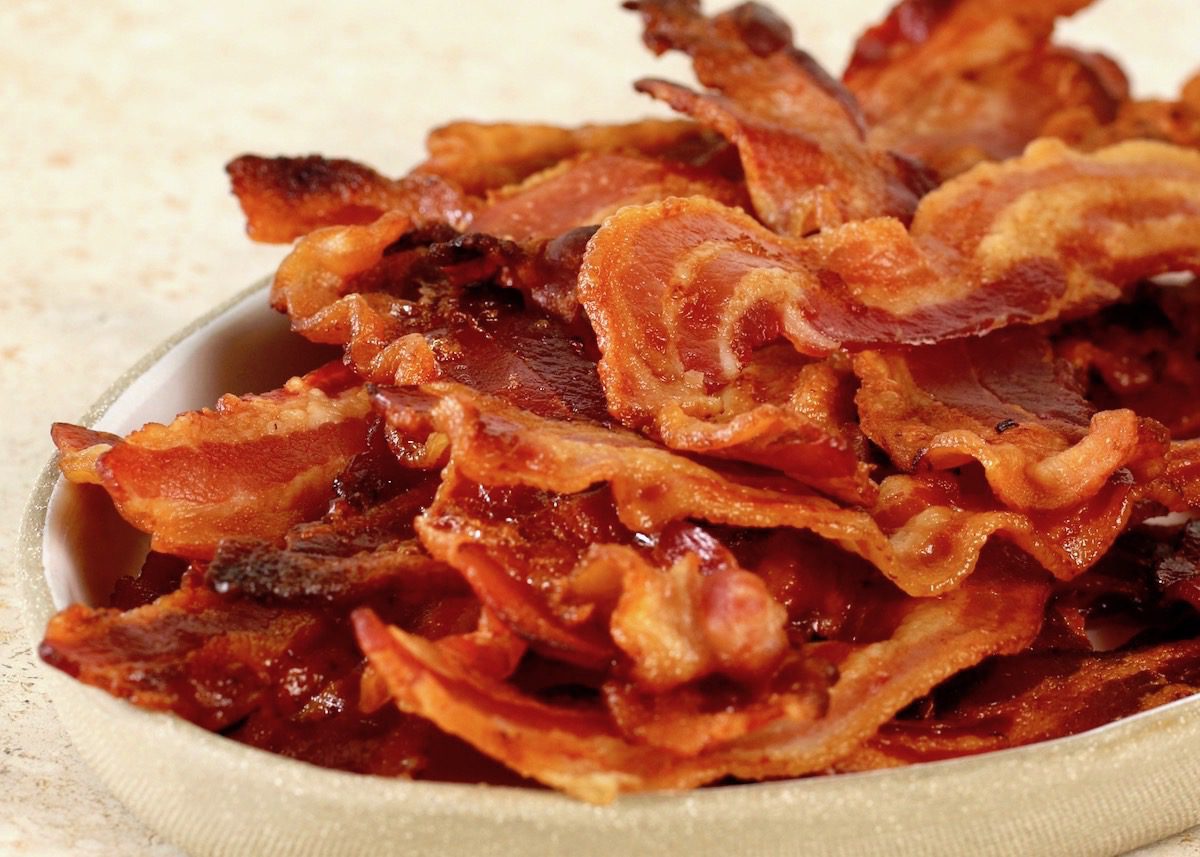 Cooking bacon can be such a hassle, can't it? The grease splatters everywhere, the bacon often sticks to the pan, and your kitchen smells for the rest of the day.
Not to mention you have to stand over the skillet watching the bacon like a hawk to make sure it doesn't burn.
My solution? Oven bacon! That's right, you can make crispy bacon in the oven in about 20 minutes.
This method may take a little longer than cooking bacon in a skillet, but there's no active prep work on your part. Just place the bacon on a tray, pop it into the oven, and walk away.
Jump to:
How to cook bacon in the oven, not on the stove
In my experience, the best way to bake bacon is on a rimmed half sheet pan. I line the baking sheet with foil and place the bacon directly on the foil or on a wire cooling rack set inside the baking sheet.
If you're using a cooling rack, simply place the rack on a foil-lined baking sheet, then lay the bacon on the rack in an even layer.
The cooling rack technically isn't necessary, but it makes for perfect oven bacon every single time! The bacon does cook just as well right on the foil, it will just take a little more draining when removing it after baking.
Once the bacon has been laid out, all that's left to do is slide the baking sheet into the oven and let it cook. Watch your bacon closely the first time you bake it, as you don't want to accidentally over bake it.
The best temperature to bake bacon
To ensure the bacon crisps up nicely, you'll need to bake the bacon at 400ºF. Bake it at the regular setting, not convection (if your oven has that feature).
How long do you bake bacon?
Bake times will vary depending on the thickness of your bacon, but it generally cooks in 20 to 27 minutes at 400ºF. Do NOT over bake the bacon, otherwise it will be too crispy and dry.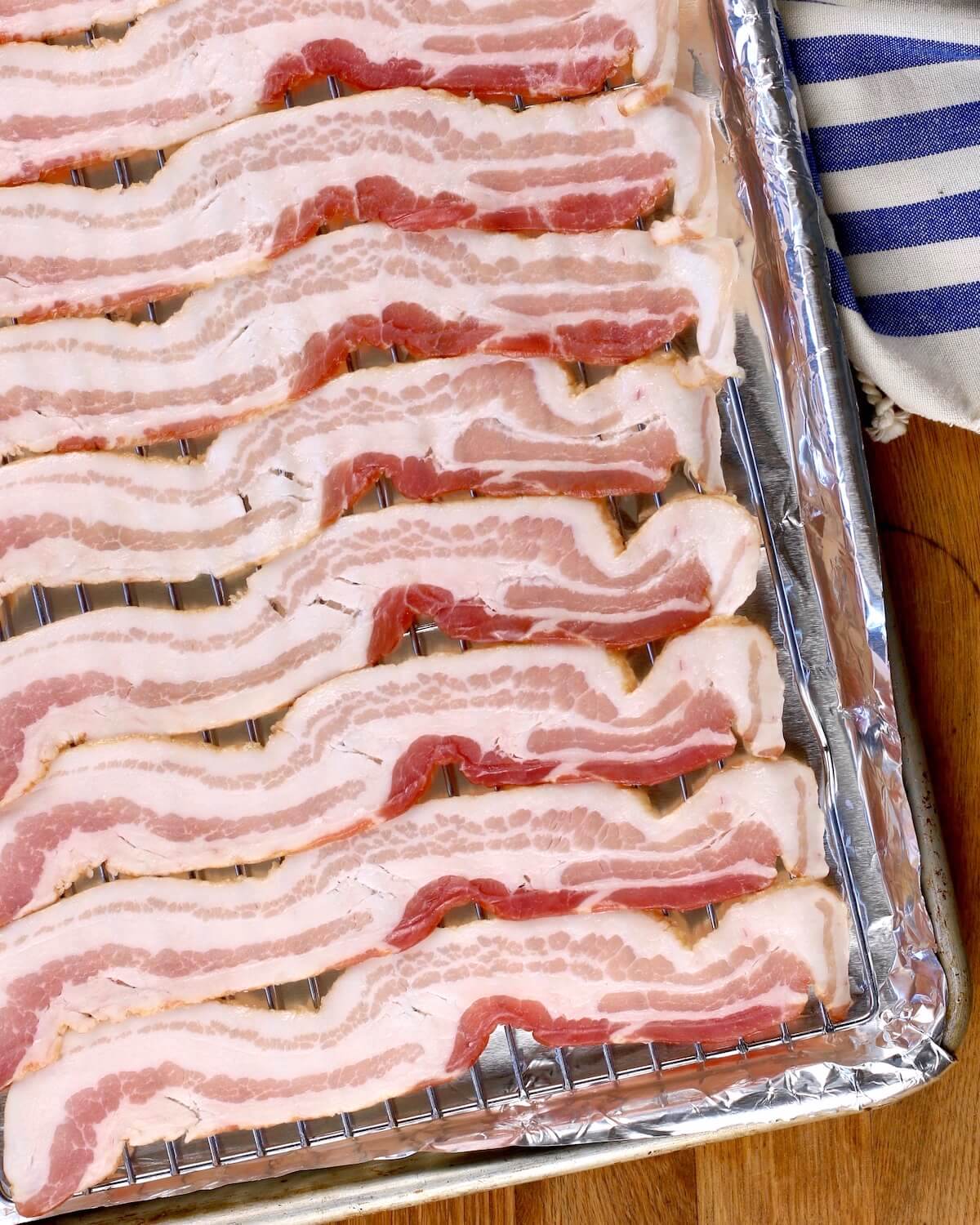 How to store cooked bacon
Wrap the crispy oven bacon in foil and store it in the fridge for up to one week. You can also transfer it to an airtight container, if desired.
How to reheat bacon
Reheat baked bacon in the microwave for 15-second intervals, or wrap it in foil and reheat it in the oven (about 8 minutes at 350ºF, I should think).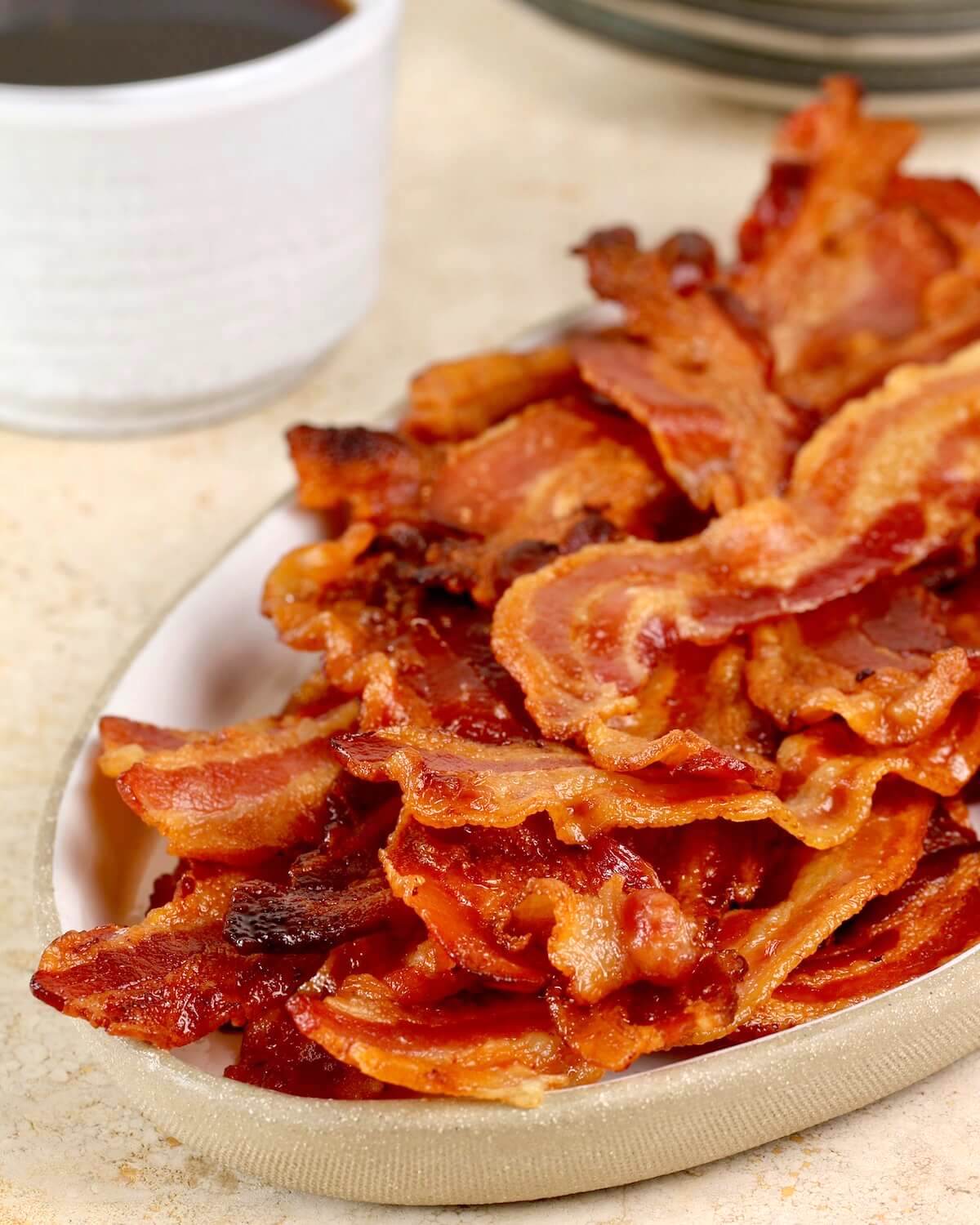 Tips for making the best oven bacon
This baking method works for any kind of bacon. Just note that the thickness of your bacon will determine how long it needs to cook.
I highly recommend lining your baking sheet with foil and placing a wire cooling rack over top. This will result in the crispiest bacon.
Once the bacon is removed from the oven, transfer it to a paper towel-lined plate to soak up any excess grease.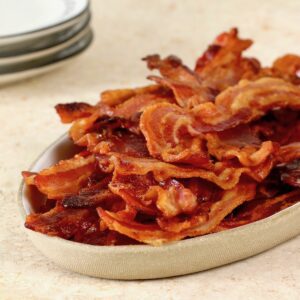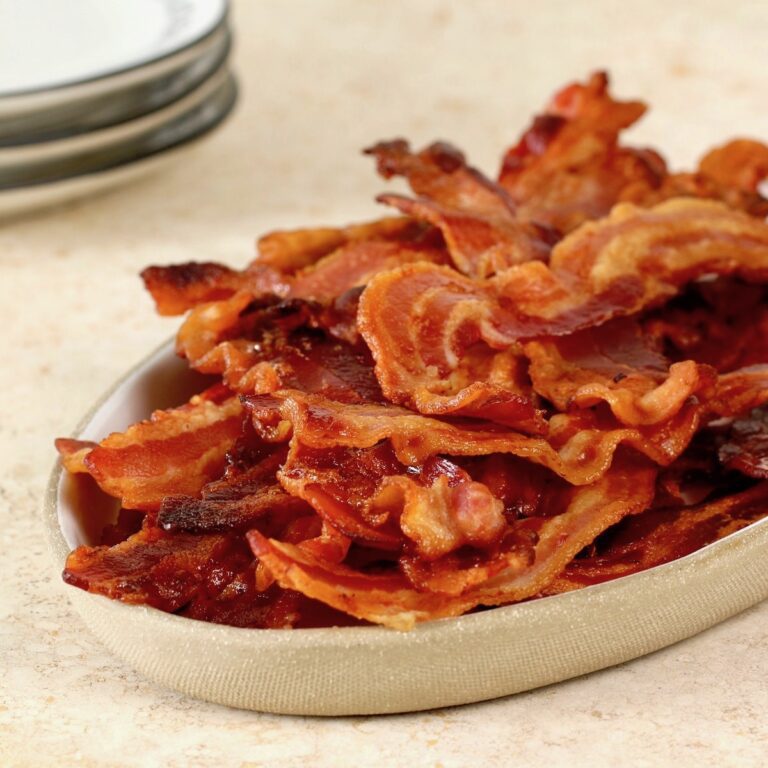 Perfect Oven Bacon
The ultimate hands-off method for making bacon. Cook an entire package in the oven at once.
Ingredients
1

12-oz package

bacon

(thick-cut works too)
Instructions
Heat oven to 400ºF with the rack in the center. Line a rimmed baking sheet with foil.

If desired place a metal cooling rack on top of the foil. This will ensure crisp bacon, but it's not necessary.

Lay bacon slices on the rack or foil in a single layer. They can be touching and some pieces may be overlapping slightly. Bake until desired doneness, 20 to 27 minutes. Do not overbake: thin pieces will cook quickly, thick cut pieces will take longer.

Remove from the oven and transfer bacon strips to a paper towel lined plate. Let cool slightly and serve.
Notes
To store:
Cooked bacon can be kept wrapped in the fridge for up to a week.
To reheat: Reheat baked bacon in the microwave for 15-second intervals, or wrap it in foil and reheat it in the oven (about 8 minutes at 350ºF, I should think).
Nutrition
Calories:
307
kcal
Carbohydrates:
1
g
Protein:
9
g
Fat:
29
g
Saturated Fat:
10
g
Trans Fat:
1
g
Cholesterol:
49
mg
Sodium:
488
mg
Potassium:
146
mg
Vitamin A:
27
IU
Calcium:
4
mg
Iron:
1
mg
Day-Starters: Breakfast & Brunch Recipes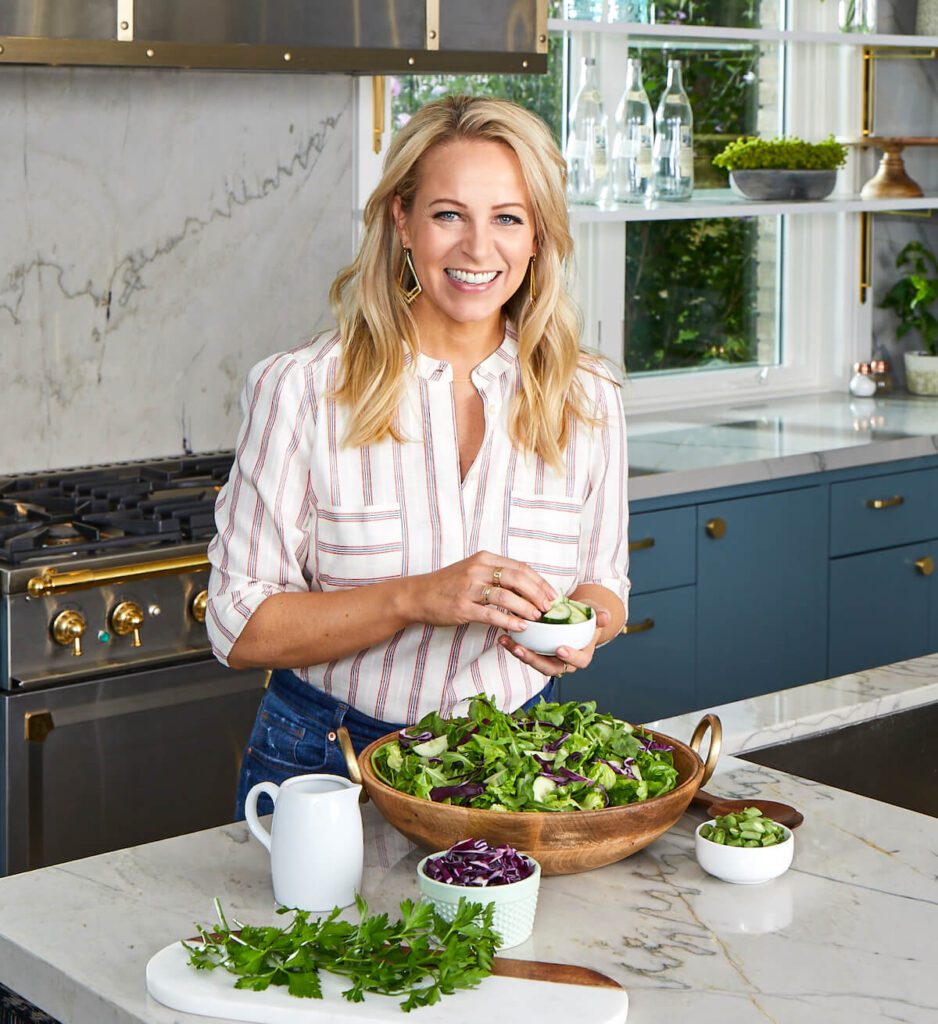 About Tara Teaspoon
I've been in the food publishing business for over 20 years, creating recipes & food-styling for magazines, books, television & advertising. Order my new cookbook & stick around for amazing things to eat.