---
This whole wheat pumpkin bread with maple glaze is a fall favorite. Stir in walnuts or chocolate chips for a delicious quick bread recipe.
---
I had a can of pumpkin + whole wheat flour + it's October = this recipe. Plus I love quick-breads. Love 'em. Love saying it, love making it.
This whole-grain twist on classic pumpkin bread is the ultimate fall treat. I love the crunchy walnuts throughout and baked right on top. Those nuts make a delicious crunchy topping and create the best nooks and crannies for the icing to fall into.
This pumpkin nut bread is lightly spiced so the walnuts and pumpkin don't get overpowered, with a tiny bit of maple cinnamon glaze (just to make sure I hit my sugar minimum before noon).
Although plenty of butter slathered on a slice works as well!
Jump to:
Ingredients in Whole Wheat Pumpkin Bread
As the recipe title suggests, I made this pumpkin bread with whole wheat flour. Canola oil, eggs, milk, and pumpkin puree add moisture.
For sweetness, I used brown sugar rather than granulated sugar. Brown sugar has a slight caramel flavor to it, which works nicely in the pumpkin bread.
I typically don't use pumpkin pie spice when making pumpkin bread from scratch. Depending on the brand, I find it has too much nutmeg or too much allspice. But I really like the simplicity of it.
I used it here, but not a lot; then added an extra punch of cinnamon (because that's the flavor I really want the most of). You can do the same in any recipe — simply reduce the amount of pumpkin pie spice in your recipe and add extra cinnamon or ginger.
The maple glaze is a simple mixture of confectioners' sugar, pure maple syrup, and ground cinnamon. Easy but delicious!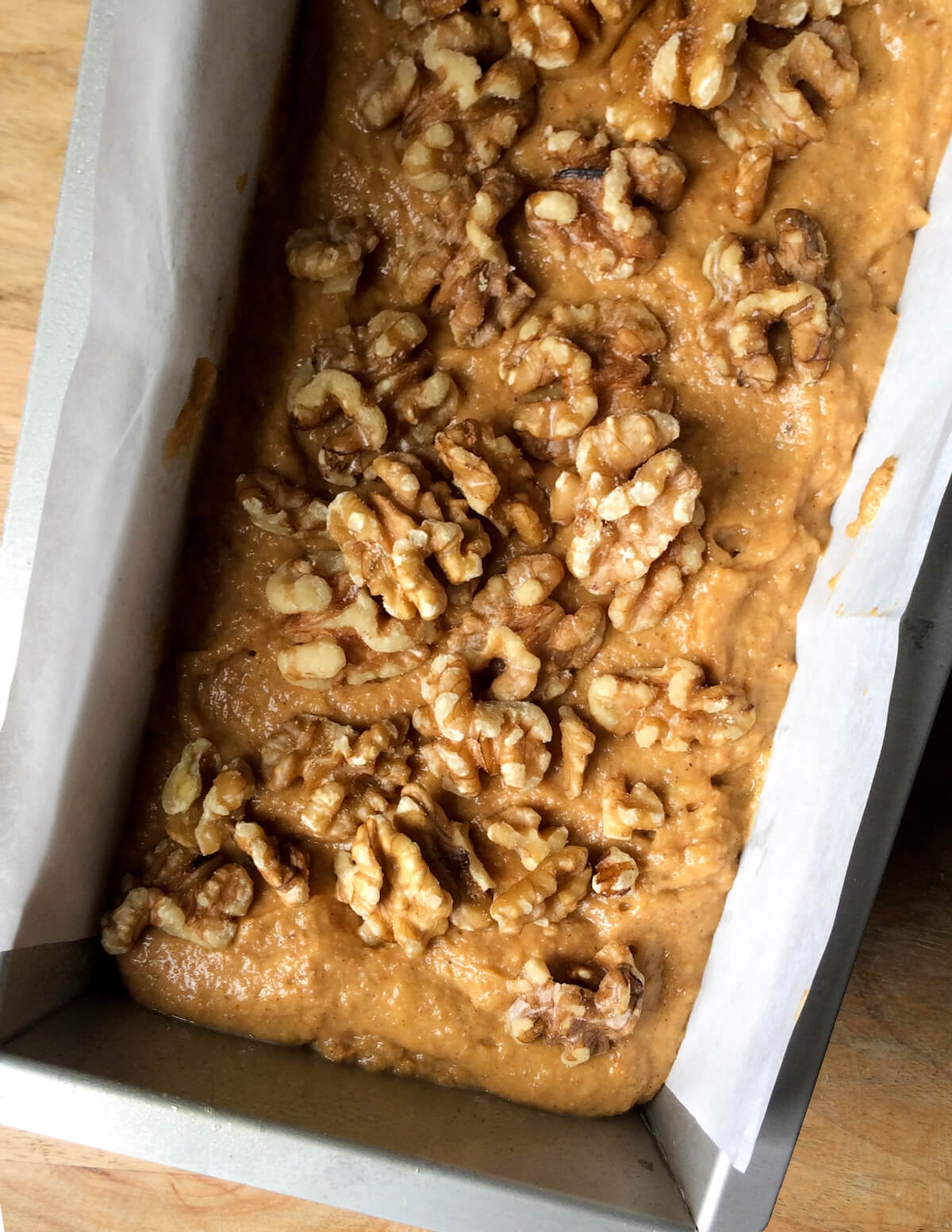 How to Make Whole Wheat Pumpkin Bread
This whole wheat pumpkin nut bread recipe comes together like your typical quick bread.
Grease a large 9x5-inch loaf pan with baking spray.
Whisk together the wet ingredients in a large bowl.
Whisk together the dry ingredients, then add to the wet.
Turn the batter into the loaf pan. Top with walnuts, if using.
Bake until the whole wheat pumpkin bread springs back to the touch.
Let the bread cool completely before glazing.
Can I Omit the Walnuts?
Yes, of course! I love making this as pumpkin walnut bread, but you can omit them or swap out the walnuts for chocolate chips.
If using chocolate chips, I'd omit the glaze to prevent the pumpkin bread from tasting sickly sweet.
Can I Use All-Purpose Flour?
I'm sure you can, although the beauty of this recipe is that it's a whole wheat pumpkin bread.
How to Store Pumpkin Bread
Store this bread in an airtight container at room temperature for up to 5 days. It can also be frozen, although it's best frozen without the glaze on top.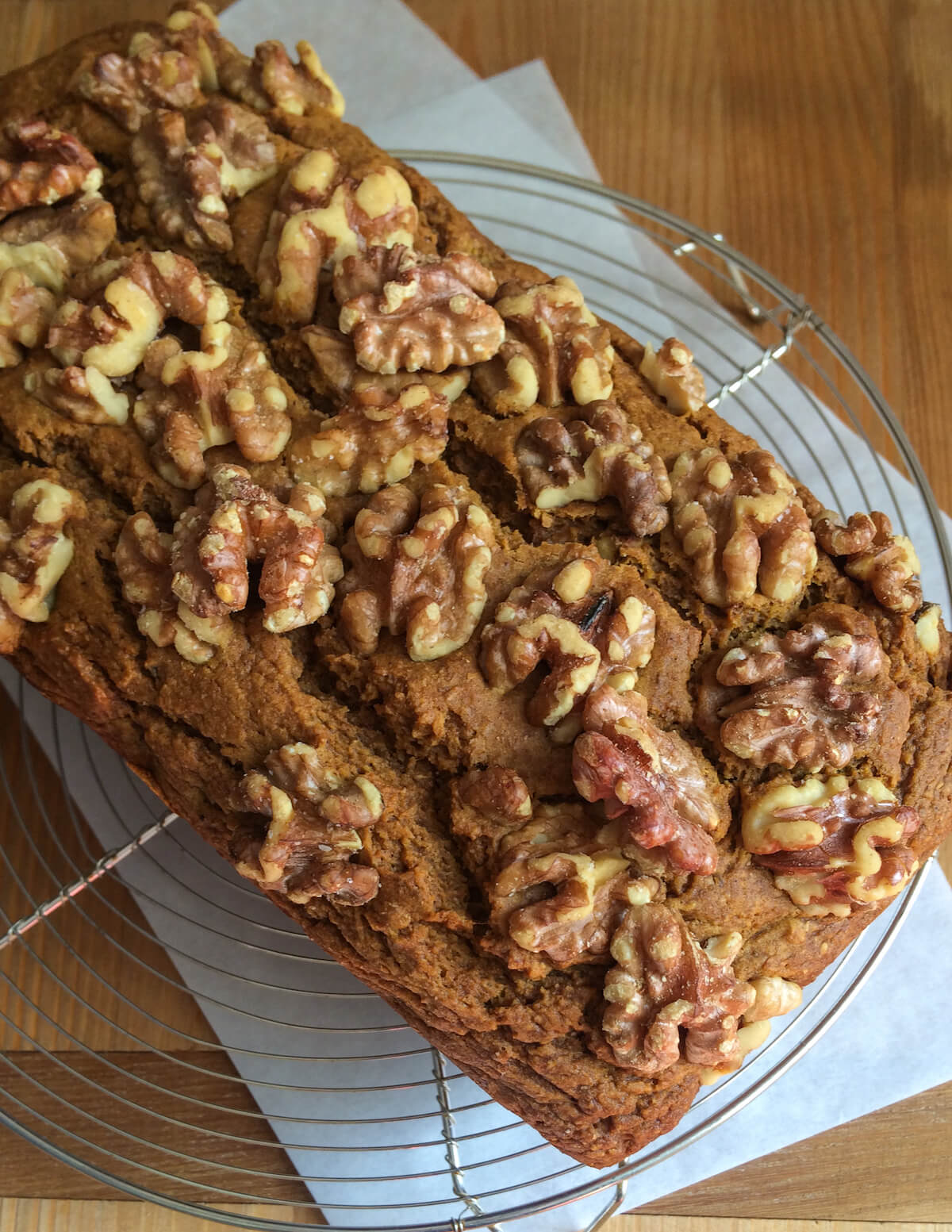 Tips for Making This Recipe
Note that this recipe calls for pure pumpkin puree and not canned pumpkin pie filling.
If you can't find pumpkin pie spice where you live, you can make it yourself using a blend of allspice, nutmeg, ginger, cinnamon, and cloves. There are lots of recipes online!
Whole wheat pumpkin bread can be frozen whole or in slices. It thaws and reheats nicely and is great for gifting.
Tools you'll need:
Here are some great options for large 9-by-5 or bigger loaf pans. This non-stick 9.5-by-6-inch pan, and this great loaf pan that is 10 inches.
Use a nice large mixing bowl to mix your dry ingredients and add the other ingredients.
Make sure you have a great cutting board and chef's knife for chopping the walnuts.
Delicious bread and quick-bread recipes