---
Step up this healthy turkey wrap recipe with an herbed white bean spread. Filled with the most savory of Mediterranean flavors, it's sure to please.
---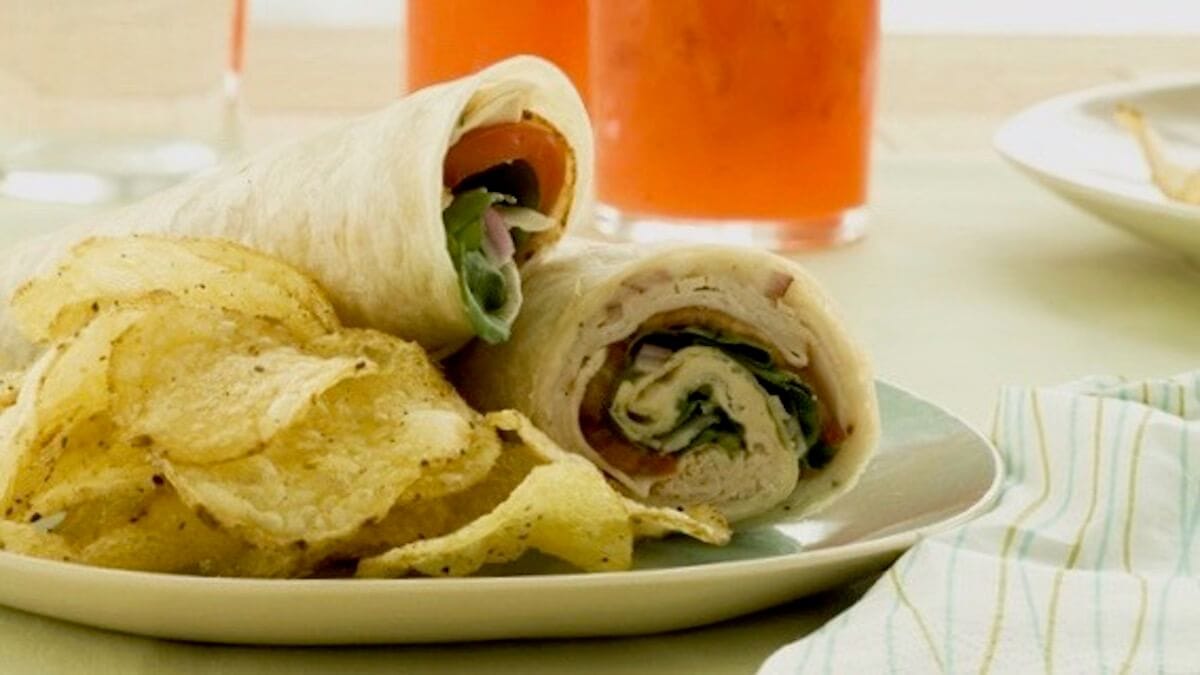 Easy & Healthy Turkey Wraps
I love wraps because they are so easy to assemble! The best part about this healthy turkey wrap recipe is that the bean spread can be made ahead, making it an easy meal you can throw together in under 20 minutes.
These wraps are full of simple herbs and fresh greens.
Wraps are great for on-the-go meals as well. In my opinion, they are like portable salads, just more delicious!
My recipe calls for arugula or spinach, both great greens! Arugula is in the same family as broccoli, Brussels sprouts, and kale--providing many of the amazing nutritional benefits.
If you go with spinach (a superfood!), your wrap will be full of iron, potassium and Vitamin K.
Slicing tomatoes thin for wraps
Some people find it difficult to slice tomatoes to a thin enough size that will be accommodating in a wrap. Tomatoes are tricky to slice!
Usually when I'm slicing my things paper-thin I use a mandoline slicer (perfect for the red onion in this recipe).
But, for juicy tomatoes I like to use a super-sharp slicing knife or serrated knife. The serration makes it easier to cut through the thin skin of the tomato without squishing it!
Tara Teaspoon's Favorite Knife!!

Healthy Lunch Wrap
I love how simple and straight forward this wrap is, but with a flavorful twist. No settling for mayo here!
The herbed white bean spread is a great source of protein and provides B vitamins.
The greens (a source of iron) combined with the tomatoes (a source of Vitamin C) create maximum absorption in the body!
The Parmigiano-Reggiano shavings contribute some calcium, and feel free to substitute the flour tortillas with whole wheat tortillas!
Check out my other healthy (and easy!) recipes: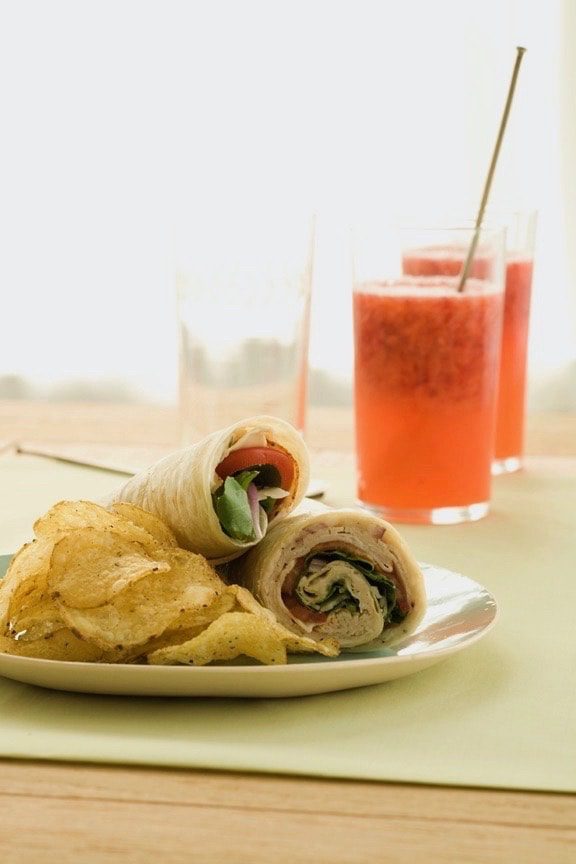 How to make White Bean Spread
White bean spread is a great sub for condiments like mustard and mayo. You can pack in the flavor and still get a creamy texture in each bite.
Grab a can of white beans (or cook some from dried beans) and blend with seasonings until smooth!
It is very important to drain and rinse the beans. Rinsing helps reduce the sodium content of the beans (if you're using canned).
Adding the olive oil with the herbs makes the spread smooth and creamy.
White Beans Compared
This recipe calls for white beans, whether they be Navy or Cannellini. Navy beans are also known as pea beans, and they are especially popular because of their creamy texture when cooked.
Cannellini are the largest of the white beans, and are meatiest of all beans. They have an iconic kidney shape. Since this is a spread and they get blended to a smooth consistency, either type of bean is a good choice.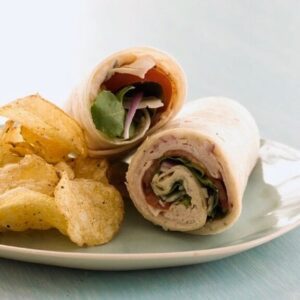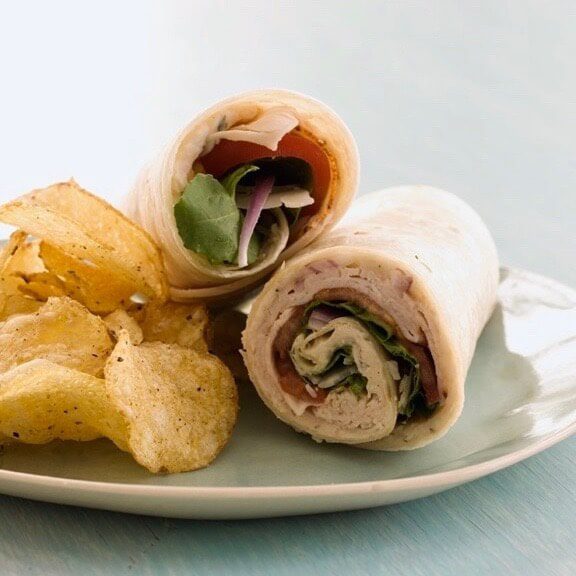 Turkey Wraps With Herbed White Bean Spread
Step up this healthy turkey wrap recipe with a tasty herbed white bean spread.
Ingredients
1

can

(15 oz) white beans (such as navy or cannellini)

rinsed and drained

3

tablespoon

extra-virgin olive oil

2

teaspoon

fresh lemon juice

1

small garlic clove

1

teaspoon

fresh thyme leaves

Pinch

kosher salt

¼

teaspoon

freshly ground pepper

4

large (10 to 12-inch) flour tortillas

¾

lb

thinly sliced roast turkey breast

1

large tomato

thinly sliced

¼

medium red onion

thinly sliced

2

oz

shaved Parmigiano-Reggiano

1

cup

(1 oz) arugula or baby spinach leaves

Chips

optional
Instructions
Combine beans, oil, juice, garlic, thyme, salt and pepper in the bowl of a food processor. Purée until smooth, stopping once to scrape down sides, for bean spread.

Spread bean spread on one side of each tortilla, leaving a 1-inch border around edge. Arrange turkey down center of each tortilla; layer with tomato, onion, cheese and arugula. Starting at one end, tightly roll each tortilla and place, seam side down, on a serving plate. Cut crosswise in half and serve with chips, if desired.
Notes
Spread can be made ahead. Cover and chill up to 2 days.
Nutrition
Calories:
447
kcal
Carbohydrates:
45
g
Protein:
29
g
Fat:
17
g
Saturated Fat:
5
g
Cholesterol:
37
mg
Sodium:
1456
mg
Potassium:
833
mg
Fiber:
7
g
Sugar:
4
g
Vitamin A:
485
IU
Vitamin C:
7
mg
Calcium:
300
mg
Iron:
5.5
mg
Delicious sandwich recipes for every day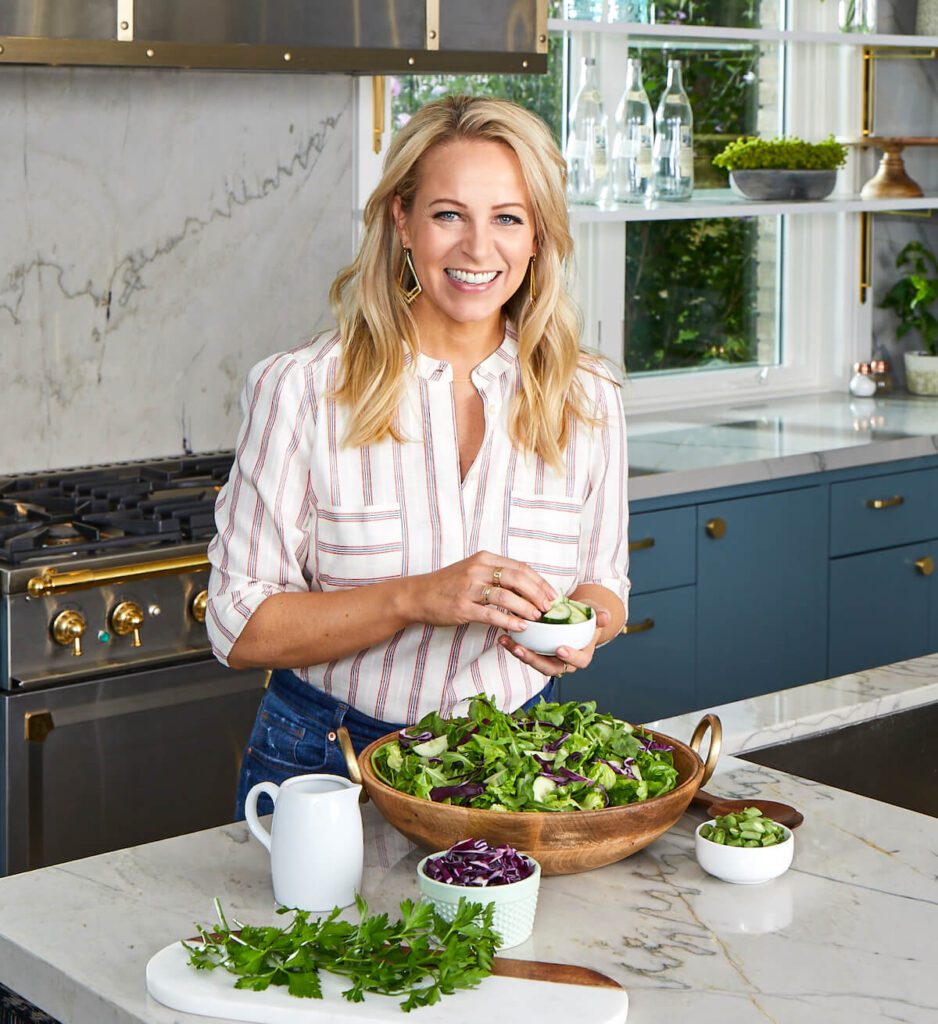 About Tara Teaspoon
I've been in the food publishing business for over 20 years, creating recipes & food-styling for magazines, books, television & advertising. Order my new cookbook & stick around for amazing things to eat.
Tara Teaspoon. Also written by Tessa Samuelsen. Photographs, Kate Sears LHJ 08/07