This Classic Dinner Rolls recipe makes the softest and fluffiest rolls that you'll ever make. These dinner rolls are silky, flavorful, and the perfect side to holiday meals or Sunday suppers.
---
There are thousands of dinner roll recipes online, but I'm convinced that this one makes the greatest soft and fluffy dinner rolls ever.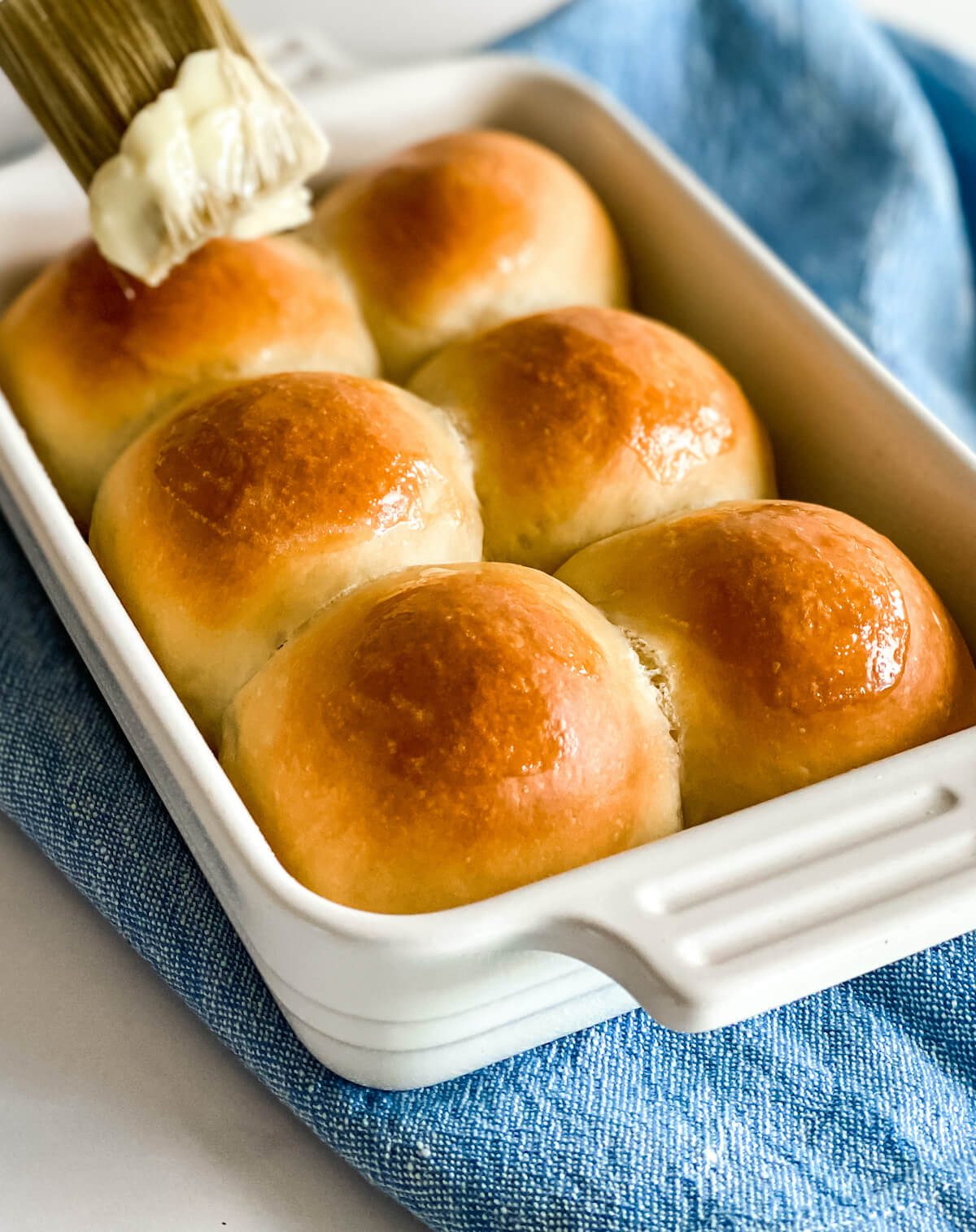 These little homemade dinner rolls are luxuriously soft and silky thanks to a special tangzhong (milk bread) technique that only requires a few extra minutes of planning. I use the same technique for my soft cinnamon roll recipe, and soft and fluffy white bread.
Serve these soft dinner rolls alongside a holiday ham or turkey dinner for an exceptional holiday meal, or make a Sunday dinner extra special with soft and fluffy homemade rolls.
Jump to:
Love dinner rolls but want something gluten-free? Try my Gluten Free Orange Rolls.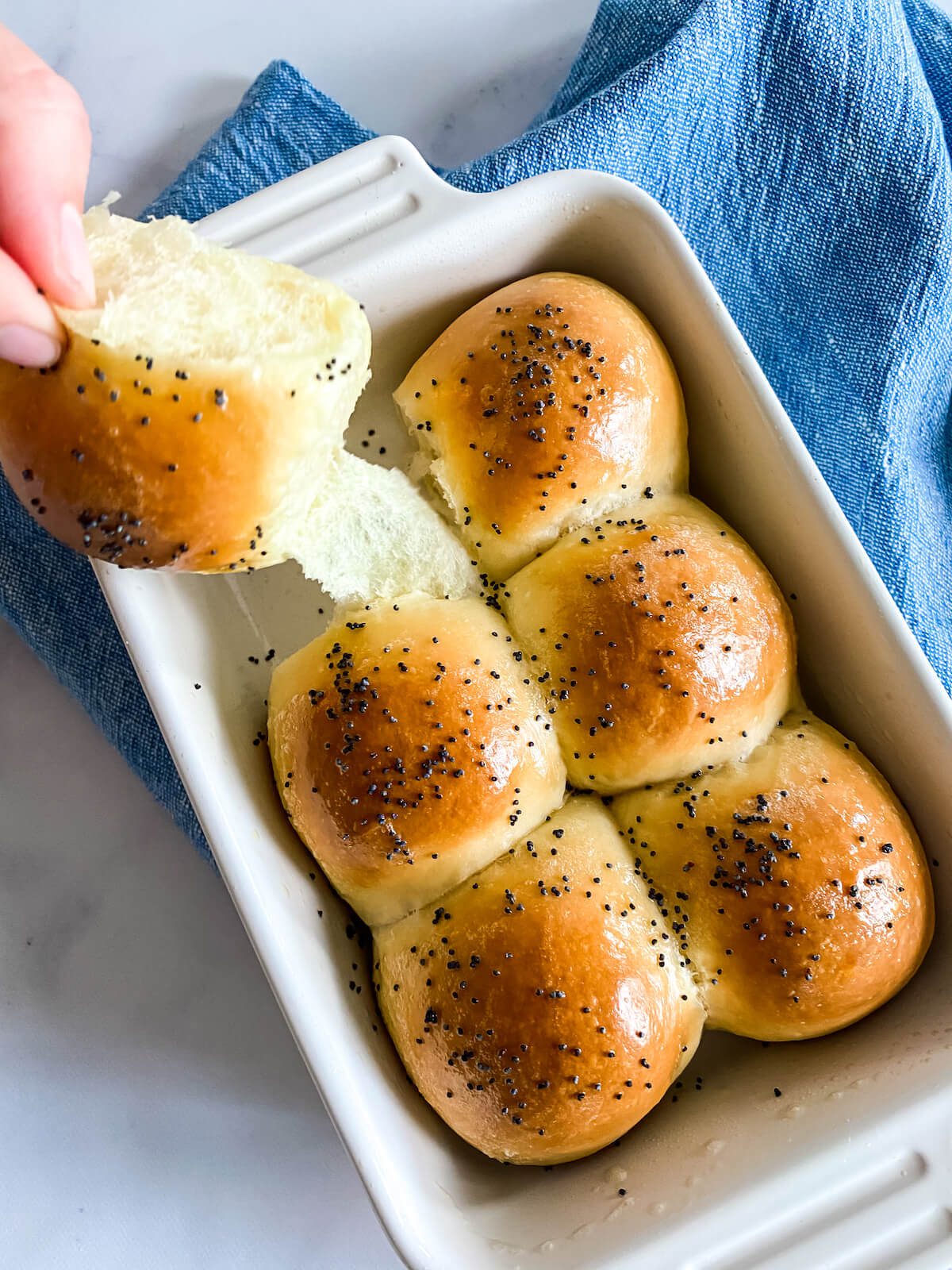 This dinner rolls recipe takes a classic butter and egg enriched dough and makes it even more soft and luxurious by using a simple milk bread technique.
What Makes These Dinner Rolls Soft and Fluffy?
An Asian bread-making technique is the secret to making rolls with a feathery, springy texture. It involves making a paste from flour and milk, called tangzhong, and adding that to your dough.
The magic behind this technique is that the paste holds water in the flour molecules, making the dough much more moist than if made the traditional way. More moisture = softer and fluffier bread.
Flour and liquid (milk and/or water, depending on the recipe) is cooked in a saucepan until it forms a thick paste. After it's cooked, you're left with an almost pudding-like mixture. Let the paste cool, then knead it into the bread dough.
The moisture in the paste converts to steam during baking, creating little air holes in the bread, which helps make the dinner rolls light and fluffy.
This tangzhong post from King Arthur explains it so well.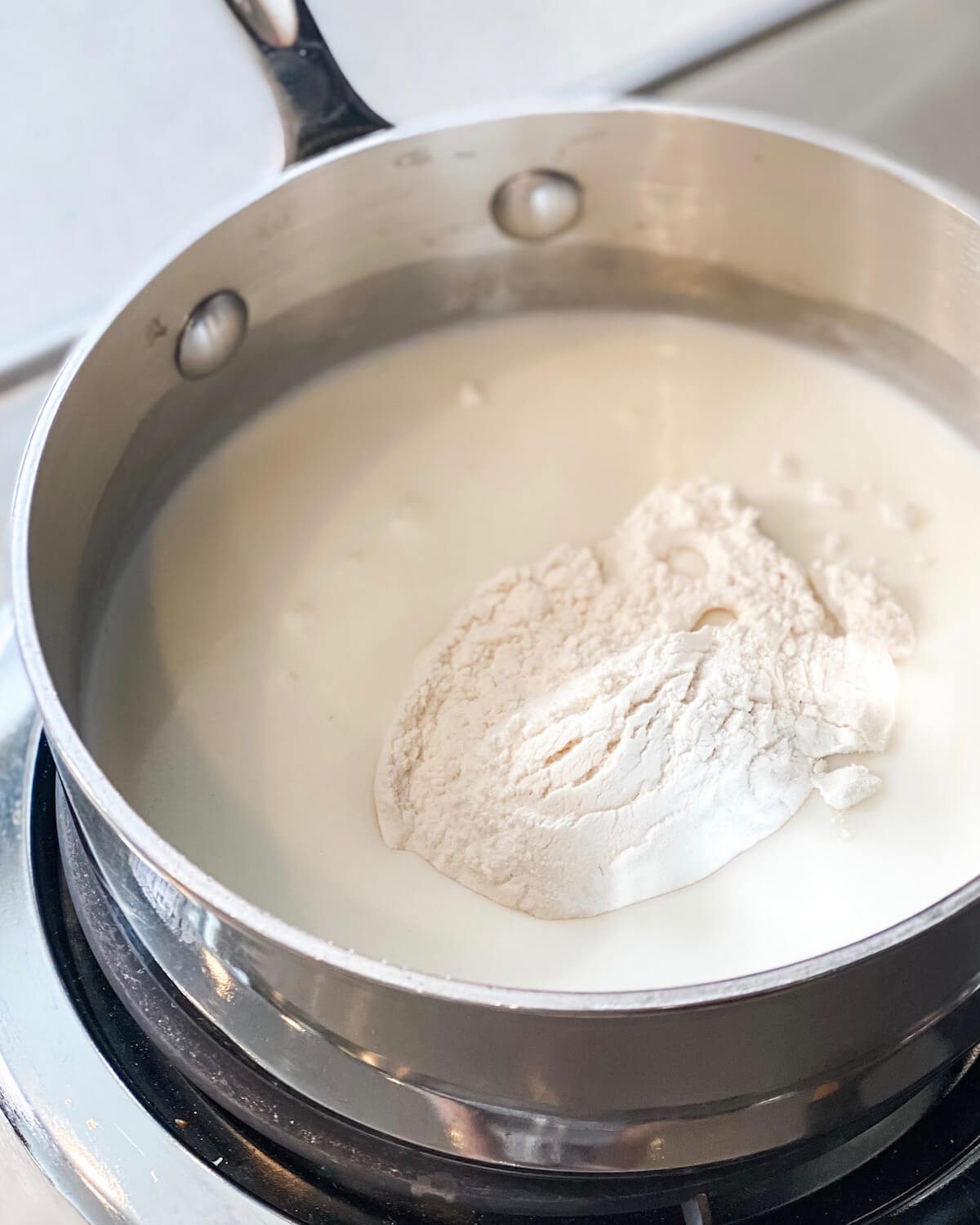 It's Easy To Make A Tangzhong Starter
Make a tangzhong starter by heating flour, milk, and sometimes water together to create a roux.
To make the paste, whisk together the flour and milk in a small saucepan over medium heat.
Cook, whisking constantly, until mixture begins to thicken. I like to use a flat whisk to really scrape the sides of the pot to ensure even cooking and whisking. Whisk until mixture is the consistency of warm pudding.
Remove the paste from heat, quickly transfer to a bowl, cover with plastic wrap, and chill in the fridge for about 20 minutes, or until the mixture is cool.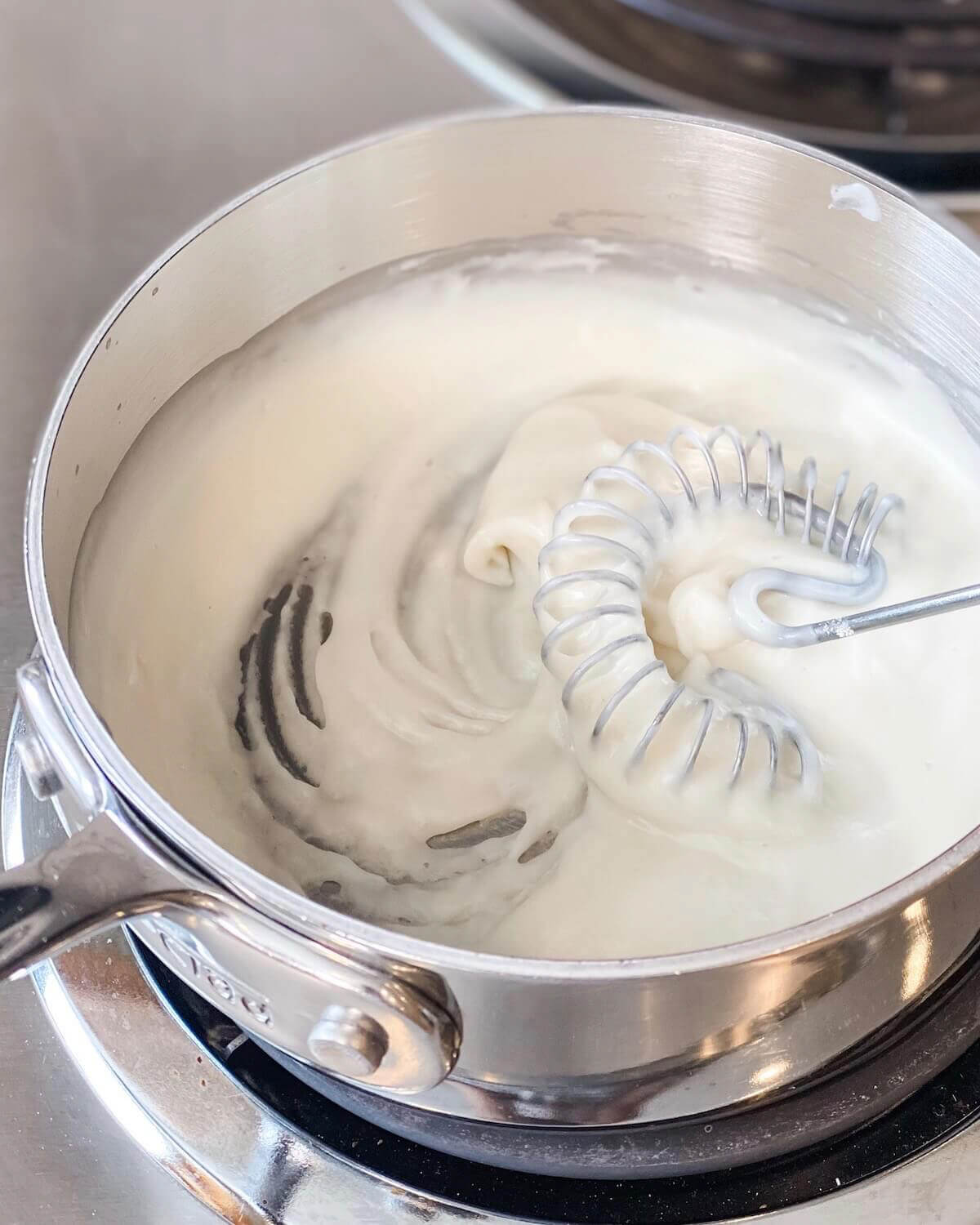 These Are Easy Yeast Rolls For Beginners
All the ingredients are pantry staples, and the method is straight forward for making this homemade dinner rolls recipe.
You'll have warm, fluffy dinner rolls in no time!
You don't need to be confined to a standard pan either! I bake the dinner rolls in round cake pans, small baking dishes, and standard baking sheets. You can follow the recipe to adjust the size of your dough balls depending on the size of rolls you want!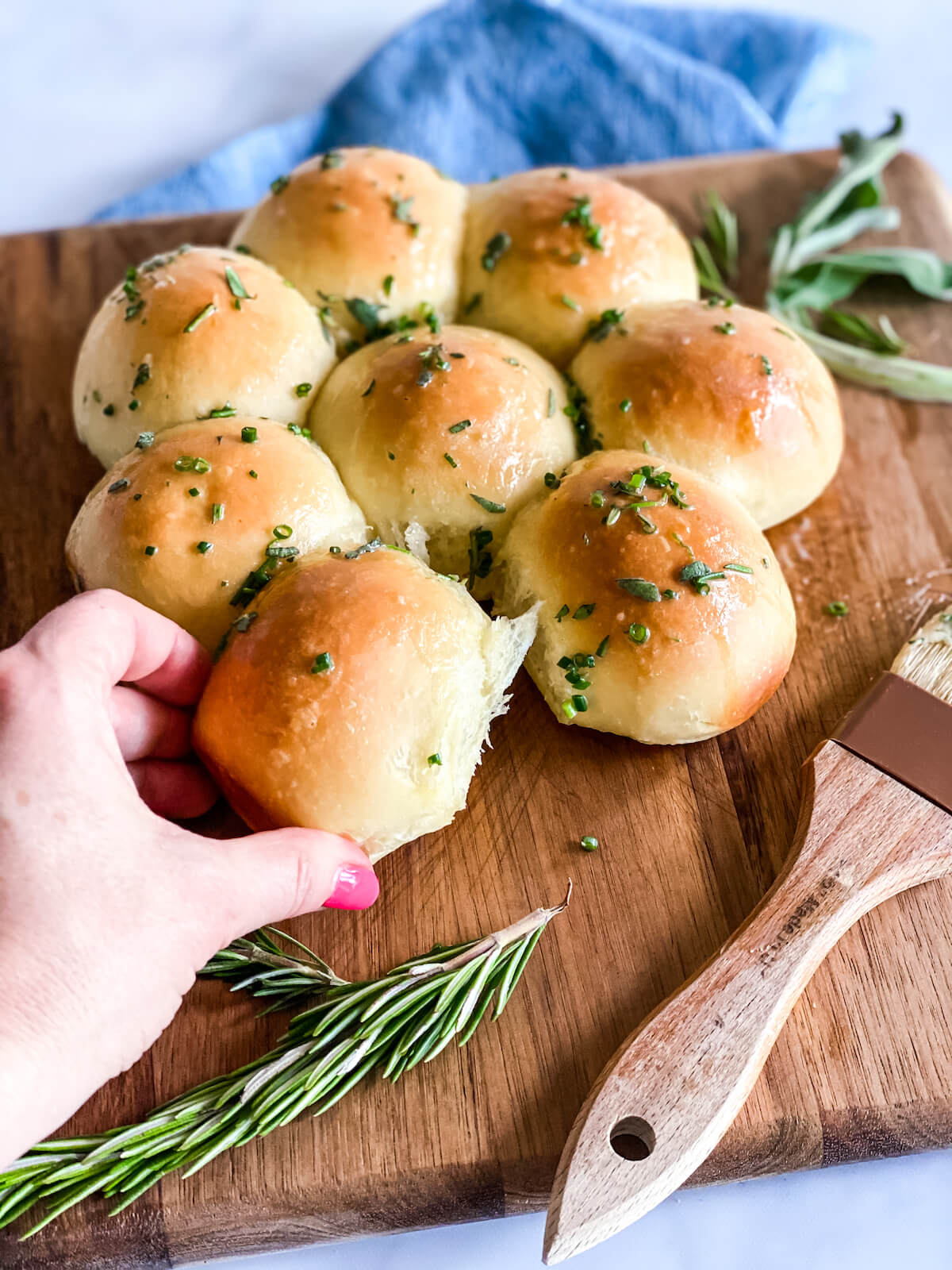 Toppings for Dinner Rolls
My half whole wheat dinner rolls have a savory seed topping that is so unique and delicious. But, you can keep your roll toppings simple for these classic dinner rolls!
Try simply sprinkling the rolls with poppy seeds, sesame seeds, or herbs. Brush warm rolls with butter then top with desired seeds.
I like brushing the just-baked rolls with herb butter. Mix chopped rosemary, parsley, chives, and thyme in butter and brush over warm dinner rolls.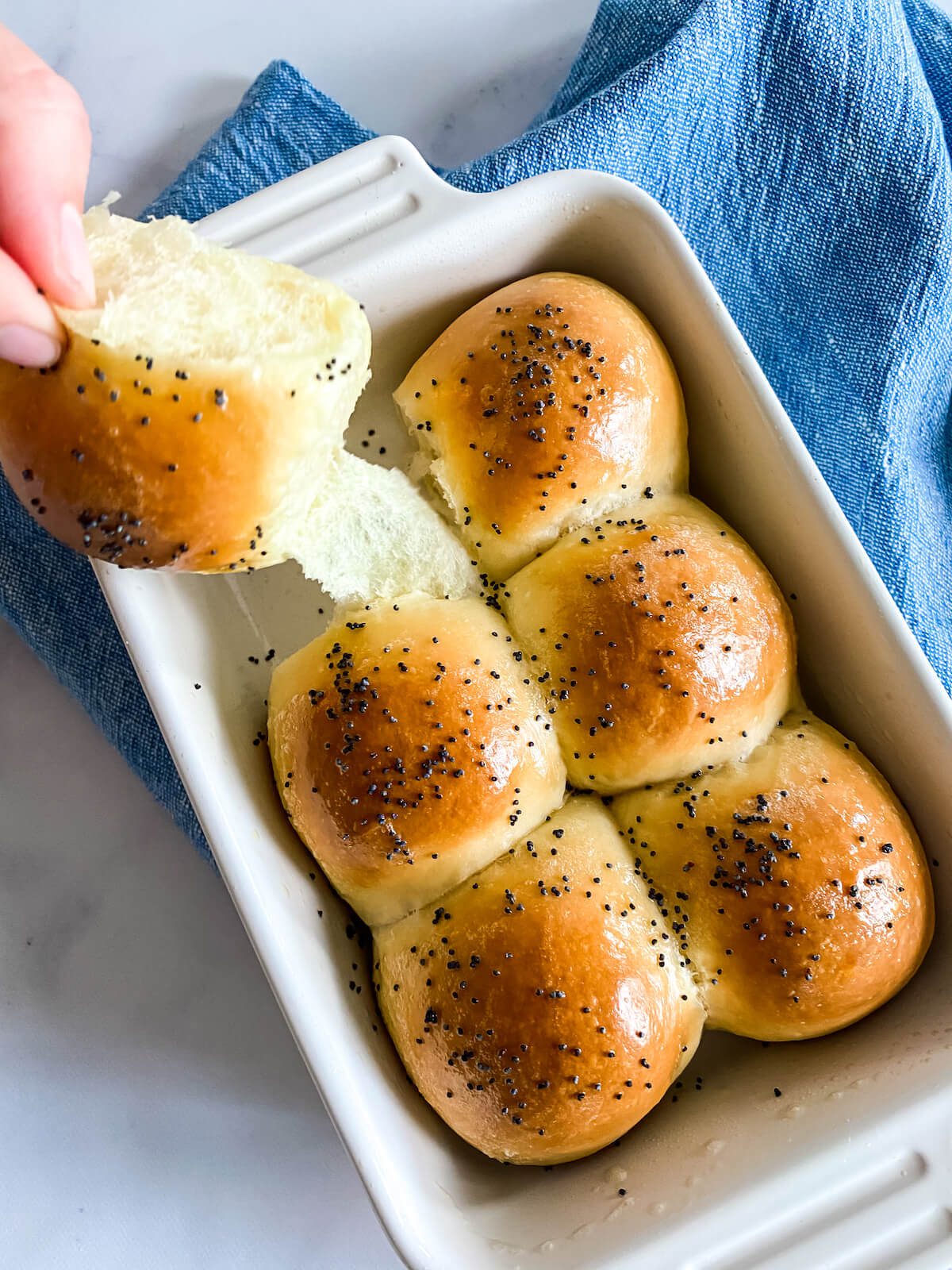 Steps For Mixing Dinner Rolls
Mix the prepared tangzhong, eggs, milk, yeast, and dry ingredients together in the bowl of a stand mixer.
Mix until a rough dough forms, scraping sides of bowl as needed so all ingredients are incorporated. Then add butter according to the recipe.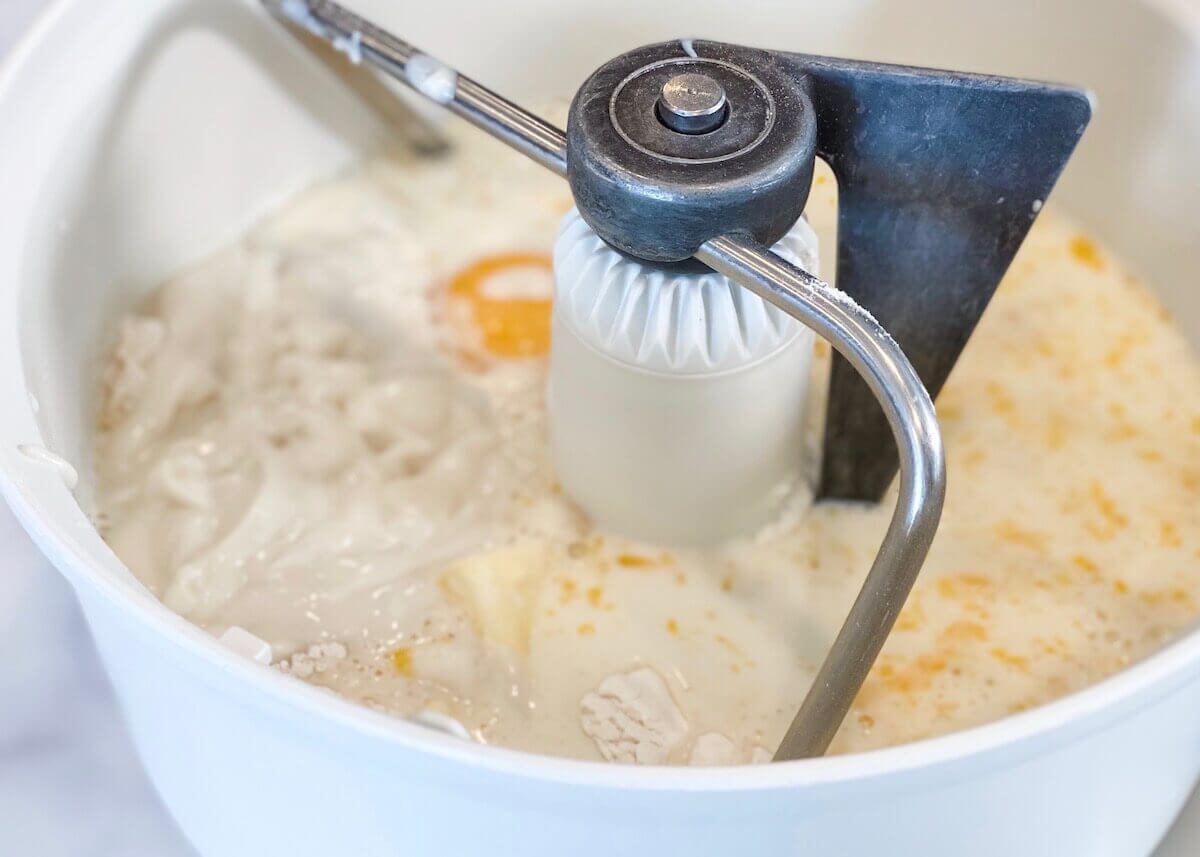 Cover the dough and let it rest 20 minutes.
Then mix the dough for about 6 minutes to develop the gluten.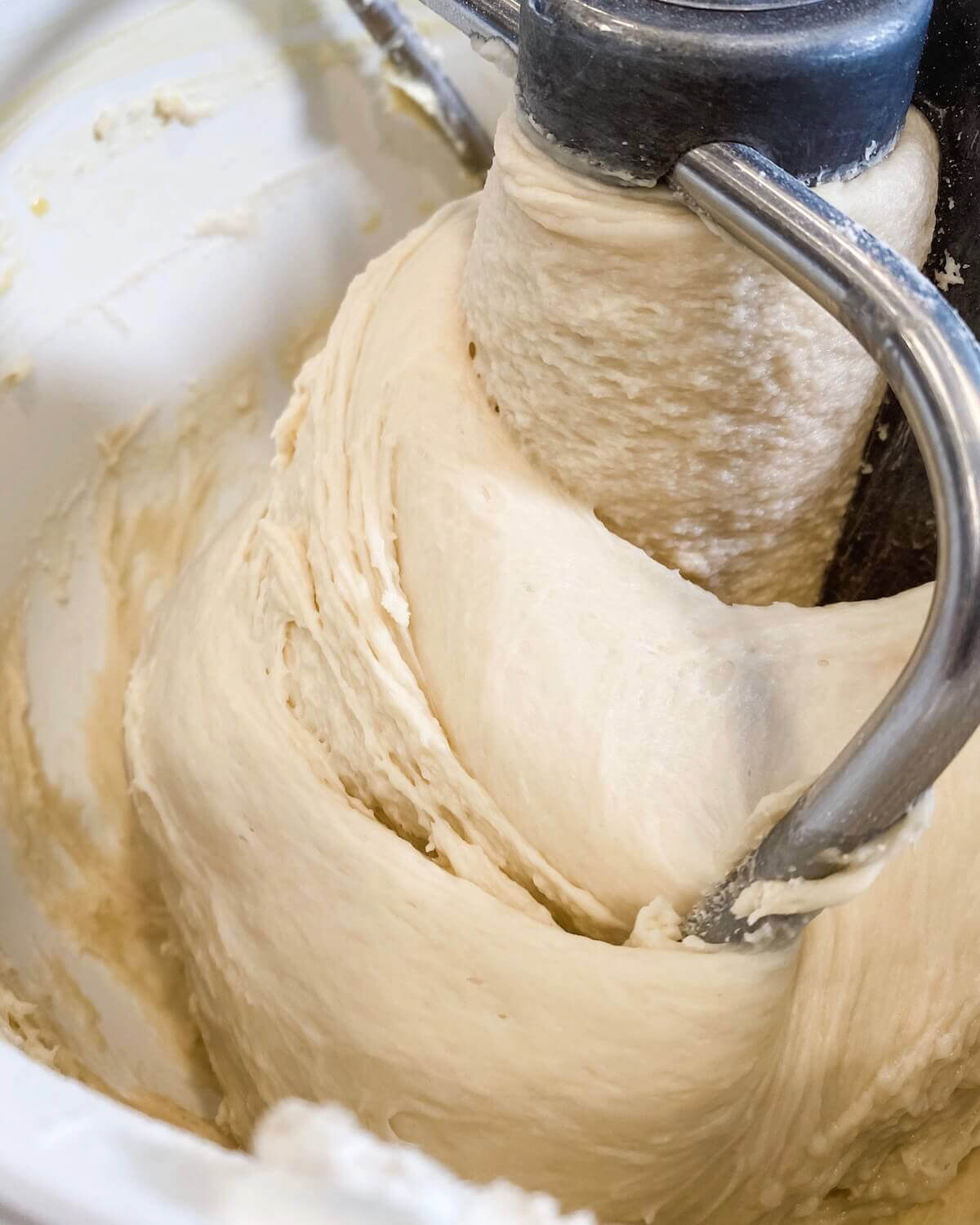 Form dough into a tight ball and let rise in a greased bowl.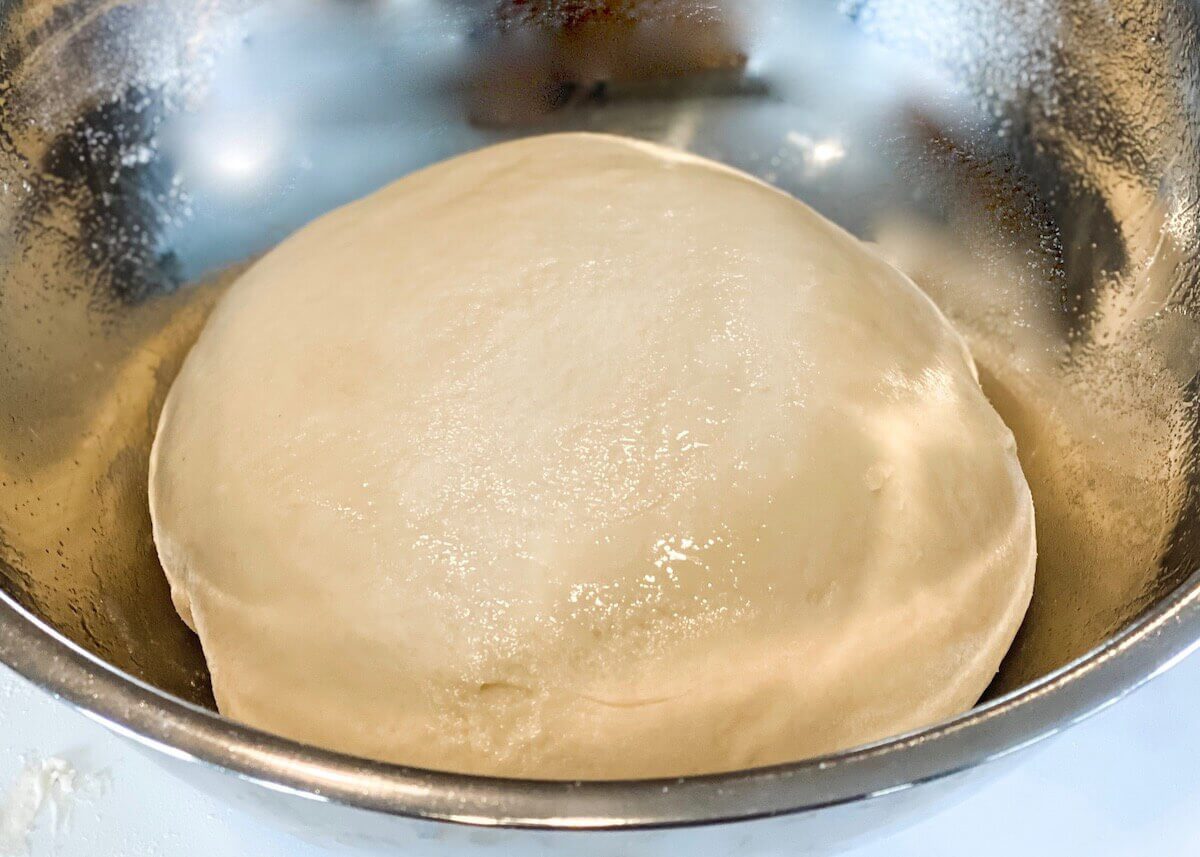 Test the first proof of the dough by seeing that it has doubled in bulk, and a finger indentation remains instead of bounces back.
Proceed with dividing the dough into roll-sized portions and forming into roll balls.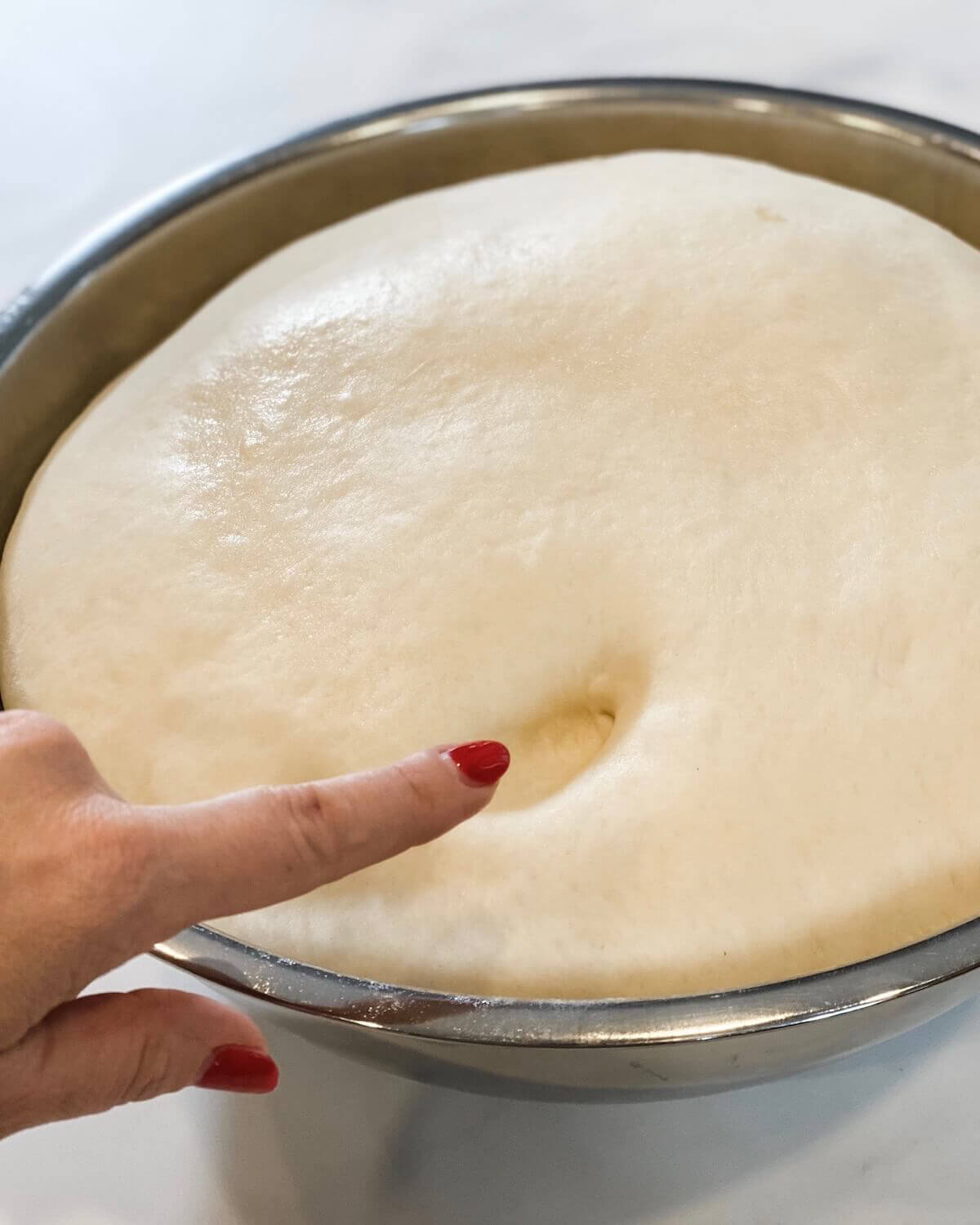 Dinner Rolls FAQs
Do I have to weigh the ingredients?
While a kitchen scale is not necessary to making this recipe, I highly recommend getting one. I like this scale.

Weighing the ingredients guarantees accuracy and will result in rolls that look just like mine. Everyone measures flour a little differently, and you might end up with too much or too little if you use measuring cups.
Plus, I love to weigh the dough and do a little math to make sure that I split the dough into 25 equal pieces. That way all of my rolls are exactly the same size and all cook perfectly.
What kind of flour should I use?
I call for all-purpose flour in this recipe, not bread flour. No need to get any special flour for this recipe.
Can I double the recipe?
Absolutely! Just make sure you have enough pans ready for the extra rolls.
What kind of yeast should I use?
Use instant dry yeast for this recipe, not active dry yeast. Instant yeast does not have to be proofed and can be added it with the rest of the ingredients.
More Yeast Bread Recipes
Let me know how it went!
Scroll to the bottom of the page to rate ⭐⭐⭐⭐⭐ and comment on this recipe. Leaving comments helps other too!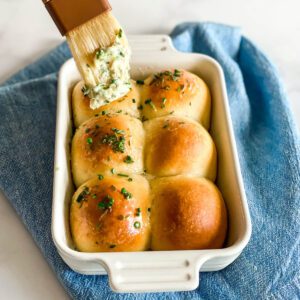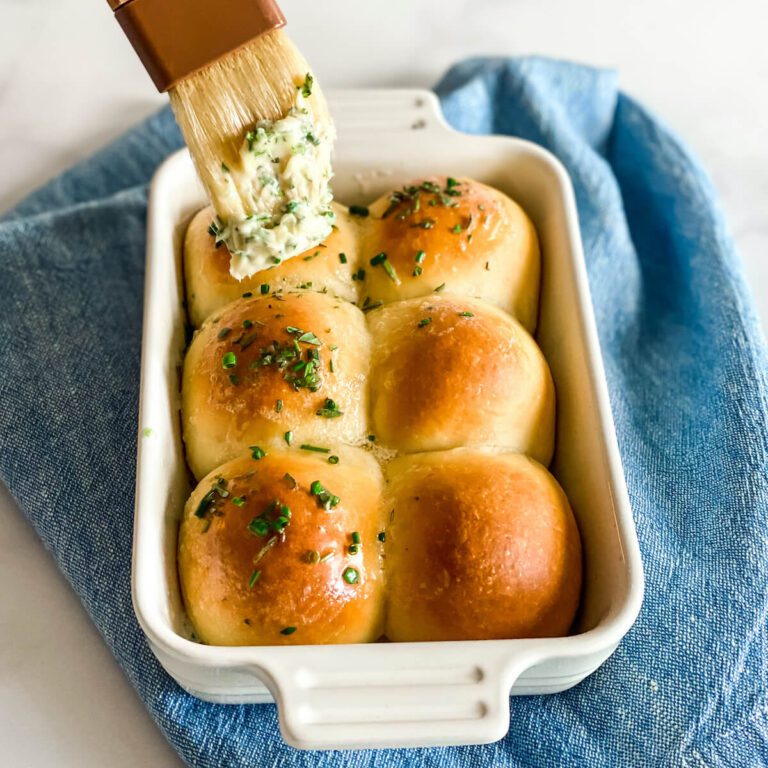 Best Soft Dinner Rolls Recipe
A soft dinner rolls recipe with a butter and egg enriched dough. The tangzhong custard helps create a very delicate and soft roll, perfect for any meal.
Ingredients
Tangzhong Starter
½

cup

water

½

cup

whole milk

6

tablespoons

all-purpose flour
Rolls
4½

cups

(to 4¾ cups) all-purpose flour

(576g)

1¾

teaspoons

fine salt

1

tablespoon

plus ½ teaspoon instant yeast

2

tablespoons

nonfat dry milk

¾

cup

whole milk

warmed

2

large

eggs

room temperature

6

tablespoons

unsalted butter, softened

plus extra for brushing

Canola or Avocado oil

for work surface

¼

cup

chopped mixed herbs (such as rosemary, parsley, oregano, and thyme) for garnish

OPTIONAL
Instructions
Tangzhong Starter
For tangzhong: In a small saucepan over medium heat, whisk together water, milk, and flour. Cook 2 to 3 minutes, stirring, to thicken. Transfer to a covered bowl and refrigerate until cool.
Rolls
For dough: In the bowl of an electric mixer fitted with the dough hook, combine the 4½ cups (579g) flour, salt, instant yeast, and dry milk. In a separate bowl, whisk together warm milk, eggs, and cooled tangzhong paste.

Add liquid ingredients to dry ingredients in the mixer. Mix on medium speed until combined. Dough will be dry. Add butter a tablespoon at a time as the mixer is going. After the butter is incorporated, knead on medium speed for 6 minutes. Cover bowl with a clean towel and let rest 20 minutes.

After 20 minutes, knead the dough again on medium-high speed for 6 more minutes until a smooth dough forms. Add a few tablespoons extra flour as the dough is mixing if it is really sticky. Dough should be soft and smooth.

Remove dough hook and use a rubber scraper to bring dough together into a ball. Spray dough and inside of bowl with cooking spray. Cover and transfer to a warm place to proof. Let rise until almost doubled in size and until finger imprint remains and doesn't bounce back when touched, 35 to 45 minutes.

Prepare high-sided pans by spraying with cooking spray or brushing with butter.

Turn dough out onto an oiled work surface. Measure and weigh into 1½- to 2-ounce pieces. (1 made 25 [1.8-ounce] rolls.) Gently roll into tight balls. Arrange ¼- to ½-inch apart in pans. cover and let rise again until almost doubled in size and until a finger imprint remains on the side when touched, 30 to 40 minutes.

While rolls rise, heat oven to 350℉. Once rolls have risen, bake until just golden, 15 to 18 minutes. Brush tops with extra butter and sprinkle with chopped herbs if desired.
Notes
Note: This recipe benefits from weighing the flour in the dough. A food scale helps make this recipe perfect. You can also use your scale to weigh each ball of dough to create uniform rolls.
Note: Bake rolls in one big pan or several smaller pans.
Nutrition
Calories:
128
kcal
Carbohydrates:
20
g
Protein:
4
g
Fat:
4
g
Saturated Fat:
2
g
Polyunsaturated Fat:
0.3
g
Monounsaturated Fat:
1
g
Trans Fat:
0.1
g
Cholesterol:
24
mg
Sodium:
178
mg
Potassium:
66
mg
Fiber:
1
g
Sugar:
1
g
Vitamin A:
189
IU
Vitamin C:
1
mg
Calcium:
30
mg
Iron:
1
mg
Delicious bread and quick-bread recipes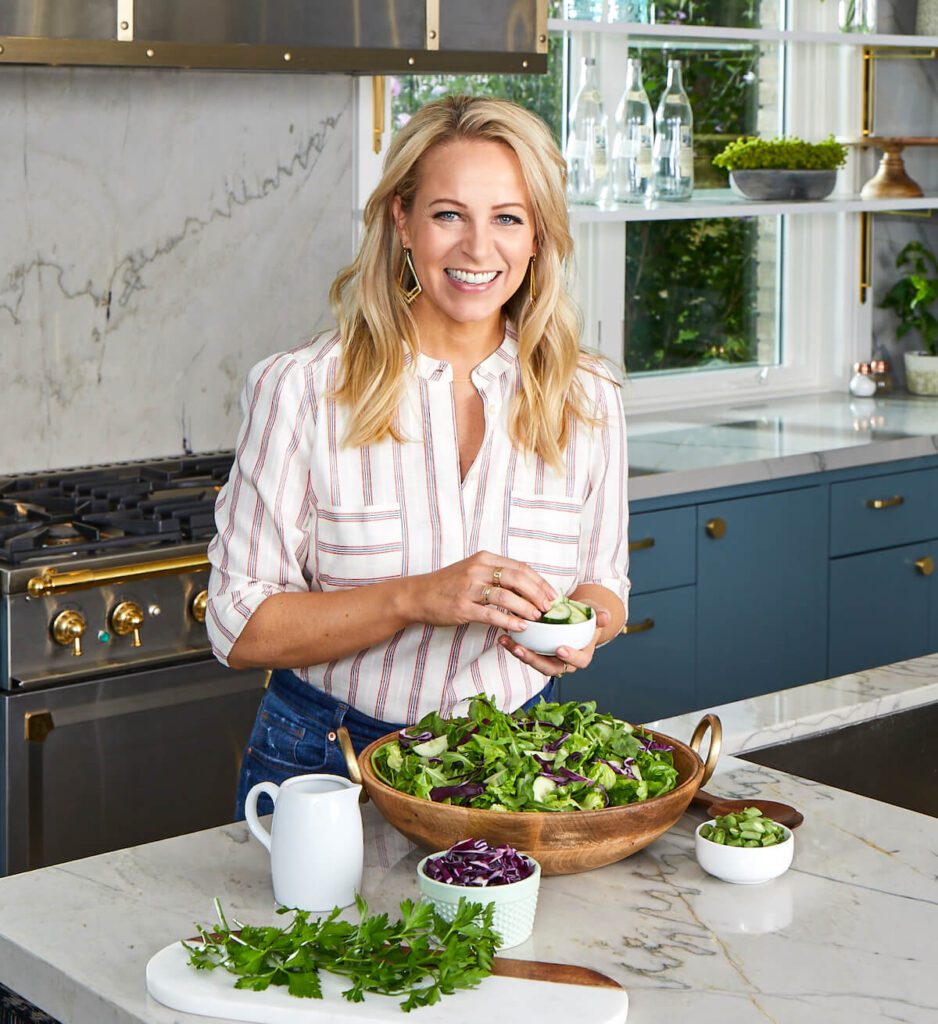 About Tara Teaspoon
I've been in the food publishing business for over 20 years, creating recipes & food-styling for magazines, books, television & advertising. Order my new cookbook & stick around for amazing things to eat.