These ultra soft cinnamon rolls are made using the tangzhong method. Don't worry if you're unfamiliar with this baking method, it's easy to master and I walk you through it step by step!
---
These squishy soft cinnamon rolls will truly make your heart happy with their gooey brown sugar and spice filling, encased in the light, tender dough. The Asian milk bread dough base creates the perfect chewy cinnamon roll texture and the technique will change your world.
You'll never need another cinnamon roll recipe. It's a promise!
The Japanese style bread-making method makes cinnamon rolls absolutely transcendent. It begins with a starter called tangzhong. The milk bread starter ensures the moist yet airy cinnamon roll dough you have always wanted. You won't regret taking the extra five minutes for this step.
There's nothing too complicated about this cinnamon roll dough recipe. You might learn a few new things, but for sure you'll be able to recreate them in your kitchen.
In this post, the first thing I'll tell you about is this interesting cooking method. You'll also get info on storing, frosting and step-by-step instructions on how to make the rolls. Keep reading for more!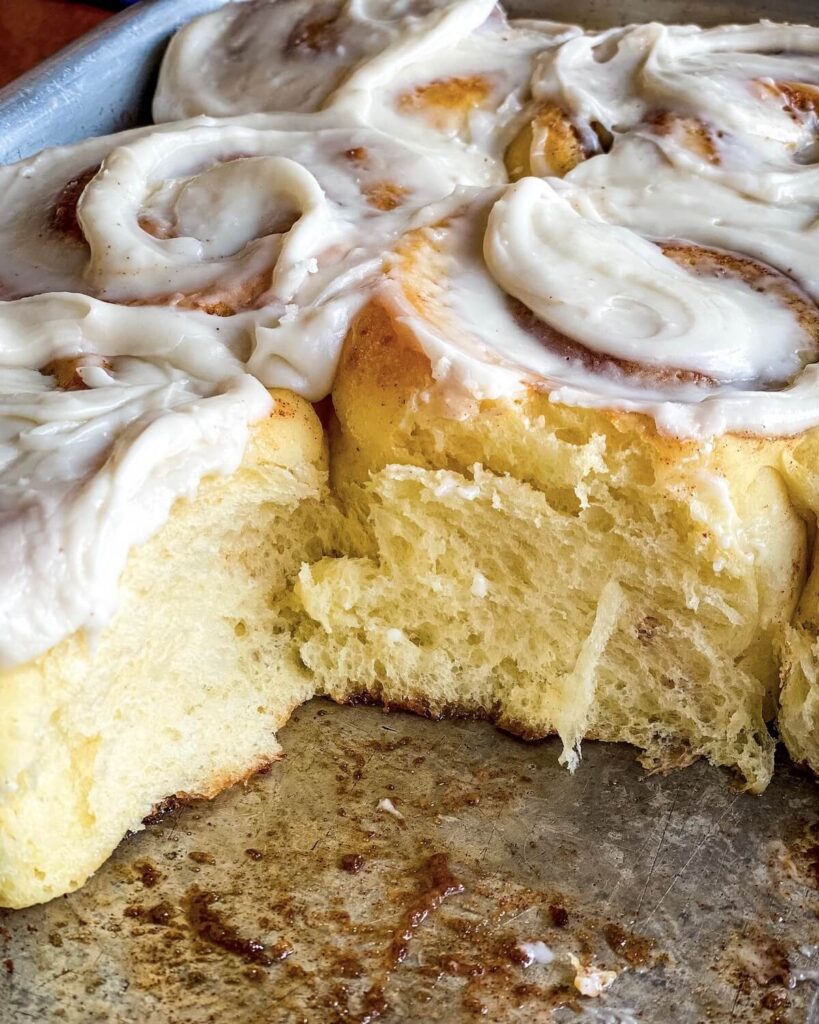 Jump to:
Explaining the Tangzhong Method
If you've ever stopped by a China Town bakery in New York City and tried their soft, sometimes filled rolls, you may have had tangzhong milk bread. (I love the coconut-filled rolls in those bakeries! Try one if you're in town!)
Traditionally a Chinese bread making technique, tangzhong found its way to Japan where it is widely known as milk bread.
This Asian bread-making technique produces rolls or loaves with a feathery, springy texture. It involves the step of making a paste from flour and milk, plus sometimes water.
5% to 10% of the flour in the recipe, with some of the recipe's liquid or milk is cooked into a thick paste. It's almost pudding-like. The mixture gets added to the rest of the dough recipe and kneaded in.
The science is that the paste traps or holds water in the flour molecules, which makes it possible to add much more liquid than what the dough could normally hold.
That extra moisture keeps the crumb of the bread soft and tender without being too wet. The moisture converts to steam during baking, which helps make the bread light and fluffy.
It sounds more complicated than it is. This recipe does the math for you and you don't have to worry about percentages. It takes all of five minutes at the stove and an extra pot, but the results are worth it.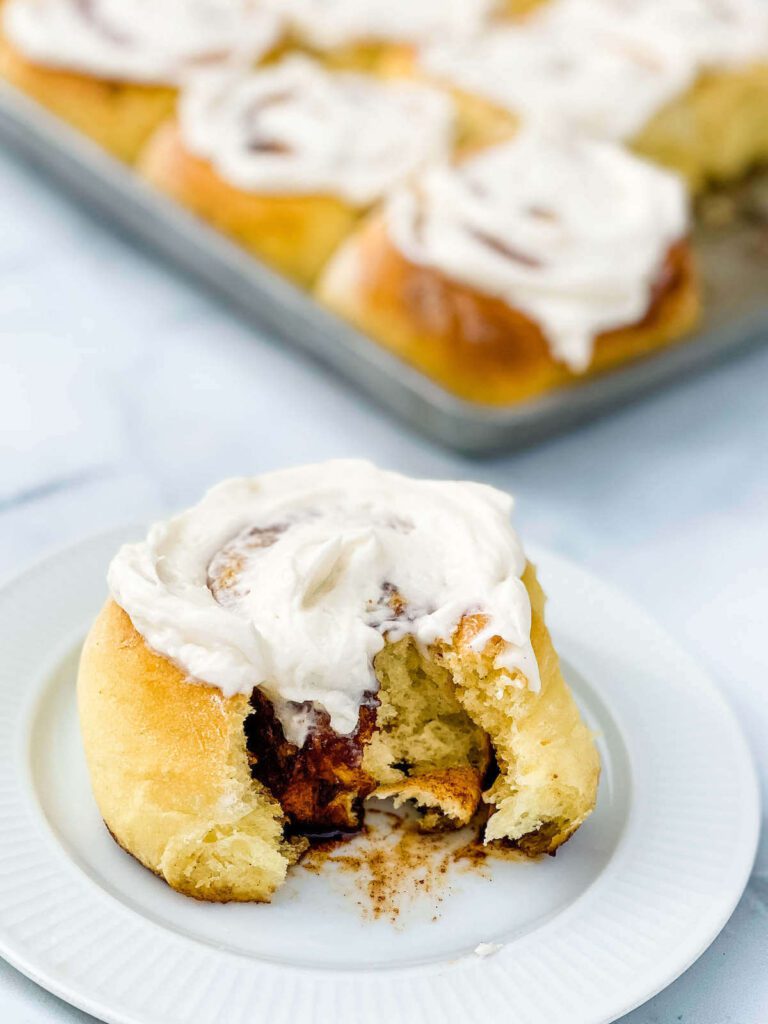 What Makes These the Best Cinnamon Rolls?
For me, the ultimate cinnamon roll has the perfect balance of dough to filling to frosting.
Here's the list for what every cinnamon roll should check off, in my humble opinion!
Lofty, soft dough that stays soft even if it's not fresh from the oven.
Tender and ever-so-slightly chewy bite.
Balance of gooey brown sugar and cinnamon flavor.
Perfect balance of bread to gooey filling.
A delicious not-too-sweet vehicle for creamy frosting.
One thing I love about this recipe is how long these rolls stay soft. The next day they aren't stale one bit.
You can make these rolls big and thick or even mini. Just roll and cut them the size you desire.
Ingredients in the Soft Cinnamon Rolls
These tangzhong cinnamon rolls don't require any special ingredients and are similar to classic cinnamon rolls, only softer.
The tangzhong starter is a simple combination of water, whole milk, and all-purpose flour.
To create the cinnamon roll dough, additional flour is added, along with instant yeast, dry milk, whole milk, eggs, and unsalted butter.
Note that there is no sugar in the dough! This is because sugar is hygroscopic, meaning it attracts water molecules. If there was sugar in the dough, it would attract all those water molecules to itself leaving the bread with a dry mouthfeel and courser crumb.
Conversely, the eggs are in the dough to make it a lovely rich, satiny texture. Ideally your eggs will be at room temperature or almost, when you use them for the dough.
Keeping all your ingredients on the warm side when mixing dough helps the proofing time happen at a good speed. To warm cold eggs, just let them sit in a bowl of warm water for a few minutes.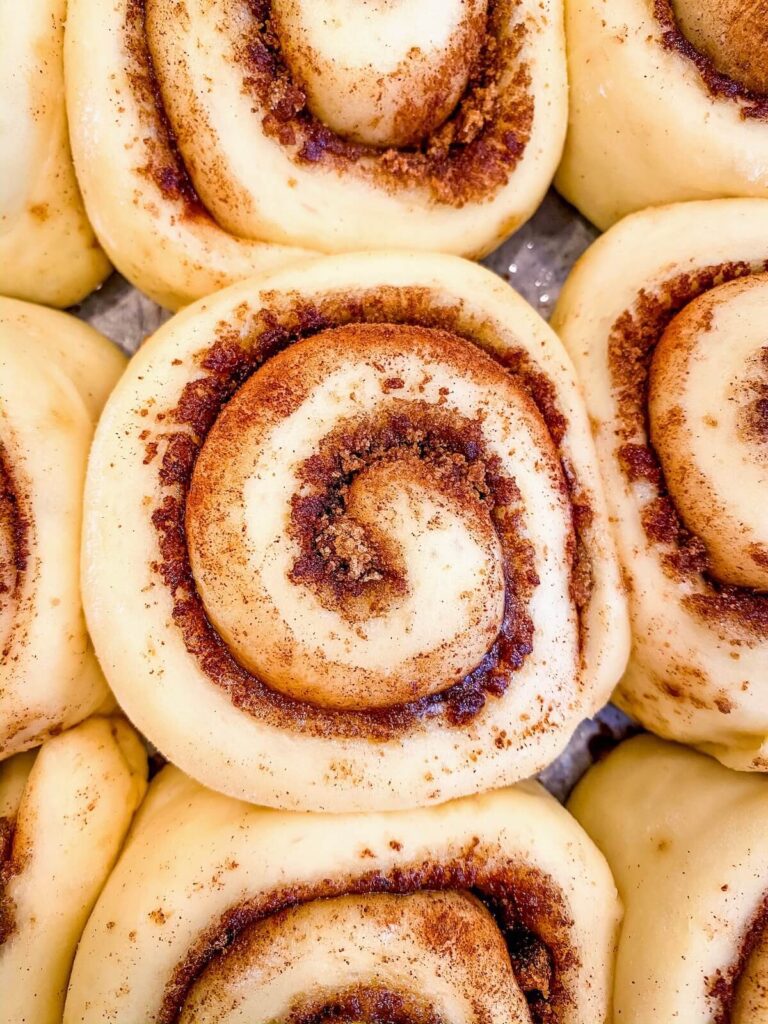 The Perfect Cinnamon Roll Filling
Too much talk of cinnamon rolls? Listen, if you made it this far you must love them as much as I do! And I feel like the filling is oh, so important.
I don't think fancy fillings using cornstarch or other ingredients are necessary. I stick with the classic — butter, brown sugar, and cinnamon.
And guess what? You can add as much sugar or cinnamon as you like.
For this size recipe, I think 1 cup of brown sugar (preferably dark brown sugar for me) and 2 tablespoons ground cinnamon is perfect.
Any more cinnamon is overpowering. Any less, and it's just a sweet roll. The brown sugar is the perfect amount to create the gooey center, but not too much that it all melts out the bottom.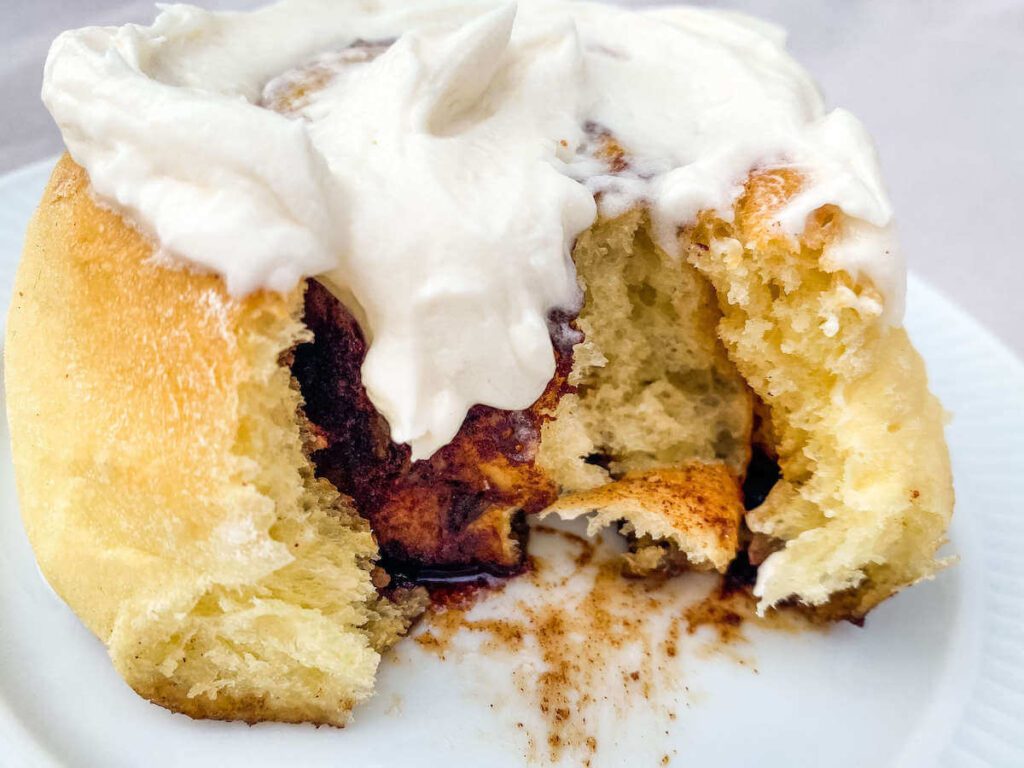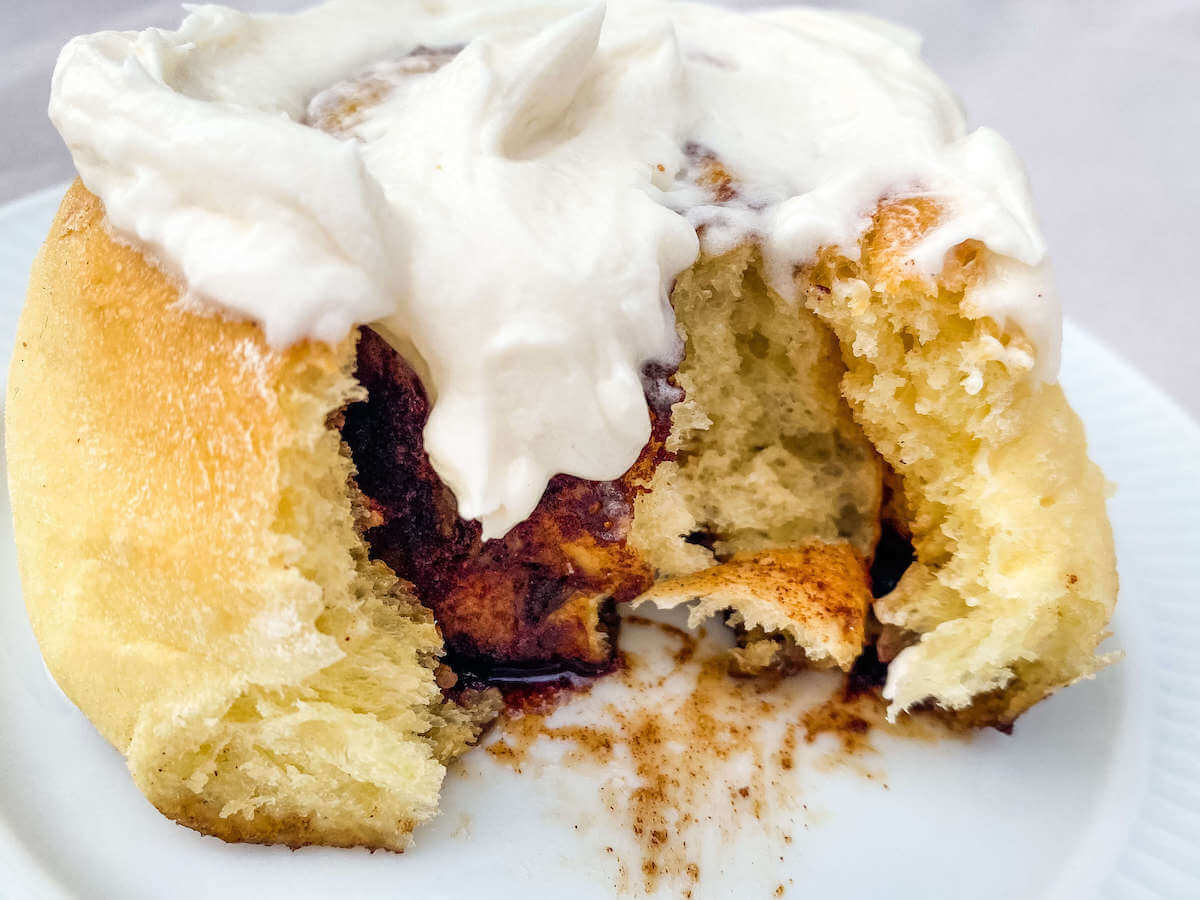 Choosing & Measuring the Flour
I based this recipe off of a mix between my mom's delicious rolls and the King Arthur soft cinnamon rolls recipe. The KA recipe calls for bread flour. And while this makes sense and I totally trust and love them, I have to disagree here!
Having made my recipe with both flours I loved the texture and loft of the rolls using all-purpose flour better.
Bread flour contains more protein than AP flour. For making bread that's sliceable and sturdy, you want to use bread flour that helps develop a strong gluten situation.
For soft cinnamon rolls, I found I don't need this strength and my rolls were much more tender when I used AP Flour!
The Right Way to Measure Flour
Measuring technique for flour is important. Everyone scoops, spoons and measures flour differently. That's why professional baking recipes use weight.
I've included both weight and cup measurements for the flour. The first time you make these, feel free to weigh the flour. You'll be able to see if your amount is heavy or light.
After that, the recipe is a tiny bit forgiving, but keep your measurement technique in mind.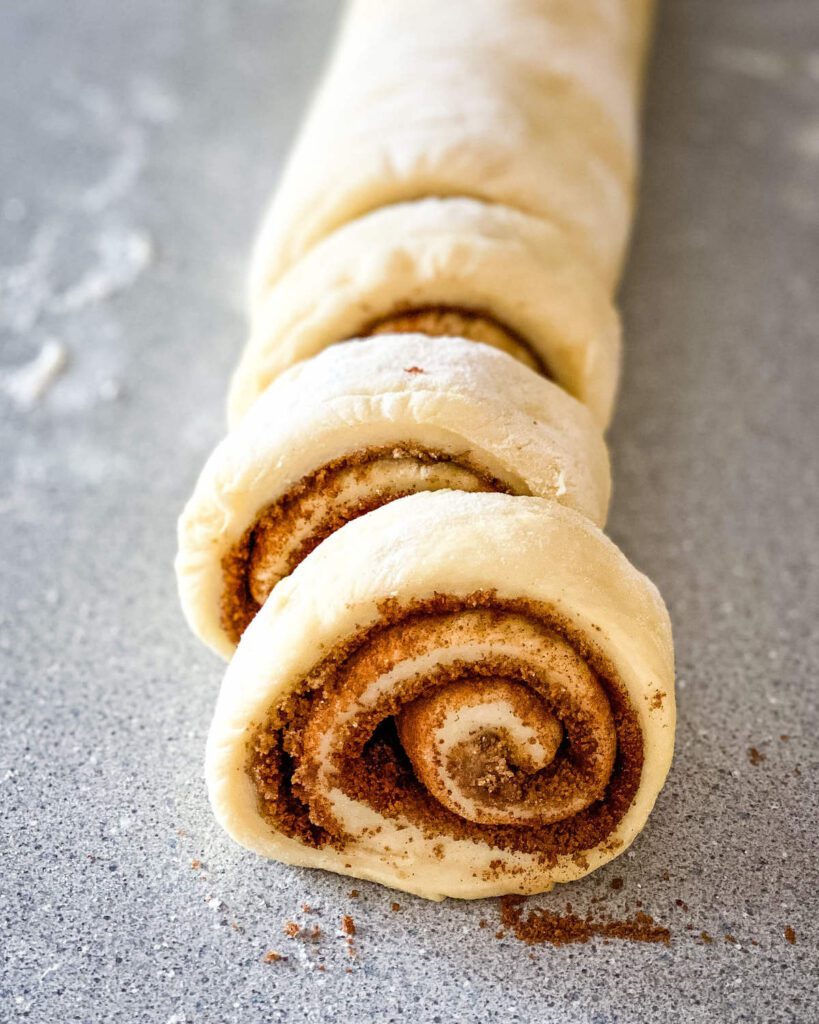 How to Make Super Soft Cinnamon Rolls
Here are the steps, with helpful images, for making Japanese milk bread cinnamon rolls.
First make the tangzhong paste mixture. Cook the small measurements of flour, water and milk in a small saucepan on the stove.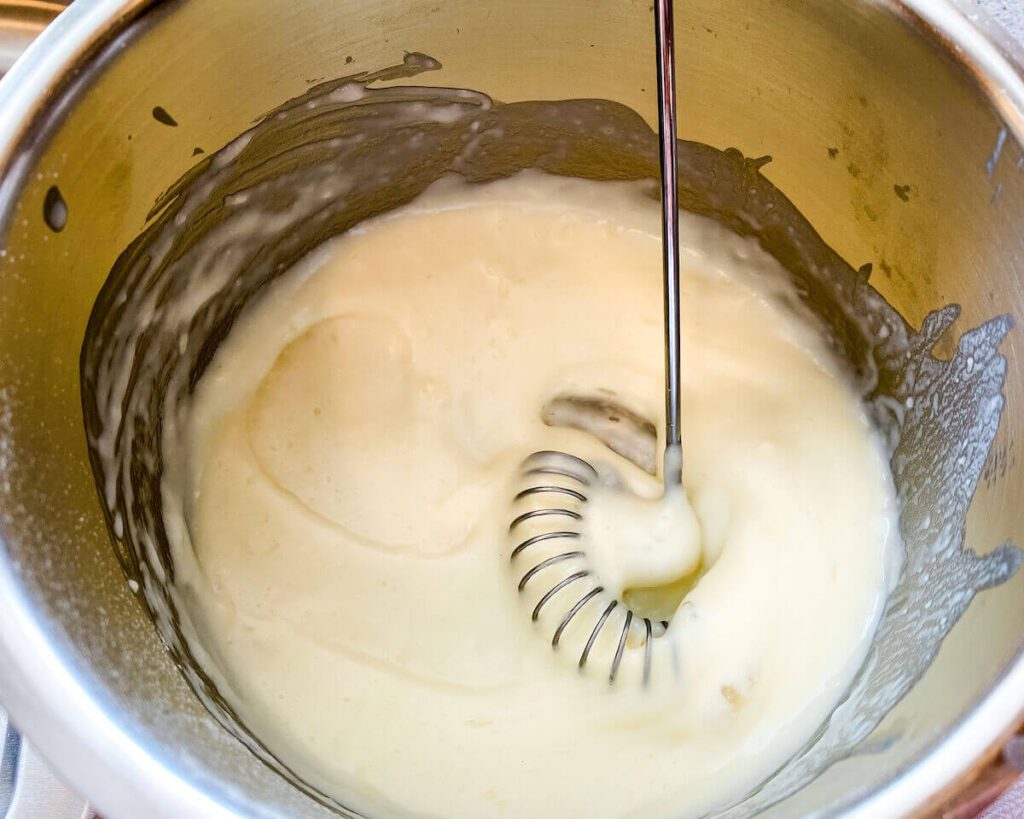 Add the paste and all the remaining dough ingredients to the bowl of a mixer. You'll mix this with the dough hook.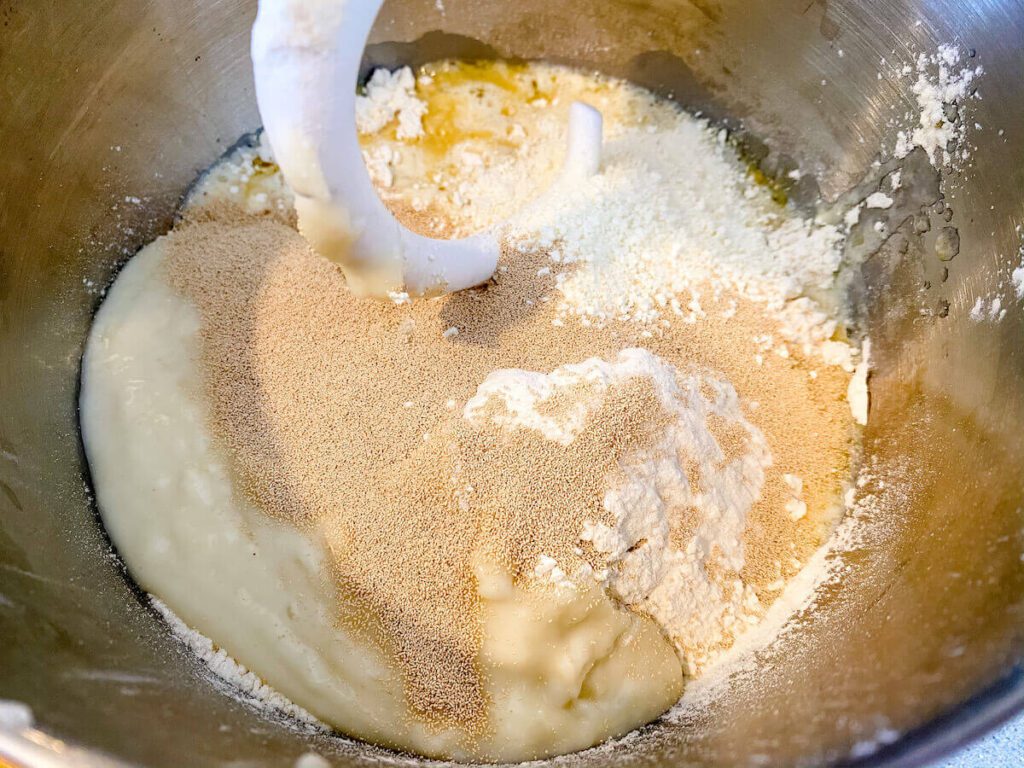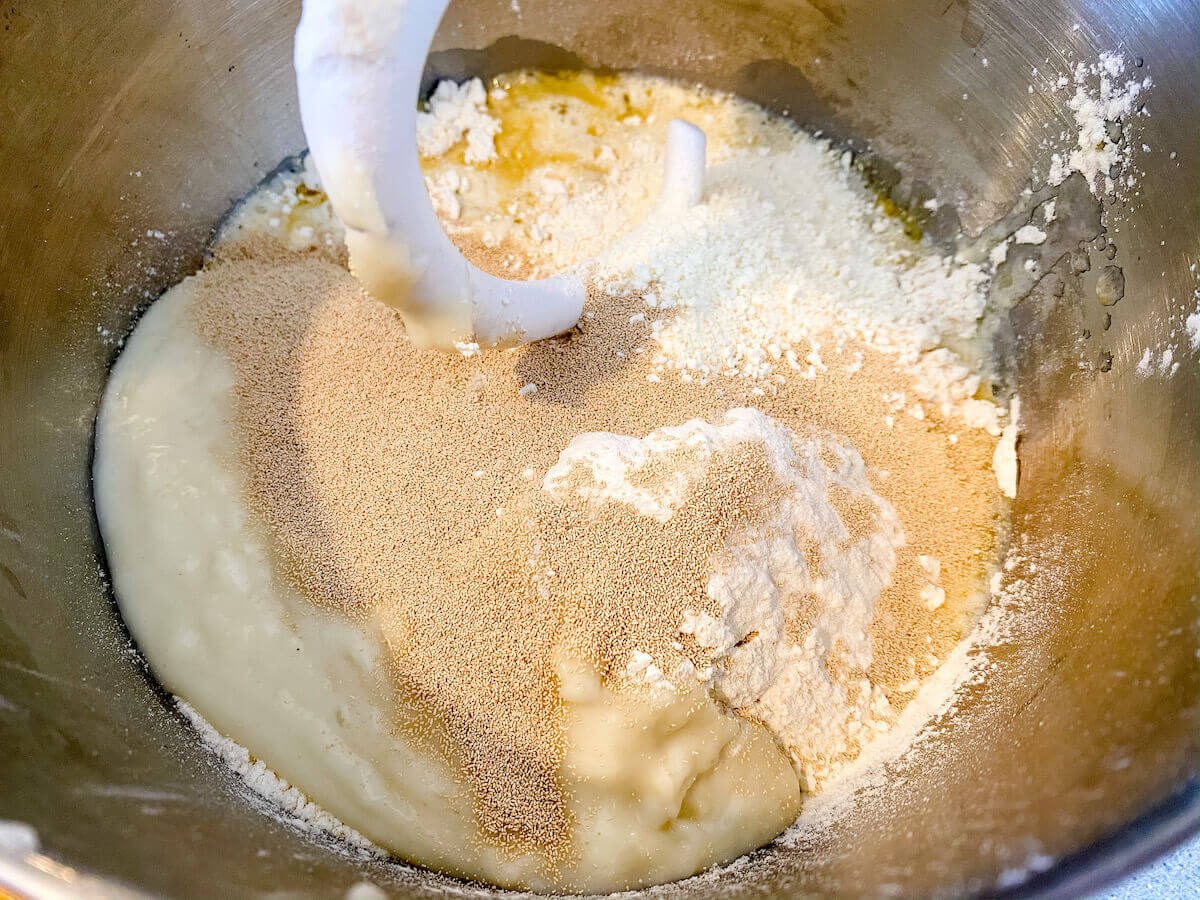 The dough will be rough and seem dry. Let this mixture rest for 20 minutes to soften, then you will knead it some more.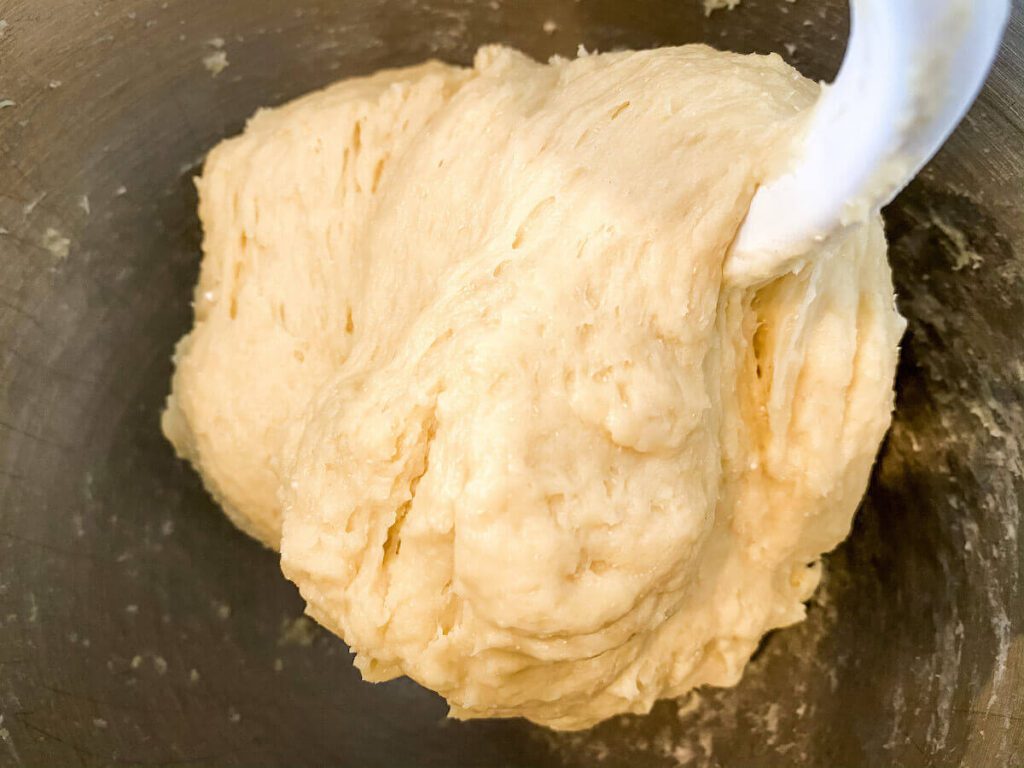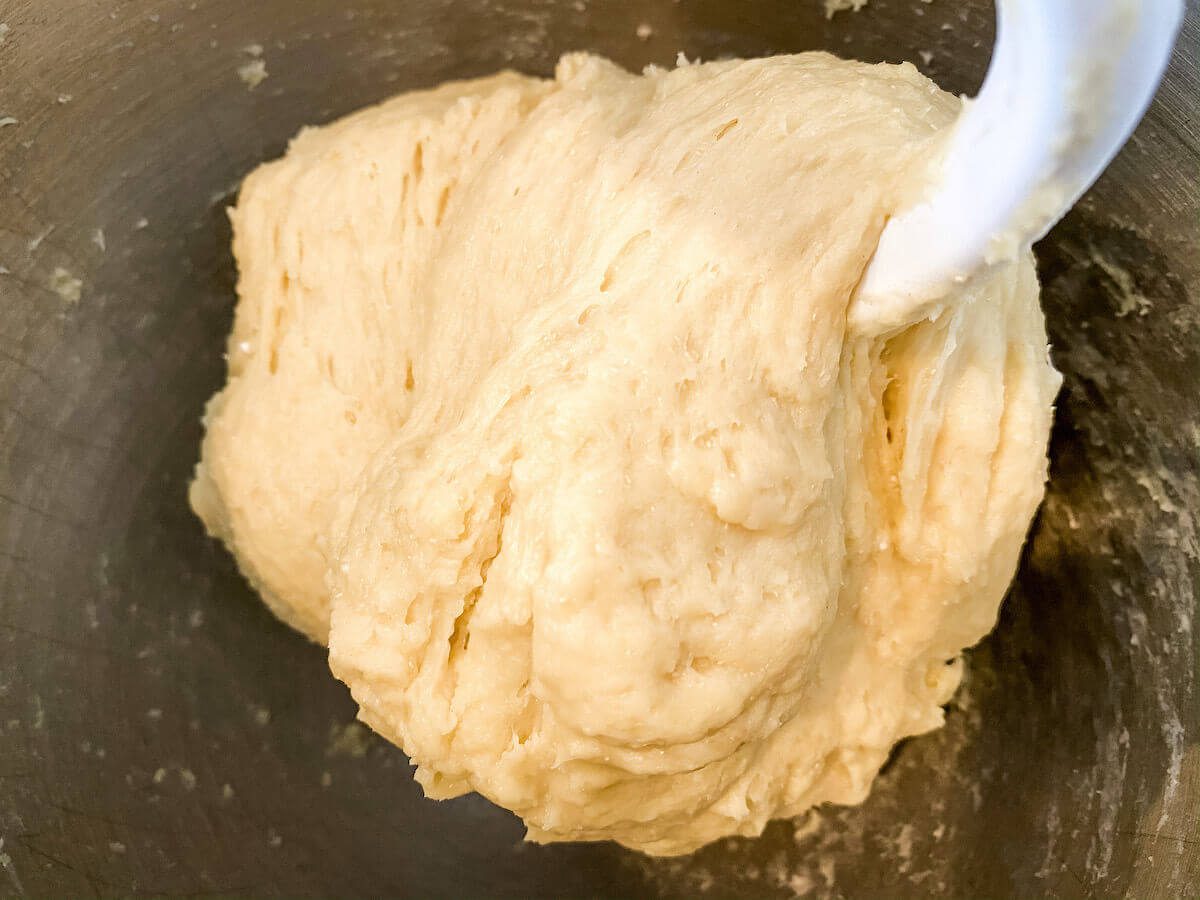 Once kneaded for a few minutes following its little 20 minute nap, the smooth and soft dough gets its first proofing session. This will take 60 to 90 minutes, depending on the temperature and conditions of the room.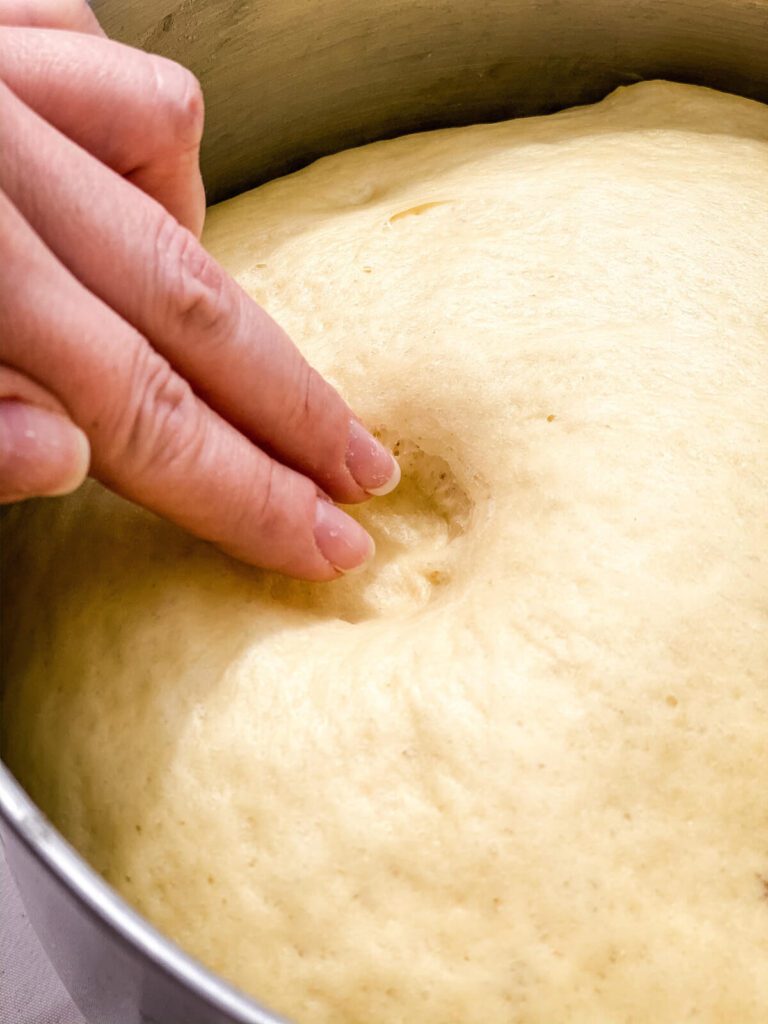 Roll the dough into a 12-by-19-inch rectangle.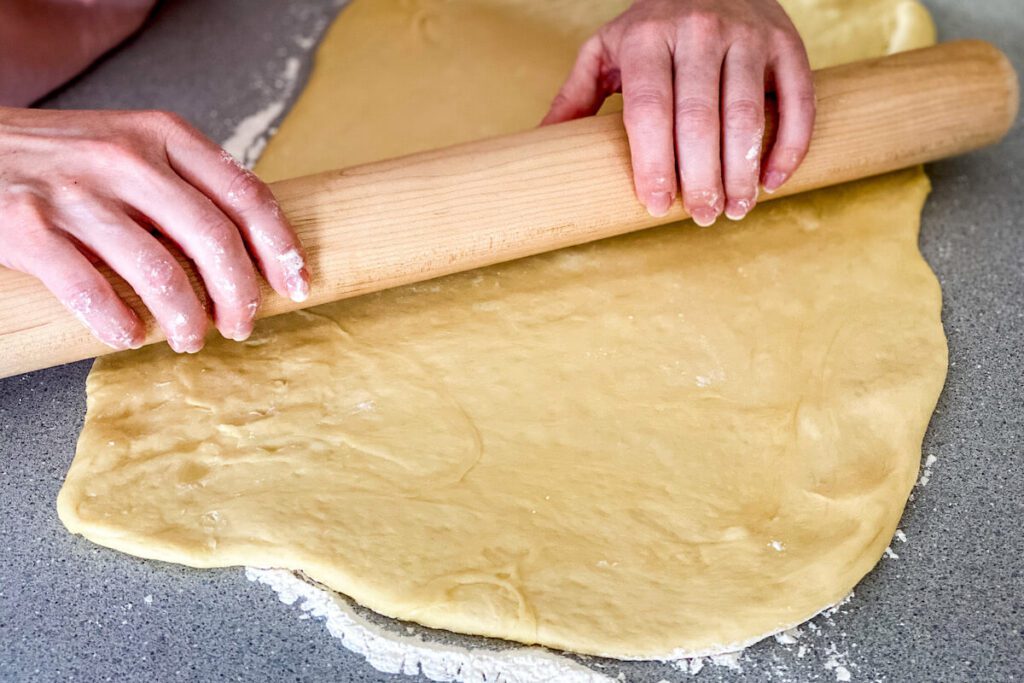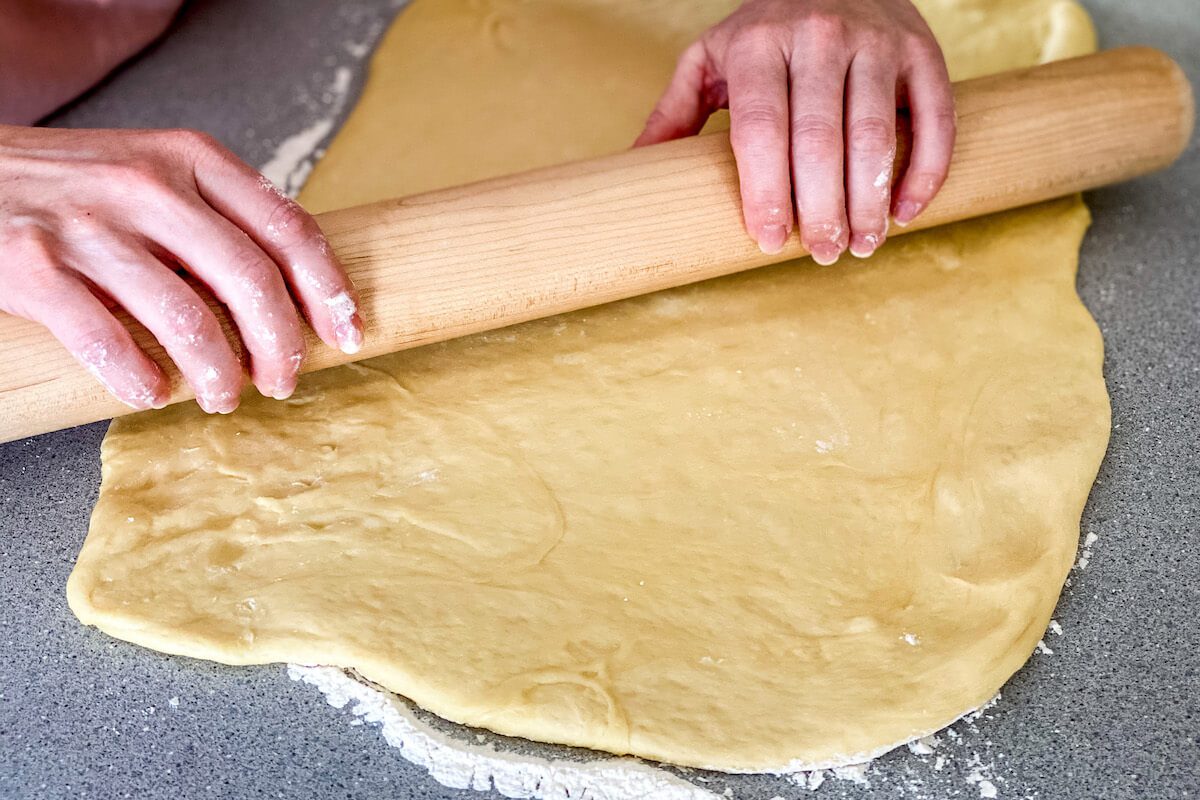 Spread the butter for the filling, gently over the rectangle, then top with brown sugar and cinnamon.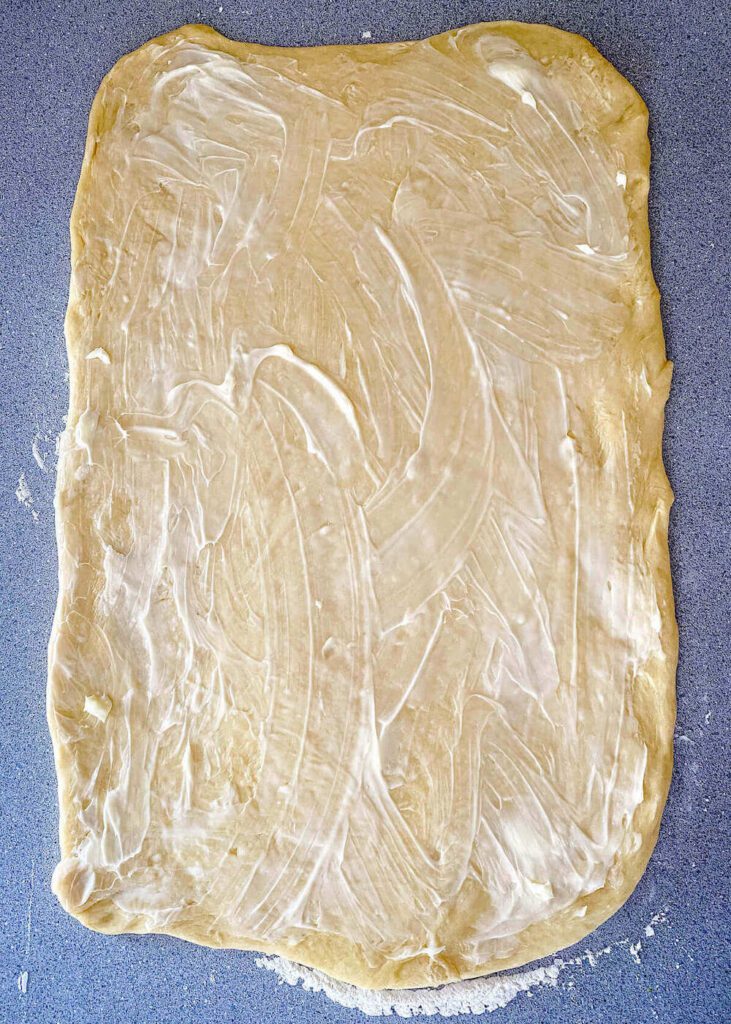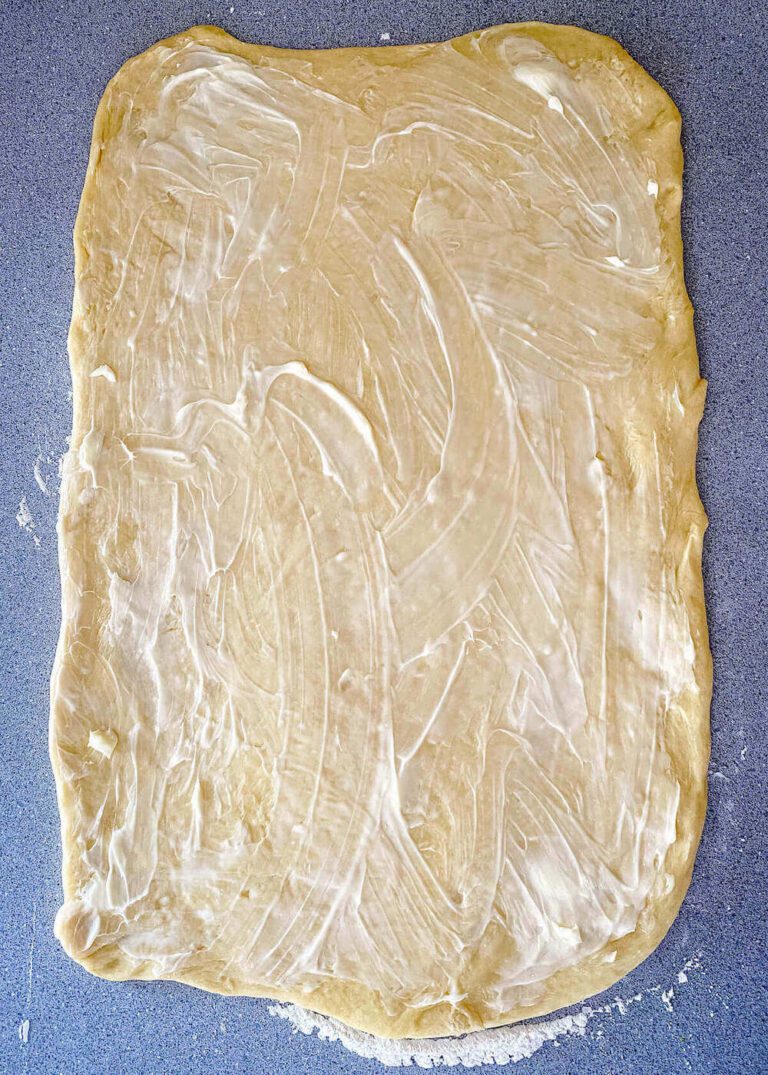 Gently roll the dough from the long end into a tight spiral. Pinch the end edge to secure the spiral together.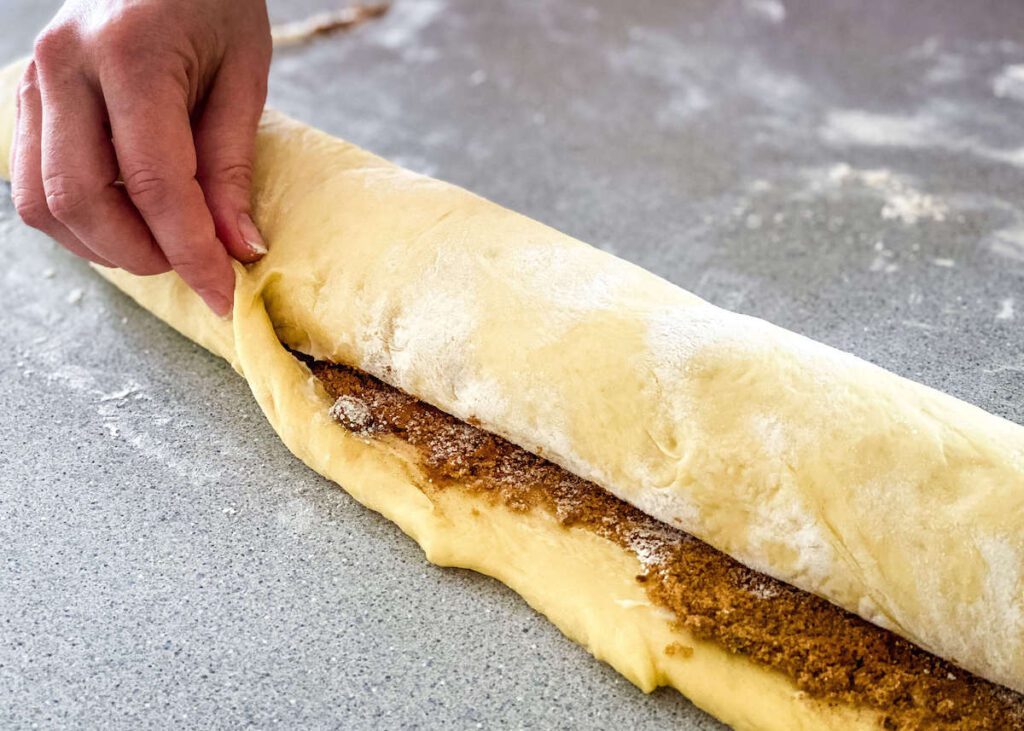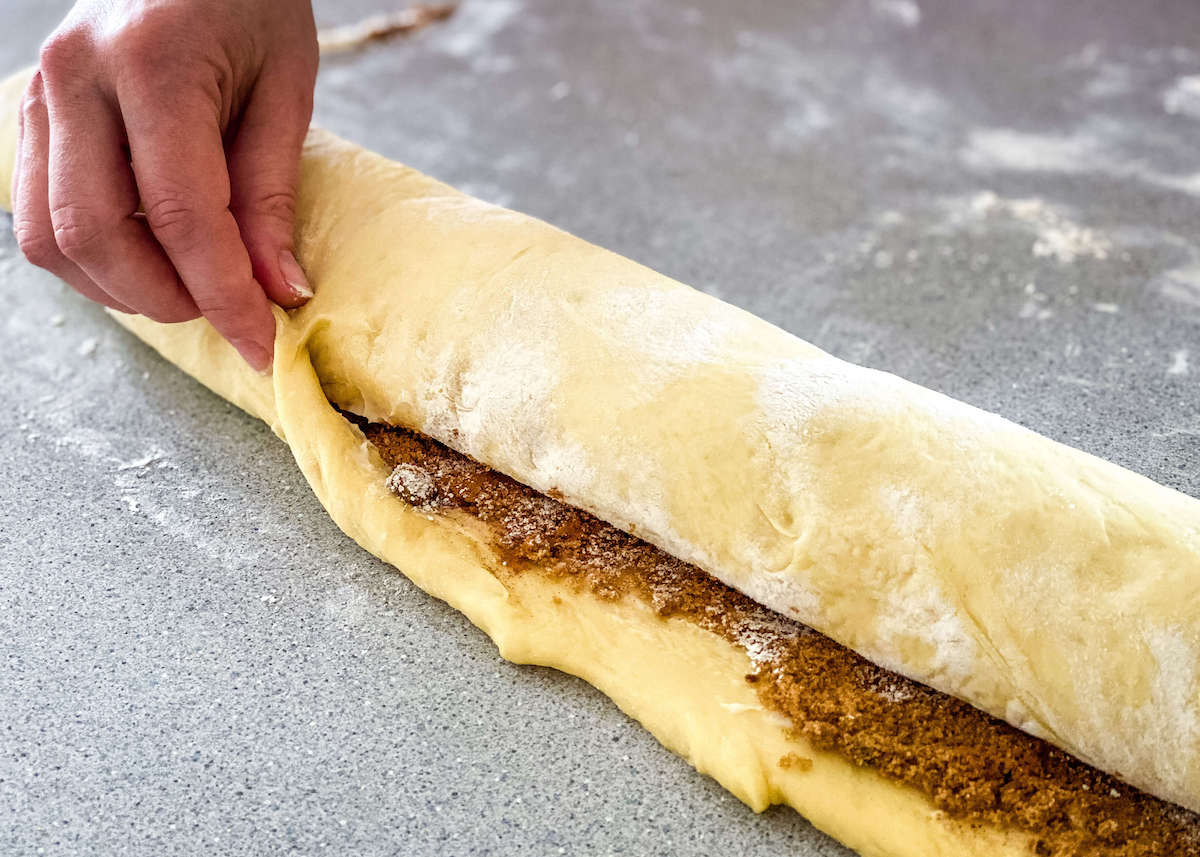 Cut the roll into 12 or 15 rolls, depending on your preference. I use doubled thread or unflavored floss to cut each roll. You can do this or use a knife.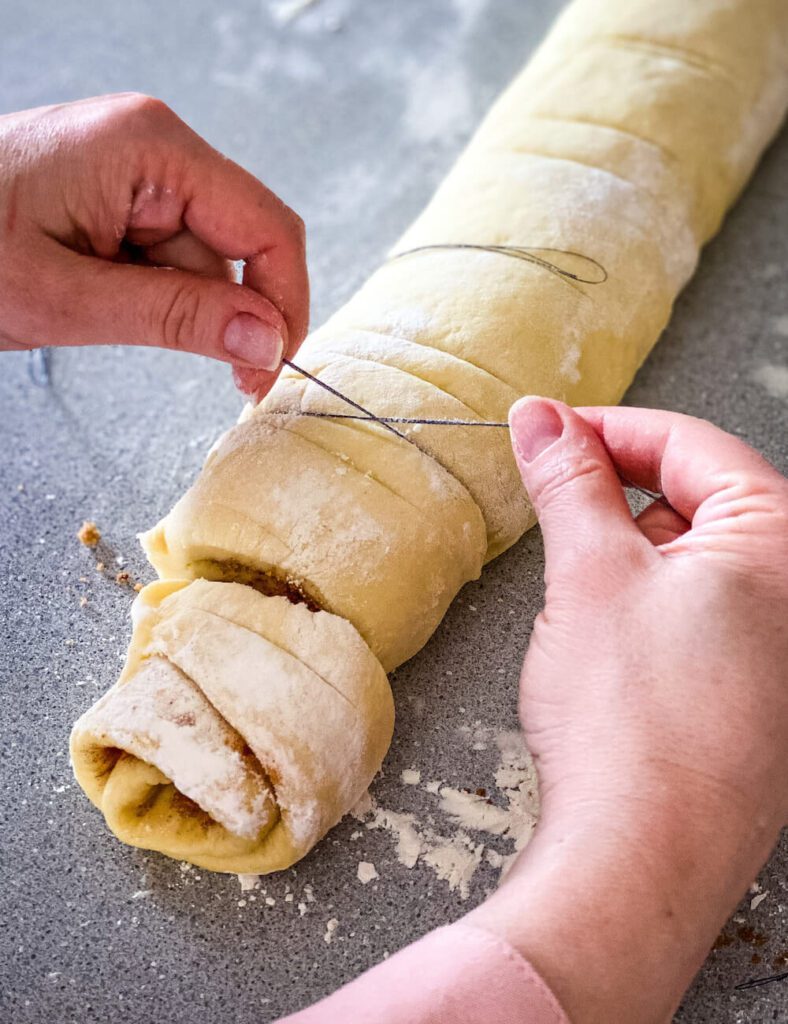 Let the rolls rise in a buttered pan until puffy, but not quite doubled in size. Your finger mark should remain when the rolls are lightly touched. The mark shouldn't spring back. This will take about 60 minutes.
Bake the rolls about 20 minutes until just starting to turn golden brown. Let cool slightly before adding frosting.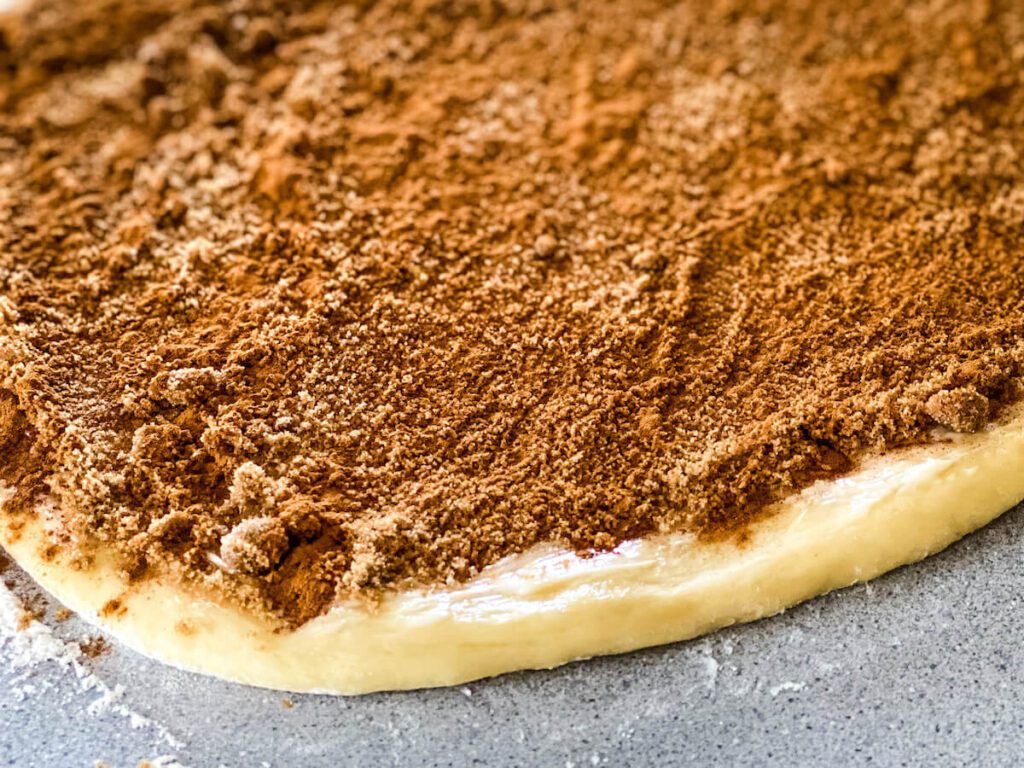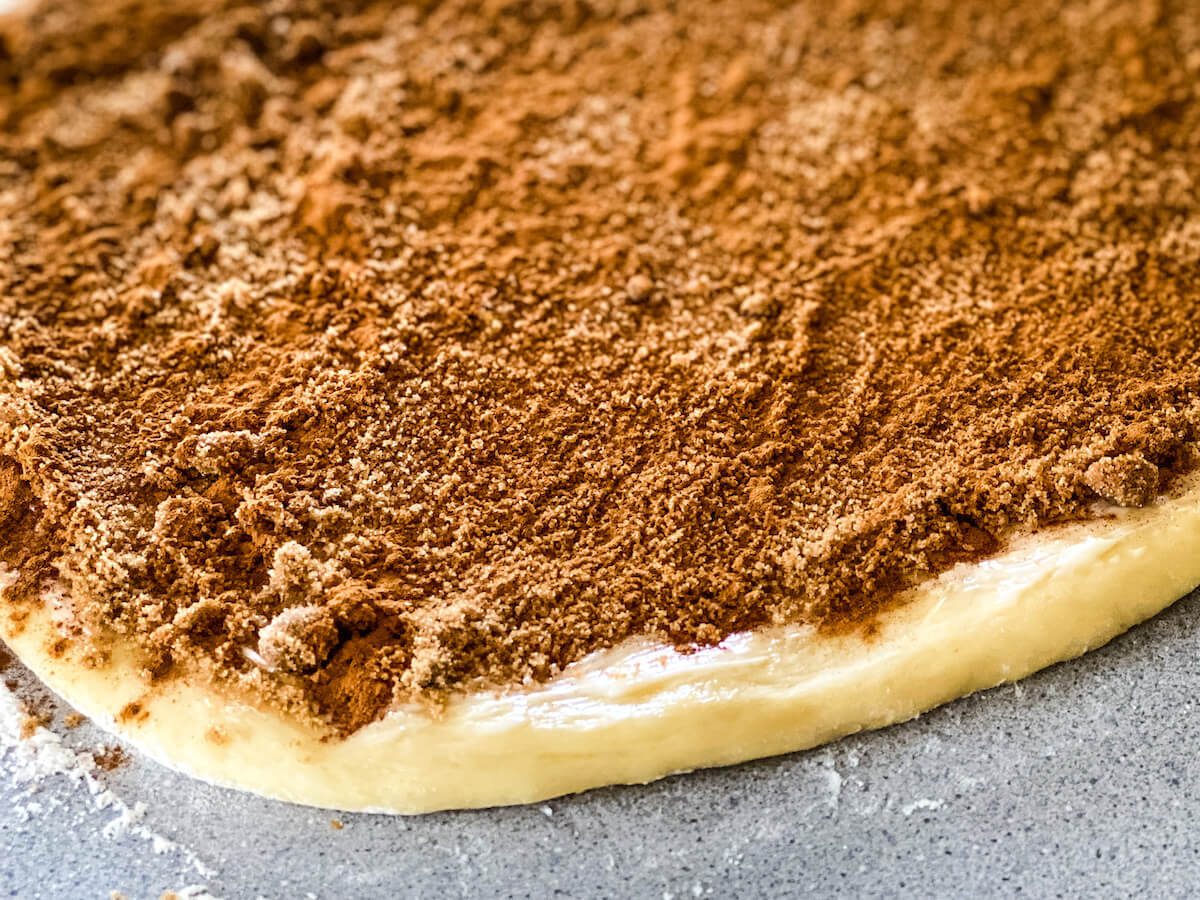 ---
Make Ahead Options
There are several options for you to make the rolls ahead.
Option 1: You can bake them but don't frost them. Wrap the cooled baking pan in plastic and gently heat them the next day. Remove the plastic, cover pan with foil and heat them for about 5 minutes in a 350ºF oven. Then add the frosting and serve.
Option 2: You can also prepare the dough, but don't let it rise for the 60 to 90 minutes. Cover the bowl and refrigerate it overnight. Then remove, roll, fill and let rise as rolls. Because the dough is cold, it will take longer to rise. Bake when fully proofed.
Option 3: Another option is to let the dough rise the first time, then form the cinnamon rolls and place them in the pan. Cover and refrigerate or freeze.
If you refrigerate them, you can let the buns come almost to room temperature, rise properly in the pan and then bake.
If you freeze the buns, remove them from the freezer and transfer them to the fridge overnight to thaw. In the morning, let them come almost to room temperature and get a proper rise, then bake. You may have to add a few minutes to the baking time.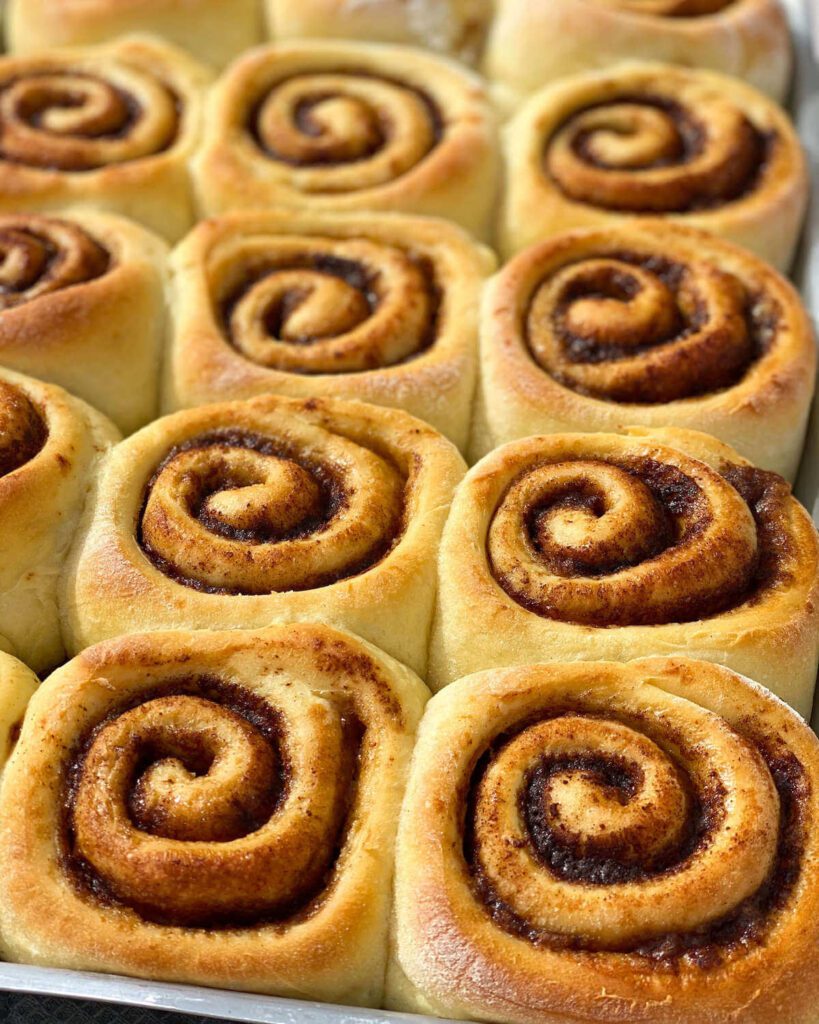 What's the Best Frosting for Cinnamon Rolls?
The perfect frosting for cinnamon rolls is a confectioners' sugar based frosting and can be all butter or even include cream cheese.
I love a simple butter and confectioners' sugar frosting like my Fluffy Vanilla Frosting. I use a half batch of my frosting for these rolls and add a little milk to make it softer. That's all it takes.
You might also like a cream cheese frosting. It's pretty dreamy on cinnamon rolls.
How to Store Cinnamon Rolls
The beauty of a tangzhong cinnamon roll is that the dough doesn't get stale very quickly. Storing them, covered, for a day or even two is great.
How to Reheat Cinnamon Rolls
You can reheat them in the microwave for a few seconds if you prefer a warm roll.
How Long Do Cinnamon Rolls Last?
Once baked, these soft and fluffy cinnamon rolls will last up to two days at room temperature. If frozen, they'll last up to three months.
Can This Recipe Be Made Gluten-Free?
This straightforward recipe doesn't work with the swap of all-purpose gluten free flour. Your best bet is to try my Quick Cinnamon Roll recipe and swap the regular flour for gluten free. That recipe doesn't use yeast and has a nice biscuit texture.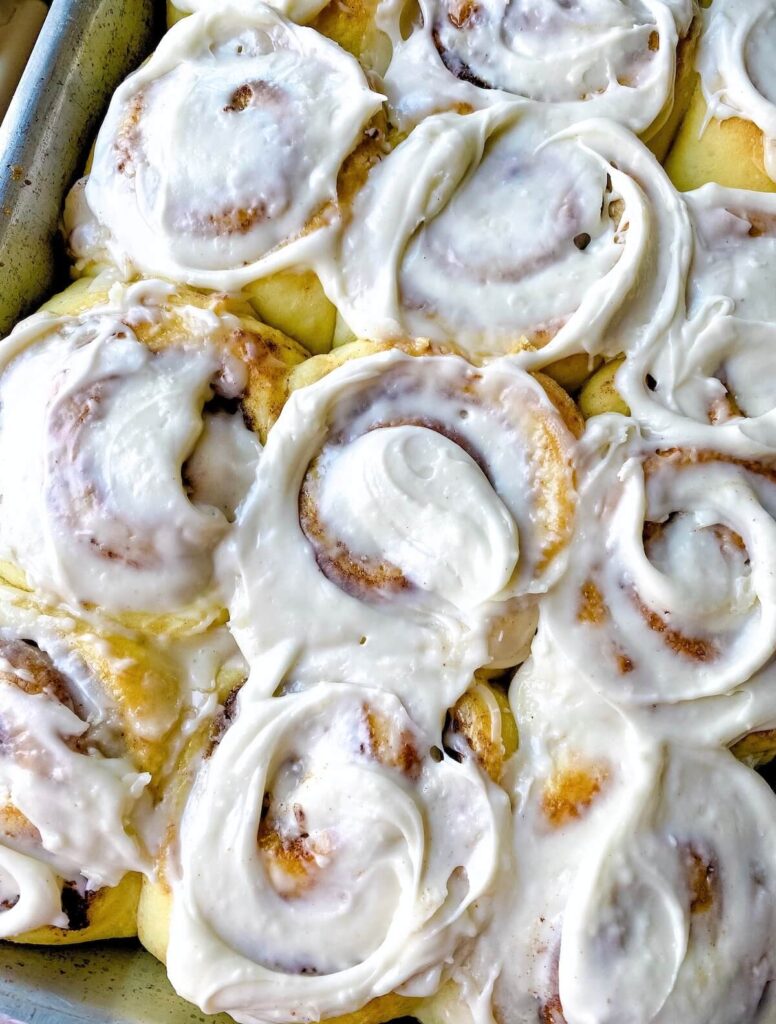 Tips for the Best Soft & Fluffy Cinnamon Rolls
Typically sweet bread doughs are enriched with eggs and have sugar to boost that sweet flavor. The yeast helps this rich dough rise after the gluten has been formed from kneading.
This tangzhong dough is unique in several ways. Here are some top tips for making this recipe.
Want a great way to slice a log of dough into buns? Use doubled thread or unflavored dental floss. Loop it under and around the log, then pull it tight criss crossing. The thread will cut through the dough easily without smashing the rolls like a knife might.
Typically yeast is proofed (or softened in water) before being added to the dough. The yeast in this recipe is added dry.
It absorbs the liquid from the dough and because it hasn't already been proofed, it takes its sweet time raising the dough. This creates the perfect texture and flavor because it's not pushed and rushed.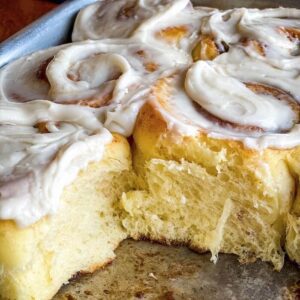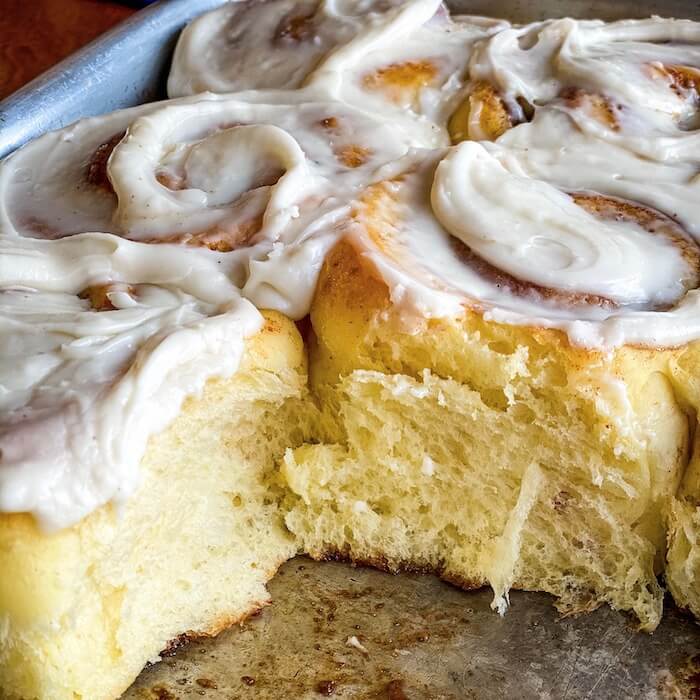 Super Soft Cinnamon Rolls - Tangzhong Milk Bread
The Japanese milk bread method makes these tangzhong cinnamon rolls the ultimate soft roll recipe. Fluffy, tender rolls with an easy buttercream frosting.
Ingredients
Tangzhong starter
5

tablespoons

water

5

tablespoons

whole milk

10

teaspoons

(28g) all-purpose flour,

(3 tablespoons plus 1 teaspoon)
Roll dough
4

cups

plus 2 tablespoon (496g) all-purpose flour

1¾

teaspoons

salt

1

tablespoons

instant yeast

¼

cup

nonfat dry milk

¾

cup

warm whole milk

2

large

eggs, room temperature

6

tablespoons

unsalted butter, melted
Filling
4

tablespoons

unsalted butter, softened

1

cup

lightly packed dark brown sugar

2

tablespoons

ground cinnamon
Buttercream frosting
1

cup

(2 sticks) unsalted butter, softened

3

cups

sifted confectioners' sugar

½

teaspoon

vanilla extract
Instructions
Make the tangzhong starter:
Filling:
Turn dough out onto a floured work surface. Gently press into a small rectangle shape, then roll into a 12-by-19-inch rectangle.

Spread filling butter over the entire surface. Sprinkle evenly with brown sugar. Sprinkle cinnamon evenly over the top.

Starting with a long edge, roll dough around filling into a spiral log. Pinch open edge so it stays together.

Use thread or a knife to cut log into 15 rolls. (Alternatively you can cut it into 12 pieces for large rolls.). Place rolls, cut side up, in a buttered jelly roll pan (10-by-15-inch pan).

Cover pan and let rolls rise until almost double in bulk, 45 to 60 minutes depending on the warmth and environment.
Bake:
When rolls have almost proofed completely, heat oven to 350ºF with rack in the center.

Bake rolls until just turning golden, 22 to 26 minutes.
Make buttercream:
In a mixing bowl beat the butter until smooth. Add the confectioners' sugar a little at a time, mixing, until frosting comes together. Add vanilla. Scrape down sides of bowl and mix thoroughly.

Spread icing on warm, not hot, rolls.
Notes
Rolls can be kept at room temperature covered with plastic wrap, for up to 2 days. Reheat in microwave for a few seconds if desired.
Nutrition
Calories:
479
kcal
Carbohydrates:
67
g
Protein:
6
g
Fat:
21
g
Saturated Fat:
13
g
Cholesterol:
80
mg
Sodium:
414
mg
Potassium:
136
mg
Fiber:
2
g
Sugar:
40
g
Vitamin A:
722
IU
Vitamin C:
1
mg
Calcium:
83
mg
Iron:
2
mg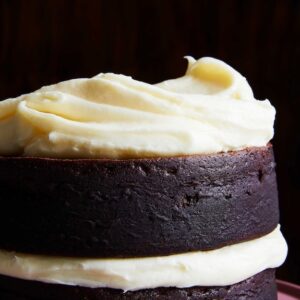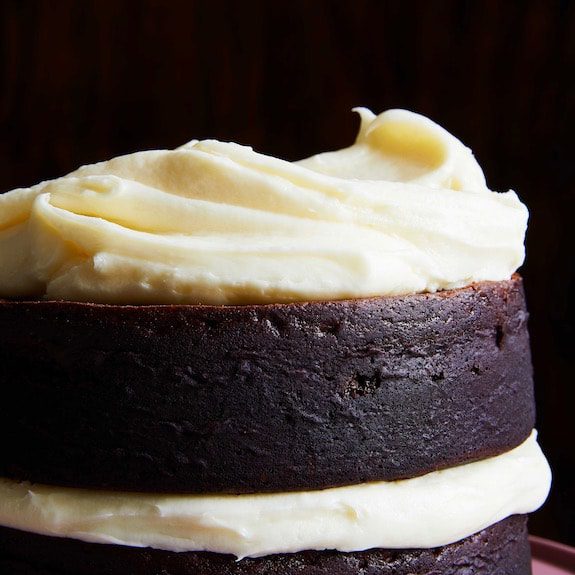 Simple Cream Cheese Frosting
This is simple cream cheese frosting that's versatile and delicious. Use it on cakes, cupcakes, cookies, and cinnamon rolls! As a bonus, it can be made with or without butter!
Read More
Pin Recipe
Print Recipe
---
You'll need this equipment to make these cinnamon rolls: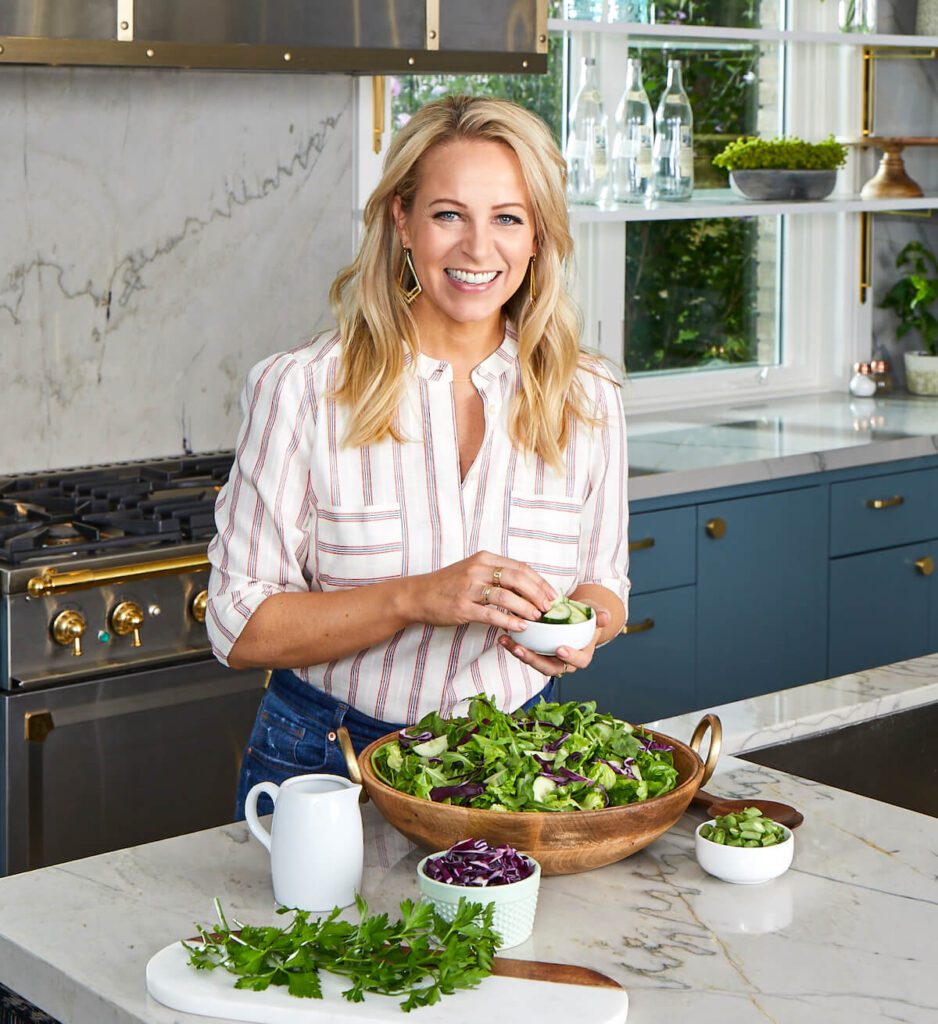 About Tara Teaspoon
I've been in the food publishing business for over 20 years, creating recipes & food-styling for magazines, books, television & advertising. Order my new cookbook & stick around for amazing things to eat.