Make ahead orange rolls are melt-in-your-mouth delicious. Absolutely the best thing on your dinner table.
Growing up these were one of my favorite breads mom made. I loved that we got to have a sweet, iced roll with dinner, and also how the layers pulled apart revealing the orange, buttery flavor.
Like any yeasted dough they take some time. So if you're planning a big special dinner and want to include these little tasty rolls, there's some timing you have to figure out. I decided to adapt this recipe to work as make ahead orange rolls so you could forgo the work time at a big dinner.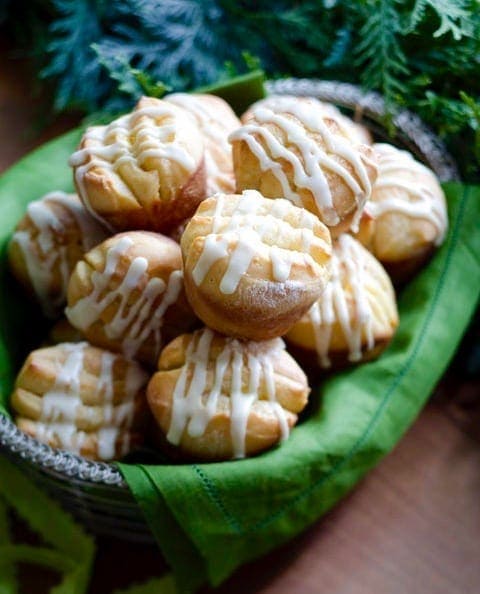 The trick is to make the dough, assemble and cut the rolls and then freeze them before the dough has it's second and final rise. When you pull them from the freezer to thaw they simply complete their rise then and go into the oven!
Great for holiday dinners, these make ahead orange rolls are also delicious for a brunch or spring lunch.
Like my mom always did, I bake these in muffin tins to they are perfect, individual rolls, and they also look so cute and special. I like to have a few extra tins around for these make ahead rolls, so they can stay in the freezer until I'm ready to bake.
The secret to the peel-apart layers is a mixture of butter, orange zest and a touch of sugar. The mixture gets spread on the dough, layered and cut. The butter creates individual morsels of bread that peel right apart as you eat.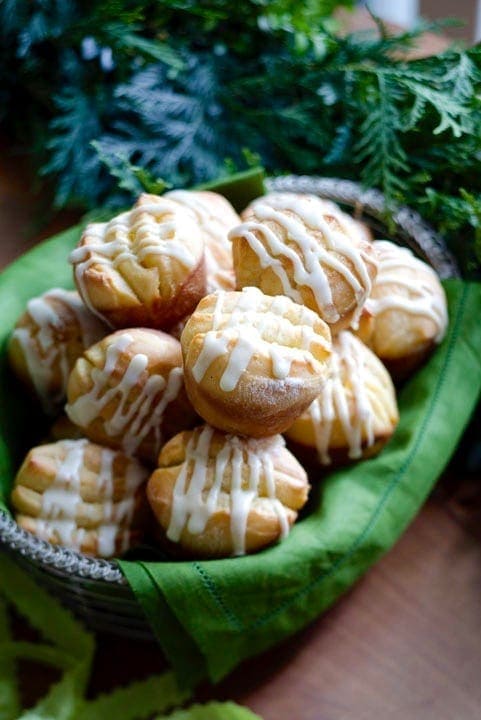 Make Ahead Orange Rolls
To make the rolls the same day, forgo freezing; let them rise about 15 min after placing in the pans and bake as directed.
Ingredients
Vegetable cooking spray

2

envelopes active dry yeast

¼

cup

warm water

1

cup

lukewarm milk

2

large eggs

¼

cup

granulated sugar

1½

tsp

salt

¼

cup

plus 5 tbsp unsalted butter

softened

2

tbsp

finely grated orange zest

from 2 oranges

3½ to 4

cups

all-purpose flour

plus more for work surface

2

cups

plus 3 tbsp confectioners' sugar

2 to 3

tbsp

orange juice
Instructions
Coat a large bowl with cooking spray; set aside. In another large bowl, sprinkle yeast over warm water and let stand until foamy, about 5 minutes. Add milk, eggs, granulated sugar, salt, ¼ cup butter and 1 tbsp zest. Gradually add flour, mixing with hands until a dough forms. Knead until dough is shiny and elastic, 3 to 5 minutes. Transfer dough to prepared bowl, turning to oil the top, cover with plastic wrap or a clean kitchen towel and let rise until doubled in bulk, about 1½ hours.

For filling, in a bowl, mix together 3 tbsp confectioners' sugar, remaining butter and zest; set aside.

Lightly coat two 12-cup standard muffin pans with cooking spray; set aside. On a well-floured work surface, knead dough 3 to 4 times to release air pockets. Using a floured rolling pin, roll out dough to an 18-by-14-inch rectangle. Brush some filling over bottom half of rectangle and fold over top half to enclose. Brush some filling over top, as above, and fold to enclose. Let rest 5 min. Roll out to a 16-by-10-inch rectangle and brush half with remaining filling, as above, and fold to enclose. Cut onto 24 2-inch squares.

Place squares, cut side up, in prepared pans. Coat two sheets of plastic wrap large enough to cover each pan with cooking spray; place, coated side down, over pans. Tightly wrap pans with plastic wrap or foil and freeze up to 10 days.

When ready to bake, remove outside wrapping, leaving coated plastic wrap loosely over tops. Let dough thaw and rise until almost doubled in bulk, 2 to 2½ hours.

Heat oven to 350°F and place rack in center. Bake rolls until golden, 15 5o 18 min. Transfer pans to a wire rack and cool 5 min. Transfer rolls to rack and let cool completely.

For icing, in a medium bowl, whisk together remaining confectioners' sugar and just enough juice to make a thin icing. Drizzle over rolls.
Nutrition Facts
Make Ahead Orange Rolls
Amount Per Serving (1 g)
Calories 180
Calories from Fat 45
% Daily Value*
Total Fat 5g 8%
* Percent Daily Values are based on a 2000 calorie diet.
For another tasty bread recipe, try my Chocolate Filled Rolls made with frozen bread dough! Couldn't be easier.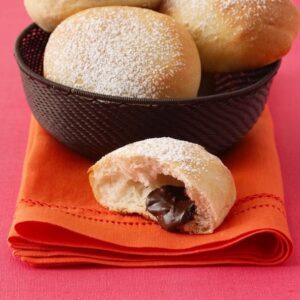 This post may include affiliate links. For more information please see my disclosure agreement.
Recipe & food styling Tara Bench
Photographer Quentin Bacon
Prop Stylist Bella Foster
Originally published Ladies' Home Journal Dec 2007