Easy Cinnamon Rolls is an understatement! There's no waiting for dough to rise--this is a quick, and delicious version of a favorite morning treat.
Good cinnamon rolls still warm from the oven, with drippy thick icing, have got to be one of the best gifts to mankind. But sheesh, they take a long time to make.
My solution: quick-bread cinnamon rolls! The dough uses baking powder and baking soda as leavening instead of yeast. The idea is sort of a glorified biscuit.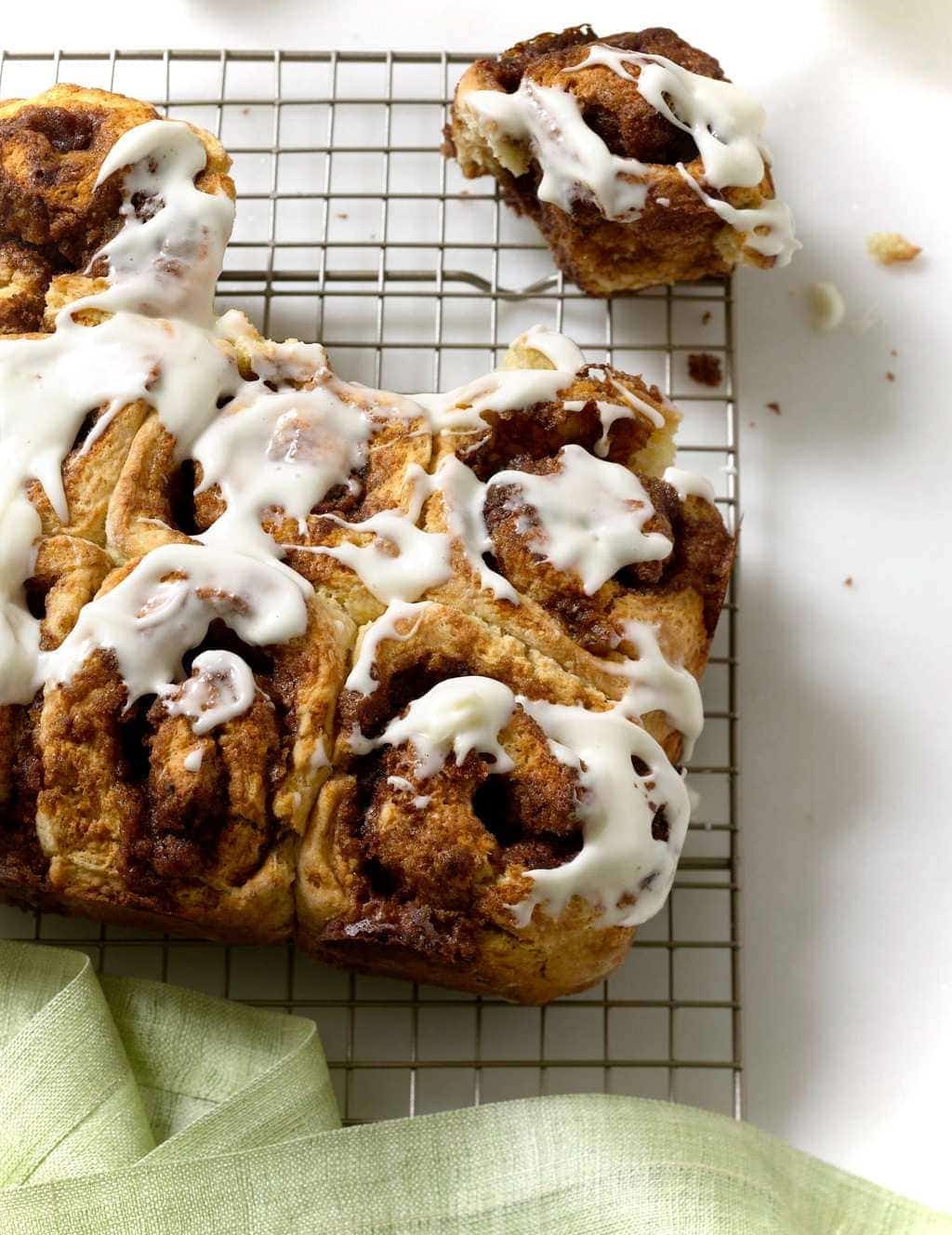 Jump to:
The fastest way to make cinnamon rolls
I make the most luxurious cinnamon rolls with fluffy soft dough and a gooey filling. This Soft Cinnamon Roll Recipe uses an Asian bread technique called tangzhong, as well as yeast. The process is simple, but takes a lot of time!
With these no yeast, no rise cinnamon rolls though, you can have this delicious homemade treat in a fraction of the time. Plus you don't need to use those grocery store cinnamon rolls packed in the cardboard tube! You know the ones! These taste so much better.
This speedy cinnamon roll recipe is made with what is called quick bread. A baking powder or baking soda leavened bread that doesn't use yeast. The fast-acting leavener plus the egg help create air pockets in the dough mixture and fluffy structure as it bakes.
Using a quick bread or biscuit style recipe is the fastest way to make delicious cinnamon rolls, which means you can make them and bake them before the bacon is done!
Quick cinnamon rolls with no yeast
A quick bread cinnamon roll is a bit like a baking powder biscuit. It has the same tender bite with a little crispiness on the outside.
This dough is richer than typical baking powder biscuits. With the addition of an egg and a little more sugar the flavor is closer to your favorite yeasty cinnamon roll.
I've melted the butter instead of cut it in like typical biscuit recipes. This makes the dough less crumbly and easy to roll with the cinnamon filling.
One tip is to handle the dough gently. Since it is a quick bread rather than a yeast bread, we don't want a lot of gluten to form. Just enough to hold the structure together.
We don't need to vigorously knead or handle the dough because that would develop more gluten strands. Something a yeast dough needs to hold its structure as the yeast proofs the dough.
The best frosting for biscuit cinnamon rolls
I used buttermilk in the dough because it adds delicious flavor and the acidity works with the leavening I used. Since I had it on hand, I included it in the frosting as well.
I don't use buttermilk often, so I like to find ways to use it when I have it in the fridge. I think I may just have to make this recipe again to finish it off--Woohoo!
You can also use a traditional buttercream like my Fluffy Vanilla Frosting, or the frosting I use on my soft cinnamon rolls. All of them taste delicious.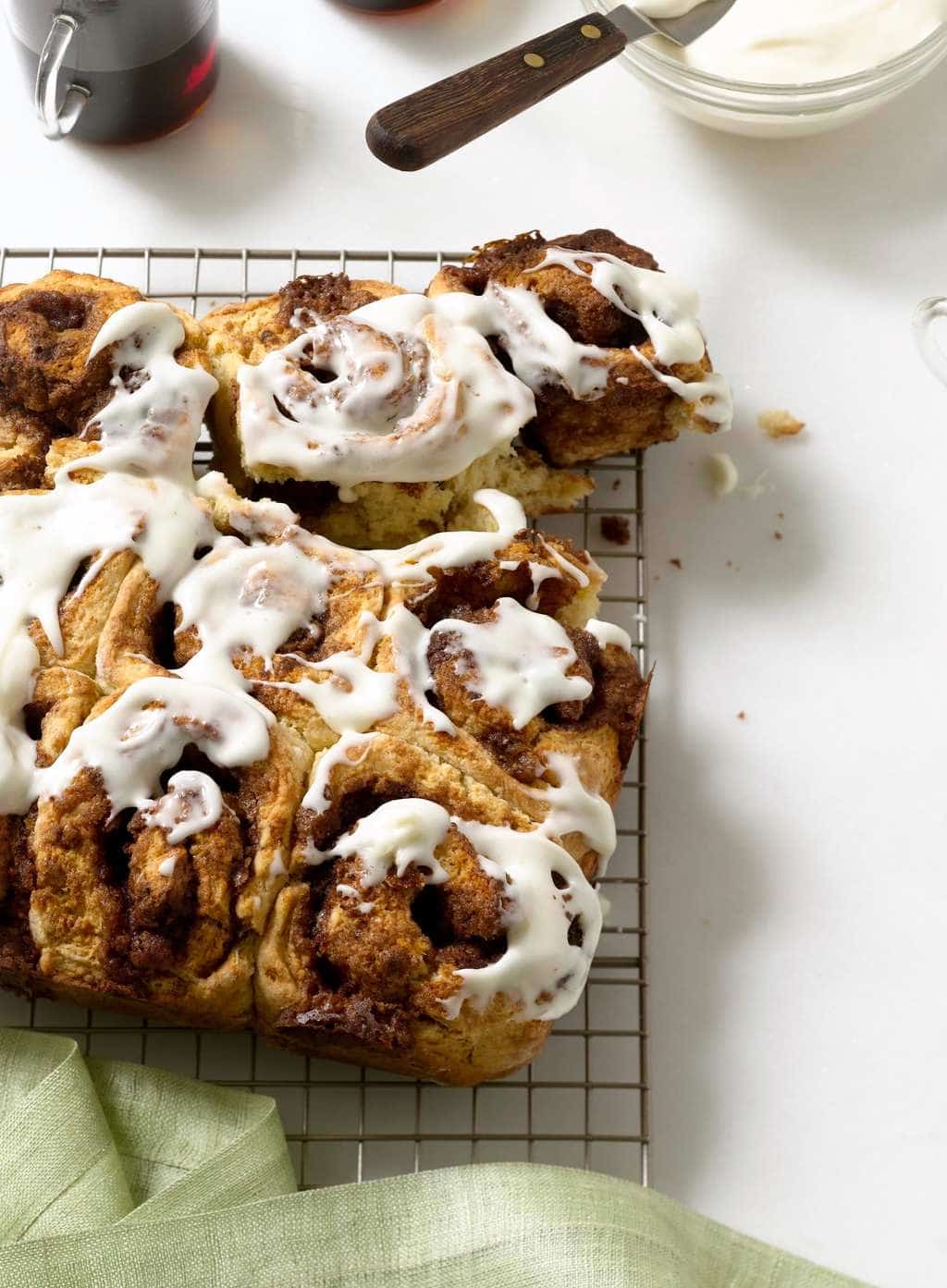 Can I make these ahead?
These are quick to make, and disappear even faster. Eat them while they're warm--they are best eaten the same day. Like biscuits they don't keep all that well.
I mean they're fine...I eat anything made of bread with frosting no matter how old it is...but I'm just saying these cinnamon rolls are at their prime right out of the oven!
You can certainly prep the ingredients ahead. Measure and set everything out you need the night before to shave a few minutes off your work time in the morning.
Can these be gluten free?
I have made these gluten-free using Cup4Cup flour. They worked well. They were a little dry and I may try them again with another egg, but they worked quite well and were enjoyed.
I don't recommend other gluten-free all-purpose flours because they contain more cornstarch and make my baked goods crumbly.
Other quick and easy breads
Here's another quick bread treat: My Whole Wheat Pumpkin Walnut Bread. Great for fall or winter days.
This Orange Nut Swirled Bread uses store bought bread dough so it's super fast to put together!
My Delicious Bran Muffins are the world's best in my opinion!
Let me know how it went!
Scroll to the bottom of the page to rate ⭐⭐⭐⭐⭐ and comment on this recipe. Leaving comments helps other too!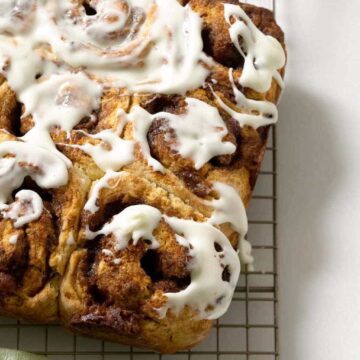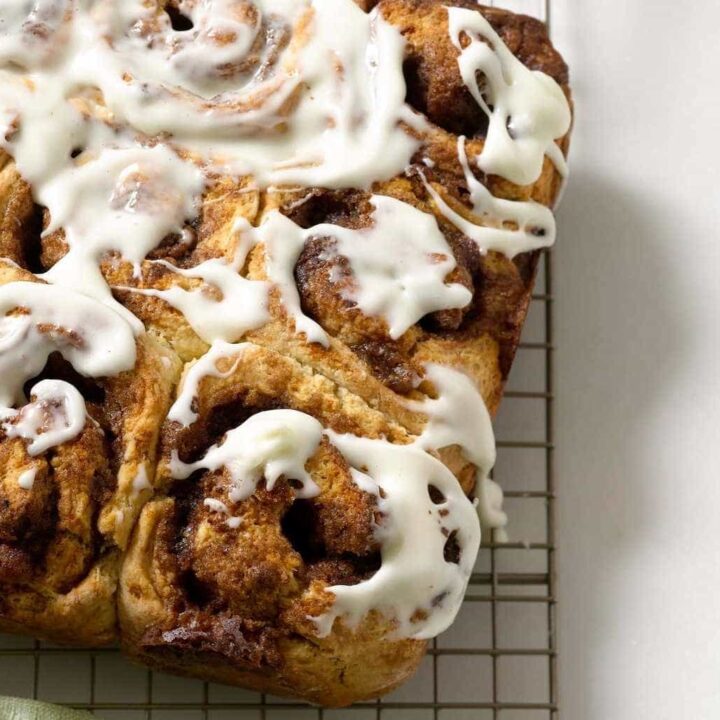 Easy Cinnamon Rolls
Easy Cinnamon Rolls is an understatement! There's no waiting for dough to rise--this is a quick, and delicious version of a favorite morning treat.
Ingredients
8

tablespoon

unsalted butter

melted

¾

cup

packed light brown sugar

5

tablespoon

granulated sugar

2½

teaspoon

cinnamon

2⅔

cups

all-purpose flour

1½

teaspoon

baking powder

¾

teaspoon

baking soda

¾

teaspoon

salt

1

cup

low-fat buttermilk

1

large egg
Icing:
¼

cup

low-fat cream cheese

softened

1

tablespoon

low-fat buttermilk

1¼

cups

confectioners' sugar
Instructions
Heat oven to 425°F with rack in upper third. Coat a 9-inch square pan with cooking spray; set aside.

In a bowl, combine the brown sugar, 2 tablespoon granulated sugar and cinnamon with 2 tablespoon butter; set aside.

In a large bowl, whisk together the flour, 3 tablespoon granulated sugar, baking powder, baking soda and salt. In another bowl, whisk together buttermilk, egg and 3 tablespoon butter. Stir together the liquid and dry ingredients; dough will look rough. Knead on a floured surface until just smooth, about 5 turns.

Pat or roll dough into a 9-by-13-inch rectangle. Brush with 2 tablespoon butter. Spread dough with brown sugar filling, leaving ½-inch border. Use a spatula to lift dough from surface and roll, starting at a long side, to form a tight log. Pinch seam to seal log and slice evenly into 9 pieces. Place in prepared pan swirl-side up and press rolls down slightly. Brush tops with 1 tablespoon butter.

Bake until edges are just golden brown and rolls are cooked through, 22 to 25 min. Loosen rolls from pan and invert onto a plate; re-invert to right side up onto a rack. Cool 5 min before icing.

For icing: In a bowl, beat together cream cheese and buttermilk until smooth. Beat in confectioners' sugar to form icing; spread over rolls with knife. Serve rolls warm.
Notes
Trust me: it's worth the time to make these mouthwatering rolls from scratch rather than baking the prepackaged kind.
Nutrition
Calories:
419
kcal
Carbohydrates:
72
g
Protein:
6
g
Fat:
12
g
Saturated Fat:
7
g
Cholesterol:
50
mg
Sodium:
375
mg
Potassium:
211
mg
Fiber:
1
g
Sugar:
42
g
Vitamin A:
390
IU
Vitamin C:
0.2
mg
Calcium:
113
mg
Iron:
2.1
mg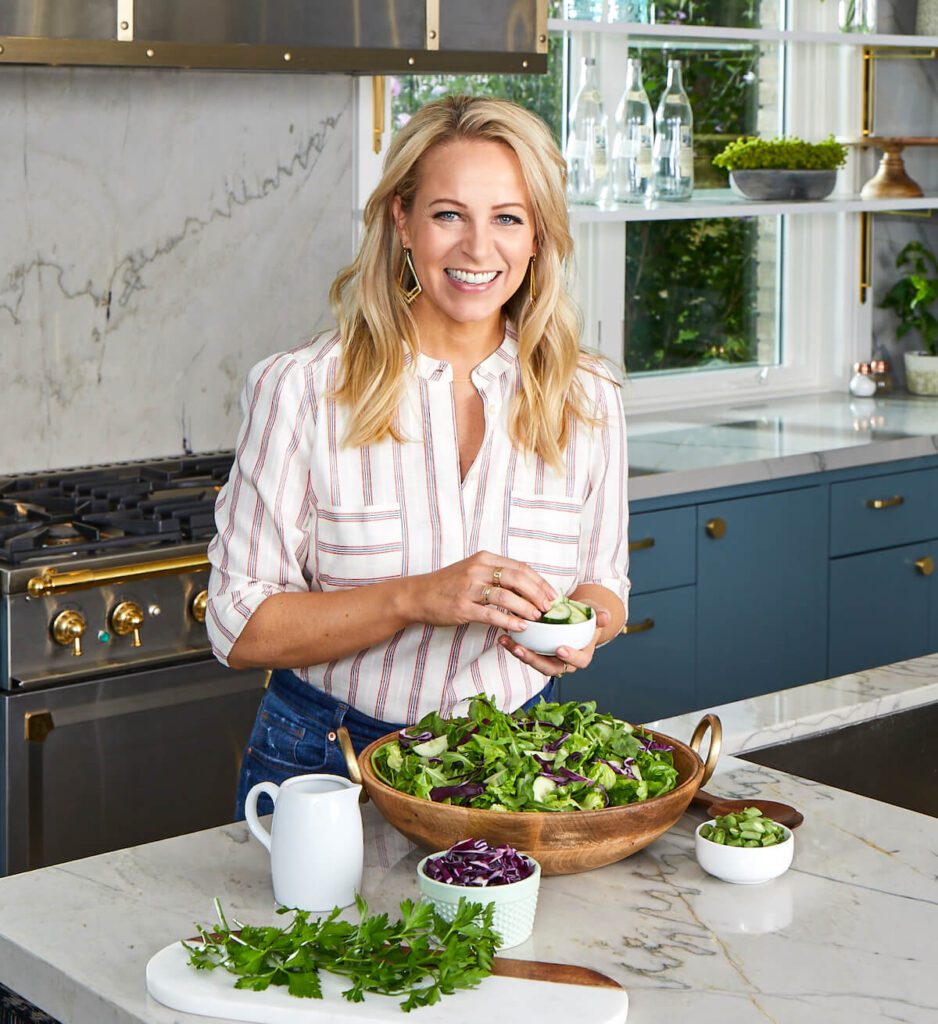 About Tara Teaspoon
I've been in the food publishing business for over 20 years, creating recipes & food-styling for magazines, books, television & advertising. Order my new cookbook & stick around for amazing things to eat.

Recipe by Tara Teaspoon. Photographer Yunhee Kim. Food Stylist Anne Disrude. Prop Stylist Megan Hedepeth. Originally published in LHJ March 2009