---
Get the scoop on how to make my favorite cream cheese frosting that is versatile and delicious. This simple cream cheese frosting works on cake, cupcakes, cookies, and cinnamon rolls.
---
Oh, the beauty of silky, sweet frosting swirled on top of spice cake, chocolate layers, or even warm cinnamon rolls.
---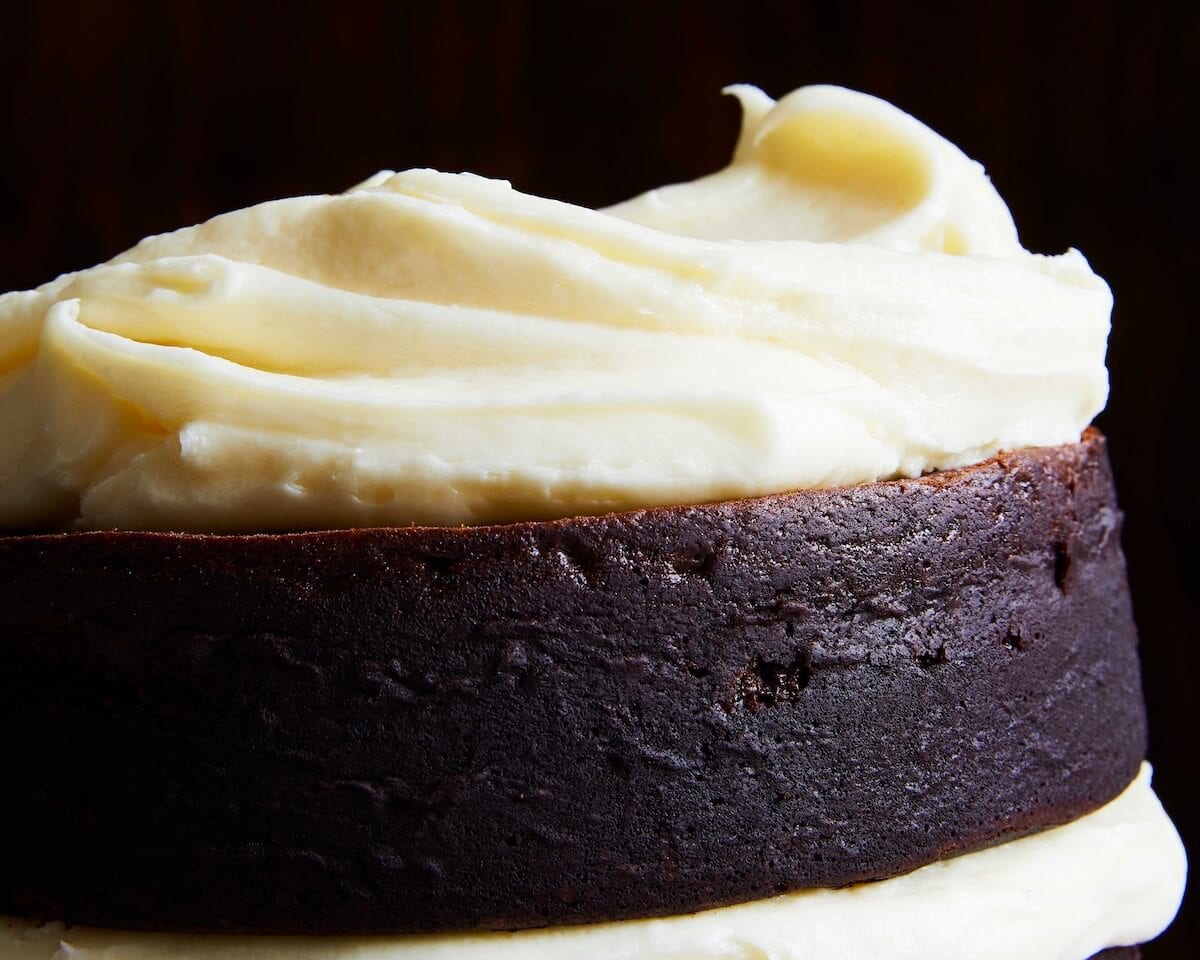 Quick-click Table of Contents:
Jump to:
The best frosting ever!
I use a combination of butter and cream cheese mixed with vanilla and confectioners' sugar to make a really versatile, tangy frosting.
I use unsalted butter, so a pinch of salt (optional) doesn't hurt either.
My favorite ratio of cream cheese to butter is 2 to 1. I use 8-oz of cream cheese and 4 oz (1 stick) of unsalted butter.
I think this ratio gives the silky, rich flavor of butter to the frosting while packing the perfect punch of classic cream cheese flavor.
You can add 3 to 4 cups of confectioners' sugar. Why the variable? Using 3 cups makes a perfectly tasty frosting.
It's a little softer and less sweet if you are into that. (My friend Susan is happy with this amount, I prefer all the sugar I can get my hands on!)
---
– Get my favorite measuring cups.
---
For layer cake:
Using a full 4 cups of sugar gives you a balanced frosting that is just stable enough for a layer cake and tastes balanced and delicious.
Why use unsalted butter in frosting?
I get asked why I use unsalted butter, then add salt to my recipes. There are a few reasons!
Salted butter is so delicious, especially spread on your bread. But really it should stop there! Unsalted butter allows you to control the salt content of a dish as well as guarantees freshness. Read on: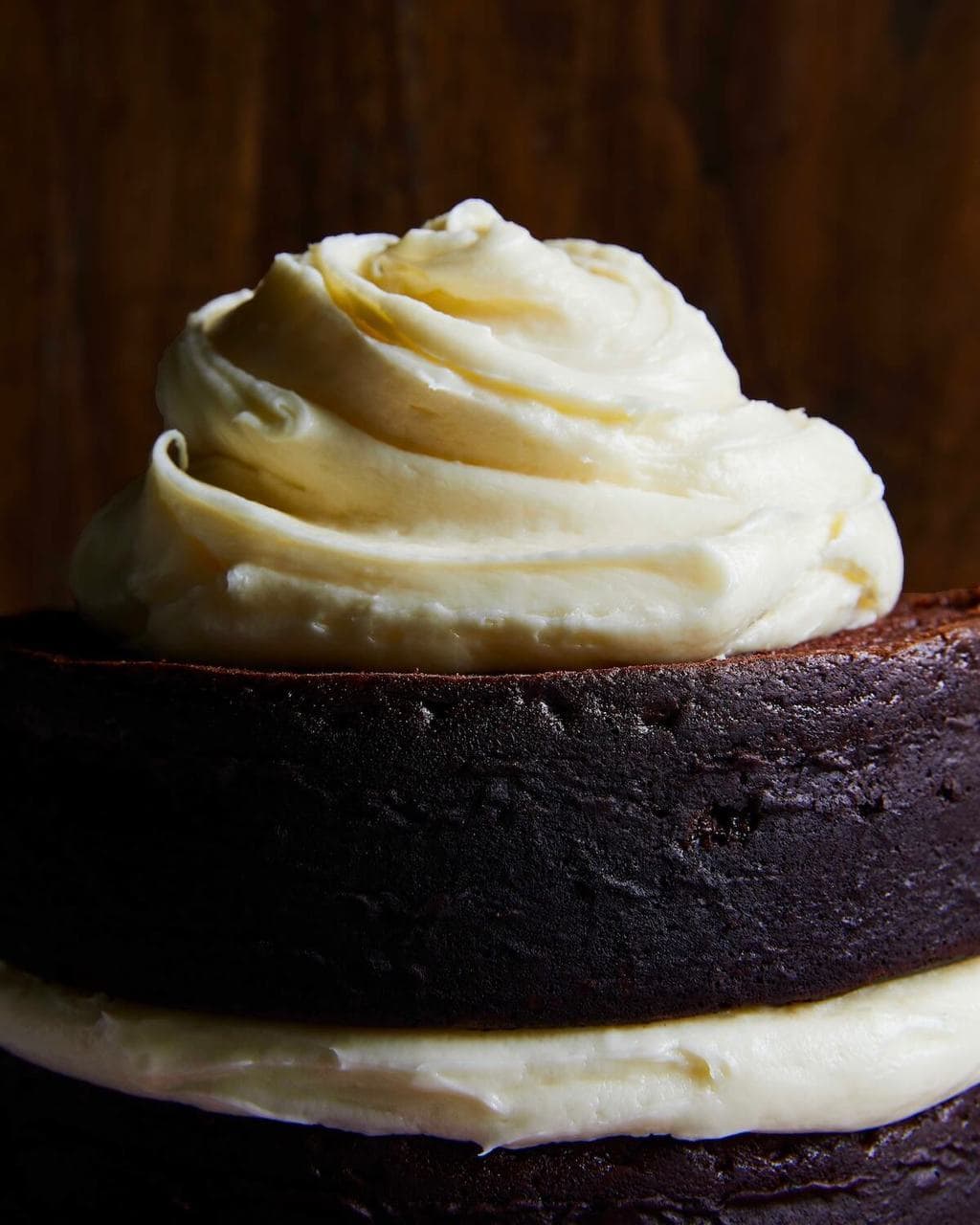 • Salt is a preservative, so it is added to butter to lengthen its shelf life. Certainly there is an expiration date before it goes bad, but it just helps grocery stores keep it there a bit longer. I know when I buy unsalted butter it hasn't been sitting there as long.
• You don't need to have high blood pressure to be concerned with how much salt goes into your food. Salt brings out the flavor of other foods, it's a flavor enhancing seasoning! That being said, too much of a good thing is, well, too much! For frosting specifically, I want a sweet, perfectly flavored topping to go with what I'm spreading it on. I like to control that by adding my own salt, or not!
• Can you use salted butter in this frosting? Well, absolutely. Skip the pinch of salt, you won't need it. And know that it will just be a tad bit saltier than the originally tested recipe.
– Use a stand mixer or a hand mixer to make simple cream cheese frosting.
---
Can I make Cream Cheese Icing with No Butter?
You can make this with no butter. It will be a more dense, softer icing.
While butter certainly cuts down on the intense cream cheese flavor, it also adds aeration (air bubbles that form after whipping) that give the frosting lift and texture.
I use 2 parts cream cheese to 1 part butter so that I get the best of both worlds in this simple frosting.
Using just cream cheese could make a nice icing for cinnamon rolls.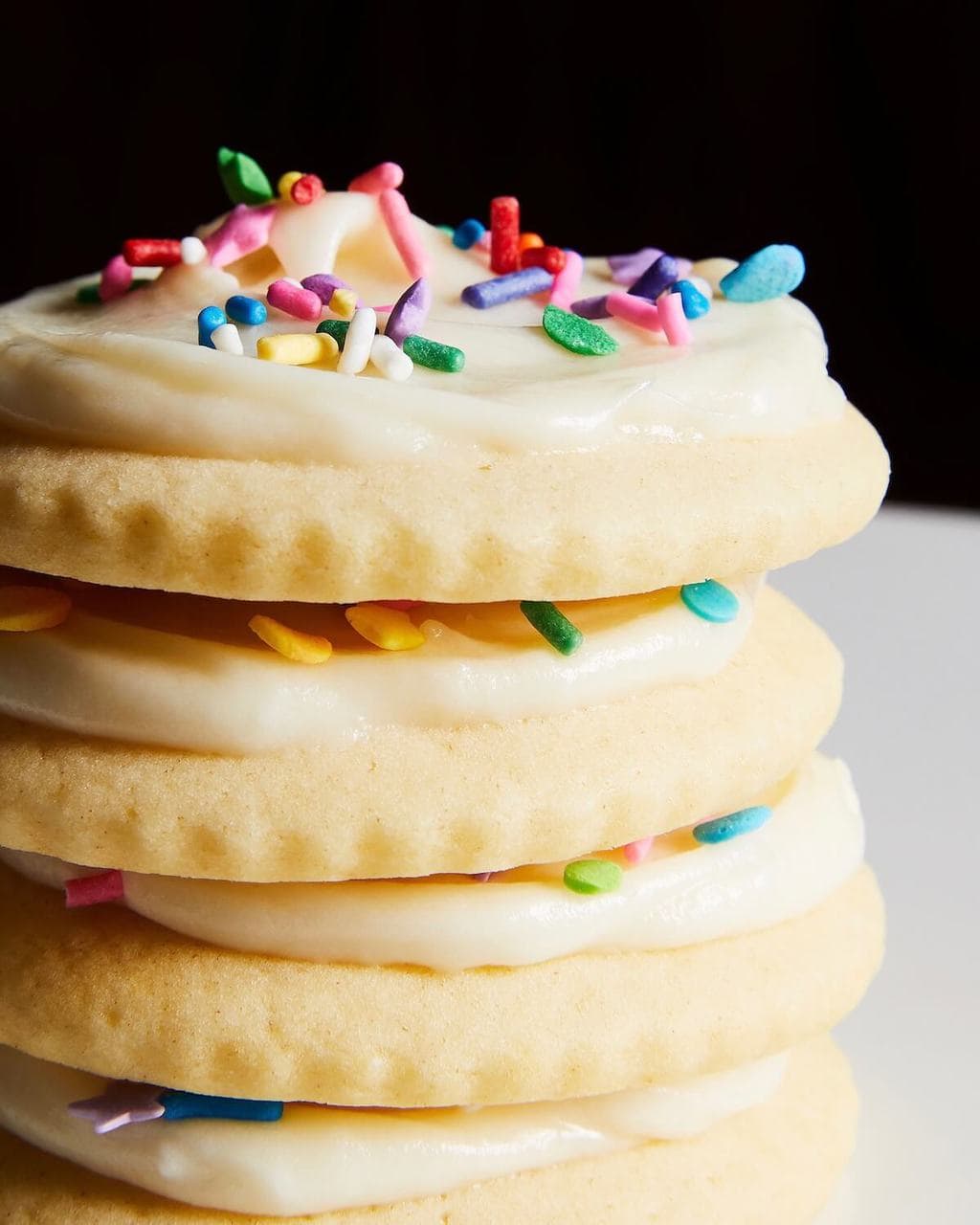 Freezing and storing:
Freezing this recipe is perfectly acceptable.
If you have the time, thaw frozen frosting in the fridge. Otherwise, you can thaw it almost to room temperature and then beat it in the mixer again to get the texture back.
You may need to add a little more confectioners' sugar to stabilize it as the cream cheese molecules break down slightly being frozen.
---
Make more easy homemade frosting recipes!
The most popular post on my site is my classic vanilla frosting without milk. I use it for cakes, cupcakes, cookies, and sandwich cookies.
You'll love my Chocolate Cream Cheese Buttercream Frosting recipe as well! It combines the taste of rich milk chocolate with tangy cream cheese.
Make cream cheese icing for:
---
How much does this make?
• This frosting recipe makes enough to frost a 9-by-13 inch sheet cake, 24 cupcakes (if you are piping more frosting on each cupcake it will frost about 15 to 18).
• For a round layer cake you may want to 1 ½ this recipe: Use 12 oz cream cheese, 12 tablespoons unsalted butter, 6 cups confectioners' sugar and 1 ½ teaspoons vanilla.
Q&A
How to make cinnamon roll icing without cream cheese?
Make an easy fluffy frosting without cream cheese to ice cinnamon rolls. Mix together butter and confectioners' sugar and add vanilla extract.
How to make frosting thicker?
The best way to thicken cream cheese frosting is to add confectioners' sugar. Add ½ cup at a time and mix in to check texture. Using cold cream cheese will help your frosting keep a thick consistency.
Can I make cream cheese frosting without butter?
You can make cream cheese frosting with just cream cheese and confectioners' sugar. The frosting will be a different texture than the classic recipe. It will not be as fluffy if you do not use butter.
How long does cream cheese frosting last?
Cream cheese frosting will last up to a week in the fridge. You can freeze the frosting for up to 4 months. This type of frosting will keep well at room temperature for up to a day.
How to thicken cream cheese frosting:
Use confectioners' sugar to thicken a tangy frosting.
📖 Recipe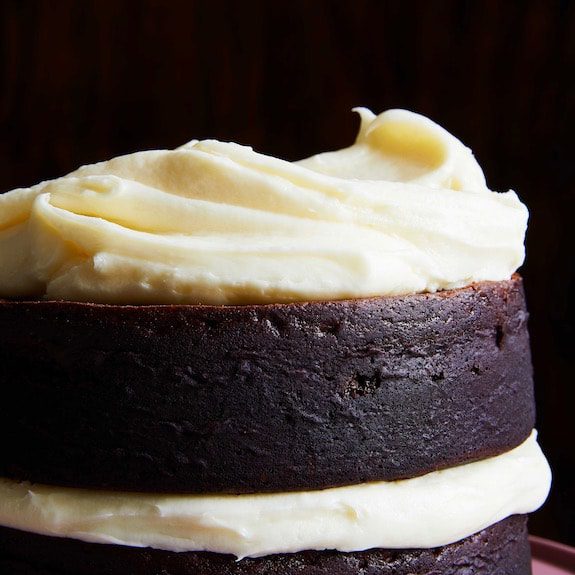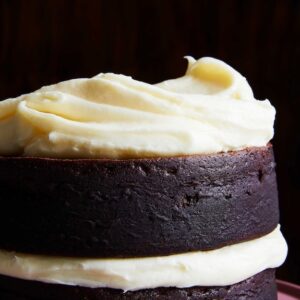 Simple and Fluffy Cream Cheese Frosting
Here's how to make cream cheese frosting that works perfectly on cake, cupcakes, cookies and cinnamon rolls.
Ingredients
8

oz

(one block) cream cheese

softened to room temperature

4

oz

(1 stick) unsalted butter

softened

1

tsp

vanilla extract

pinch of salt

4

cups

confectioners' sugar

sifted, only if there are hard lumps
Instructions
In the bowl of an electric mixer fitted with the paddle attachment, beat cream cheese until smooth. Add the butter and beat until smooth and incorporated, about 1 minute.

Add the vanilla and salt and stir.

With the mixer running on low speed, add the confectioners' sugar about ½ cup at a time. After each cup or cup and a half, scrape the inside of the bowl and turn mixer to medium-high speed. Then reduce speed to low and add more sugar. This will ensure a smooth frosting.

Use immediately or keep refrigerated.
Notes
• Nutrition facts based on 1/24 of the recipe and are from a program based estimate.
• This recipe makes enough to frost a 9-by-13 inch sheet cake, 24 cupcakes (if you are piping more frosting on each cupcake it will frost about 15 to 18).
• For a round layer cake you may want to 1 ½ this recipe: Use 12 oz cream cheese, 12 tablespoons unsalted butter, 6 cups confectioners' sugar and 1 ½ teaspoons vanilla.
• For a chocolate version use this linked recipe.
• For lemon cc frosting, add 2 teaspoons finely grated lemon zest, and 1 teaspoon lemon juice.
• TRY MY OTHER FROSTING RECIPES:
Nutrition
Calories:
145
kcal
Carbohydrates:
20
g
Protein:
1
g
Fat:
7
g
Saturated Fat:
4
g
Cholesterol:
21
mg
Sodium:
31
mg
Potassium:
13
mg
Sugar:
20
g
Vitamin A:
245
IU
Calcium:
10
mg
Iron:
1
mg
Cake recipes for any occasion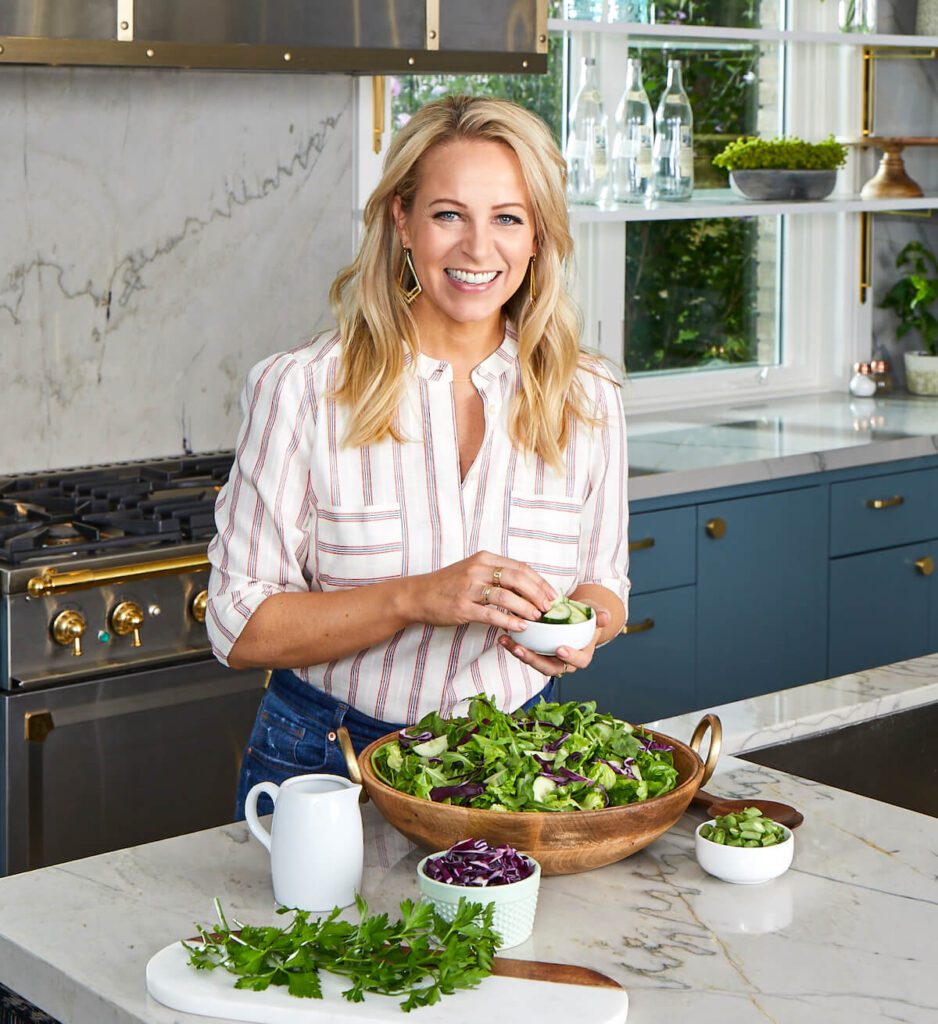 About Tara Teaspoon
I've been in the food publishing business for over 20 years, creating recipes & food-styling for magazines, books, television & advertising. Order my new cookbook & stick around for amazing things to eat.
Recipe by Tara Teaspoon. Photography by Ty Mecham.