Lemon royal icing is a citrus-flavored decorating frosting made with powdered egg whites. It is the best flavored royal icing recipe you'll ever taste too! This lemon icing that hardens after piping, gives a shiny, professional finish to a cookie.
---
This truly delicious lemon royal icing is perfect for piping, coloring, and decorating with detail. The lemon flavor makes it delicious on sugar cookies, and even gingerbread.
It's not hard to make because I use powdered egg whites, or meringue powder. Keep this recipe on hand for all your holiday baking, and special occasion cookie decorating.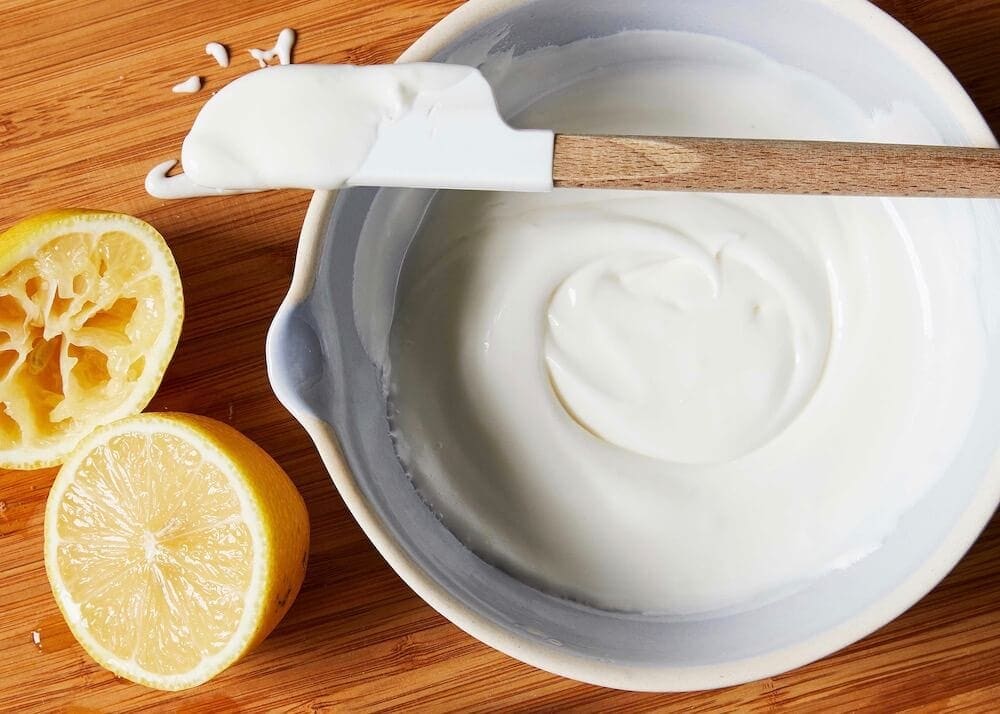 Jump to:
Royal icing is the type of frosting used on many decorated cookies, especially the kind at boutique bakeries and markets, because it dries hard and can be packaged without ruining the cookie design.
For my soft sugar cookies I make my Fluffy Vanilla Frosting. The entire experience is different as the cookie and the frosting both stay soft.
With royal icing it's best to frost a crispier cookie. As the icing dries, it has a nice, candy-like crack to it when eaten.
The cookie recipe I most often use with royal icing is from my Santa Face Cookies post.
How to flavor royal icing
I love this royal icing recipe it for its versatility, and I like that I can add a little brightness to the flavor with lemon juice.
The lemon becomes the stand-out flavor, it's an unexpected taste when you bite into a cookie. Most royal icing isn't flavored, which is why this flavored royal icing really shines.
The hint of lemon in this icing recipe is especially delicious on my Gingerbread Cookies.
You can also use this lemon icing for cookies like my Irish Heart Shamrock Cookies, and White Candy Cane Cookies. The lemon gives these treats a lovely citrus pop.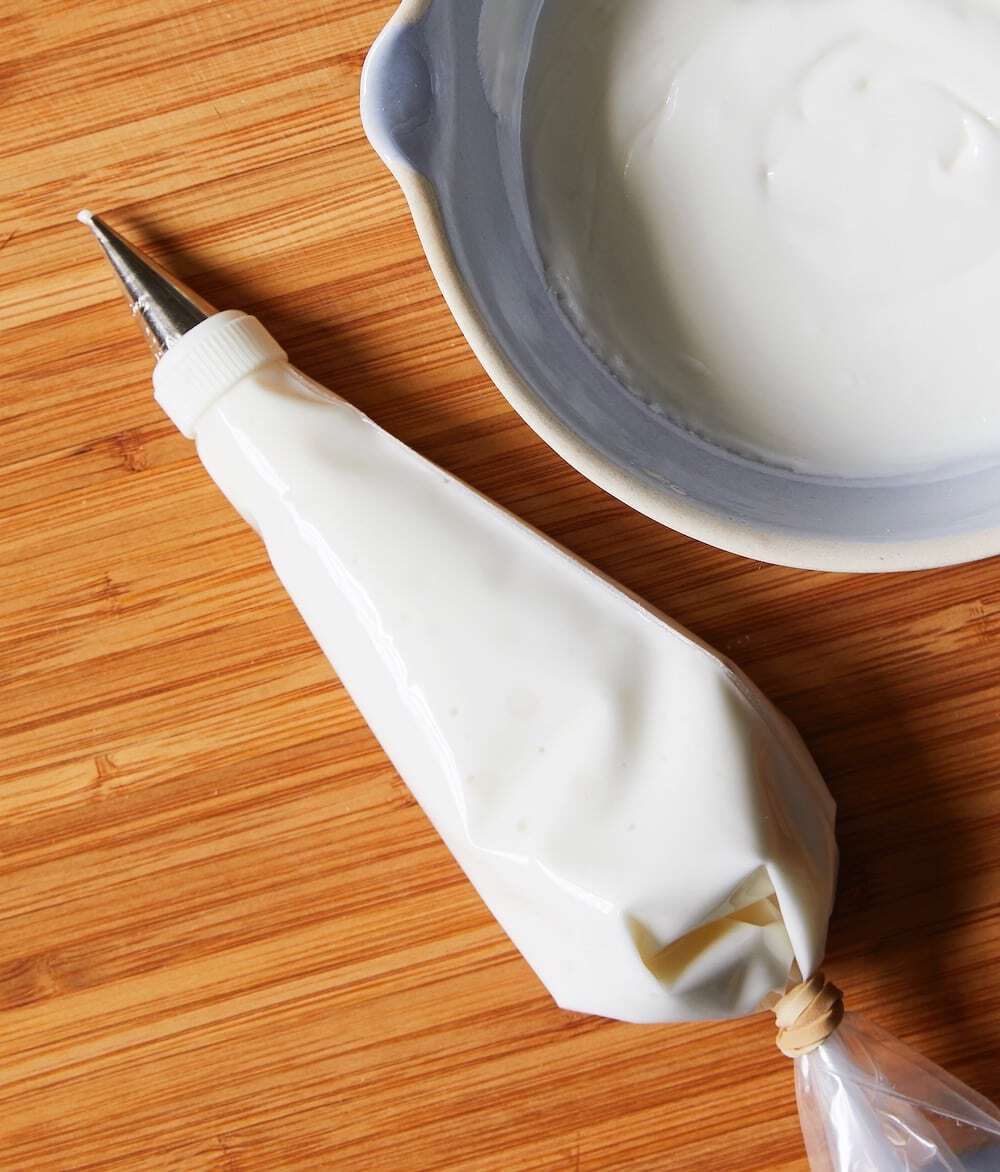 Ingredients in royal icing with lemon juice
Like most, this icing recipe for cookies begins with with plenty of confectioners' sugar. Lemon juice is the liquid that turns this into a flavored royal icing and adds brightness to the taste.
The third and final special ingredient in this icing recipe is meringue powder. It's easier, and more food-safe than using raw egg whites. Meringue powder (or powdered egg whites) can usually be found in the grocery store baking aisle. But if not, here is a link for meringue powder.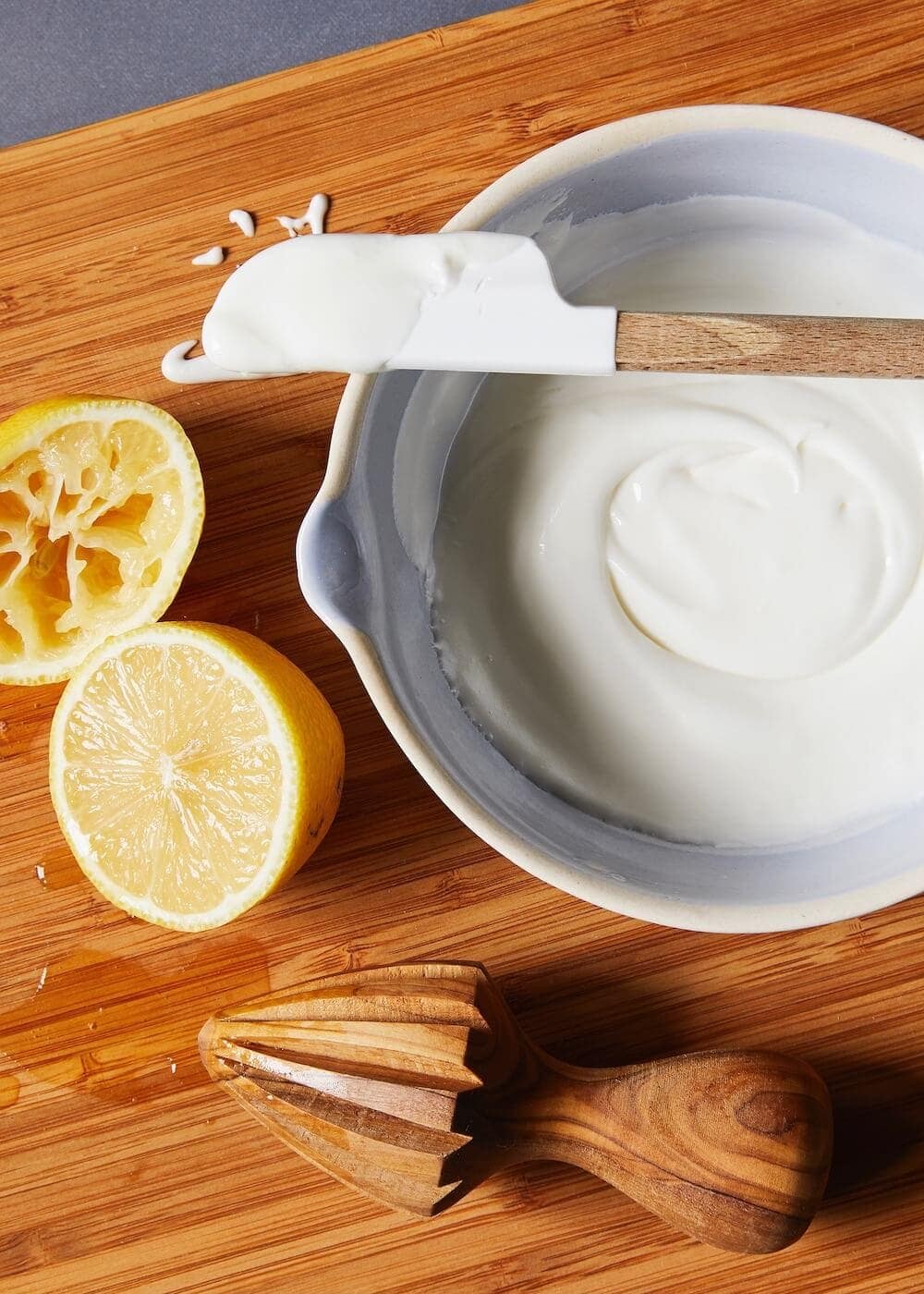 How to make lemon cookie icing
The simple, three-ingredient royal icing recipe is made in the stand mixer. Simply whisk together confectioners' sugar, lemon juice, and meringue powder until glossy and smooth.
Take caution when mixing, the meringue powder will whip into an actual meringue if mixed too long.
I slowly and gently mix my icing for about five minutes with the paddle attachment, but some people like a light, fluffy and thick royal icing for piping, so they beat it much faster and add less lemon juice.
The fluffy version doesn't dry shiny and it's a bit more crumbly when dry. So be sure to play around with the consistency you like.
Coloring lemon icing
Royal icing takes food coloring really well and this lemon version is no different. I use gel paste colors because they are more concentrated than the liquid drops, and come in so many colors.
You only need just the smallest drop of gel food color to make the icing very vibrant. This is great because the gel food color won't water down your icing.
How to use for flooding or piping
You can make royal icing with a thinner consistency for flooding (creating a smooth surface of frosting on the cookie), or thicker for piping detailed designs. It just depends on the amount of lemon juice or water you add, and how long you mix it.
Usually, I like to make two consistencies of royal icing for the pipe and flood method. The first icing is thicker and used to pipe an outline around the edge of the cookie. The second icing is thinner and used to "flood" or fill in the outline of the cookie.
The pipe and flood method creates a perfectly smooth and shiny icing finish. Place the icings in piping bags with metal piping tips for easy use.
The thicker icing needs a smaller piping tip to outline the cookie, while the flooding icing needs a larger piping tip to flood the center of the cookie.
Expert piping tips
Royal icing dries quickly (and if it dries out in your piping tip it's a mess to clean up), so cover your piping tips with plastic wrap or a damp paper towel even if you are setting them aside for just a few minutes. Keep containers of royal icing covered tightly as well.
Be sure to allow the cookie to dry completely. Once dried, you can use the thicker icing to pipe intricate details on top of the set icing.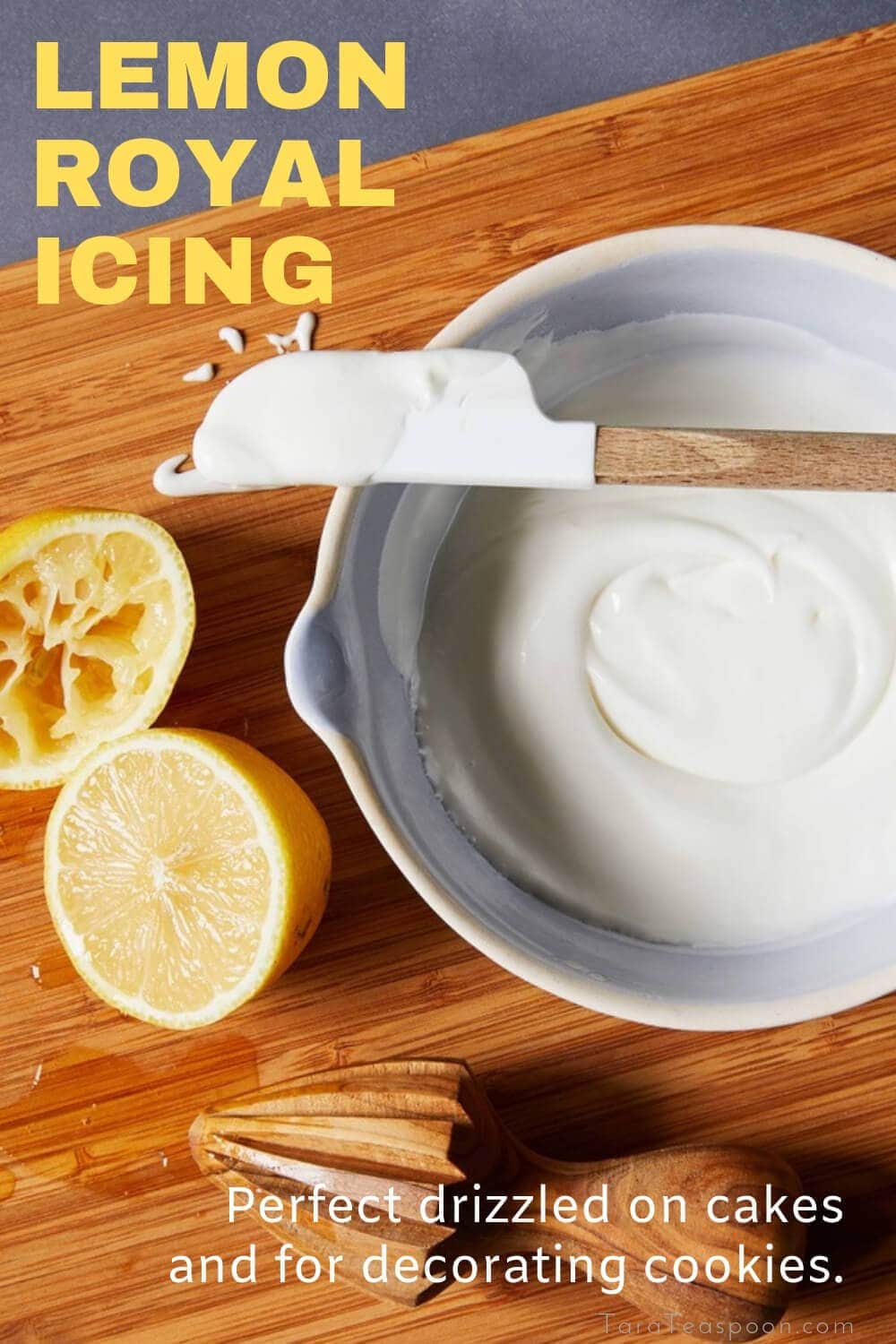 Tips for making and using this icing
Don't over-whip the mixture. Because of the addition of meringue powder, you will make meringue rather than royal icing! Stop after the icing is smooth and glossy with the right consistency to pipe or flood.
Be sure to cover your metal piping tips with a damp paper towel when not using the icing - this prevents the icing from drying out.
Use gel food coloring to dye royal icing vibrant colors. A little bit goes a long way.
Allow the icing to dry completely before packaging cookies in bags or transporting cookies.
Royal icing Frequently Asked Questions
What type of icing is best for cookies?
It depends! If you want an intricate design on top of a crispier sugar cookie or gingerbread cookie, then royal icing is the preferred icing.

If you have a soft cookie, you want to add a fluffy frosting on top for a nice, chewy bite.
What is the difference between icing and royal icing?
Royal icing uses meringue powder which allows the icing to harden and set perfectly on top of the cookie. The meringue powder gives the icing a glossy, professional finish.
What three ingredients is royal icing made of?
Royal icing uses confectioners' sugar, water (or lemon juice in this case!), and meringue powder. The three ingredients are whipped together in a stand mixer until smooth and glossy.
Can you flavor royal icing?
Yes, you can. This royal icing is lemon flavored thanks to the lemon juice. You can also add ½ teaspoon of your favorite extracts to royal icing to flavor it as well. My favorites are peppermint, vanilla, and maple. If you want to flavor royal icing I suggest starting with my classic recipe rather than this lemon version.
Let me know how it went!
Scroll to the bottom of the page to rate ⭐⭐⭐⭐⭐ and comment on this recipe. Leaving comments helps other too!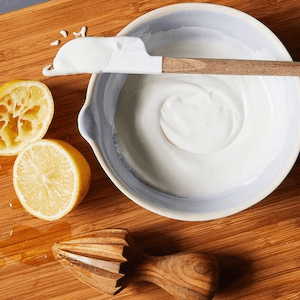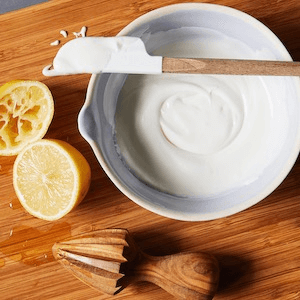 Lemon Royal Icing
A little citrus tang makes this royal icing flavored with lemon perfect for decorating holiday cookies. It's tasty on shortbread, sugar cookies, and classic gingerbread cookies!
Ingredients
4

tablespoons

meringue powder

or powdered egg whites

4

cups

confectioners' sugar

⅓

cup

fresh lemon juice

plus 1 tablespoon if needed
Instructions
Combine ingredients in mixing bowl and mix with the paddle attachment on low speed, scraping sides of bowl as necessary, until icing is smooth and glossy, about 5 minutes. Thin icing by adding the extra tablespoon lemon juice or water to create desired consistency.

For flooding icing should be just thicker than honey; if you're piping designs, the icing should be thick enough to hold the shape.

Store in an airtight container in the refrigerator for up to 4 days or use immediately. Stir well before using.
Notes
This icing is perfect for piping, coloring and decorating with detail. The lemon flavor make it delicious on sugar cookies, and even gingerbread.
• Nutritional analysis is for the entire recipe.
• Always keep icing, and piping bag tips covered tightly or with damp towels. Icing dries quickly.
• TRY MY OTHER ICING & FROSTING RECIPES:
Nutrition
Calories:
973
kcal
Carbohydrates:
243
g
Protein:
7
g
Fat:
0.1
g
Saturated Fat:
0.01
g
Polyunsaturated Fat:
0.01
g
Sodium:
108
mg
Potassium:
137
mg
Fiber:
0.1
g
Sugar:
236
g
Vitamin A:
2
IU
Vitamin C:
16
mg
Calcium:
10
mg
Iron:
0.2
mg
The best frosting recipes to make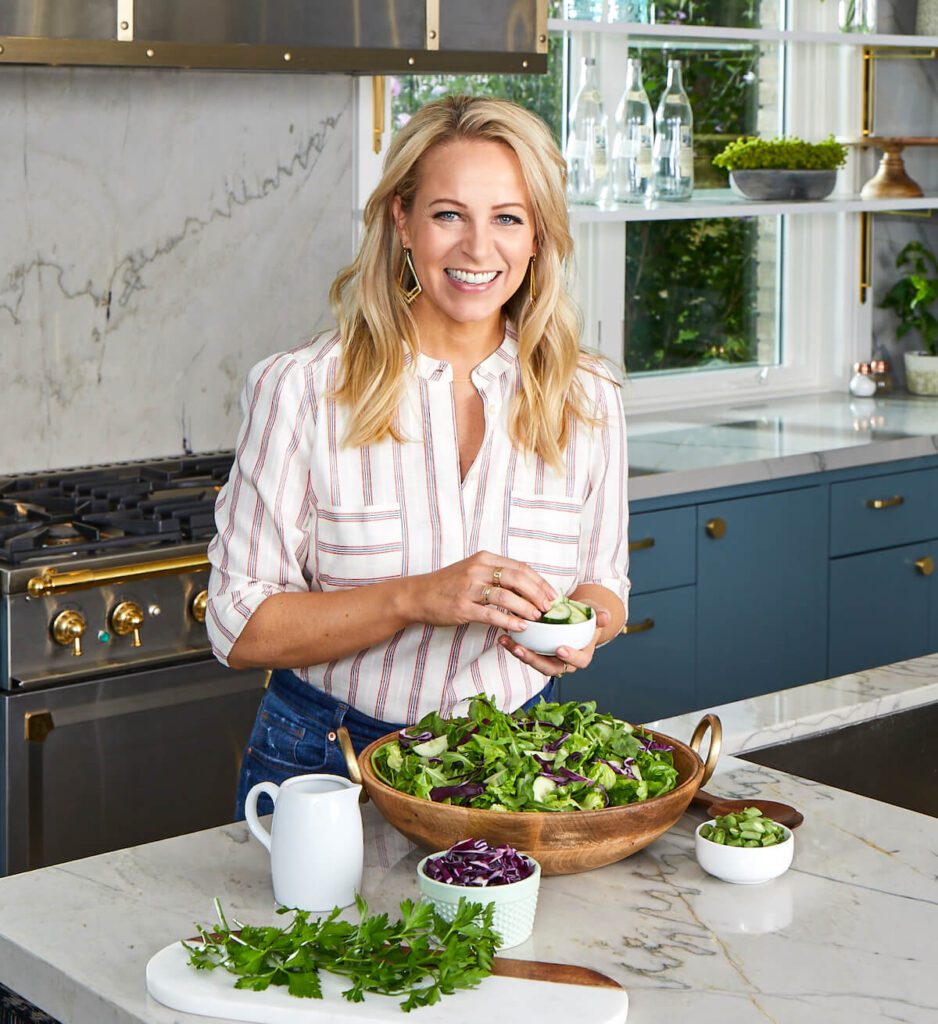 About Tara Teaspoon
I've been in the food publishing business for over 20 years, creating recipes & food-styling for magazines, books, television & advertising. Order my new cookbook & stick around for amazing things to eat.
Recipe by Tara Teaspoon. Photography by Ty Mecham. Originally published in LHJ. Updated July 2023.