---
This old-fashioned caramel icing recipe is perfect slathered atop spice cake, chocolate cake, and cupcakes. It's a boiled frosting that has the creamy texture of brown sugar fudge!
---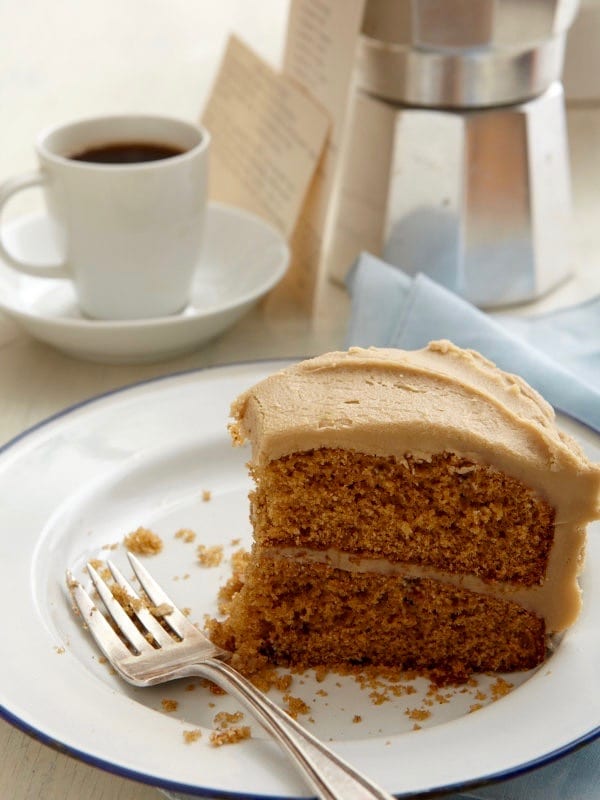 Discovering This Caramel Icing Recipe
This old-fashioned caramel icing recipe came from Susan LaRosa (pictured below), one of my favorite bloggers, who writes about collected classic and vintage recipes.
Her blog, A Cake Bakes In Brooklyn, came about when Susan found a box of old recipes at an antique store. She began collecting vintage cookbooks and boxes of old, often handwritten recipes. She bakes them one by one and blogs about her favorites!
This easy caramel icing recipe is one of the recipes she found in her collection. I love that it stands the test of time. It has a nostalgic flavor and texture, while still being a dessert that could trend on any social media channel!
Jump to:
Ingredients for This Recipe
I love this recipe because it's heavy on the brown sugar, which creates a lovely caramel flavor and color. It's genius with this light Spice Cake.
Besides brown sugar, you'll also need some shortening, milk (both hot and cold), corn syrup, and confectioners' sugar.
Vanilla extract rounds out the flavor profile and takes the icing to the next level.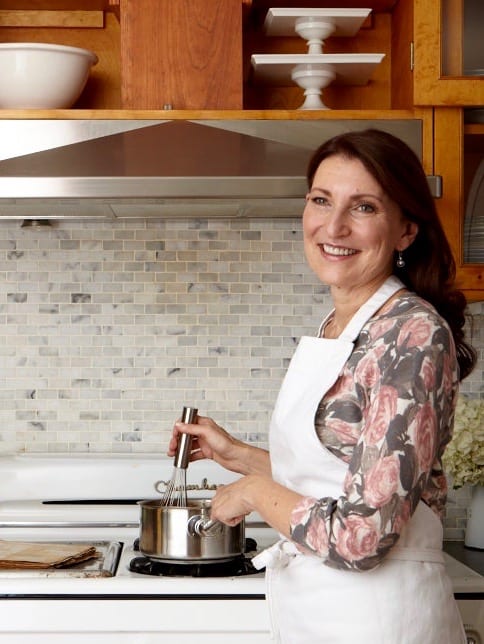 How to Make Caramel Icing
This is a never fail creamy caramel icing! However, it's not made like your typical icing. This icing recipe is made using the technique of cooked frosting — sometimes called a boiled icing.
This technique for making icing has been around for ages, but was quite popular in the early and mid 1900s. These classic icing recipes have just a few more steps than mixing butter with confectioners' sugar.
I've given step-by-step instructions for making caramel icing in the recipe card below, but here are the main things to keep in mind:
You will need a candy thermometer along with your mixer to make creamy caramel icing.
You will need to cook a sugar mixture to 235ºF on a candy thermometer. This creates a soft-ball textured caramel that is stirred into the confectioners' sugar mixture.
The frosting is warm and smooth and should be spread on cakes and cupcakes pretty quickly. If the icing cools it becomes more candy, or fudge-like, and won't spread smoothly.
Tip: Because this is an old-fashioned boiled caramel icing, it must be spread while still warm. As it sets on the cake, it develops the consistency of smooth fudge!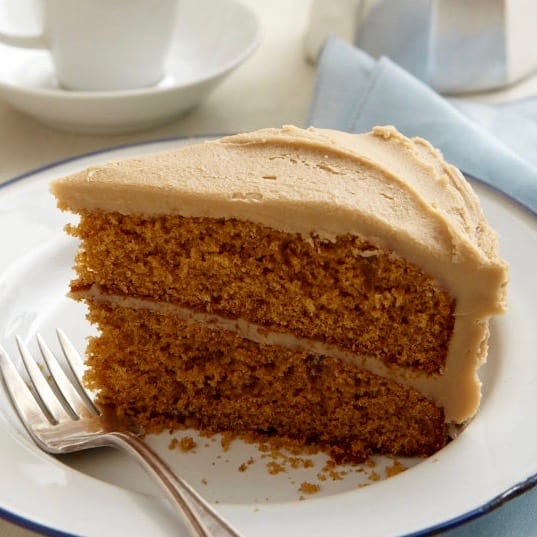 Can Butter Be Used Instead of Shortening?
Unfortunately, you will not get the same result with butter. Butter and shortening have different fat and moisture ratios.
You could try solidified coconut oil, but I haven't tried it myself so I can't say for certain it will work.
Can This Recipe Be Made in Advance?
No, the icing must be prepared and spread over the cake immediately. As it cools, it becomes almost fudge-like in texture.
Tips for Making Homemade Caramel Icing
This icing is versatile! It doesn't just have to go with the Spice Cake; use it on a chocolate cake or cupcakes as well. (If you're using it on a chocolate cake, try sprinkling the top with a little flaked sea salt just to be super trendy. Salted Caramel Icing, y'all!)
Because this is such a simple icing recipe, I do not recommend substituting any of the ingredients. It's a vintage recipe that works perfectly as is!
You absolutely must use a candy thermometer when making this recipe. Without it, you may not cook the icing long enough.
More Easy Frosting Recipes: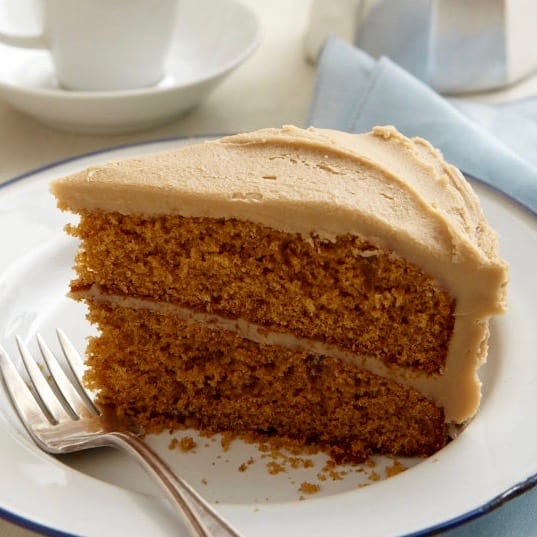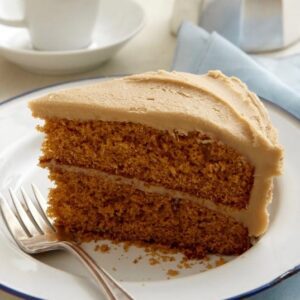 Creamy Caramel Icing
This old-fashioned caramel icing recipe is perfect slathered atop spice cake, chocolate cake, and cupcakes. It's a boiled frosting that has the creamy texture of brown sugar fudge!
Ingredients
⅓

cup

plus 1 tablespoon shortening

¼

cup

hot whole milk

½

cup

cold whole milk

2½

cups

confectioners' sugar

1

teaspoon

vanilla extract

1

tablespoon

light corn syrup

2

cups

light brown sugar
Instructions
In a bowl, combine ⅓ cup shortening, ¼ cup hot milk, confectioners' sugar, and vanilla and beat until smooth, about 2 min. Set aside.

In a saucepan, boil together 1 tablespoon shortening, ½ cup cold milk, corn syrup and brown sugar until temperature reaches 235°F (soft-ball stage) on a candy thermometer, about 10 minutes.

Pour the boiled mixture over over shortening mixture and beat until smooth and creamy, about 2 minutes. If icing isn't smooth enough, add 1 tablespoon hot water.
Nutrition
Calories:
1814
kcal
Carbohydrates:
379
g
Protein:
3
g
Fat:
37
g
Saturated Fat:
10
g
Polyunsaturated Fat:
10
g
Monounsaturated Fat:
15
g
Trans Fat:
5
g
Cholesterol:
9
mg
Sodium:
112
mg
Potassium:
419
mg
Sugar:
373
g
Vitamin A:
148
IU
Calcium:
289
mg
Iron:
2
mg
Cake recipes for any occasion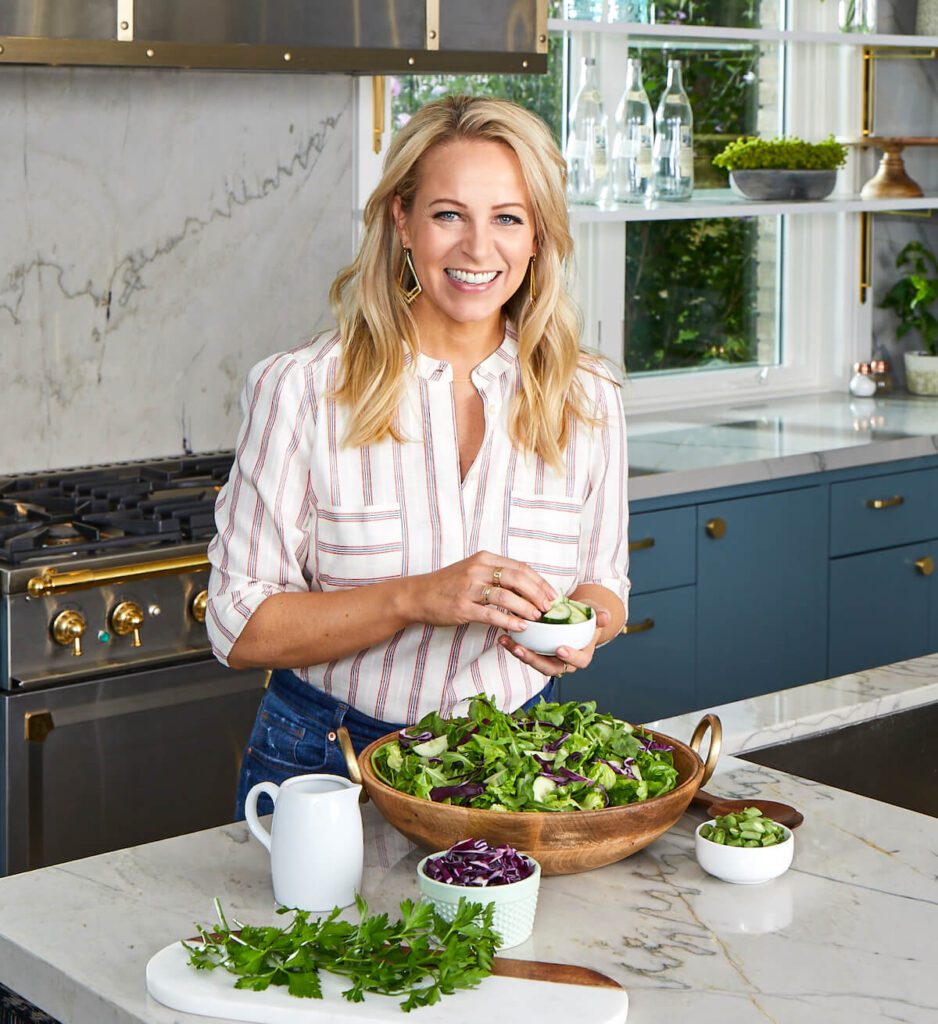 About Tara Teaspoon
I've been in the food publishing business for over 20 years, creating recipes & food-styling for magazines, books, television & advertising. Order my new cookbook & stick around for amazing things to eat.
Recipe courtesy of Susan LaRosa at acakebakesinbrooklyn.com. Originally published in LHJ 03/12. Photography Seth Smoot