---
Chocolate Caramel Cupcakes combines the perfect chocolate cake with my creamy caramel frosting. The flavors make for a great recipe mashup.
---
This recipe takes two favorites and creates a mashup that you'll want to make again and again. I teamed up with Kate from the Instagram @sweetkatebake to create a treat that's easy to make, and delicious to bite into!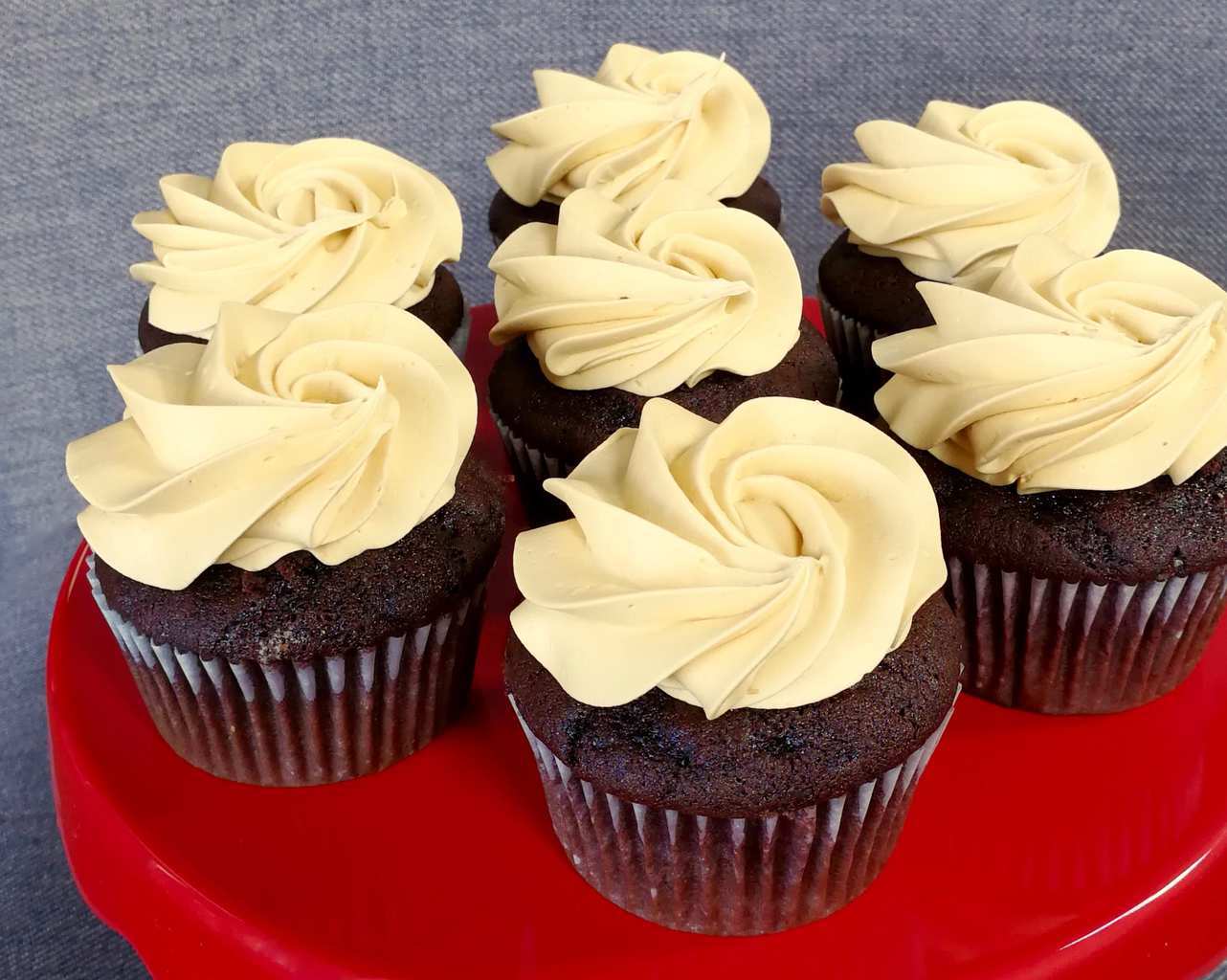 We wanted to create a unique recipe just for our friends. Kate had the great idea of taking one of my cakes, and turning it into a cupcake (she's pretty famous for those!)
The recipe mashup used Kate's classic chocolate cupcakes and one of my tasty frostings. My Fluffy Vanilla Frosting happens to be the most popular sweet recipe on my site. It's so versatile and tasty, but hey, we wanted something a little more exciting for our mashup!
Chocolate caramel cupcakes combine two amazing flavors! Mashup success.
Kate settled on my creamy caramel icing. It has always been paired with the spice cake recipe that's courtesy of A Cake Bakes In Brooklyn. A pretty fantastic cake in and of itself! The icing isn't your typical cake topper–it's a creamy caramel icing and is cooked! Yes, a cooked frosting.
The first thing you need to know about this glorious frosting is that it is vintage. It is! That doesn't mean it's old and moldy, it simply means that it might be made using a technique you aren't familiar with, from olden times. The technique of cooked frosting, or sometimes called a boiled icing has been around for ages, but quite popular in the early and mid 1900s. These classic icing recipes have just a few more steps than mixing butter with confectioners' sugar. They are simple and straight forward, but must be spread while still warm. Then they set on the cake and become the consistency of smooth fudge!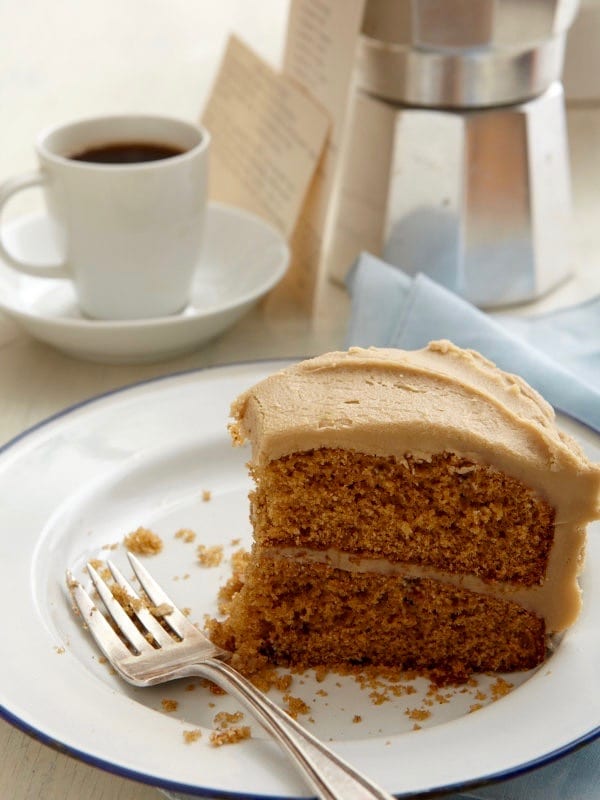 You will need a candy thermometer along with your mixer to make creamy caramel icing. (Get my favorite candy thermometer here). I love this recipe because it's heavy on the brown sugar, which creates a lovely caramel flavor and color. It's genius with this light Spice Cake.
Kate's changes:
Kate made my creamy caramel icing but made a slight change. The icing needs to be used while still warm because as it cools it sets. She fixed this by making it a little more stable with ½ cup more confectioners' sugar. She beat this in when combining the hot mixture with the shortening and milk mixture.
You can add hot water and confectioners' sugar as needed to get a consistency perfect for piping. Kate used a Wilton 1M open star piping tip to decorate these gems.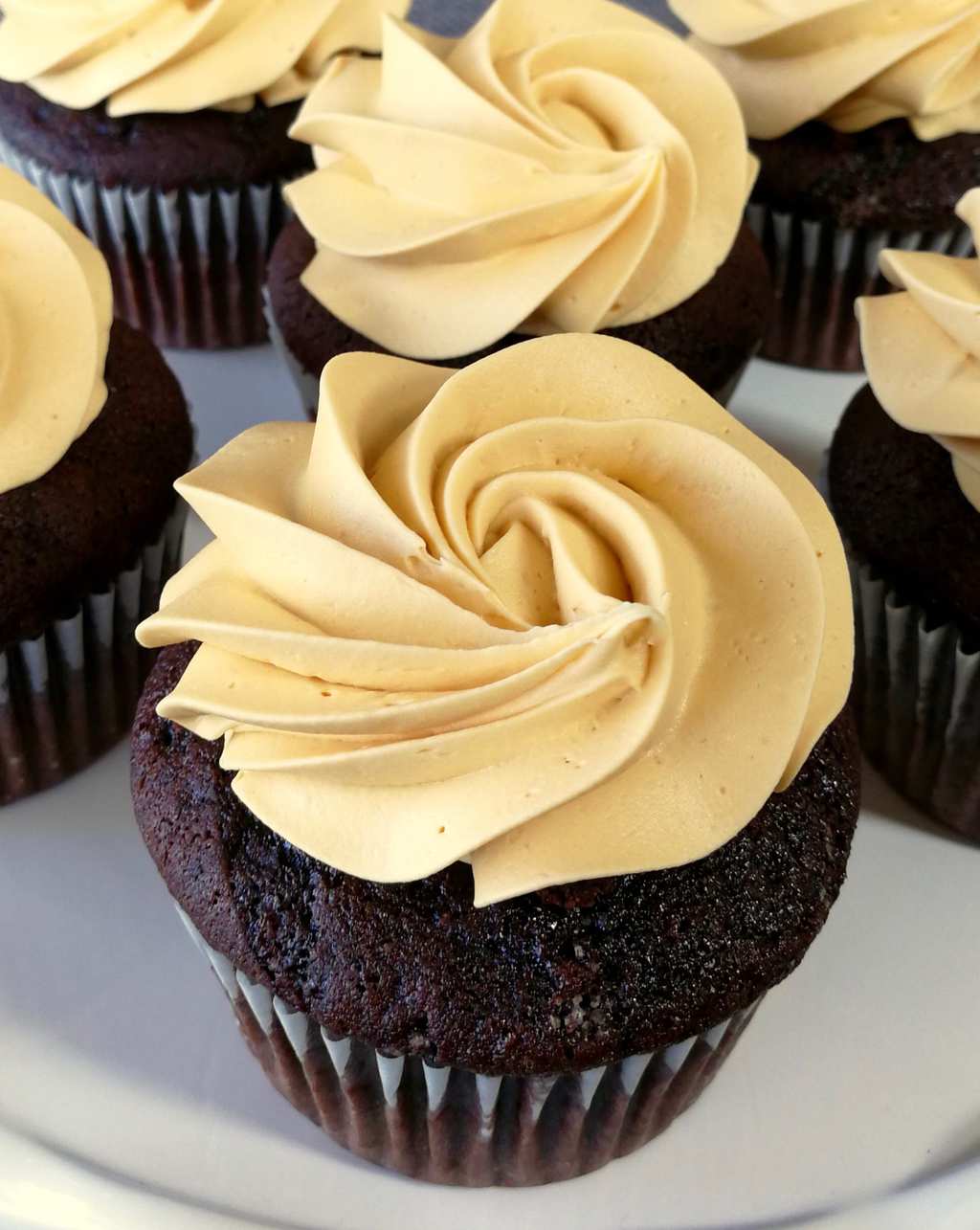 These chocolate caramel cupcakes use a simple recipe with unsweetened cocoa and all the good things like butter and sugar. I love Kate's technique of using hot water in place of milk as the liquid. This activates the cocoa flavors, and leavening so the cupcakes bake up perfectly, and deliciously!
Thanks to Kate for our mashup images and great cupcake recipe! This combo is a winner! Let me know if you make these in the comments below.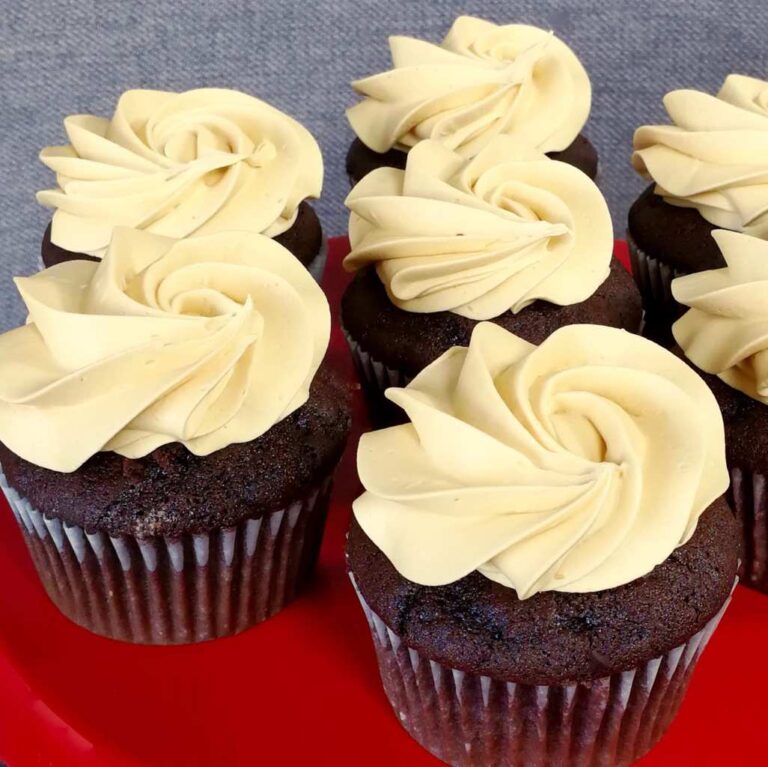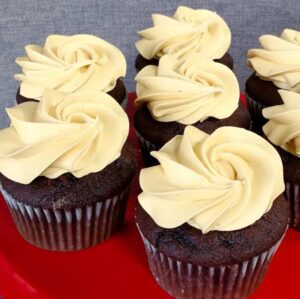 Chocolate Caramel Cupcakes
Chocolate Caramel Cupcakes combines the perfect chocolate cake with my creamy caramel frosting. The flavors make for a great recipe mashup.
Ingredients
For the Cupcakes!
1 ½

cups

all-purpose flour

1

teaspoon

baking soda

¼

teaspoon

baking powder

¼

teaspoon

salt

½

cup

(1 stick) unsalted butter

room temperature

1 ¼

cups

granulated sugar

2

large eggs

½

teaspoon

vanilla extract

½

cup

unsweetened cocoa powder

1

cup

warm water
For the Caramel Icing!
⅓

cup

plus 1 tablespoon shortening

¼

cup

hot milk plus ½ cup cold milk

3

cups

confectioners' sugar

1

teaspoon

vanilla extract

1

tablespoon

light corn syrup

2

cups

light brown sugar
Instructions
Heat oven to 350ºF. Line a cupcake pan with paper liners and set aside.

For the cupcakes: In a bowl sift together flour, baking powder, baking soda and salt; set aside.

In an electric mixer fitted with a paddle attachment, beat butter and sugar together until light and fluffy, about 5 minutes. Add eggs, one at a time, beating between each addition. Scrape down sides of the bowl; add vanilla and stir to combine.

Add flour mixture alternately with the warm water in three additions, beating between each (beginning and ending with flour mixture).

Divide batter evenly among liners, about three-quarters full each. Bake until tops spring back when touched, 15 to 17 minutes. Let cool completely.

For the Caramel Icing: Combine ⅓ cup shortening, ¼ cup hot milk, 2 ½ cups confectioners' sugar, and vanilla and beat until smooth, about 2 min.

Boil together 1 tablespoon shortening, ½ cup cold milk, corn syrup and brown sugar until temperature reaches 235°F (soft-ball stage) on a candy thermometer, about 10 min. Pour over shortening mixture and beat until smooth and creamy, about 2 min. Add ½ cup confectioners' sugar to create a smooth and creamy frosting. If icing isn't smooth enough, add 1 tablespoon hot water.

Transfer icing to a large piping bag fitted with a Wilton 1M open star tip and pipe rosettes on top of each cupcake.
Notes
Make and cool the cupcakes before making the icing. Pipe the icing immediately after preparing.
Nutrition
Calories:
540
kcal
Carbohydrates:
102
g
Protein:
3
g
Fat:
14
g
Saturated Fat:
6
g
Cholesterol:
48
mg
Sodium:
166
mg
Potassium:
145
mg
Fiber:
1
g
Sugar:
87
g
Vitamin A:
285
IU
Calcium:
53
mg
Iron:
1.6
mg
Cake recipes for any occasion
Cupcakes are one of my favorite treats to make for parties. Try some of my friend's recipes too!
Smore's Cupcakes with Graham Cracker Frosting
Italian Lemon Cupcakes with Ricotta Cream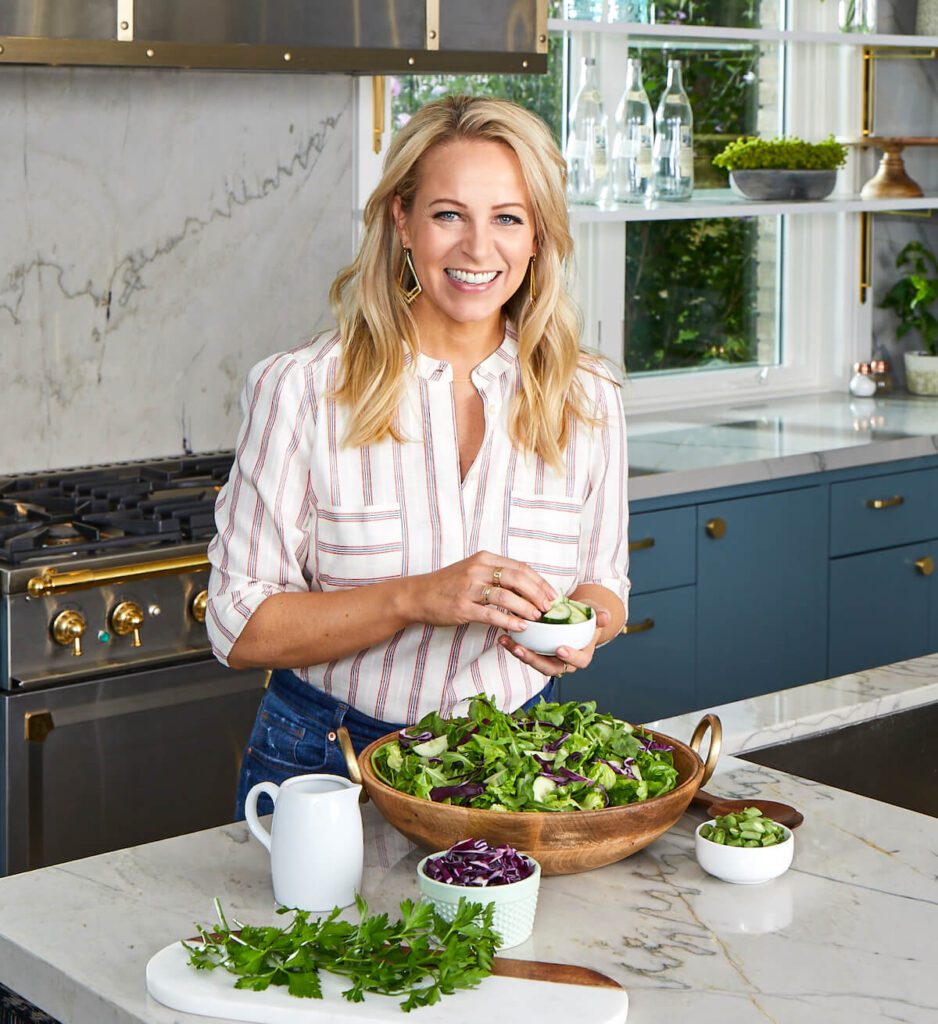 About Tara Teaspoon
I've been in the food publishing business for over 20 years, creating recipes & food-styling for magazines, books, television & advertising. Order my new cookbook & stick around for amazing things to eat.
Mashup recipes courtesy of Tara Teaspoon and @sweetcakebake. Photographs by Seth Smooth & Katelyn Brewer.