Glossy, sweet candied lemon zest is the perfect topper to a citrusy cake.
Candied zest is nothing but the rind of citrus simmered in a sugar syrup. But the results are far from ordinary. The rind gets shiny and the bitter flavor disappears, but the candy retains its citrus taste.
I use a generous pile of candied zest on my Pink Lemonade Cake. You can use it to top any type of dessert, or chop it up and add it to cookies. It will keep in the fridge, tightly covered for several weeks, and the sugar syrup that goes along with it can be used in cocktails as a simple syrup.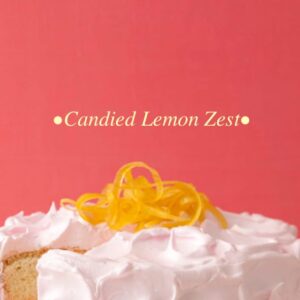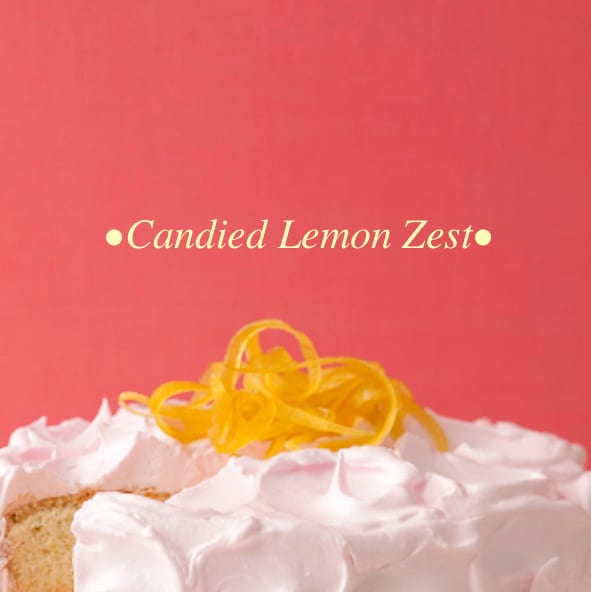 Candied Lemon Zest
Ingredients
Zest from 2 lemons

½

cup

water

½

cup

sugar
Instructions
With a sharp vegetable peeler, cut long strips of zest from lemons, being sure not to take any of the biter white pith. Slice the strips into ⅛-inch-thick strands.

Bring sugar and water to a boil in a small saucepan; add the zest and simmer until translucent, about 20 min. Remove from heat and let cool in the syrup.

Strain zest and use for garnish. Use the syrup in drinks or on pancakes. You can refrigerate both for 2 weeks.