---
Cashew Cookies with Brown Butter Frosting are my favorite oatmeal cookie from childhood. Chewy and full of nuts, topped with buttery icing.
---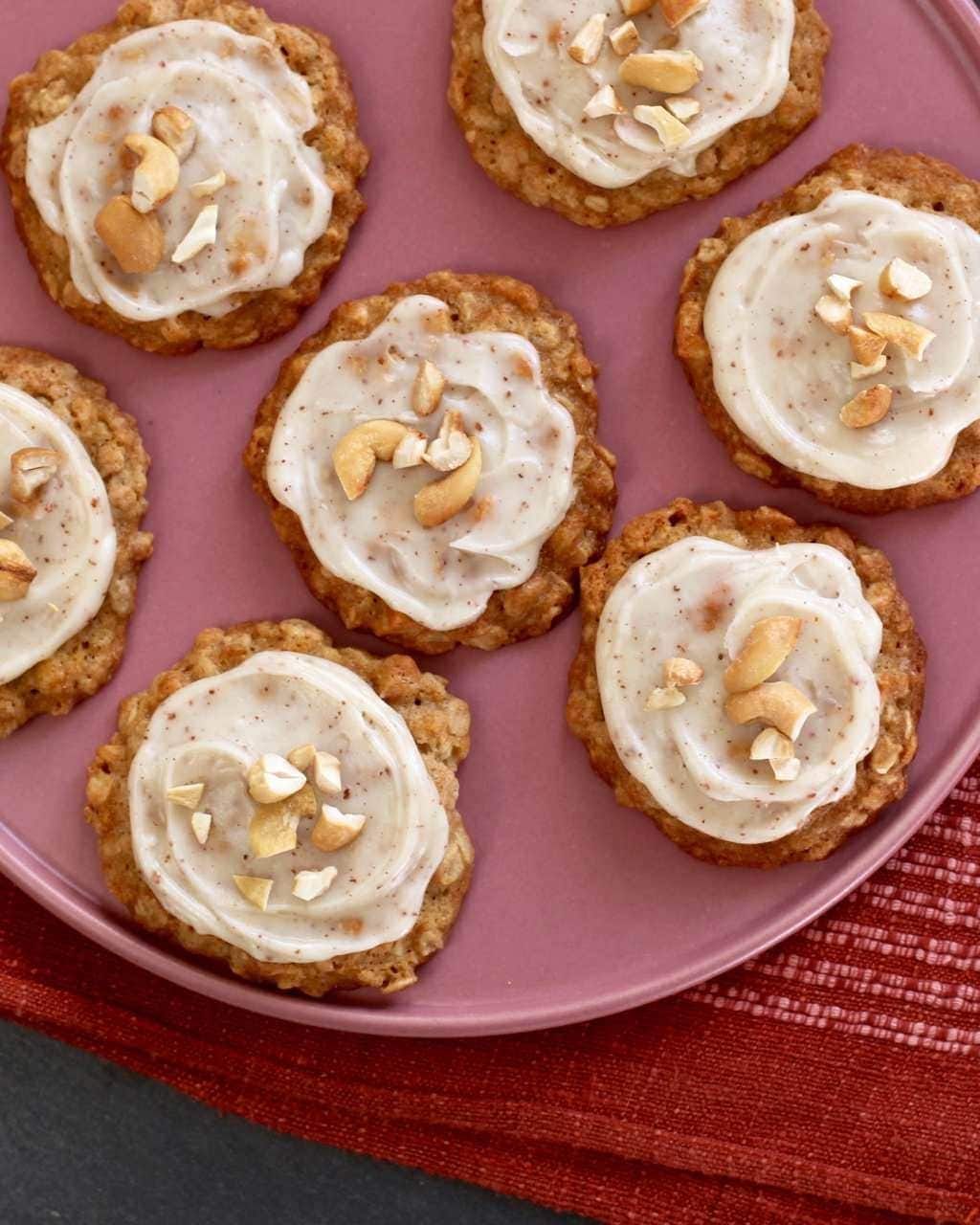 Jump to:
I could eat the entire pan of these cashew cookies with brown butter frosting. They are like soft, buttery oatmeal cookies on cashew steroids, plus the bonus of nutty, creamy icing. No wonder they were my favorite cookie growing up. (Don't tell my Chocolate Chip Cookies though. They will always have my heart!)

I believe these to be the ultimate cashew cookies because they combine the perfect oatmeal cookie with a brown sugar cashew cookie. You may choose to agree with me after making them (and probably eating an entire batch!).
The perfect drop cookie:
In the world of drop cookies I have my favorites. Chocolate Chip Cookies of course; but also Pecan Crispies, Black Sesame Chocolate Chip Cookies and my ying yang Monster Cookies.
Drop cookies are cookies where the dough simply gets dropped on the baking sheet and baked. Usually we use a cookie scoop or a couple of spoons to make nice little mounds, but we aren't rolling out, cutting, or shaping drop cookies.
Even thought they are oatmeal cookies at heart, the nuts and frosting take these cashew cookies to another level!
Oatmeal cookies are in a drop cookie category all to themselves. My go to, I have to admit, is the oatmeal cookie recipe off the back of the Quaker Oats package. The Vanishing Oatmeal Raisin Cookies, with my own adjustments (like leaving out the raisins and cinnamon, and always using butter), are classic and delicious. I throw milk chocolate chips in there sometimes.
Nothing compares to these Cashew Cookies with Brown Butter Frosting though. Even though they are oatmeal cookies at heart, the cashews and brown butter take them to that other cookie level!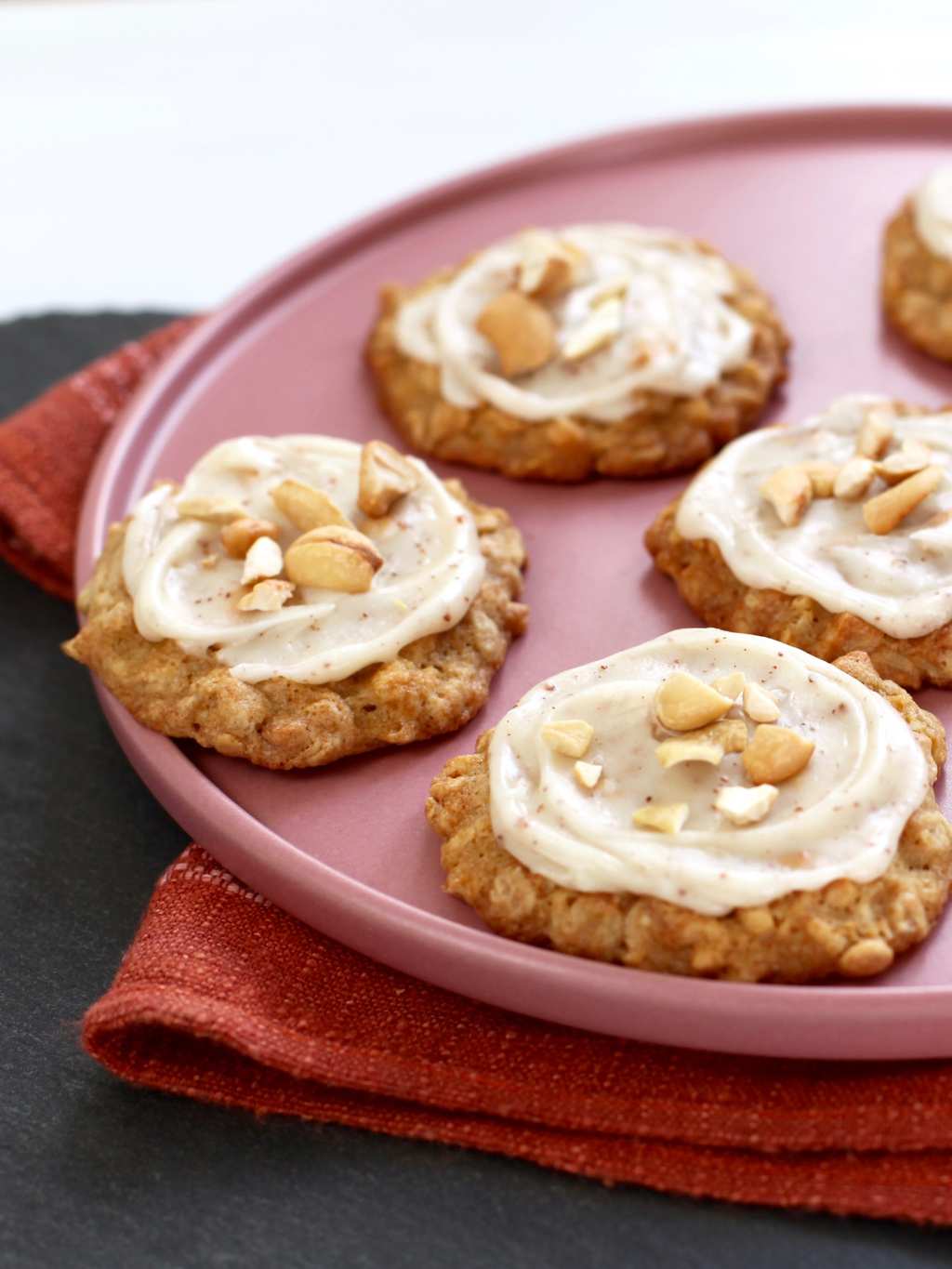 Like many of my favorite recipes, this one comes from my Great Aunt Ruth. Her 7-Layer Dip is one of my most popular recipes. It's looks like no other 7-layer dip, and is the star of any party table.
Thank you Aunt Ruth for these cashew cookies, and the addition of browned butter frosting!
How to make brown butter frosting:
Browned butter, or buerre noir is butter that has been melted slowly and allowed to heat until the milk solids have separated from the fat and caramelized to a brown color. The milk solids in butter brown because they have natural sugars just like regular milk.
I brown butter in one of my stainless steel saucepans rather than one with a nonstick coating. If you use one with dark nonstick coating you can't tell when the milk solids start to turn brown! With the stainless steel pan I can see the color change and can pull the melted, browned butter off the heat before it burns.
Make brown butter frosting for these cashew cookies as an extra special addition.
The process takes a while, but at the end, just like when making caramel sauce, things happen quickly! Once the butter has slowly melted in the pan, start to really watch it. It will most likely foam a bit as the milk solids begin to cook. I swirl the pan around so I can watch the browned bits change color. I like to get them almost to chestnut color, remove it from the heat and immediately scrape it into my bowl of confectioners' sugar for the brown butter frosting. Get all the browned bits from the pan, that's where the flavor is!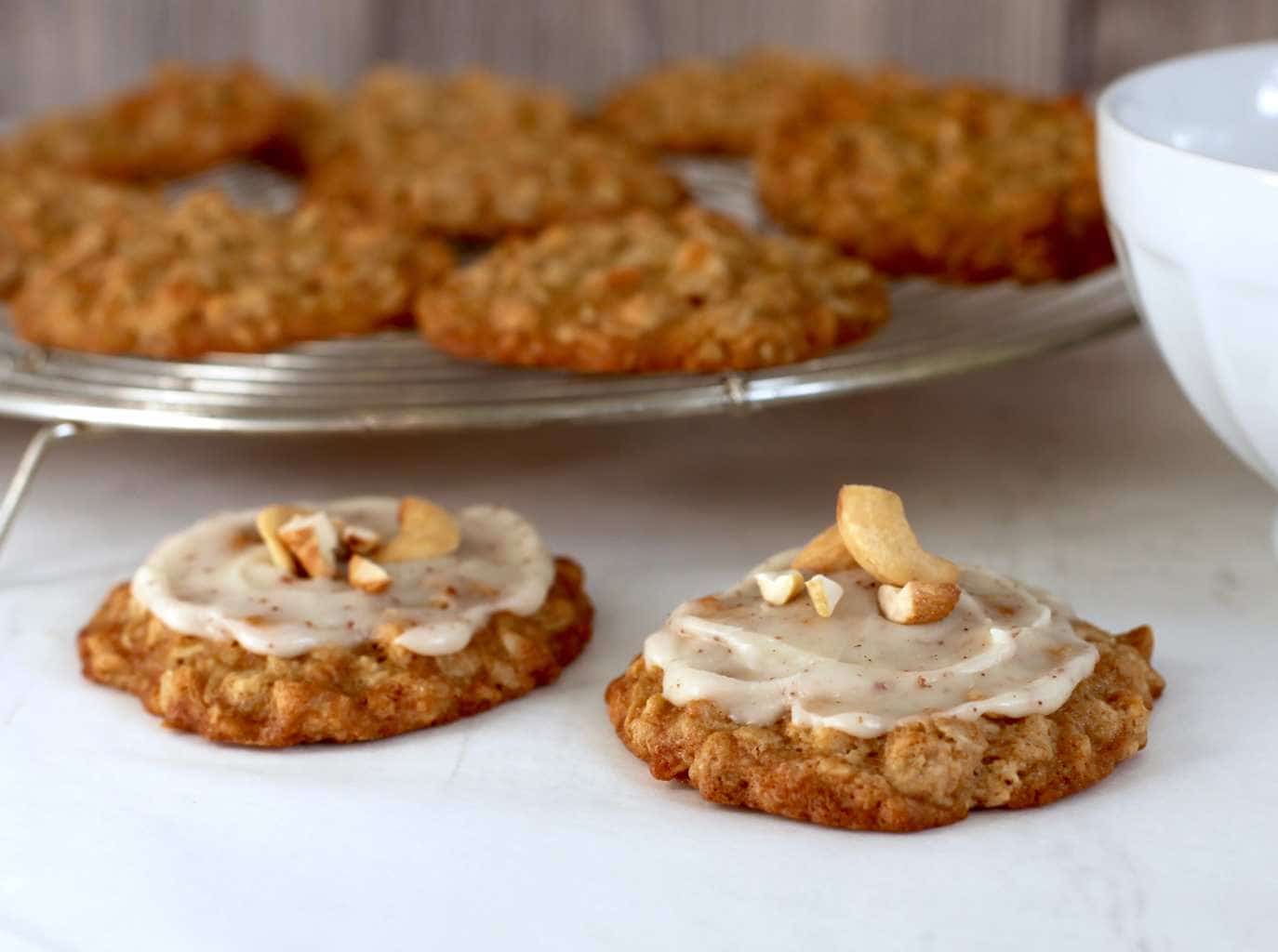 You can garnish the cookies with extra cashews if you'd like. I did for the pictures, but mom never did. I think they are just as pretty plain and simple.
Keep them in a single layer, in an airtight container for 3 or 4 days. Enjoy!
Cookie Classics To Try: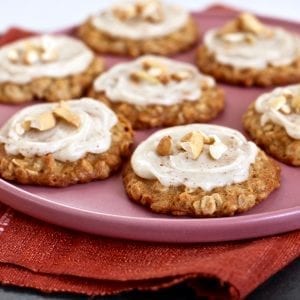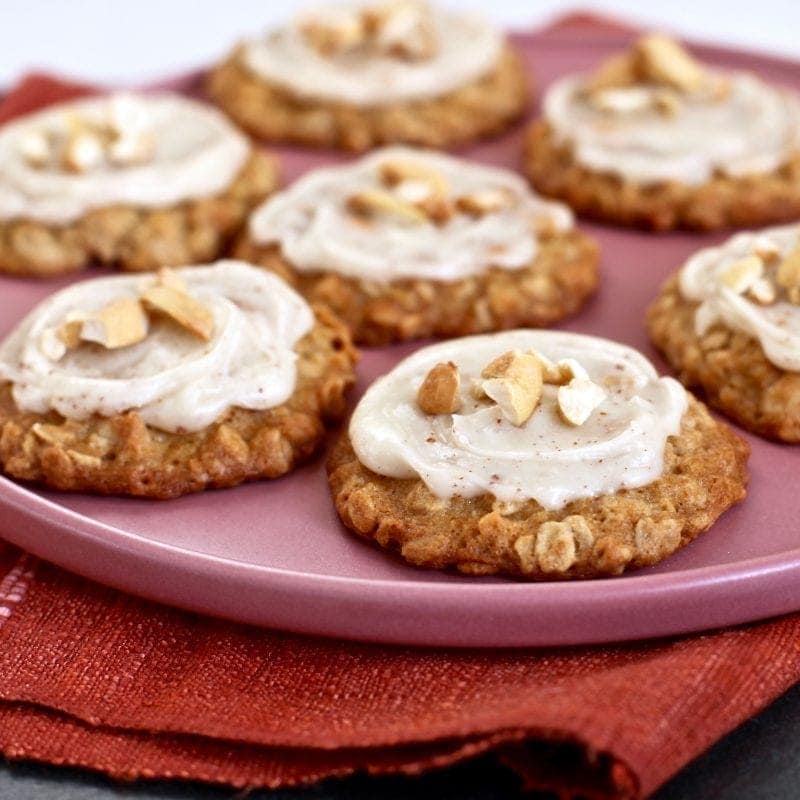 Cashew Cookies with Brown Butter Frosting
Cashew Cookies with Brown Butter Frosting are my favorite oatmeal cookie from childhood. Chewy and full of nuts, topped with buttery icing.
Ingredients
½

cup

(1 stick) unsalted butter

softened

1

cup

packed brown sugar

¼

cup

sour cream

1

large

egg

1

teaspoon

vanilla extract

1

cup

all-purpose flour

¼

teaspoon

salt

¾

teaspoon

baking powder

½

teaspoon

baking soda

1 ½

cups

old fashioned rolled oats

1

cup

salted cashews

coarsely chopped
Brown Butter Frosting
4

cups

confectioners' sugar

10

tablespoons

unsalted butter

1

teaspoon

vanilla extract

5

tablespoons

milk or evaporated milk
Instructions
Heat oven to 375ºF. In a mixer, beat butter and brown sugar until creamy. Add sour cream, egg and vanilla and beat until lightened, about 1 minute.

Stir together dry ingredients (flour, salt, baking powder, baking soda, oats and cashews). Add the dry ingredients to the sugar and butter mixture and mix until combined. Scrape bottom and sides of bowl to incorporate everything evenly.

Drop 1 inch domes of dough onto parchment-lined baking sheets and bake until golden around the edges and just barely set in the center, 8 to 10 minutes. Let cool.

Make brown butter frosting: Sift the confectioners sugar into a mixing bowl.

In a small saucepan, slowly melt butter over medium heat. Cook, swirling pan occasionally, until golden brown, about 3 minutes. Immediately mix butter, vanilla and milk into the confectioners' sugar. Add more milk depending on the consistency you desire.

Frost cooled cookies. Top with extra cashews if desired. Store in an airtight container for up to 3 days.
Notes
Every oven is different. Adjust cooking time as needed to get golden brown cookies, but don't over bake them.
Nutrition
Calories:
270
kcal
Carbohydrates:
39
g
Protein:
3
g
Fat:
12
g
Saturated Fat:
6
g
Cholesterol:
33
mg
Sodium:
95
mg
Potassium:
92
mg
Fiber:
1
g
Sugar:
29
g
Vitamin A:
297
IU
Calcium:
29
mg
Iron:
1
mg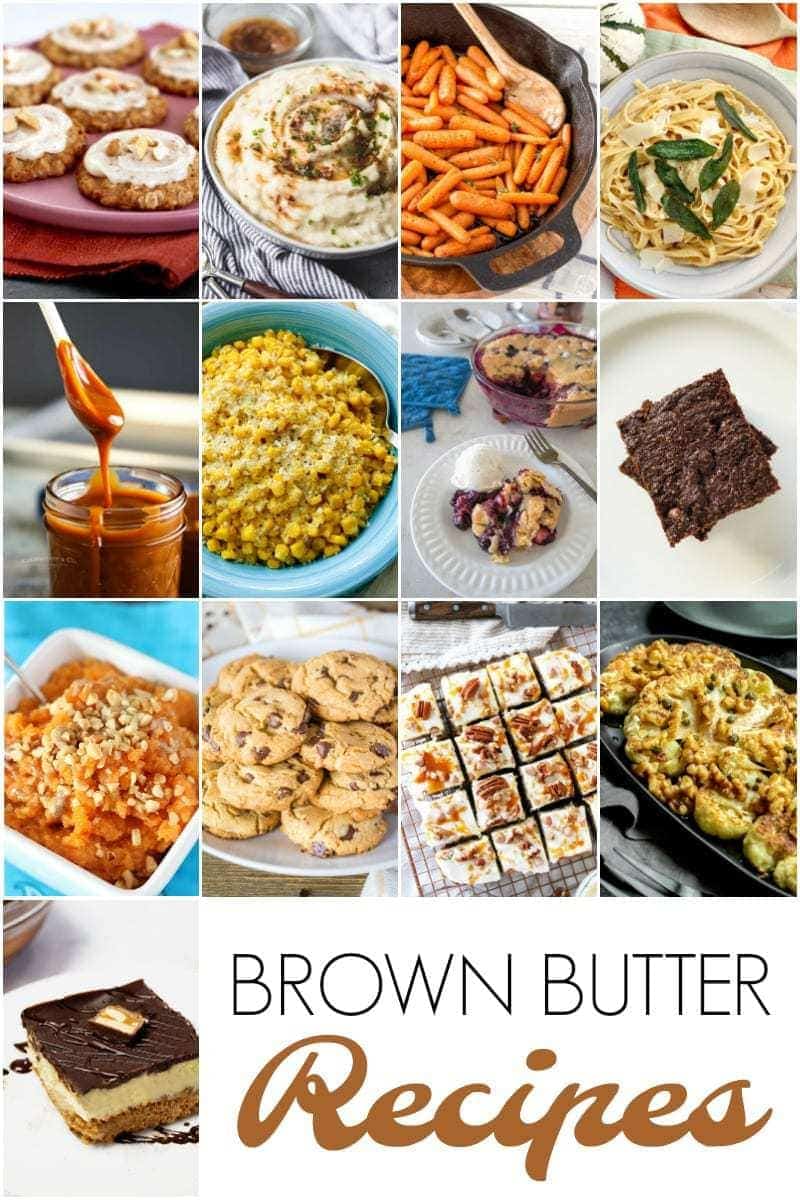 Check out more amazing brown butter recipes from my food blogger friends!
Brown Butter Chocolate Chip Cookies
Browned Butter Cauliflower
Mashed Sweet Potatoes with Brown Butter
Butter Pecan Blondies with Brown Butter
Garlic Brown Butter Mashed Potatoes
Apple Blueberry Bliss
Desserts
Brown Butter Parmesan Corn
Brown Butter Pumpkin Alfredo Sauce
Skillet Brown Butter Carrots
Dark Chocolate Brown Butter Brownies
Browned Butter Salted Caramel Sauce

Tasty cookie recipes!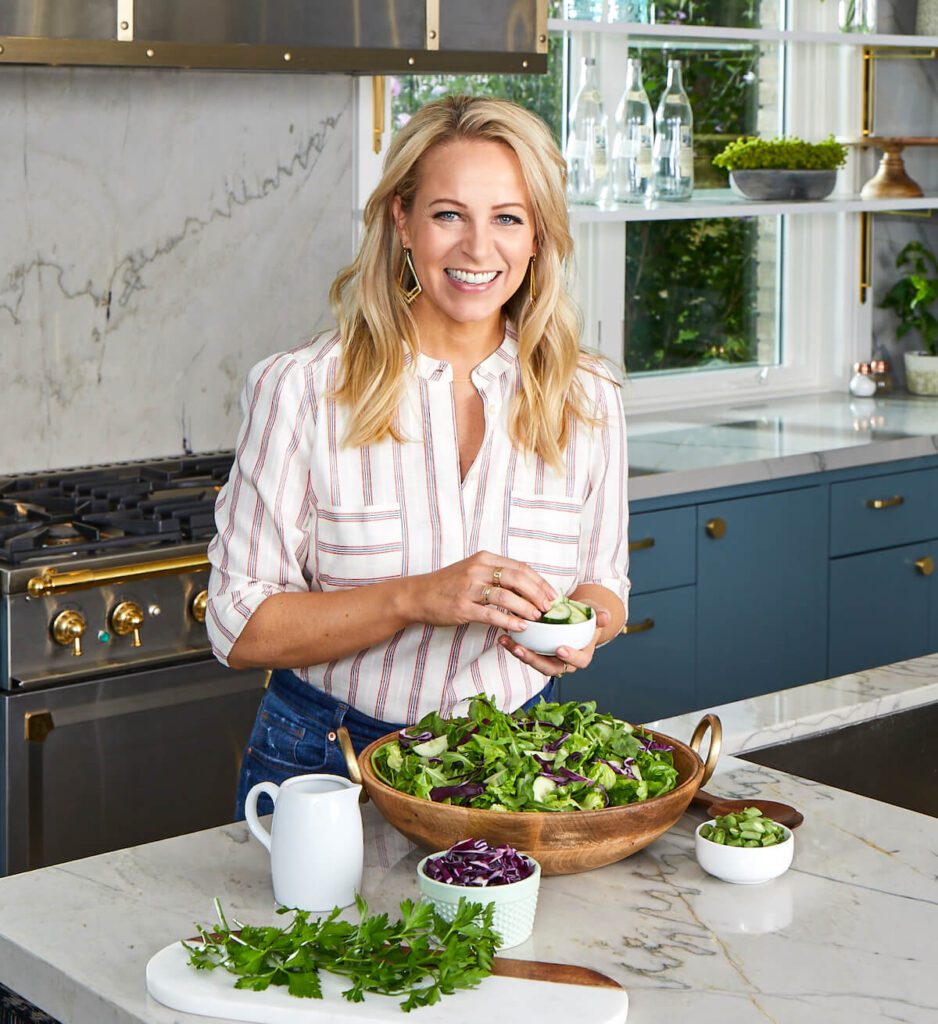 About Tara Teaspoon
I've been in the food publishing business for over 20 years, creating recipes & food-styling for magazines, books, television & advertising. Order my new cookbook & stick around for amazing things to eat.
Recipe by Tara Teaspoon, inspired by Aunt Ruth. Photography and styling Tara Teaspoon & Colette Komm.