If it's your thing you'll love these buttery, soft, and chewy, chipless chocolate chip cookies! It's nothing but cookie in my tasty no-chocolate chip treats.
---
Like my award-winning, classic Chocolate Chip Cookies, these treats are buttery, soft, chewy and have a lovely caramel flavor. It might be EVERYTHING you love in a chocolate chip cookie and nothing else!
Jump to:
Chocolate Chip Cookies Without Chocolate Chips
But why? If you are a fan of my award winning chocolate chip cookies, you might be wondering why folks like cookies without chocolate chips!
Here's the deal: Chocolate chip-less cookies are packed with delicious, simple flavors! That's why the cookie is a great vehicle for chocolate and other bits and bobs.
Leaving the chocolate out of a chocolate chip cookie lets the butter, caramelized sugars, and vanilla sing.
Chipless chocolate chip cookies are essentially brown sugar and butter cookies, because those are the flavors that really stand out. It's a tasty bite, and perfect with a glass of milk, or cup of tea.
Get my favorite clear vanilla extract with a discount! CLICK HERE for 10% off Casa Bella Vida Vanilla.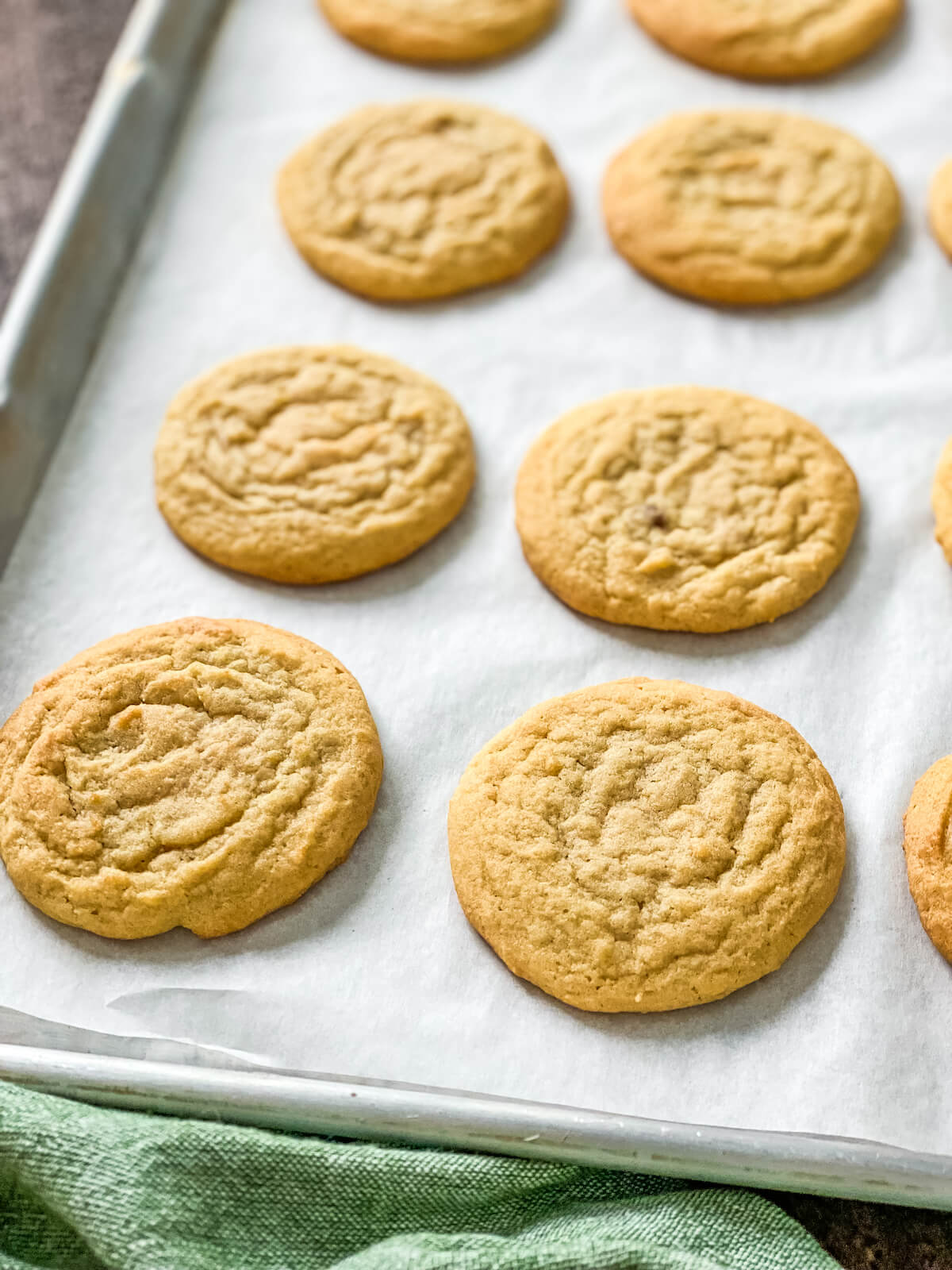 Make: Chocolate Chip Cookies NO Chocolate Chips!
This recipe is the perfect combination of crisped edges, chewy insides, and caramelized flavor. Wow! You have come to the right place.
You'll make chipless chocolate chip cookies the same way you would the classic recipe. Cream together the butter and sugars, add the eggs, vanilla, and then stir in the dry ingredients and...wait...that's it! No chocolate chips!
You can portion the dough with a handy cookie scoop. Place on a parchment lined baking sheet and bake. No melty chocolate, or overpowering flavors to mess with your vanilla-scented, buttery cookies.
Cookie Classics To Try:
Should I chill chipless chocolate chip cookies dough?
Like classic chocolate chip cookies, the chocolate chipless cookies dough may benefit from chilling before baking.
While this recipe will turn out absolutely delicious without chilling, you'll see a slight difference in texture if you do.
The texture of cookie dough changes when chilled due to the flour being able to absorb some of the moisture from the eggs and butter. This expands the molecules and makes them almost like a gel in the dough.
This creates a more chewy, dense cookie when baked. The edges don't crisp quite as much because much of the butter fats are now absorbed rather than melting out of the dough quickly.
If you choose, you can chill your dough for an hour or up to 3 days.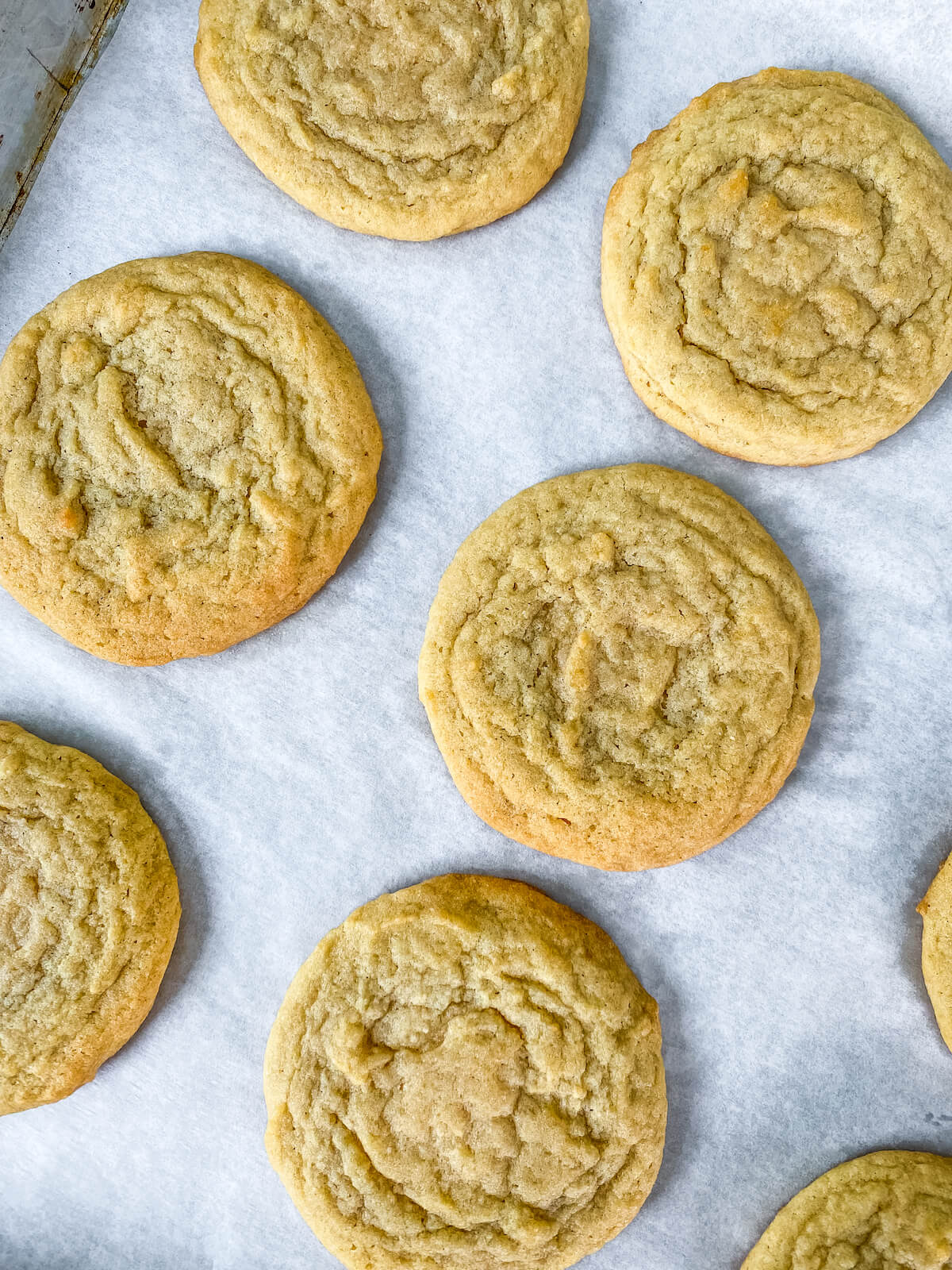 Tips for Chocolate Chipless Cookies
You'll find these cookies are super simple to make. They are an extra special treat for folks who with there was more cookie to a chocolate chip cookie!
Can I Make This Dough Ahead?
This chipless dough is a great make-ahead recipe. The dough can be made and chilled or frozen. You can chill it in a container or portion it into cookie balls prior to chilling or freezing.
Chill up to 3 days, or freeze up to 3 months. If frozen, defrost in the fridge or on the counter until pliable.
Can I make these gluten-free?
This recipe works well gluten-free! I always use Cup4Cup all-purpose GF flour in my cooking and baking.
How to store chipless cookies:
Baked cookies without chocolate chips can be stored airtight at room temperature for up to 3 days. To warm them, microwave them for 8 to 12 seconds.
Things to put in cookies besides chocolate chips:
Try adding 1 ½ to 2 cups of the following to these cookies.
Toffee bits
Chopped nuts
Raisins or currants
Chopped dried apricots
Dried cranberries
M&M candies
More Of The Best Cookies In The World
Try Chocolate Marshmallow Cookies
Let me know how it went!
Scroll to the bottom of the page to rate ⭐⭐⭐⭐⭐ and comment on this recipe. Leaving comments helps other too!
Tasty cookie recipes!