These chocolate chip walnut cookies are thick, gooey and have the perfect balance of chocolate nuttiness.
---
Find more of my chocolate chip cookies on the blog! My classic Award Winning Chocolate Chip Cookies, unique Black Sesame Chocolate Chip Cookies, or delicious Small Batch Chocolate Chip Cookies.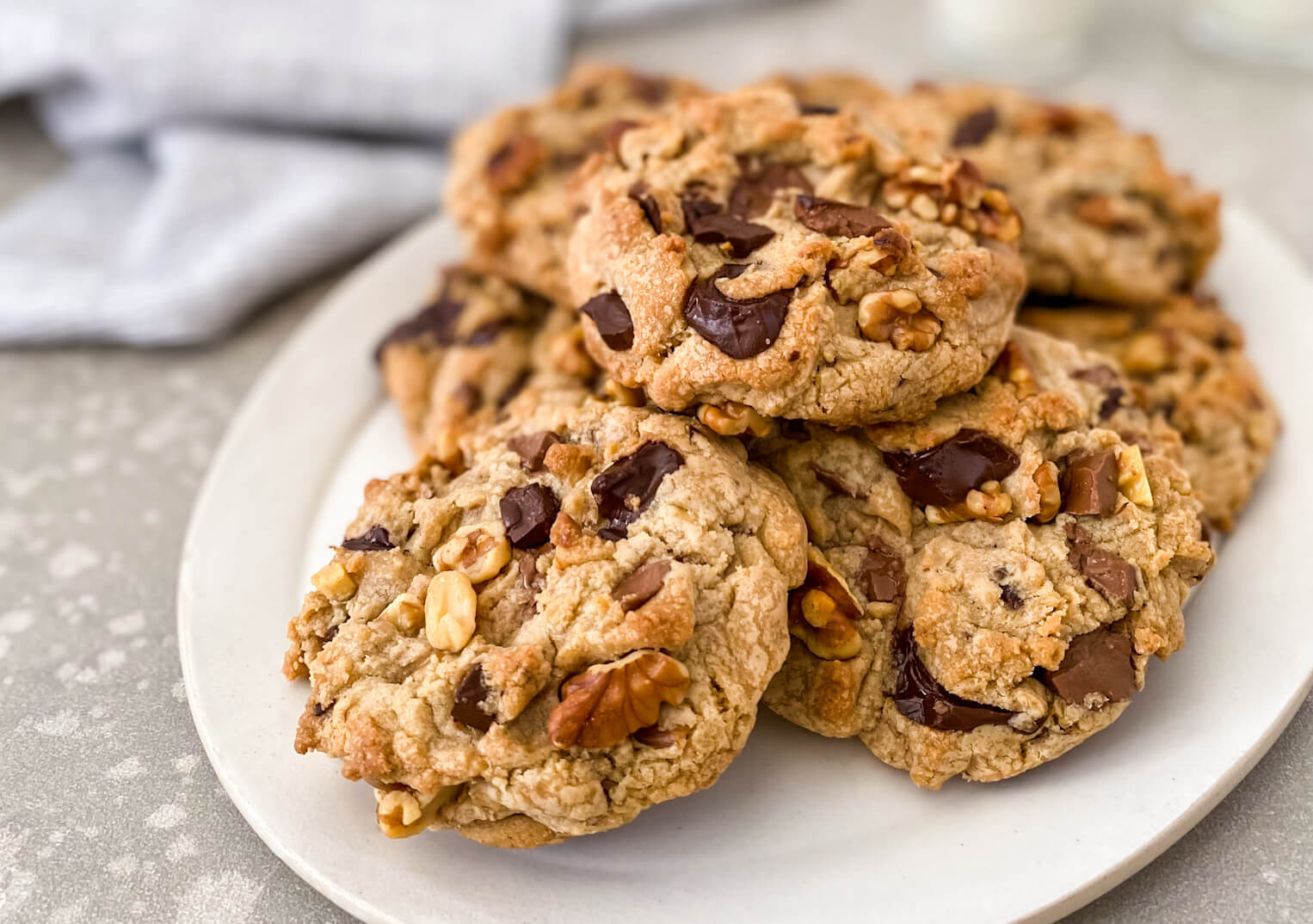 Jump to:
I am guessing you are a: NUTS IN YOUR COOKIES type of person since you are on this recipe post.
Some might say adding nuts to chocolate chip cookies is sacrilegious, but then that just means more cookies for me, right?
I also like plain and classic chocolate chip cookies, but I have a delightful Chocolate Chunk Pecan Cookie recipe in my cookbook Delicious Gatherings. Nuts are great!
I'm such a fan of walnuts in all baked goods. They are buttery and nutty, and add a pleasant crunch to cookies.
Keep reading for my tips on swapping them for different options in these chocolate chip cookies with nuts!
Thick and Rich Chocolate Chip Walnut Cookies
I live near the NYC Levain Bakery and have enjoyed their chocolate chip walnut cookies. They make heavy, dense, thick chocolate chip cookies and walnuts are their addition of choice.
To be honest I think Levain Bakery cookies don't have enough salt. The balance of flavor is off. And while I like the texture, thickness and how they are loaded with chocolate and walnuts, I wanted to make my own version of thick chocolate walnut cookies.
I did not set out to make a knock off, rather a take on my own classic chocolate chip cookies. They are the perfect mix of rich, gooey, softness and crisped edges.
Because these chocolate chip cookies are also loaded with nuts they are thick and delicious.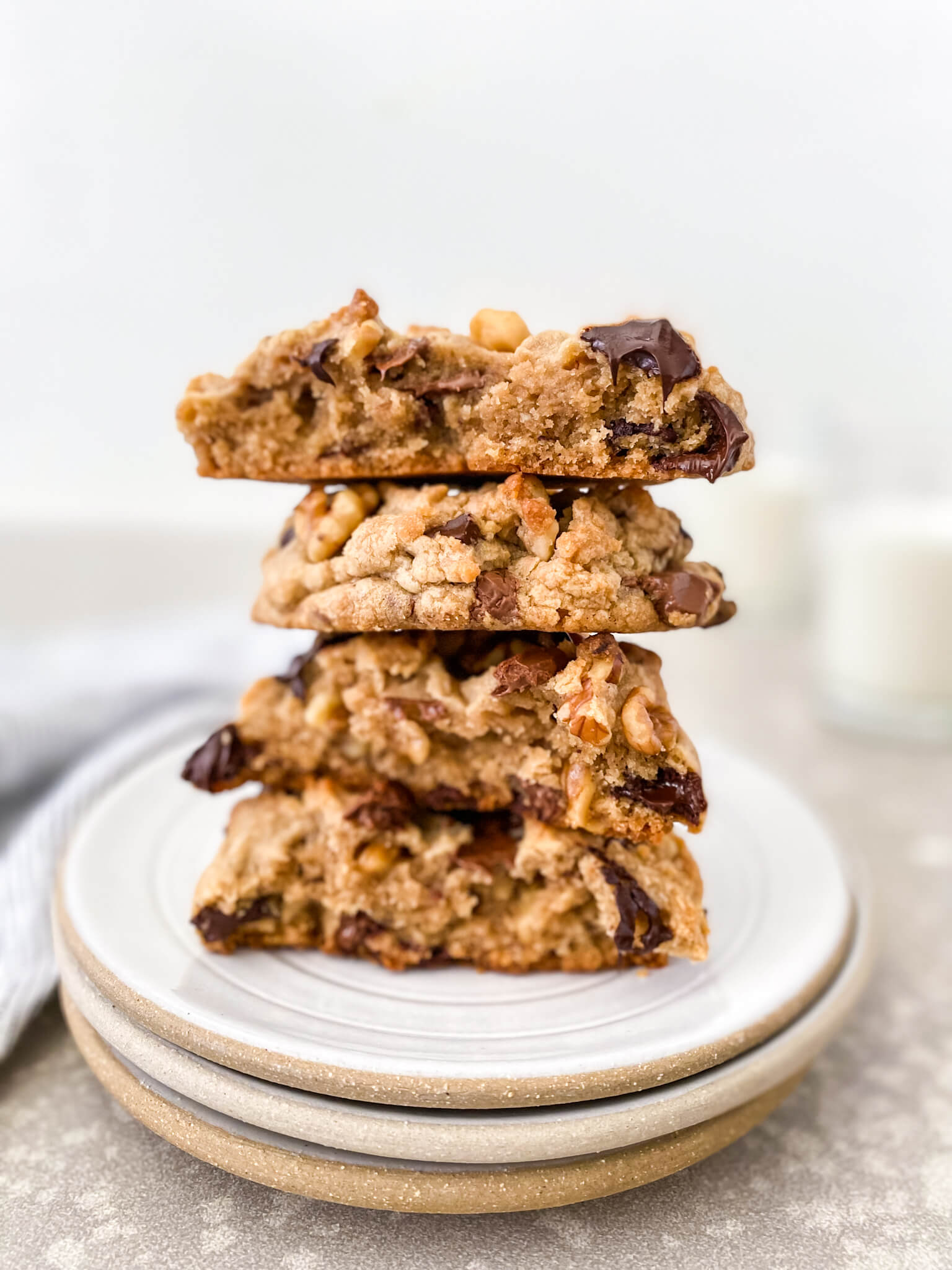 How to make the Best Chocolate Chip Walnut Cookies
You're a fan of chocolate chip cookies with nuts. Here's how to make the BEST chocolate walnut cookies!
Use soft, but still cold butter for best results.
Weigh the flour for accuracy, since we all scoop and measure flour differently.
Use chocolate chips or chop your own chocolate chunks.
Try mixing milk and semisweet chocolate for a balanced flavor.
Don't over-bake your cookies. They continue baking for a few minutes on the hot baking sheet out of the oven.
Make a double batch so you can share!
Should I toast the Walnuts?
The oven is already hot, so why not toast the walnuts before you start making the dough?
Toasting any nut removes bland, raw flavors and helps release the nutty flavor. Toasting walnuts also gives them a nice crunch and chew.
For cookies I like to just LIGHTLY toast my nuts. Here's how to do it:
Spread walnuts on a baking sheet and bake in a 350ºF oven for 7 to 10 minutes. The color may change slightly, but you will definitely start to smell the fragrance when they are done. Be careful to not over-toast the nuts or they will be too strong.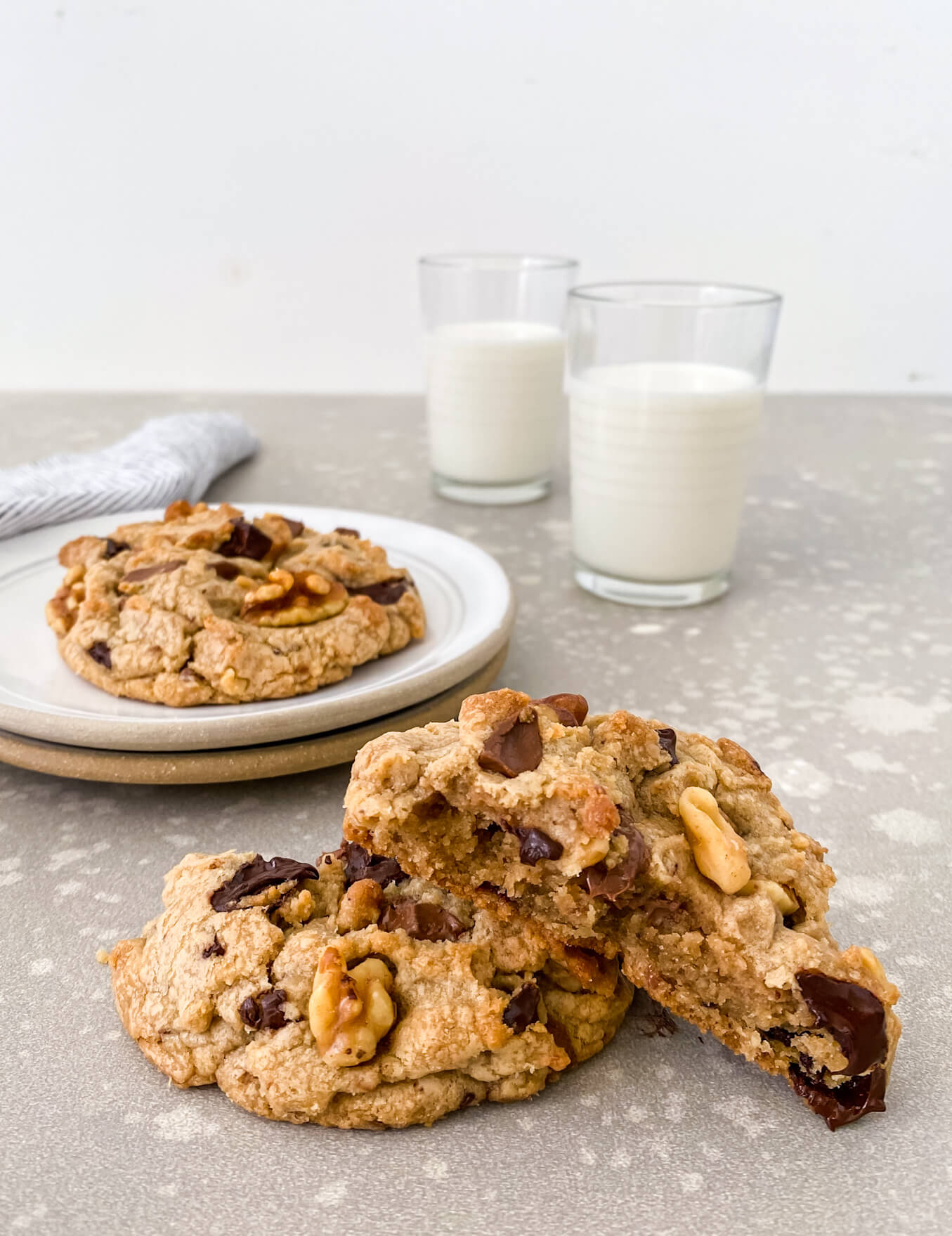 Storing Chocolate Walnut Cookies
These are the best chocolate chip walnut cookies because they store well, and you can freeze the dough OR the baked cookie!
Baked chocolate chip and walnut cookies can be stored in an airtight container or zip-top bag for up to 3 days.
Freezing
Baked
When baked in advance, cool the cookies completely and then freeze in zip-top plastic bags for up to 2 months. To reheat, microwave cookies for 10 to 15 seconds until just warm.
Unbaked
Divide dough into cookie portions and place in a zip-top bag to freeze. The dough balls can be frozen up to 3 months and stay fresh. Check out my tips on silicone bags for freezing.
To bake, let the dough balls defrost on the counter for 30 minutes to 1 hour and then bake as instructed in the recipe card below.
Favorite Tools for Baking Cookies:
Baking sheets for chocolate chip cookies: Vollrath Rimless Baking Sheet. They are worth the money and really amazing. They are heavy gauge and will last forever.
Great measuring cups for baking: Stacking Measuring Cups. They are not super deep so the flour doesn't get packed into a tall cup.
Perfect measuring spoons because they fit in small jars! Spring Chef Measuring Spoons
A set of Three Cookie Scoops so you can choose your own size.
An oven-thermometer ensures your oven is not running hot or cold.
A thin layer of non-stick parchment paper lets the bottoms of the cookies bake evenly and not get overly browned.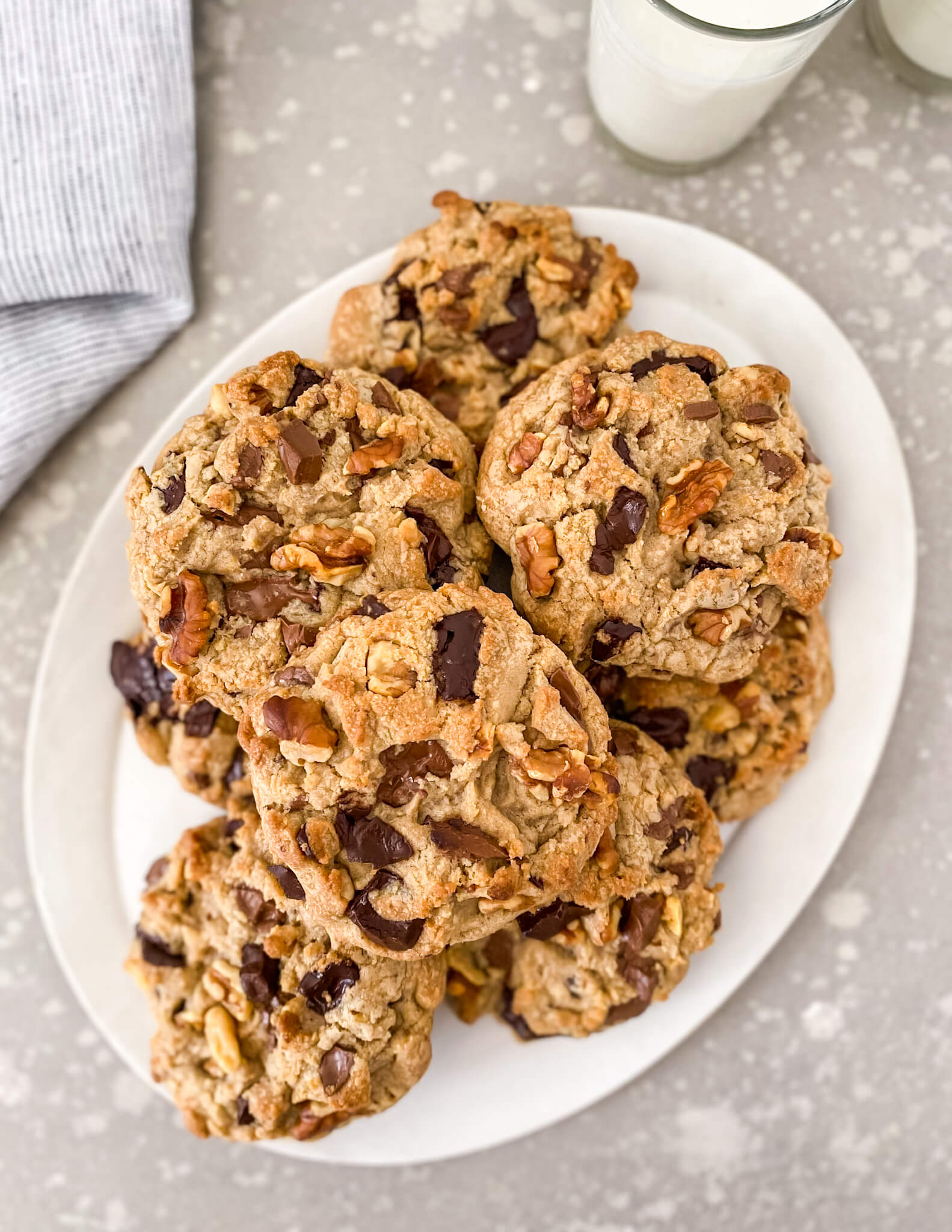 Is this a small batch cookie recipe?
This recipe makes 8 cookies. They are larger, quarter-pound cookies like you might find at a bakery.
The recipe is easily doubled (you can use the button on my recipe card below to calculate the amounts), so if you'd like to make 16, or freeze some for later, please do so!
More Of The Best Cookies In The World
Try Chocolate Marshmallow Cookies
Get this Chocolate Chip Walnut Cookie Recipe
These are made with the usual, traditional cookie method. You can use a stand mixer or a hand mixer.
Let me know how it went!
Scroll to the bottom of the page to rate ⭐⭐⭐⭐⭐ and comment on this recipe. Leaving comments helps other too!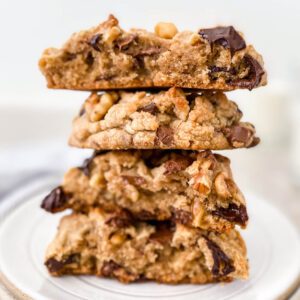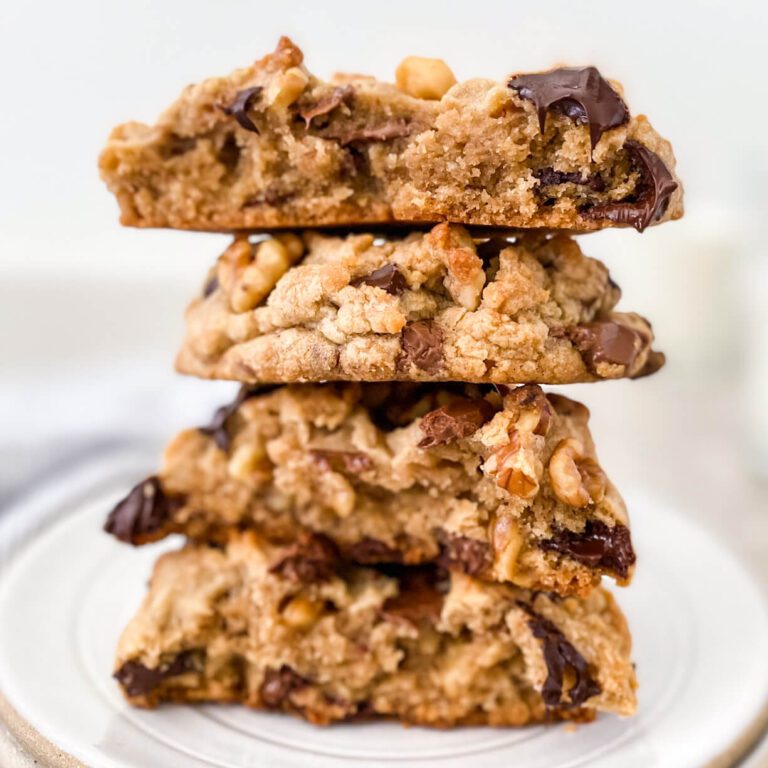 Chocolate Chip Walnut Cookies
These bakery-style chocolate chip walnut cookies are a classic treat with the perfect amount of chocolate chips and crunchy nuts. Double the recipe for 16 cookies.
Ingredients
1½

sticks

butter (¾ cup)

softened but not warm

¾

cup

packed brown sugar

light or dark

½

cup

granulated sugar

1

large

egg

1

teaspoon

vanilla extract

2¼

cups

(288g) all-purpose flour

½

teaspoon

baking soda

¾

teaspoon

table salt

1¾

cups

chocolate chips

semi-sweet or milk

¾

cup

(2.5 ounces) walnut pieces
Instructions
Heat oven to 350ºF. Line a baking sheet with parchment and set aside.

In a mixing bowl, cream together the butter, brown sugar and granulated sugar until lightened and just fluffy. Add eggs and vanilla and mix until incorporated. Add the flour, baking soda and salt. On low speed mix until flour is just incorporated. Stir in chocolate chips and walnuts.

Weigh dough into about 4.2-ounce balls or divide dough into 8 equal balls. Place on baking sheet spaced apart and bake until cookies are golden around the edges and just set in the center, 10 to 12 minutes. Don't overcook! They continue cooking on the pan out of the oven. Let cool about 10 minutes (if you can wait) and remove from pan to cool completely.

If cookie dough has been chilled they will bake 18 minutes.
Notes
I use a mixture of semi-sweet and milk chocolate chips.
To make ahead, divide dough into cookie-sized balls and chill in a zip-top bag for up to 3 days; or freeze up to a month. Frozen cookies should be left at room temperature for about an hour before baking. Chilled cookies can be baked immediately, but for a longer time.
This recipe is easily doubled to make 16 large cookies.
Nutrition
Calories:
686
kcal
Carbohydrates:
88
g
Protein:
8
g
Fat:
35
g
Saturated Fat:
18
g
Polyunsaturated Fat:
6
g
Monounsaturated Fat:
6
g
Trans Fat:
1
g
Cholesterol:
75
mg
Sodium:
465
mg
Potassium:
128
mg
Fiber:
3
g
Sugar:
58
g
Vitamin A:
654
IU
Vitamin C:
0.4
mg
Calcium:
88
mg
Iron:
3
mg
Tasty cookie recipes!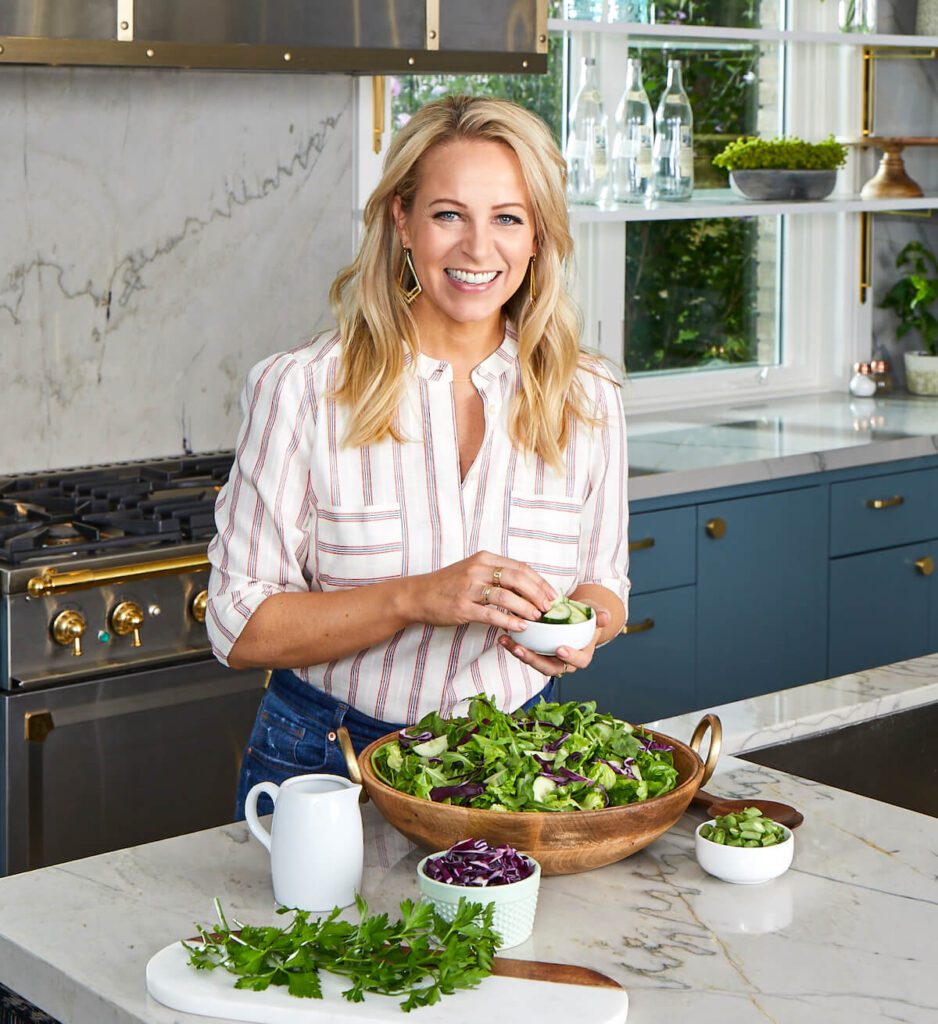 About Tara Teaspoon
I've been in the food publishing business for over 20 years, creating recipes & food-styling for magazines, books, television & advertising. Order my new cookbook & stick around for amazing things to eat.