---
Cherry Tomato Risotto is an extra creamy rice dish loaded with fresh tomatoes. An ideal weeknight dinner.
---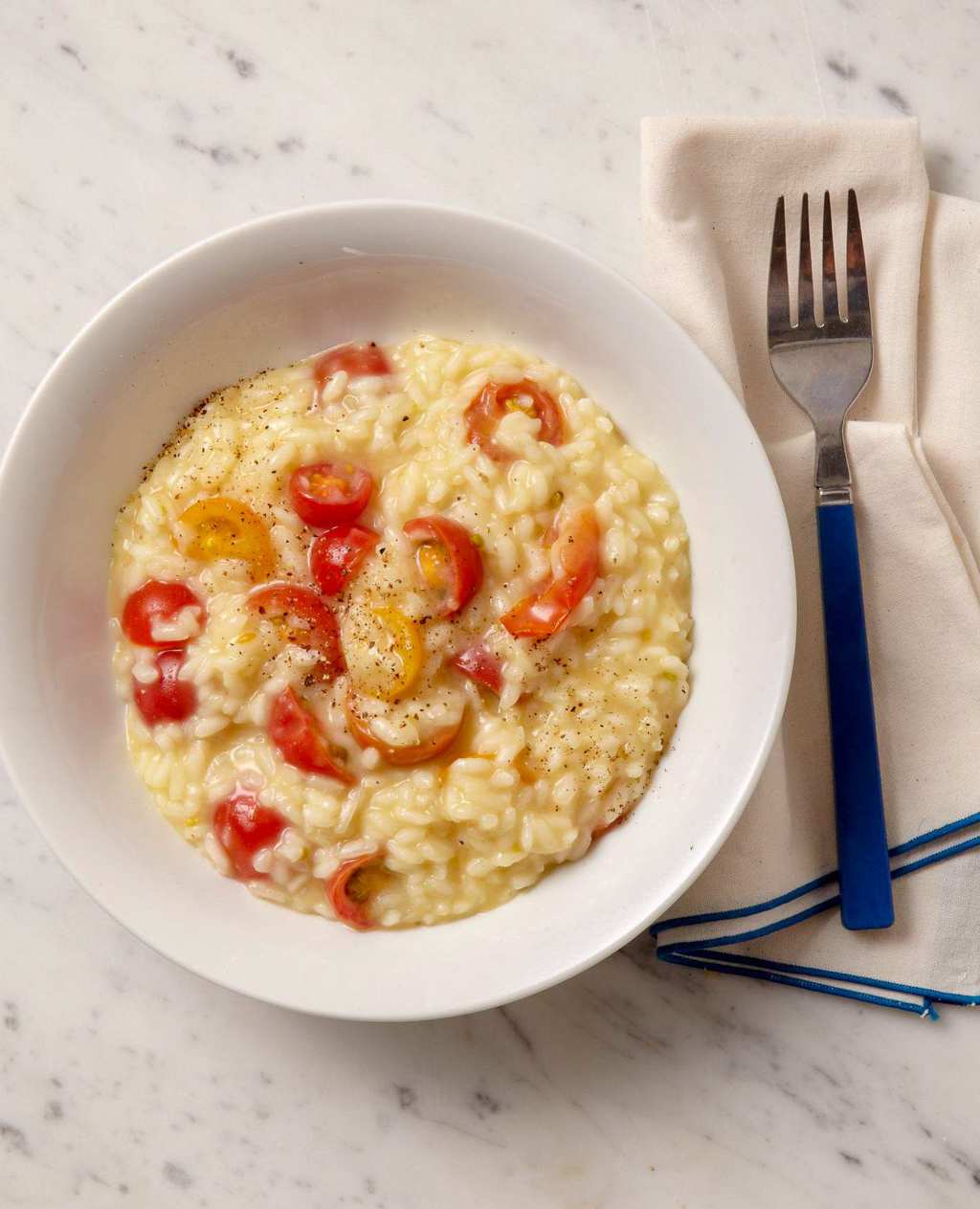 My Italian inspired cherry tomato risotto is the perfect dinner for using up your bumper crop of little tomatoes. Don't have a garden? Well it's a fast and easy meal to make on a weeknight and store-bought cherry tomatoes are just as divine!
I'm a fan of risotto recipes. They really are just a creamy, cheesy base for yummy vegetables all year round. I make my Spring Green Risotto, well, in the spring, but also year round since frozen peas are so great. This cherry tomato risotto is another favorite and tastes a bit like a fabulous pasta dish, even though it's rice! Plus I didn't have to make a separate sauce–the sauce cooks with the rice right in the pan.
How to make risotto:
Risotto can be described basically as rice in broth. You start with rice! The Kitchn has some great tips for making vegetable risotto:
The constant stirring during the cooking process rubs the starch off the surface of the rice, where it dissolves into and thickens the cooking liquid. Choosing a rice that doesn't have enough starch means that the hallmark creamy texture of a good risotto will never be achieved.
Never rinse the rice before cooking it (you want the starch!)
The technique is to add hot broth to the rice a little at a time, stirring constantly. This is where the kids come in! Stand a kid by the stove and tell them to stir and stir and stir! About a half cup of broth gets added every few minutes and gets absorbed by the rice as you stir.
By the time the rice is al dente, or perfectly cooked through, you have a creamy sauce and cooked rice.
Easy to make cherry tomato risotto creates it's own creamy sauce as it cooks. It's an Italian vegetable meal everyone will love.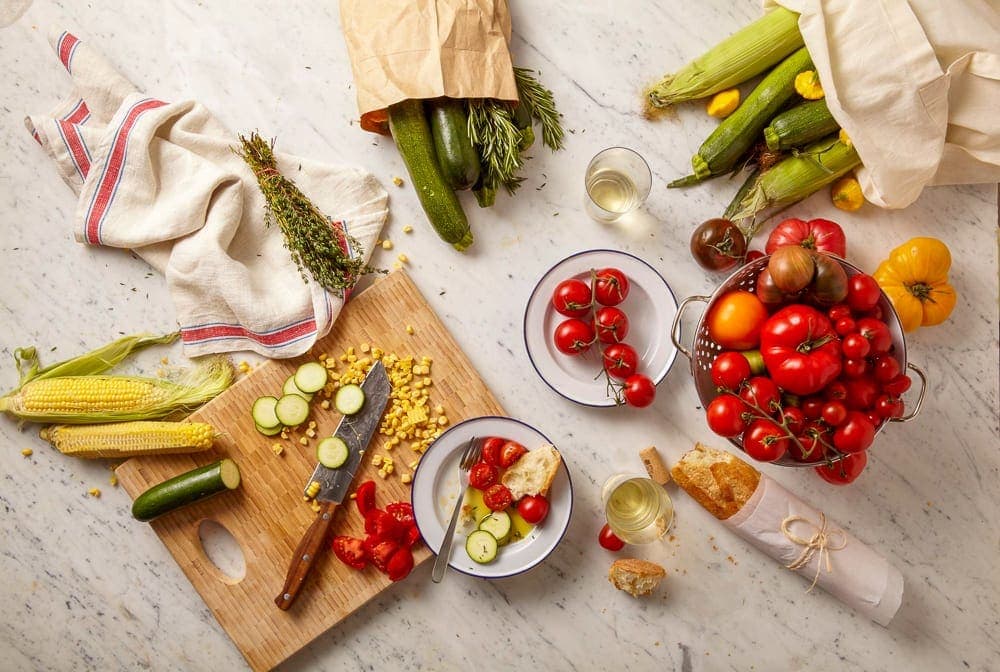 What rice do I use to make risotto?
The most commonly used rice for risotto is Arborio. It's a short-grain rice with lots of lovely starch. It's easy to come by these days as most grocery stores carry it.
You can also use Carnaroli rice or Vialone Nano. Carnaroli is a bit harder to find and you may have to order it. Some experts say it has a better texture than Arborio and it's texture holds up better. I find them to be very comparable. Vialone Nano rice is super hard to find. You'd certainly need to special order it. But the commonality is they are all short-grain, starchy rices that can create their own sauce when cooked a certain way.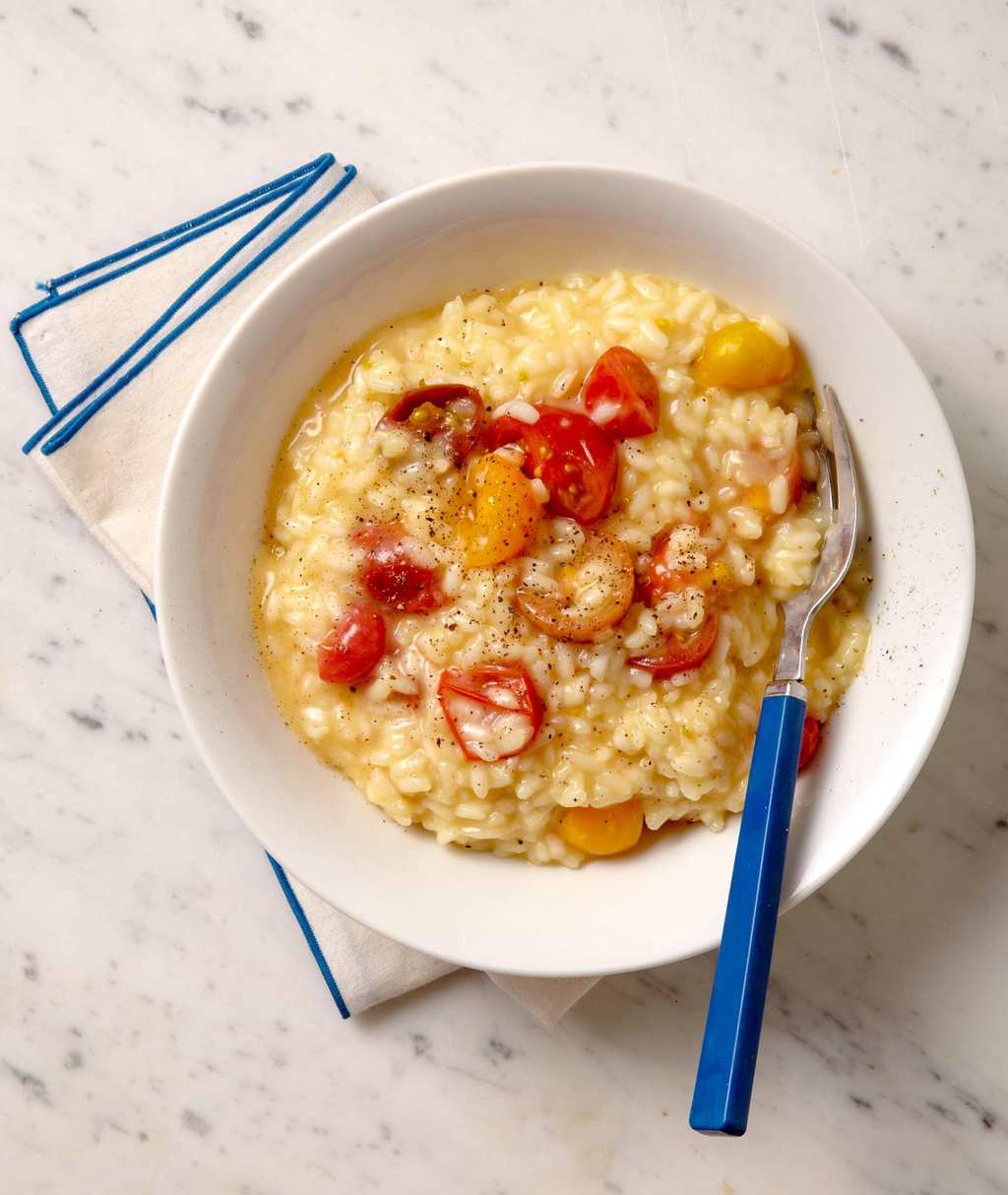 What can I substitute for wine?
If you're like me you don't drink. Although I cook with wine, I have friends who prefer not to. And many people just don't want to use it when they are feeding kids.
It's easy to swap the wine for extra chicken broth. You can add a teaspoon of your favorite vinegar with the broth if you'd like, but it's not necessary. The swaps won't result in exactly the same flavor, but it's hardly missed and the risotto recipe is just as delicious.
Make this vegetarian! Simply use vegetable broth for the chicken broth. Easy as that.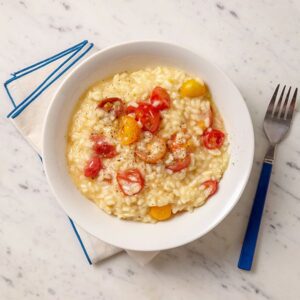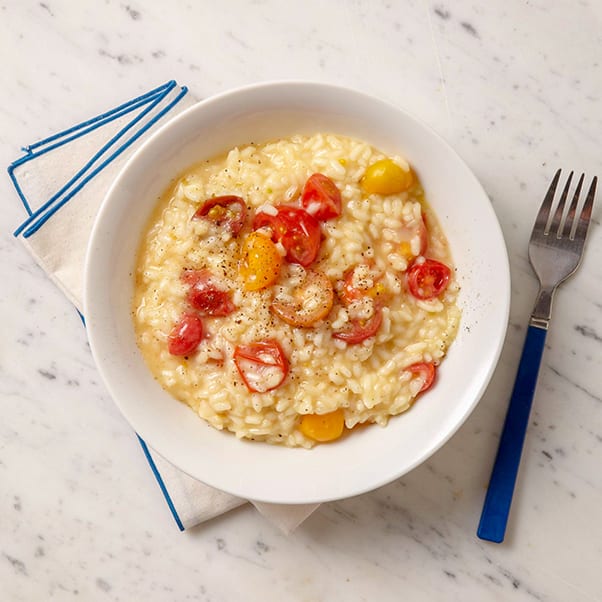 Easy To Make Cherry Tomato Risotto
Cherry Tomato Risotto is an extra creamy rice dish loaded with fresh tomatoes. An ideal weeknight dinner.

Ingredients
4 ¾

cups

low-sodium chicken broth

1

tablespoon

olive oil

1

small

shallot

minced

1 ½

cups

arborio rice

¼

cup

white wine

10

oz

cherry tomatoes

halved

1

tablespoon

butter

½

teaspoon

kosher salt

⅔

cup

shredded Parmesan
Instructions
In a saucepan heat and keep warm, the low-sodium chicken broth.

In another large saucepan heat olive oil over medium heat. Add minced shallot, arborio rice and white wine and cook, stirring, about 1 min. Stir in 1 cup warm broth; cook, stirring, until almost all liquid has been absorbed. Repeat until all broth has been added.

With the last addition of broth stir in halved cherry tomatoes; cook, stirring, until thick and creamy, about 6 min more.

Stir in butter, kosher salt and Parmesan. Serve immediately.
Notes
You can substitute extra chicken or vegetable broth for the wine.
Nutrition
Calories:
263
kcal
Carbohydrates:
38
g
Protein:
9
g
Fat:
7
g
Saturated Fat:
3
g
Cholesterol:
10
mg
Sodium:
386
mg
Potassium:
273
mg
Fiber:
1
g
Sugar:
1
g
Vitamin A:
325
IU
Vitamin C:
9.2
mg
Calcium:
124
mg
Iron:
2.5
mg
Other recipes that include cherry tomatoes:
Italian Tomato and Eggplant Skillet Pasta
Slow Cooker Arroz con Pollo
Lemon Herb Kabobs
Thai Beef Salad
Chicken and Cauliflower Roast
Main Dish Recipes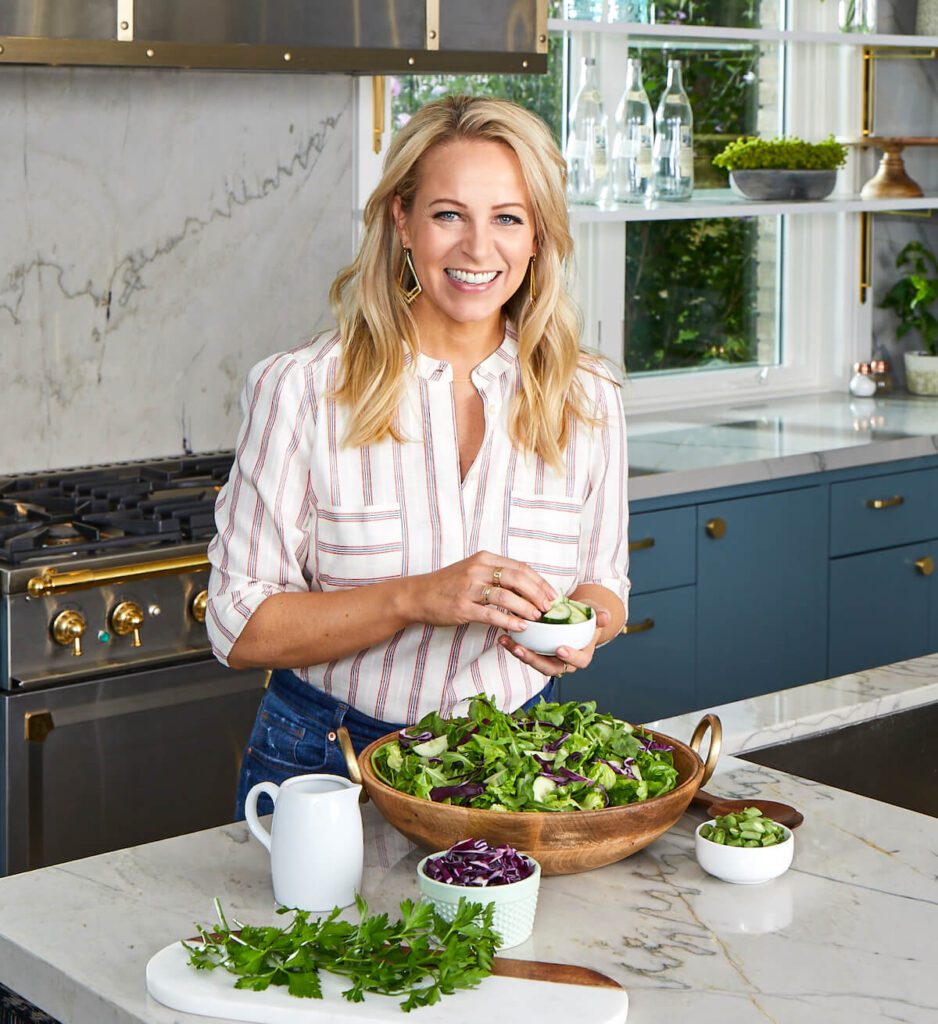 About Tara Teaspoon
I've been in the food publishing business for over 20 years, creating recipes & food-styling for magazines, books, television & advertising. Order my new cookbook & stick around for amazing things to eat.
By Tara Teaspoon and Hilary Merzbacher. Photo Peter Ardito, Food styling Alison Attenborough, Prop styling Courtney De Wet, originally published in LHJ Aug 12.