---
Sheet pan chicken and cauliflower roast is an easy dinner that takes just 10 minutes to prepare before tossing it into the oven. No extra sides required, it's a meal in itself!
---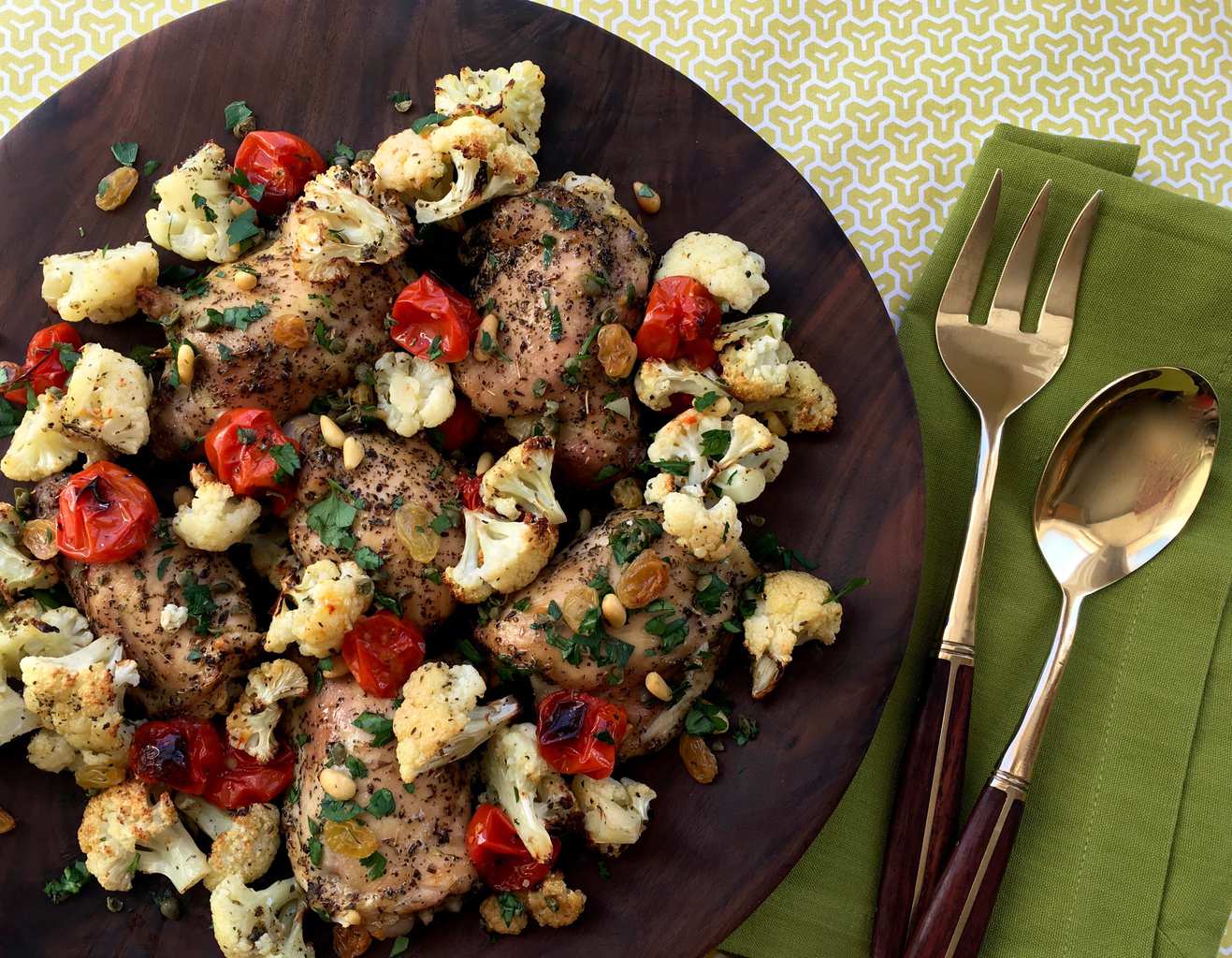 Jump to:
Creating This Sheet Pan Chicken and Cauliflower Roast
"Family meals" were one of my favorite things about working in test kitchens over the years. We took the term from restaurant culture.
Just before the evening rush starts in a restaurant, the kitchen staff will prepare and sit down to what they call a family meal. It's usually made from leftovers in the big walk-in refrigerators the industrial kitchens have.
Sometimes these meals are more epic than the dishes served on the restaurant menus. (There are even cookbooks with these recipes like this one from Danny Meyer's restaurants).
Restaurant kitchen staffs get used to making great meals from leftovers and pantry staples. In the smaller scale test kitchens of magazines, we would do just that.
Instead of trekking out for lunch to the office cafe or deli down the street, my fellow food editors and I would head to the test kitchen and create lunch from the bits and bobs left over from our normal recipe development.
This chicken and cauliflower roast is just such a meal. Inspired by one of the lunches food editor Hilary Merzbacher used to make, this recipe is very simple and roasts in the oven while you do other things.
The nice thing is it all fits on one sheet pan, sometimes referred to as a half sheet pan or rimmed baking sheet.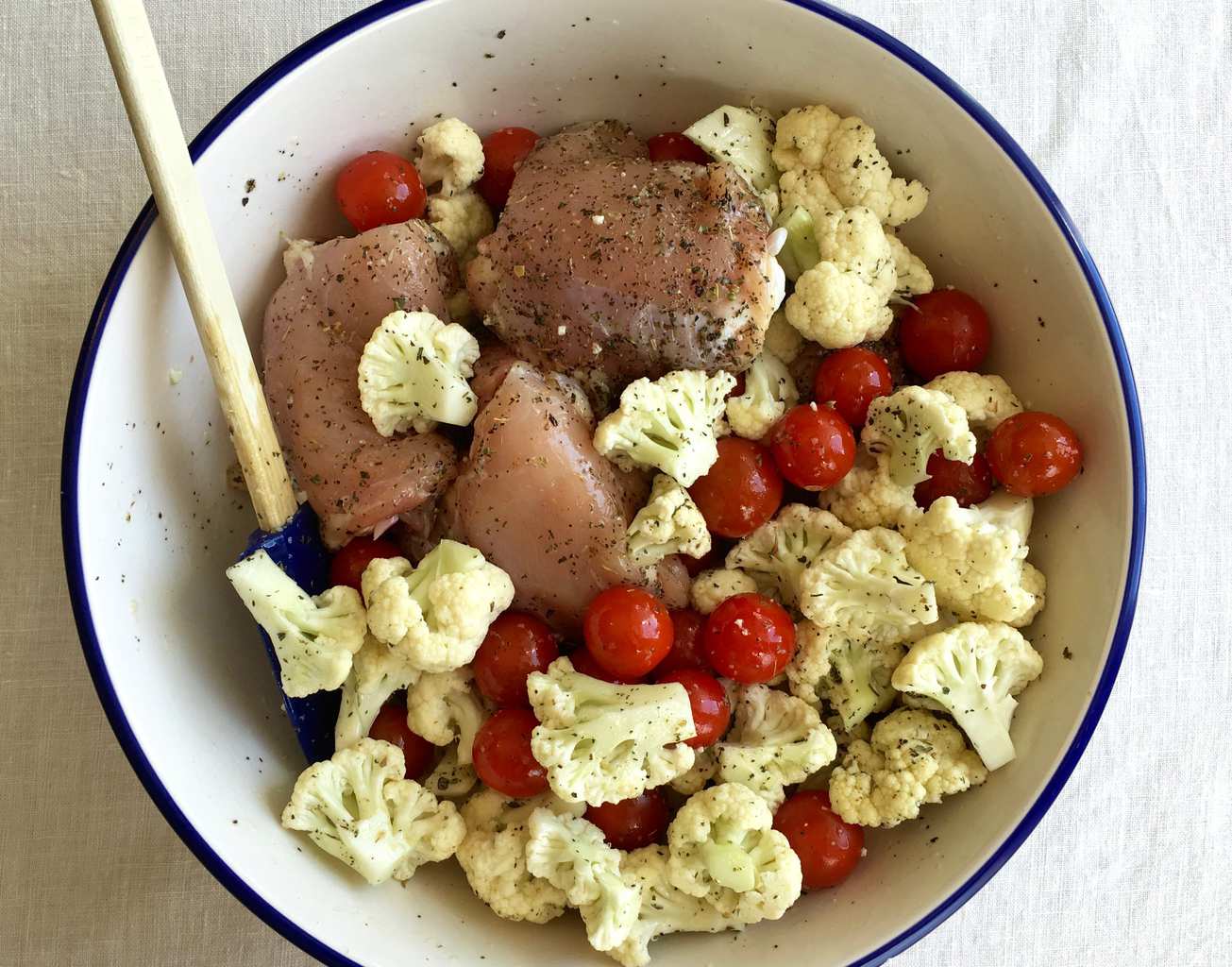 How to Make Sheet Pan Chicken and Cauliflower
This recipe for sheet pan chicken thighs and veggies is quick, easy, and great for weeknights!
Cauliflower and cherry tomatoes are tossed with olive oil and Italian seasoning along with the chicken thighs. This can be done in the same bowl and then everything goes on a rimmed baking sheet to roast.
Roasting cauliflower is a surprising treat. It caramelizes and turns golden brown in parts and when eaten, almost melts in your mouth.
The cherry tomatoes get soft and juicy and just a bit charred for flavor. Almost creating a sauce for the entire meal.
I added baby creamer potatoes to one of my versions. It was delicious. I'll put it in as an option for this recipe. It was an easy addition that created a complete meal with all the veggies sides right on the pan!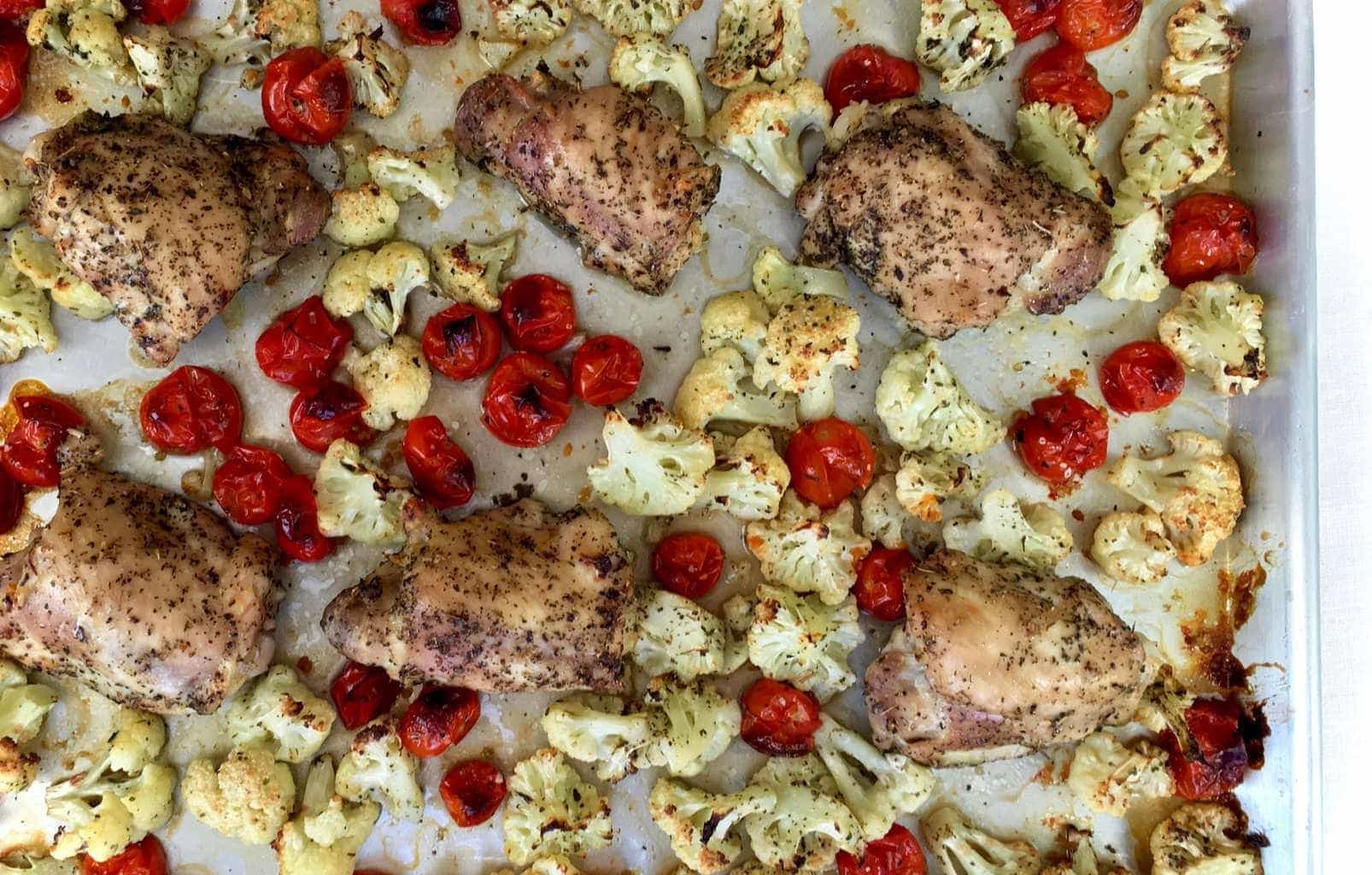 To serve this meal, I topped it with some pantry staples — the things staff family meals are made of.
I always seem to have a few capers at the bottom of a jar in my fridge door, some sort of nuts and golden raisins. In the spirit of using what you have, you can swap the pine nuts for pecans, walnuts, even almonds.
And the golden raisins are delicious and sweet, but feel free to use the dried fruit you have. Chopped dried apricots or currants would be tasty as well.
A handful of chopped Italian parsley adds a fresh kick to a roasted dinner. Serve this with a bit of French bread and butter for a full meal!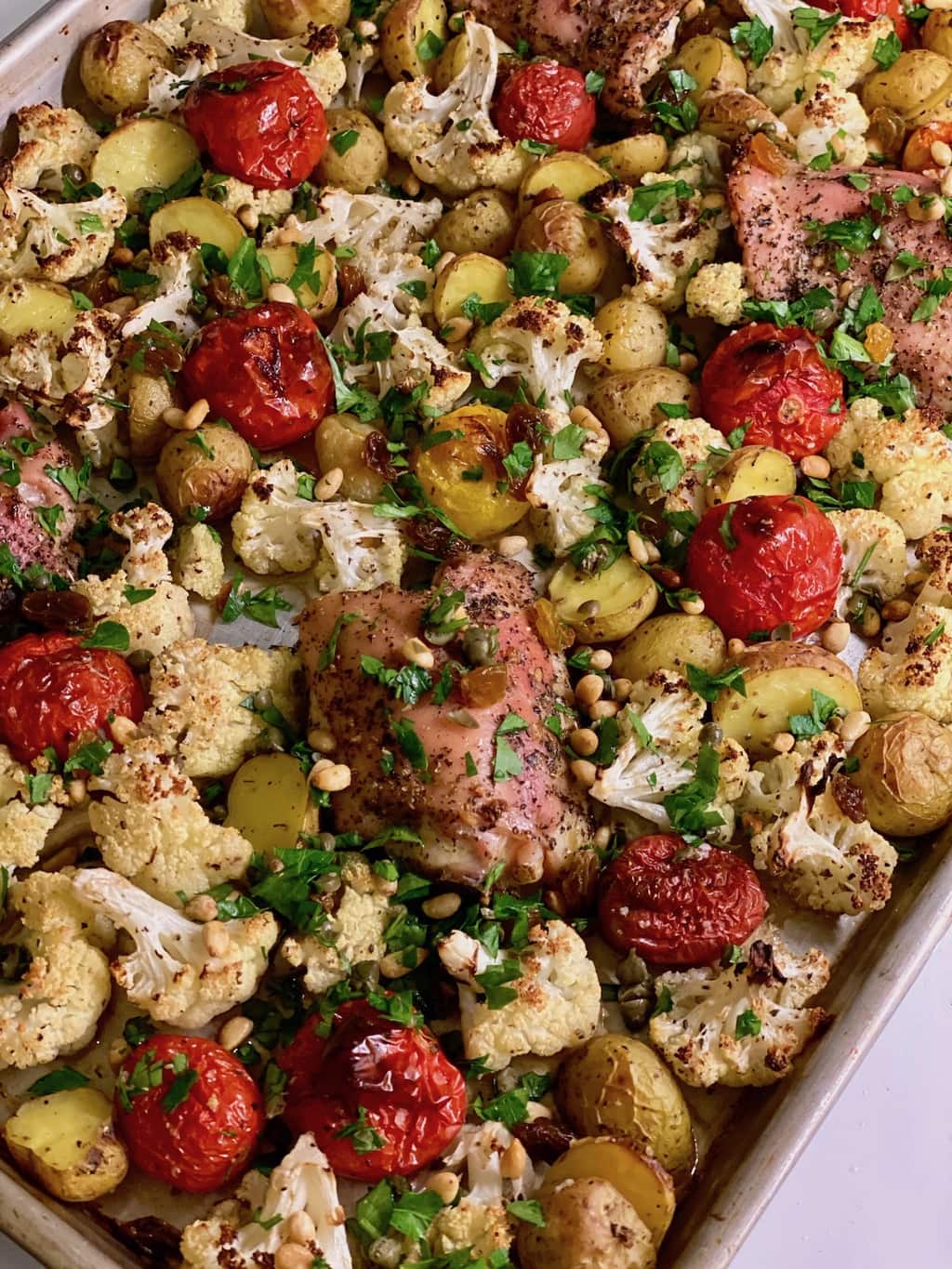 Can Chicken Breasts Be Used Instead of Thighs?
I used chicken thighs because they are tender when roasted and quite affordable.
I also prefer bone-in chicken thighs because the meat stays soft and succulent when roasted for almost an hour. You could use boneless if you'd like.
You'll want to use skinless thighs because there would be too much fat melted onto the pan if you used skin on. It's easy to skin your own if you don't find bone-in, skin-on thighs.
How to skin chicken thighs
I use a paper towel to pull the skin from the thighs. You can use kitchen shears to trim any excess off. Leaving a little fat on each thigh is just fine and adds great flavor to the sheet pan dinner.
If you want to swap in chicken breasts, know that they may be a little drier by the time they are cooked. Chicken breasts usually like quick cooking, rather than roasting. Use bone-in so they have great flavor and stay juicy.
Tip: Cut the chicken breasts in half if you are using them so they are smaller (about the size of a thigh). My goodness, have you noticed how giant chicken breasts are these days?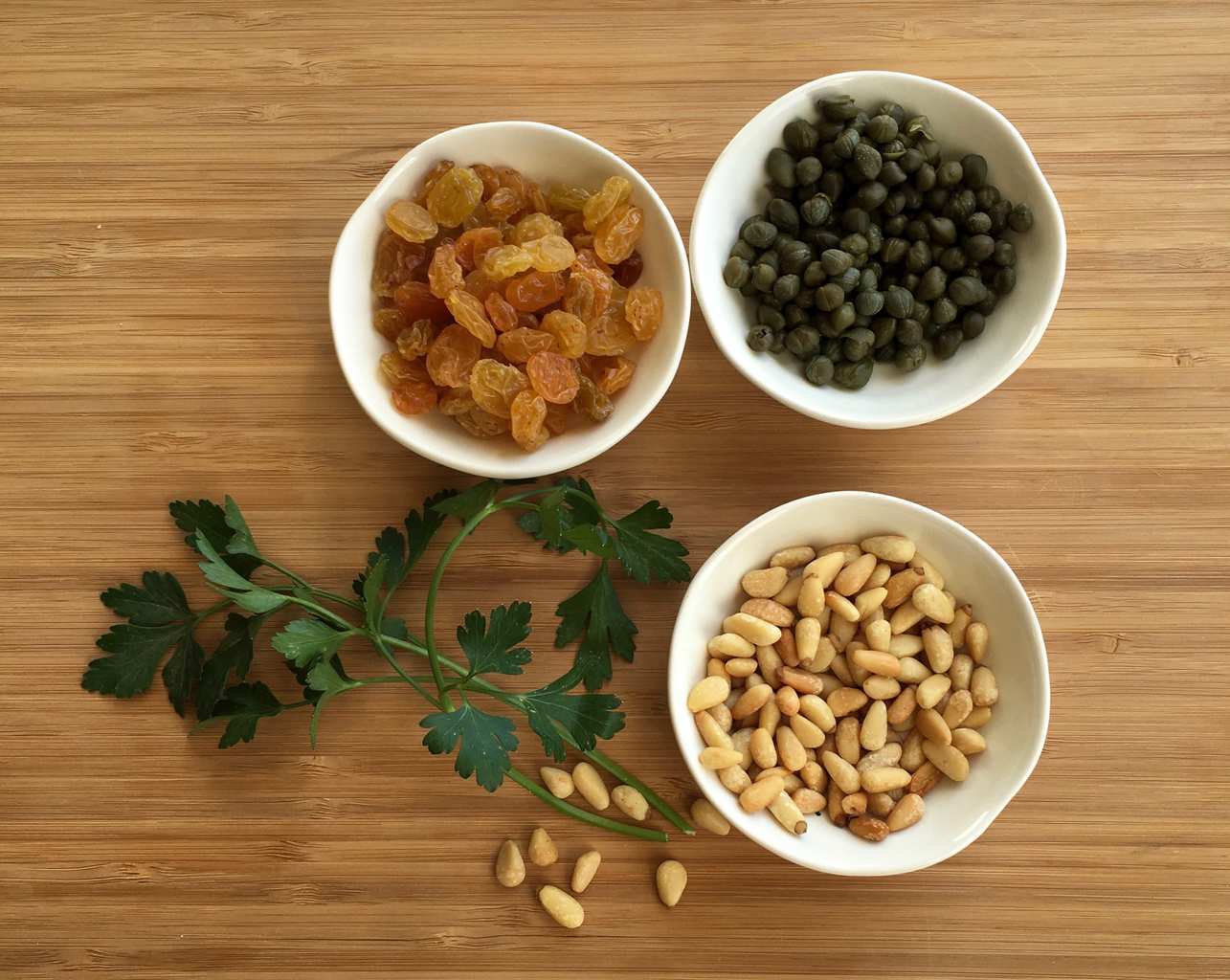 Can Other Veggies Be Used?
Yes, you can make sheet pan chicken thighs with any veggies you'd like. I chose chicken and cauliflower since that's what I had on hand, but other vegetables will work.
Just keep in mind that different vegetables have different roasting times. Try tender vegetables that will cook in about the same time as cauliflower, such as eggplant, zucchini, yellow squash, and bell peppers.
Food Network Feature
I made this on the Food Network cooking app and added potatoes. It is a great addition and makes the meal even more hearty.
Tips for Making a Chicken Thigh Sheet Pan Dinner
The secret to perfectly cooked veggies and chicken is to cut the cauliflower (and potatoes if you are adding) into small pieces so they cook perfectly by the time the chicken is done.
Potatoes take longer to cook, so cut those to ½ inch to 1 inch big. Cauliflower will perfectly roast when cut into about 1-inch florets, a little larger is fine too.
If you don't own a sheet pan yet, you're missing out! Get your own sheet pan here.
And if you're on an easy meal kick, try my Slow Cooker Carnitas Tacos next. Or, make Packet Dinners on a sheet pan in parchment and let the kids have fun opening the packets.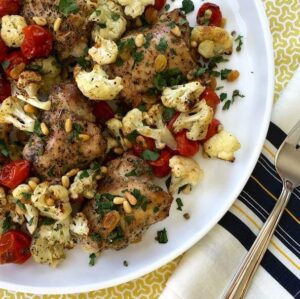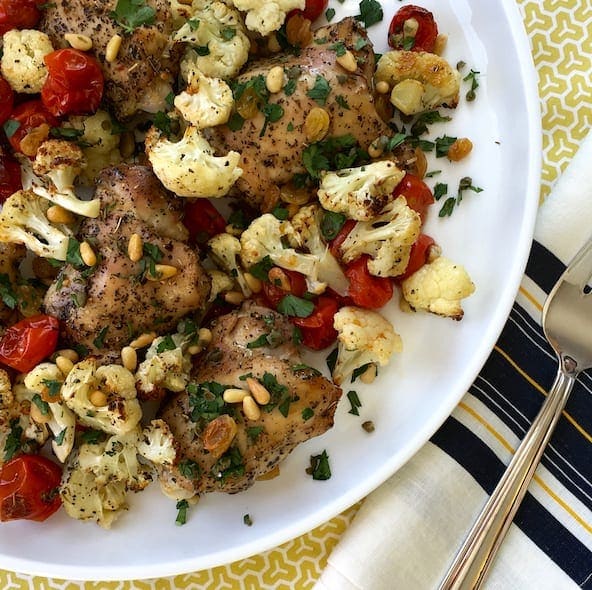 Chicken and Cauliflower Sheet Pan Dinner
Sheet pan chicken and cauliflower roast is an easy dinner that takes just 10 minutes to prepare before tossing it into the oven.
Ingredients
2¼

pounds

bone-in, skinless* chicken thighs

(about 6 thighs)

1

small

head cauliflower

trimmed and cut into 1-inch pieces

1

pint

cherry tomatoes

¾

lb

baby potatoes, yellow creamer or red (optional)

cut into ½ or 1 inch pieces (about 2 cups) (optional)

2½

tablespoons

olive oil

2½

teaspoons

Italian seasoning

1½

teaspoon

kosher salt

½

teaspoon

black pepper

2

tablespoons

capers

chopped

2

tablespoons

toasted pine nuts

2

tablespoons

golden raisins

3

tablespoons

chopped flat-leaf parsley
Instructions
Heat oven to 425ºF. In a large bowl toss the chicken with the cauliflower, cherry tomatoes, potatoes if using, olive oil, Italian seasoning, salt and pepper.

Transfer everything to a rimmed baking sheet; roast until chicken and cauliflower are golden, 40 to 50 minutes.
Notes
*If your meat department doesn't have skinless, simply remove the skin at home with some kitchen shears and pull off with a paper towel.
Nutrition
Calories:
425
kcal
Carbohydrates:
31
g
Protein:
35
g
Fat:
19
g
Saturated Fat:
3
g
Polyunsaturated Fat:
4
g
Monounsaturated Fat:
10
g
Trans Fat:
1
g
Cholesterol:
145
mg
Sodium:
1160
mg
Potassium:
1312
mg
Fiber:
5
g
Sugar:
10
g
Vitamin A:
899
IU
Vitamin C:
80
mg
Calcium:
84
mg
Iron:
4
mg
Main Dish Recipes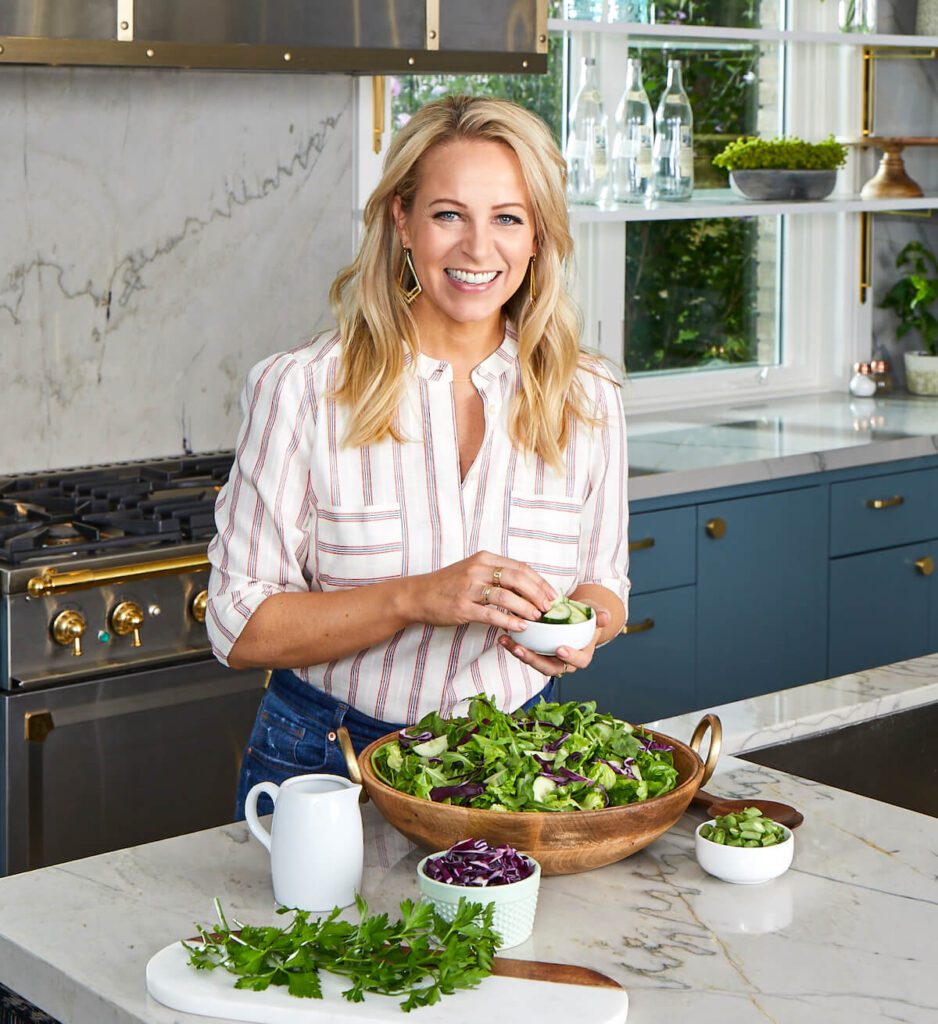 About Tara Teaspoon
I've been in the food publishing business for over 20 years, creating recipes & food-styling for magazines, books, television & advertising. Order my new cookbook & stick around for amazing things to eat.
Styling and Photography Tara Teaspoon. Recipe inspired by Hilary Merzbacher