---
Italian Tomato and Eggplant Skillet Pasta packs in fresh tomatoes, eggplant and even green beans to make a veggie-packed dinner.
---
Fresh tomatoes, eggplant and even green beans make this veggie-packed pasta delicious, in under an hour I might add. I blended half of the vegetables to make a quick sauce. The best part, this Italian style pasta dinner comes together in one skillet!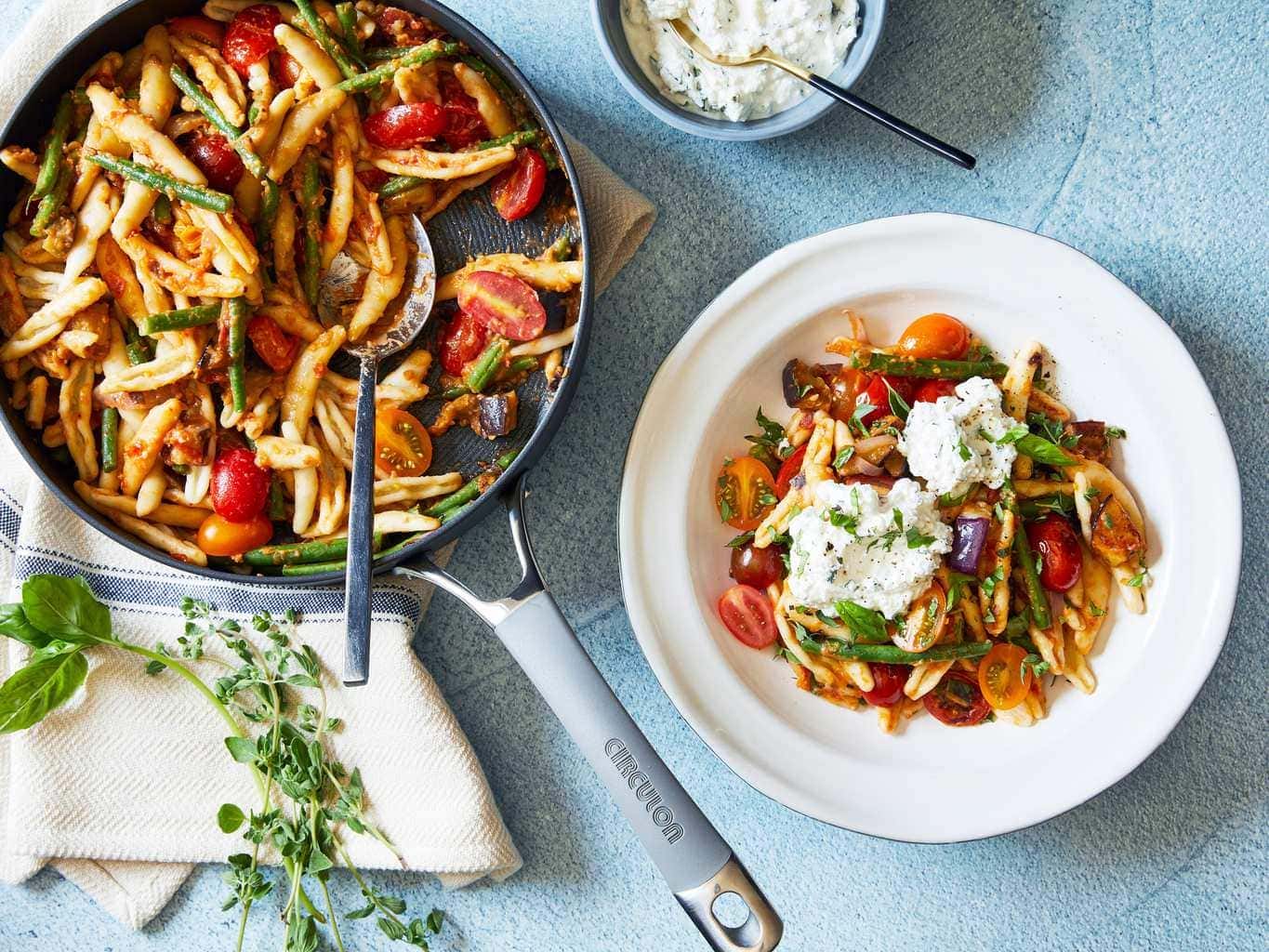 Italian style homemade pasta is easier than you think. Fresh vegetables, a simple sauce and pasta are all it takes. Try my other pasta dishes for more easy dinners.
I often have cherry tomatoes around the kitchen. They are easy to throw into salads (like my panzanella salad recipe) and veggies dishes. This vegetable pasta recipe is no exception.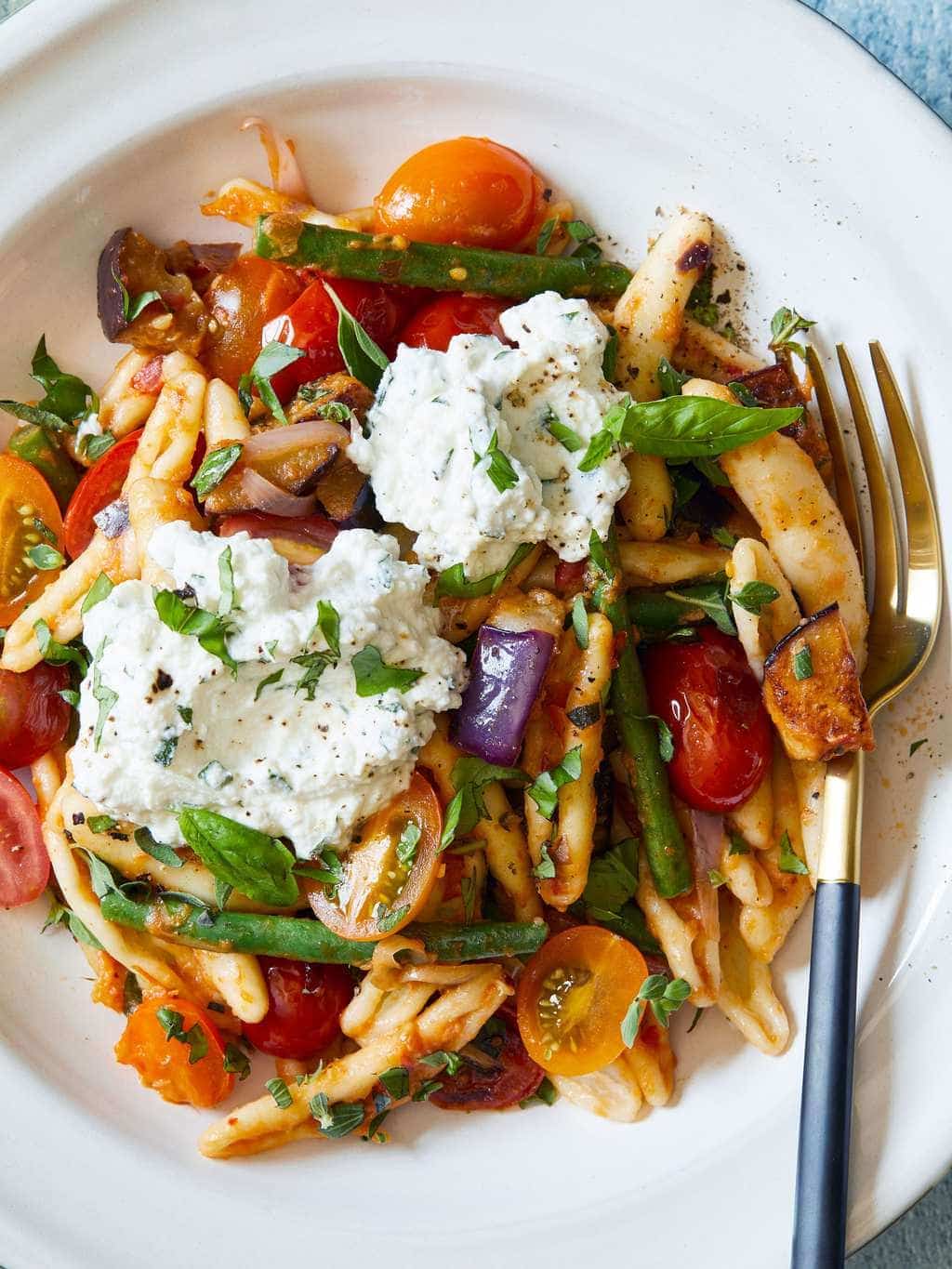 I paired those juicy little tomatoes with eggplant, shallots and garlic to make the base of my sauce. Sauté them in a nonstick, high-sided skillet before transferring half to a blender. I like the high-sided skillet because I'll end up tossing in my pasta later and it holds all the deliciousness. But a regular skillet also works.
Why cook in nonstick cookware?
The fastest way to put this meal together is to use my Circulon Elementum Cookware. It's their latest hard-anodized, PFOA-free nonstick cookware collection. I am super picky about my non-stick cookware and always look for PFOA-free. The Circulon pans (available at Macy's) are also metal utensil safe. A huge deal for me because I don't have to reach for my wood or plastic spatulas, I can use any tool that's handy.
Cooking with nonstick means nothing sticks to the bottom of the pan and all the caramelized bits stay right on each piece of food. My eggplant gets golden brown in my skillet and that flavor stays right on the veggie bites.
I can also use less oil when cooking with nonstick for the same reason. The raised circles on Circulon in particular allow food to release from the bottom of the pan much easier than a flat, smooth surface.
You don't have to make a separate sauce for my Italian tomato and eggplant skillet pasta. Just blend some of the cooked veggies!
This homemade recipe for Italian skillet pasta takes just two pans to make. And that is only because you need one to cook the pasta! Super easy cleanup.
What pairs well with eggplant?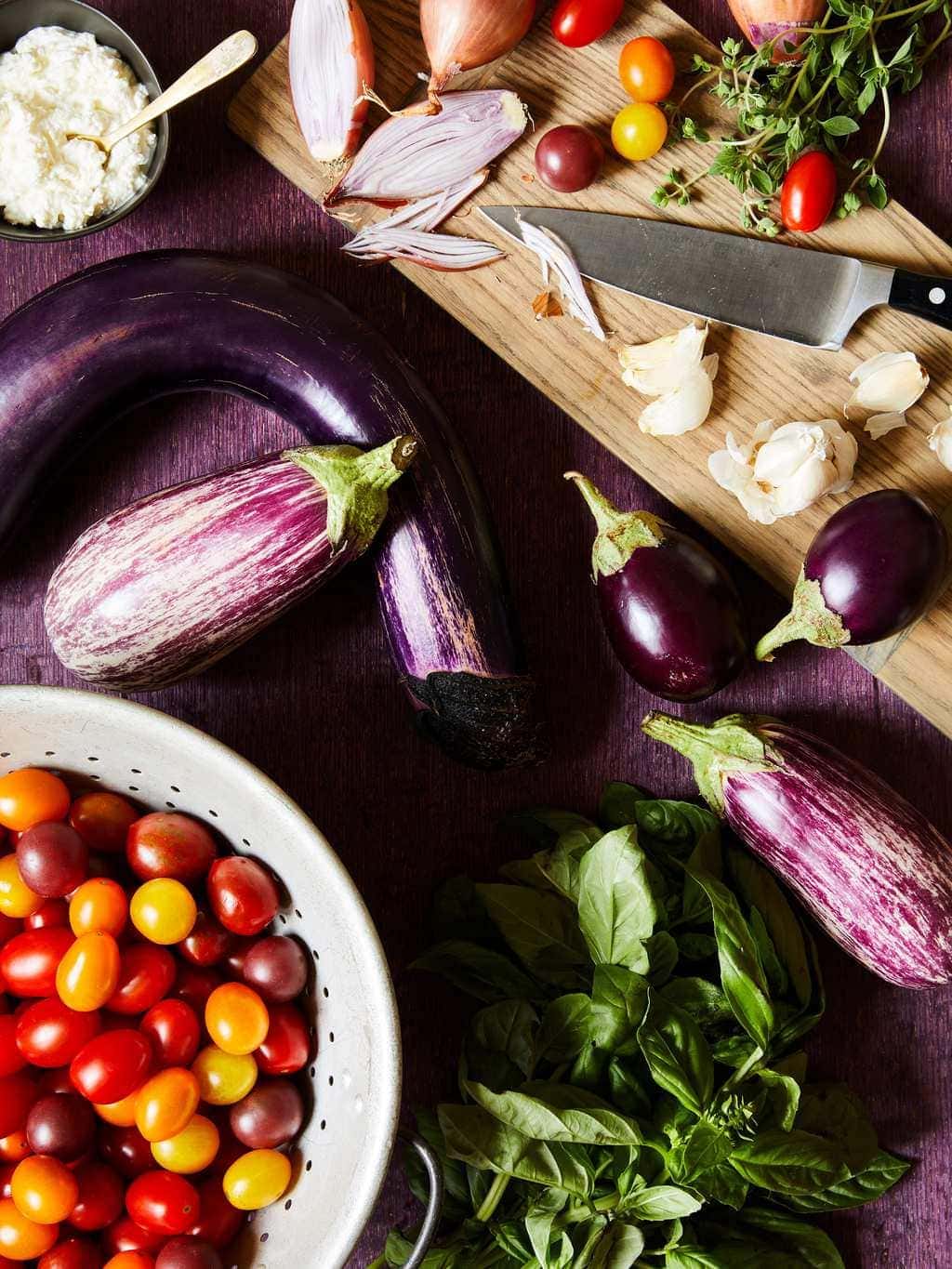 I say just about any veggie! Well, let's be honest, tomatoes are a shoe in. The soft nuttiness of eggplant with acidic tomatoes is just perfect. I added green beans to this pasta for some tender crunch since eggplant and tomatoes are soft.
Basil and oregano round this pasta out with a creamy ricotta as well. I added the chopped basil right to the ricotta so it makes every bite creamy and flavorful.
Try this Italian tomato and eggplant skillet pasta with other vegetables like zucchini, summer squash and even peas.
What makes this Italian pasta so delicious? A quick tomato and eggplant sauce. Cooking the shallots, garlic, tomatoes and eggplant until just soft, then blending with a bit of olive oil and lemon juice makes a veggie marinara!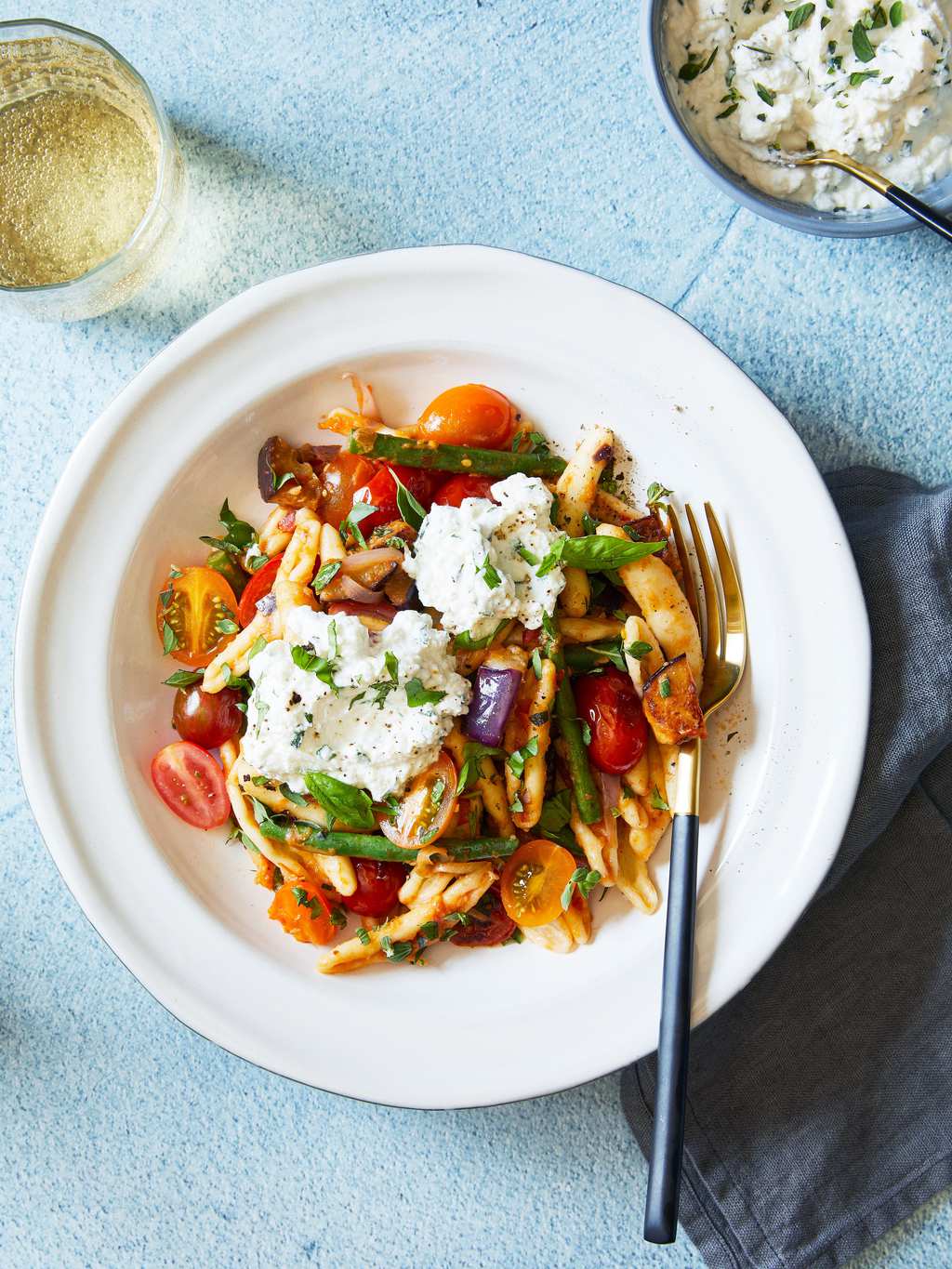 The lemon juice brightens all the flavors and it's just enough sauce to coat the pasta. I use my Vitamix to get it extra smooth, but you can use a food processor or your regular blender.

More Summer Vegetable Meals:
Let me know how it went!
Scroll to the bottom of the page to rate ⭐⭐⭐⭐⭐ and comment on this recipe. Leaving comments helps other too!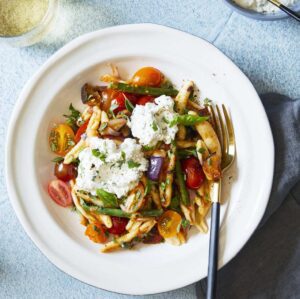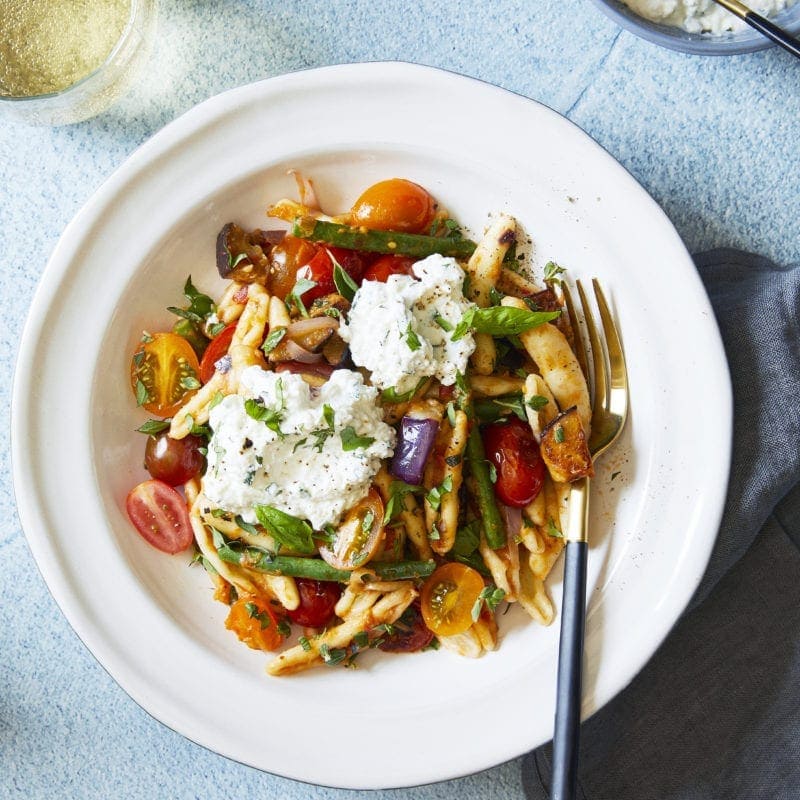 Italian Tomato and Eggplant Skillet Pasta
Italian Tomato and Eggplant Skillet Pasta packs in fresh tomatoes, eggplant and even green beans to make a veggie-packed dinner.
Ingredients
8

oz

whole milk ricotta

2

tablespoon

chopped fresh basil

plus more for garnis

½

teaspoon

black pepper

½

lb

uncooked pasta

5

tablespoon

olive oil

2

shallots

peeled and sliced root to tip

1

tablespoon

minced garlic

3

cups

diced eggplant

from 1 large eggplant

2

teaspoon

kosher salt

3

cups

cherry tomatoes

sliced in half

1

tablespoon

fresh lemon juice

1 ½

cups

fresh, cut green beans

Fresh oregano for serving
Instructions
Mix together ricotta, chopped basil and black pepper. Set aside.

Cook pasta in a stockpot and salted water until just al dente. Drain; set aside.

Heat 1 tablespoon olive oil in a non-stick skillet over medium-high heat. Add the sliced shallots and garlic and cook until just soft, about 2 minutes. Add eggplant, half the tomatoes, 1 teaspoon salt and 1 tablespoon olive oil. Cook, stirring occasionally, until eggplant is browning and getting soft, about 3 minutes. Turn off heat.

Transfer half the veggie mixture to a blender with remaining 3 tablespoons olive oil, lemon juice and 1 teaspoon salt, and blend until smooth. Transfer back to the skillet.

Turn heat to medium, add green beans and remaining fresh tomatoes, and cook until just heated through, about 1 minute. Serve immediately topped with ricotta and garnished with extra basil and oregano.
Notes
Try swapping zucchini for the eggplant for a delicious variation.
Nutrition
Calories:
526
kcal
Carbohydrates:
58
g
Protein:
17
g
Fat:
26
g
Saturated Fat:
7
g
Cholesterol:
29
mg
Sodium:
1232
mg
Potassium:
699
mg
Fiber:
6
g
Sugar:
9
g
Vitamin A:
1150
IU
Vitamin C:
35
mg
Calcium:
171
mg
Iron:
3
mg
Try Delicious Pasta Recipes Today
Sponsor: Circulon®
Complete privacy policy and terms here.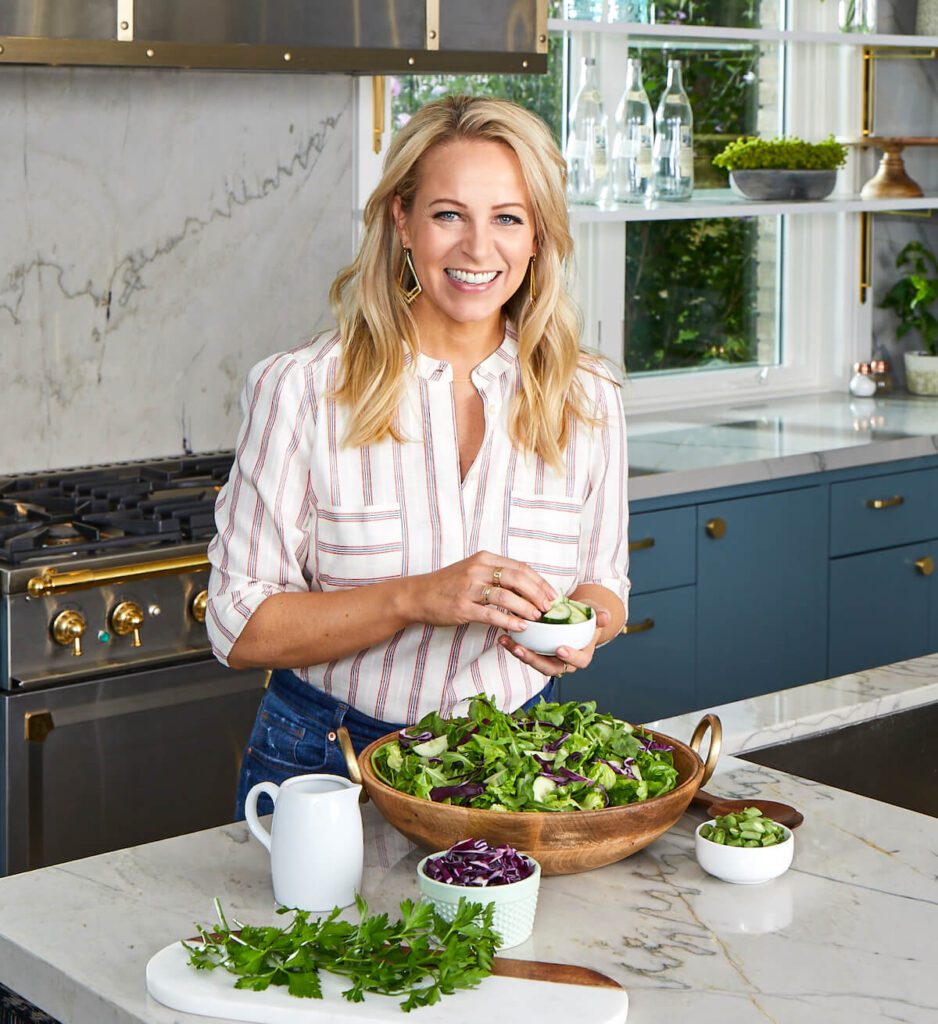 About Tara Teaspoon
I've been in the food publishing business for over 20 years, creating recipes & food-styling for magazines, books, television & advertising. Order my new cookbook & stick around for amazing things to eat.
Recipe by Tara Teaspoon. Food Styling and Propping Tara Teaspoon. Photography Ty Mecham.