Fresh Green Pesto Pasta With Lemon Ricotta Cream makes me swoon. It's is the perfect way to get a fresh taste of summer using winter ingredients during chilly months.
We are right smack in the middle of that time when baby greens, herbs and veggies have started emerging from the earth; but the days are still cool enough that you want a little comfort food every once in a while. A flavorful pasta with a bit of creaminess is just the thing.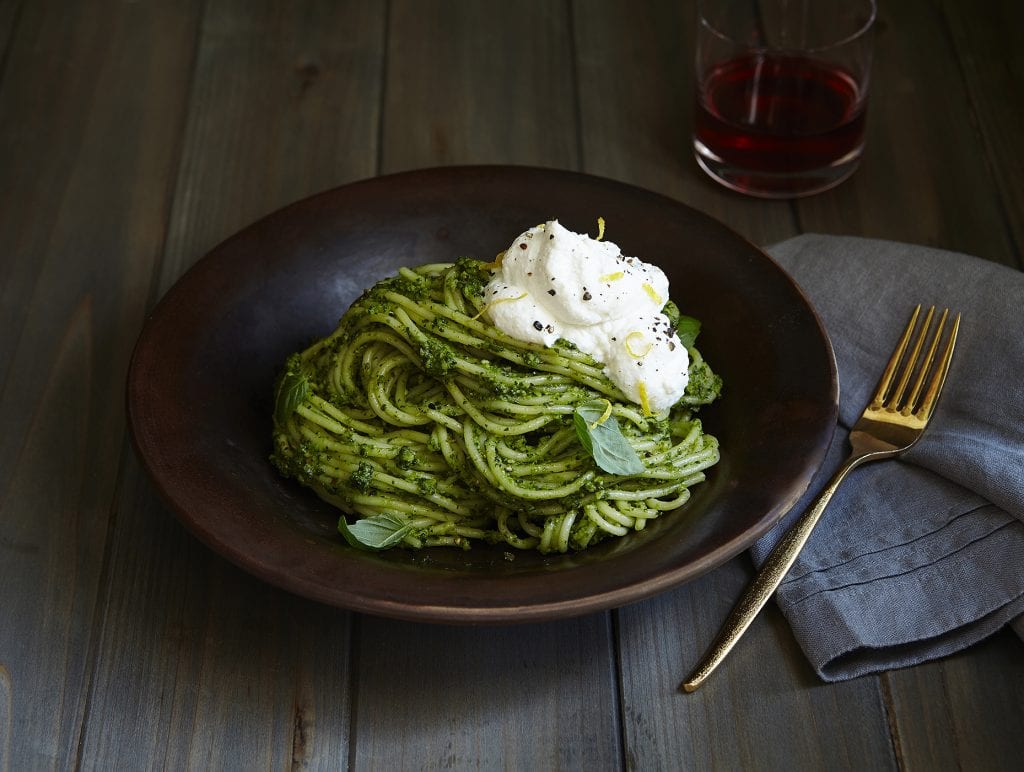 I love making pesto in the summer when there is basil growing everywhere. My go-to recipe for Classic Pesto is very straightforward. I use just basil, some pine nuts, Parmesan and garlic in the right amounts for a fresh summer sauce. In these cooler months I mix up the greens and use only a little basil for flavor. It isn't growing in the garden right now and can get a little pricey.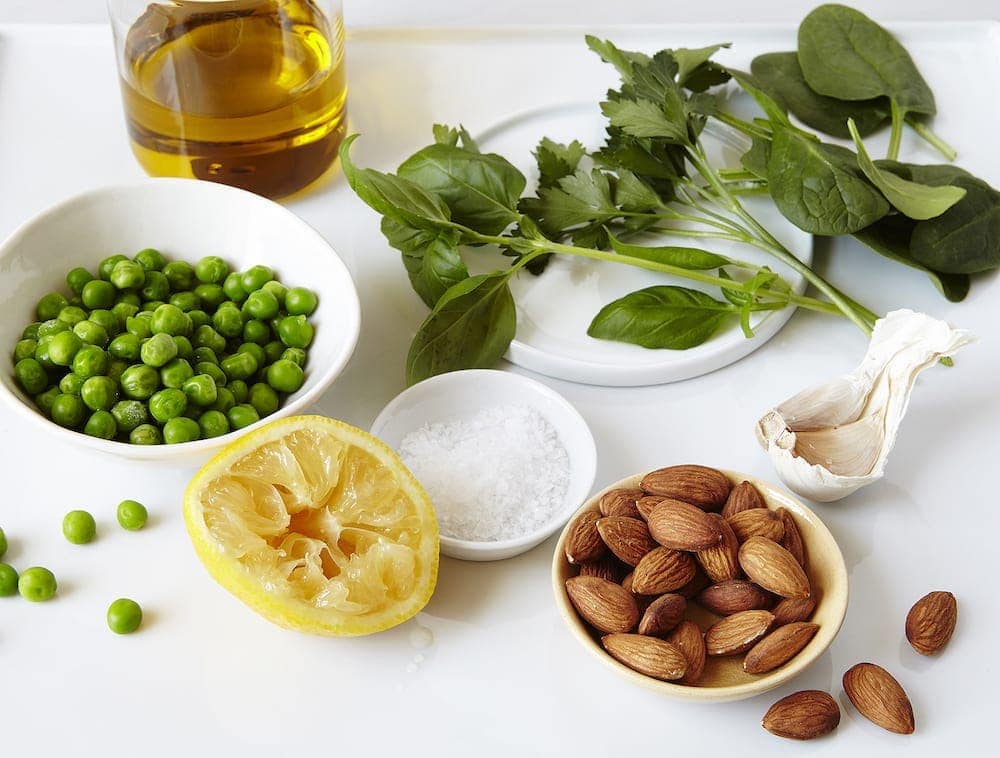 I mix the basil with some flat-leaf parsley and baby spinach. Both have lovely, simple flavors but add an herby green punch that's just right for pasta. Frozen peas, available and tasty all year, add some sweetness to the sauce since I don't have all the lovely basil going on. Raw almonds give the sauce that great texture in place of the pine nuts and lemon juice adds brightness.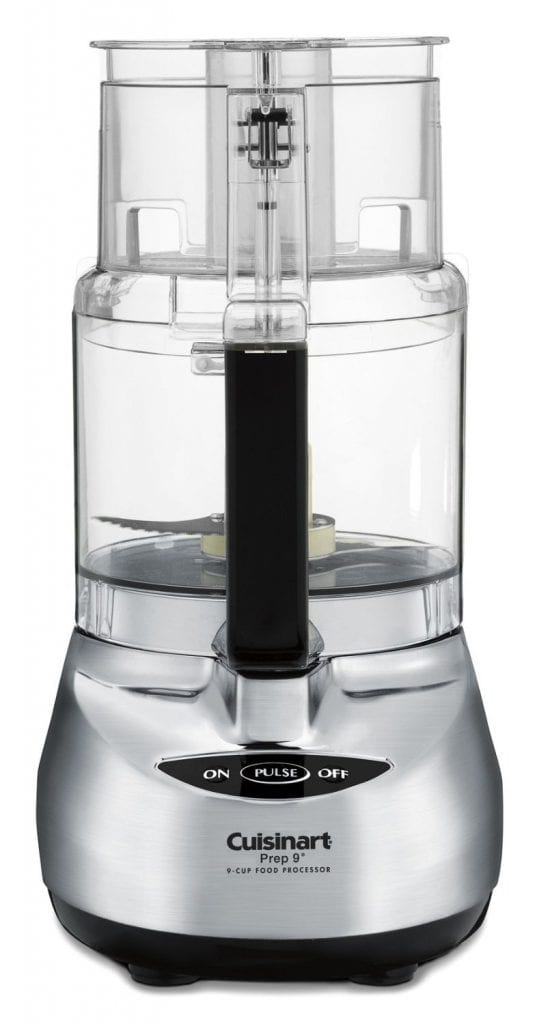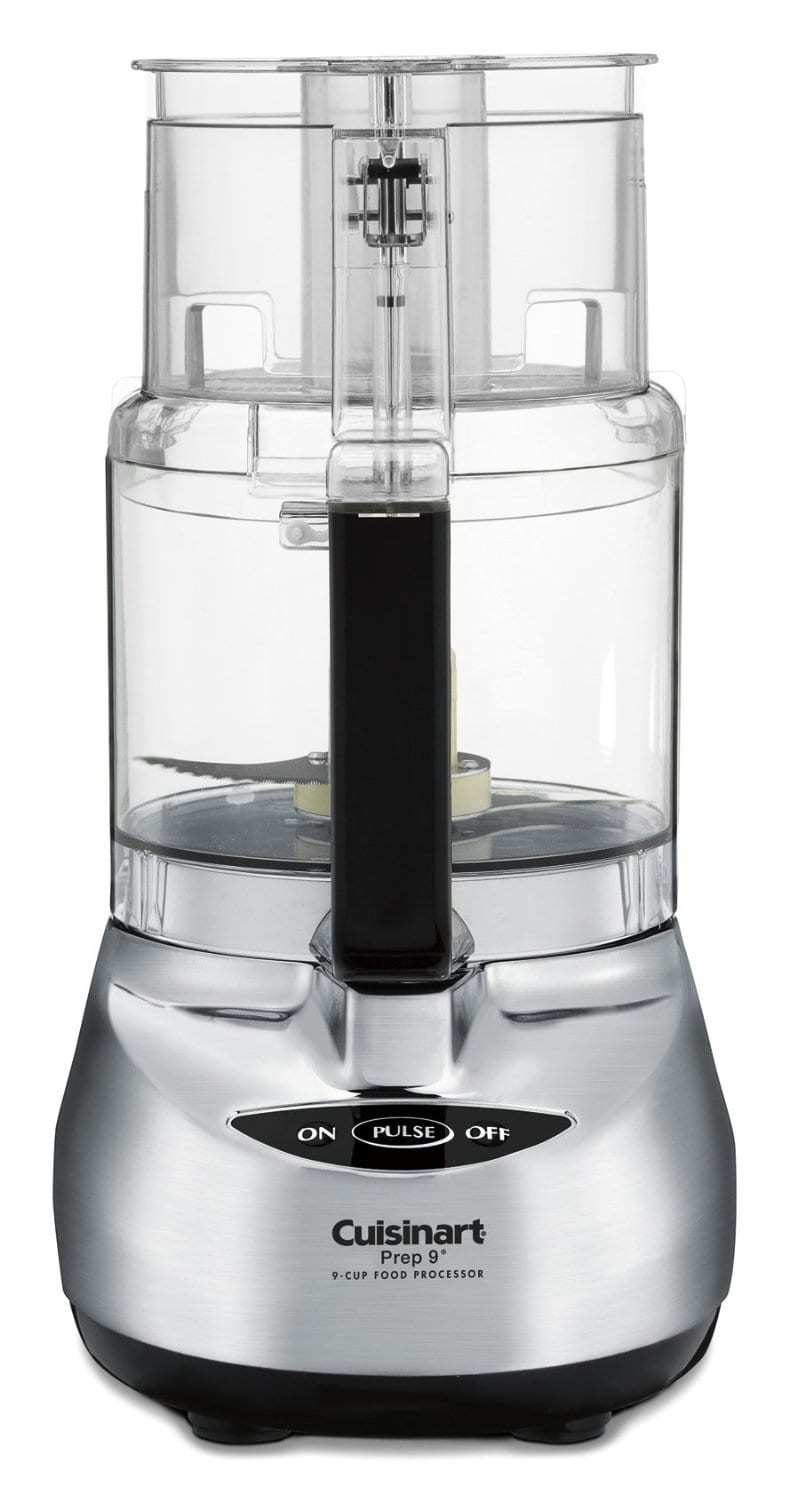 I really like this food processor. If you don't already have one, I'd suggest this honey. It's the perfect size for my NY apartment, while still being big enough to blend my pestos, my pie crusts and hold a decent batch of hummus.
Citrus like lemons adds a bright freshness to a sweet and savory cream topping for this fresh green pesto pasta.
The ricotta cream is a home run for this dish. Oh my, it's delicious! If you save a little to the side it's so perfect on toasted French bread the next day. Just two flavors, lemon zest and pepper, make this dollop of cream genius. Spoon a bit on top of each serving of pesto pasta and with every twirl of your fork the creaminess mixes in.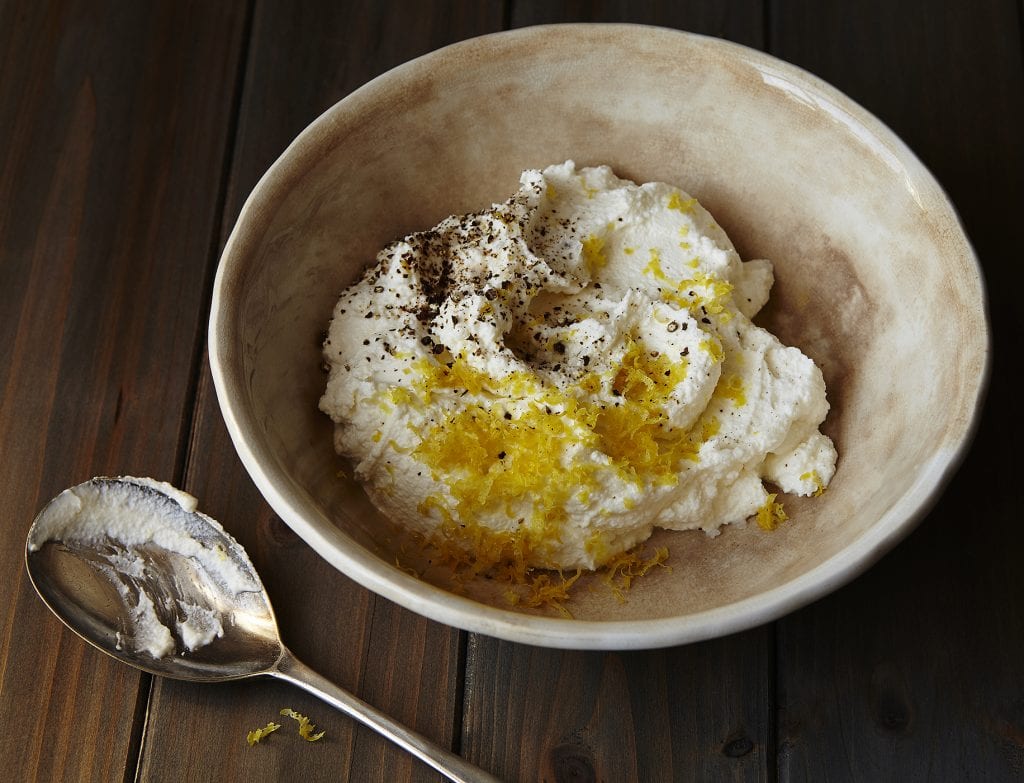 If you are just using half of the pesto for dinner (little kid portions aren't as big as the recipe yield), it keeps in a covered container for about a week. Spread it on sandwiches or serve it on top of chicken other nights.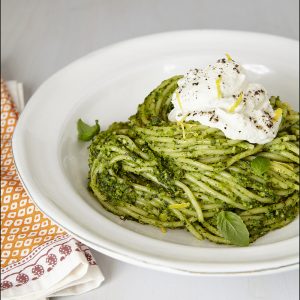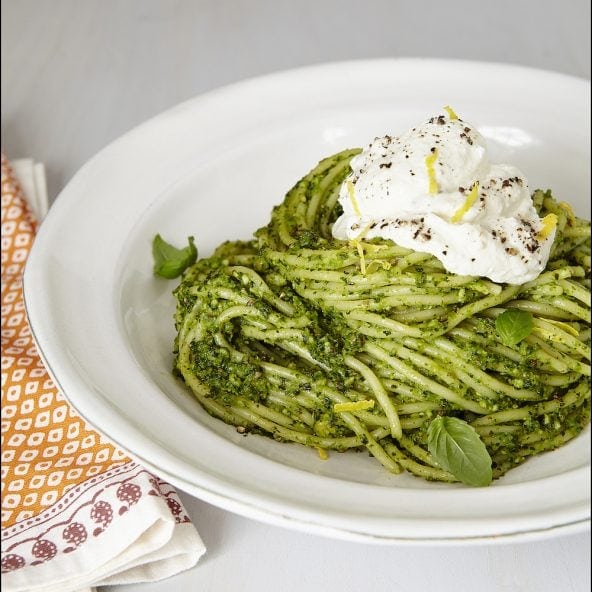 Fresh Green Pesto Pasta with Lemon Ricotta Cream
A dollop of creamy ricotta tops a swirl of spaghetti that's been tossed with rich, green pesto. Be sure to cook your pasta in generously salted water for the best flavor all around.
Ingredients
For the Lemon Ricotta:
1

cup

ricotta

¼

cup

whipping cream

Zest of 1 lemon

½

teaspoon

cracked black pepper
For the pesto pasta:
1

cup

packed flat leaf parsley

tough stems removed

1

cup

packed baby spinach leaves

½

cup

basil leaves

½

cup

frozen peas

thawed

1/3

cup

raw almonds

1

tablespoon

lemon juice

1

small clove garlic

½

teaspoon

kosher salt

½

cup

extra virgin olive oil

1

pound

spaghetti noodles

cooked and drained
Instructions
Combine the ricotta, cream, lemon zest and pepper in a bowl and whip with an electric mixer until light and fluffy, about a minute. Set aside.

In a food processor combine parsley, spinach, basil, peas, almonds, lemon juice, garlic and salt. Pulse until finely chopped. Drizzle in olive oil while pulsing and mix the pesto until quite smooth and combined.

Toss pesto with hot, drained pasta and divide between bowls. Add a dollop of Lemon Ricotta on top of each bowl and garnish with extra lemon zest and pepper.
Fresh green pesto pasta success. Your family will clean their plates!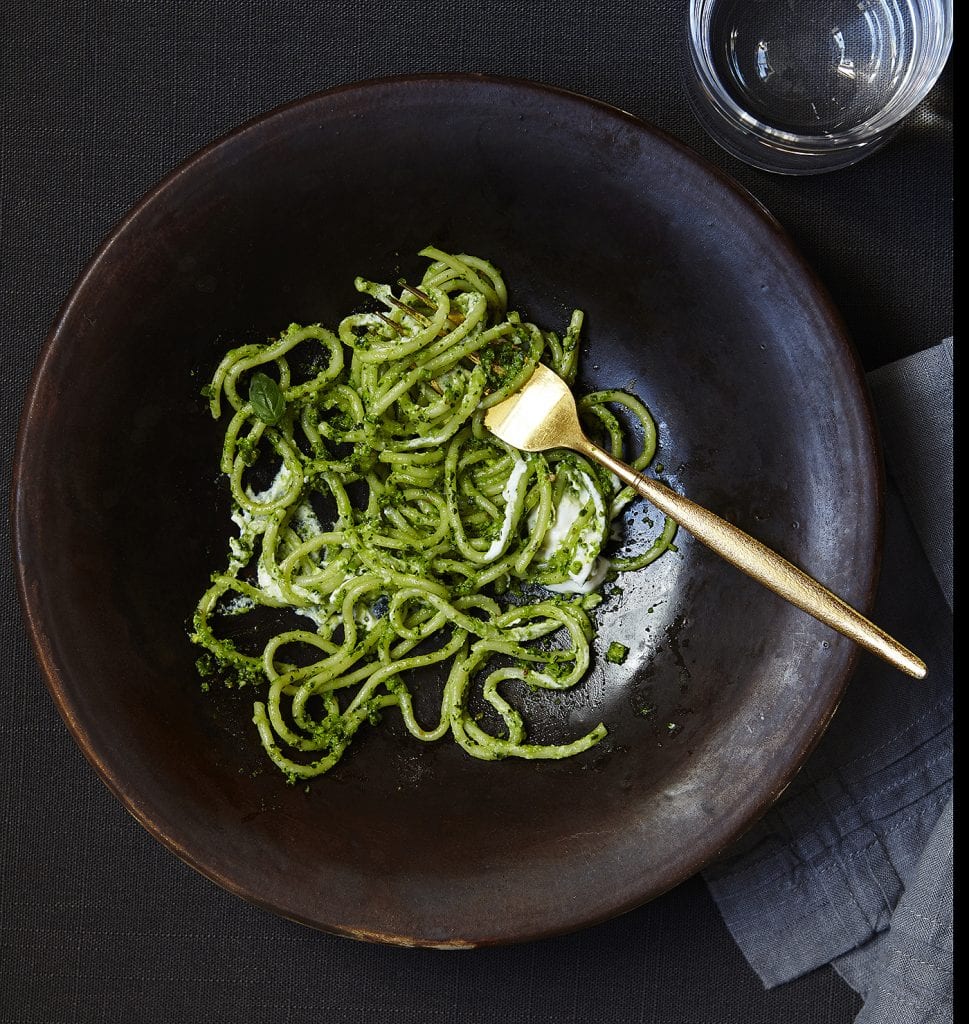 For more Tara Teaspoon dinners that will get you through spring, try my Pork Chops with Grape and Walnut Quinoa.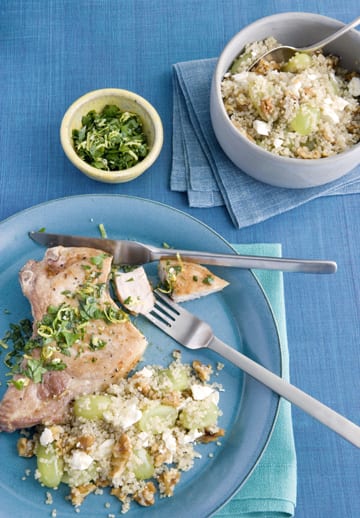 Or try these fresh Veggie Spring Rolls for a light, flavorful crunch.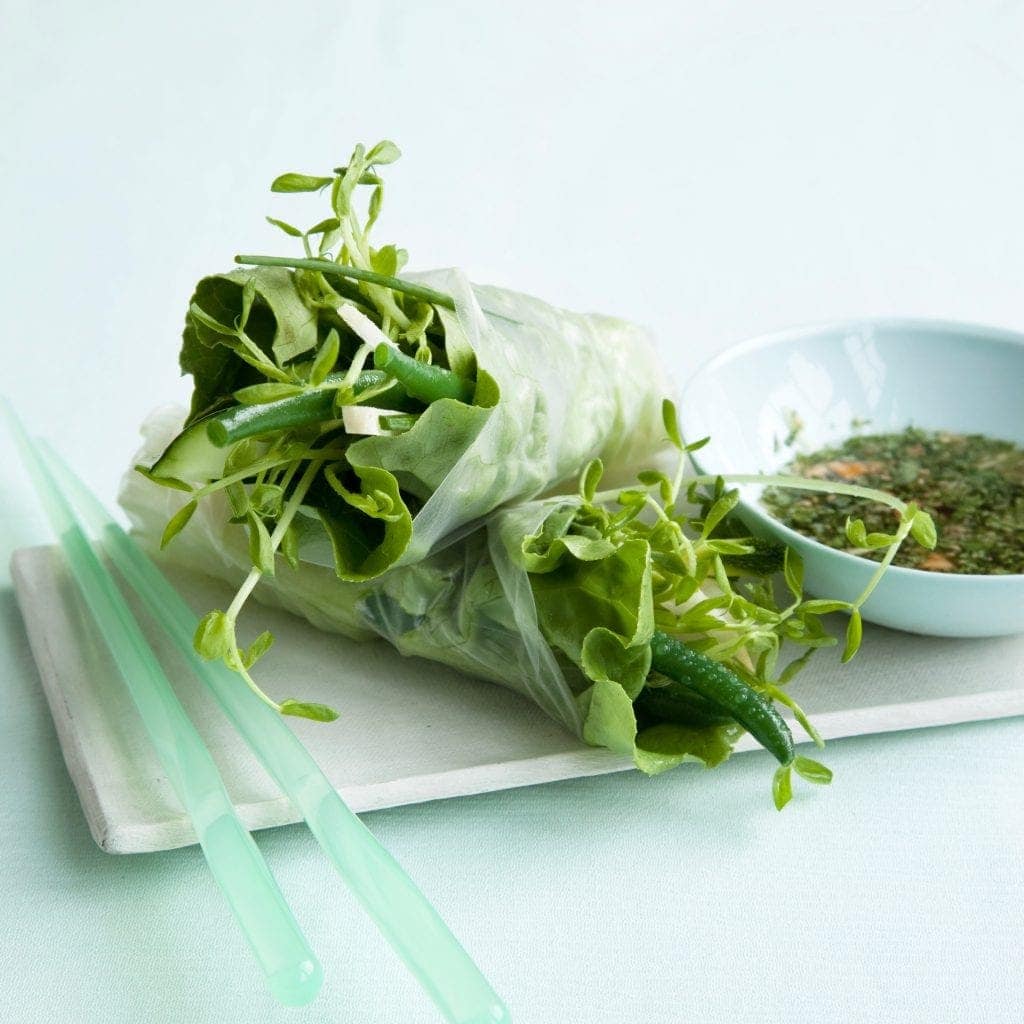 Recipe, food styling, prop styling by Tara Teaspoon. Photography Ty Mecham. Originally appeared on Iheartnaptime.net.