I usually don't call out "30-minute" recipes. Those weeknight meals so many publications and sites advertise. Most recipes take more than 30 minutes because there is prep time; chopping, assembling, and reading the recipe several times over!
But, I'll call this one out. It can almost be done in the time you bring water to a boil and cook the pasta!
As perfect as this is for a family weeknight meal, it's understood that some kids are picky. I was! No mushrooms for me! (I was well into adulthood before I'd even politely eat them when socially necessary, lol!) So make this recipe your own. Leave something out and add something else. Zucchini would be great, asparagus, cherry tomatoes, or spinach would all be delicious.
Thirty minutes everyone!!!!!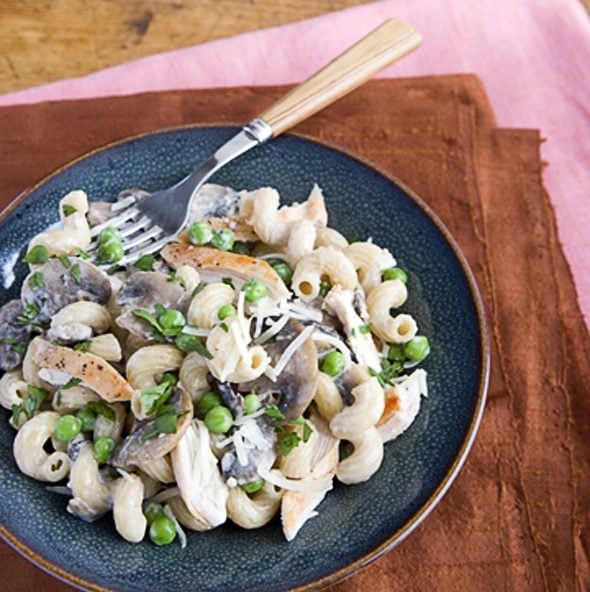 Mushroom Chicken Cream Pasta
Ingredients
1

package

14 oz whole-wheat pasta

2

tbsp

unsalted butter

1

tbsp

olive oil

1

lb

white button mushrooms

cleaned and sliced

1

cup

heavy cream

1½

cups

shredded

cooked rotisserie chicken

1

box

10 oz frozen peas, thawed

½

cup

2 oz shredded Parmigiano-Reggiano, plus more for serving

4

tbsp

chopped fresh flat-leaf parsley
Instructions
Cook pasta according to package directions. Meanwhile, in a large nonstick skillet, melt butter with oil over medium-high heat. Add mushrooms, reduce heat to medium and sauté until softened and just starting to brown, 8 to 10 minutes. Add cream and simmer over high heat until reduced slightly, about 1 minute. Stir in chicken, peas and cheese. Remove from heat; salt and pepper to taste. Toss with pasta and 2 tablespoons parsley. Transfer to a large serving bowl and sprinkle with remaining 2 tablespoons parsley. Serve with additional cheese on the side.
Nutrition Facts
Mushroom Chicken Cream Pasta
Amount Per Serving
Calories 900
Calories from Fat 374
% Daily Value*
Total Fat 41.5g 64%
* Percent Daily Values are based on a 2000 calorie diet.
Recipe and Food Styling by Tara Bench
Original published in Ladies' Home Journal January 2008
Photography Amy Kaylyn Sims
Prop Styling Barb Fritz