---
Chicken Chili Verde is made with a homemade sofrito, a flavorful mix of onions, garlic and peppers. Loaded with great taste, tender chicken and white beans it's perfect with crushed tortilla chips and sour cream.
---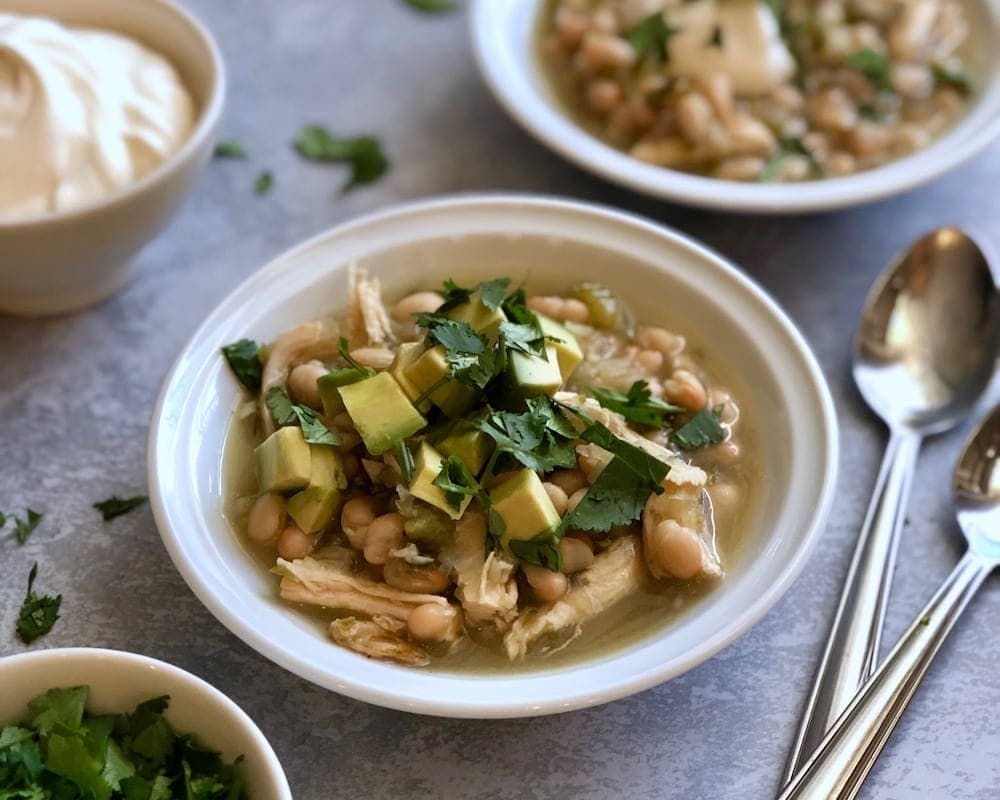 What is sofrito?
It's similar to mirepoix in that it mixes onions and veggies, often with tomatoes, and is used as a flavor base for many Latin dishes. Usually loaded with garlic, onions and chili peppers, it adds a bit of spice to each dish.
Traditional sofrito is made in batches and kept in the fridge. Onions, garlic, tomatoes, peppers and herbs are cooked until very soft. The flavor base is spooned into the pan when making soups, stews and sauces.
I simplified the sofrito method by making just enough for this soup. I combined onions, garlic, jalapeno, poblano and anaheim peppers. Use a food processor to finely chop the mixture quickly; you can also chop the ingredients by hand if you don't have a processor.
Get a food processor here!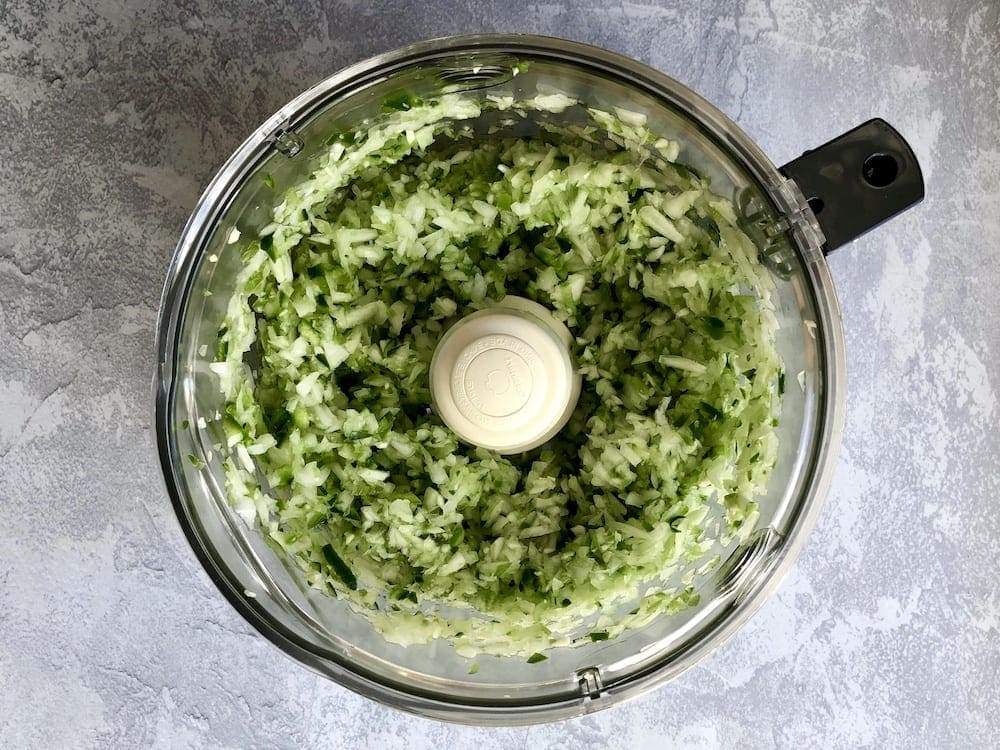 Soup was one of the first things I learned to make in culinary school. It's the course just after knife skills in most professional courses! You learn to chop everything, and use every knife (see some of my favorite kitchen knives on my Shop page). Then, you learn to make soup from all those things you chopped!
What is Mirepoix?
In traditional French cooking (which most culinary courses are based on) you learn to start your soups with a mirepoix, or flavor base of 50% onions, 25% celery and 25% carrots. If you think about it, it really is, as it's often called, the Holy Trinity of flavor. A little savory and a touch of sweet from the carrot. Many traditional sauces are made using an iteration of this mixture as well.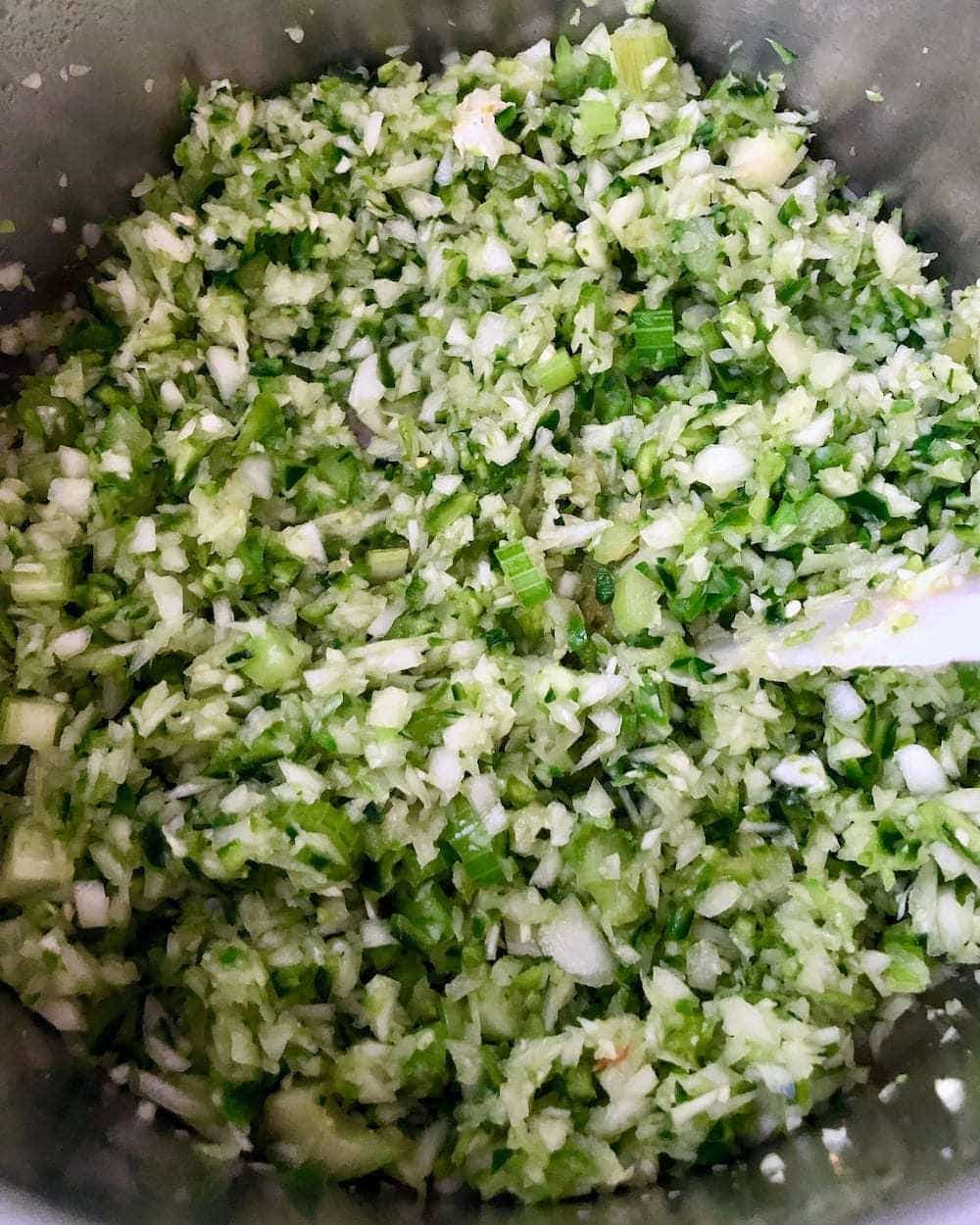 I loved my soups course! We made broth soups, creamy soups, pureed soups and stews. All using different techniques. Soups are some of my favorite dishes to make to this day.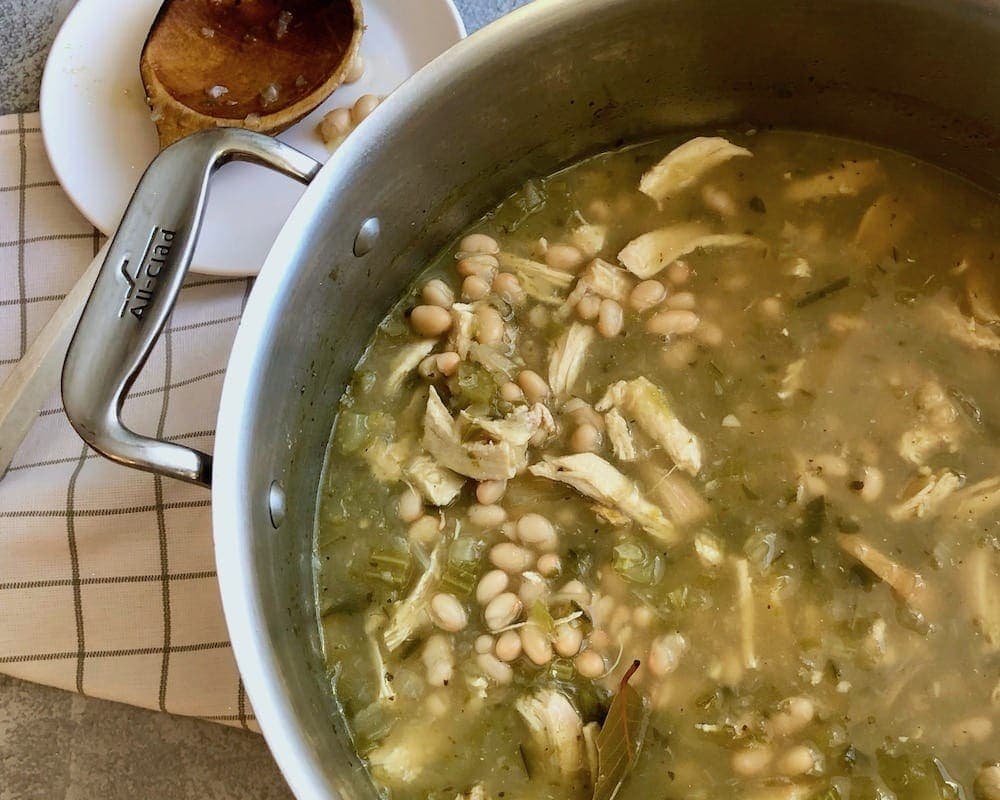 How to make White Bean Chicken Chili Verde:
Make a sofrito by blending together onions, garlic, jalapeno, poblano and anaheim chile peppers.
Cook chicken (or shred rotisserie chicken).
Cook the sofrito and spices.
Add broth and lime juice and cook until vegetables are soft, chicken is cooked and soup is aromatic.
Shred chicken and add beans.
Thicken with cornstarch and top with desired toppings.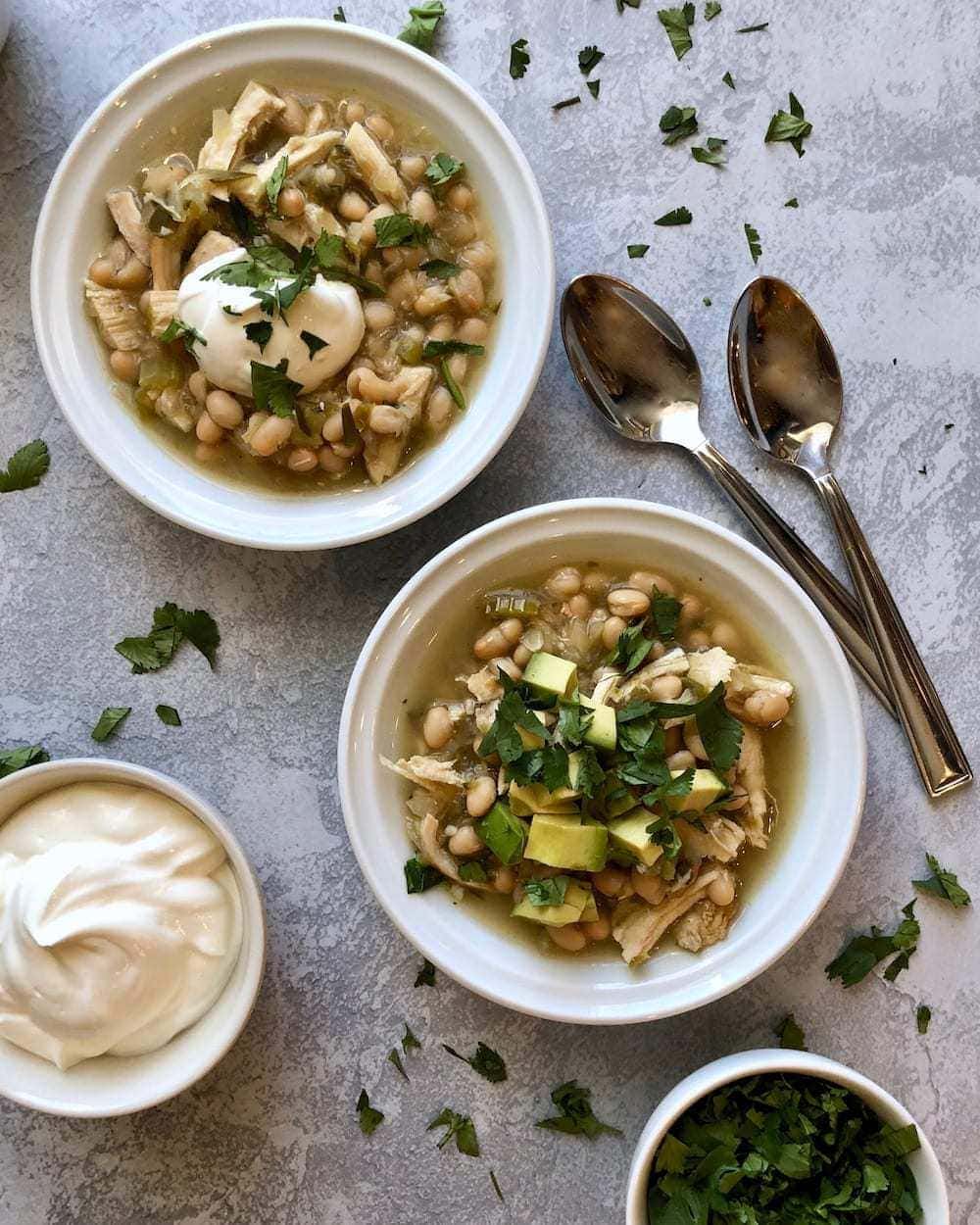 Why add cornstarch to soup?
I add cornstarch to many of my broth soups purely to create some viscosity and, as we say in the food business, mouth feel! I prefer something a bit more substantial on my tongue than a watery, brothy soup; so cornstarch thickens the broth just enough to suspend the veggies a bit and feel delicious on my tongue. You'll notice that many restaurant soups or pre-prepared soups are thickened like this. Some use other starches, but I prefer cornstarch because it cooks clear.
When you add cornstarch to a hot soup you need to add it to cold water first. Otherwise you'll get lumps. Simply whisk it into some water, then stir it into the hot soup. Cornstarch will thicken as it boils. You do not need to use cornstarch in your soup. It's optional!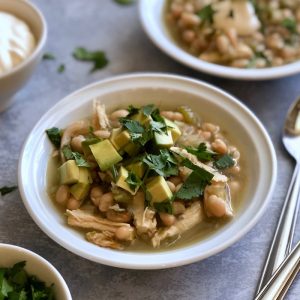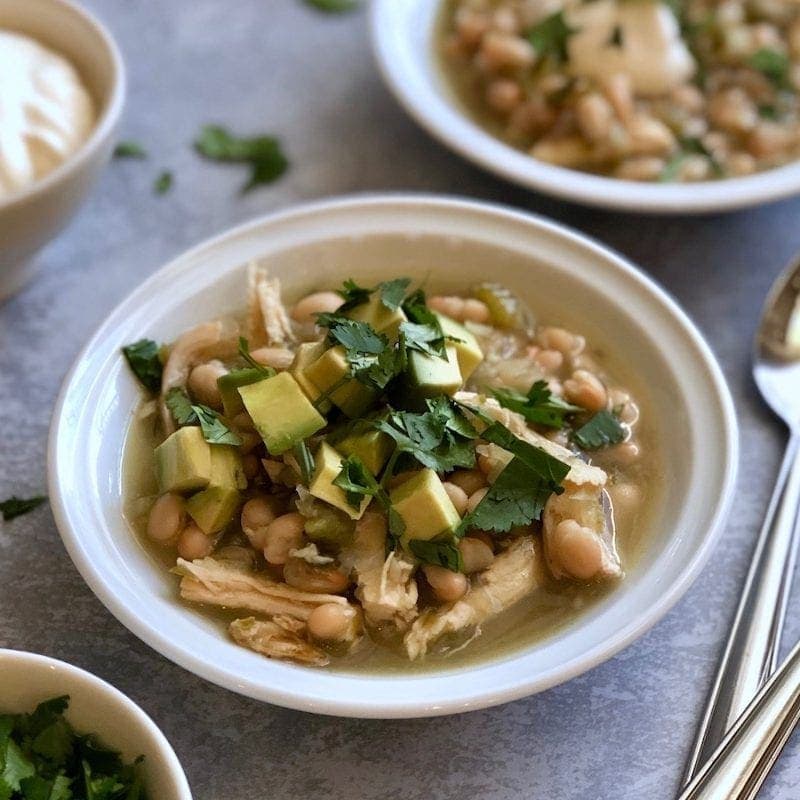 Chicken Chili Verde
Chicken Chili Verde is made with a homemade sofrito, a flavorful mix of onions, garlic and peppers. Loaded with great taste, tender chicken and white beans it's perfect with crushed tortilla chips and sour cream.
Ingredients
4

cloves

garlic

2

medium onions

chopped

1

jalapeno pepper

seeds removed

1

pablano pepper

chopped

1

anaheim pepper

chopped

1

cup

diced celery

3

tablespoons

olive oil

2

teaspoons

kosher salt

2

teaspoons

ground cumin

1

teaspoon

dried oregano

1

bay leaf

3

tablespoons

fresh lime juice

1 ¾

lbs

boneless, skinless, chicken breast

(4 cups shredded, cooked chicken)

8

cups

low-sodium chicken broth

2 ½

cups

water

3

tablespoons

cornstarch

3

15 oz

cans cannelini beans or navy beans
Toppings
Sour Cream, cheese, tortilla chips

Cilantro, avocado, hot sauce
Instructions
To make the sofrito, in a bowl of a food processor, blend the garlic and jalapeno until finely chopped. Add the onion and peppers and pulse until finely chopped but not minced. Set aside.

In a large stockpot or Dutch oven, heat 1 ½ tablespoons olive oil over medium-high heat. Add chicken breasts and saute until golden on both sides, about 10 minutes total. Remove to a plate. (If using rotisserie chicken, skip this step).

Add remaining 1 ½ tablespoons olive oil to the pan and add the sofrito, celery, salt, cumin, oregano and bay leaf. Cook, stirring, until onions have softened and mixture is fragrant, about 7 minutes.

Add the broth, lime juice, and reserved chicken. Bring soup to a simmer and cover. Simmer on medium-low until chicken is cooked through and vegetables are tender, about 25 minutes. Remove chicken and chop or shred. Return to the soup.

Stir together the water and cornstarch and stir into the simmering soup. Add the beans. Bring back to a simmer then serve with desired toppings.

Soup can be stored in the fridge in an airtight container for up to a week, or frozen for up to 3 months.
Notes
• Leave out the jalapeno if you want a mild soup.
• Use a rotisserie chicken in place of the chicken breasts to save a step. Simply add 4 cups shredded, cooked chicken to the soup when noted.
Nutrition
Serving:
1
cup
Calories:
116
kcal
Carbohydrates:
5
g
Protein:
13
g
Fat:
4
g
Cholesterol:
31
mg
Sodium:
404
mg
Potassium:
345
mg
Sugar:
1
g
Vitamin A:
85
IU
Vitamin C:
10.3
mg
Calcium:
20
mg
Iron:
0.7
mg
Make a delicious soup recipe today
Try more of my favorite soups
Chipotle Sweet Potato Soup with Queso Blanco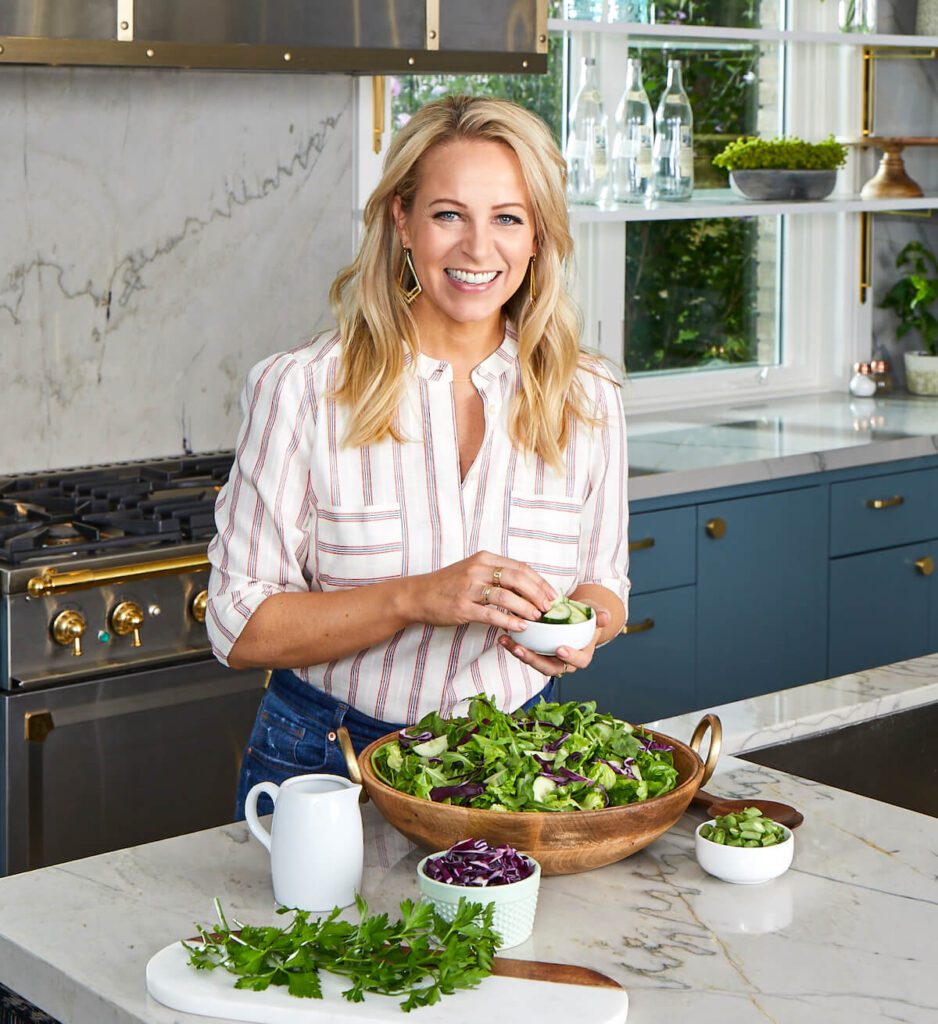 About Tara Teaspoon
I've been in the food publishing business for over 20 years, creating recipes & food-styling for magazines, books, television & advertising. Order my new cookbook & stick around for amazing things to eat.
Recipe and photography by Tara Teaspoon.