Sausage and Greens Soup means comfort food at it's best. Creamy, savory broth and hearty greens, potatoes and sausage simmer together to perfection. 
• • •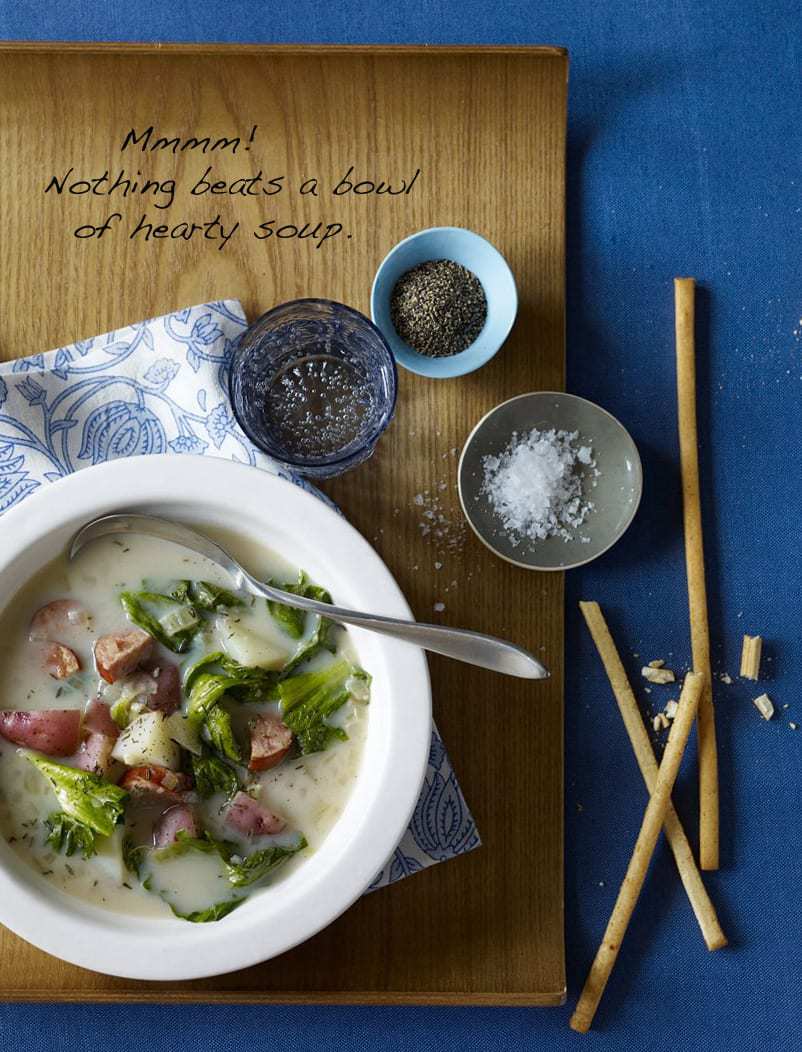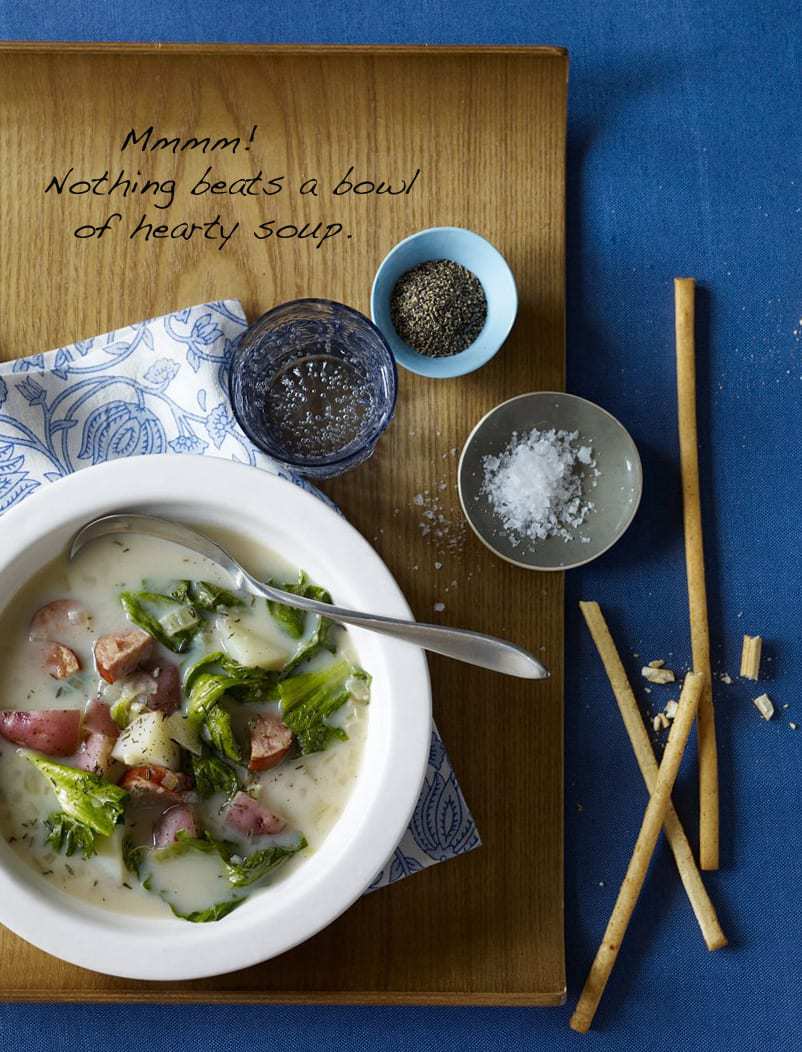 Making soup is one of my ideal procrastination activities. It's typically a lot of methodical chopping, mindless stirring and sautéing and it uses up lots of ingredients from the fridge—making it look like I cleaned (bonus!).
I can sit down to a dinner of delicious soup and some bread, and glare at my procrastinated to-do list with a smug look, saying, "I've accomplished something today and you can't do anything about it."
The to-do list usually doesn't respond. It just sits silently waiting.
This healthy, awesome soup doesn't take a lot of chopping, or time. It takes less than 15 minutes to prepare everything and you walk away and let it simmer.
Totally easy for a weeknight meal. With hearty greens like collard, kale and escarole now available pre-washed, chopped and bagged in the produce section, it's even faster.
So much for procrastinating.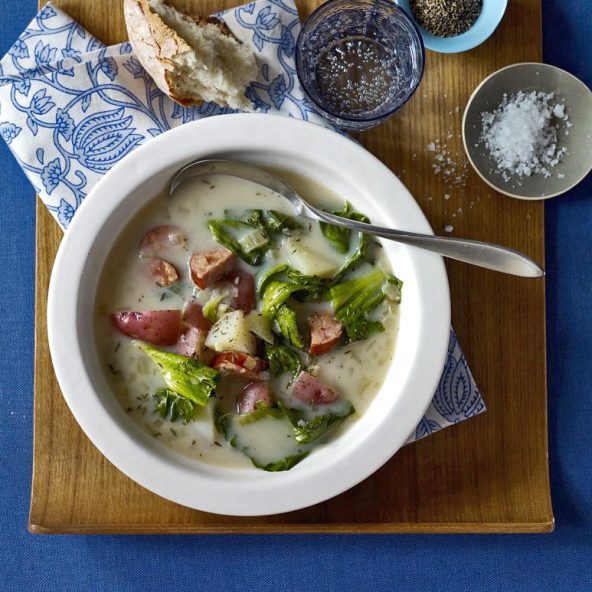 Sausage And Greens Soup

Use your favorite sausage in place of kielbasa for a different take on this hearty, comforting soup.

Ingredients
8 oz kielbasa sausage cut into ¼-inch half-moons
2 tsp olive oil
1 medium onion chopped
2 cloves garlic minced
1/3 cup all-purpose flour
¼ tsp dried thyme
8 oz baby red potatoes each cut into 8 pieces
6 cups low-sodium chicken broth
½ tsp kosher salt
3 cups hearty greens such as escarole or collard cut into 2-inch pieces
½ cup whole milk
Instructions
In a large pot over medium heat, cook kielbasa in 1 tsp olive oil until browned, about 5 min. Remove kielbasa and set aside.

Add onion, garlic and 1 tsp olive oil and cook, stirring, until onion is translucent, about 4 min. Stir in flour, thyme and potatoes. Add kielbasa, broth and salt; cover and bring to a simmer. Cook, covered, until potatoes are tender, 25 min. Add greens and cook until tender, about 7 min. Stir in milk.
Nutrition Facts

Sausage And Greens Soup

Amount Per Serving (1 g)

Calories 190 Calories from Fat 104

% Daily Value*

Total Fat 11.5g 18%

* Percent Daily Values are based on a 2000 calorie diet.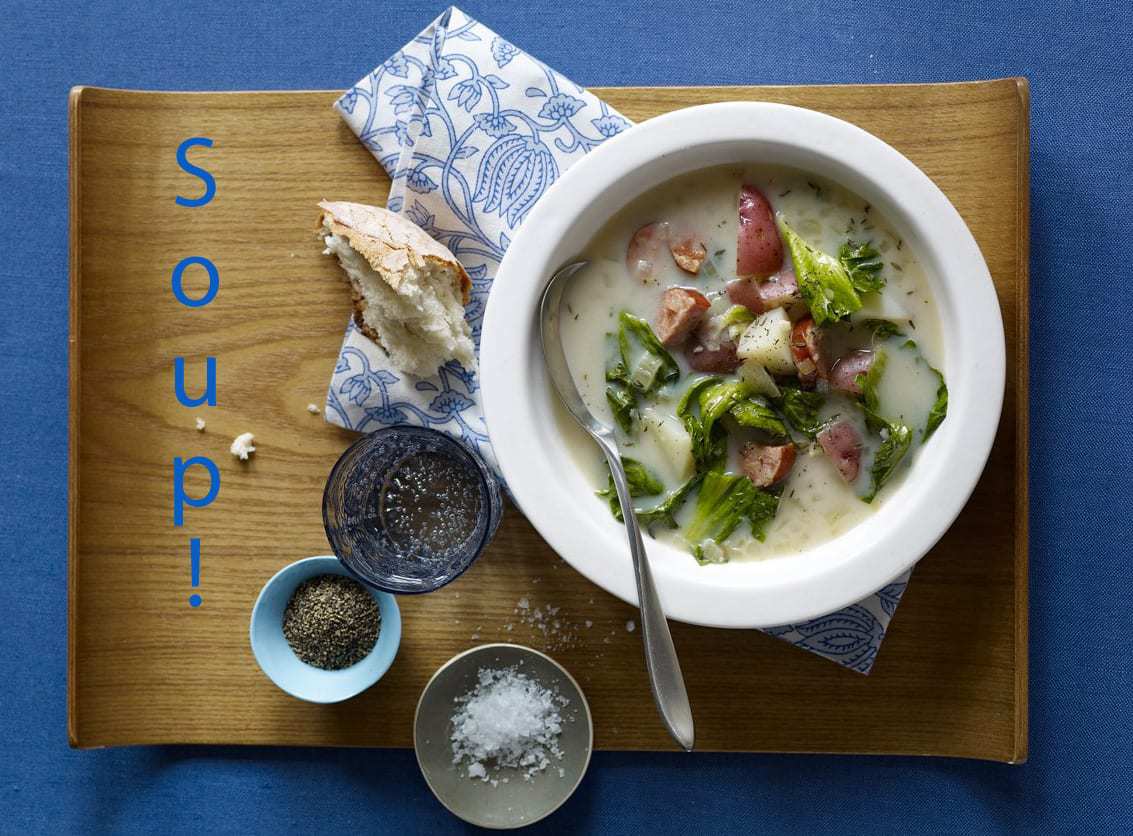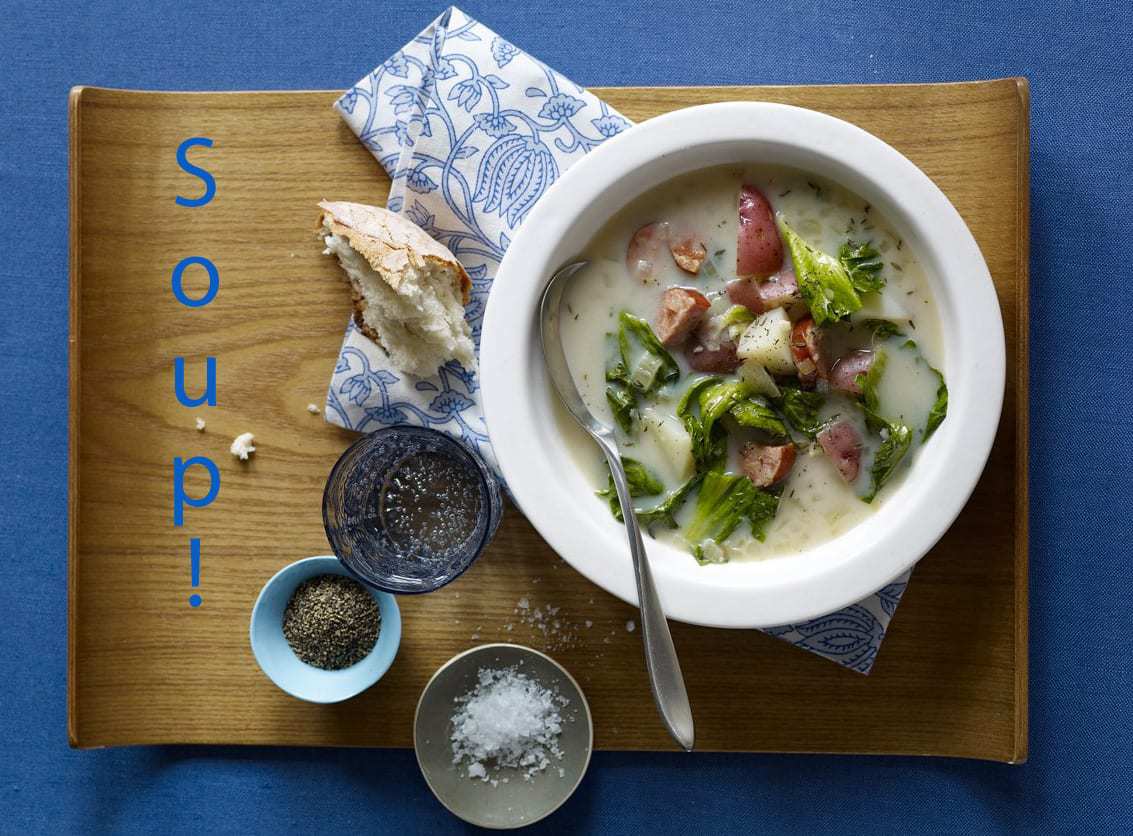 Recipe by Tara Bench. Originally published in LHJ Feb/09. Photography Sang An. Prop Styling Tiziana Agnello. Food Styling Jee Levin.