---
Marinated flank steak gets a burst of flavor from authentic Thai flavors, sweet fruit and crunchy veggies. Arrange on a platter for an impressive, family-style situation that everyone will love.
---
Healthy dinners are tricky. You want them to be filling, but light at the same time. This composed Thai beef salad hits both spot on. Plus I love composed salad (salads arranged on a platter) because they're inviting and served family-style. No fussiness with individually portioned plates.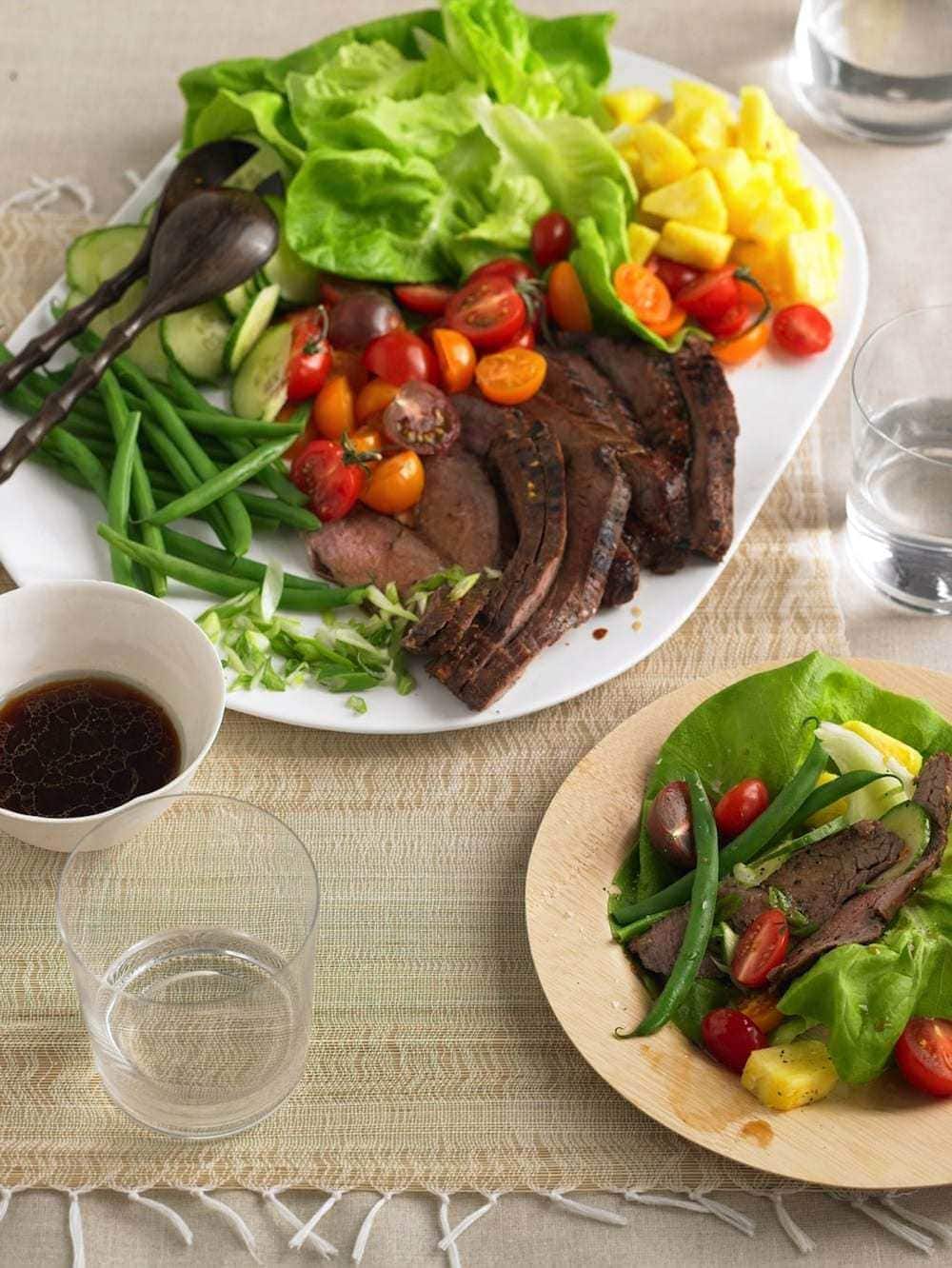 Making Thai beef salad:
I marinated flank steak in garlic, ginger and lime juice to really give it some juicy appeal. I've called for cooking it under the broiler (it only takes a few minutes, so the oven isn't on long), but you can throw it on the grill as well.
The tender butter lettuce, sweet pineapple, tangy tomatoes and crunchy beans and cucumbers are the perfect salad combo to go with steak. Light and flavorful so nothing is overpowered.
How to make a Thai salad dressing:
The authentic dressing for the Thai beef salad is a blend of flavors including fish sauce (or nuoc nam). Thai and Vietnamese cooking use it abundantly, and I find a little goes a long way; but it's imperative for authentic flavor. There's nothing like it. It has depth of flavor and a bit of umami (that extra flavor profile). I talk about umami in my Grilled Flank Steak with Herb Salsa Verde and Black Sesame Chocolate Chip Cookie recipes.

Blanch Green Beans
Blanching is a form of cooking that just barely cooks something. To blanch green beans and other tender vegetables, you simply boil a pot of water (I like to salt the water generously), and add the veggies. Cook for only 1 to 2 minutes, or until the vegetables are bright and just tender, not soft. Quickly remove the beans and dunk into a bowl of ice and water. This shocks the vegetables and cools them down, stopping the cooking. They retain a crisp, tender and cooked texture.
A cool trick I learned the other day about blanching beans: You can actually freeze fresh beans and when you're ready to use them, pull them out, let them thaw and voila, blanched beans! Here's the deal––freezing vegetables expands the liquid they naturally hold inside. The cell walls break down from the liquid expanding and freezing (very similar to what happens when veggies are cooked...the cell walls break down and the veggies soften), and the frozen veggies, when thawed are slightly more tender than when they were fresh.
This Thai beef salad uses simple ingredients to create in-depth flavors with a hint of delicious umami!
This is the perfect trick to try on this salad! So if you've bought more beans than you can eat at Costco (often my issue), then just freeze them! Next time a recipe calls for blanching them, ignore it! Thaw those babies and you're done. Tender, cold, crunchy beans at the ready.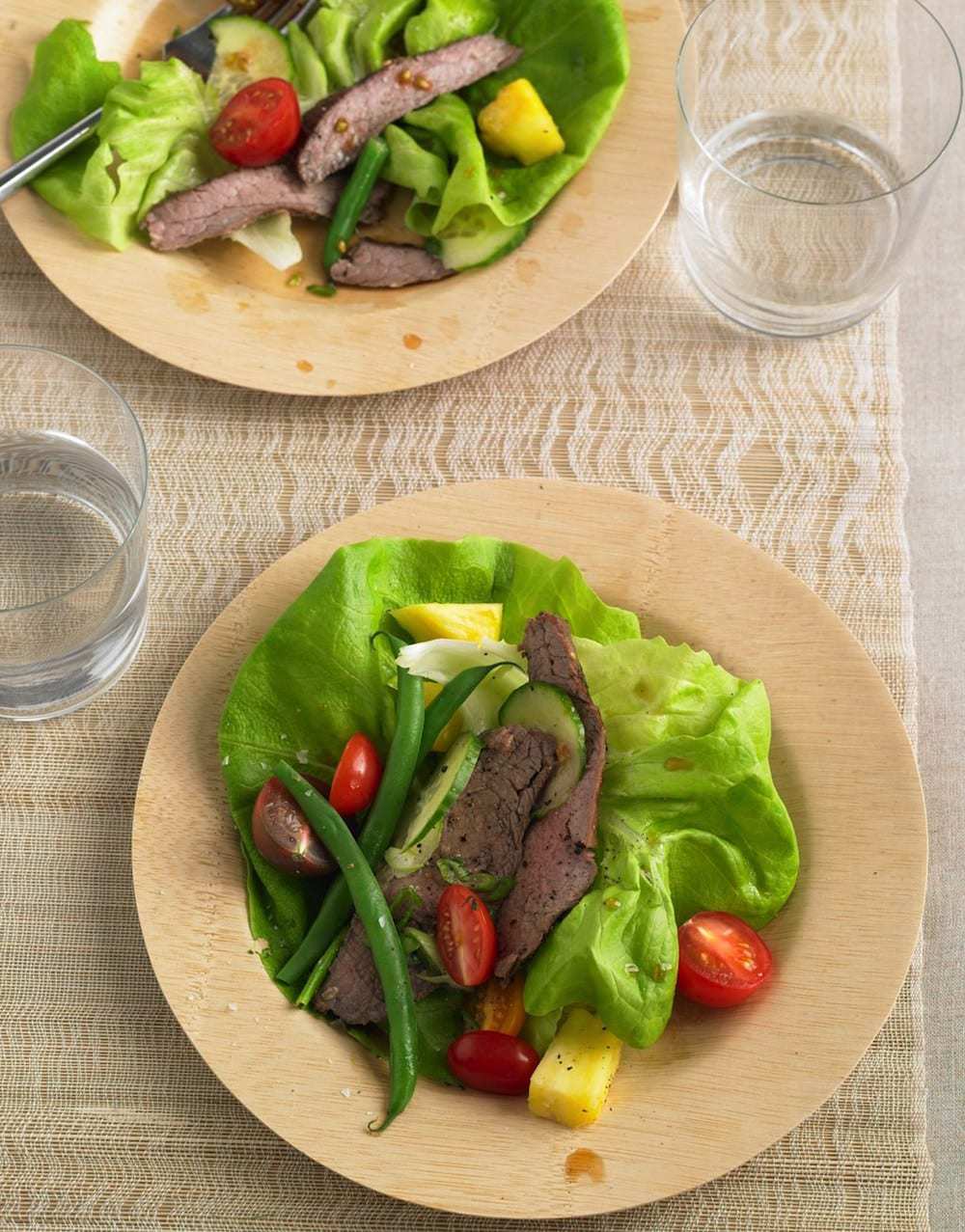 Summer is the perfect time for fresh veggies and tender grilled meats. Other ideas for tasty summer foods that your family and guests might enjoy are my Mini Greek Pita patties with Greek Yogurt Sauce and my mom's all-time favorite sandwich Sweet and Spicy Bacon Chicken Sandwich.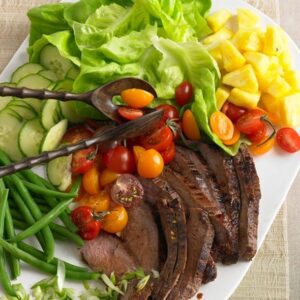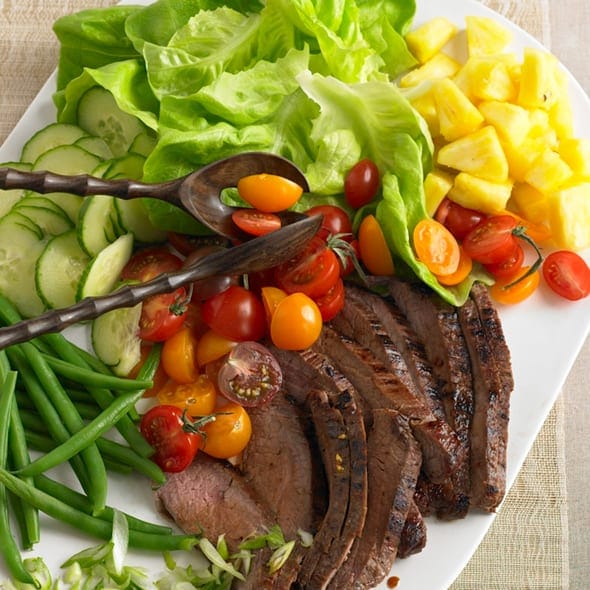 Thai Beef Salad
Marinated flank steak gets a burst of flavor from authentic Thai flavors, sweet fruit and crunchy veggies.

Ingredients
2

cloves

garlic

minced

1

tablespoon

grated fresh ginger

½

cup

fresh lime juice

¼

teaspoon

red pepper flakes

4

teaspoon

light brown sugar

2

teaspoon

kosher salt

2

lb

flank steak

½

lb

green beans

trimmed

1

tablespoon

soy sauce

1½

teaspoon

fish sauce

nuoc nam

3

tablespoon

vegetable oil

1

head

(4 cups) Bibb or Boston lettuce

¼

of a pineapple sliced into 2-inch pieces

1

cup

(5 oz) cherry tomatoes halved

⅓

of a seedless cucumber

sliced

¼

cup

sliced scallions
Instructions
Stir together garlic, ginger, 3 tablespoon lime juice, pepper flakes, 2 teaspoon sugar and salt. Pour over steak in an ovenproof dish, coating both sides. Marinate in refrigerator 20 min.

Meanwhile, bring a large pot of salted water to a boil. Add green beans and cook until just tender, 2 to 3 min; immediately submerge in a bowl of ice water to cool. Drain and set aside.

For the dressing, whisk together 5 tablespoon lime juice, soy sauce, 2 teaspoon sugar, fish sauce and oil. Transfer to a serving bowl.

Heat broiler to high. Broil steak 6 inches from heat, turning once, 5 min per side. Remove from oven and let rest 5 min.

Arrange lettuce leaves on a large platter with green beans, pineapple, tomatoes, cucumber and scallions. Slice steak across the grain and place on platter. Serve with dressing on the side.
Notes
Arrange everything on a pretty platter for a stunning presentation.
Nutrition
Serving:
1
g
Calories:
325
kcal
Carbohydrates:
14
g
Protein:
34
g
Fat:
14
g
Saturated Fat:
8
g
Cholesterol:
90
mg
Sodium:
1151
mg
Potassium:
821
mg
Fiber:
2
g
Sugar:
8
g
Vitamin A:
1400
IU
Vitamin C:
36.9
mg
Calcium:
75
mg
Iron:
3.5
mg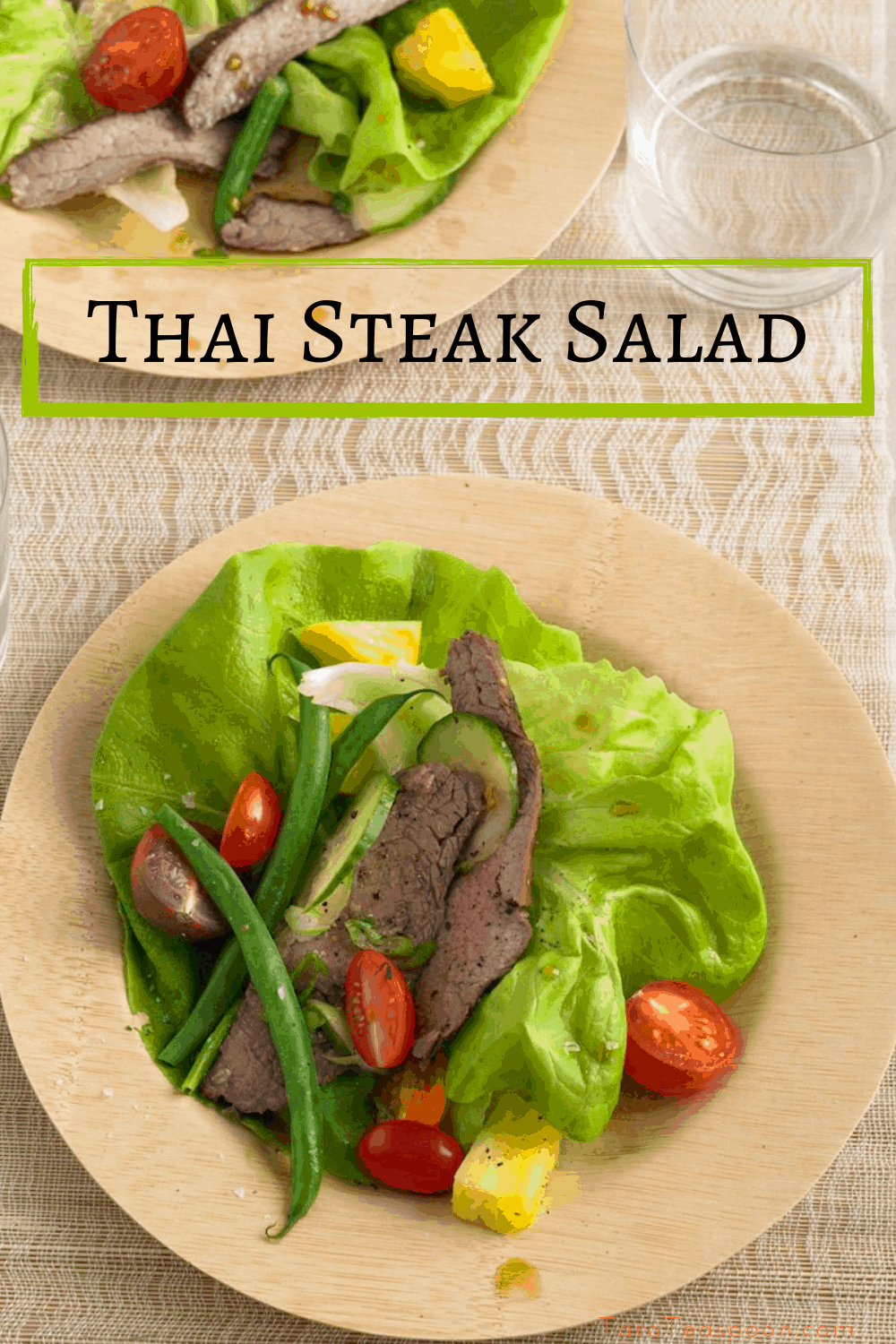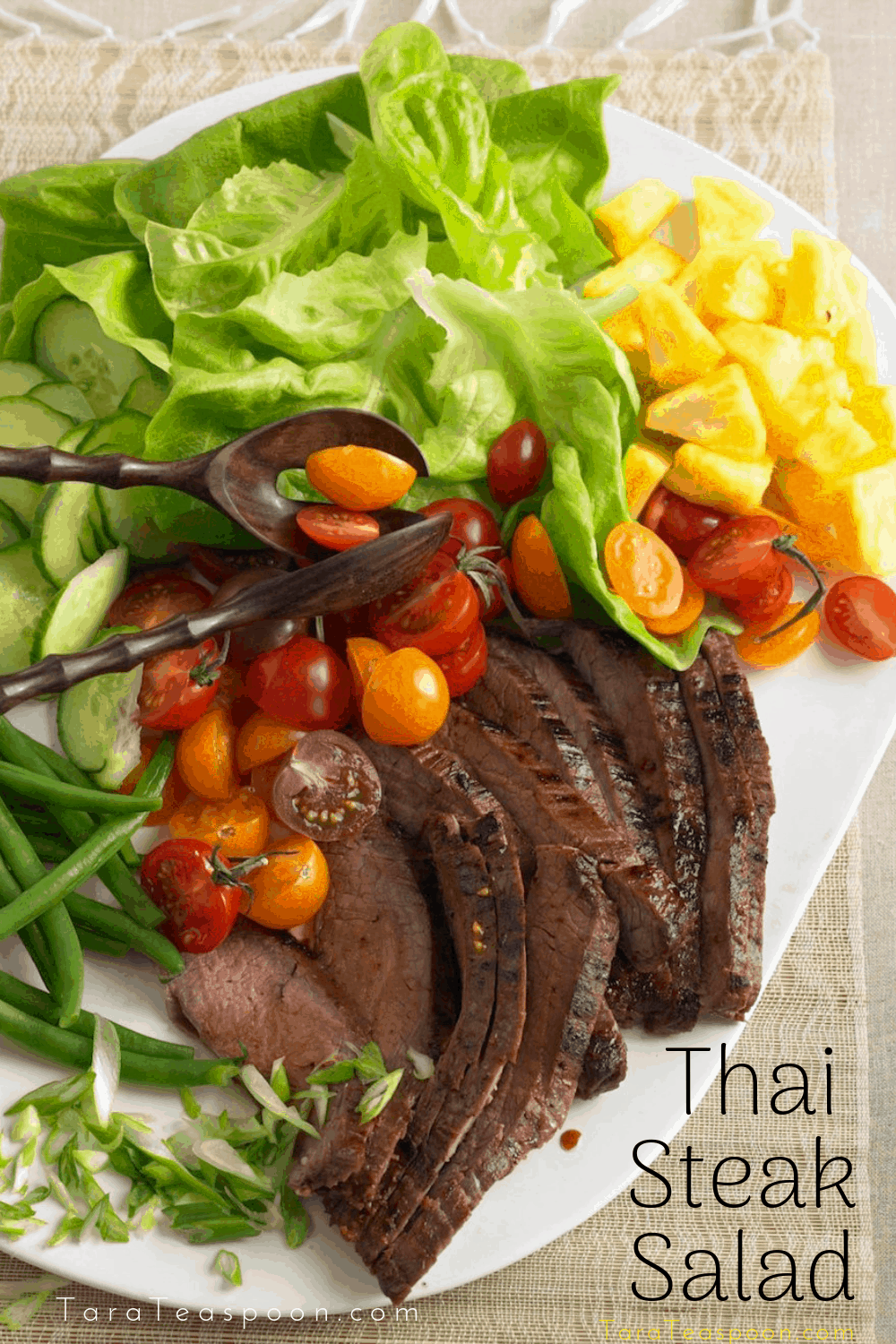 Newest recipes from Tara Teaspoon!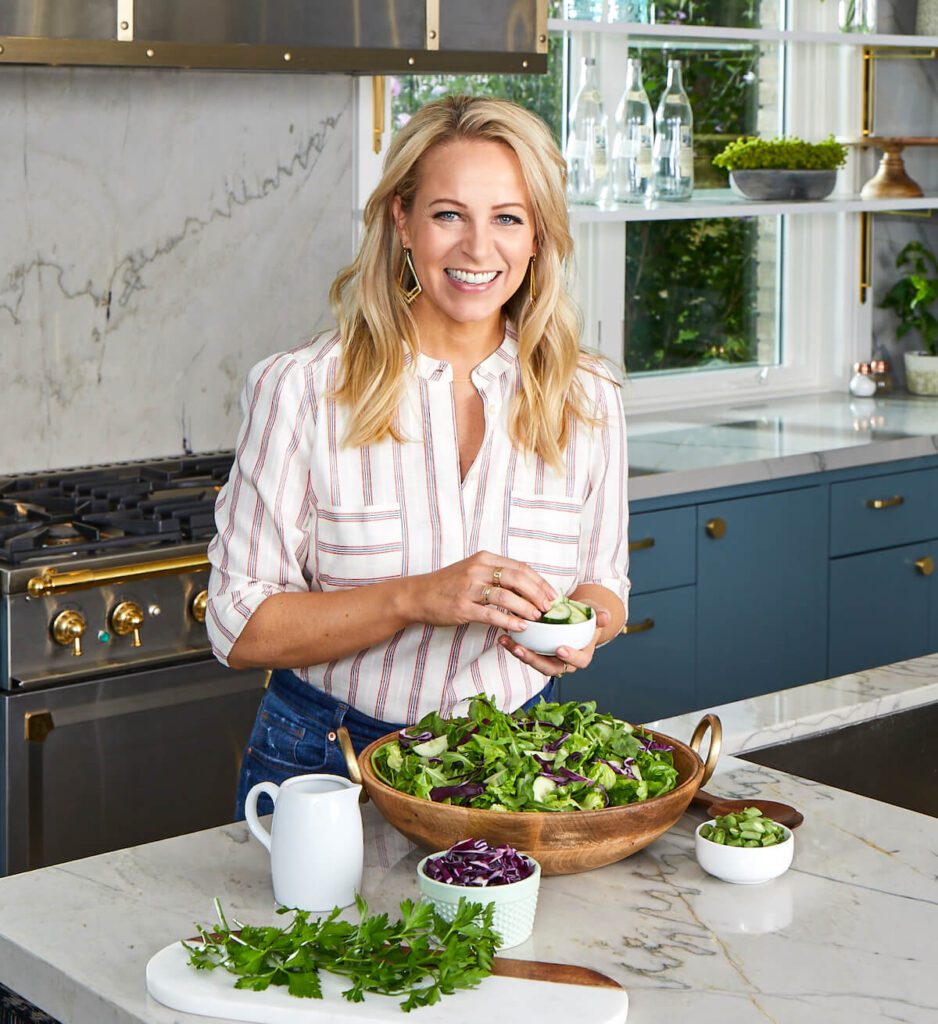 About Tara Teaspoon
I've been in the food publishing business for over 20 years, creating recipes & food-styling for magazines, books, television & advertising. Order my new cookbook & stick around for amazing things to eat.
Recipe by Tara Teaspoon & Vanessa Seder, LHJ 4-09. Photography Miki Duisterhof, Food Styling Jee Levin, Prop Stylist Pamela Duncan Silver.