Veggie Spring Rolls get dipped in sweet and sour mint sauce for a perfect combo. Beautiful green vegetables never tasted so good as when nestled in lovely translucent spring roll wrappers!
I like salad, I just don't eat a lot of salad. I know it's healthy, but I'd rather eat pasta or a burger. What I found though, is spring rolls make it way more fun to eat salad! I can eat it with my hands like I would a burger. If I were eating a bowl of salad with my hands you might walk away and not want to be my friend. So spring rolls it is!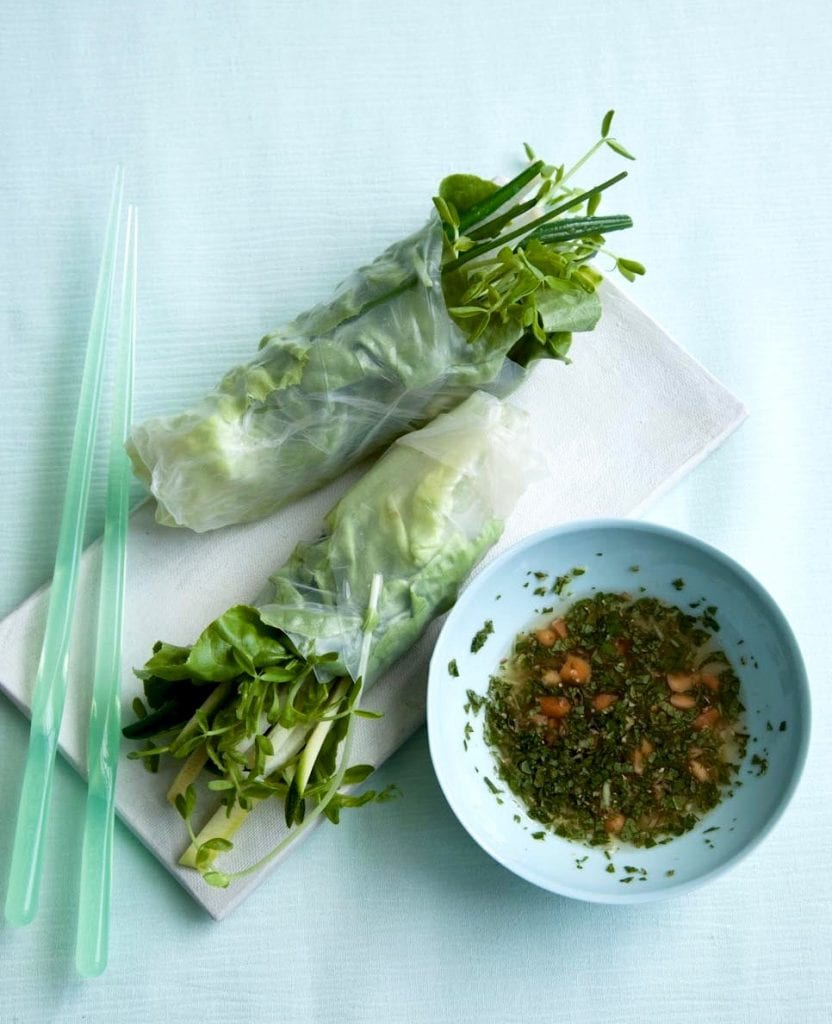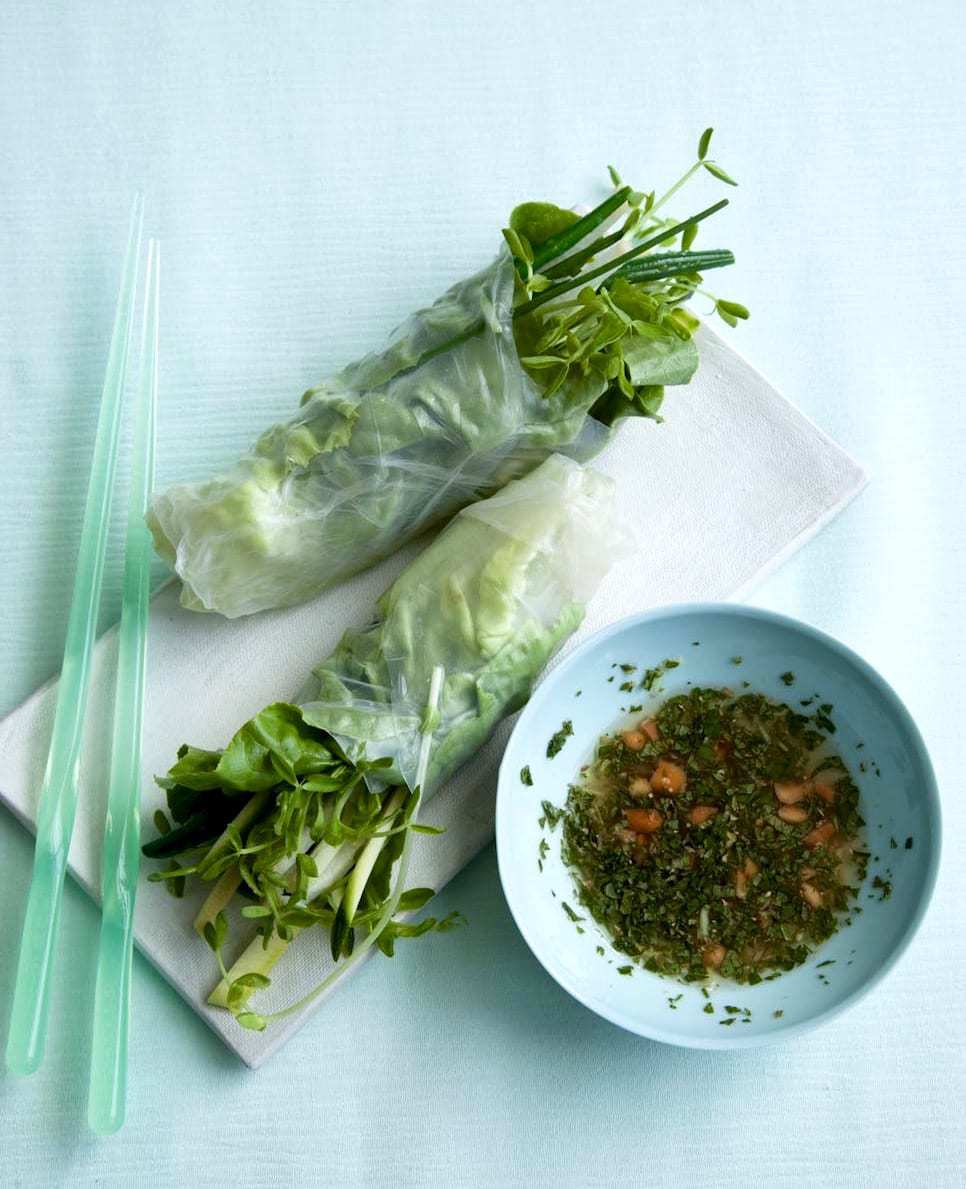 This post on Veggie Spring Rolls includes affiliate links. For more information please see my disclosure agreement.
If you've never made spring rolls, they are like egg rolls, but on the fresh side. They aren't deep fried and typically made with these thin, rice wrappers. Most large grocery stores will carry them (or order them one day shipping via that link and save a trip to the Asian market if your store doesn't have them).
Let me tell you how to use them. It might seem daunting if you've never tried, but I assure you, it only takes one trial wrapper to figure out what to do! You simply soak them in a shallow pan of room temperature water for a few seconds. Then I layer mine between damp paper towels and let them sit, and soften, about ten minutes. You're good to go! Wrap away. All that needs to happen is for the wrappers to absorb some water, and soften, no cooking needed.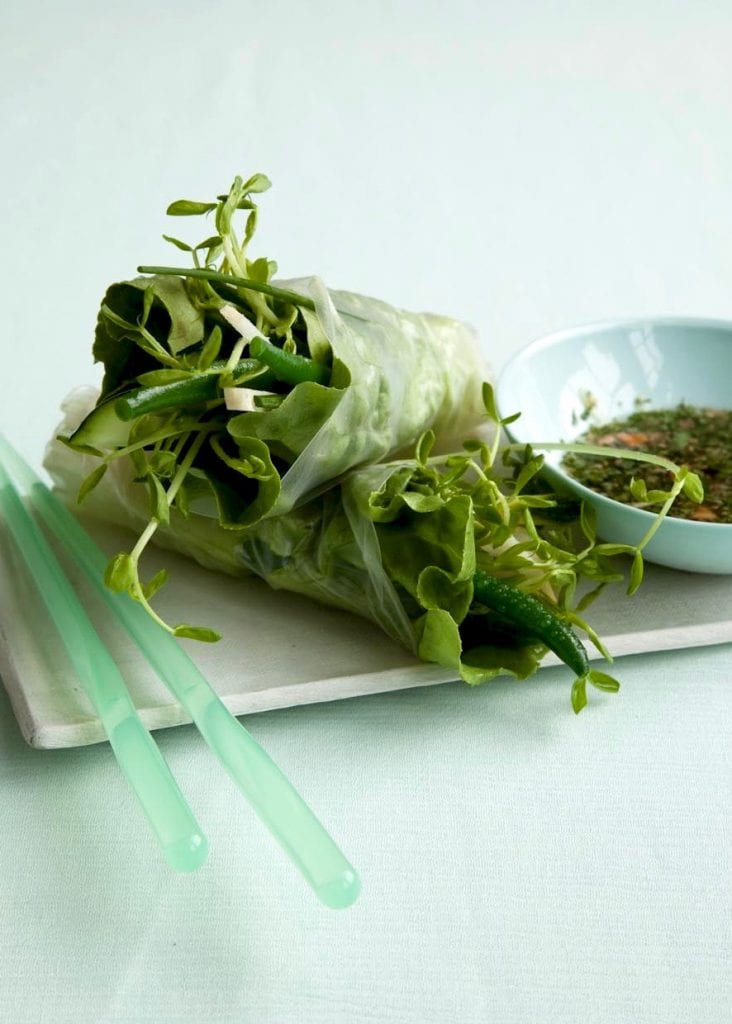 I wrapped an entire salad in mine. It's delicious and even better with my mint sauce. You can add cooked shrimp or even some strips of grilled chicken or beef if you want to add protein to the rolls. No biggie.
Oh the mint sauce. Let's take a moment to talk about how amazing it is with these veggies. I use a little fish sauce for authenticity, rice wine vinegar, sugar and pops of fresh ginger and mint. You'll want to drink it! And you'll find many other reasons to use this sauce, like an actual salad dressing, or a sauce for grilled meats and fish.
Your summer salad intake is about to go way up! You're welcome.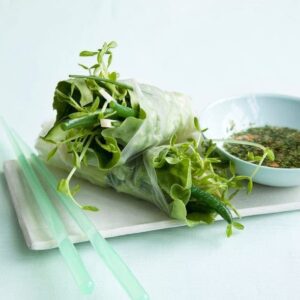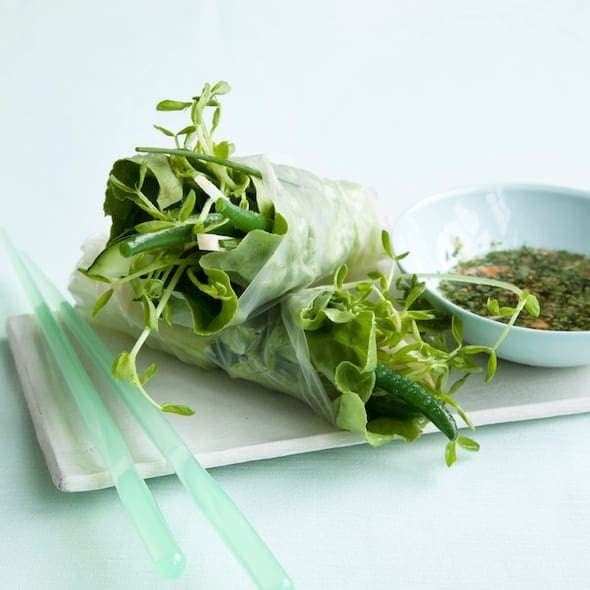 Veggie Spring Rolls
Sweet-and-sour mint sauce is the perfect dip for this Asian favorite.
Ingredients
¼

lb

green beans

sliced in half lengthwise

¼

cup

rice wine vinegar

2

tbsp

fish sauce

Nam Plah

2

tbsp

sugar

2

tbsp

chopped unsalted peanuts

2

tbsp

chopped mint

1

tsp

grated fresh ginger

10

spring roll wrappers

10

Boston or Bibb lettuce leaves

4

oz

3 cups pea shoots or broccoli sprouts

1

bunch chives

¼

lb

each cucumber

jicama and baby zucchini, cut into thin strips
Instructions
Blanch green beans by cooking them in boiling water for 1 to 2 min; cool immediately in ice water. Drain and set aside.

Stir together vinegar, fish sauce, sugar, peanuts, mint, ginger and t tbsp water; set aside

Pour 1 cup warm water into a shallow dish. Dip spring roll wrappers in water one at a time, gently shaking off excess water. Place wrappers between clean, damp paper towels and let stand for 10 min. Brush any dry edges with a little water.

Place a lettuce leaf on the bottom half of a wrapper and top with 2 to 3 green beans, a small pile of pea shoots and chives, and a few strips each of cucumber, jicama and zucchini. Fold a roll tightly like a burrito, leaving the top end open. Repeat with remaining ingredients. Serve immediately with dipping sauce.
Nutrition Facts
Veggie Spring Rolls
Amount Per Serving
Calories 110
Calories from Fat 14
% Daily Value*
Total Fat 1.5g 2%
* Percent Daily Values are based on a 2000 calorie diet.
Other great veggie recipes that are easy to put together include Asian Slaw with Sesame Ginger Dressing and Cauliflower Mac & Cheese.  What a great way to get more veggies into your weeknight dinners.
Recipe by Tara Bench
Recipe originally published in LHJ April 2010
Photographer Marcus Nilsson
Prop Stylist Randi Brookman Harris
Food Stylist Victoria Granof